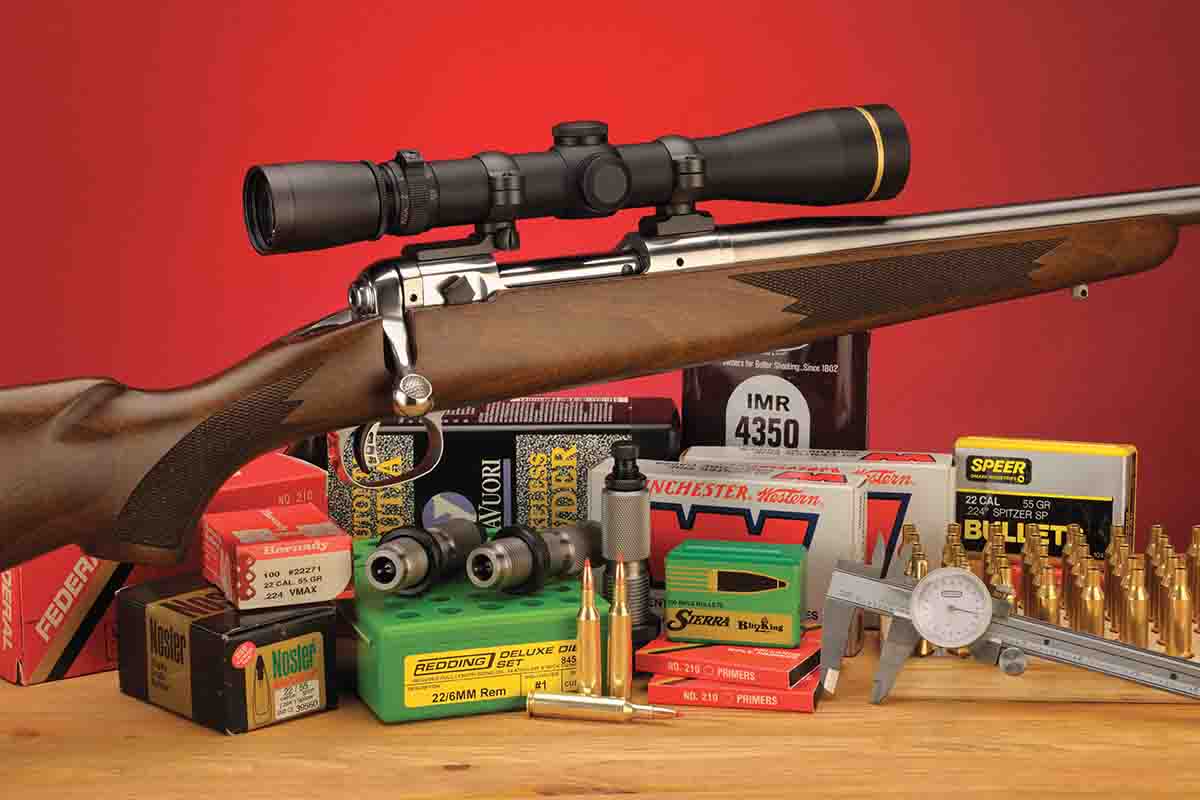 When it comes to wildcat cartridges, anything with a .22-caliber bore gets my attention, and the "easy" ones make me start looking for a rifle to shoot them. This interest started way back with my uncle's Winchester single-shot rimfire and led to a lifetime of varmint hunting.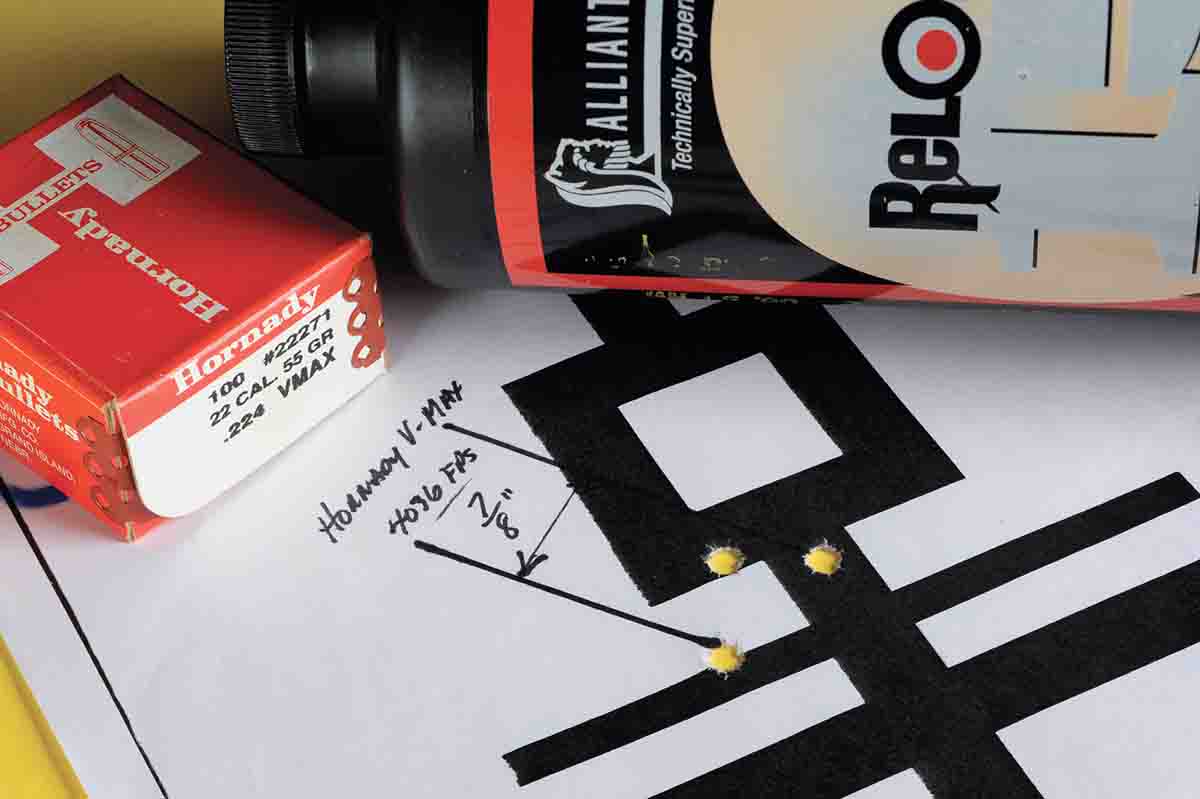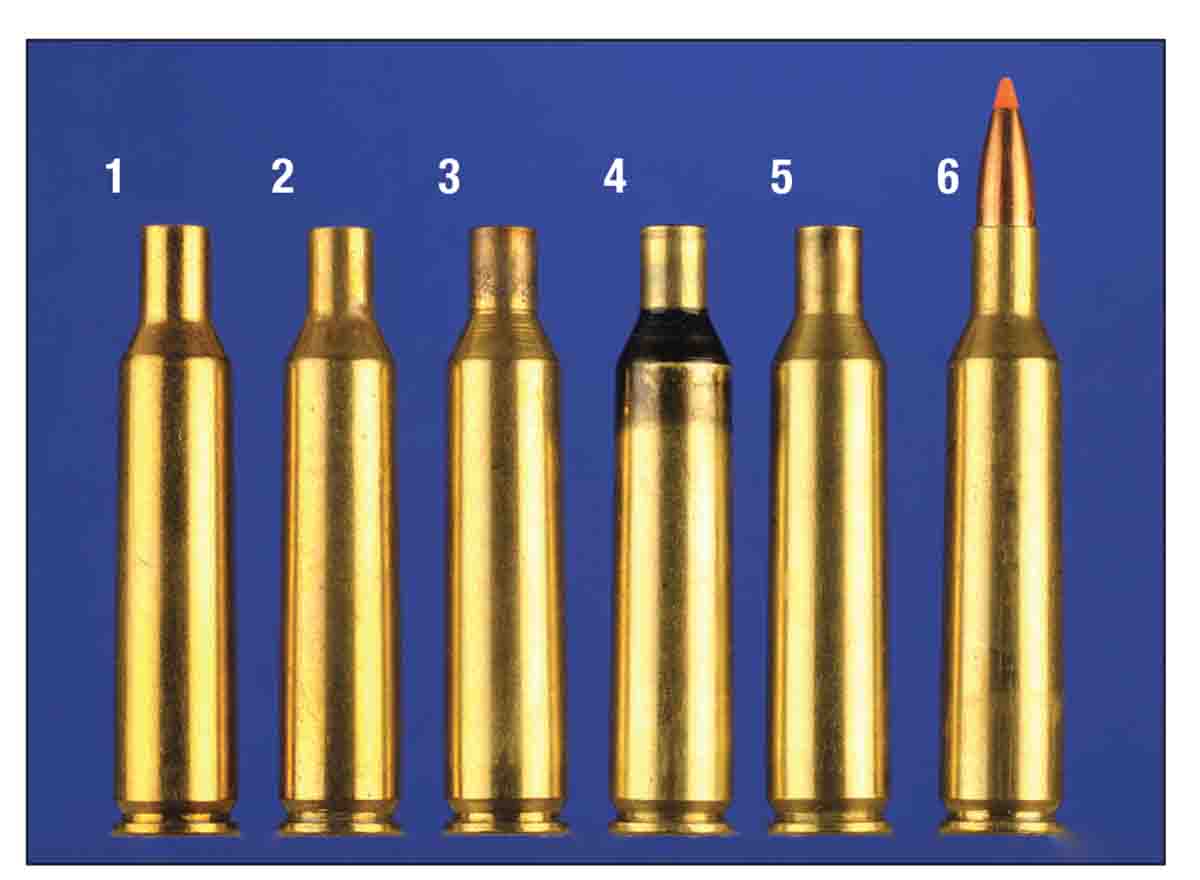 Always on the lookout for something different to try on woodchucks, colleague Ralph Lermayer suggested a cartridge I'd not heard of. Apparently Ralph created the .224 Texas Trophy Hunter (TTH) on the 6mm Remington case for those who like to hunt deer with a low-recoiling rifle, while still ensuring a clean kill with well-constructed 70- to 80-grain, .224-inch bullets; but the .224 TTH was also very much at home with lighter bullets suitable for smaller game, although it is not entirely a new idea.
In the early 1960s, a cartridge called the .22/243 Middlestead (Paul Middlestead) used the .243 Winchester case instead of the 6mm Remington. Following that, Ken Clark developed the .22/6mm and named it the .22 Clark. His plan also was to use barrels with a fast twist and heavy bullets, but he was limited simply because slow-burning powders and heavier bullets in .22 caliber were not as popular or widely available as they are today.
First, I needed a rifle to work with, and E.R. Shaw (5312 Thoms Run Road, Bridgeville PA 15017) lists the .224 TTH – and soon I had a rifle. It is Shaw's recently introduced Mark VII, a stout bolt action based on the Savage action that Shaw uses as an after-market product. Using the Savage receiver allows Shaw to add a long list of barrel options to include fluting, twist rates, contours and finishes. I ordered the .224 TTH with a stainless receiver and barrel cut to 24 inches with a target crown. It is the sporter weight version with a diameter of 1.255 inches at the receiver and .720 inch at the muzzle. Alternately, seven contours are available in lengths up to 26 inches. There is no Savage barrel nut; instead, Shaw adds one of its streamlined versions. To get the most out of my trials with the rifle using lighter, 55-grain bullets, a one-in-12-inch twist was used.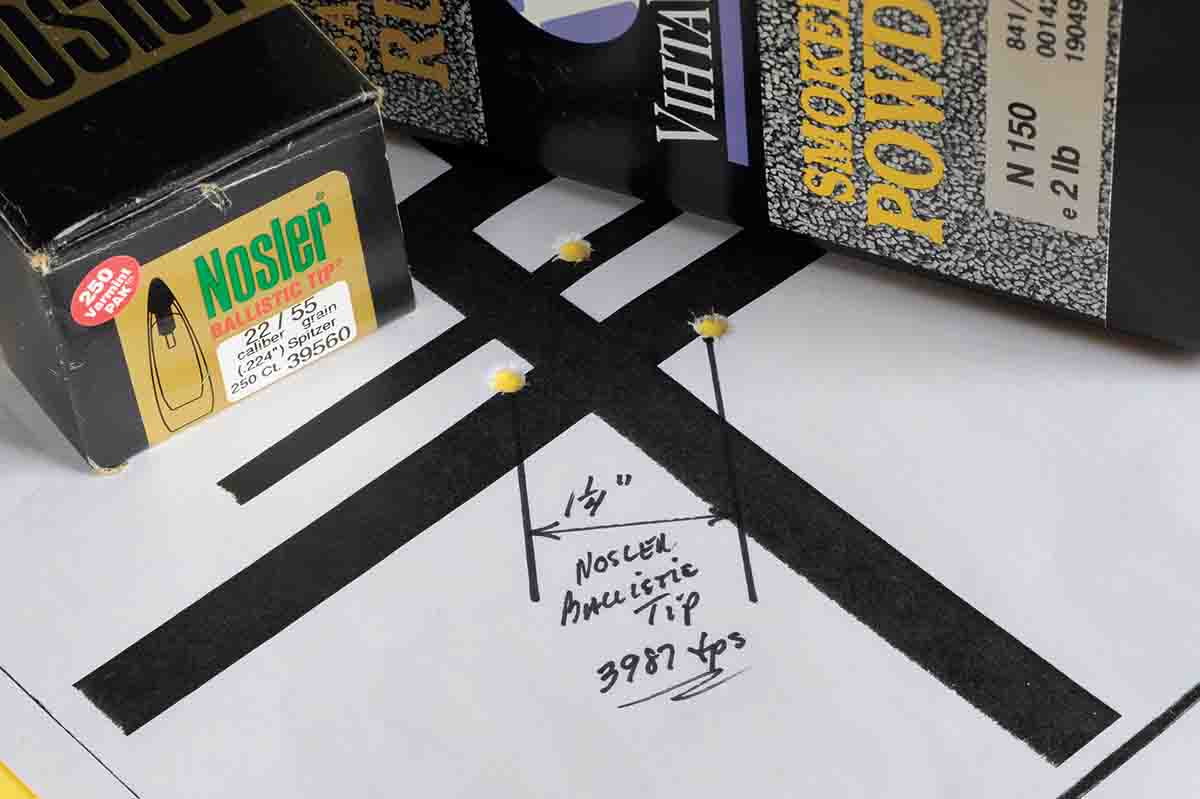 Shaw offers the usual variety of stocks, which includes synthetic, laminated and walnut. I ordered walnut with a 13½-inch pull, point checkering, satin finish, glass and pillar bedding, sling swivel studs and a rubber recoil pad. The action is smooth as silk, has a trigger that breaks at around 3 pounds (set at the factory) and there's no floorplate, thus adding some additional rigidity to the rifle. A 30mm Leupold Long Range VX-III 4.5-14x 40mm scope with side focus adjustment tops it off.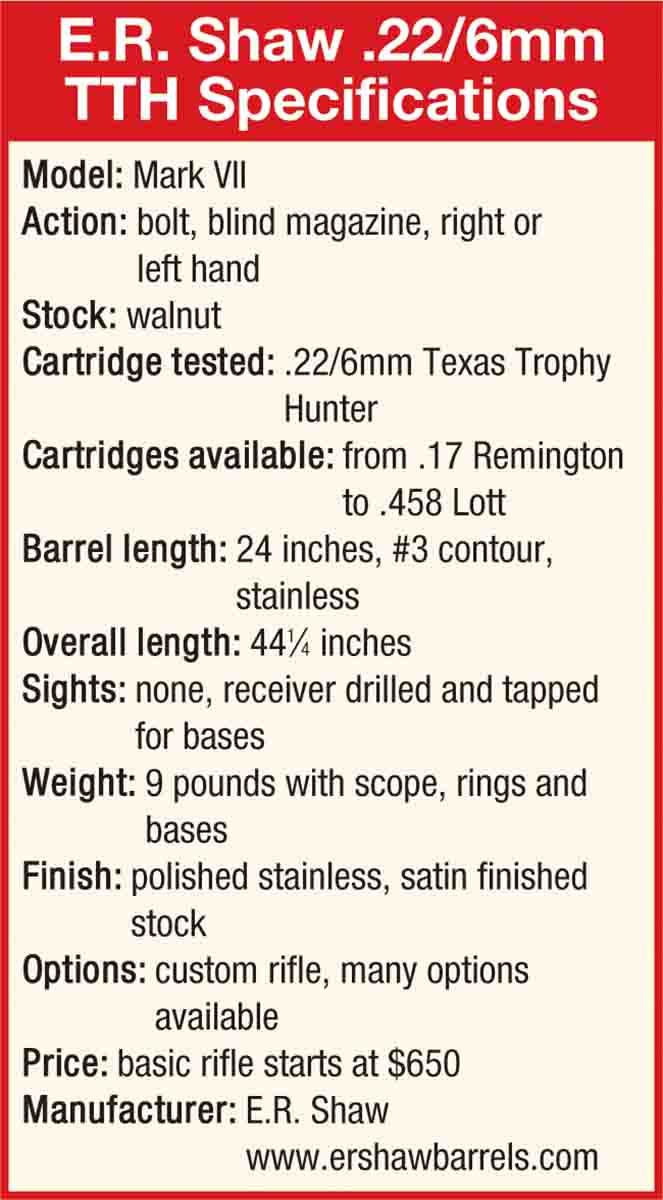 Winchester brass and a Redding 22/6mm Remington Deluxe (Custom) die set were ordered. Getting the .22/6mm TTH up to speed takes little effort – in fact, that is why it is on my "easy wildcat" list. First, I full-length size all the brass, then neck size them with the Redding die. Later, after I have my share of once-fired cases, all will be neck sized only.
When lubing the inside of the case so it rides easily over the expander within the sizing die, I find that the less lube used, the better off you will be when downsizing the neck to a smaller caliber. Most of the time with a bit of lube on the end of a cotton swab, I usually lube one out of five cases as I work down the line, sparingly at that. Out of all the cases sized from .243 to .224 inch, only one cracked at the mouth.
Loading data was easy to find, but Hornady had the best selection in its newest handbook, especially since I wanted to use 55-grain bullets as my primary objective as a varmint rifle. In order of burning rates, powders included Alliant Reloder 15, Vihtavuori N150 and IMR-4350. All filled the cases with an adequate volume. Bullets from Hornady, Nosler, Remington, Sierra, Speer and Winchester were used. Primers were Federal 210s, and all the Winchester cases were trimmed back to 2.223 inches after sizing.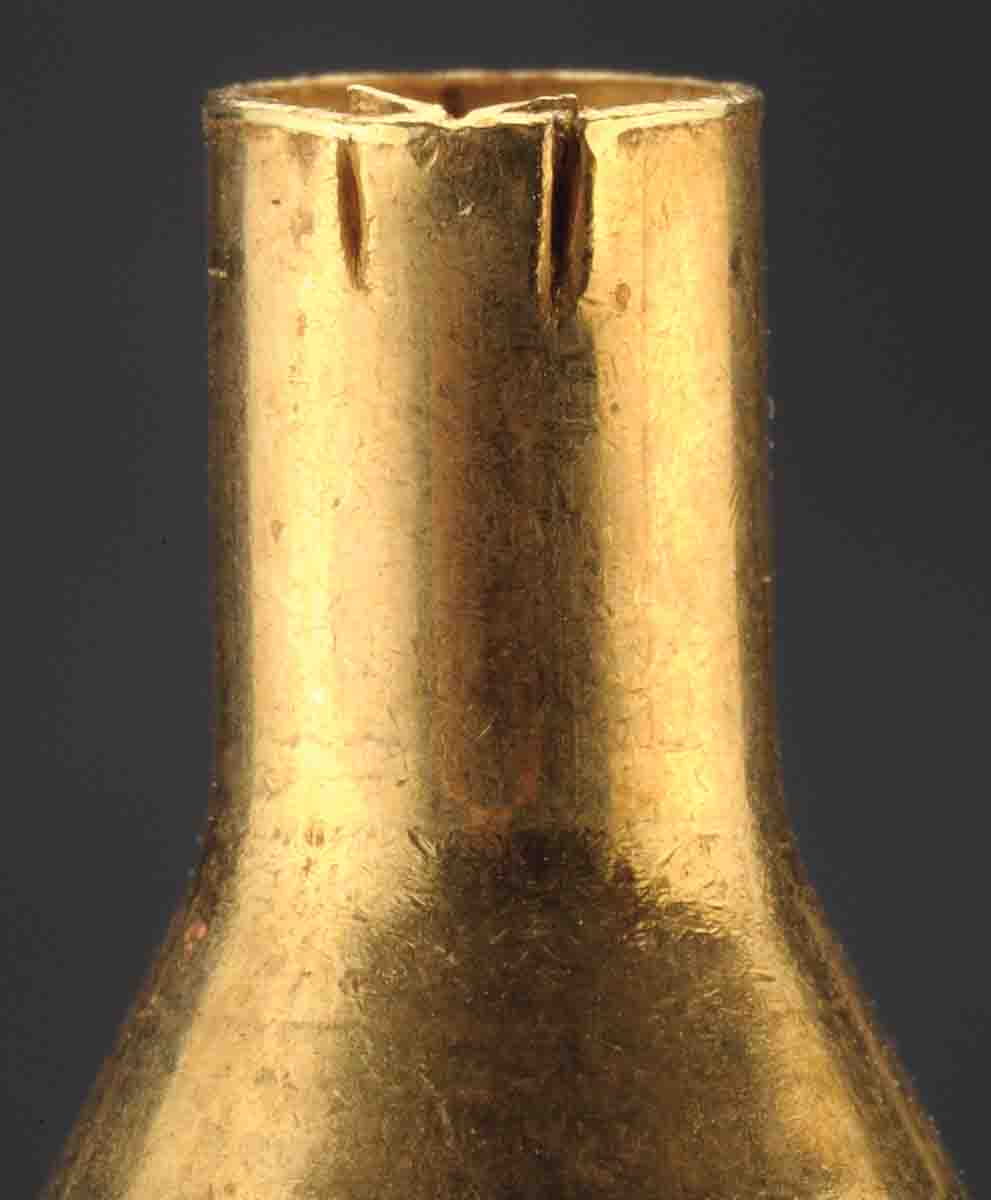 For an initial loading and fireforming, I went with a starting load of 38.0 grains of Reloder 15. After this, the cases were cleaned, checked for the overall length and reloaded.
When I got to a full testing program of two dozen loads, it was the choice of powder that determined the smallest group with a velocity reading just shy of 4,000 fps. On a day when the wind was calm, I would fire one group of three rounds, with one minute between rounds and 10 full minutes between groups, keeping the rifle in the shade all the time. With this testing program, the barrel maintained a constant temperature, assuring more consistency, I assumed. After waiting for the best and most consistent weather patterns, the whole process took a period of six weeks.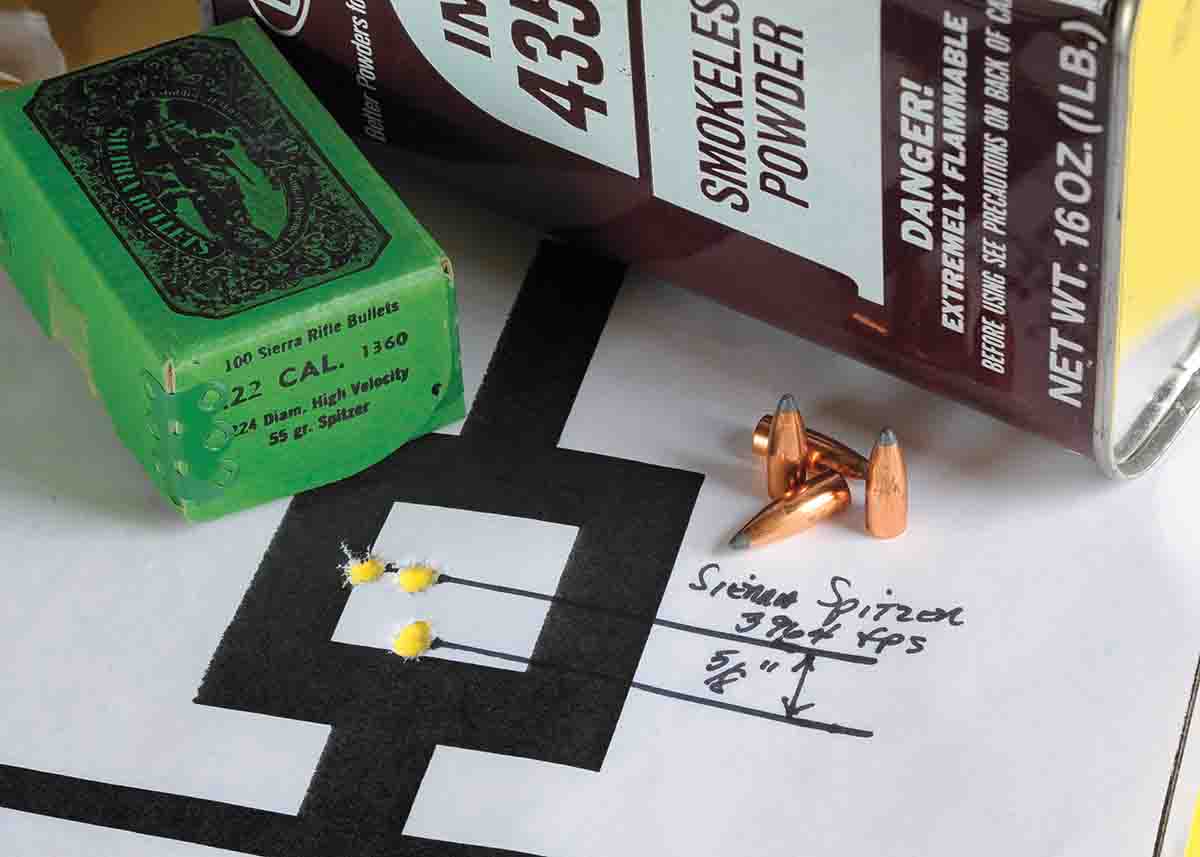 With the first group, I was not only surprised by the high velocity readings but also the fact that the groups were spreading out from a small .875 inch with the Hornady V-MAX to 1.5 inches with the Remington, Sierra and Speer bullets. The smallest group under an inch was also the highest in velocity recorded during testing. The Hornady V-MAX and 43.8 grains of RL-15 ran up 4,036 fps with no pressure signs; with a 300-yard zero it would be good enough to anchor a chuck with the crosshairs of the scope placed right between its eyes, allowing for bullet drop.
Other loads added promise to the use of RL-15. One of the Remington loads also came in at 4,015 fps and delivered MOA groups. The Sierra Semi-Pointed also delivered one-inch accuracy but with a slight drop in velocity to 3,932 fps.
Vihtavuori N150 proved it was not the propellant to use in the .22/6mm TTH. Groups were no smaller than 1.25 inches with most going larger to the point of opening up to 1.75 inches with the Speer Soft Point at just over 3,900 fps. With VV-N150, although it never made the 4,000 fps mark, the best load (1.25 inches) turned out to be with the Nosler Ballistic Tip with 43.9 grains at 3,987 fps. Averaging all the groups with this powder came to a mean of 1.46 inches.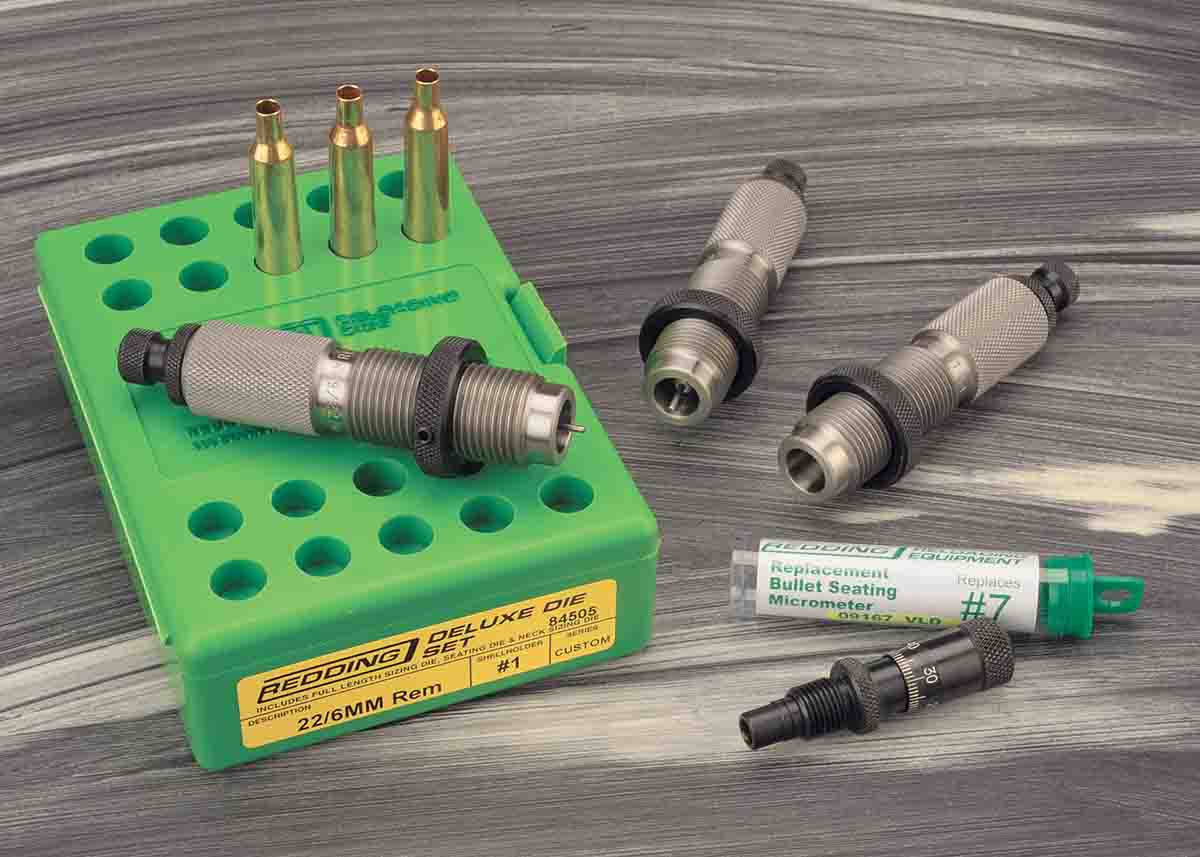 Termed a medium-slow powder since its introduction in 1940, it seems I find more uses for IMR-4350 every time I sit down to handload. To quote from Propellant Profiles, Fifth Edition (Wolfe Publishing Co., 2009) "IMR-4350 is well-suited to all the smallbore magnums, especially with the lighter bullets in some of the largest-cased versions." That makes sense, and the .22/6mm TTH proves the point. I've used the powder in many conventional and wildcat varmint cartridges, including the .22-250 Remington, .220 Swift, .220 Weatherby Rocket, .243 Winchester and 6mm Remington – and all with fine accuracy. Referencing the table shows IMR-4350 is a great performer and recorded the smallest groups over a wide range of charge weights and bullets.
With the highest velocity of 3,964 fps, the Sierra spitzer placed three shots into a group measuring a mere .625 inch with 46.9 grains of IMR-4350. With the same charge, the Hornady softpoint hit the same group size with a slight loss of velocity (3,954 fps), but I don't think the game on the other end would notice. Moving up just a little to .75 inch and 3,932 fps was Speer's FMJ BT. When it came to MOA groups, Hornady did it with 46.2 grains (3,890 fps) as did the Speer bullet again with 3,884 fps. Adding up the group sizes with IMR-4350 showed this powder seems the best with 55-grain bullets, as the mean came to only 0.953 inch.
Okay, since there are other varmint cartridges that will breech 4,000 fps, is the .22/6mm TTH worth all the time and expense? For me it is – simply because I like to work with .224 wildcats and enjoy varmint hunting.