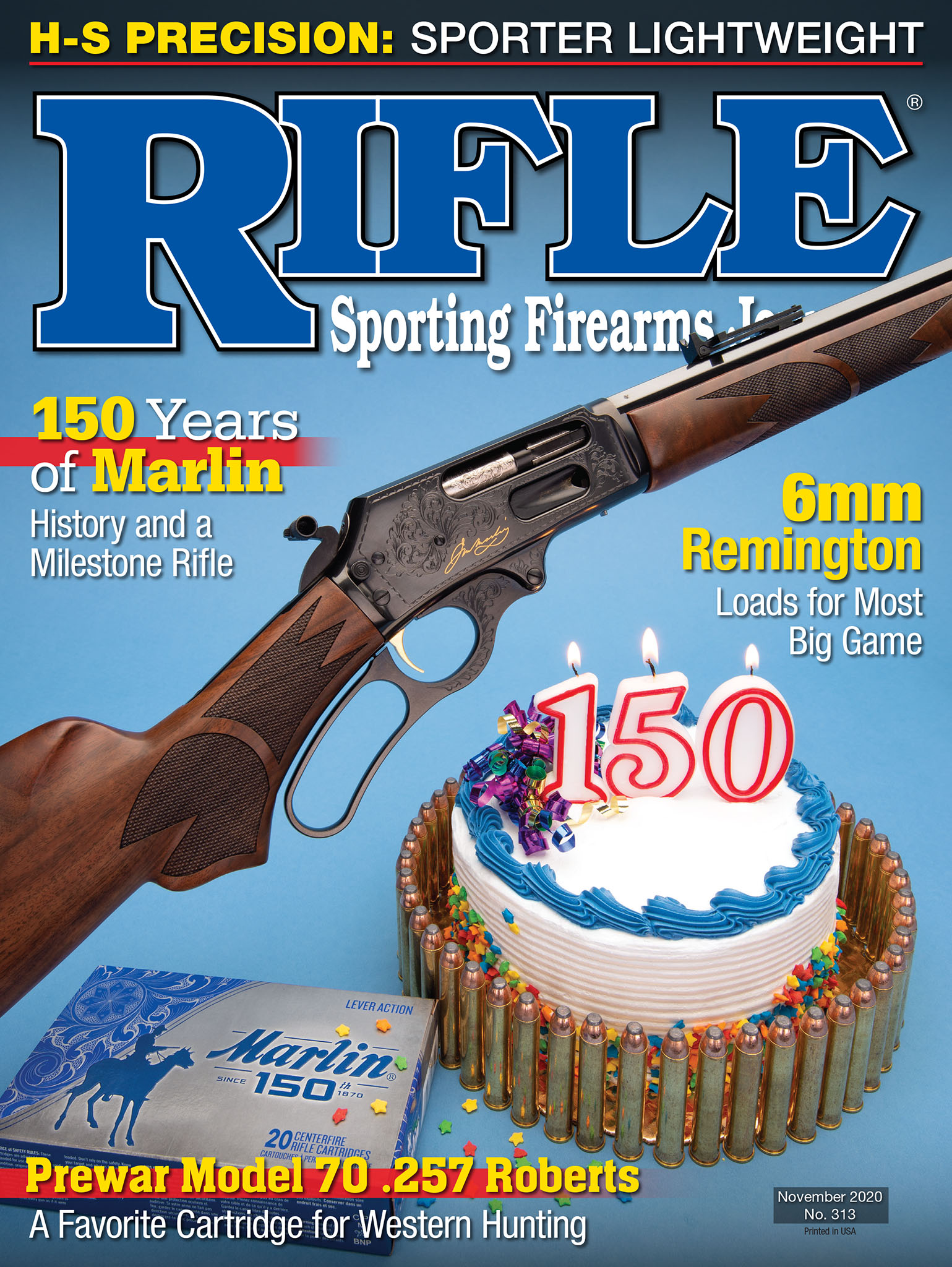 Latest Issue
Rifle November/December 2020
This issue features 150 Years of Marlin, That Fancy Rifle, Prewar Model 70 .257 Roberts, H-S Precision Sporter Lightweight, 6mm Remington, and much more.
Online Exclusive Content
What Is a Big Bore?
John Barsness
A couple of decades ago, a Montana outfitter named Bill Beck extended an invitation to hunt black... ...Read More >
Cooper's Famed Model 57M Rifle
Stan Trzoniec
In my younger days, summer always meant a lot to me. There was fishing in the brook off the lane ... ...Read More >
Big Medicine for Elk
Jack Ballard
Bigger is better," or so the saying goes in American culture; but at certain points in history, ... ...Read More >
---
Sign up for our Email Notifications
---
In This Issue
Spotting Scope
Camouflage . . . Does It?
column

by: Dave Scovill
As a youngster in the mid-1950s living in relatively remote logging country, I built a ground blind out of willows and assorted brush that allowed me to sit on the edge of a somewhat open area and watch for wildlife. There was plenty to watch for – rabbits, squirrels, birds, blacktail and whitetail deer or whatever. It didn't seem to matter what color my clothes might be, as long as I managed to be still, although I asked Mom to tie-dye a sweatshirt, something like black-and-white photos I'd seen of Fred Bear wearing with a dark and light random pattern that resembled nothing in nature I knew of. ...Read More >
Lock, Stock & Barrell
Essential Cleaning
column

by: Lee Hoots
There is a whole lot to like about rifles: the way one balances and feels in the hands and against the shoulder, cherished inherited hand-me-downs from family members, lever actions that have a somewhat interesting history, fine walnut-stocked bolt actions and repeatable accuracy. The list can go on and on, depending on a hunter's taste. A few personal examples include my late father's 1958 Marlin Model 336 .30-30 carbine that spent much of its time in the mountains of Montana before I even knew it existed. Then there is the first rifle I took to Africa, a custom Remington Model 700 .270 Winchester built by High Tech Customs in Colorado Springs, Colorado, and third, a Remington Custom Shop Model 700 6.5 Remington Magnum that I was lucky enough to help craft. ...Read More >
Mostly Long Guns
An Ordinary Independence Day Celebration
column

by: Brian Pearce
Brian's daughter-in-law, Aurora, takes aim with a Marlin 1894CB Cowboy Carbine chambered in .45 Colt.As many readers know, I grew up on remote cattle ranches near the Oregon and Idaho borders. I was the youngest of 11 children, and we all worked l... ...Read More >
Down Range
Ruger PC9 Carbine
column

by: Mike Venturino
As a rule, gun writers can get loaner firearms on consignment for a set period of time. Some companies stipulate three months, others six months. At the end of the time period, we have the choice of paying for the guns, admittedly at an attractive discount, or returning them to the company. Personally, it is a rare bird that I purchase. However, not long ago I spent my hard-earned gun writer bucks on one such bird. ...Read More >