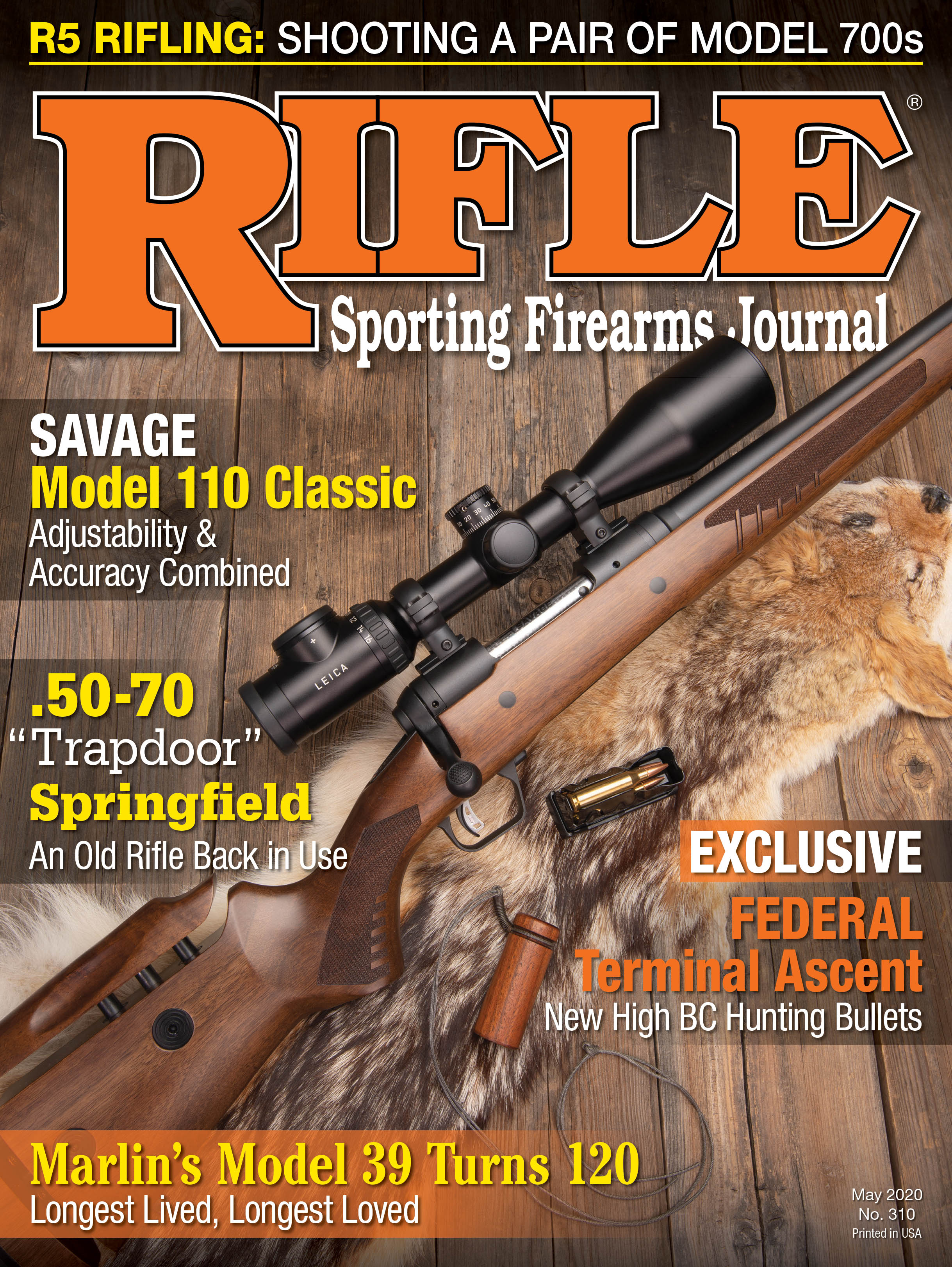 Latest Issue
Rifle May-June 2020
This issue features Savage Model 110 Classic, Federal Terminal Ascent, .50-70 "Trapdoor" Springfield, 5R Rifling, Marlin's Model 39 Turns 120, and much more.
Online Exclusive Content
.22/6mm Texas Trophy Hunter
Stan Trzoniec
When it comes to wildcat cartridges, anything with a .22-caliber bore gets my attention, and the ... ...Read More >
The .257 Weatherby Magnum
Stan Trzoniec
In talking with Ed Weatherby some time back, our discussion naturally gravitated to the Weatherby... ...Read More >
Winchester Model 1885
Brian Pearce
The design and development of the Winchester Model 1885 single-shot rifle was without question on... ...Read More >
---
Sign up for our Email Notifications
---
In This Issue
5R Rifling
Shooting a Pair of Model 700s
feature

by: Mike Thomas
Is 5R rifling a genuine improvement over other rifling methods or a clever marketing tactic? Probably some of each. Such a topic is very much akin to highly-opinionated discussions, like breaking in a barrel. ...Read More >
Spotting Scope
What's New?
column

by: Dave Scovill
The above question comes up quite often, especially from writers who show up at the Shooting, Hunting and Outdoor Trade (SHOT) Show each year, wander up and down the miles of aisles and come back to the booth asking, "What's New?" At the recent 2020 SHOT Show in Las Vegas, where it appeared every rifle manufacturer was touting the 6.5 Creedmoor and/or its 6mm spin-off, I asked a friend in the industry, "What's the next phenomenon of the age?" His answer, "The 6.5 PRC." I detected a hint of tongue-in-cheek in his response, since there have been numerous shakeups over the "next greatest thing" since I discovered guns in magazines and the Sears & Roebuck catalog in the early 1950s. ...Read More >
Lock, Stock & Barrel
Field Rifle Accuracy Factors
column

by: Lee J. Hoots
Depending on the source, the first trigger on a firearm dates back to the 1400s with the appearance of the matchlock, a mechanism that used a lever to release a burning cord, usually made of hemp or flax, that ignited the powder charge . . . most of the time. This lock system greatly enhanced accuracy, rate of fire and ushered in a new way of thinking in firearms production. ...Read More >
Mostly Long Guns
Uberti 1884 Lightning .45 Colt
column

by: Brian Pearce
From 1884 through 1904, Colt's Patent Fire Arms Manufacturing Company produced a unique slide-action rifle (aka trombone or pump action) known as Colt's Lightning Magazine Rifle (CLMR). It was offered in three frame sizes, including "Small" for the .22 Short, "Medium" for the .32-20, .38-40 and .44-40 Winchester cartridges and "Large" for the more potent .38-56 WCF, .40-60 Marlin, .45-60 WCF, .45-85 Marlin and .50-95 Express cartridges. ...Read More >