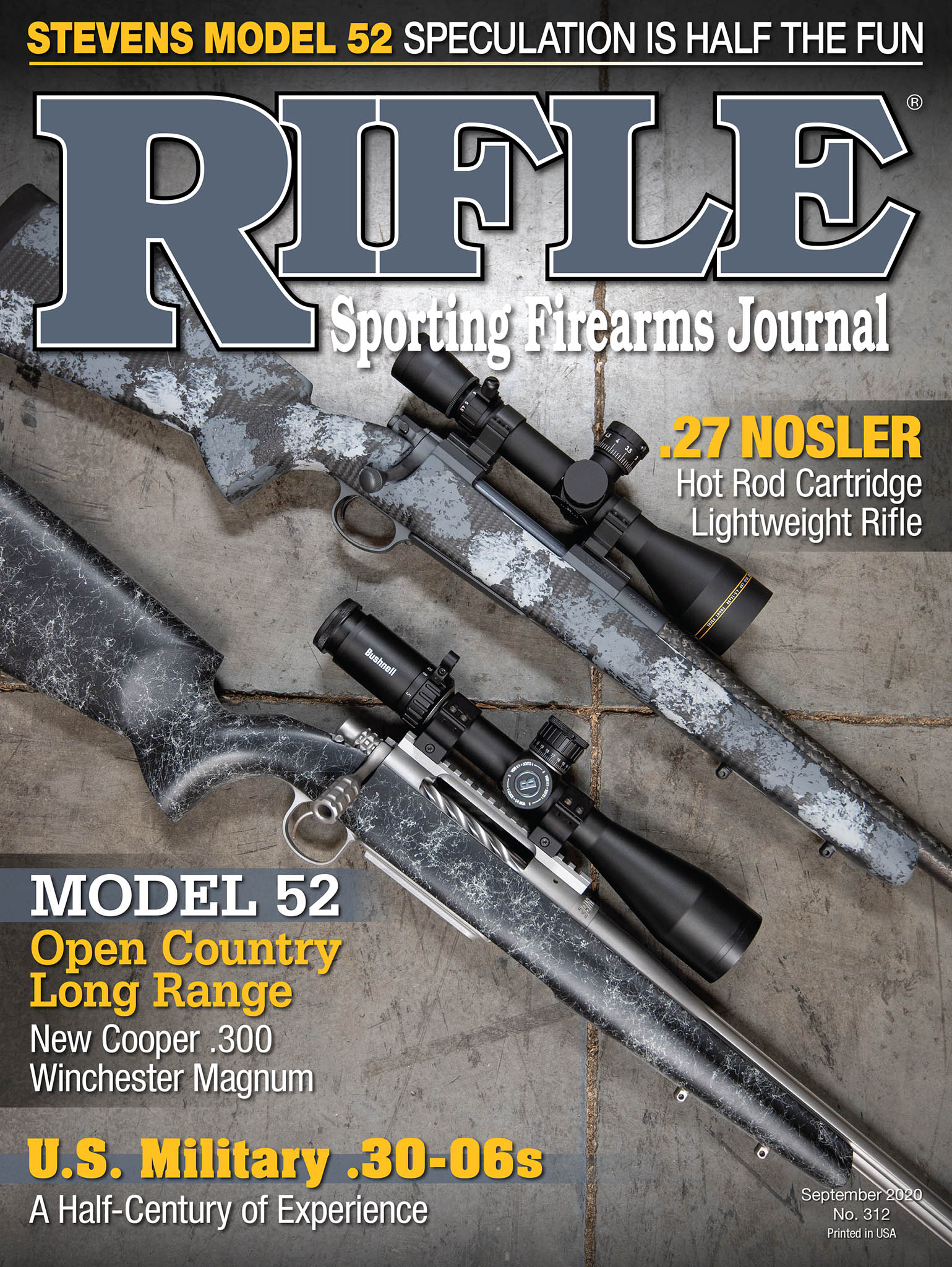 Latest Issue
Rifle September/October 2020
This issue features .27 Nosler, Model 52 Open Country Long Range, Stevens Model 52, U.S. Military .30-06s, Marlin Model 1893, and much more.
Online Exclusive Content
Cooper's Famed Model 57M Rifle
Stan Trzoniec
In my younger days, summer always meant a lot to me. There was fishing in the brook off the lane ... ...Read More >
Big Medicine for Elk
Jack Ballard
Bigger is better," or so the saying goes in American culture; but at certain points in history, ... ...Read More >
The "Big 50"
Terry Wieland
The most famous shot fired in the history of the American West was Billy Dixon's, in 1874, at the... ...Read More >
---
Sign up for our Email Notifications
---
In This Issue
Spotting Scope
What's a BIg Bore
column

by: Dave Scovill
It was just over 30 years ago when Mark Harris, publisher of Wolfe Publishing Company at the time, suggested we do a book on big-bore rifles. Essentially, he wanted to do a reprint of all of the big-bore features and cartridge profiles from Handloader and Rifle and add a few new ones. The only question I had was: "What's a big bore?" ...Read More >
Lock, Stock & Barrel
Rifle Considerations
column

by: Lee J. Hoots
Even though this column was written in mid-June, by the time it's published and found on newsstands, mid-summer will hopefully have begun ushering in cooler evenings. Hunters across the country will have but one thing on their minds: spending long days in the outdoors hiking up and stalking along tall ridgelines for elk or mule deer, slithering up sage-filled washouts in pronghorn country or standing high in a perch awaiting a whitetail. About the same time every year, another summer tradition (more like a phenomenon) is the natural urge to buy a new hunting rig, a new or used rifle usually chambered to a cartridge that has not yet been used in the field. ...Read More >
Mostly Long Guns
CZ 550 Magnum
column

by: Brian Pearce
For more than a century, CZ has been producing a huge variety of military and sporting firearms that include pump, autoloading, side-by-side and over/under shotguns, autoloading pistols and bolt-action rifles, which are of particular interest. The CZ story really began during World War I (circa 1916 to 1918) with the building of the Zbrojovka Brno plant, which was followed with moves and mergers that lead to CZ producing arms in Uhersky Brod, around 1936. During World War II, the company ultimately suffered from Germantakeover. Like so many other gun companies during this era, it produced a variety of non-firearm related products, including diesel motors. In 1995 CZ-USA purchased Dan Wesson, which produces outstanding Model 1911-pattern pistols, and its double-action .357 Magnum revolver offers legendary accuracy. ...Read More >
Down Range
Italian Carcano Model 41 6.5mm
column

by: Mike Venturino
Of all smokeless powder military rifles and carbines worldwide, it is doubtful if any are held in as low esteem as Italian Carcanos. My personal opinion is that there are three reasons. One is that they were imported into this country by the ton after World War II. They were priced below bargain-basement levels and must have been shipped loose, because many arrived in a condition I would call dingy, rusty and dusty. ...Read More >