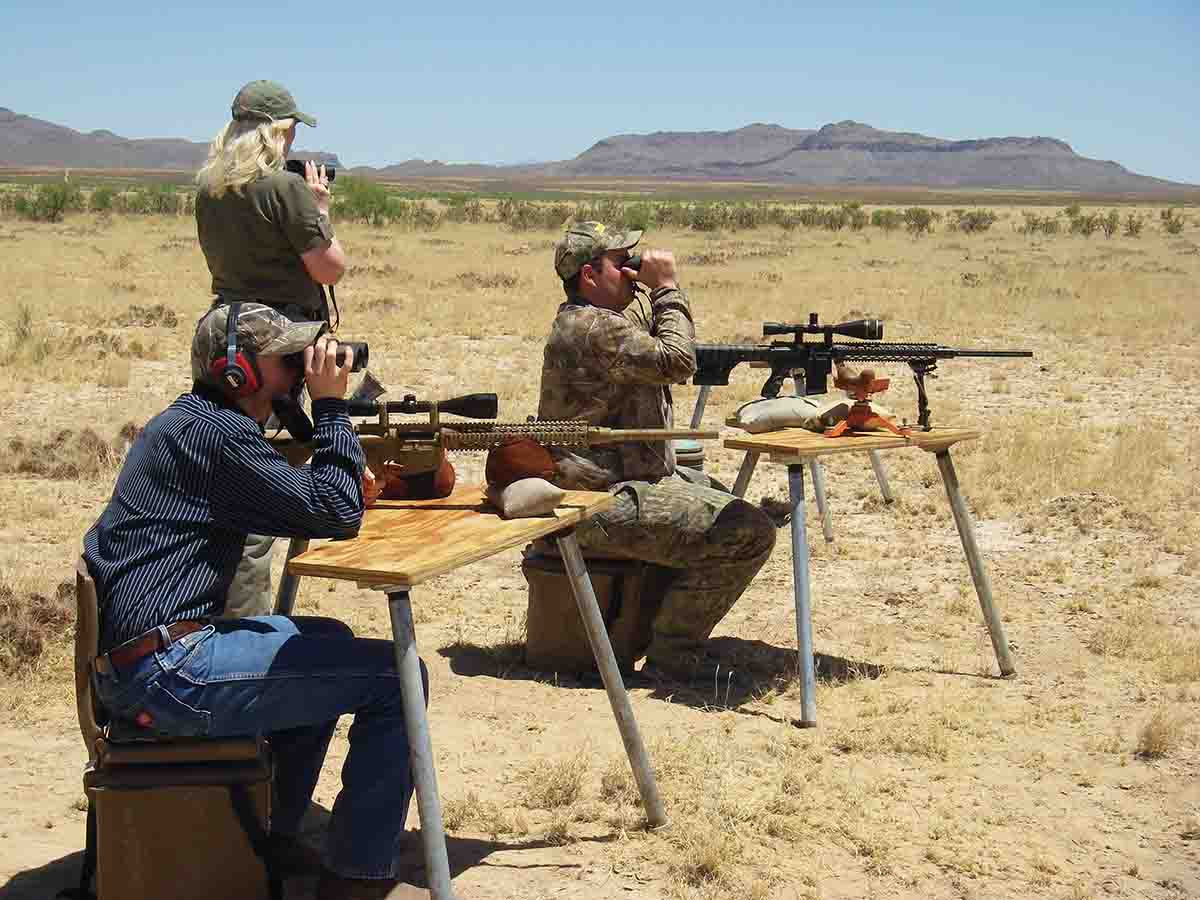 Many shooters consider AR-15/M16 rifles chambered in 5.56 NATO as being modern, state-of-the-art technology, but the design combination has been with us for 50 years. (If we consider when experiments began, it dates back to 1957.) Dozens of U.S. manufacturers are currently producing rifles for the civilian market (not to mention government contracts) for sport, police, target competition, personal and home defense, varmint shooting and those seeking pure shooting fun.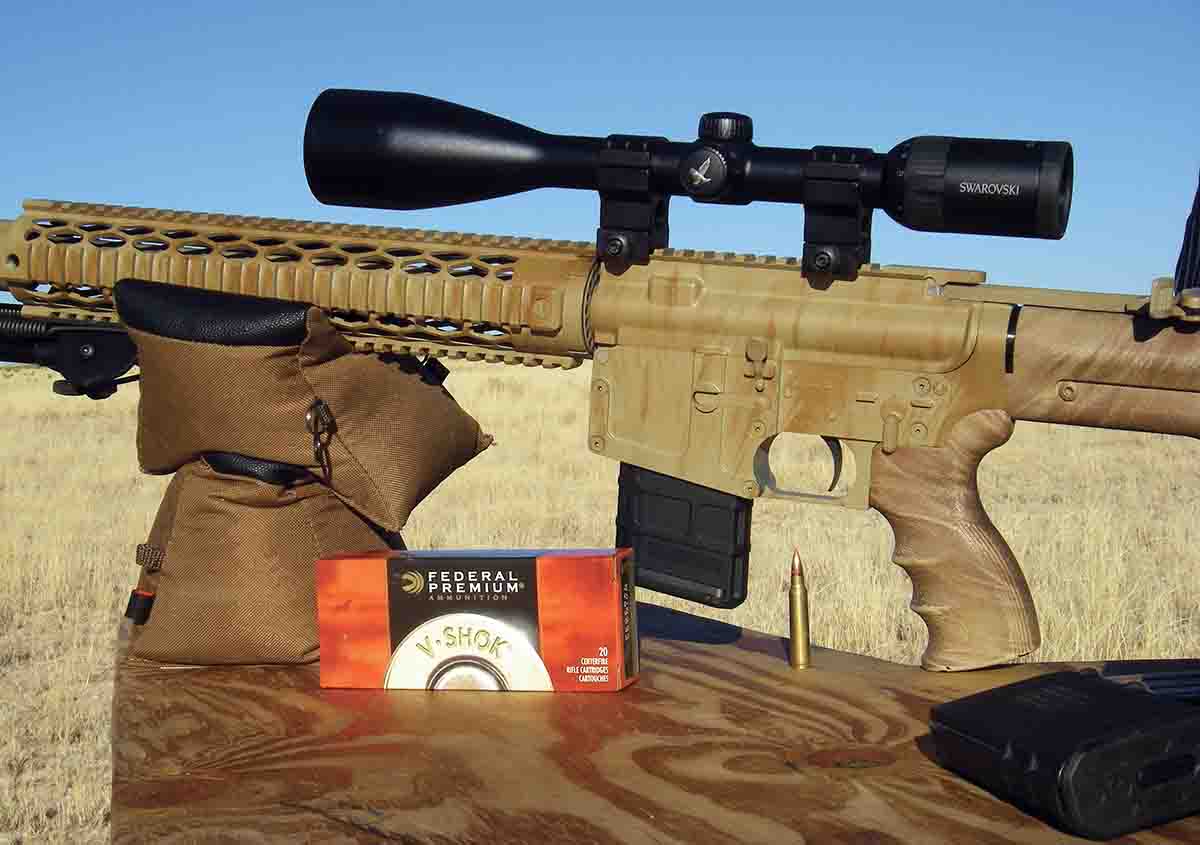 Today's rifles are indeed a different breed than those produced during the 1960s. Design changes have been many, but this article is not intended as a history of the AR-15. Rather let's consider the six different barrel twist rates that have been offered as standard for this unique rifle in the .223 Remington/5.56 NATO cartridges.
Reasons for these twist rates have included changes in military ammunition in an effort to improve overall performance, long-range competition and advancements to hunting and varmint bullets. Before detailing barrel twist rates, let's briefly consider the AR-15's two primary cartridges and why this combination has become so popular for varmint shooting and hunting predators, such as the crafty coyote.
In January and February 1964, the .223 Remington and 5.56 NATO cartridges were officially introduced with the former being a promising new varmint cartridge for the civilian market chambered in bolt actions and other sporting arms, and the latter was for military use in the new AR-15/M16 rifle. The two cartridges are dimensionally similar but are only partially interchangeable. For example, the .223 was loaded to a maximum average pressure of 52,000 CUP (55,000 psi), and pressures are measured in the case body. The 5.56 is currently loaded to 58,500 psi, with pressures being measured just forward of the case mouth in the chamber. This different pressure measurement method translates to approximately 62,000 psi chamber pressure. The chamber throat of the 5.56 is also longer than the .223.

Some .223 Remington sporting rifles (including AR-15s) are chambered to accept both cartridges and are almost always so marked, but if a rifle is not so marked, then it should not be used with 5.56 ammunition, as dangerous pressure levels may result. On the other hand, the .223 cartridge can be safely used in any rifle chambered for the 5.56. Keep in mind, however, that .223 cartridges are not generally loaded with a mil-spec primer and neither are they crimped in place. Depending on how a given chamber is cut – leade angle, etc. – some rifles fail to shoot .223 ammunition to its full potential.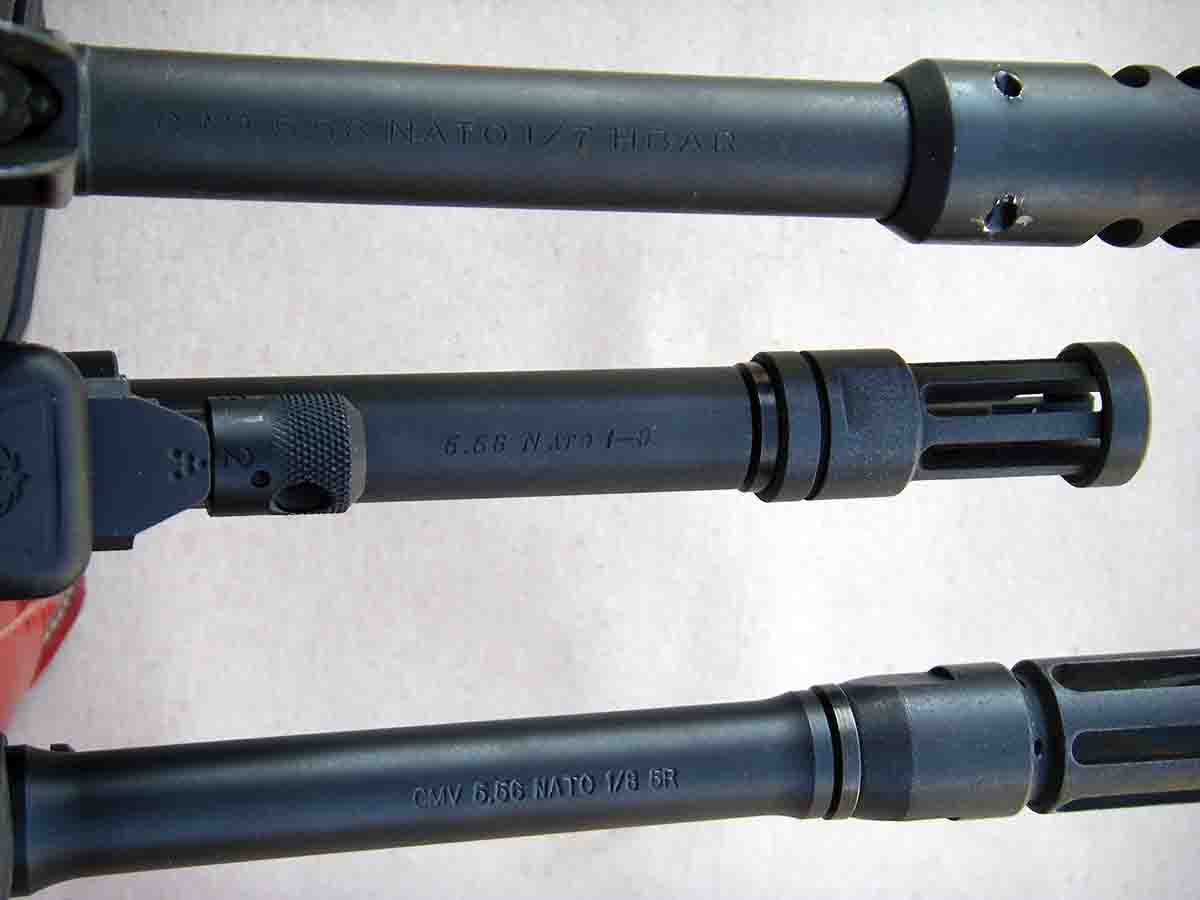 When identifying if an AR-15 rifle is chambered for .223 Remington or 5.56 NATO (as well as barrel twist rate), barrel markings should be referenced rather than caliber markings on the lower receiver. Since the upper is easily and often changed, the chamber (or even caliber) may not match the markings on the lower.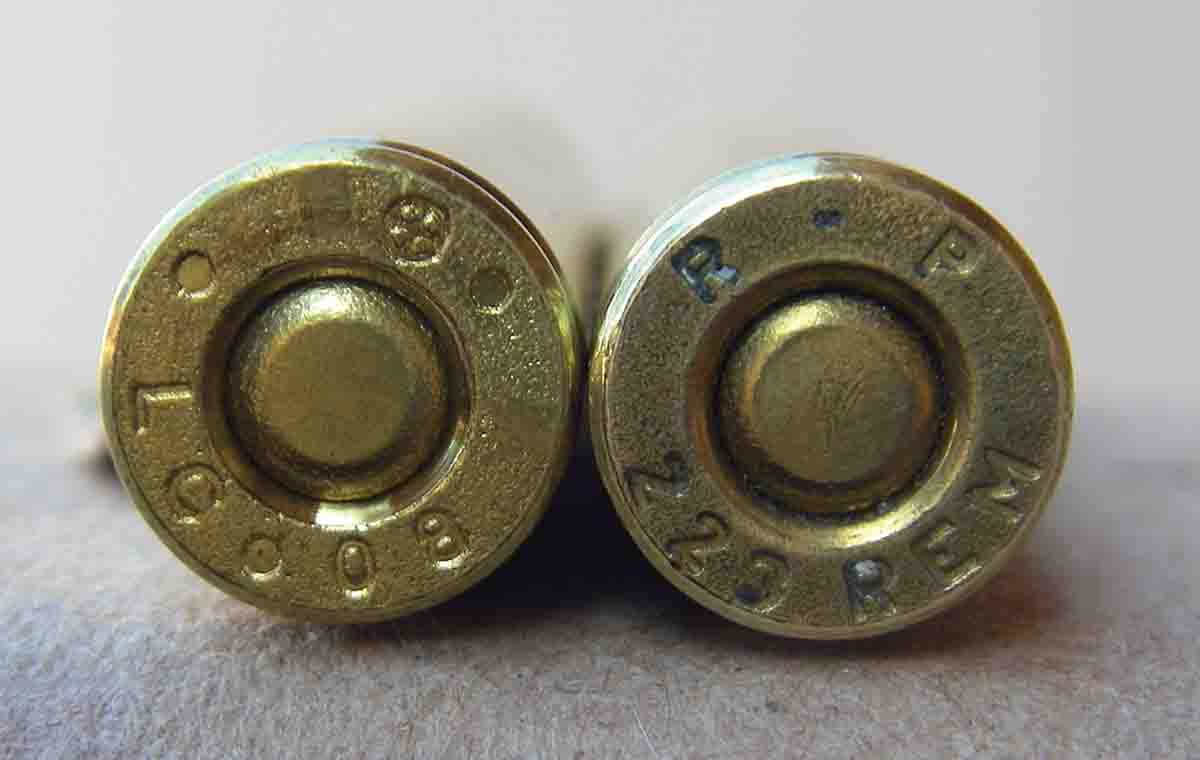 The 5.56/.223 cartridge has become a sweetheart, performing in many different roles. As a varmint cartridge, it produces little muzzle blast, offers low recoil, outstanding accuracy and a respectable effective range. Due to a rather low volume powder charge and bore size, it produces relatively low barrel wear and throat erosion. Thus, expected accuracy life is long.
The AR-15 pattern rifle has several design features that have helped it become popular for varmint shooting. First is the detachable magazine, which is usually best in 10- or 20-round capacity versions, as they don't protrude so far down to cause interference with the rifle being rested on sandbags (a common shooting method in prairie dog towns). When sitting on the edge of a heavily populated prairie dog town, the high capacity and quick reloading feature is appreciated and can translate into more hits at the end of the day. Furthermore, the AR-15 stock (at the heel) is essentially directly behind the barrel (without drop), resulting in much of the recoil being directed backward with little muzzle rise. The gas system design also helps absorb some recoil. Varmint shooters appreciate these features, as it allows viewing bullet impact through the scope. If a varmint is missed, compensation can be made immediately with a quick follow-up shot without moving from the rest or shooting position. With the correct combination of ammunition, bullet style and weight, barrel twist, along with a quality rifle, accuracy is often under .5 inch at 100 yards.
The AR-15 has likewise become popular for hunting coyotes and other predators. When calling, sometimes they will become nervous, circle the call and fail to come closer. If they wind the hunter, usually the only shot presented is a fast-moving coyote as it attempts to disappear. Precise aiming is still required to make a hit. If the first shot is missed and the bullet strike is identified, a skilled shooter has a respectable chance of quickly correcting the hold and connecting on the next shot that, due to the AR-15 design, can potentially be taken a split second later.

Early Armalite and later Colt AR-15/M16 rifles featured a one-in-12-inch twist rifling with some reports indicating that a one-in-14 twist was also tested and used. I had one during the early 1980s, but they are not especially common. Period military ammunition, known as M193 ball, contained a 55-grain FMJ boat-tail with a muzzle speed of 3,250 fps. By 1980, FN designed a 62-grain bullet (SS109) for the 5.56 NATO that featured a lead core with an FMJ in boat-tail form, but it had a steel penetrator tip and was rated at 3,100 fps. This required a faster-twist rifling, with the U.S. military changing in 1984 to one turn in 7 inches to accommodate the newly adopted M855 62-grain ball load. Today, however, military ammunition continues to evolve with more specialized bullet weights for purposes that include close-quarters combat, optimized long-range loads and long-range target competitions. As a result, manufacturers report government contracts for M16 rifles with twist rates that also include one in 9 and one in 8 inches to better optimize accuracy with specified bullets at defined distances. Manufacturers offer the same twist rates for rifles sold to the civilian market, but select companies still offer twists of one in 12 and one in 6.5 inches.
So what bullets and twist rates are correct for varminting or taking that long-range coyote? First, bullets of the same weight can vary dramatically in length, bearing surface and ballistic coefficient and may require a different twist rate for perfect stabilization. Second, not all barrels are created equal. Those that are match grade, with a tight tolerance throat and correctly cut leade, usually cause less damage or stress to frangible varmint bullets, effectively allowing greater leeway for which bullets will work. In extreme instances, bullets can become damaged in a poor quality bore and fragment upon exiting.
Many highly frangible varmint bullets, typically between 45 and 55 grains, often cannot take the high rotational speeds produced by the one-in-7-inch barrels that can reach between 330,000 and even up to 350,000 rpm. Effectively, common lead-core, jacketed bullets can separate during flight and fail to reach the target. On the other hand, the same bullets in a slower-twist barrel can perform flawlessly. In other instances, as previously indicated, poorly rifled barrels (i.e., rough) can destroy the bullet before it leaves the muzzle.
A perfect rifling twist rate will stabilize given bullets within a reasonable distance (usually within 40 to 100 yards), yielding accuracy as soon as bullet yaw settles, and will retain that accuracy at long range. In instances where a bullet is not fully stabilized (typically found with a too-heavy bullet for a too-slow twist rate), accuracy may be good at 100, 200 or even 300 yards but can destabilize at longer distances.
The point being, there are no absolutes. The following are general guidelines for bullet and twist rate combinations.
One Turn in 14 Inches
This twist rate was used on early AR-15 rifles, and custom builders can still make an upper to this specification. It generally stabilizes bullets ranging from 35 to 55 grains but especially thrives with virtually all cup-and-core 45- to 53-grain weights. These bullets have become particularly popular with varmint shooters for their ability to reach high velocity and give explosive performance at common prairie dog shooting distances of 150 to 300 yards. Interestingly, many .223 Remington bolt-action sporting rifles that have earned an outstanding reputation for accuracy with 50- to 53-grain bullets are fitted with this twist rate. The comparatively slow bullet rotational speed permits its use with many of the highly frangible varmint bullets without their disintegration in midflight.
One Turn in 12 Inches
This twist rate will generally stabilize 40- to 60-grain bullets; however, I have seen select 60-grain bullets produce good groups at 100 to 300 yards, but they showed signs of accuracy loss at longer ranges due to becoming unstable. Generally speaking, the 12-inch twist offers its best accuracy with 45- to 55-grain bullets, which covers a broad spectrum of popular varmint bullets.
MG Arms offers an especially precise and accurate varmint/predator hunting-style AR-15 rifle known as the K-Yote that is fitted with a 12-inch twist barrel. When conditions came together perfectly, MG was getting three-shot groups under 2.5 inches at 600 yards with select loads. Although I was unable to duplicate that level of accuracy at home, with my most impressive group being 2.3 inches at 400 yards using a tailored handload, I believe the K-Yote is capable of better accuracy under perfect conditions and further load development.
If middle-of-the-road weight bullets will serve your field or hunting needs, such as prairie dog shooting, the 12-inch twist is an excellent choice.
One Turn in 9 Inches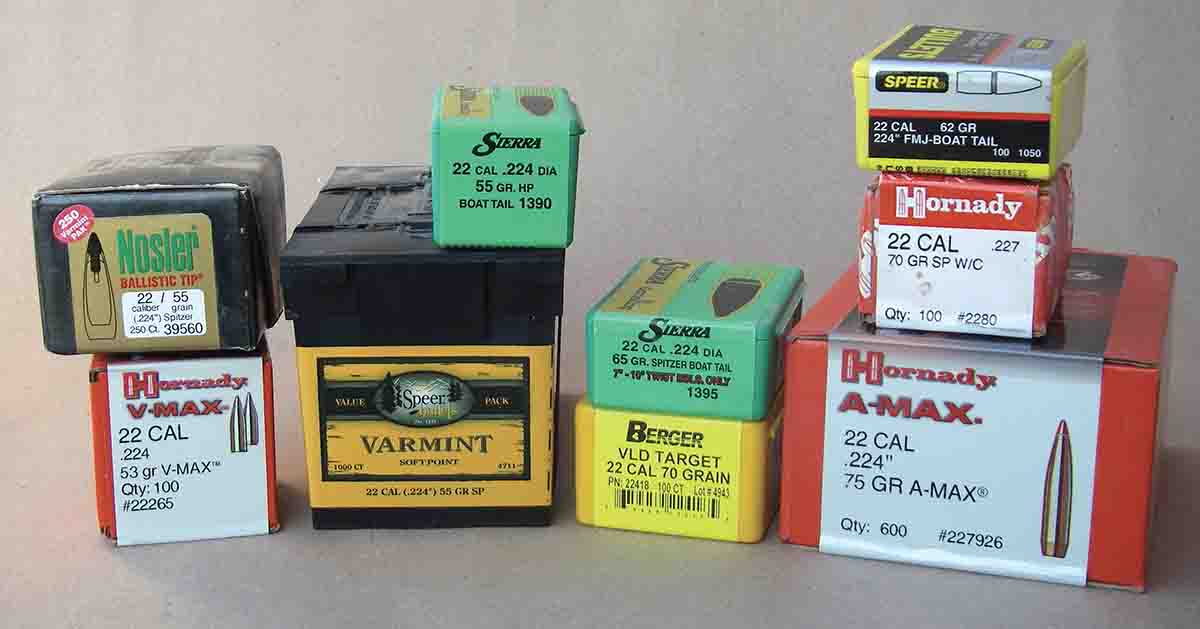 Having used the .223/5.56 cartridges for many years, and trying virtually every twist rate available, the one in 9 is certainly a competitor for being the most versatile twist. It generally stabilizes all 50- to 70-grain bullets and select 75-grain versions. This permits the use of varmint loads containing frangible 50- to 55-grain bullets without giving such high rotational speeds to destroy the bullet in flight. When changing gears for long-range competition, it easily utilizes high ballistic coefficient, wind-bucking bullets weighing 68 and 69 grains and select 75-grain versions.
This is a standard twist rate used by many AR-15 rifle manufacturers, including Colt, Ruger, Bushmaster, Remington, Mossberg and others; and it is doubtful that will change anytime soon.
One Turn in 8 Inches
The 8-inch twist is steadily becoming more popular, as it shares many of the same virtues as the 9-inch twist, but it is better suited for virtually all 75-grain and most 80-grain bullets for long-range work. It is slightly less suitable for lightweight varmint bullets. One test gun, however, proved accurate and reliable using Nosler 55-grain Ballistic Tips and Hornady 55-grain V-MAX bullets, each pushed to around 3,050 fps (20-inch barrel) by 27.0 grains of Hodgdon Varget and Remington 7½ primers. Either of these loads are worthy choices for taking varmints to coyotes.
One Turn in 7 Inches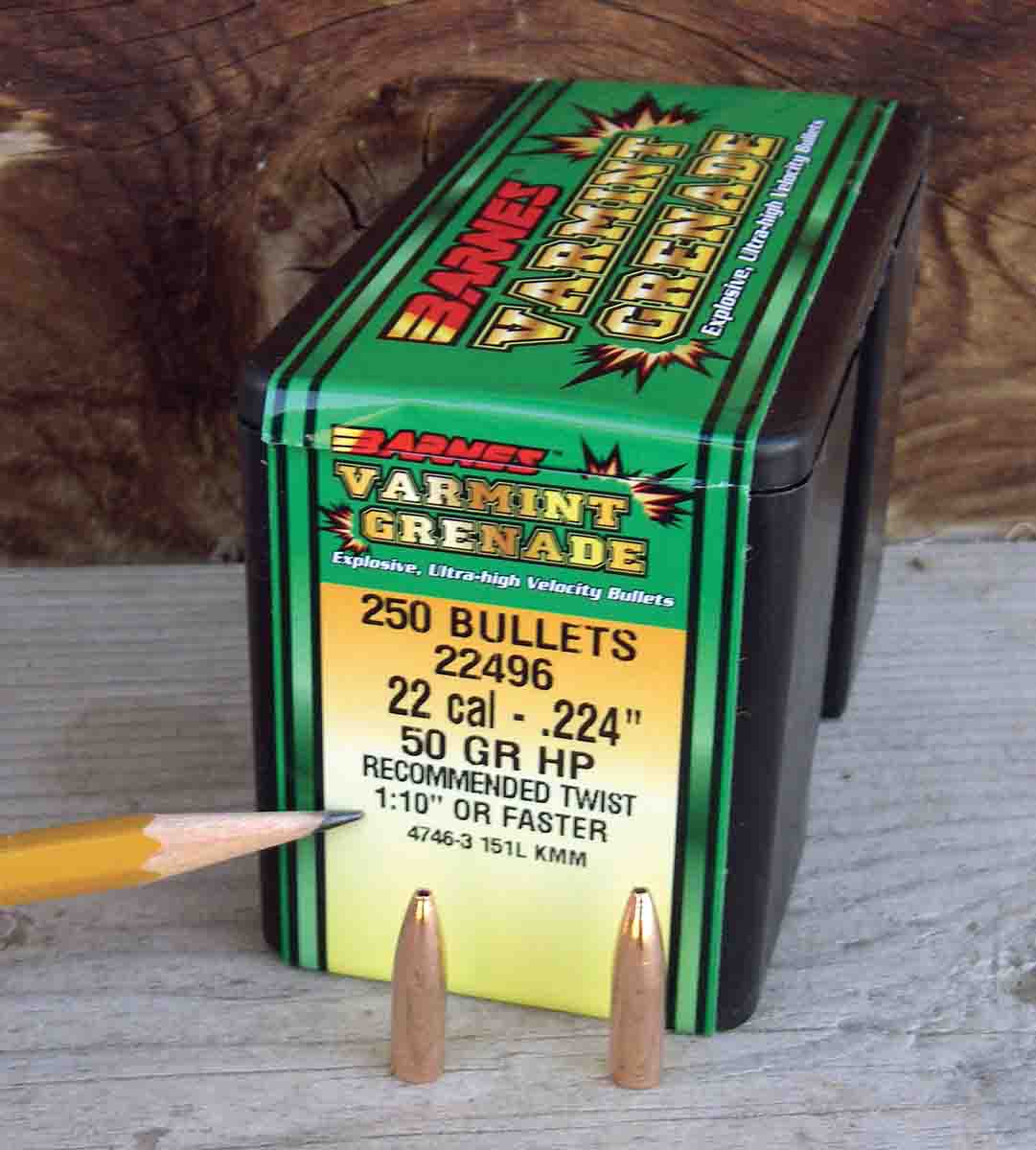 The 7-inch twist has become a standard for long-range competition and target work and is most often used in conjunction with 60- to 80-grain bullets. Most guns so rifled feature the 5.56 NATO chamber, and in an effort to increase accuracy and powder capacity, many competitors seat bullets out to an overall cartridge length of around 2.550 inches, which requires cutting a slot in the front of the magazine. These loads exceed industry cartridge guidelines and are too long to function in magazines without the above modification, or they must be fired in the single-shot mode only. Clearly this approach is competition driven and impractical for defense or hunting applications.
There are many excellent 60- to 80-grain bullets for hunting coyotes (and even deer) that will feed, function and perform admirably in the 7-inch twist when seated to the SAAMI overall cartridge length of 2.260 inches.
Although it is not generally a first choice for use with varmint bullets, I have an older DPMS AR-15 fitted with a 20-inch barrel that shoots impressive groups with a variety of 50- and 55-grain bullets in both handloads and factory loads. The point being, there are exceptions to bullet stability, and select varmint bullets will stay together at high rotational speeds.
One Turn in 6.5 Inches
Long-range competitors are always looking to get an edge on other shooters, with one answer appearing in the form of the Sierra .224-inch, 90-grain HPBT, which has a ballistic coefficient of .504 and is pushing the .223/5.56 cartridges to new limits. This heavyweight requires a 6.5-inch twist rifling to achieve proper stabilization, with most shooters seating bullets out and firing cartridges in single-shot mode. In spite of being capable of stabilizing bullets as light as 65 grains, the 6.5-inch twist is better suited for 70- to 90-grain weights and is primarily a competition driven product, failing to offer wide appeal for varmint shooters.