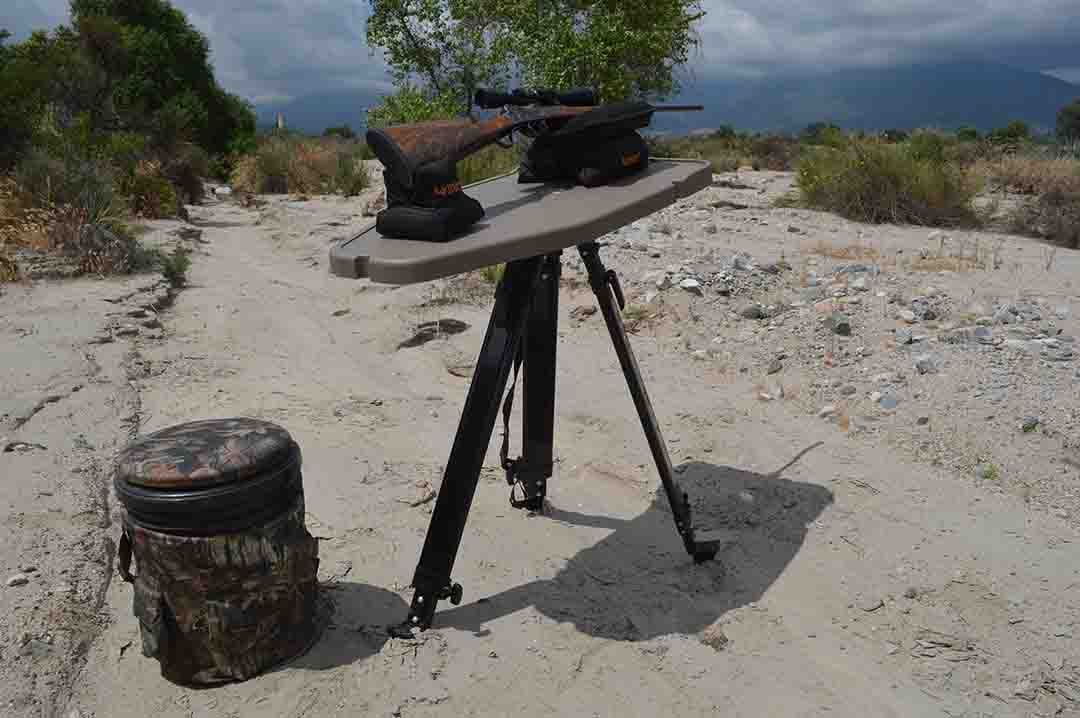 There are many products we buy as shooters to fill a niche we perceive as essential. (Let's not quibble about whether or not we really need them or whether they really are essential.) The first time I saw the MTM High-Low Shooting Table – a portable, adjustable-height shooting platform – I said to myself, I know exactly where that will come in handy.
I shoot a lot of ground squirrels adjacent to road access, so hauling a stable, albeit bulky, shooting bench to shooting spots is usually not difficult. However, there is this one big, long mountain meadow that holds a lot of squirrels that requires a long walk through sagebrush and aspens to reach. Now that's not far, and I have shot the field regularly over the years, but mostly off bipods while sitting on my rear.
The problem is that it's a long meadow, and there are opportunities for shots on squirrels out to 300 and 400 yards or more, and the crosshairs dance around a little too much for me on long pokes off a bipod (the terrain and brush really make prone shooting problematic). The MTM shooting table was a solution for that location.
While it is a little heavy and bulky – the bulk of the product is a heavy-duty surveyor-type tripod – the tripod comes with a carrying strap that can be slung over a shoulder, and the lightweight, plastic shooting table is carried by its built-in handle. I wouldn't want to carry it a long distance, but a half mile would be no problem.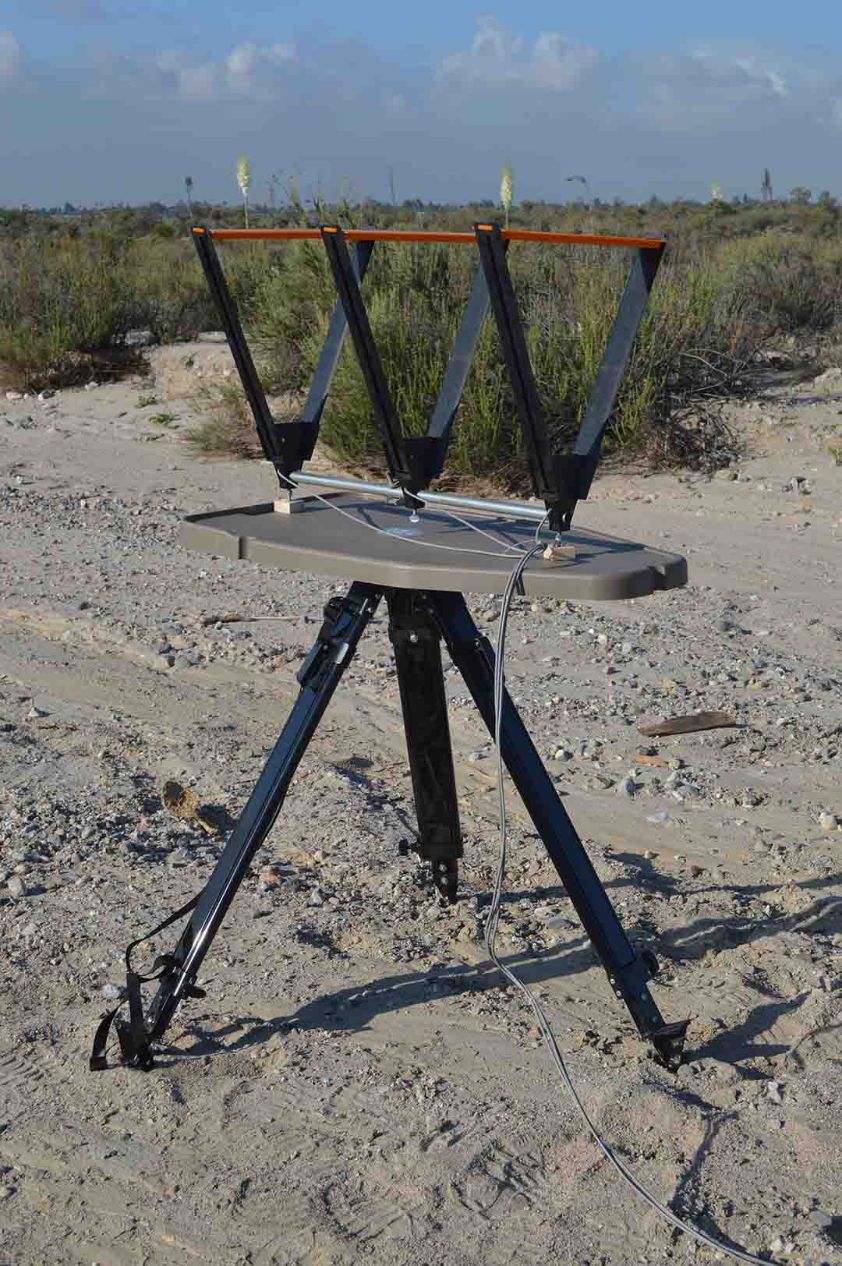 I usually add either a folding stool, or a dove-bucket with my benchrest sandbags if I'm not going too far. The stool allows me to sit comfortably when shooting, but I have shot off the table while sitting on the ground and when standing up. The tripod is adjustable up to 55 inches high, allowing even the tallest shooters to use the table while standing, especially when using a bipod.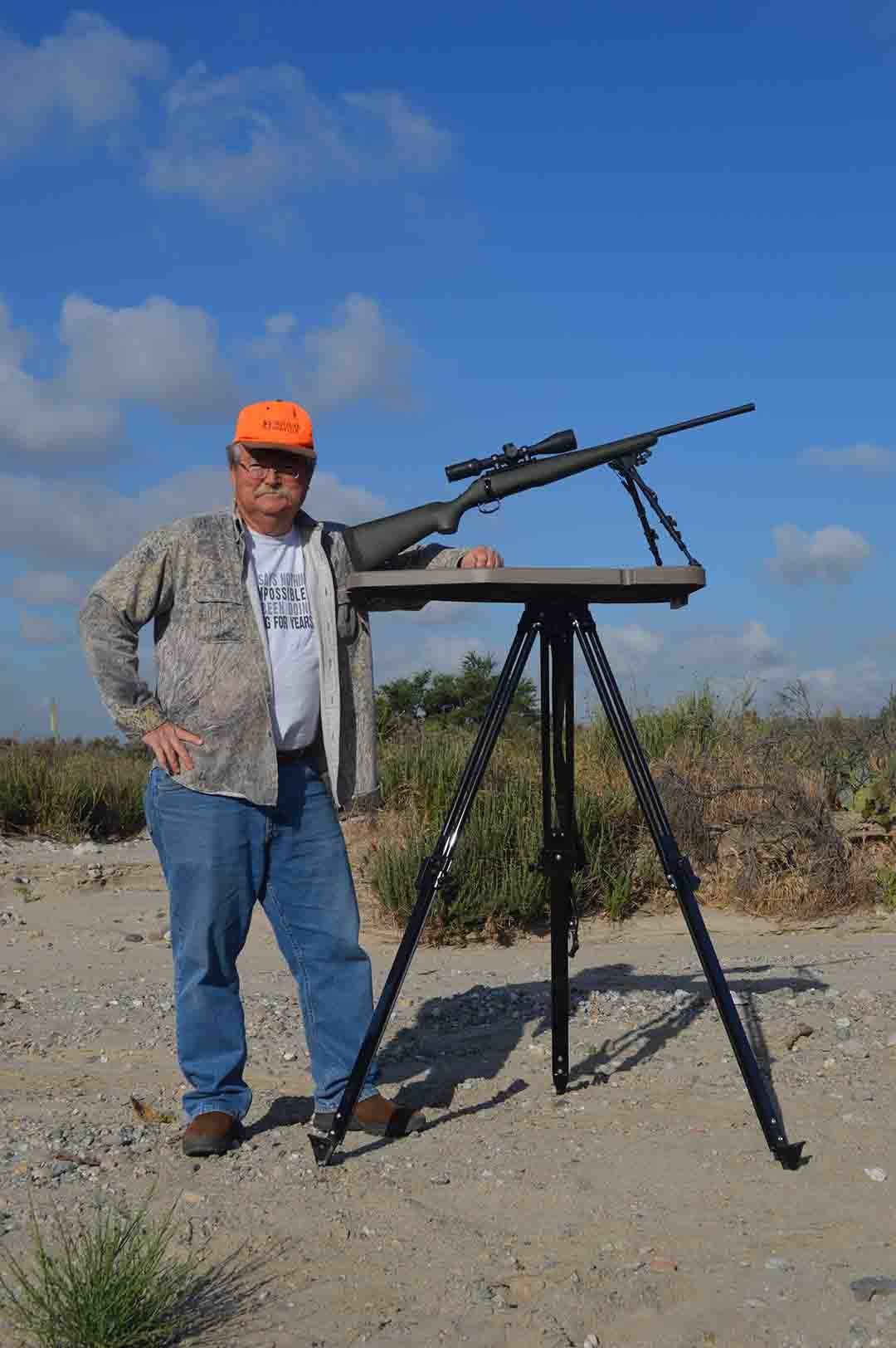 The fully-adjustable tripod allows the bench to be set up on uneven terrain at any angle, and the spikes on the end of the legs have push-steps for sinking the spikes into the ground to assure stability.
The benchrest-style tabletop measures 17x33 inches and is tapered at the back on both sides, allowing both left- and right-handed shooters to be comfortable. It is made of heavy-duty plastic that doesn't flex very much. Combined with the stout tripod, it creates a very stable shooting platform.
For transport, the tripod screws off of the table with a single, heavy-duty nut attached to a knurled plastic handle. It takes just a few seconds to attach or remove the tabletop from the tripod. When you want to change your shooting angle, simply loosen the knob slightly and then rotate the table.
I thought I was just going to use the shooting table for varmint hunting, but it is a far more stable platform than I anticipated. The portable unit now goes along on a lot of trips, so I have a benchrest available for sighting in or checking zero on rifles. I conducted a little test and shot a couple of groups off the MTM shooting table and off my usual range benchrest. I was using an accurate varmint rifle, and the average of the two groups was almost the same when shooting off the portable bench and my range bench.
I've also added to the versatility of the portable table. By drilling two ¼ -inch holes in the surface, I was able to rig the table to securely hold my Oehler 35P chronograph. Setup, takedown and adjustment of that piece of equipment is quick. I use the table all the time now.
The list price is $139, but street price is often closer $100. Most of the popular catalog companies carry the High-Low Shooting Table if you can't find it at a local retailer. For more information, contact MTM Case-Guard, 3370 Obco Court, Dayton, Ohio 45414, or visit the website at mtmcase-gard.com.