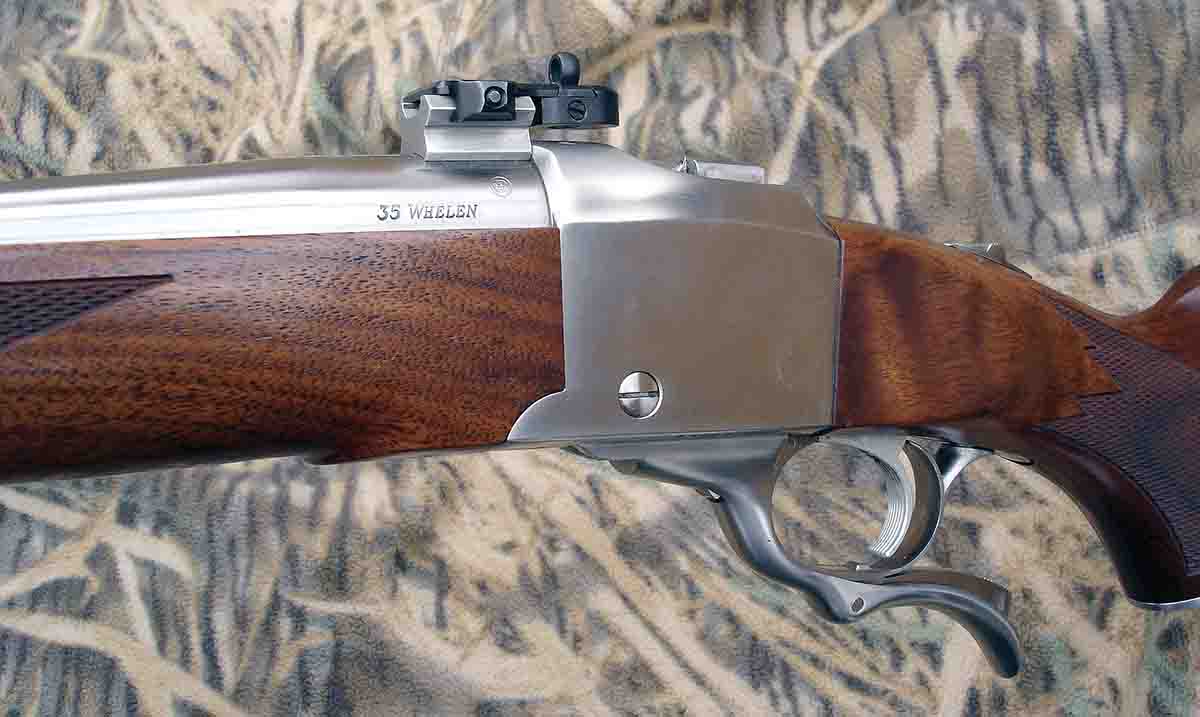 An old Russian proverb proclaims:
Better to be the enemy of good enough. Politically, I suppose, that could be spun from any point of view, but it certainly is a valid assessment on the usefulness of single-shot hunting rifles. The point of hunting after all is a careful stalk finalized by a single, skillfully placed shot. The same goal is currently being promulgated within the firearms industry in an attempt to sell us the newest in "tactical" gear.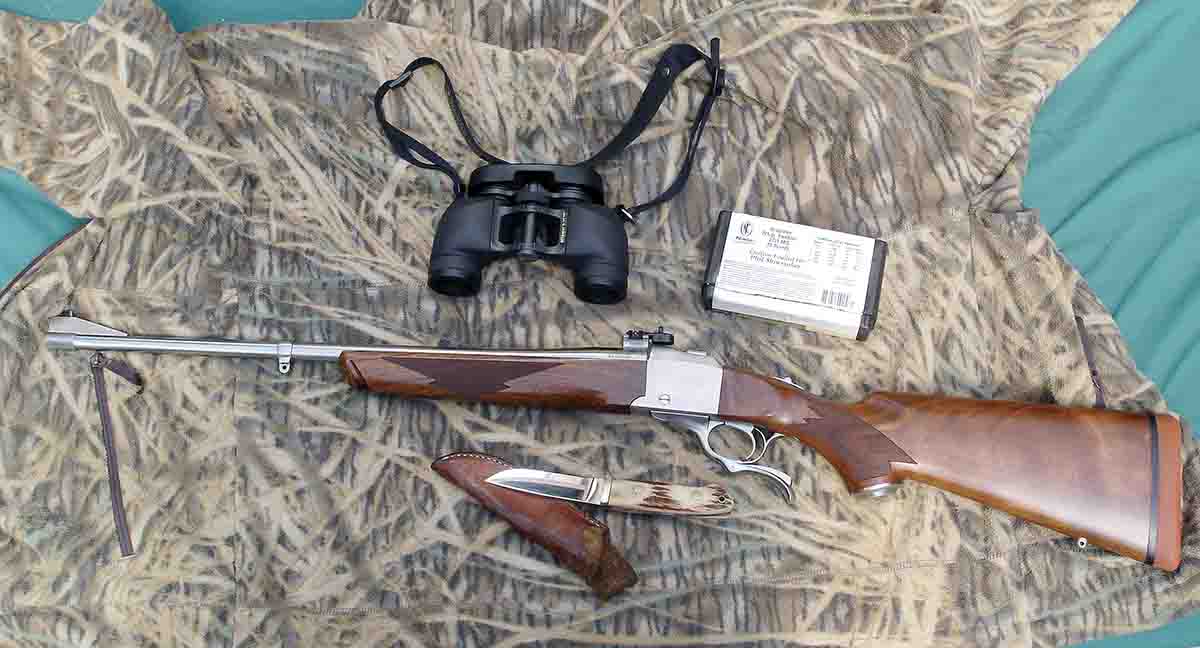 Two hundred years ago, single-shot rifles were the norm, but today they pose a bit of a conundrum. On one hand they are considered ideal for teaching beginners rudimentary gun handling and shooting skills. Having to manually load and extract each round and learning to rely on but a single shot teaches patience and the subtleties and details of carefully stalking within shooting range.
On the other hand, experienced hunters who have mastered those skills appreciate single-shot rifles for their unfailing reliability, rugged simplicity and aesthetics. To some it fosters a more self-disciplined form of hunting.
Maturation as a hunter often follows standard patterns, and mine was certainly no different. At my parents' insistence, I learned to shoot and hunt with a single-shot .22, but inevitably, and predictably, I succumbed to the allure of rapid-firing, magazine-fed pumps, lever actions and semiautomatic rifles. Although it was fun burning through box after box of ammunition, no amount of hot, flying brass and quick follow-up misses ever seemed to add much meat to the game bag.

After honing my shooting skills in college with Anschutz target rifles one carefully placed shot at a time, the juxtaposition of a year with an infantry unit in Vietnam, where the "spray and pray" theory of marksmanship was rampant, impressed upon me the singular importance of a well-placed shot. As Bill Jordan, survivor of numerous gunfights along the southern U.S. border and author of No Second Place Winner, was fond of the saying, "Speed is fine, but accuracy is final."
Upon returning from Vietnam, I continued flinging hot brass with a semiautomatic M14 while firing national match courses in Fort Benning, Georgia, but turned to a Ruger No. 1 .243 Winchester as my personal hunting rifle. Using 100-grain Texan bullets, it was a rare three-shot group that strayed over .5 inch, and many were half that size, which made neck shooting whitetails a simple proposition.
As the black-powder craze swept the country in the early 1970s, an informative and scholarly article in Rifle magazine in the "American Gun­makers" column attracted my attention. I contacted the author, North Carolina gun builder John Bivins Jr., and placed an order for one of his exquisitely rendered flintlock long rifles, and for the following three years used it as my primary hunting rifle in northern Arizona. Ignition with a well-tuned flintlock is as instantaneous as a cap­lock, and the rifle was easily capable of placing three shots within a 3-inch circle at 100 yards. Although the rifle was overly long to fit inside my little 1942 Taylorcraft airplane and needed to be tied to the struts under the wing when flying across the Grand Canyon to hunt the Kaibab or Arizona Strip, I never found it a handicap for the first shot. In the wilderness of Alaska, however, where survival became a real issue, the nostalgia and aesthetics of a five-foot long flintlock rifle could not compete with more relevant virtues like portability, reliability, accuracy and simplicity.
Since territorial days, single-shot rifles have always maintained a strong presence in Alaska. When my wife and I were working at a gold mine in the southwestern region, remnants of two well-worn C. Sharps rifles resided in a back corner of one of the old cabins at Marvel Creek. The vertically falling-block action, designed by Christian Sharps, was a prescient design and precursor to a host of similar rifle designs by Alexander Henry, Farquharson, Browning, Hagn and the Ruger No. 1. The Sharps was famed for its rugged reliability; the design is still in production, and every year a few Alaskans take to the field with them.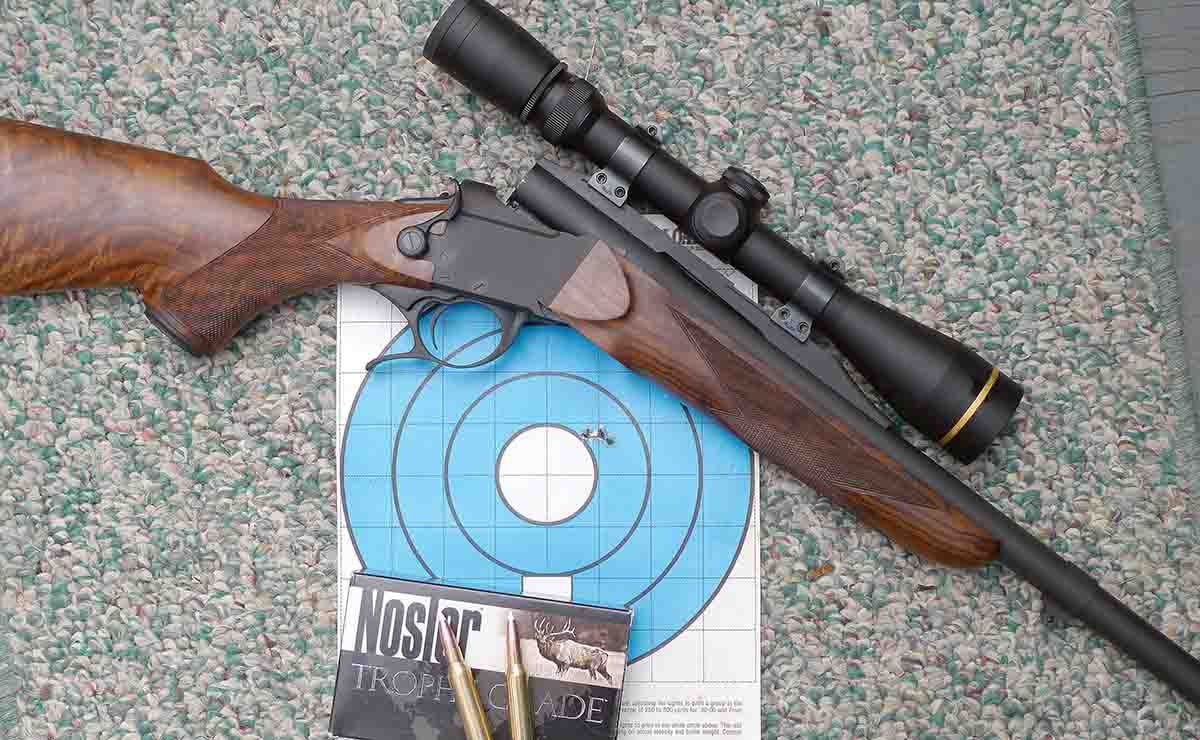 In 1906 the African hunter-naturalist Frederick Courteney Selous hunted the Ogilvie Mountains that bisect the Alaskan and Yukon territories. He carried a set of his Farqharson single-shot rifles and wrote, "personally I have found a .303 and a .375 bore rifles [the early 21⁄2-inch flanged nitro express cartridge with a 270-grain bullet at 2,000 fps], both by Holland, very effective weapons against moose and caribou." In fact Selous's long-term use of the Farqharson, both in Africa as well as in North America, may have been the inspiration for the comments in the 1910-11 W.J. Jeffery's catalog claiming, "The falling-block action is far safer, and can be loaded and fired with greater rapidity, than any magazine weapon of the same size."
Hunters used to modern, magazine-fed repeaters may dismiss Jeffery's comments as advertising hyperbole, but Dr. Don Heath, who ran the RIFA courses to train aspiring professional hunters in Zimbabwe, claimed they maintained a couple of Ruger No. 1 rifles to loan applicants who failed to pass the speed and reliability test with unfamiliar or balky bolt actions. Applicants typically managed to pass using the single-shot Ruger. As a shooter becomes familiar with smooth, falling-block single shots, like the Farqharson or Ruger No. 1, they usually have no problem firing repeat shots every bit as fast as the average hunter who unshoulders a bolt action in order to work the action.
Much is made of "controlled-round feeding" in rifles used for dangerous game, but no rifle has a more assured controlled-round feeding than a single shot. They are also shorter than bolt actions with equal barrel length. They are no longer than the highly regarded double rifle yet are lighter, better balanced and more accurate.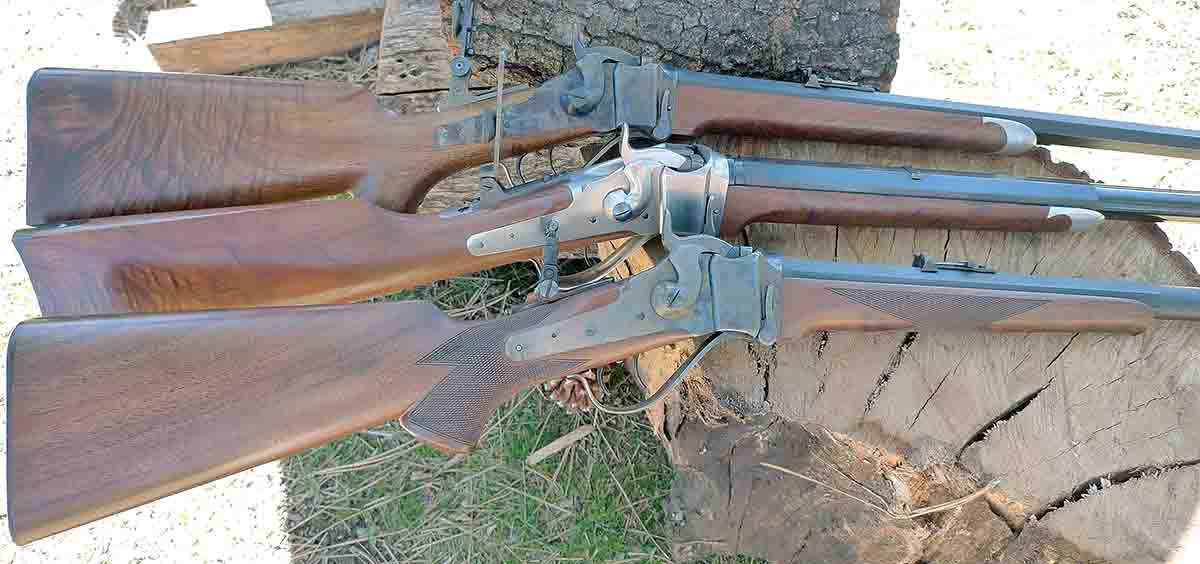 Someone once claimed that the height of optimism was hunting grizzly bears with a single-shot rifle, but my son Taj, who is quite handy and familiar with them, chose a .338 Ruger No. 1 for his first solo grizzly bear hunt. When working in Zambia, he also used a Dakota No. 10 9.3x74 to hunt a couple of Cape buffalo. His tracker remained close behind with a .470 double rifle but, even with a double rifle, if your first shot is not effective, you are left with a single shot to sort out any remaining problems!
Referred to as "stalking rifles" in Europe, the abbreviated overall length of single-shot rifles is a real benefit in treacherous mountain terrain, and the ability to wrap your entire hand around the slender action makes them a pleasure to carry. The majority of Continental stalking rifles seen in this country are upscale imports by Blaser, BRNO, Krieghoff and Merkel. They are built on break-open actions, straightforward and svelte, and offer hunters the advantage of easily being able to change barrels and calibers. They also are simple to break down, which makes traveling noticeably easier.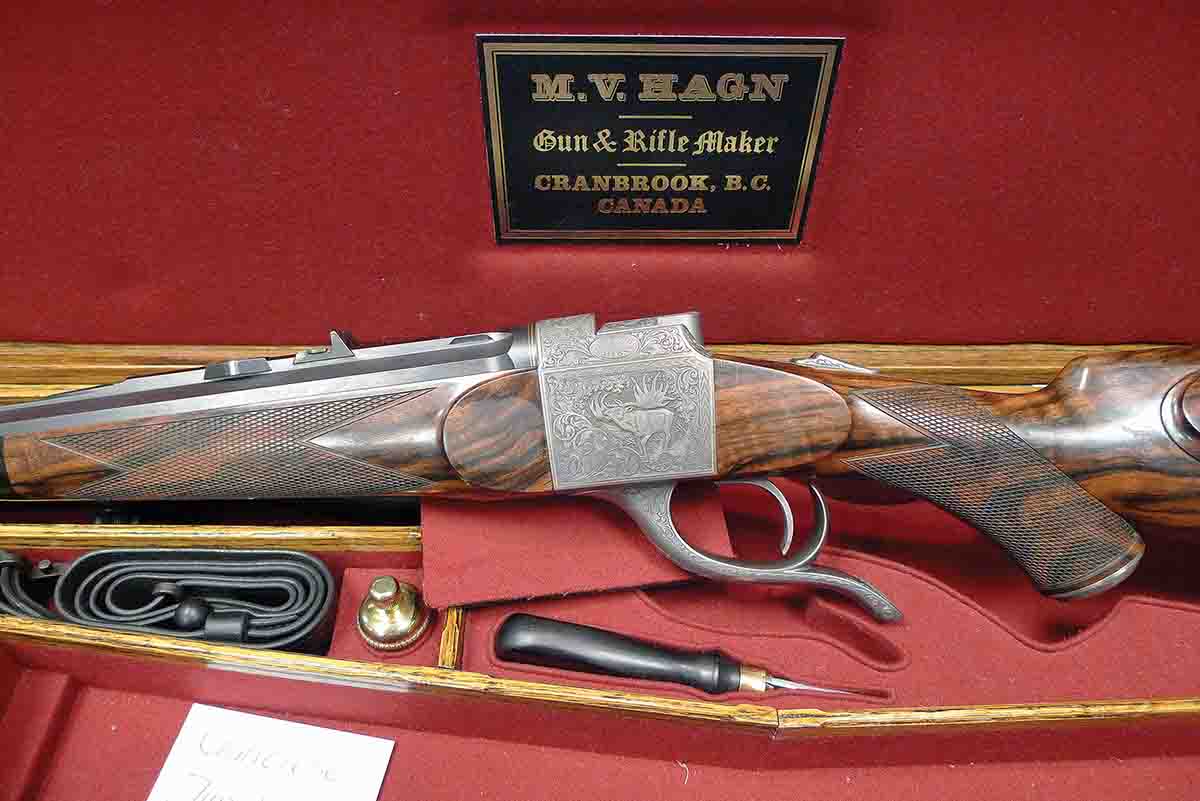 On an ibex hunt in Kyrgyzstan a couple of years ago, I choose an accurate little Luxus .30-06 that was nestled out of sight in the bottom of my luggage in a lightweight Negrini case. It still had to be declared, but the savings in baggage fees over that charged my hunting companions who were using heavy, full-length cases, was substantial.
There is also an unassailed aesthetic attraction in austere, mechanical minimalism of single shots. At the annual U.S. custom gunmakers guild show, there is normally a full selection of single shots on display. Unique and artfully rendered single-shot stalking rifles are also highly revered in Europe and are produced by numerous gifted makers like Max Ern, Peter Hofer, Johann Fanzoj and Philipp Ollendorff.
While my family owns and uses a variety of rifles in our guiding business, it is safe to say that outside of work, we use our single shots as often as any. Whether it's serious target shooting or simply plinking with a Feinwerkbau air rifle or crushing distant, brightly colored Easter eggs with a .22-caliber 40X Remington during our annual Easter egg shoot or collecting foxes and shooting varmints with an H&R .17 HMR, single shots are every bit as fun as they are useful. Deliberately loading a single round with a specific target in mind, then carefully placing the shot elevates the enjoyment of shooting almost to the same level as it was when we were young.
For all-around hunting in Alaska, one of my favorite rifles is a stainless steel Ruger No. 1 .35 Whelen. It has a few, small custom modifications to the sights and lever by gunmaker Lon Paul and possesses all the positive attributes of a great hunting rifle. It is short and light, powerful and rugged, unfailingly reliable and attractive. Sometimes good enough can be just right.