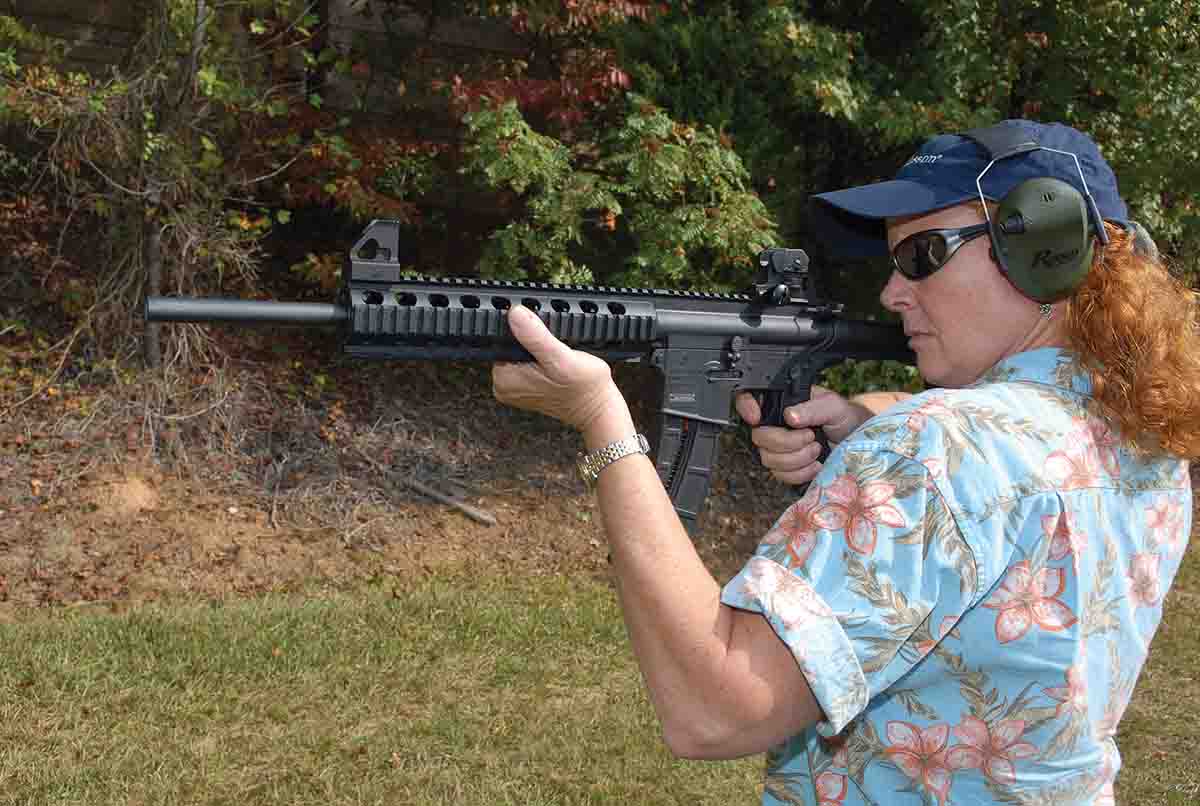 Whether we like it or not, the face of shooting is forever changed. Some doubtless remember when "composite" stocks first appeared on bolt-action rifles. Everyone knew rifles were supposed to be blued steel with walnut stocks, so cries of heresy were heard across the land. Then we discovered they had practical value; you didn't have to care if they got scratched, and if they got rained on the zero wouldn't shift.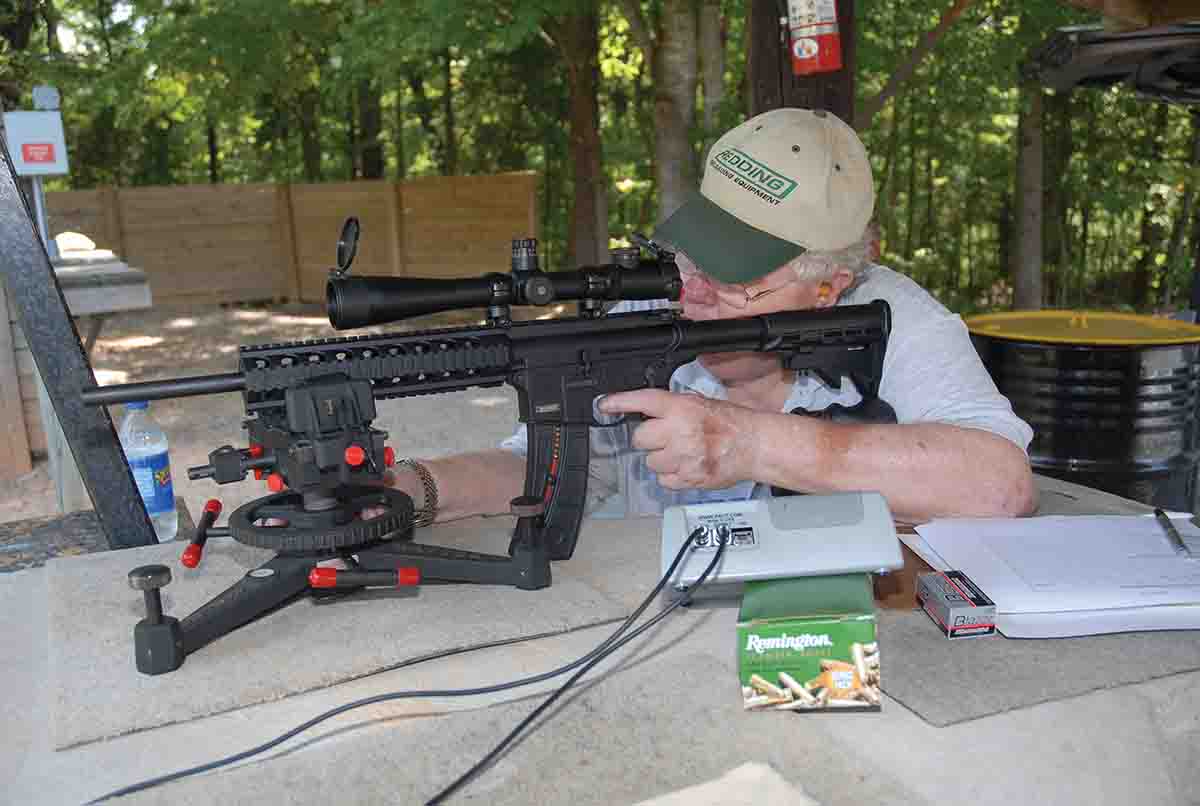 Pretty soon composite stocks became the norm and all was well until the plague of plastic pistols infected shooters, especially cops, nationwide. Then the public discovered the AR-15 rifle that had been reviled during the Vietnam era became mandatory equipment for the properly "tacticlized" shooter. Even bastions of tradition like Remington and Smith & Wesson hopped aboard the train of consumer demand.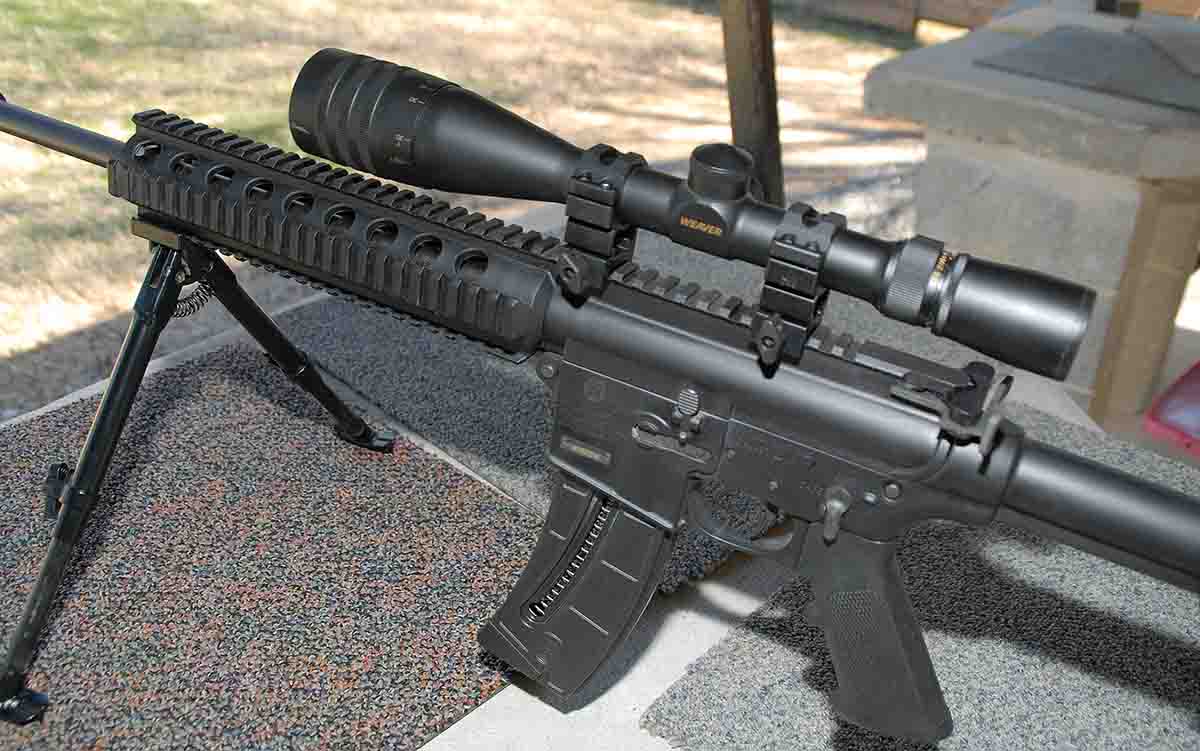 This brings us to another reality in the shooter's world: The cost of ammunition has gone through the roof, first due to skyrocketing costs of commodity metals like brass and lead – and now because of political fear. Nobody knows when, or if, prices will stabilize, so shooters who once didn't think a thing about blowing 100 rounds through an AR in an afternoon may not shoot at all if it costs a dollar per round, as some doomsday prophets suggest.
I usually shoot a couple of times a week and out of curiosity pay attention to what others are using. There are lots of strange colored 7.62x39 cases lying about, but most of the people I see shooting centerfire rifles are handloaders. The same is true on the pistol ranges, but the most pertinent observation is how many more folks, including myself, are shooting more and more .22s. My shooting has always been divided between work and recreation, and today, when I pack up guns for the recreational part, one or more will be rimfires.
The lowly .22 has always been the greatest bargain in shooting, but it hasn't been immune to the upward price spiral. When the little S&W M&P-22 came out, you could buy a 550-round bulk pack of Remington Golden Bullets for less than $9. Today prices start at $20 – and go up from there, if you can find them at all.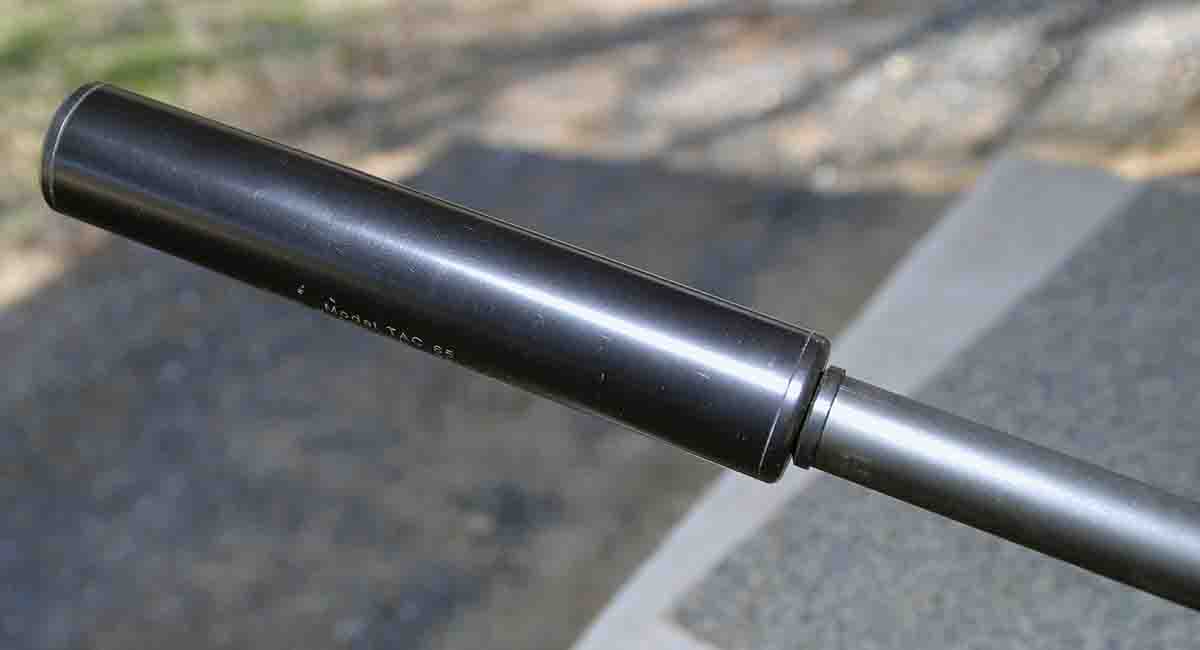 This cost factor first brought to the market more than a few AR-15 upper units chambered for .22 Long Rifle, as well as conversions that simply replace the regular bolt. Then, in early 2009, Smith & Wesson revealed its M&P15-22, and a box landed at my house in late July.
At first glance you would think this is a well tricked out M4-style AR, for it is a flat top with a quad-rail forend. The iron sights are removable, which is the current style du jour, because almost everyone uses some form of optical sight. There is an adjustable multiposition stock, but once you get past that initial impression, there is a lot to study. With all the new stuff I concluded that Smith & Wesson set out to not only copy the look but also threw open its wallet when it came to design and building. Both upper and lower receiver groups are injection molded of a high-strength, glass-reinforced polymer. That carries a big startup price tag but low per-part cost. At an MSRP of $499, you get a complete, highly functional .22 for less than the cost of some upper units alone.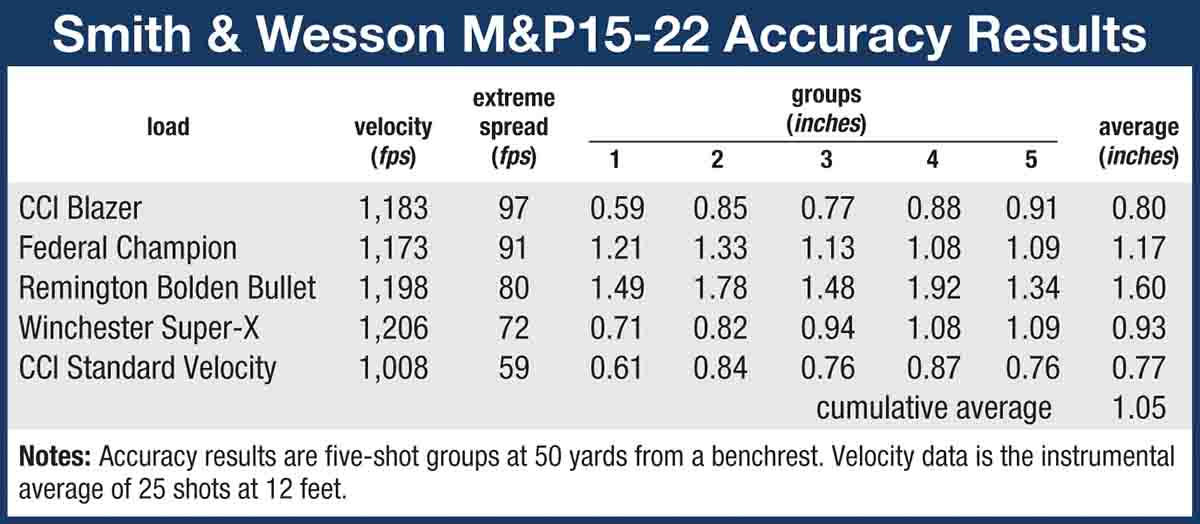 Since there is no need for a recoil buffer in the rimfire, the lower receiver is a single molded piece that includes the tube on which the collapsible stock rides. This feature greatly simplifies manufacture, but it's made to mil-spec dimensions and will accept various after-market collapsible stocks. Since the rimfire is quite happy with the blowback system of operation, there is no need for complicated gas systems or bolts with locking mechanisms. These are costly, so eliminating them helps hold the cost down.
According to S&W, the rifle's pin placement and size are the same as the AR's, so it permits the use of after-market triggers and pistol grips. For someone used to GI triggers, the S&W's is not at all bad. The safety is reversible for southpaws. An assembly similar to the AR's bolt carrier contains the bolt and recoil spring and guide parts for the direct blowback operating system.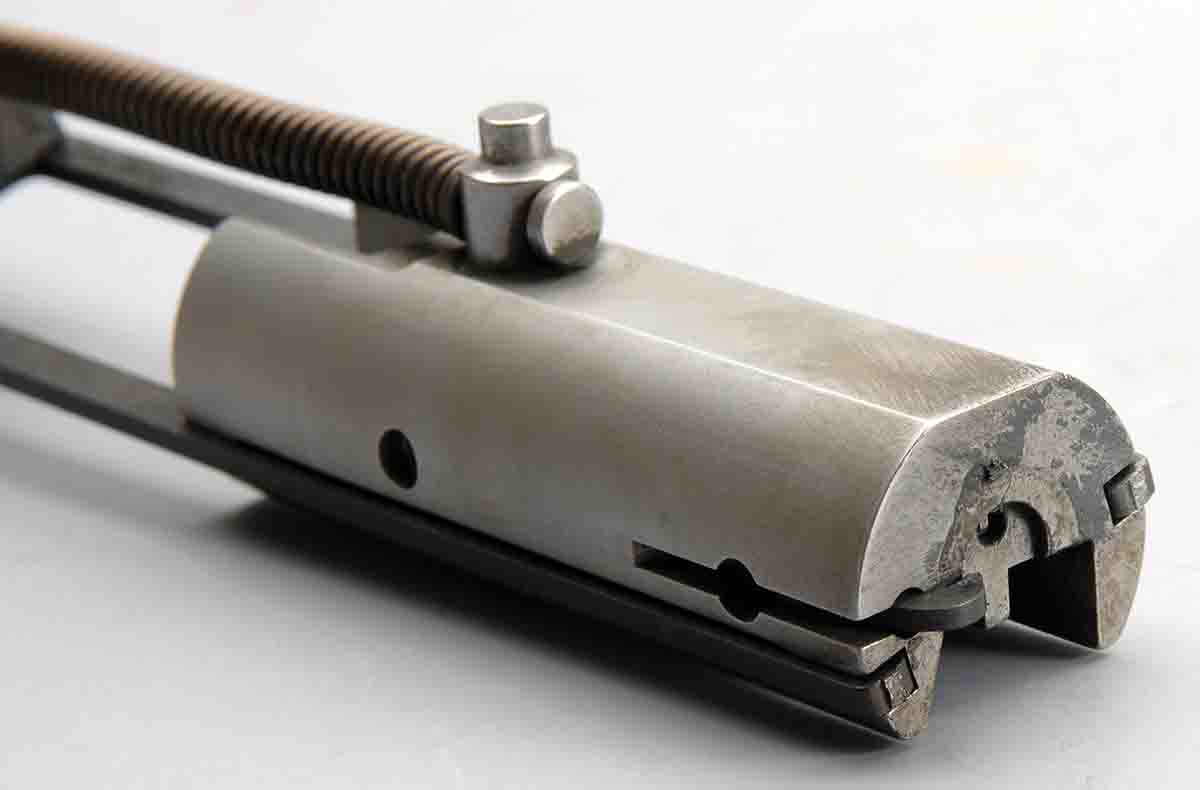 I try to be objective and unemotional with new guns, but this one sort of reached out, begging to be shot. In the first weeks I had it, well over 1,500 rounds went downrange without cleaning or a single gun-related stoppage. I have to be careful here, because there have been quite a few failures to fire with Remington bulk-packaged Golden Bullets but none with the other loads used. CCI Blazer has earned "favorite" status for reliability. There was also one stovepipe with standard velocity ammunition. Now, almost everyone recommends only high-velocity ammunition for stuff like this, but what kind of evaluator would I be if I only used recommended loads. Smith & Wesson reports that several endurance test models have exceeded 30,000 rounds. The little rifle carries S&W's lifetime service policy.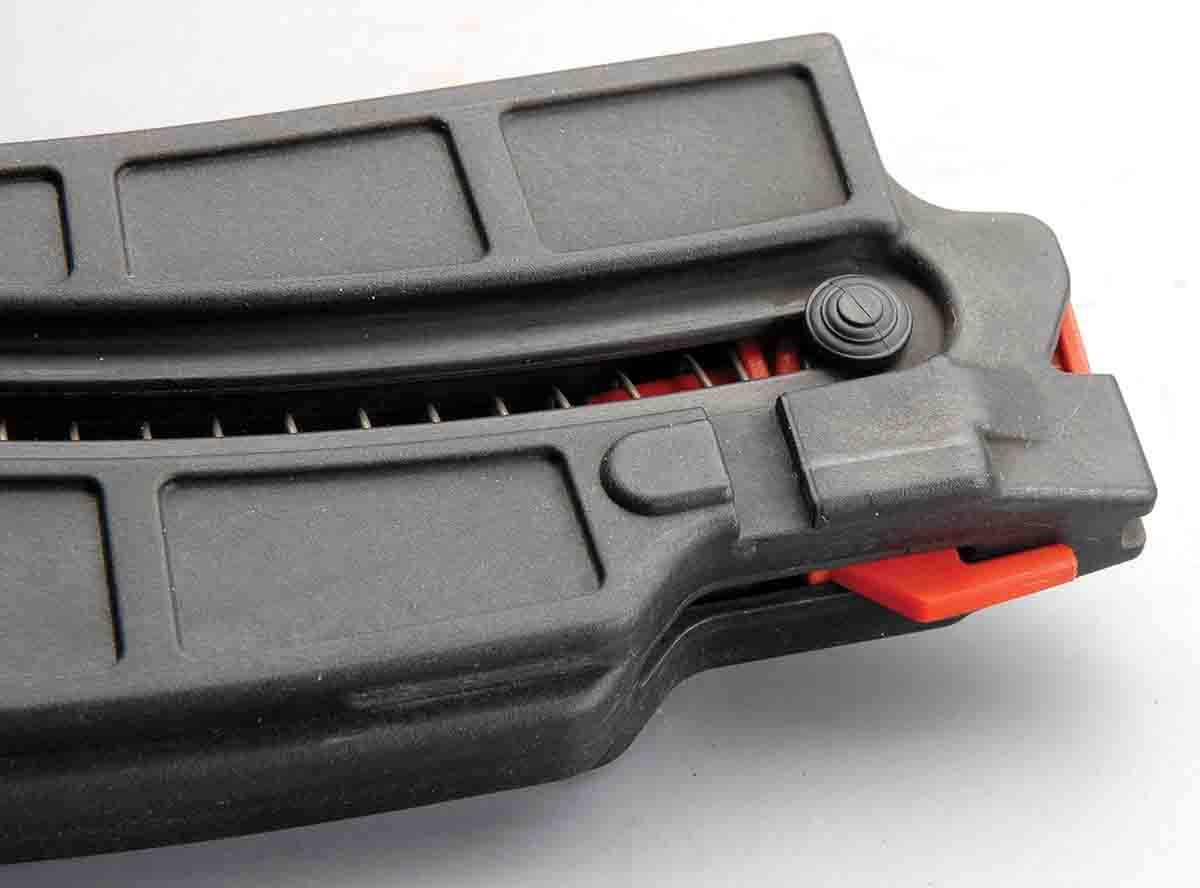 I don't think there is any other honest way to say this, but I have been playing with this rifle and dragging out all manner of AR accessories accumulated over the years. Lasers, lights, red dots, scopes and mud flaps have all been tried – and worked. If it clamps onto one of four Picatinny rails on the forend or the flat-top upper, the S&W can handle it.
The first model had a plain muzzle, but the next year S&W added a birdcage flash hider just like big brother's. I'm sure it was pure accident, but the threads just happen to be the same as those on now popular suppressors. After just a little break-in, my gun had no trouble with standard velocity ammunition.
I've also done a good bit of tactical training with AR-15s, and with the sole exception of long-range shooting, there is nothing you can't do with the .22. With so many folks being forced to shoot on indoor ranges, AR training can be done without risk of blowing out an eardrum or bringing down the wrath of a range owner whose backstop can't handle high velocities. One accessory that proved very useful in low-light indoor shooting was Crimson Trace's new combination light/laser front grip.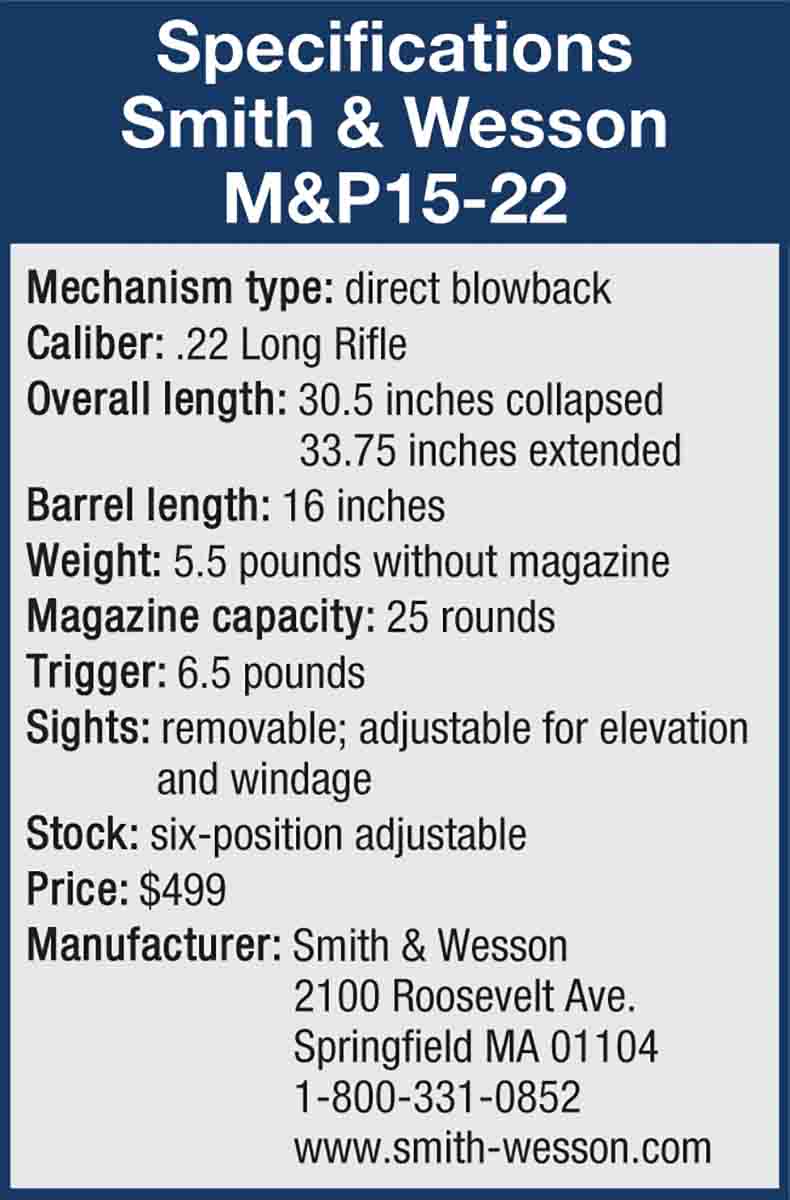 Magazines are the Achilles' heel of any semiautomatic and S&W got this one right. It too is molded polymer, black with an orange follower. The first time I stuck it in the gun and pulled the charging handle the bolt carrier locked back. Of course, we expect that with a centerfire round, but rimfires are a very different animal and hold-open devices are not common.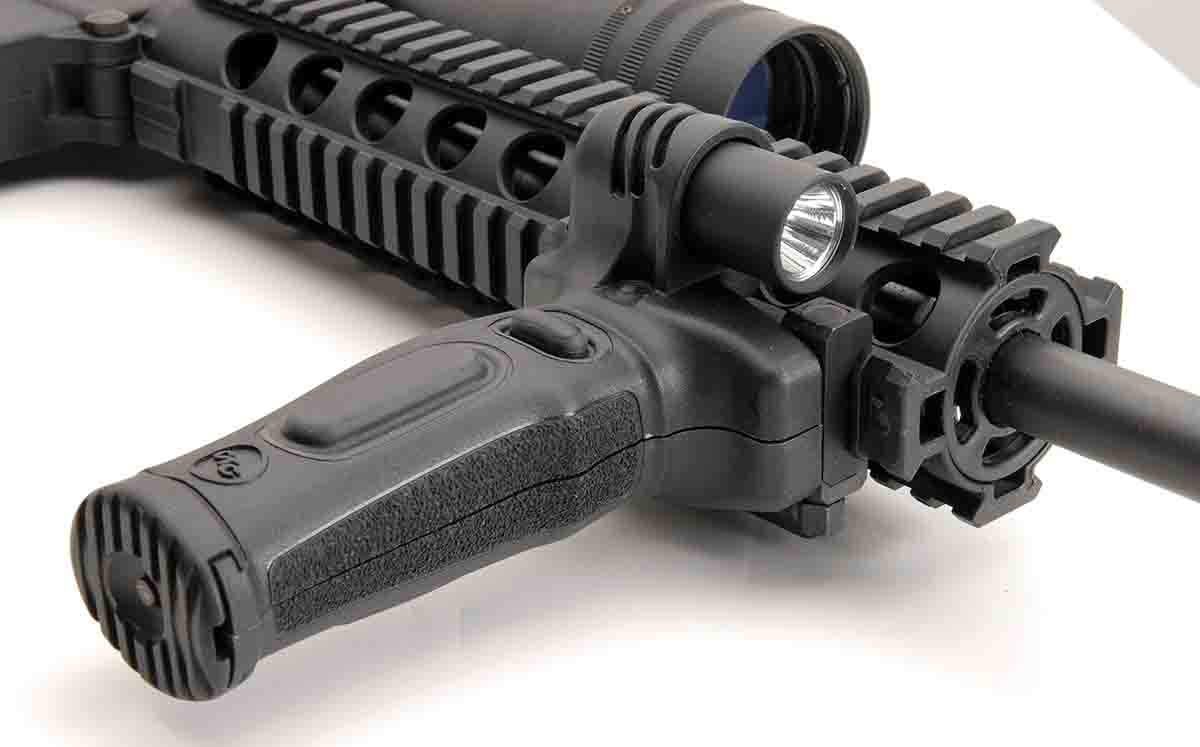 This immediately became one of those "How does it know?" questions that took a minute to figure out and no time at all to see how really smart somebody was. Most hold-open devices key on the magazine follower and this one does too, but the small diameter cartridge and wide magazine well complicates the possibility of a conventional design on the side. On the outside, the bolt release looks just like regular ARs, but inside is a different story. In the center of the magazine well is a small lever that is pushed up by an extension of the magazine follower that protrudes from the back of the magazine. When the follower reaches the top of its travel, it pushes the little lever up and, presto, the bolt is caught. From an operational standpoint, the controls are exactly the same as a regular AR.
The magazine holds 25 rounds and, thanks to a "loading assist button" on each side of the follower, the last round loads as easily as the first. While the magazine well looks the same, there is enough difference so a standard AR magazine won't go in the .22, or vice versa.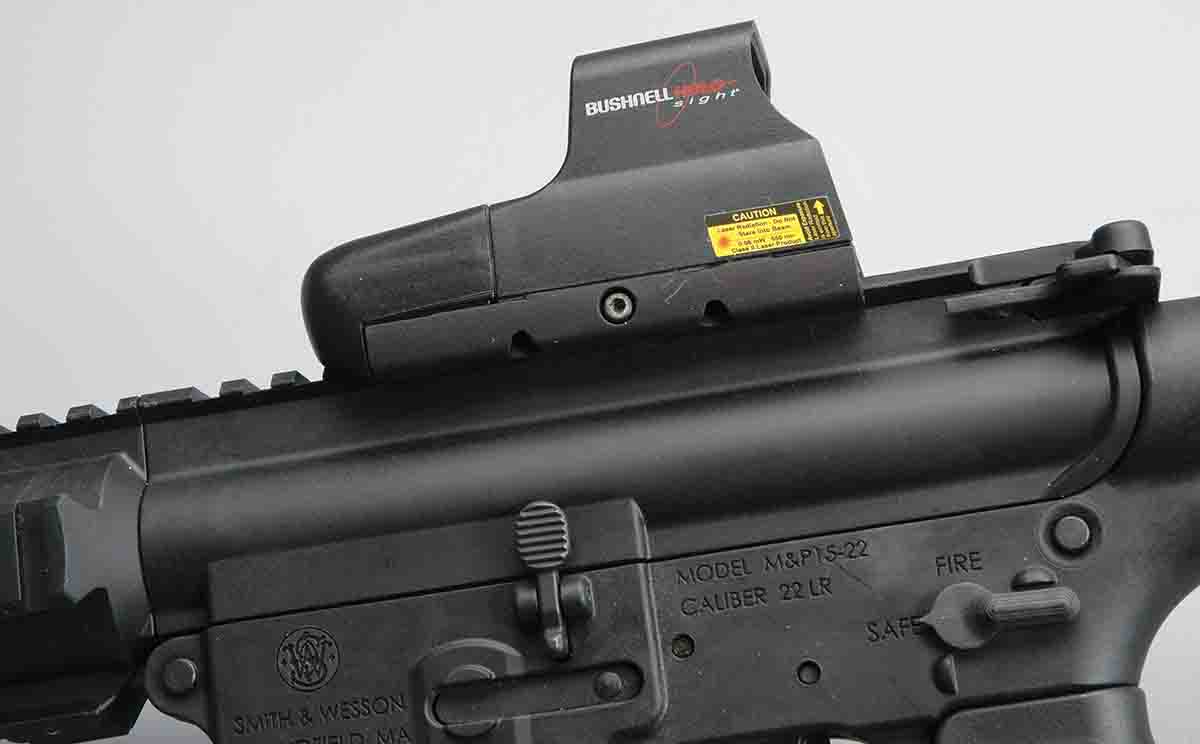 A mandatory part of any new gun writeup is an accuracy test, but this one presented some problems. The 25-round magazine extends far below the pistol grip and the heel of the stock, so even if one could elevate the front rest high enough, there isn't a convenient rear bag high enough; and simply trying to hold it against your shoulder is not very steady. Allowing the magazine to touch a padded surface gave good control of vertical motion but provided little horizontal stability. I ended up turning a normal rear bag on end and letting the rear sling swivel rest on it. That seemed to be the most stable, although it was far from an ideal benchrest position. For the accuracy test, I mounted a Leupold 3.5-10x long-range tactical scope and had a great time.
It is really neat when a gun, any gun, can do two very different jobs and do both well. It is even better when the price is imminently reasonable. Over the years I've been a serious student of gun design and manufacture and have seen a lot of ideas – good and bad – come and go. Something may be well thought out and made, but if it doesn't trip the trigger of some segment of the market, it will surely perish.
Within the last few years tactical has become the leading marketing buzzword, and people who will never be cops or "operators" like the stuff their heroes use. You pick up some of their gear and, at least for a moment, can see yourself riding on the skid of a Little Bird going in to get some, or as was the case with my generation, astride a fine horse named Champion, Trigger or Silver, rounding up the guys wearing black hats.
Or maybe you belong to an organization that ran out of money for training ammunition, and you watch your skills go down the drain for lack of use. Since you can use almost anything you have on a service rifle on the M&P15-22, training won't suffer much, and the boss will love the idea for saving money. Of course, for the rest of us, it's just a ball of fun. Either way, the S&W is going to trip a lot of triggers.