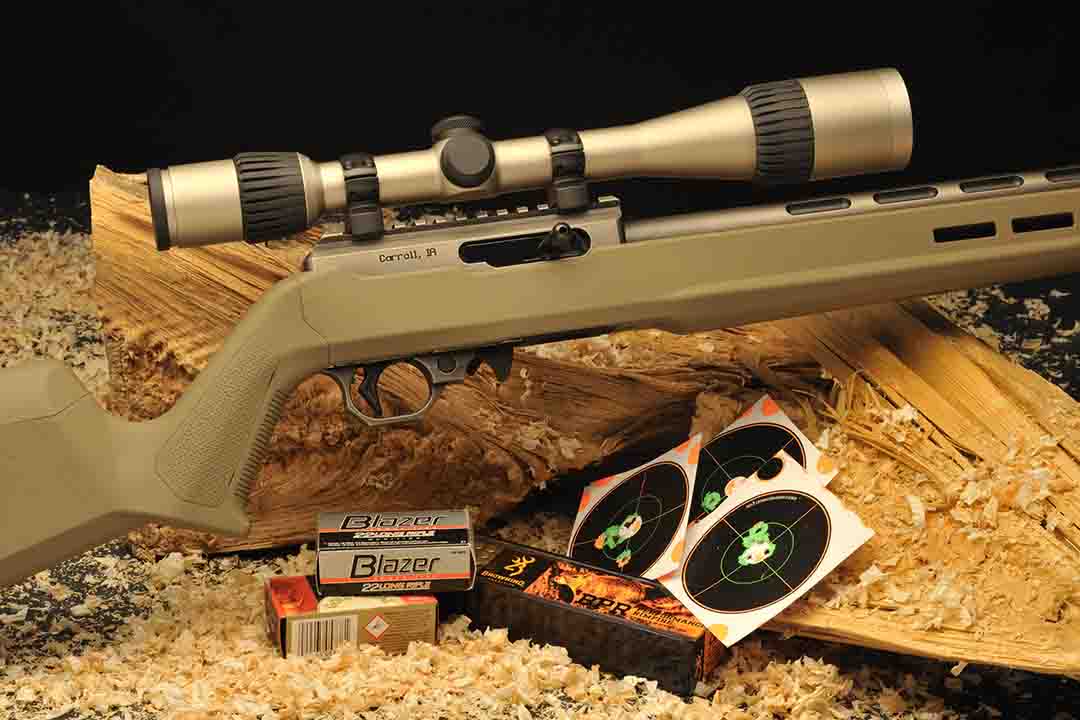 Like everyone I know, we all grew up on a .22 rimfire rifle. It was a natural thing to do. After graduating from a Red Ryder BB gun, the next step was something with a little more range, power and accuracy. While shooting tin cans in a vacant lot a few blocks away was okay, I had the slight advantage each summer, because after the last day of school, I was chauffeured in Dad's 1953 Chevrolet Model 210 4-door sedan to my uncle's farm in upstate New York for some real shooting and hunting on 300 acres of land.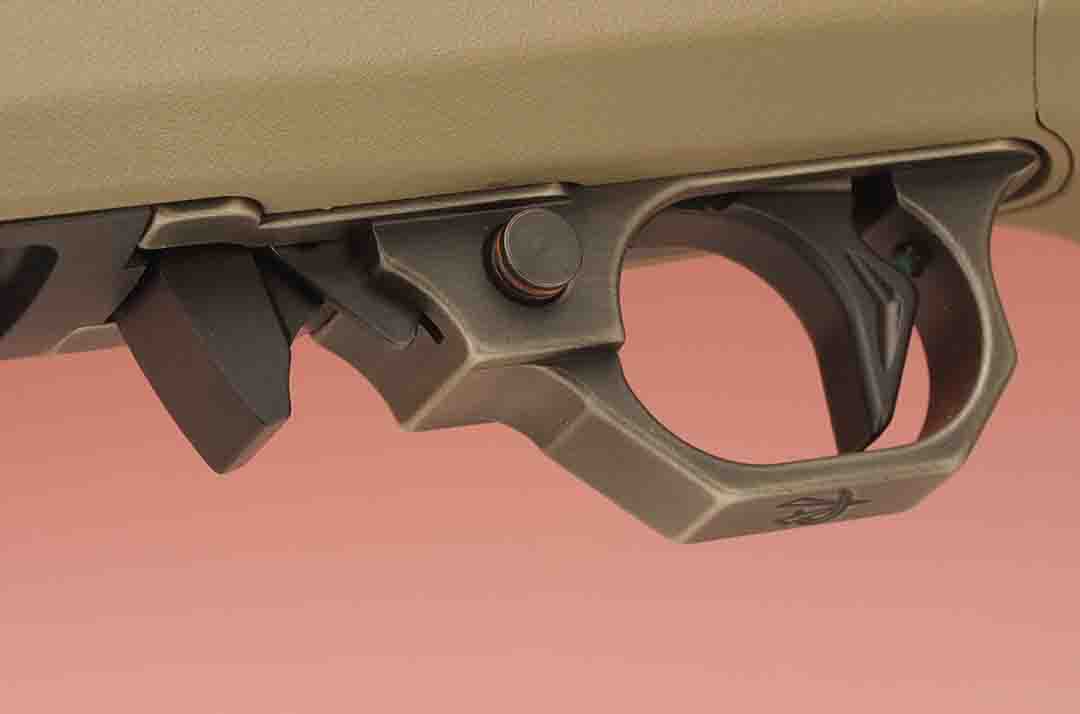 Using his scarred up Winchester single shot with open sights and a unique 26 inch barrel, I stalked the fields for woodchucks with Jimmy, the kid down the road. We learned a lot then, which still carries with me while hunting bigger game today. Moving up to centerfire guns, my first was the farm's field-worn and borrowed .30-30 deer rifle, followed by a new Parker Hale .243 Winchester. From there, the sky was the limit in rifles and cartridges, but after all these years, I still navigate back to the classic .22 rimfire cartridge.
I have to admit for the most part, I stayed away from automatic type rimfire rifles. Listening to my peers, they all mentioned that these type of guns were "not very accurate" or they would "jam" all the time. In the years that followed, all that went out the window and today's rimfire automatic rifles along with modern, premium ammunition are the best in their respective classes. One that I recently found was the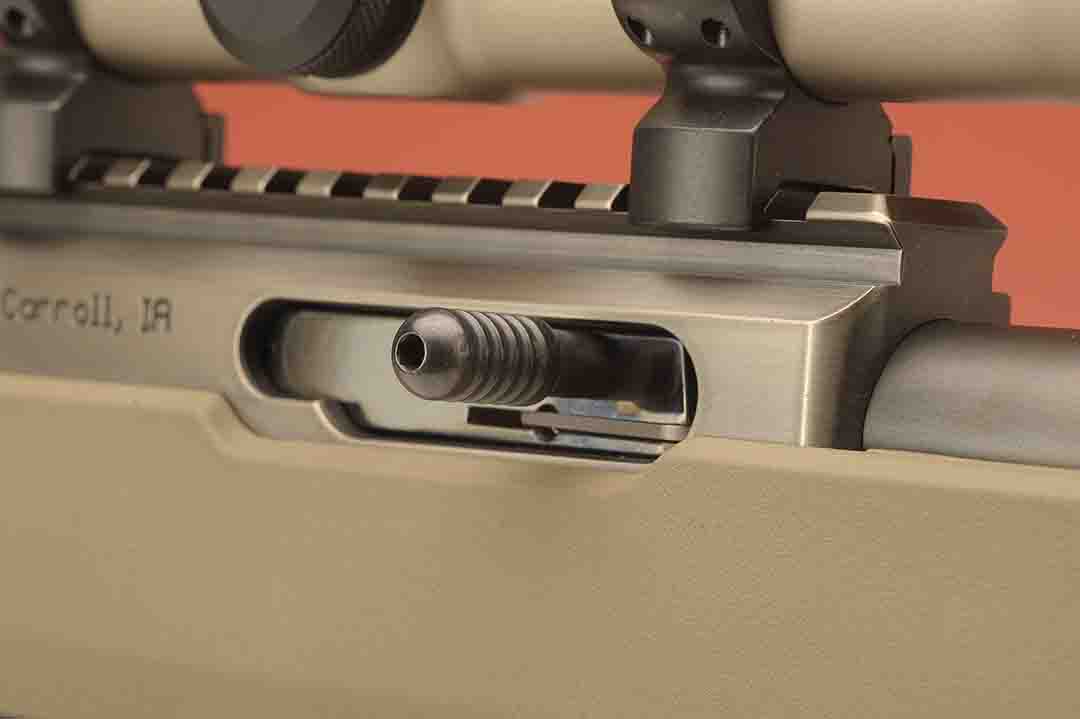 Volquartsen Battle Worn rifle. Chambered for the .22 rimfire cartridge, this rifle has given me a total new outlook on both the cartridge and the advance of modern rimfire rifles.
Now I am the first to admit, that Volquartsen is not a household word like Remington or Winchester, but one look at their catalog could put readers on the road to the nearest dealer. Started in 1974, the company is still a family-owned business, producing a wide range of firearms and accessories with 26 full-time employees. Surprisingly, the company has a full line of production and custom pistols made on the popular Ruger MKIII platform. In fact, they range from target to hunting with nine different models with almost unlimited options of sights, scope mounts, colors, compensators and extended magazine base pads. Special barrels,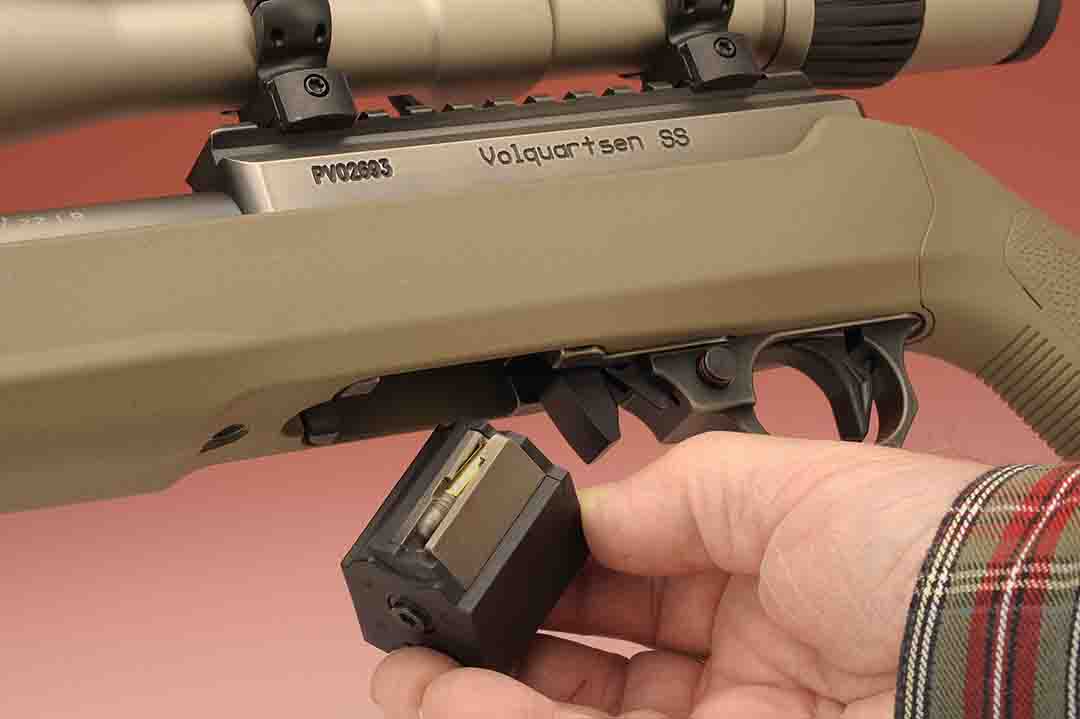 grips and weights all add up to a variety in the .22 long rifle that any shooter would be proud to own.
When it comes to rimfire rifles, this seems to be the company's forte. They have pages of quality merchandise in .17HMR, .17 WSM, .22 long rifle and .22 WMR rifles ranging from highly-crafted custom rifles with Bastogne walnut and engraving to field-ready rifles in many configurations. Classic, thumbhole, sporter, silhouette, synthetic stocks are available with plain, fluted or carbon fiber barrels in various lengths or diameters to suit even the most discriminating customer. Naturally, with all this, there are pages of accessories ranging from competition equipment, tune up kits, match hammers and other things that buyers can purchase to enhance their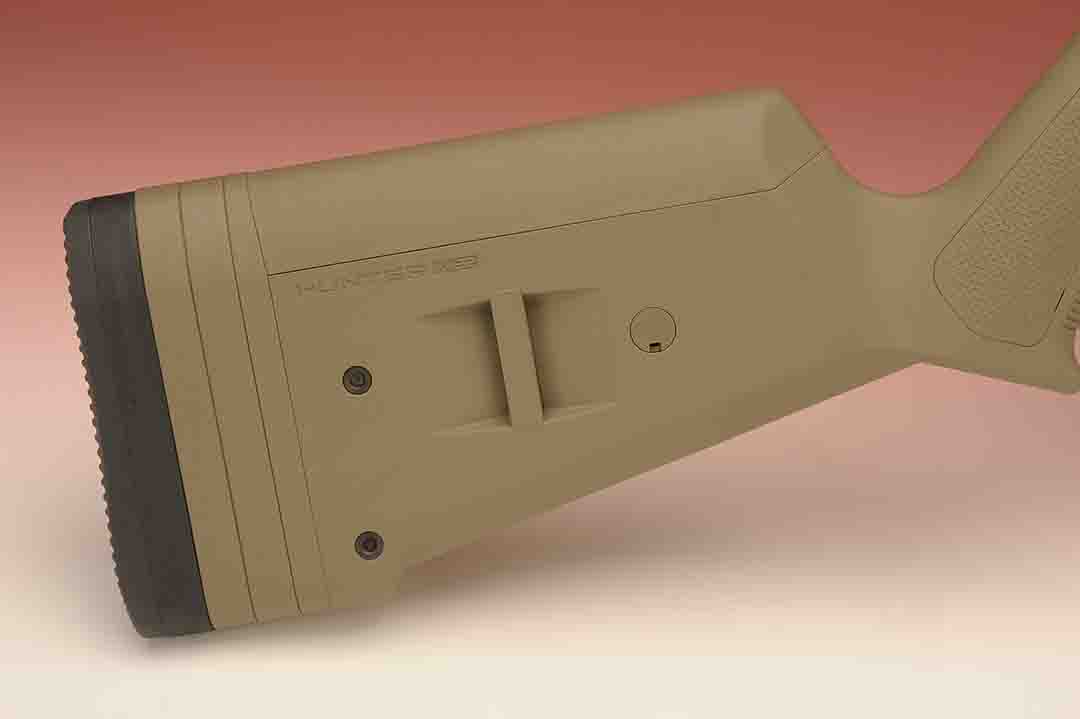 Ruger Model 10/22 rifle.
However, the one rifle that caught my eye was a new version called the Battle Worn rifle. Not that I am going to be faced with angry, charging woodchucks, but for the all-weather, all-season varmint hunter, this is a great rifle. It not has all the bells and whistles one would want on a sporting rifle, but with the addition of the Magpul Hunter stock, it is adjustable to suit everyone in the family.
Starting out, the color of our sample is Flat Dark Earth (FDE), which is good for outdoor use around the tree line, but other colors include black, gray, or green. Fitting perfectly around the action, it has the ability to change the contour of the barrel (for a heavier barrel for example) with a built in shim within the boundaries of the forearm. For field resting the barrel, the forearm is flat right back to the forward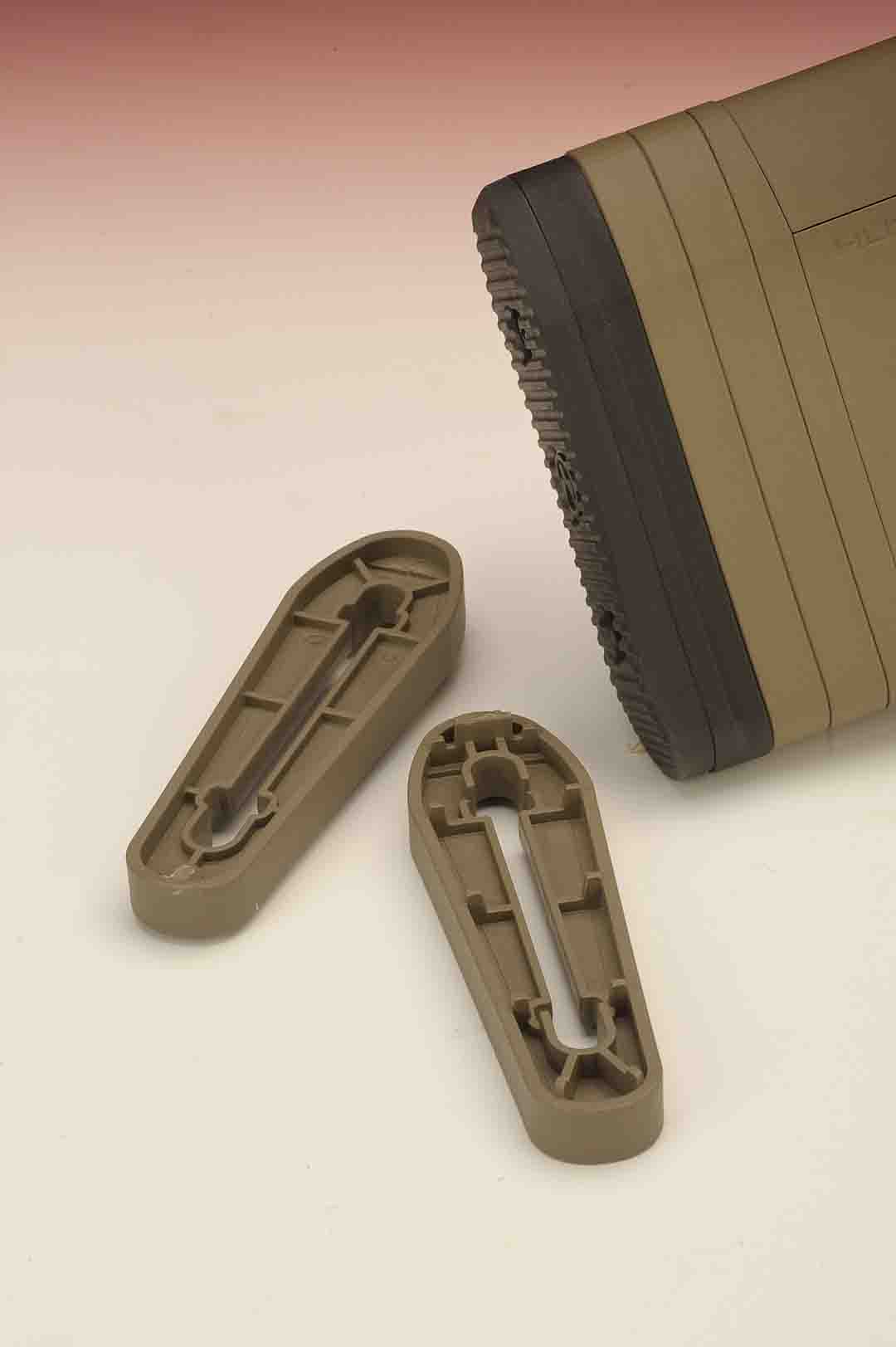 stock screw and magazine. On the sides and bottom are vents that work to circulate the air around the barrel to keep it cool even with extended shooting sessions. For offhand shooting, there are finger grooves on each side and while there are no sling swivel studs mounted on the rifle, there are drill points all set up to use #10-32 x 3/8 inch stud swivels. The factory stock comes is equipped with M-LOK slots for side carry if desired.
Moving back, the stock smooths out around the receiver with the magazine, trigger and trigger guard underneath. I was impressed with the stage of injected molding and bedding on today's rifles and this Magpul stock is sure a great example. The pistol grip is different in styling and works for me offhand, off the bench or in the prone position. Horizontal grooves are on the front of the grip with stippling on both sides. What is novel about this part of the stock is that on the bottom of the grip is a slight forward facing extension to help position the hand on the grip within the same place every time.
The comb of the stock is straight, almost classic as some might call it. Like the rest of the gun, the comb is removable and replaceable with another of a different height. The end of the stock is adjustable with various length of pull from 12½ to 14½ inches and includes a rubber butt pad to help keep the gun from slipping in the field when you have to close a gate. For bench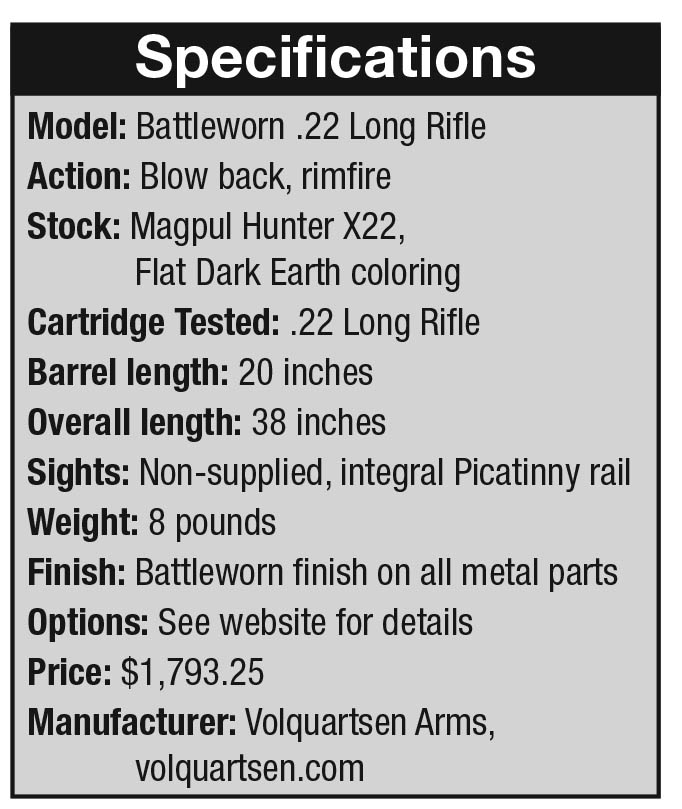 resting, there is a slight bump in the stock forward of the recoil pad for resting on sandbags or other supports on the bench.
Moving to the action, the barrel is the first to impress. On this gun, Volquartsen features "I-Fluting," complete with a forward blow compensator. It is 20 inches long and almost an inch in diameter. According to Volquartsen, this type of fluting adds rigidity while reducing overall weight by increasing surface area of the barrel itself. This type of design also offers maximum heat dissipation over other barrels while checking in at 12 ounces lighter than a comparable bull barrel. All barrels are air gauged on digital equipment and they have a match bore and chamber that can be set up with a threaded muzzle of ½ x 28 inch, if desired. Additional options like various fluting designs and materials are available through their custom shop.
The stainless receiver is machined on modern CNC machinery. It is internally threaded to receive the barrel of choice. A Picatinny rail is added for scope mounting and an extended bolt handle is installed for ease of controlling loading or unloading the rifle. To ensure flawless operation, a titanium firing pin, tuned extractor and a blackened nitride bolt face and body all add up to both reliable functioning and appearance. Customers will probably notice the unique finish applied to this gun courtesy of the Legal Manufacturing Company. In short, Battleworn® is a patent-pending nickel boron plating process that reduces friction to all major parts of the receiver and when completed offers a distressed, type of battle finish complete with a Rockwell hardness of 70, thus extending the life of the gun.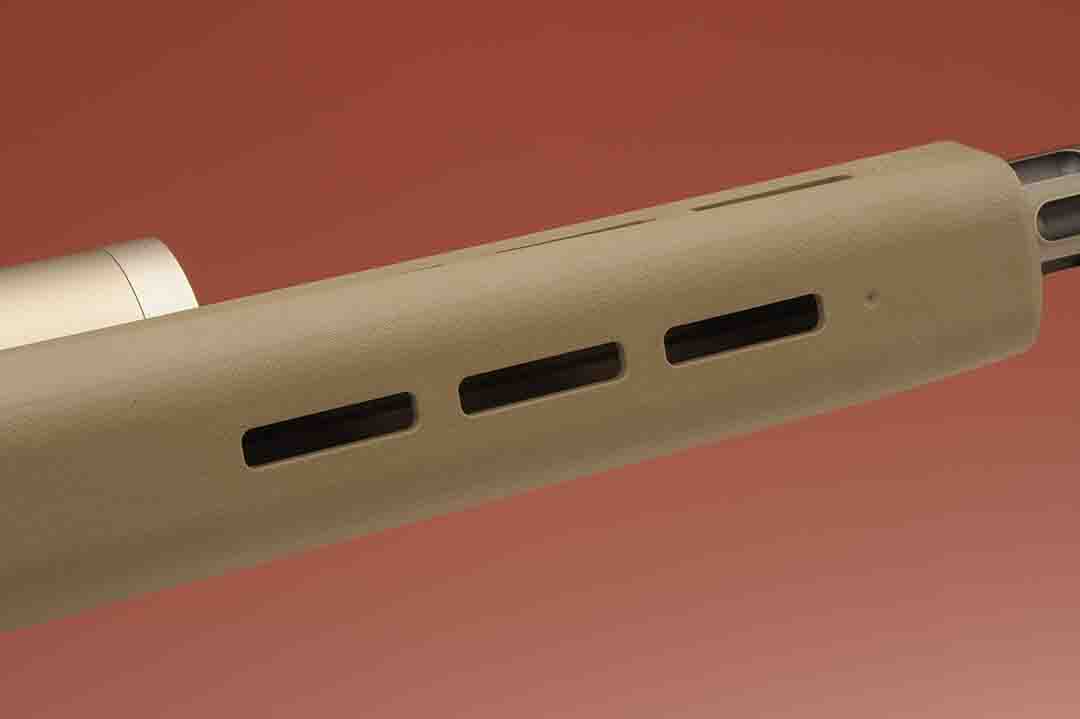 However, we are not done yet. Owing to the pedigree of this rifle, there is no need to short-change the shooter with an average trigger assembly. Volquartsen offers either a Precision Competition Kit for the Ruger 10/22, or their own proprietary TG2000 trigger fabricated to bring out the best results. Housed in a CNC-machined trigger guard, the shooter gets a clean and consistent 2 pound trigger pull, with pretravel and overtravel adjustments that can be accessed by the user. In addition, there is an automatic bolt release and an extended magazine release located just forward of the trigger guard and due to the use of stocks with many colors, the TG2000 system is available in a variety of anodized colors. The gun uses common Ruger magazines and within the trigger guard is the typical crossbolt safety.
With the Weaver Grand Slam 6–20x 40mm scope mounted, I could not wait to get to the range with a variety of recent .22 rimfire ammunition from Browning, CCI and Federal. Why such a scope for this gun? For one, the extra magnification is good to have in reserve for smaller game ranging out further, and two, this scope can focus down to 15 yards or less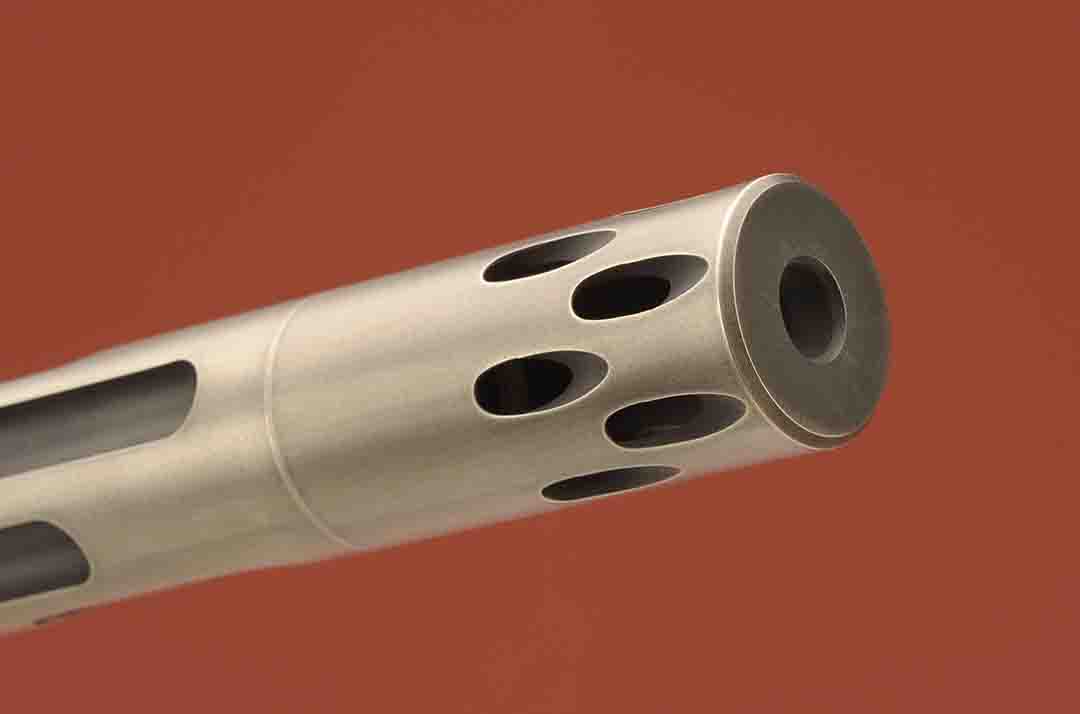 for closer in target shooting or plinking. For shooting off the bench, this 8 pound rifle just stays put on the sandbags. Offhand the balance of the gun is such that it hardly feels like a rimfire rifle, as it stays on target with a minimum of effort.
For ammunition, I gathered up some fresh products from CCI-Blazer, Browning and Federal Match. While my usual practice is to shoot rimfire rifles at the customary 25 yards, I knew this Battle Worn gun was just aching to stretch out a little further. Around the shorter distance, groups were under an inch with the best going to the new Browning rimfire ammunition with a curt five shots going into a .650 inch cluster. This long rifle ammunition with a 40-grain bullet hit the chronograph at 1,366 fps, which was the highest in this test session. Moving out to 50 yards, the best went to the Blazer ammunition with a 1.220 inch group. Federal's Match ammunition came in second place both at 25 and 50 yards as printed on the chart with this article. In the past, other target type ammunition printed slightly smaller groups, so like handloading a gun, shooters should try different types of rimfire ammunition to find out, which is the best.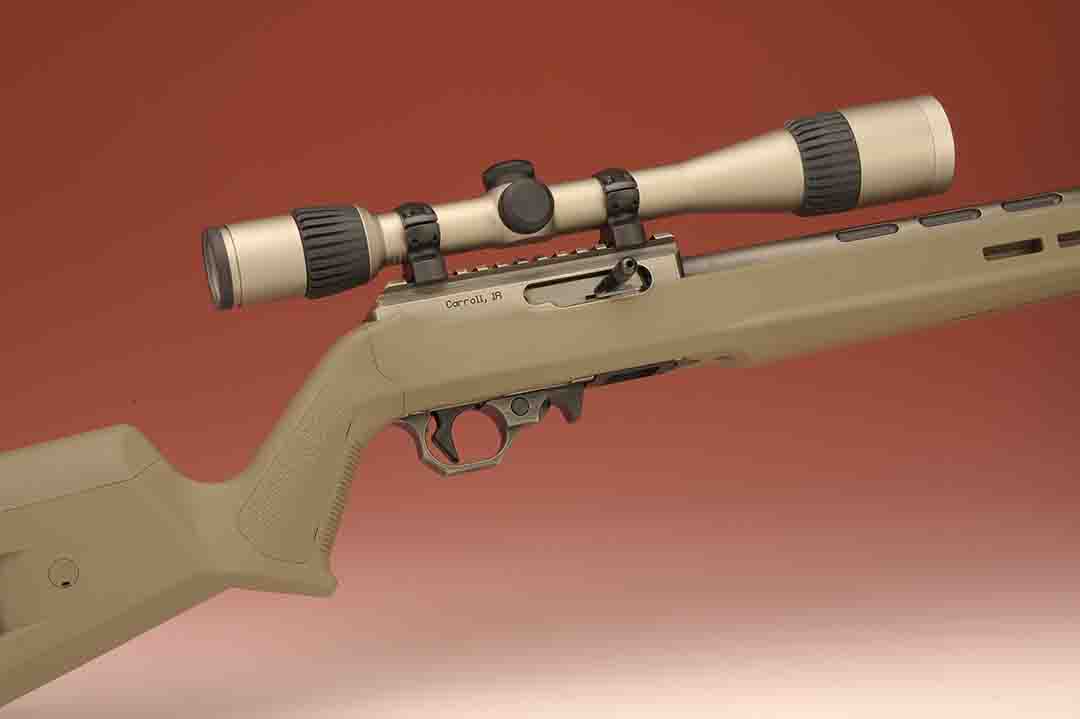 In working with this Battle Worn rifle, I really had nothing to complain or criticize about this blowback rifle. The gun handled as expected from a company that has long specialized in custom type rimfire handguns and rifles. The trigger was superb and from a rest, the gun seemed to enjoy placing all the shots into one tight grouping. Recoil was virtually nil thanks to the backward slanting compensator and I'm sure readers will ask; "Do you really need a compensator / muzzle brake on a gun like this?" To me, the answer is yes, and I believe once shooters try it, they will be aching to shoot smaller and smaller groups with a wide variety of ammunition every time at the range.
If I were to order a gun like this for myself, I would use the same configured action, but I would opt for the Volquartsen Signature Rifle complete with some modest engraving, a factory installed scope and of course, fancy Bastogne walnut. However, if I want to put all my money on a custom centerfire rifle for varmints, I would order the new line of Evolution rifles chambered in the .204 Ruger or the .223 Remington available from Volquartsen.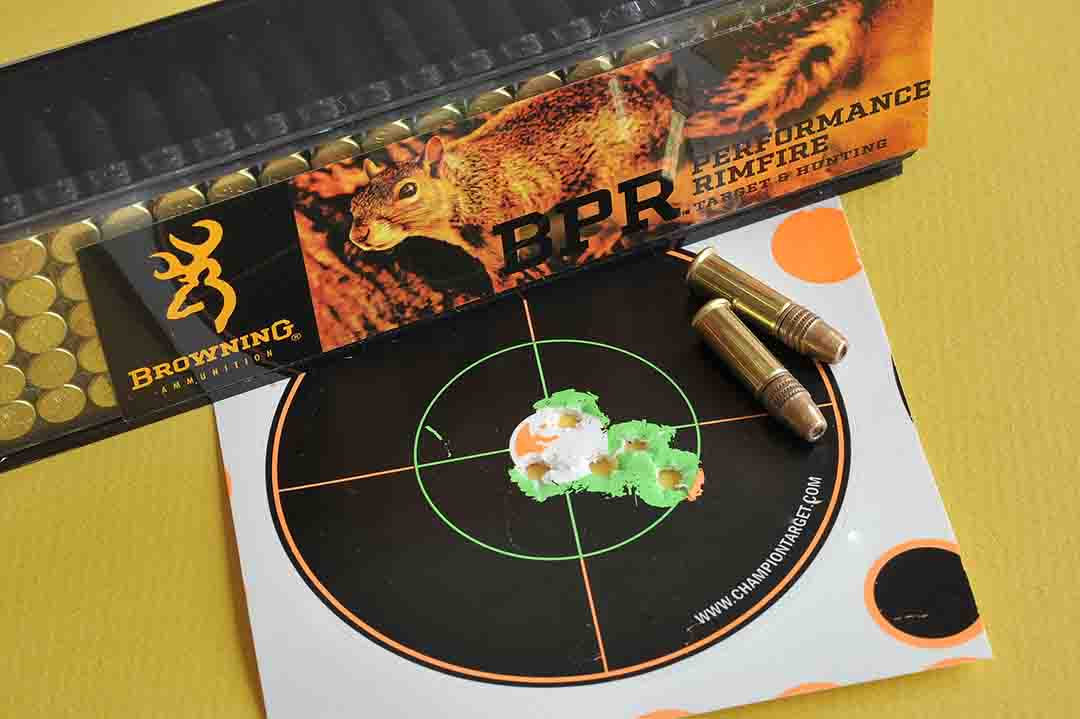 As the years go by, I have seen many precision rifles come out of the factories in this country. While I always wished I had the money to buy a number of them, if you held my feet to the fire, this Volquartsen Battle Worn rifle would be at the top of the list. But then again, would I choose this rifle, or one with a laminated stock, possibly a fancy barrel, engraving, high-grade wood? The choices never seem to end and that's a good thing.
For more information, contact Volquartsen at volquartsen.com.