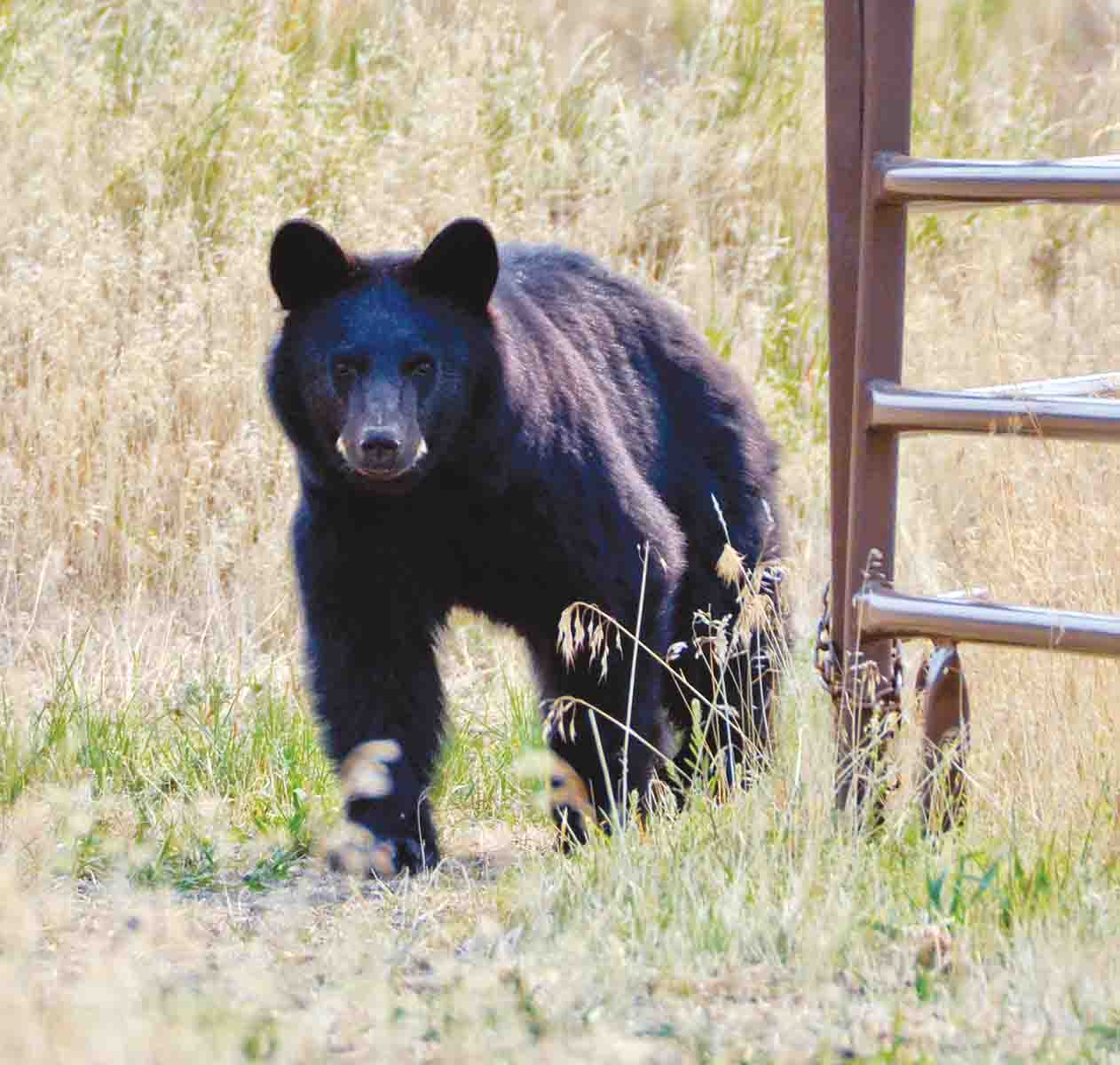 Do you have a rifle that is strictly for utility? In other words, it wasn't purchased for its beautiful stock, or engraving or collector value or for competition. You don't take it out for shooting pleasure or for hunting game. It's with you "just because." Yvonne and I keep such rifles at our rural Montana home.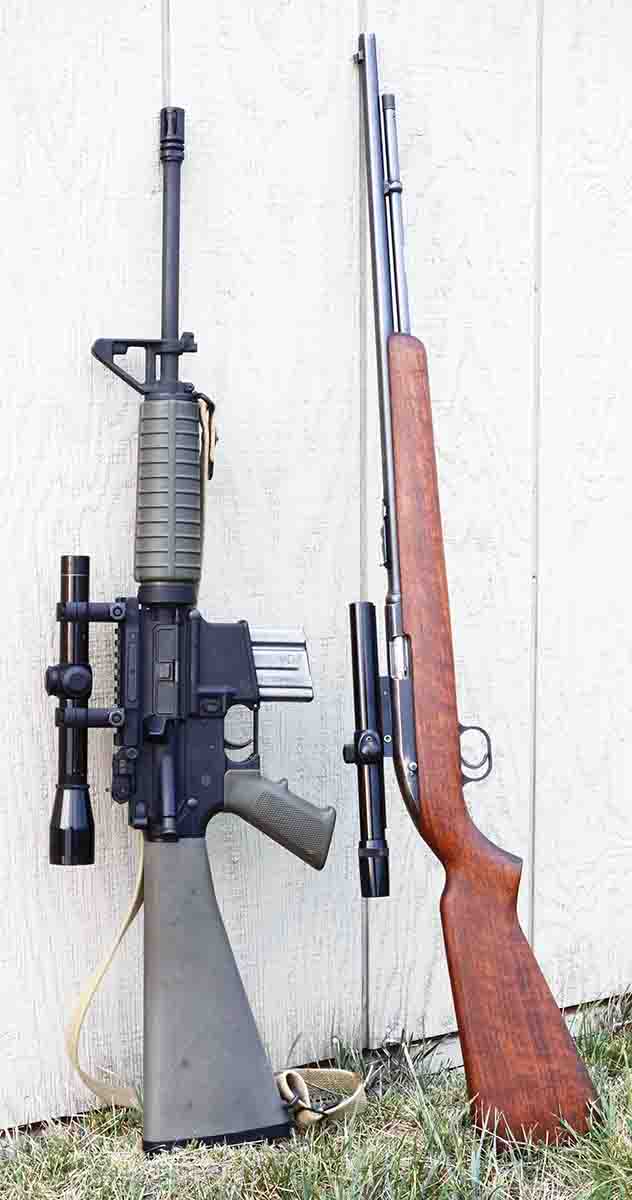 We don't live on the usual 5-, 10- or 20-acre parcels found in subdivisions. Still, we don't consider it a ranch. She thinks of it as pastures for her horses, and in my mind, it's one big shooting range. It's not flat, but hilly with some deep gulches and at my age I see more of it from behind a steering wheel than on foot.
At a gun show in 1980, I found a Model 700 ADL .222 Remington Magnum in pristine condition. It also proved remarkably accurate. If a coyote offers me a standing shot, even at some distance, it's a goner. For decades, that Remington had a Weaver KT10 scope, but a few years ago it was changed for a new Weaver Tactical 3-15x scope with 30mm tube and 50mm objective bell. Mainly, the scope switch happened because the new one's target turrets offered quick adjustments. With no factory ammunition available for .222 Magnum, my standard handload combination for it is 24.5 grains of H-322 and 52-grain Speer hollowpoints.
In late 1988, our property saw the beginning of a ground squirrel invasion. Once entrenched, those little varmints are almost impossible to eradicate. Yvonne worried about her horses breaking legs in "gopher" holes, so that summer I made it a point nearly every day to reduce their numbers with the .222 Magnum. Whether it was from my shooting or the terribly cold winter we had later, ground squirrels were absent the next spring and for many years thereafter. Yvonne and I are overly fond of our pet dogs and cats so the old Remington has also served to keep them off of coyotes' menus. That rifle isn't so pristine anymore.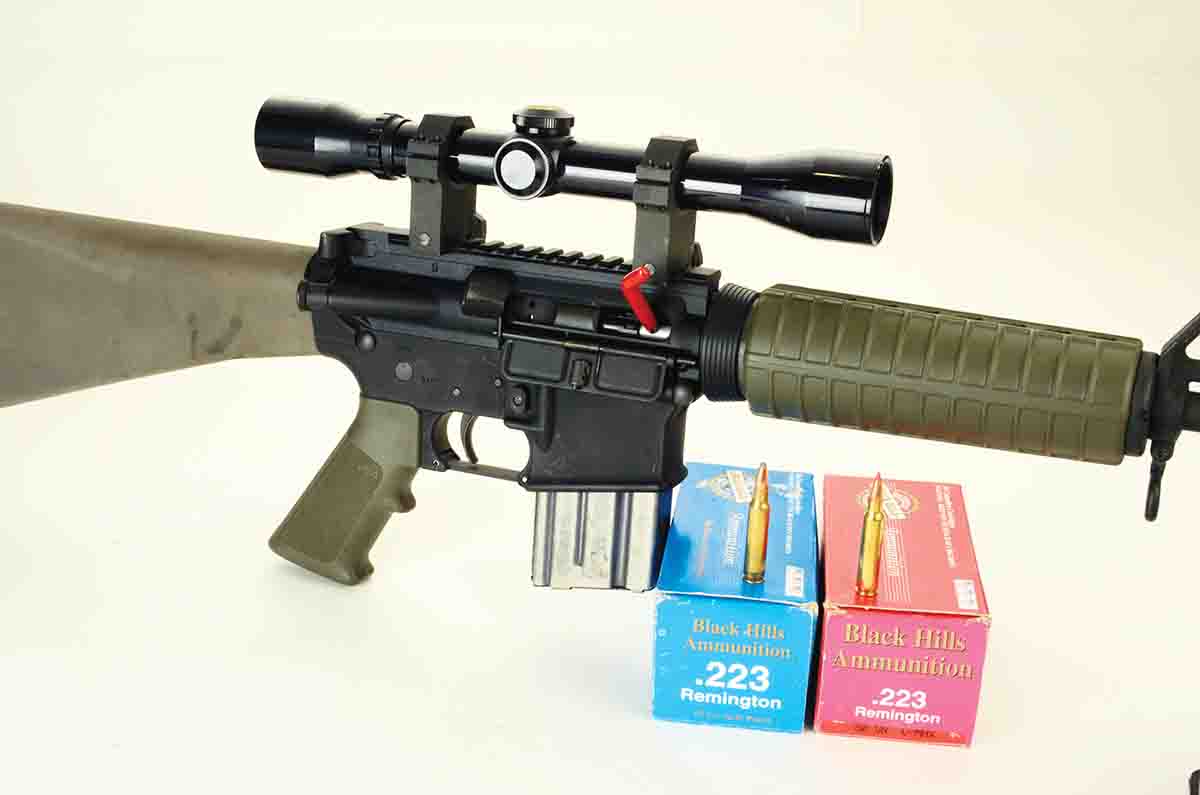 About five years ago, some fancy trading ended with me having an AR-15 .223 Remington at no cost. Its maker, I discovered, was the long defunct Essential Arms Company of Louisiana. No rear iron sight came on it, but the action top has a rail. It seemed like a good rifle with which to retire the old .222 Magnum. Mounted with a Leupold 3x scope, its groups are better than I expected. Being light and handy to use from a pickup or ATV, I've kept it as strictly a utility rifle.
Ground squirrels are again mounting an offensive on our property. This time it's our hay field. One spring day when the grass was still low, I noticed them running about in it. Once the grass grew tall, I'd never roust them out and it wouldn't do the hay much good to drive around on it while it was growing. With good timing a few weeks earlier, I purchased a Winchester Model 77 .22 Long Rifle semiauto. One identical to it had been my very first rifle. At a distance to the north of our hayfield are some homes, so I didn't want to make too much noise in my ground squirrel attack. After using the .223 for a few rounds I switched to the much quieter rimfire. My Model 77 has a 4x Bushnell scope mounted so my tactic has been to just ease through the short grass in my pickup and pot ground squirrels out to about 50 yards. That .22 Long Rifle has not been fired except in utility service and zeroing.
The following are a couple of incidents indicating that although we live a rural life, there can still be danger. One afternoon while talking on the telephone I noticed some movement in the front yard. When I checked, it was full-grown black bear frolicking about, but when I pecked on the window, it skedaddled. More recently, Yvonne called up from her horse corral to calmly say, "A black bear just went through here and is headed towards the house, so be careful." I watched as the young blackie strolled on past the house, heading up the mountain. I don't have a phobia of bears, have never hunted them and don't really expect bear trouble. I'm more fearful of rattlesnakes. (Revolvers with shot loads have accounted for a few dozen of those.) However, a friend who lives no more than 30 miles south of us killed a grizzly clawing at his front door. He used a 10-gauge shotgun with buckshot.
Yvonne had a serious run-in with a critter. One November morning when feeding her horses, a skunk came out of the brush, popping its teeth and staggering. She reached back into the pickup and pulled out her Glock .40 Smith & Wesson. She fired two shots, hit it with both and was careful not to destroy the head because it needed to be tested for rabies. Indeed it was rabid. After that, and my friend's experience with the grizzly, I picked up a quantity of 12-gauge buckshot for our Winchester Model 97.
We have lived on this place for 35 years. Mule deer are always around and doe pronghorns make their way here in May when having their young. However, since the 1990s importation of wolves into Yellowstone, which is only 50 miles south, elk have become more common locally. A few weeks before this writing, I counted over 100 in a hayfield about two miles away. With prey animals about, wolves may follow eventually. I hope we never have to deal with them.