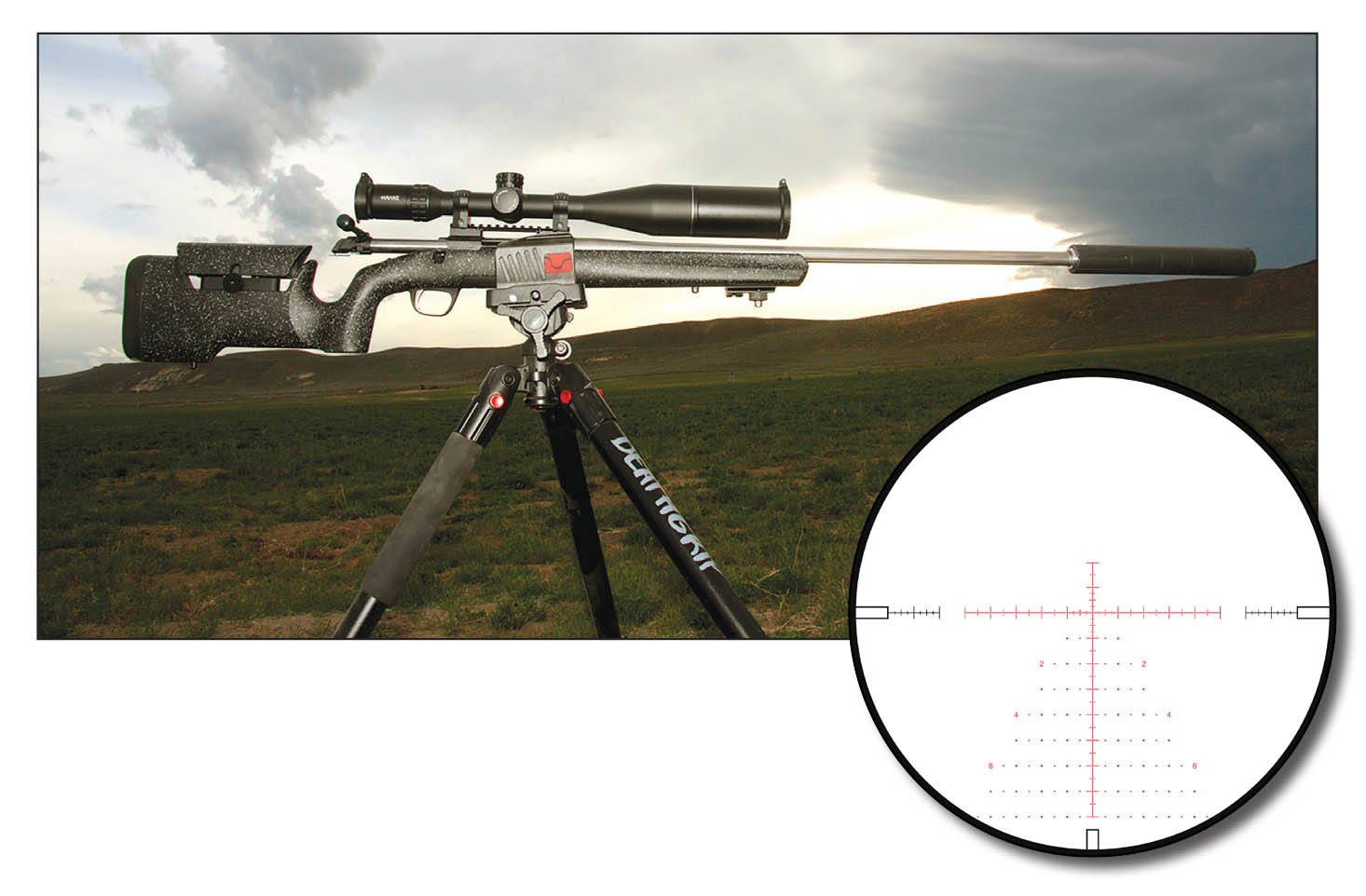 After moving to the northwest and joining my father and his regular varmint-shooting partner, a Vietnam-era U.S. Air Force Pararescue (PJ) who provided sniper cover for pararescuemen while retrieving downed servicemen, I was regularly chastised for my "excessive" optics. I'd shrug and offer, "Can't hit'em if you can't see'em." Of course, my optics choice reflects my shooting preferences – the challenge of surgically removing small varmints at ranges far beyond the abilities of the magnum rimfires those guys mostly enjoy shooting.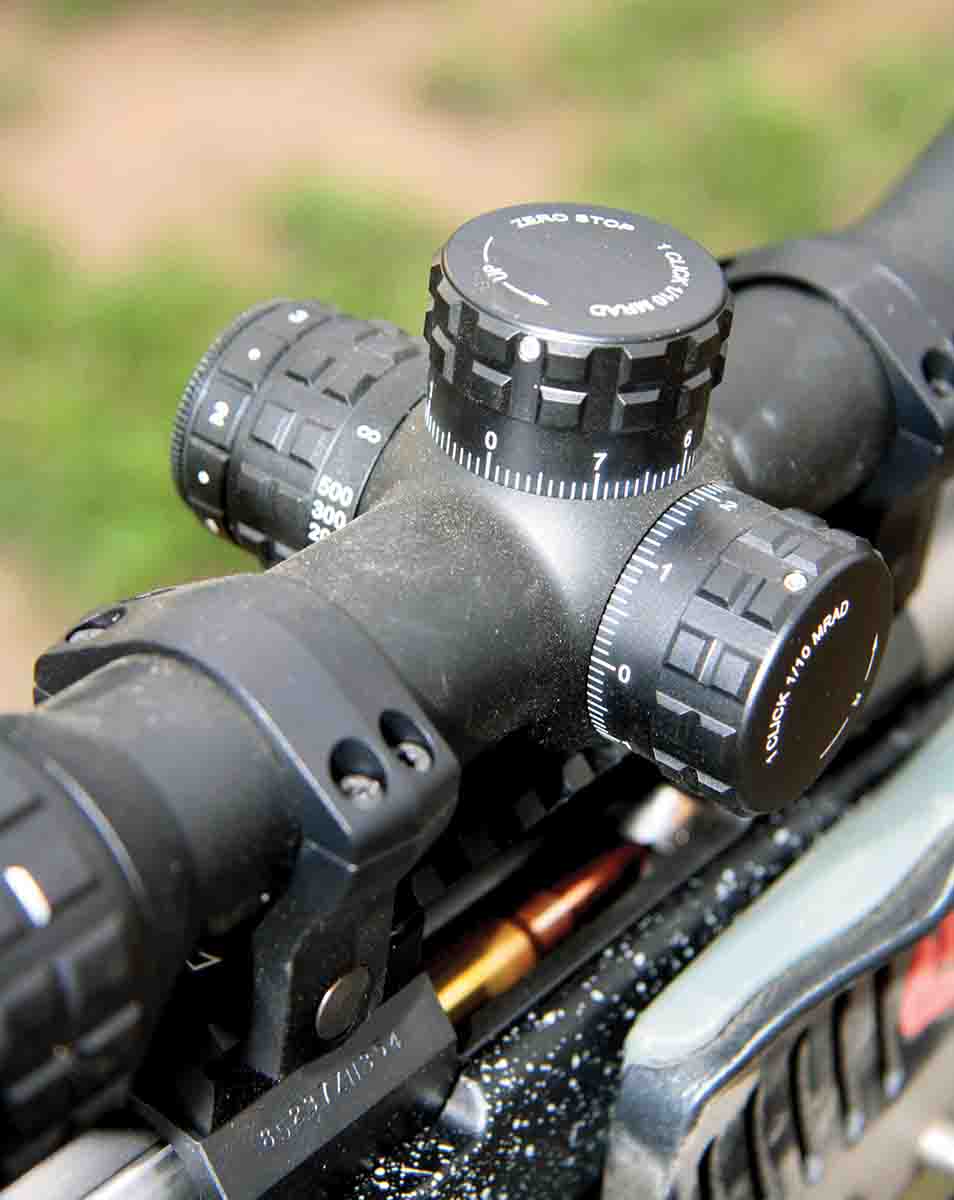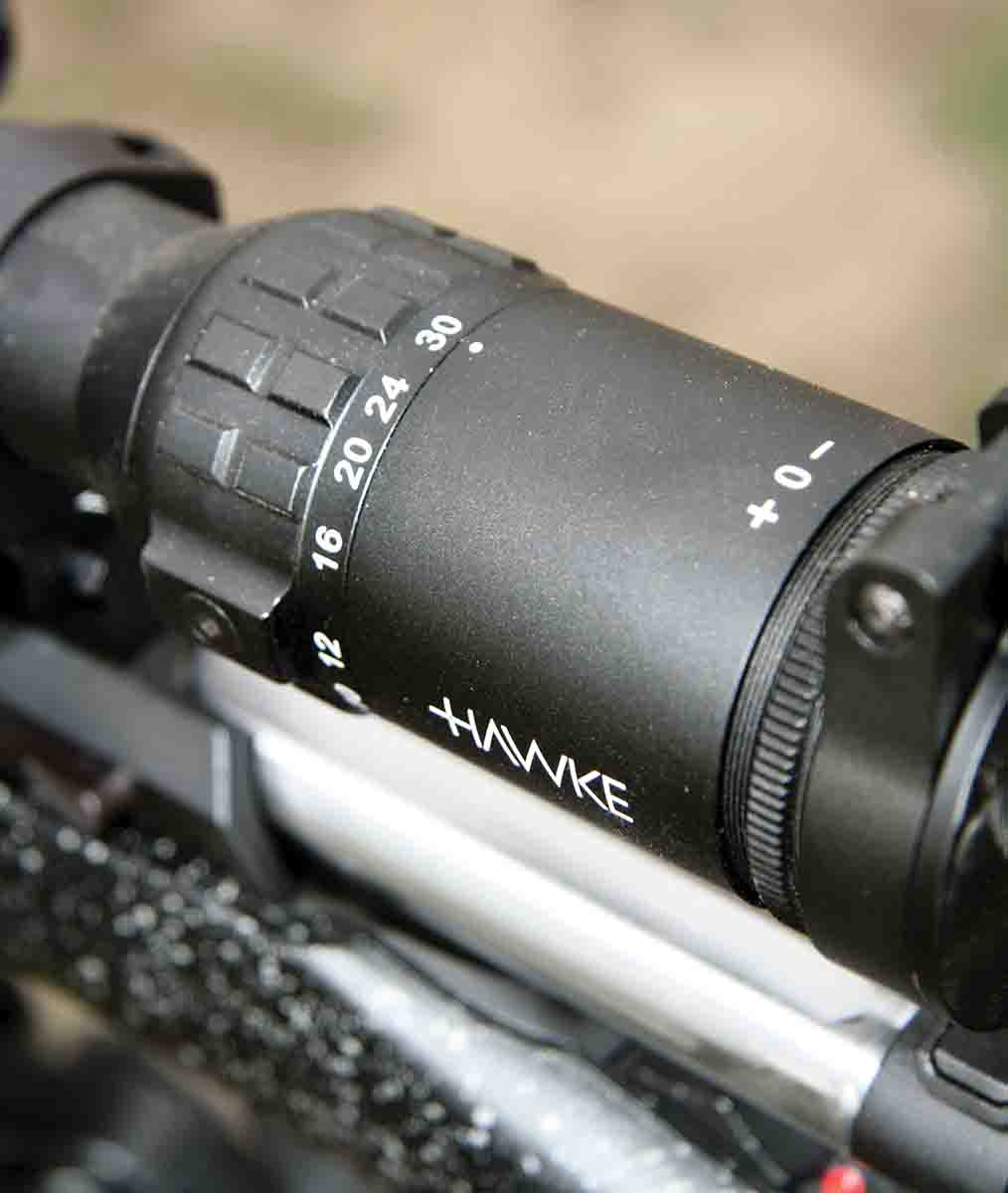 Twelve years later, I've seen their scopes grow in magnification, and more souped-up centerfires coming out of cases. Witnessing me shooting ground squirrels to the far corners of our shooting properties has no doubt influenced this change of heart, but there is no denying long-range shooting has truly blossomed during the past decade.
Today's dedicated scopes generally include price points that inspire exclamations. They seem created mostly to serve the well-heeled, or people who make a living shooting distant targets. The rest of us can only look and covet, like perusing a catalog of fine English doubles. Hawke Sport Optic's Frontier 30 SF, while not exactly a giveaway, offers a solution for the rest of us. For around $949, rifle shooters receive a rock-solid optic with 5-30x 56mm configuration and all the bells and whistles that make those more expensive scopes appealing.
The Hawke Frontier 30 SF 5-30x 56 SF Mil Pro (20x) procured for this evaluation received quite a workout this spring, atop a Browning X-Bolt Max LR chambered in 6mm Creedmoor. I used this combination to conduct thorough long-range load development for LoadData.com, firing bullets weighing from 105 to 115 grains with BCs from .472 to .634. The rifle features a composite Max stock with an adjustable comb and .25- and .5-inch length of pull spacers to create a just right fit. The vertical gooseneck grip and widened forend are all about long-range proficiency. The 24-inch barrel is a stainless steel heavy sporter with flutes, including 1:7.5 rifling and 5⁄8-24 threads holding a factory muzzle brake, which I removed to add a Rebel Silencers SOS Hunter suppressor. The trigger was exceptional, breaking at a crisp 3 pounds from the factory. All-steel Warne Mountain Tech rings on a 20 MOA Mountain Tech picatinny rail provided rock-solid mounting. Overall, this is as close to a long-range varminting ideal as possible without entering the realm of heavier chassis rifles. I was able to shoot Belding's ground squirrels out to 400/425 yards in a moderate breeze with relative ease.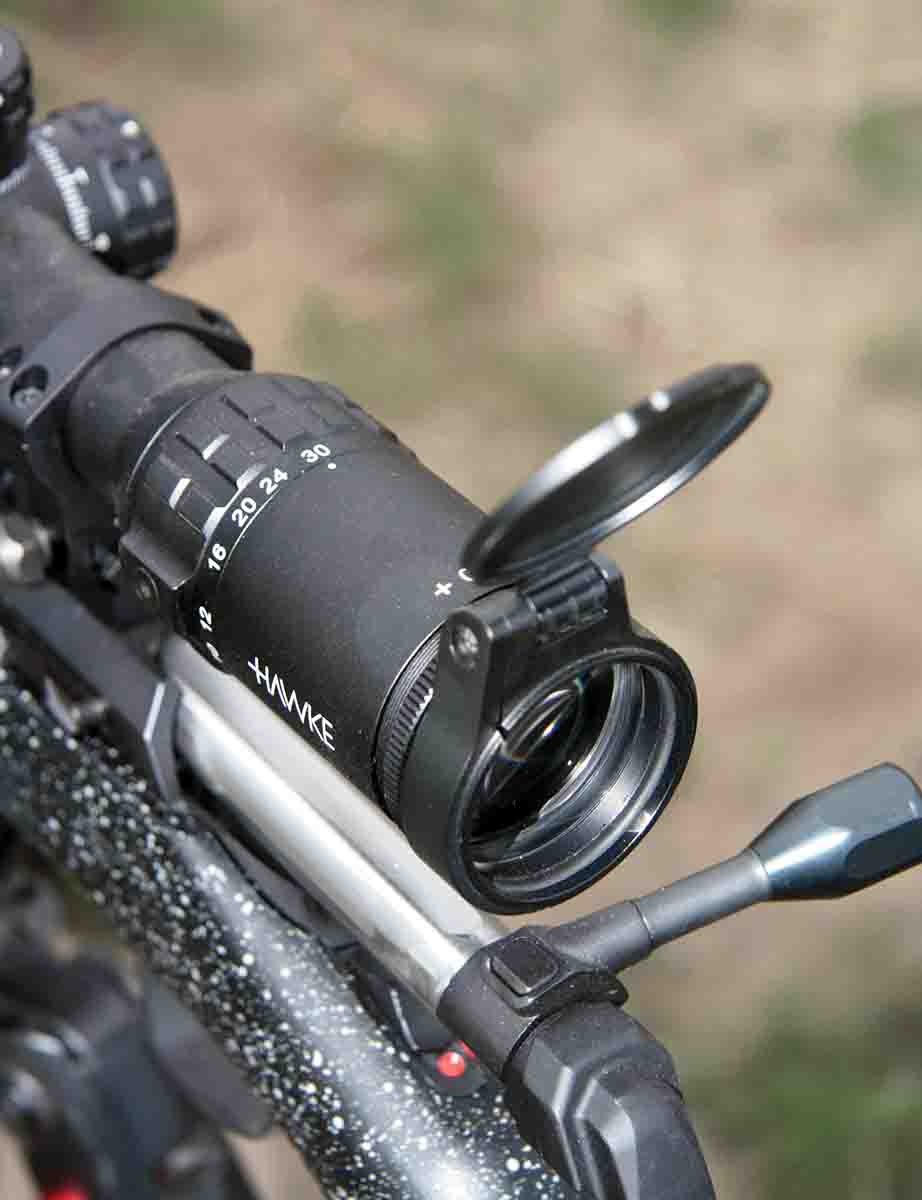 The Hawke scope had a lot to do with that success. The Frontier 30 SF (30mm tube, second focal plane) includes precision locking turrets with a simple but effective zero-stop system and ultra-fine Mil Pro crosshair reticle. Even as temperatures climbed into the 80s on that first varmint shooting trip, images remained crisp all the way to 30x, aided by index-matched, high-grade low dispersion Crown Glass and 21-layer, multi-coated lenses.
I especially appreciated Hawke's low profile turret system. Turret caps pull in and out with a positive click, pulling up to unlock and allow corrections to be made. Pushing the turret cap down locks adjustments. This helps avoid inadvertent movement while pulling a rifle in and out of a soft case. After sight-in, returning the turret dial to "0" requires loosening three stainless set screws, pulling the cap straight up to remove it, repositioning and pushing it back down so the "0" aligns with the static hash mark and clicks in. The test scope included MRAD adjustments, one click equaling 1/10 MRAD – or about .36 inch at 100 yards, or 10 millimeters at 100 yards (.25 MOA systems are also available). I've slowly learned to accept this metric scale; 50m/5cm, 100m/10cm, 200m/20cm, 300m/30cm and so on. Every 10 turret clicks equals 1 MRAD.
After sight-in and while the elevation cap is off, the Zero Lock "N" Stop Elevation turret system can be engaged. The windage turret doesn't include a zero-stop mechanism. The system was remarkably easy to set up – so much so, I was able to adjust it without consulting instructions during initial sight-in and after running out of vertical travel. The need for such drastic corrections no doubt resulted from the 20 MOA rail. The Zero Lock "N" Stop allows returning to an established zero after dialing up for longer distances, eliminating the need to count rotations to return to a known starting point. The inner zero-stop, once set screws are loosened, allows performing finger manipulations. The system was pretty straightforward and highly intuitive. The zero-stop feature can also be removed if you do not wish to use it.
The Frontier 30 SF includes side parallax adjustment from 10/15 yards to infinity, as every high-quality varmint/long-range scope should. This not only allows tweaking your subject into clear focus but also assures the best accuracy possible at the specific range your target sits. I chose a second focal plane system (SF), as I do not require subtensions to judge yardage because I have a laser range-finding binocular. I also prefer crosshairs to remain fine as frog's hair while shooting distant varmints to help minimize obscuring my target. These holdover marks are calibrated for 20x, if you choose to use them, but with changing cartridges, bullet weights and loads, this would be something that would have to be worked out on an individual trail-and-error basis. All reticle measurements are Mil spaced, offering 1, .5 and .25 Mil brackets for range judging purposes. Every second Mil spacing, working downward from center, is numbered for quick reference, and each cross includes a see-through gap for unobscured target viewing. The thicker outer posts are hollowed for positive viewing without blocking the view. The Mil Pro 20x reticle offers additional .25 Mil aim points on the reticle's center section for even greater precision, including holdovers to 8 Mil. The magnification ring includes an optional extended throw lever, which I did not use, as magnification ring movement was positive but not overly stiff.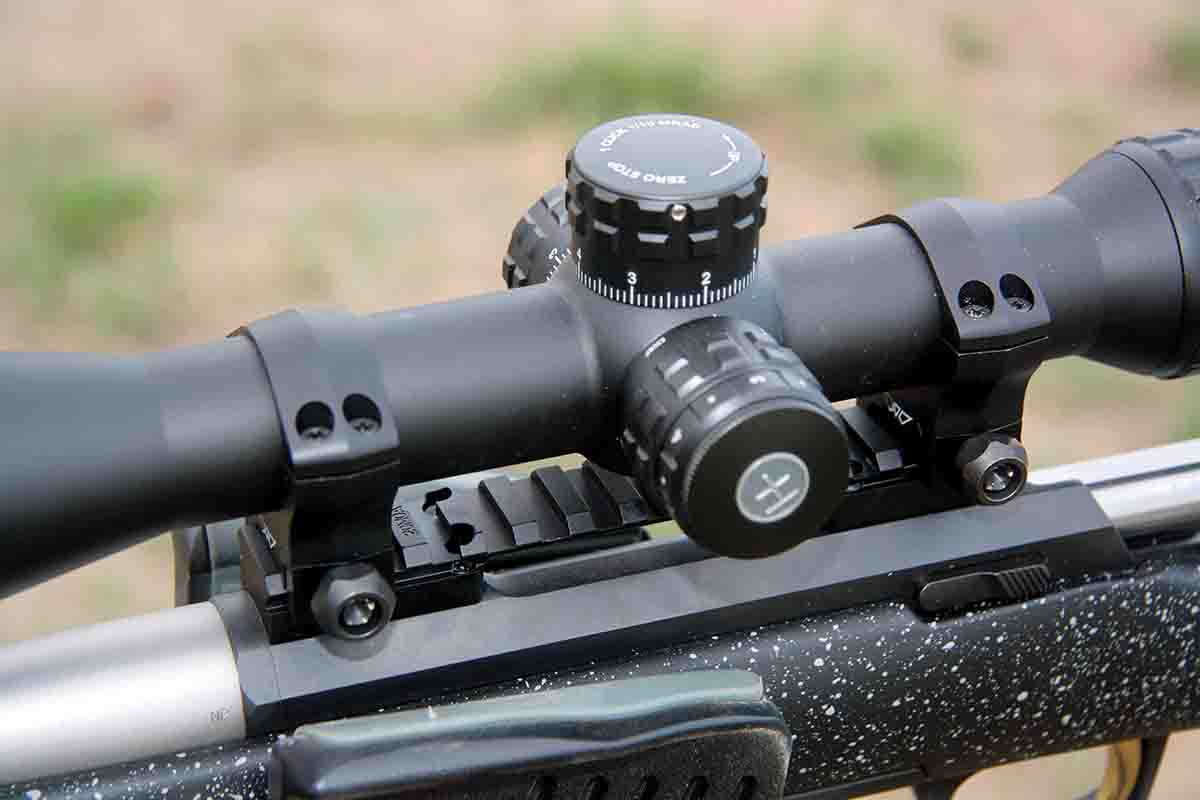 The Frontier 30 includes red LED illumination with rheostat intensity settings. Like most of these systems today, every other click shuts the lighted reticles off, so you can have a preferred illumination level ready to roll via a single click without burning battery power. The system operates on a CR2032 coin-style lithium cell. I can't say I found much need for the illumination, as the scope's bright optics and locking ocular focus provided sharp reticle viewing in any reasonable light. The scope also included Hawke's metal
Pro Flip-Up lens covers and a 4-inch extended sun shade. Both are nice touches that help keep lenses debris-free during dusty spring shoots. The lens covers thread into place and can be adjusted for position after instillation. I didn't run this optic in cold or wet conditions, but it is fully waterproof and nitrogen purged to safeguard against fogging.
Even at 30x, a 3.6-foot field of view at 100 yards allowed quick target pickup. The 6mm Creedmoor isn't a real kicker, especially with a suppressor or muzzle brake installed, but the scope does provide a generous 4 inches of eye relief if you were to mount this optic on a heavy-recoiling rifle. The Frontier 30 SF isn't a tiny scope, measuring about 15.8 inches long without the sunshade and weighing 25.5 ounces (1.59 pounds). I'd call this fairly average for a riflescope in this class, and considering the type of shooting involved – posted shooting from atop a portable bench or prone off a bipod – it did not prove burdensome.
I shot a couple hundred rounds through this rifle/scope combination in the field, not including load development and sight-in, targeting varmints. Using a range-finding binocular, a Caldwell Cross Wind Professional Wind Meter and carefully-assembled ballistics charts, the turrets underwent countless correction movements that were on the money with remarkable frequency. The mono-tube chassis and overall metal construction of the Frontier inspires utmost confidence. There are no plastic parts to be found anywhere in its makeup, so the optic is made to shrug off the hard knocks that naturally occur during shooting.
I've run some of the industry's best optics, including most of the big names in precision long-range riflescopes. I'd honestly rate the Hawke Frontier 30 SF right up there with the best. I used it hard under demanding conditions to make a good number of impressive shots at ranges that required long hikes to confirm a kill. The scope functioned flawlessly, tracking precisely shot after shot, and it stood up to some pretty rough treatment without losing zero. Hawke's Worldwide Warranty covers the scope for life.