CZ has earned a reputation of building rock-solid, reliable and accurate bolt-action rifles. With growing interest in super-accurate rifles chambered for the .22 Long Rifle cartridge designed for hunting, long-range practice and competition, CZ recently introduced the CZ 457 series bolt-action rimfire rifles, which replaces the Models CZ 452 and CZ 455 rifles, but with notable improvements. In addition to having desirable features, it is available with many barrel lengths, stock configurations and is chambered in .17 HMR, .22 WMR and .22 Long Rifle, all of which is certain to make it appealing to traditional and modern shooters. For this review, a 457 Varmint and 457 Varmint Precision Trainer were selected, both chambered in .22 Long Rifle. But before discussing their performance and function, let's take a closer look at some of the design features.

CZ firearms are manufactured in the Czech Republic by Ceska Zbrojovka, then imported and distributed by CZ-USA. While CZ's history is rather complex, it is safe to say that it has been building firearms since around the 1916/1918 era. Generally speaking, most of the company's guns boast of being constructed of fully machined steel and are of proven designs, which explains their reputation of being robust and reliable. The 457 is new and will initially be offered in around 16 variants.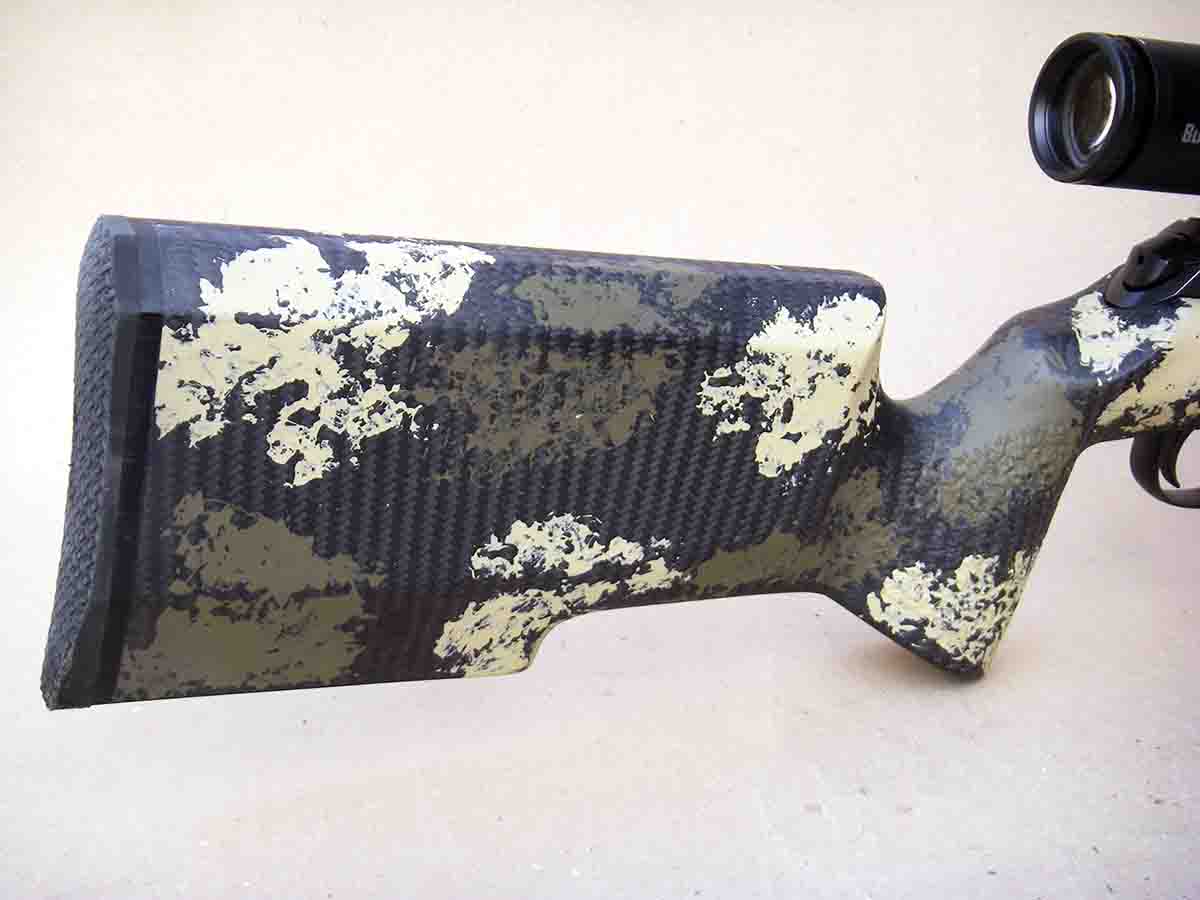 The 457 action has been notably changed and modernized when compared with its Model 452 and 455 predecessors. For example, the two-position safety, located on the right side of the receiver, similarly to the Remington Model 700, slides forward to the "fire" position. When the pivoting safety is placed in the "ON" position, or pulled to the rear, it locks the trigger; however, the bolt is free to be lifted to remove a cartridge, which is a practical approach to safety. In addition to being a good arrangement, it works fluidly and stays in its posted position.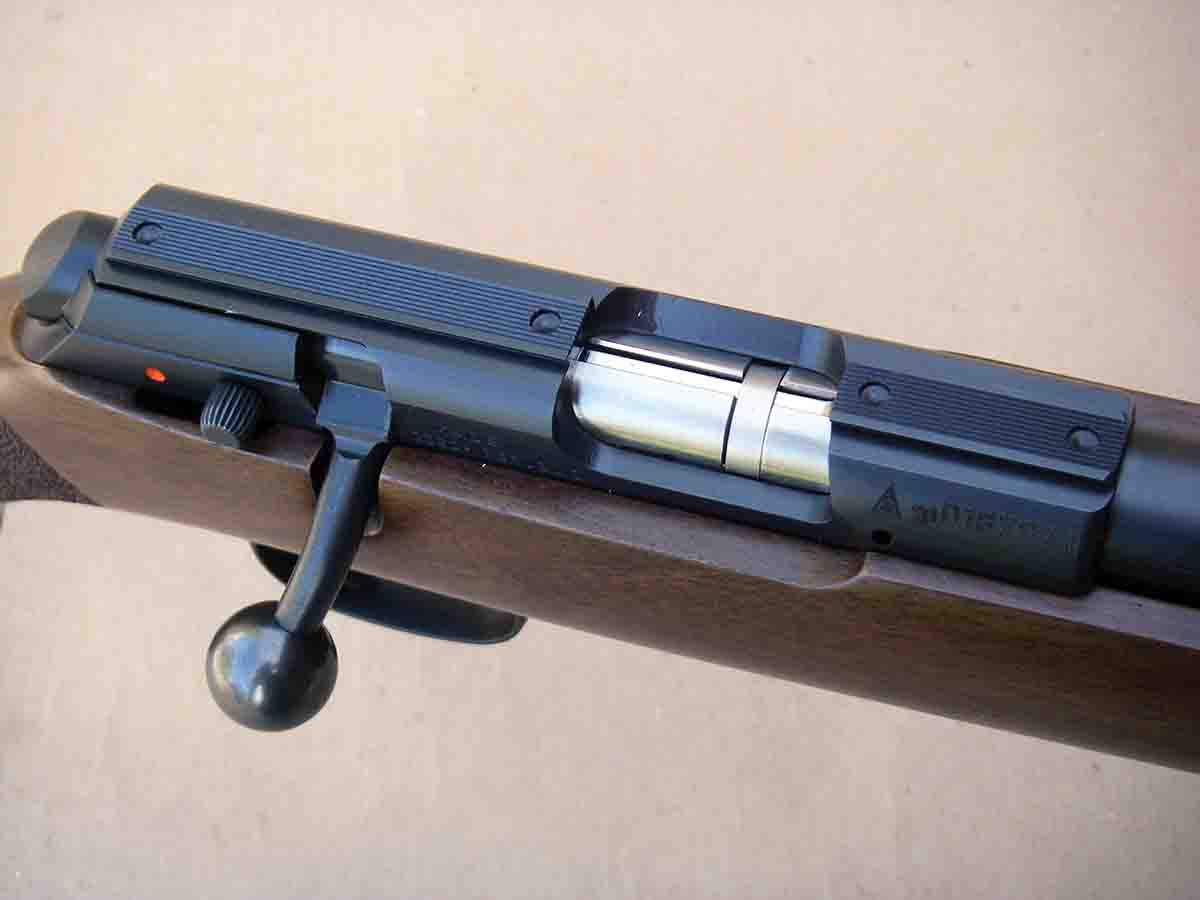 The 457 receiver is machined from ETG 100 (high tensile, free cutting) bar stock steel and is notably more compact, shorter and lighter than previous CZ rimfires. Both sides of the receiver are milled flat, then machined with appropriate cutouts for the bolt release (located on the left), ejection port, bolt handle, etc. It is attractively styled, yet functional. Incidentally, the top of the receiver is flat and features an integral 11mm dovetail rail for scope mounting. The top of the receiver features four countersunk non-threaded holes (or dimples) that serve to help secure select scope mount systems; however, Talley scope rings were selected to mount both scopes, which do not use the dimples. The two-piece bottom metal is machined steel and attractive, and serves to house the five-shot detachable magazine. Two Torx-style screws serve to secure the bottom metal, receiver and stock together.
The bolt lift has been changed to just 60 degrees and cocks on opening. Incidentally, many rifles with short bolt lifts are comparatively hard to lift, but not the 457. At between 8 and 8.5 pounds, bolt lift is very easy and the action is smooth to operate from any practical field or shooting position. The bolt handle is properly shaped, as it is swept and protrudes just enough for an easy grasp. The shape of the bolt handle, combined with the 60-degree bolt lift, allows for low scope mounting but also accommodates larger scopes that have been a huge trend the past couple of decades.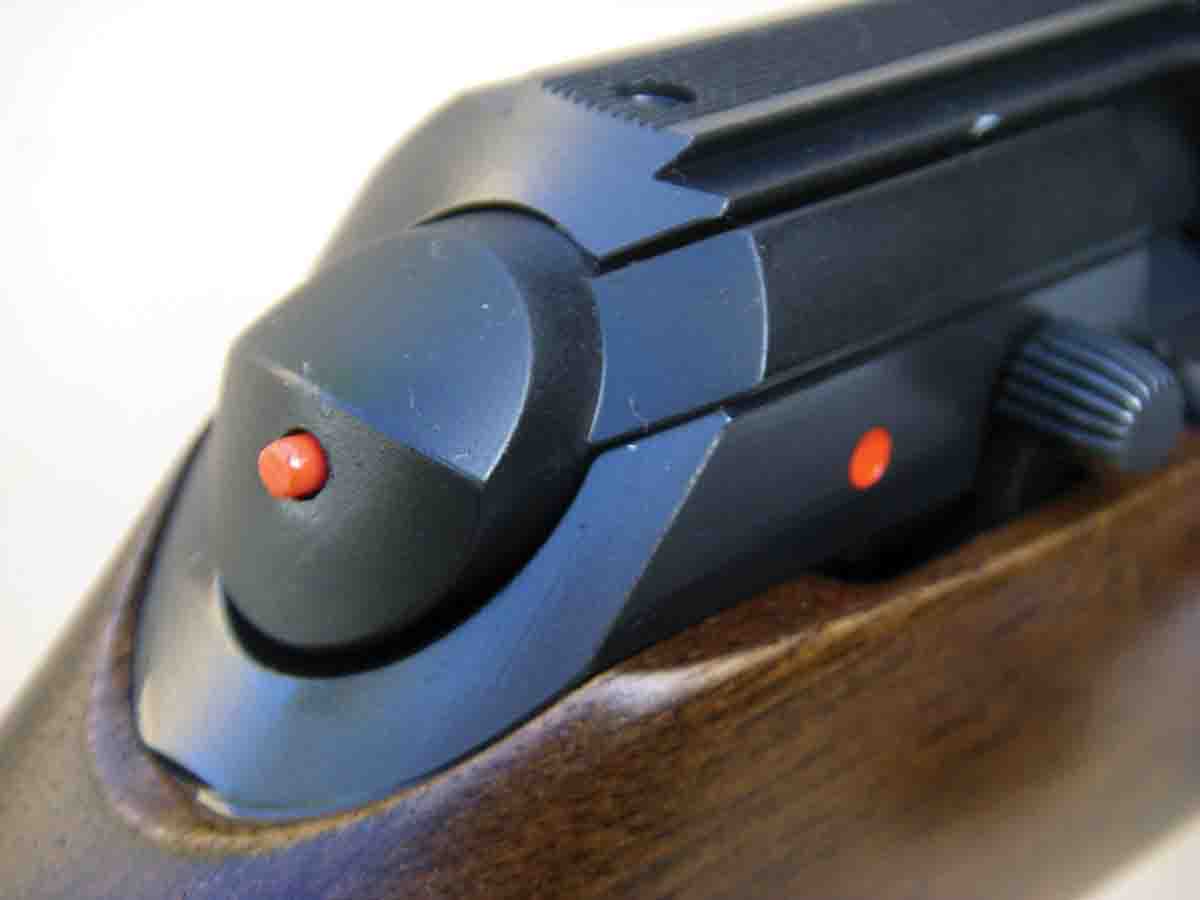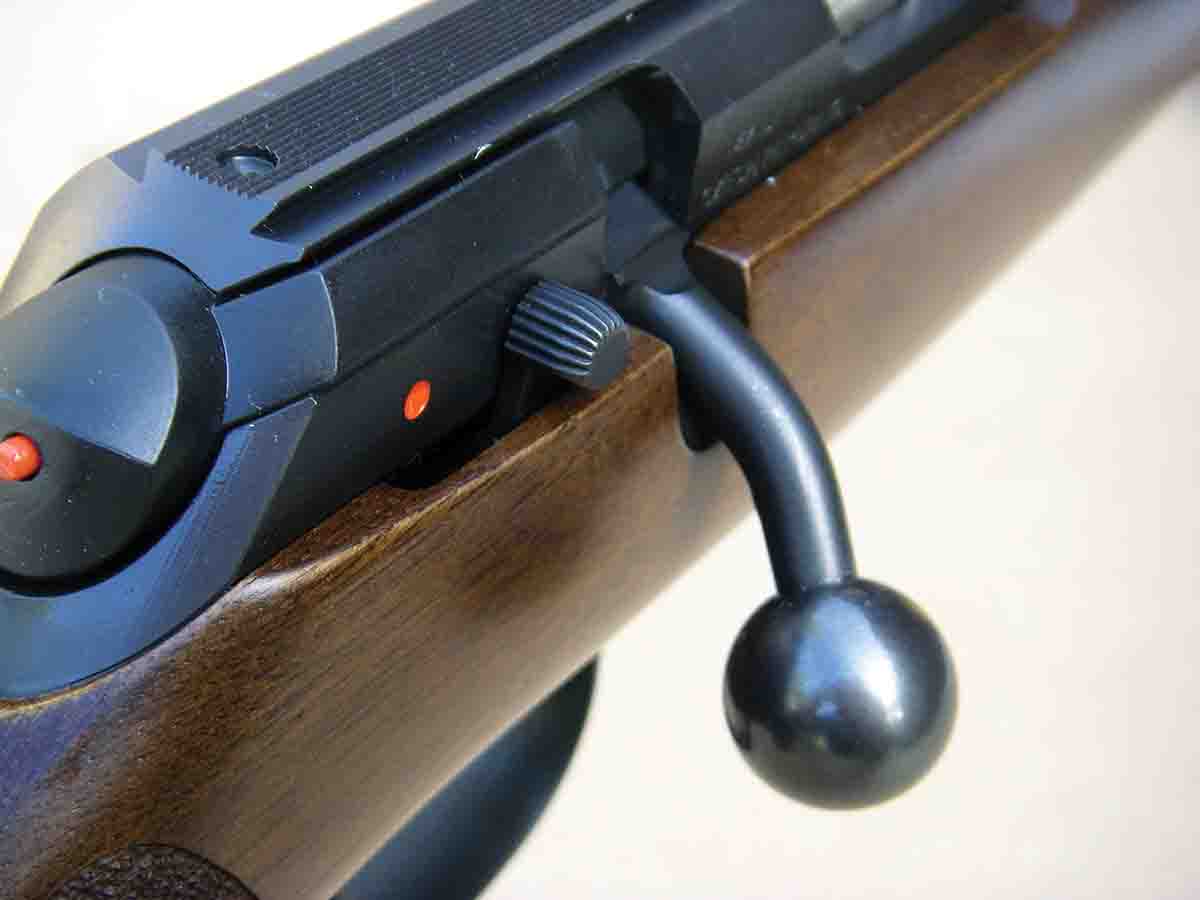 The bolt face features two opposing extractors, which worked positively throughout shooting sessions. There is an anti-bind rail on the bottom of the bolt body that allows the action to work especially smoothly. A red cocking indicator is located at the back of the bolt body. The firing pin is lightweight and results in a fast lock time. The bolt body assembly shows good machining and is numbered to the receiver.
The trigger pull of both samples rifles broke cleanly at 3 pounds, 1 ounce and 3 pounds, 3 ounces, respectively, and had very little after-travel. Because of how crisply each trigger broke, along with a smooth, rounded profile, the pull weight felt lighter than it actually measured. It is truly a sweet trigger. However, for anyone wanting to further improve the pull, the housed, single-stage trigger is fully adjustable for pull and aftertravel.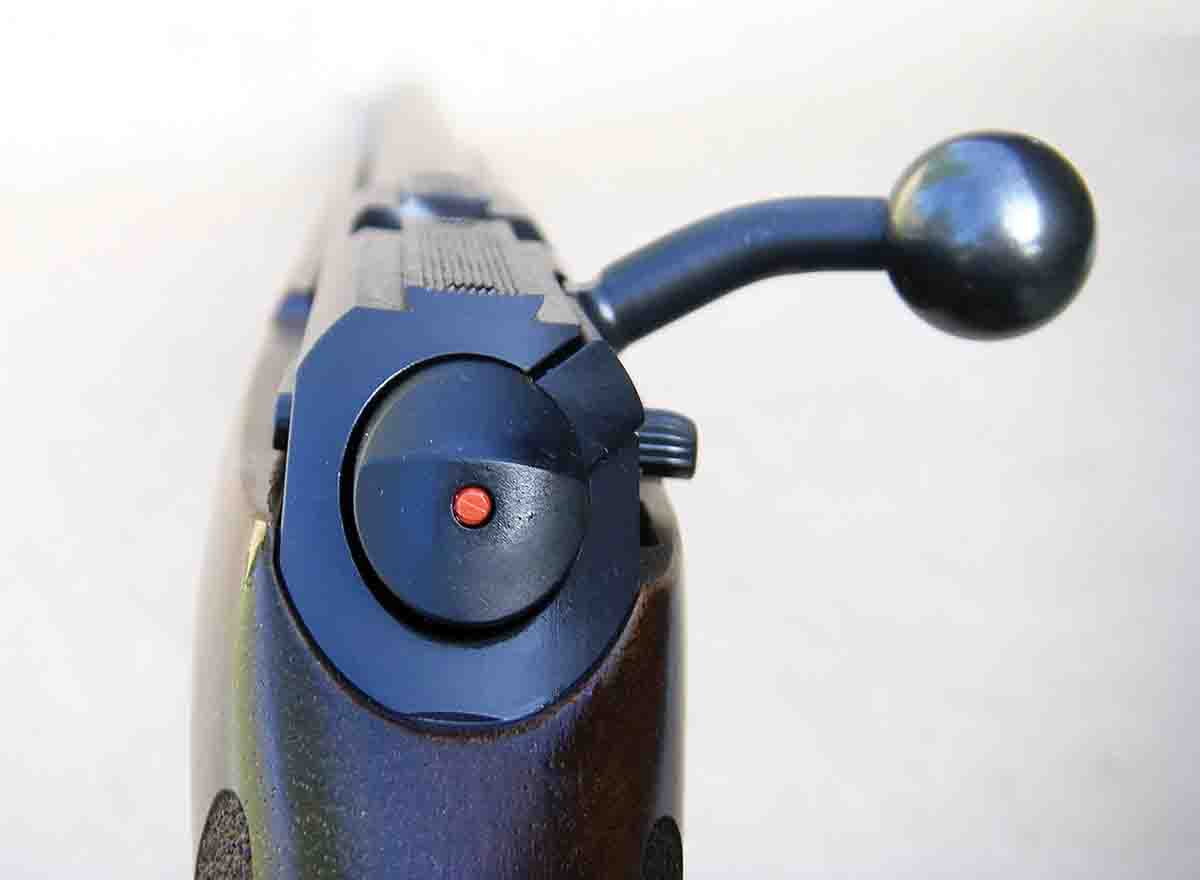 The free-floating barrel is mounted to the receiver via two angled screws, which makes it relatively easy to change barrels if desired. Barrels are cold hammer forged and feature a 1:16 right-hand twist. While select 457 variants feature match chambers that are cut with minimal tolerances, both of these test rifles were cut with a standard chamber that readily accepted all ammunition types tried. Both barrels are free-floating and feature a deep-cut crown. Each barrel was carefully inspected, and both were more or less perfectly straight. The bore is lapped to a mirror finish, which is critical to prevent fouling with the lead-based .22 Long Rifle cartridge.
The 457 Varmint features a 20.5-inch barrel that measures .861 inch at the muzzle. The American-styled classic stock is constructed of Turkish walnut and finished with a semi-satin finish. It has what appears to be an impression-formed pattern, rather than traditional checkering, that serves to offer traction. It is an attractive rifle that is certain to appeal to more traditional rifleman who often prefer blued steel and walnut stocks. The stock is pillar bedded and features a steel block that extends into the bottom rear of the receiver to serve as a recoil lug.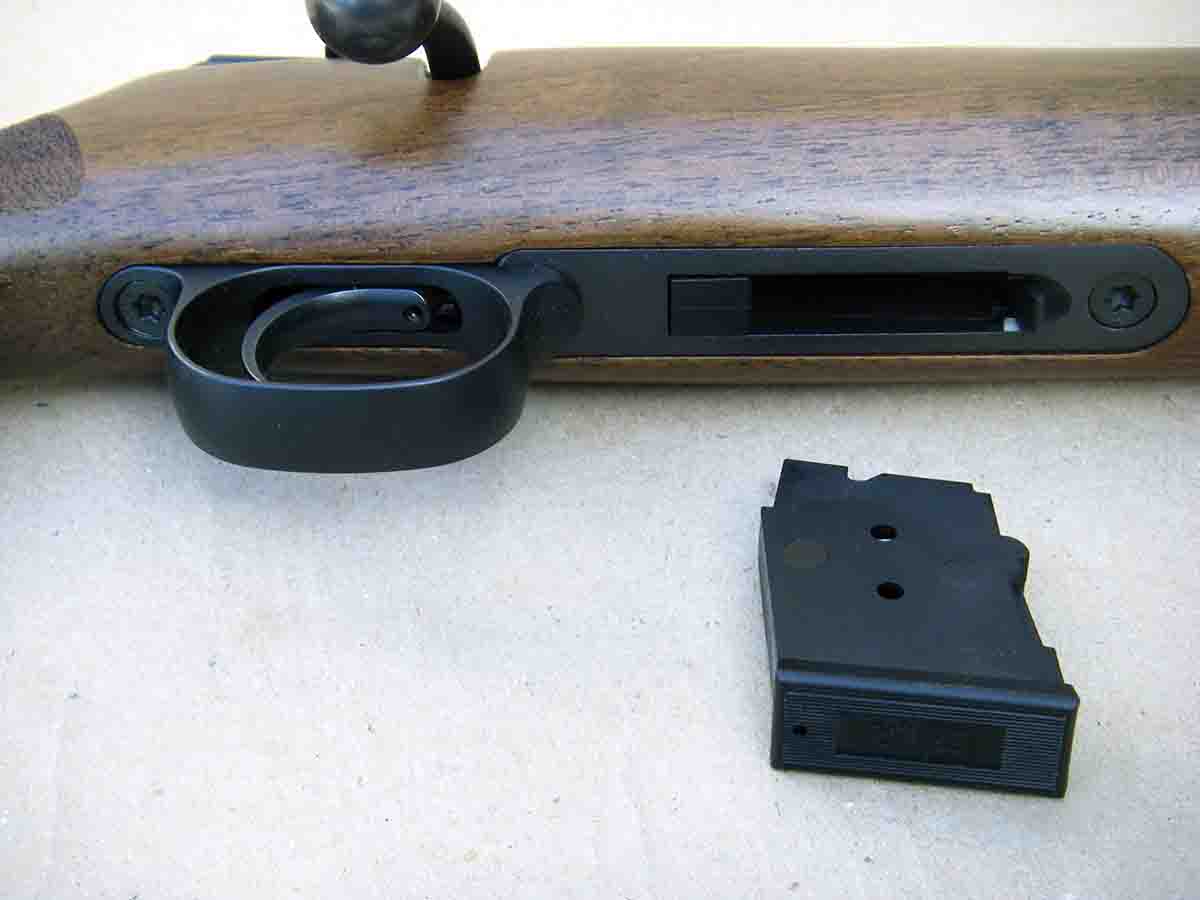 The 457 Varmint Precision Trainer, appropriately named, I might add, is fitted with a 24.875-inch barrel and has a .708-inch diameter at the muzzle. It is threaded and comes standard with a knurled cap. The composite stock is produced by Manners and is constructed of carbon fiber. It features a dark gray base color with splotches of dark green and tan for a camouflage breakup. The stock configuration offers a high, straight comb, flat forearm bottom, fluted sides and a nearly vertical pistol grip with palm swell that accommodates right- or left-handed shooters. This style of stock has become widely popular with long-range shooters and is suitable for accurate shooting from a variety of shooting positions. As such, the 457 Varmint Precision Trainer is an outstanding understudy for high power, long-range match rifles.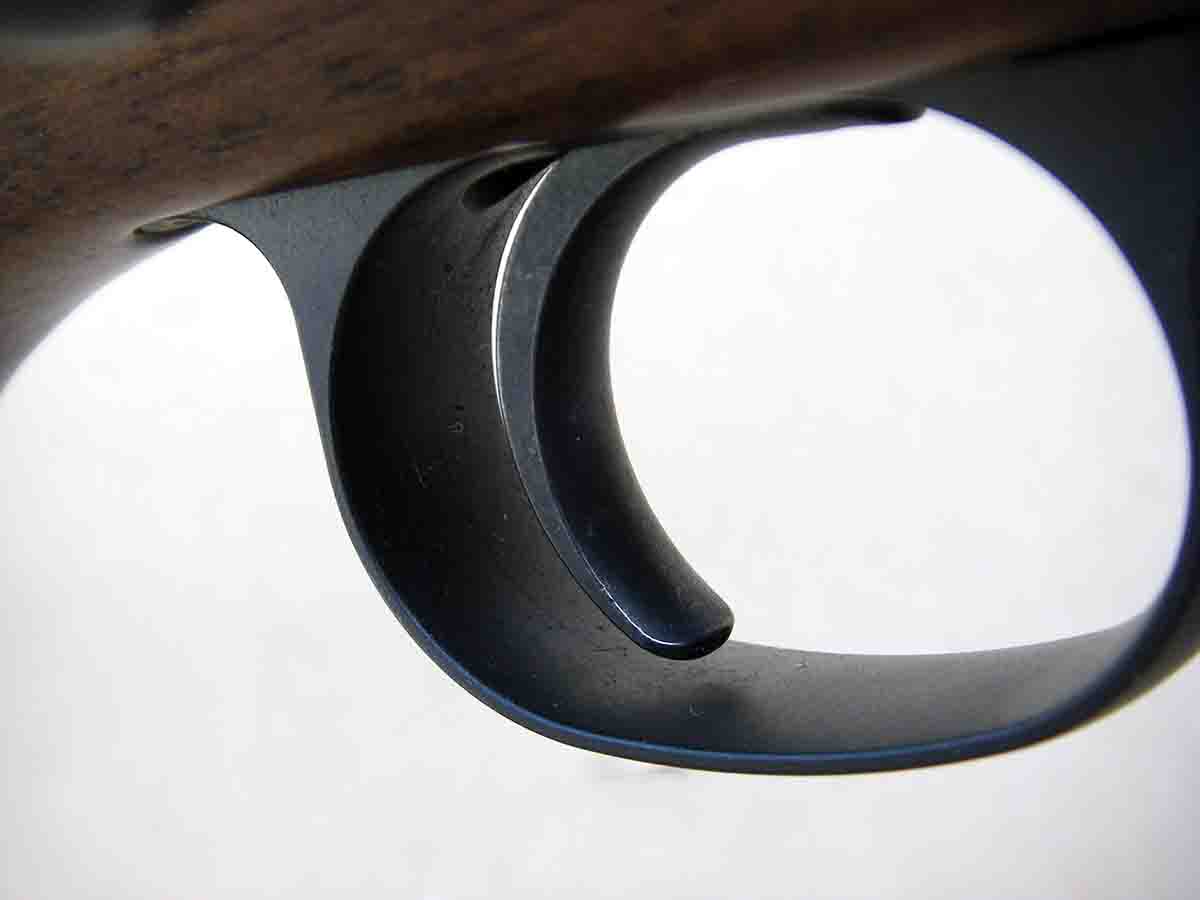 A Bushnell 2.5-10x 44mm Engage scope with a Deploy MOA reticle was mounted on the 457 Varmint Precision Trainer rifle using Talley 11mm dovetail rings. This scope features a 30mm main tube, .25 MOA click adjustments, side parallax adjustment, 3.6 inches of eye relief, fully coated, scratch resistant lenses for increased light transmission and is offered factory direct at a moderate price. After spending time with this scope, both on the bench and in the field, it is a bargain. Incidentally, the Deploy MOA reticle is thin and features windage and elevation hash marks that aid in practical practice when compensating for wind drift or bullet drop.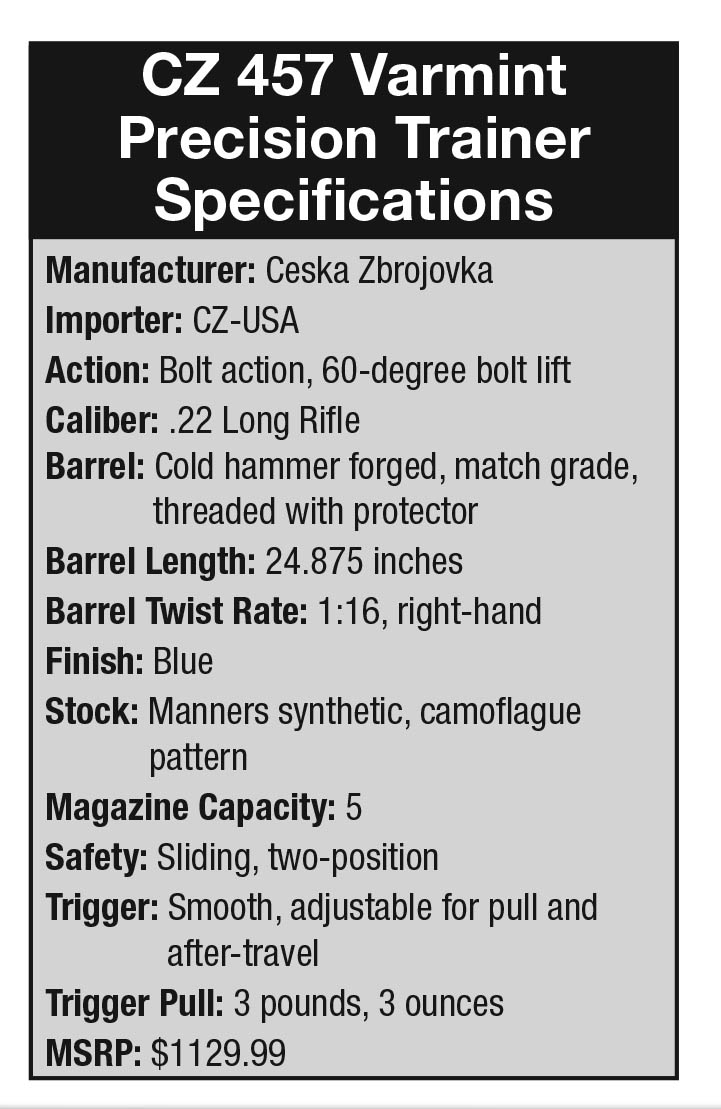 The 457 Varmint seems best matched with a traditional 1-inch main tube variable scope, with a Leupold VX-Freedom 3-9x 33mm EFR being selected. It features a fine duplex reticle, .25 MOA adjustments, an adjustable objective, 3.4-inch eye relief, scratch resistant lenses and Leupold's Twilight Light Management System that offers great optics for a scope in this price range. Weight is just 12.1 ounces. With street prices running around $349, it is a great value with a proven pedigree. The only area where I would like to see improvement is the click adjustments, which could be a bit more positive.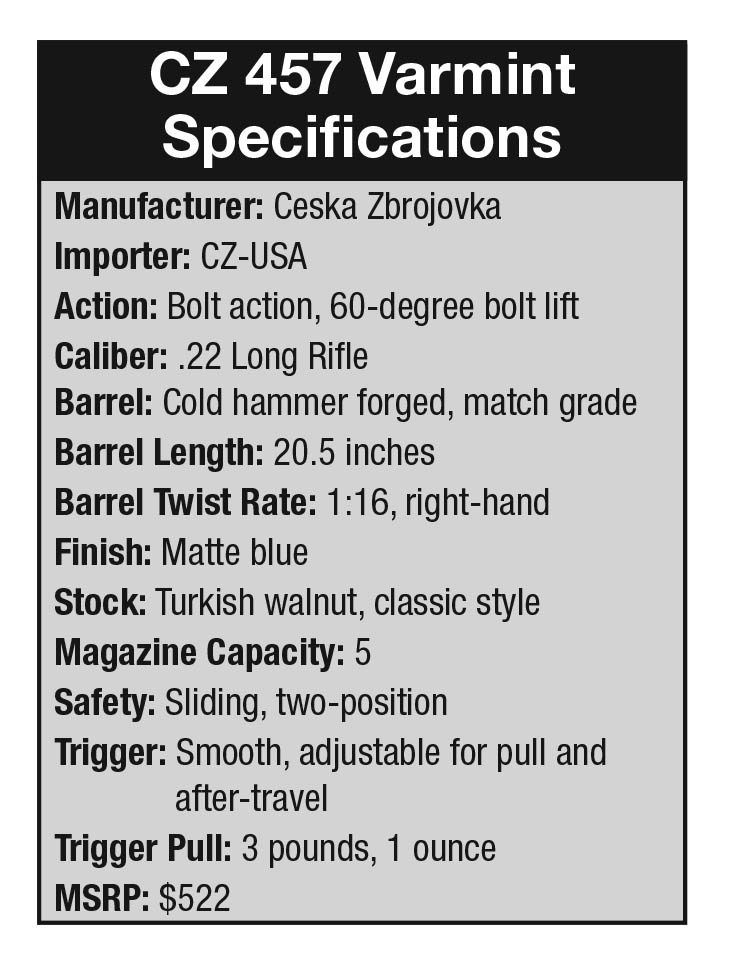 On the range, both rifles turned in good accuracy. Most testing was performed at 75 yards using more than 20 different loads. (Not all of them are included in the accompanying table.) As expected, match loads generally produced the best accuracy; however, select high velocity copper-plated loads performed very well. Naturally, testing was from a bench with the aid of sandbag rests. Five, five-shot groups were fired with each load in each rifle. When switching loads, five fouling shots were fired with the "next" load to be tested before grouping began with that load.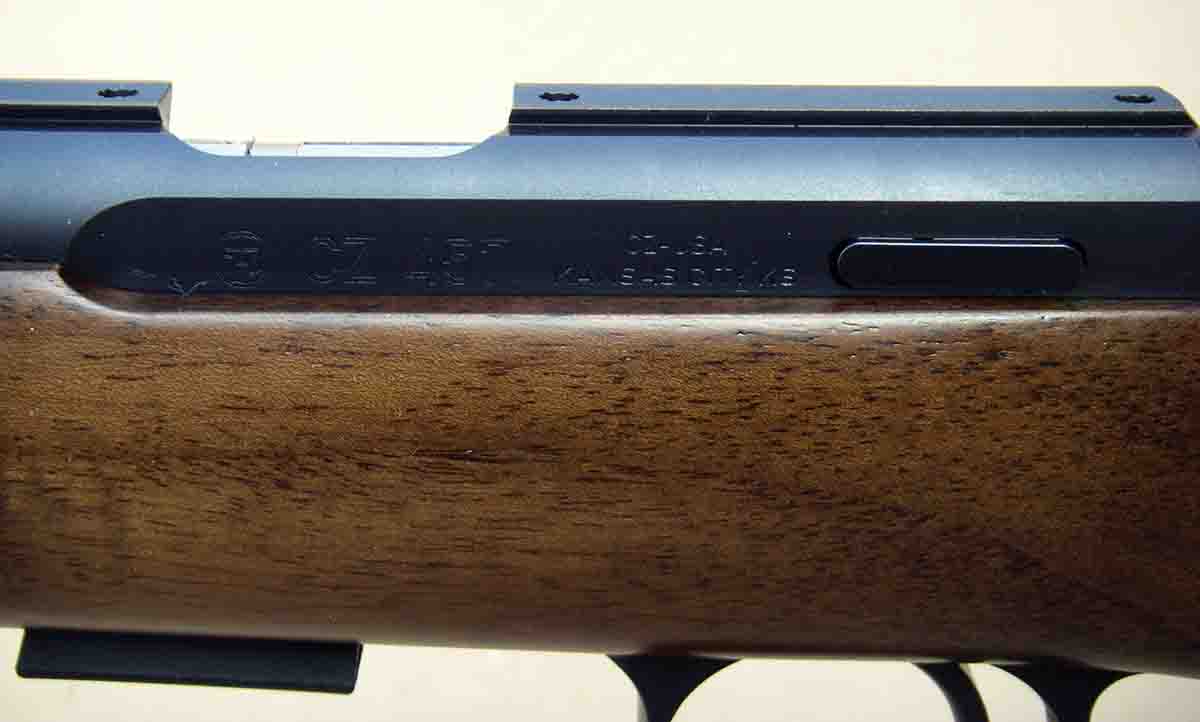 As noted, the 457 Varmint features a shorter, heavier barrel and, in spite of a wood stock, usually demonstrated a slight accuracy edge over the 457 Varmint Precision Trainer. What is interesting, however, is that both rifles produced very similar average accuracy with each load. In other words, if one rifle grouped a certain load into around a half-inch, the other rifle would as well. If another load grouped into around an inch with one rifle, the second rifle produced an almost identical average group size. Another observation that was peculiar included the overall shapes of the groups fired from each rifle that were almost identical and almost appeared as though the targets had been stacked on top of one another (when fired from the same load). I cannot offer any solid explanation for this oddity, but it is worth mentioning.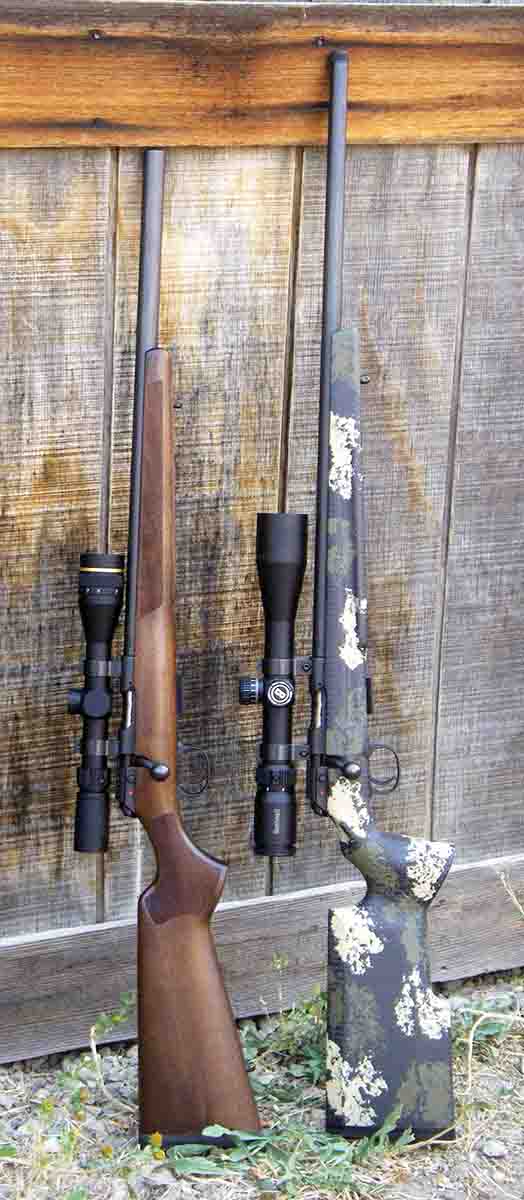 Of the several match loads tried, Federal Gold Medal (40-grain lead RN at 1,080 fps) was the most accurate, with average group sizes measuring .471 inch (Varmint) and .482 inch (Varmint Precision Trainer), respectively.
Switching to high speed, copper-plated performance and hunting loads, results were interesting. The Federal American Eagle 38-grain copper-plated HP's (1,260 fps) average group sizes measured .490 inch for the Varmint and .571 inch for the Varmint Precision Trainer. CCI's popular Mini-Mag hollowpoint with a 36-grain bullet at 1,260 fps averaged groups of .664 inch and .688 inch, respectively, while Winchester 40-grain PowerPoint (1,280 fps) opened groups to 1.110 and 1.320 inches, respectively.
The only hypervelocity load tried was CCI Stinger (a 32-grain bullet at 1,640 fps), which produced poor accuracy with groups measuring in excess of 6 and 8 inches. (Some rifles produce okay accuracy with this load; however, it pays to test loads in each firearm.)
Another specialty load tested included Aguila 60-grain SSS (Sniper Sub Sonic). As can be seen in the accompanying table, groups averaged .658 inch and .694 inch, respectively. However, targets clearly showed substantial bullet tipping (aka, yaw). How this load yielded that level of accuracy at 75 yards from barrels with a 1:16 twist was something of a surprise. This load has the potential to be accurate at much greater distances; however, it really needs a faster barrel twist of 1:9 to 1:12 as produced by custom barrel manufacturers.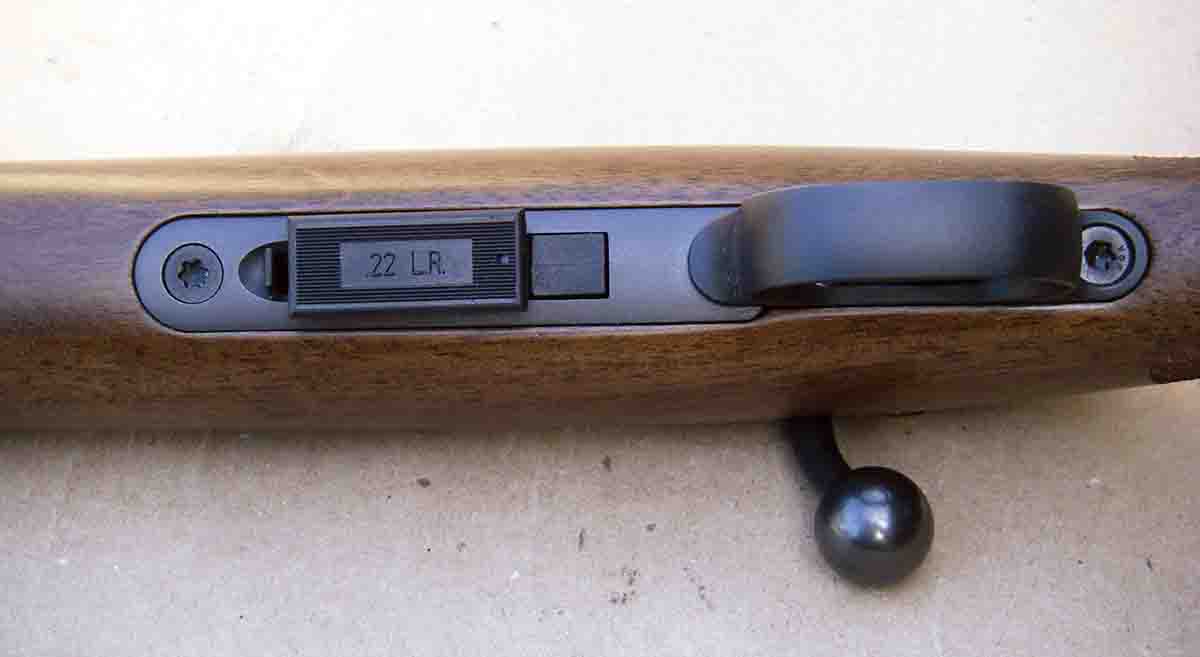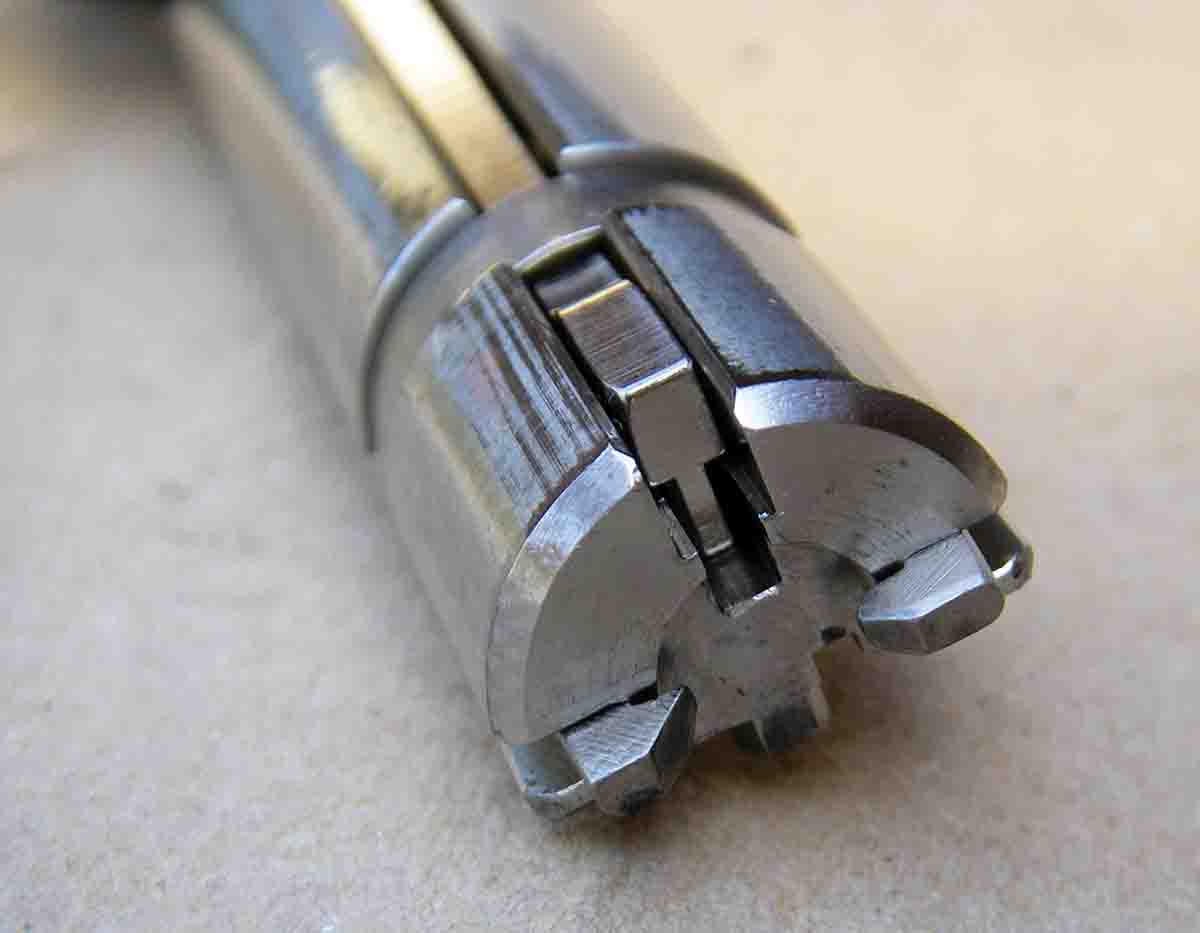 In working with the above CZ 457 rifles over the past several months, I have been very impressed with both. They are reliable, well machined, accurate, offer outstanding trigger pulls, are eye appealing and each model fulfills its intended purpose very well. Considering their features, they are bargains. Due to consumer demand in recent years, centerfire, bolt-action rifle manufacturers have placed great emphasis on improving accuracy and have begun offering sub models that appeal to long-range shooters, etc. The 457s are similar, as their accuracy will appeal to demanding shooters, and with 16 variants, they are certain to appeal to traditional and modern shooters alike.