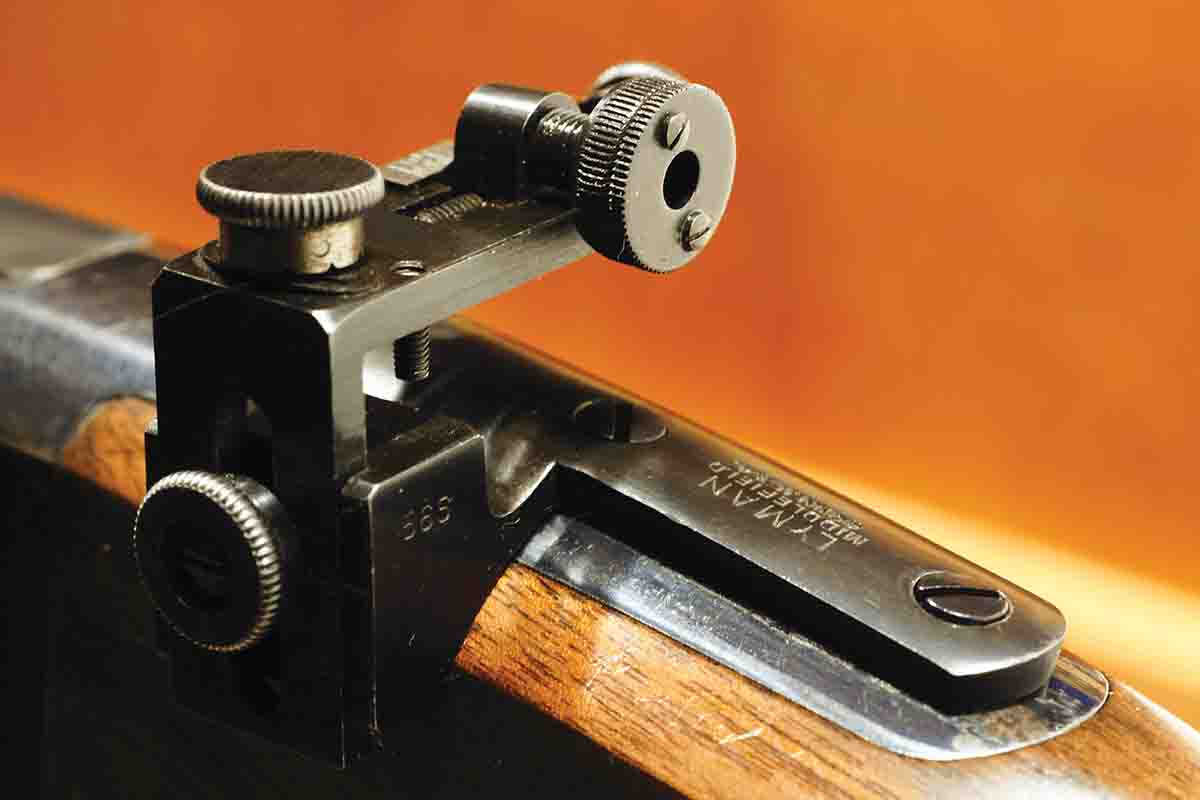 At the tender age of 15, cherishing my first high-powered rifle and determined to be prepared for any eventuality that might arise when hunting deer, I found myself at the gun counter in Pilon Marine trying to explain to the salesman that I wanted to order a Williams 5D receiver sight for my spiffy Marlin 336.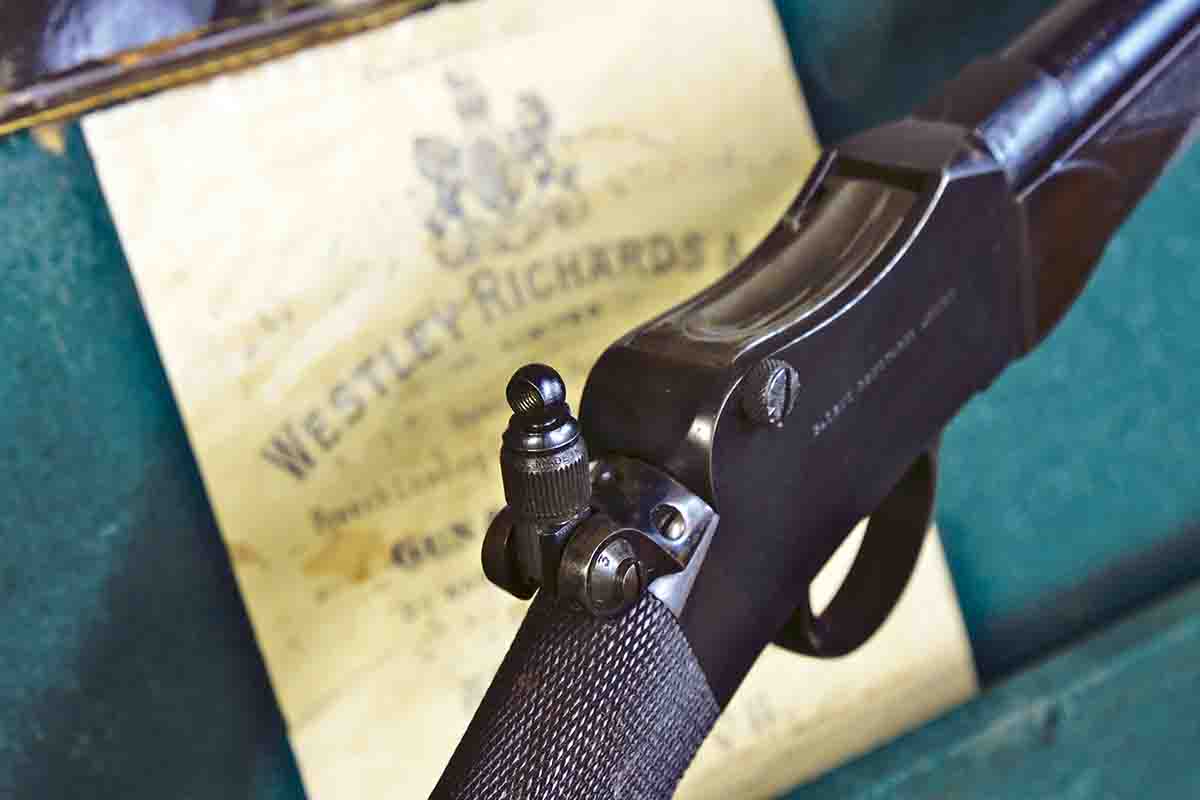 The year was 1964, and hunters in my neck of the woods (the rather remote woods that comprises central Ontario, Canada) could be divided into two groups: The Avant Garde who could afford riflescopes, and others whose level of ballistic sophistication was so low that they used the primitive open sights that came on every factory rifle. These, they believed, were good at any range to the limit of their eyesight. For that matter, those who bought scopes and had them mounted in the store assumed that they, too, were sighted in. It's a wonder anyone ever hit a deer at any range.
There was no way I could afford a scope, but I was a dedicated reader of hunting magazines and they all insisted that a good receiver (aperture) sight was almost the equal of a scope in most circumstances for most hunters, regardless of what the local gun dealer might say. It took some persuasion, but my salesman finally agreed to order one.
As it turned out, just having this exotic device on my 336 paid off, but not in the way someone might expect. Although I desperately wanted to go deer hunting, and it was legal for me to do so, my parents would allow it only if our deer-hunting friend, Clare Irwin, could be persuaded to take me. He was understandably hesitant, but asked to see my rifle. When he saw the Williams sight, he nodded approvingly. Clare being several cuts above the average hunter in our area, he had a Lyman tang sight on his ancient Winchester 94, and took the Williams 5D as evidence that I was serious about all this. That fall, I went deer hunting for the first time.

Thus was born, in a roundabout way, a lifelong interest in non-optical sights of all kinds – an interest shared by a wide range of enthusiasts that includes gun collectors, black-powder target shooters, Olympic competitors and the arcane substratum of the collecting world that dotes on mechanical gunsights. While the rest of the world chases the latest in glass, we cast our eyes back a century and more to an era when American inventiveness was at its height.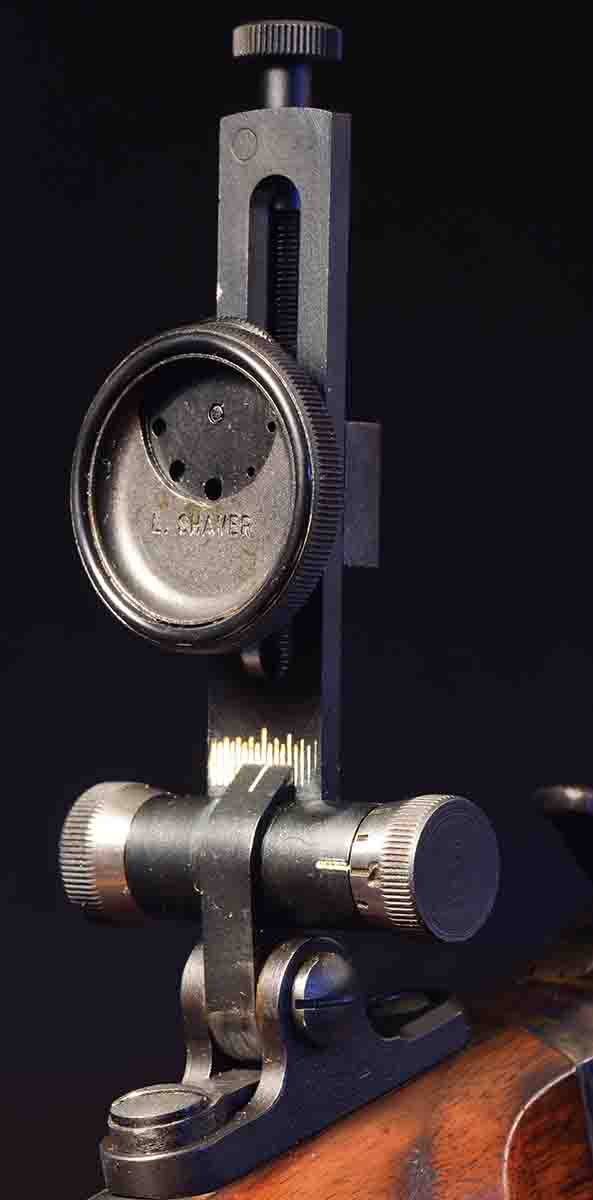 By the time I bought my Williams 5D, there were very few new receiver sights available, not just for the 336, but for any rifle. For years, Lyman sights had dominated the market, challenged by Redfield and, to a lesser extent, Williams, and that was about it. They were mostly similar – a base that attached to the receiver, with a platform that moved up and down in a dovetail. Both Lyman and Marble's also offered traditional folding tang sights for such as the 94, 336 and Savage 99. Over the course of 50 years, however, from 1918 to 1968, the available models dwindled steadily as riflescopes and mounts improved and took over the market.
The one event that might have breathed new life into aperture sights was the introduction in 1967 of the single-shot Ruger No. 1 rifle. After all, fine single-shots had been the primary use of the elaborate and precise tang sights of the previous century. For whatever reason, however, Ruger designed its rifle without the long tang necessary to provide a solid base. From the beginning, it was intended for use with either a riflescope or the open sight on the barrel. Some years later, an aftermarket receiver sight became available, but it had its own problems.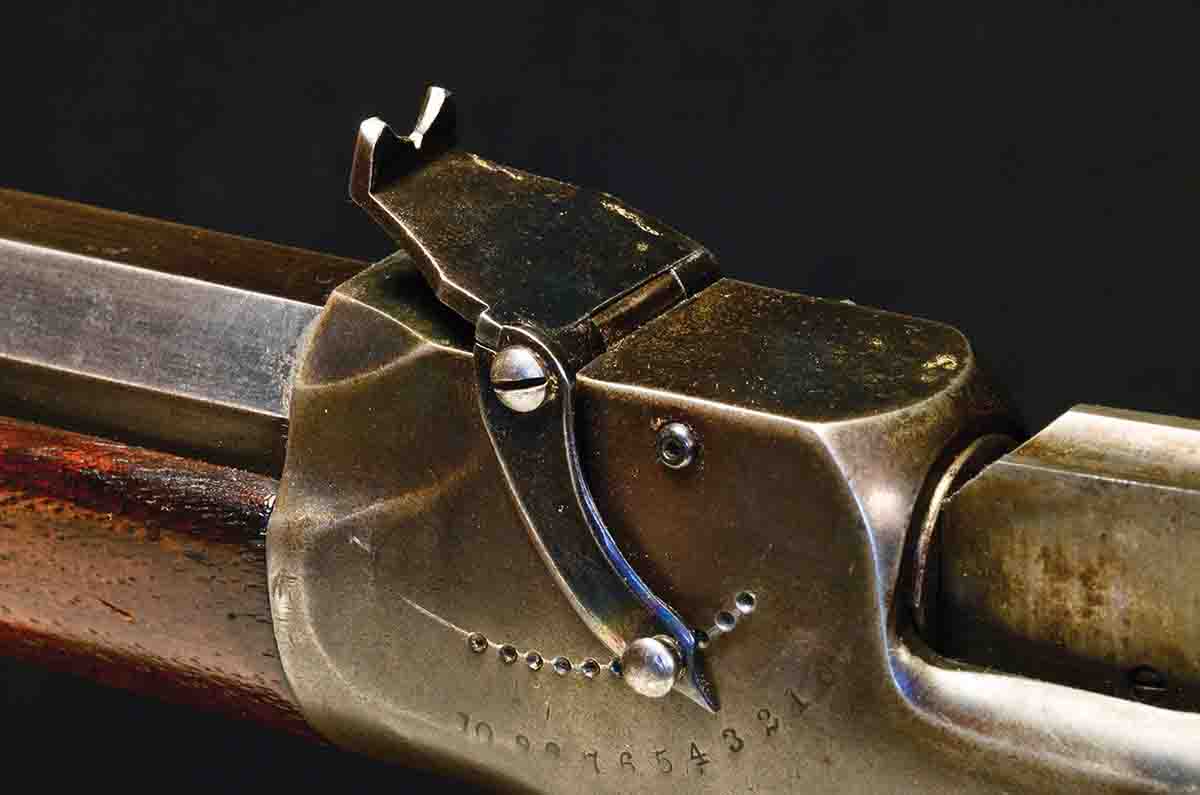 A major topic related to aperture sights of all kinds, including both tang and receiver sights, is the size of the opening you look through. William Lyman is credited with discovering, if that's the right word, that the aperture could be extremely large – seemingly allowing you to see all outdoors – and the eye would still automatically center the front sight. For this reason, one of the tenets of aperture sight use for hunting, promoted by everyone from Jack O'Connor on down, was that you should remove the tiny screw-in aperture and simply take your sighting through the larger opening that remained.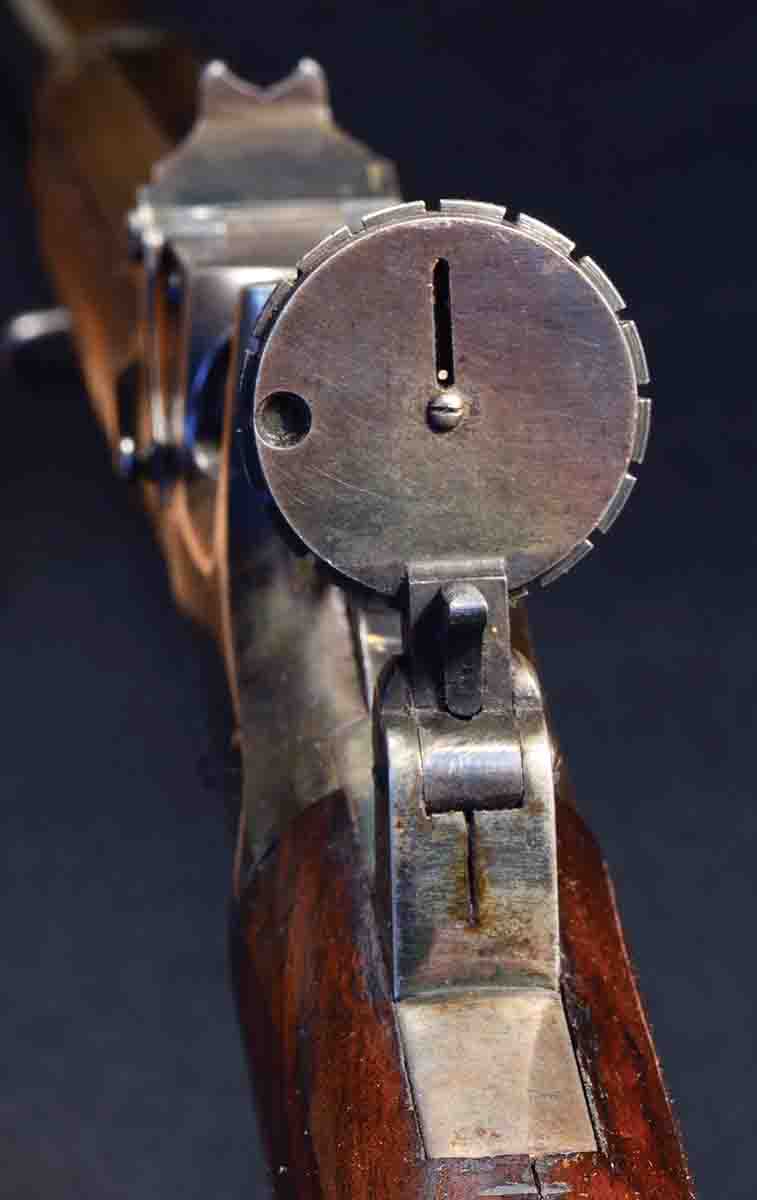 For anyone reluctant to do that, screw-in apertures were offered in various sizes as to diameter of both the disc and the hole itself, depending on how much of the surrounding countryside the shooter wants to block out. By the late 1800s, these discs had become a specialty in themselves. The famous Hadley eyecup, for example, allows a rifleman a choice of aperture sizes according to use and conditions. It was made for target sights. For the typical Lyman or Redfield, the Merit disc was a screw-in replacement that afforded a range of openings using the principle of the multibladed camera shutter.
Some sight designers hit on the bright idea of giving the screw-in aperture an additional duty: When it was screwed in snugly, it held everything place. To adjust the sights, you loosened the aperture, moved the sight up, down or sideways, then tightened it again.
Obviously, however, this meant you could not remove it and still use the sight.
When the aftermarket sight for the Ruger No. 1 was introduced, it was designed to attach to the receiver, which of course put it farther from the eye. What was worse was that the aperture disc, when tightened, held the whole thing together. Without it, the sight was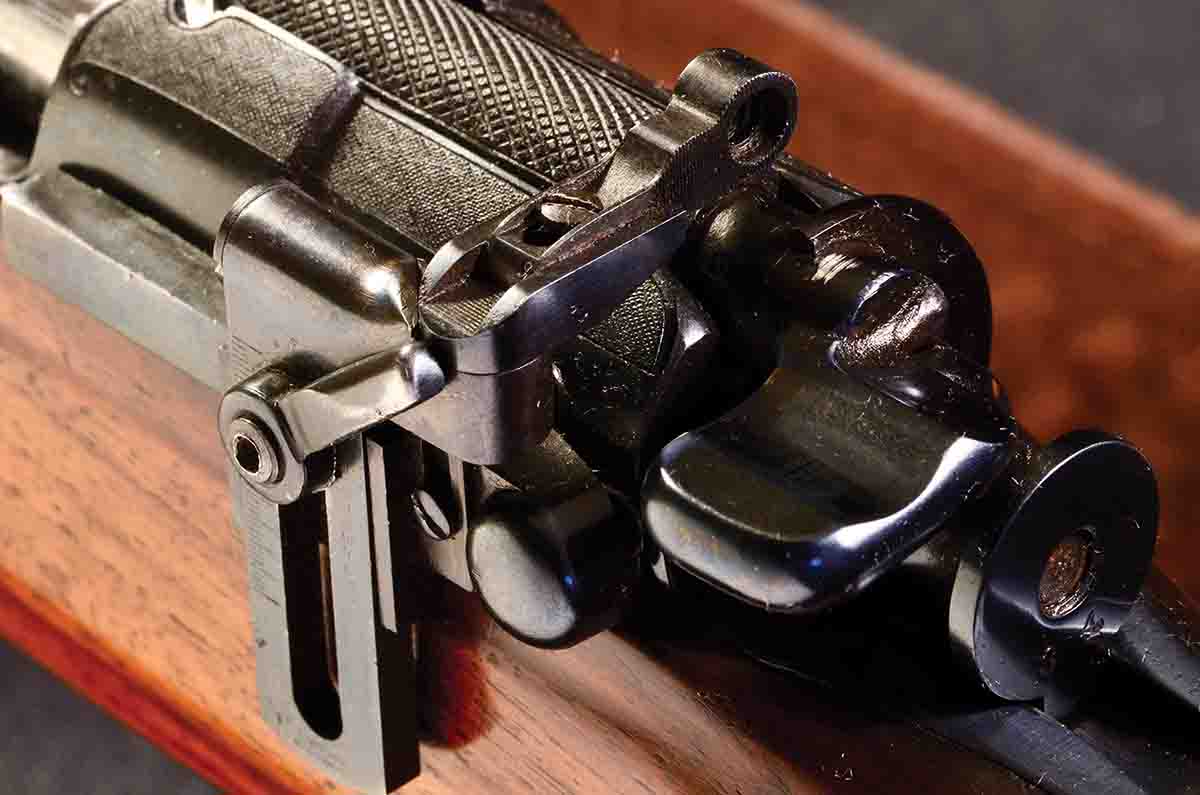 unusable. The combination of a small aperture and excessive distance from the eye rendered the whole thing useless. When I hit on the somewhat eccentric idea of having a long-range Schützen rifle built on a Ruger No. 1 action about 15 years ago, Danny Pedersen (Classic Barrel & Gun Works) fitted an extension onto the tang to accommodate a target sight.
The lack of a tang on the No. 1 effectively rules it out, to my mind, as a classic stalking rifle. In a suitable caliber, like the 7x57R, fitted with a tang sight, a single-shot makes a beautiful rifle for still-hunting and stalking, accurate and deadly out to 250 yards in the hands of a skilled rifleman. Add a scope and it becomes awkward to carry, but if you stick with the open sights, the effective range is shortened considerably. To afiçionados, this is no small thing.
The ladder-type Vernier tang sights found on the great target rifles, like the Ballard and Stevens, are precise and ingenious, but they are specialty instruments. They are not readily adapted to a hunting rifle for a number of reasons.
One major one is the effect of recoil. For maximum accuracy and ease of use, the aperture needs to be close to the eye. However, place it too close and the results can be devastating, especially in a rifle with substantial recoil. There is the story of a well-known outdoor writer in the 1920s who took his new bride big-game hunting in the Rockies. She took a shot, uphill, at a mountain goat, using a .300 Savage with a tang sight. The rifle slipped under her arm, apparently, and the sight hit her in the eye, which later had to be removed. The .300 Savage is not a hard-kicking rifle by any means, but the combination of circumstances made it dangerous.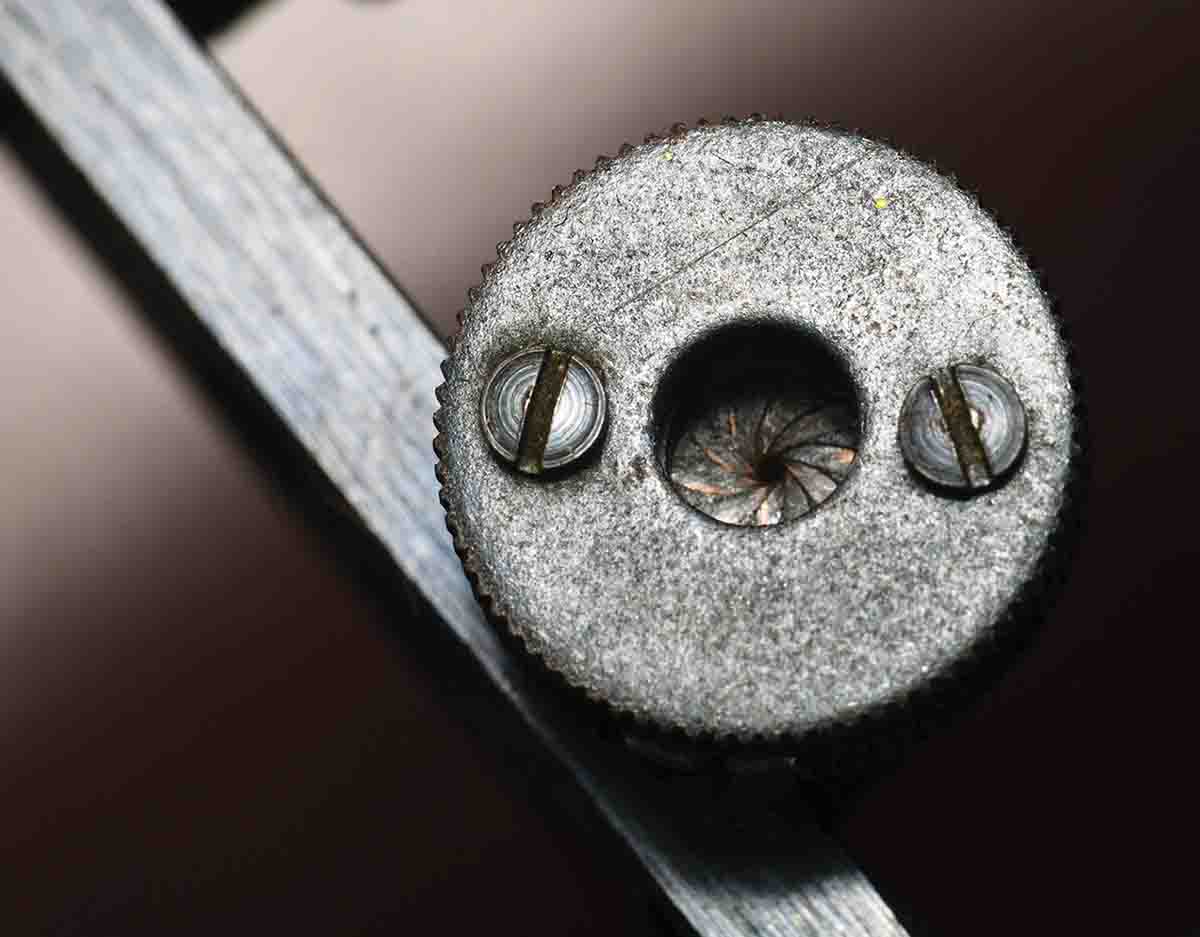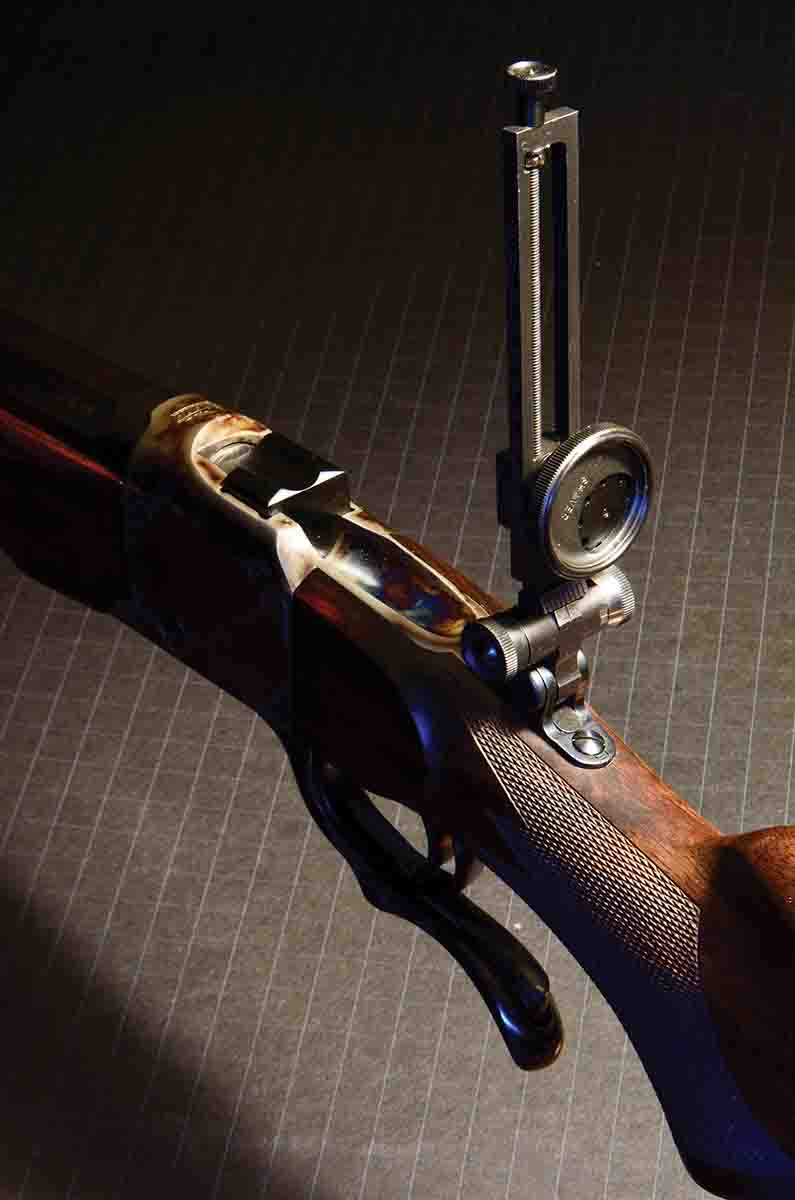 No English elephant gun was ever fitted with a tang sight, more accurate though they might be. For that particular purpose, precise accuracy was unnecessary. As well, for example, a weighty .30-40 Krag with a long barrel might be perfectly fine with a tang sight, but reduce the weight and shorten the barrel and it could become hazardous. I can think of few things more likely to induce a flinch than fearing that pulling the trigger could blind a hunter.
Just as most new scope users believe that the higher the power the better, most new aperture sight users worship elaborate sights that are minutely adjustable, with the smallest possible aperture. They also mate them with globe front sights with (sometimes) fantastic reticles. For a hunting rifle, this is invariably a mistake, just as putting a gargantuan 8-32x 56mm tactical scope on a Winchester 94 is a mistake. Never say never? I'm saying never!
During the course of a long and varied shooting career studded with mistakes (including all of the above except the 8-32x 56mm scope), I have learned that when it comes to aperture sights, simpler is almost always better, provided the necessary features for accurate, dependable shooting are retained. These include easy and precise adjustments for windage and elevation, a secure locking mechanism to keep everything in place regardless of hard knocks, an aperture big enough to pick up the target in a heartbeat and a front sight that does its job without getting in the way.
Of the three main types of rifle sights – open, scope and receiver/aperture – the last seems to be the most difficult to master, not only in the adjustment but in day-to-day use. Not surprisingly, the elaborate, highly precise target sights, with Vernier-scale adjustments and variable apertures, are the worst, and also require mating with suitable front sights, which present their own additional problems. Receiver sights for hunting rifles are generally less complex and more rugged, but there are still people who either can't be bothered learning how to use them or insist they have some inbred inability to do so. It is, however, a skill well worth having, and developing a taste for aperture sights can lead to an addiction.
One would think that receiver sights would be as much a thing of the past as percussion ignition, but they are still hanging on, and not just for vintage or reproduction rifles used in old-time shooting contests. Lee Shaver and a couple of other makers produce Vernier rear sights and globe front sights comparable to those produced for Schützen rifles, but there's a whole new generation of aperture "battle sights" that are fitted to the ubiquitous Picatinny rail found on everything from ARs to sniper rifles.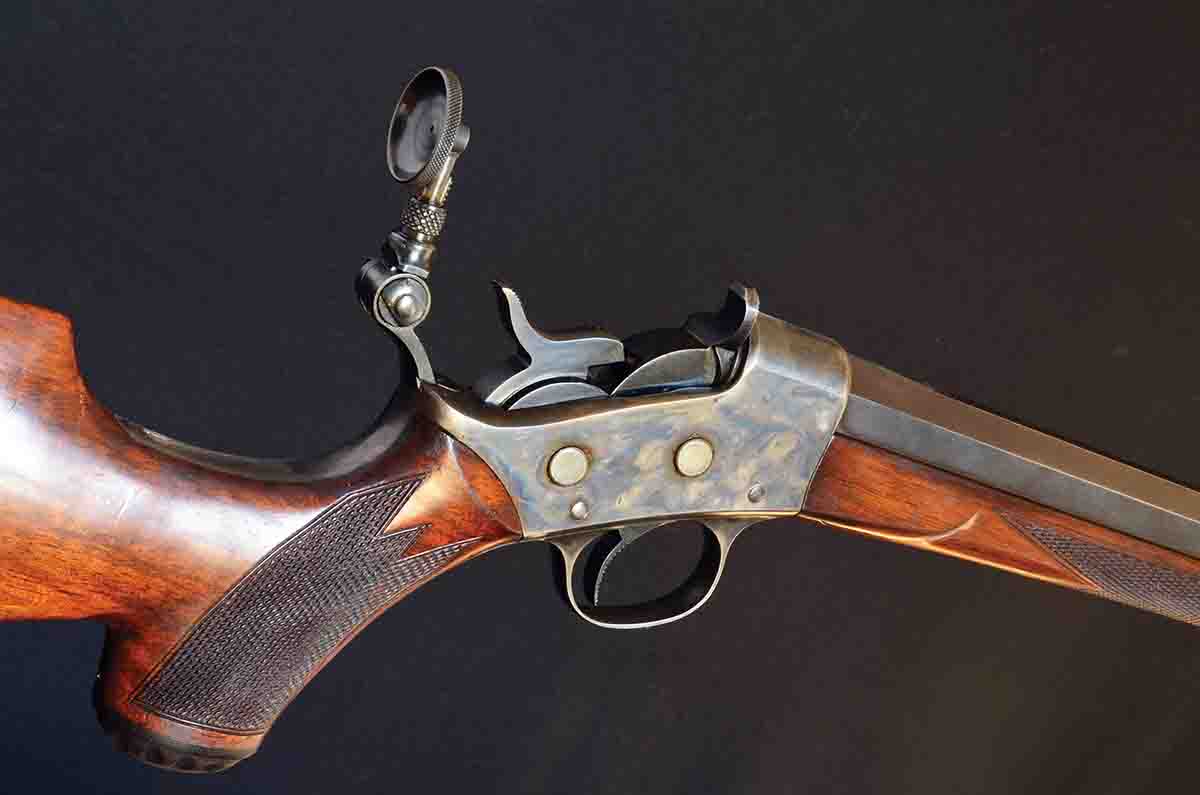 As for the mainstream, the Williams Gun Sight Company is still making its venerable 5D sight. Originally, 5D stood for "five dollars," which was the price until the inflation rush of the 1970s. It was an economy version of the company's flagship "Foolproof" (FP) model, which was priced at $9. The Foolproof had micrometer adjustments, whereas the 5D had a simple base and post arrangement, with both the sliding vertical post and windage slide held in place by set screws and adjusted by hand.
Both are still made. The Foolproof lists at about $80, depending on the features; the simpler 5D is still called the 5D, but lists at $44.95 on the company's website. Not bad, considering all the economic upheavals of the intervening 55 years, and it's still made for the Marlin 336, should any 15-year old farm boy acquire one and aspire to move into the more sophisticated realms of rifledom. It's nice to see that some things haven't changed.