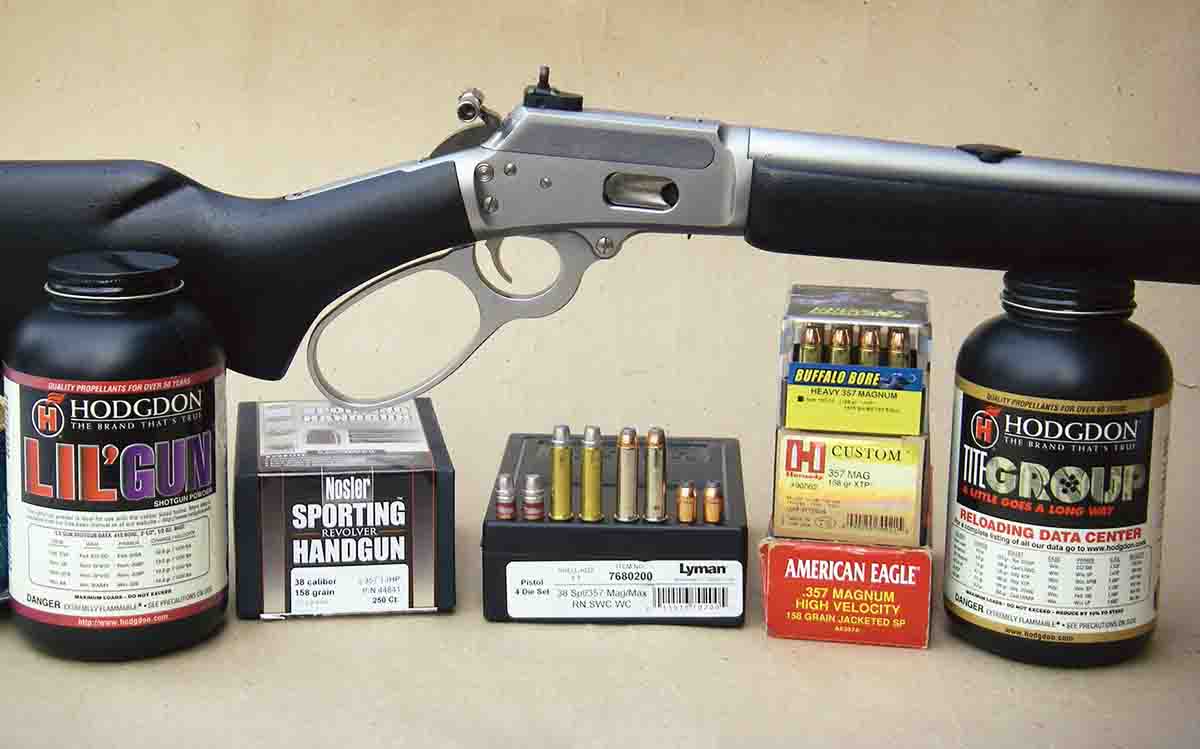 The .357 Magnum was first introduced in 1935, which was a joint development between Winchester and Smith & Wesson. The Smith & Wesson .357 "Registered" Magnum revolver, built on the N-Frame, was the company's finest effort and its most expensive gun. It offered outstanding fit, finish, accuracy and overall quality, and was offered with many custom order options. The cartridge delivered high velocity, accuracy and enough performance that Doug Wesson managed to take antelope, deer, elk, grizzly and other big game at 200 yards and beyond. It has become one of the most popular sixgun cartridges and has been chambered in a large variety of handgun types. However, its popularity in rifles, especially lever actions, has become huge. While it is certainly an interesting sixgun cartridge, when chambered in lever-action rifles it is lightweight, fast-handling and offers terminal performance that is out of proportion to its humble size.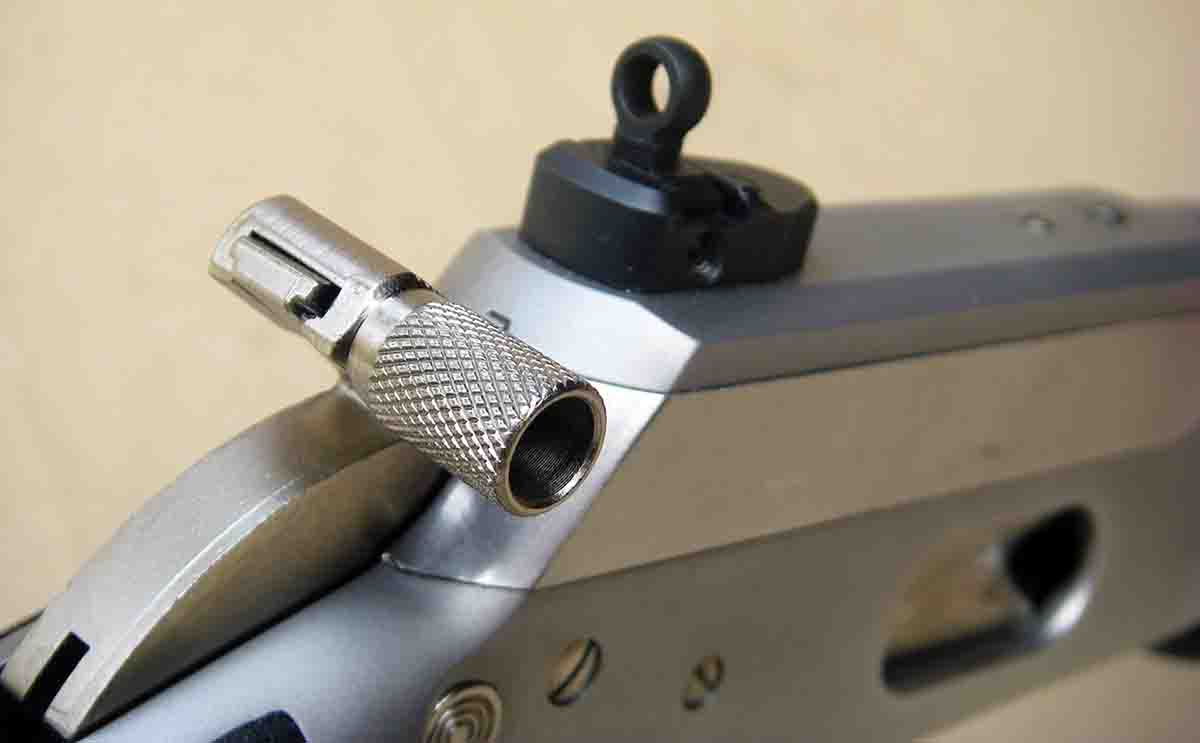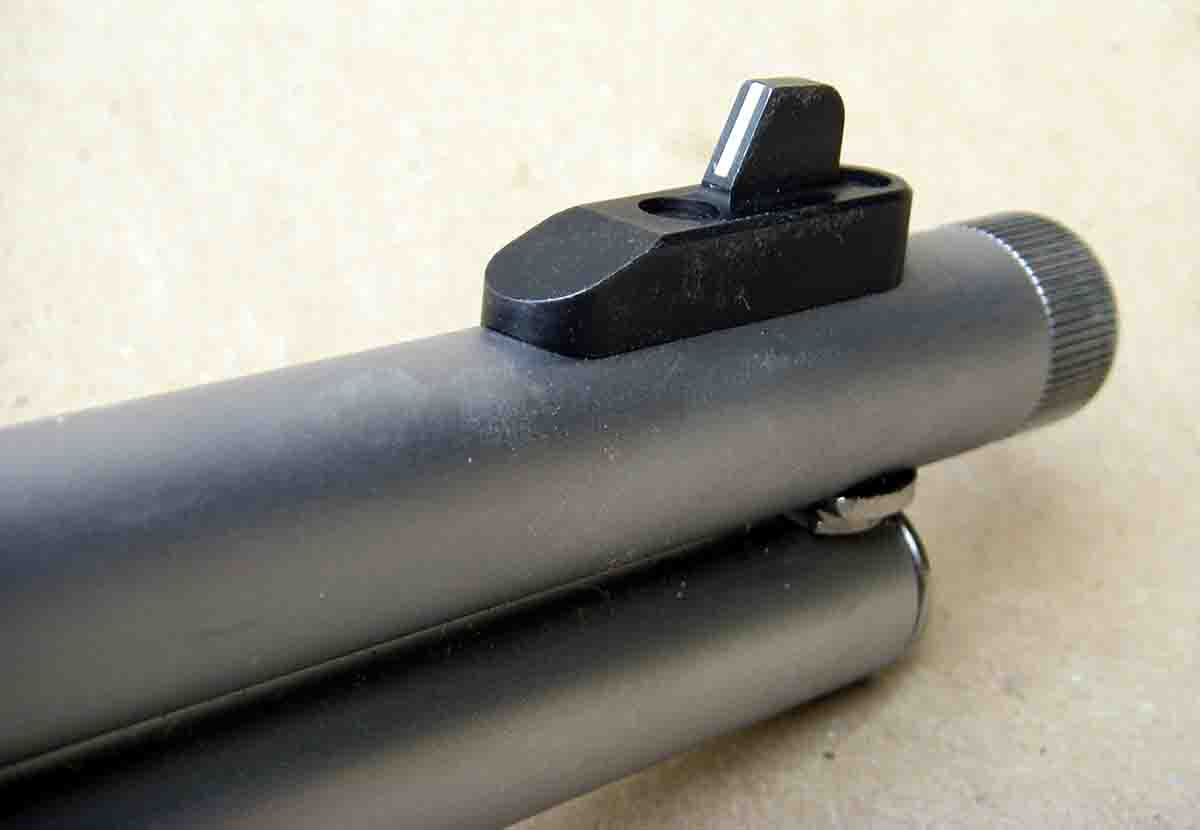 My experience with .357 Magnum leverguns dates back to the 1970s and has included converted Winchester Model 1892s, reproduction Model 1892s from Rossi, Browning and USRAC, Marlin Model 1894s, Uberti Model 1873s and others. In addition to hunting with them, I have used most factory loads, developed considerable handload data and posses a pretty good idea what to expect in terms of accuracy, performance, etc. While original .357 factory loads were advertised to push a 158-grain lead bullet at 1,510 feet per second (fps) from long barreled revolvers, this was a bit optimistic in most revolvers. Today, The Sporting Arms and Ammunition Manufacturers' Institute (SAAMI) has reduced pressures to 35,000 psi, with most factories listing a 158-grain jacketed bullet at 1,235 fps from a 4-inch vented test barrel, but will record faster velocities from revolvers with tight tolerances and longer barrels. When these loads are fired from carbines with a 20-inch barrel, velocities will usually run at least 1,600 fps, but usually around 1,750 fps; however, some factory loads will break 2,000 fps, placing it in a similar category as the .30-30 Winchester. Rifles with a 24-inch barrel will run faster while shorter barrels (such as the rifle tested here) will have some velocity loss. In the hands of skilled shooters, an accurate rifle equipped with good sights (aperture or scope) is capable of groups running 1.0 to 1.5 inches at 100 yards; however, they are generally capable of around 2-inch groups.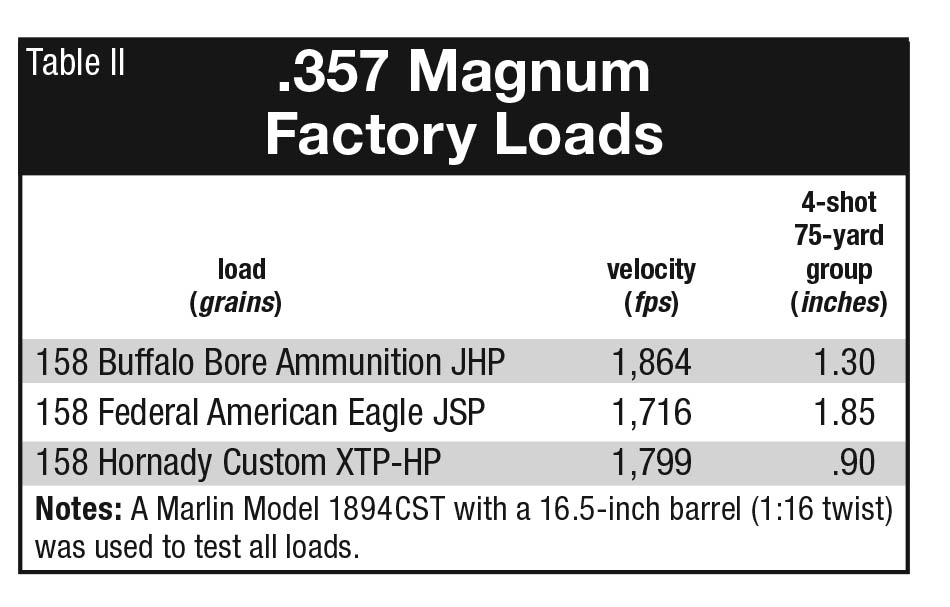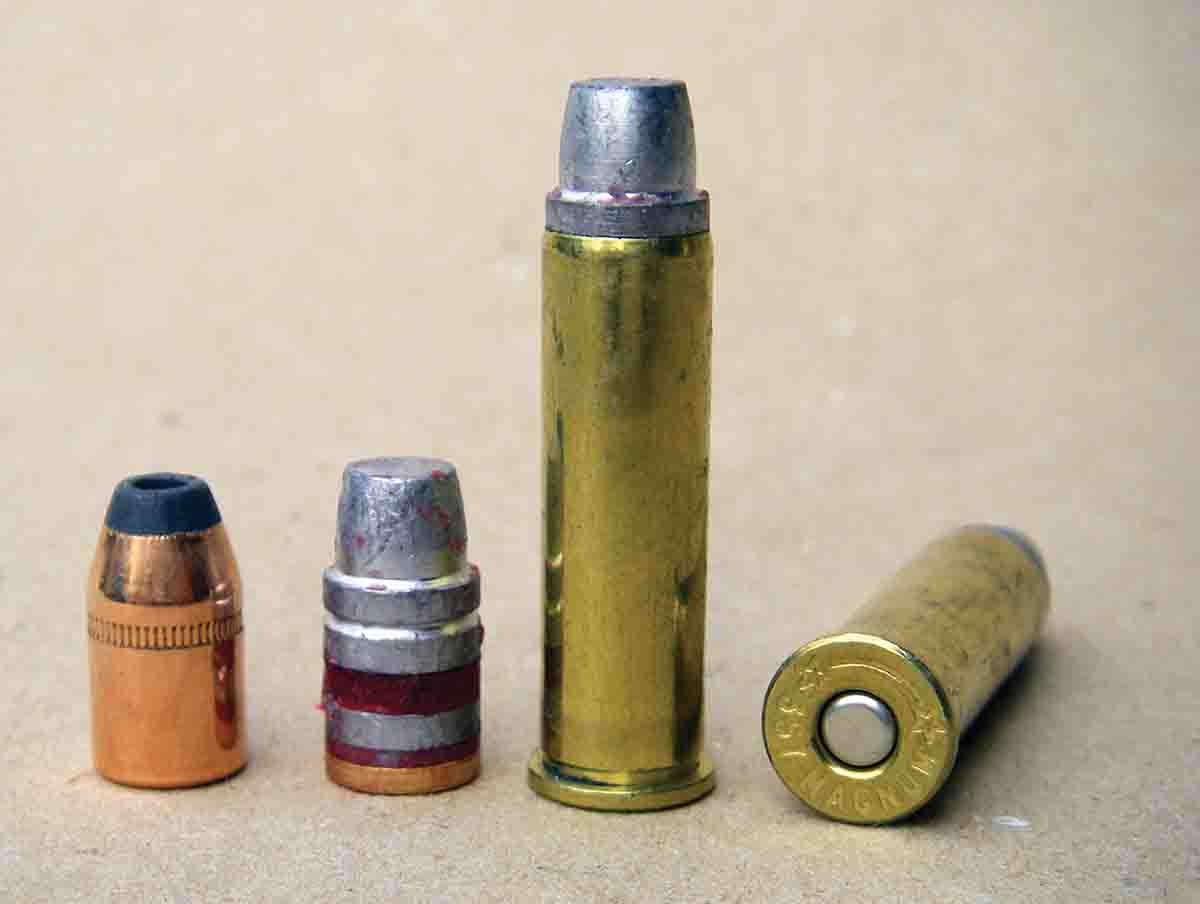 In addition to offering "medium bore," .36-caliber performance, outstanding bullets serve to increase its effectiveness. For example, most .357 jacketed bullets (Speer, Hornady, Nosler), with 158-grain bullets being most versatile, are designed to expand at velocities of 800 to 900 fps. When pushed 1,600 to 2,000 fps from a rifle barrel, they expand with considerable enthusiasm, which results in remarkable tissue damage to the lungs of deer-sized game. My family and I have shot many deer with .357 rifles and have always been impressed by its performance. For coyotes, foxes and similar-sized game, it offers truly devastating performance at moderate distances. For hunters wanting deep penetration on hogs, black bear, etc., there is a great selection of excellent cast bullets that typically weigh between 158 to 180 grains, while Cutting Edge offers a 165-grain solid. These bullets are capable of penetrating over 3 feet. I have friends in Africa that report using .357 rifles on plains game, including mature eland bulls that can weigh 2,000 pounds and beyond. When mated with the correct bullet, they report outstanding results and one-shot kills. I also have reports of it being used on Alaskan moose (weighing 1,500 pounds and more) with good results.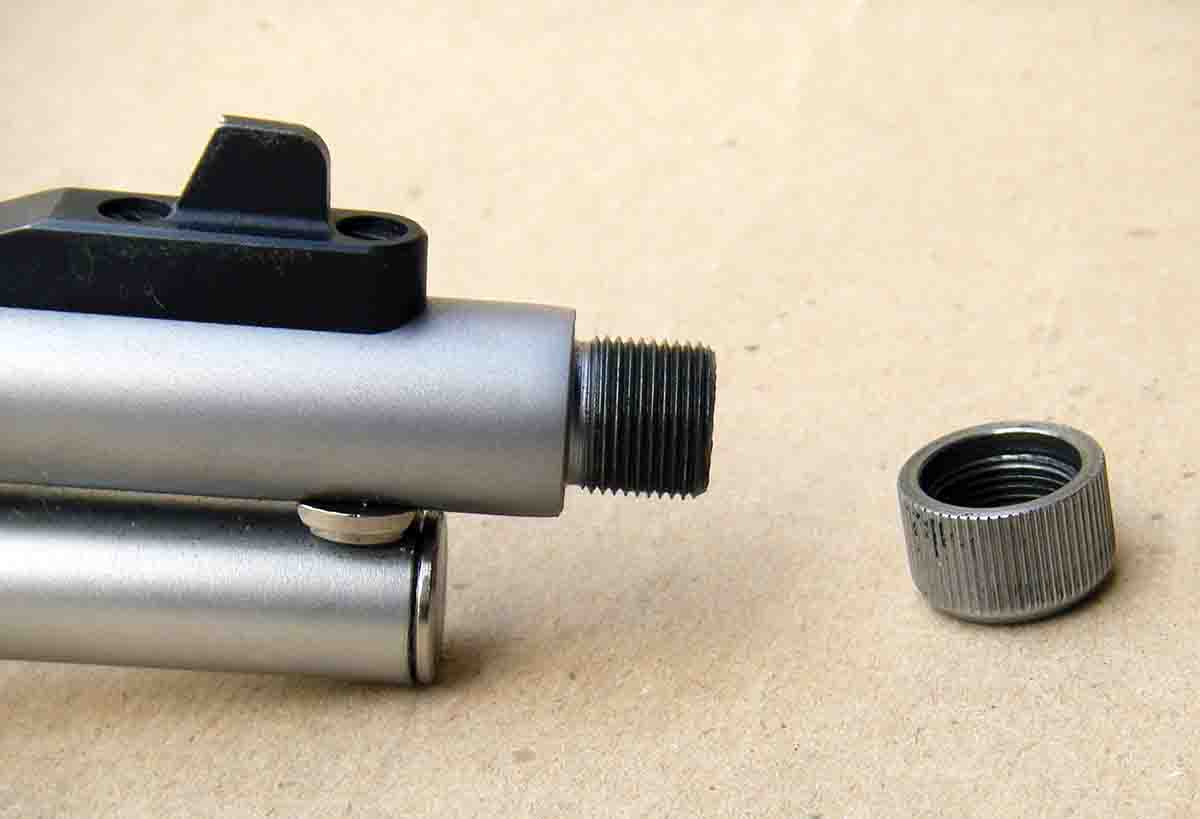 Handloaders can further increase the versatility of .357 rifles by assembling loads that fully duplicate factory loads, and even exceed those velocities while staying within industry maximum pressure guidelines. They can also assemble mild loads capable of taking small table fare while keeping meat damage to a minimum. These typically contain roundnose or flatpoint cast bullets pushed to around 900 to 1,100 fps. Cases offer substantial life and are available at a relatively low cost (Starline Brass, 800-280-6660). Incidentally, the .357 requires less than half the powder charge of cartridges that offer similar performance, such as the .30-30 Winchester. In addition to notably reduced ammunition costs, the .357 offers lower recoil, faster follow-up shots and reduced muzzle report. These are all important factors when shooting recreationally and when hunting, but they are especially important if the gun is used for protection.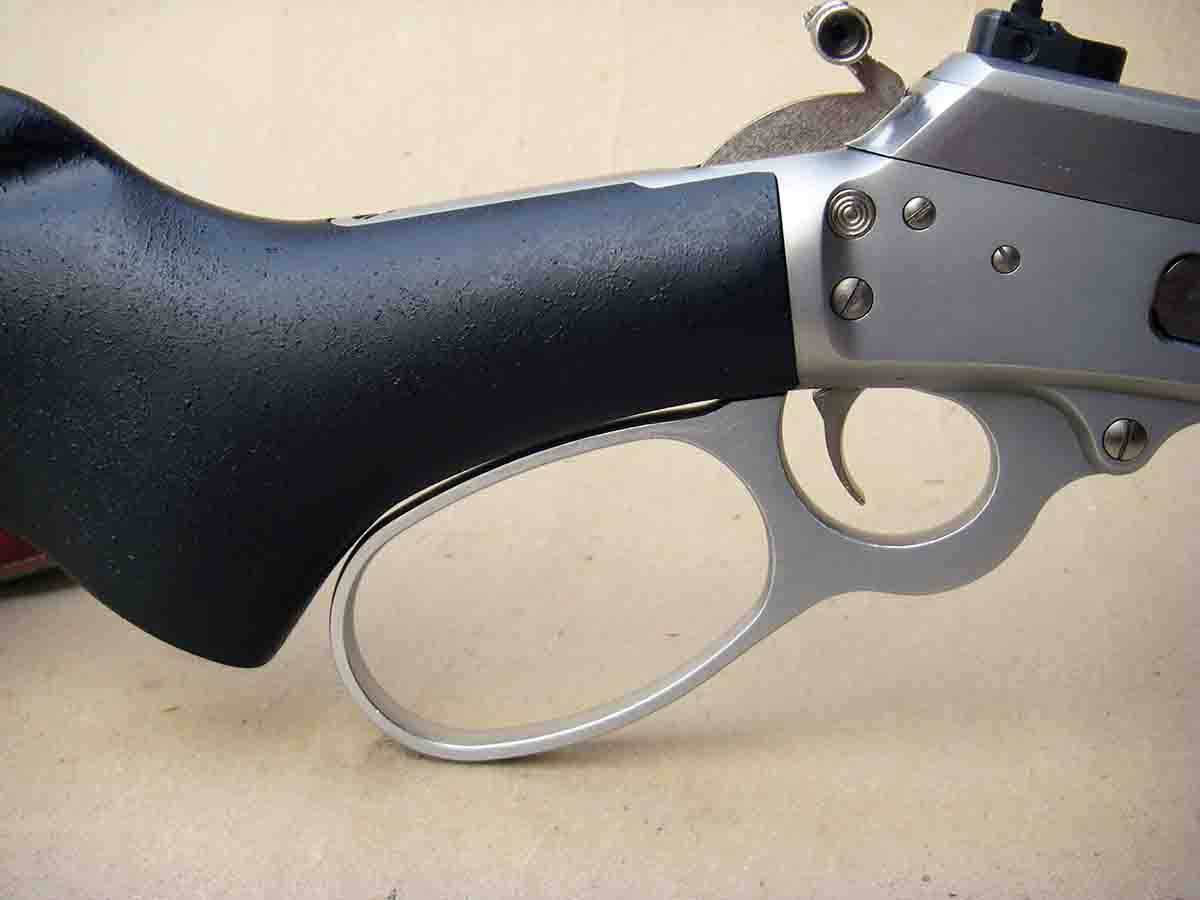 One of Marlin's highly popular leverguns is the Model 1894, which has changed very little in the past 126 years. However, small mechanical improvements have been continual, and it is chambered in modern magnum revolver cartridges. The Model 1894CST is a relatively new variation that has been in continual backorder since its introduction and is available in .44 Magnum and .357 Magnum, with the latter being chosen for this review. The CST is constructed primarily of stainless steel and features a 16.5-inch threaded barrel with full-length magazine and eight-round capacity. The rifling is conventional Marlin Ballard style with six lands/grooves and features a 1:16 twist. The stock and forearm are hardwood, but lightly textured and painted flat black and topped off with a soft Pachmayr Decelerator recoil pad. It features a curved pistol grip with an oversized finger lever loop. I favor a more traditional finger lever loop shape that is faster to run, and have encouraged Marlin to offer an optional lever that can be changed according to shooters' preference.
The rear sight is an XS Ghost Ring with a .191-inch aperture that is fully adjustable for windage and elevation. The front sight is the XS white stripe, which offers a unique blend of outstanding visibility under a variety of shooting conditions. Weight is 6.5 pounds and the overall length is just 35 inches, which results in a compact, fast handling carbine.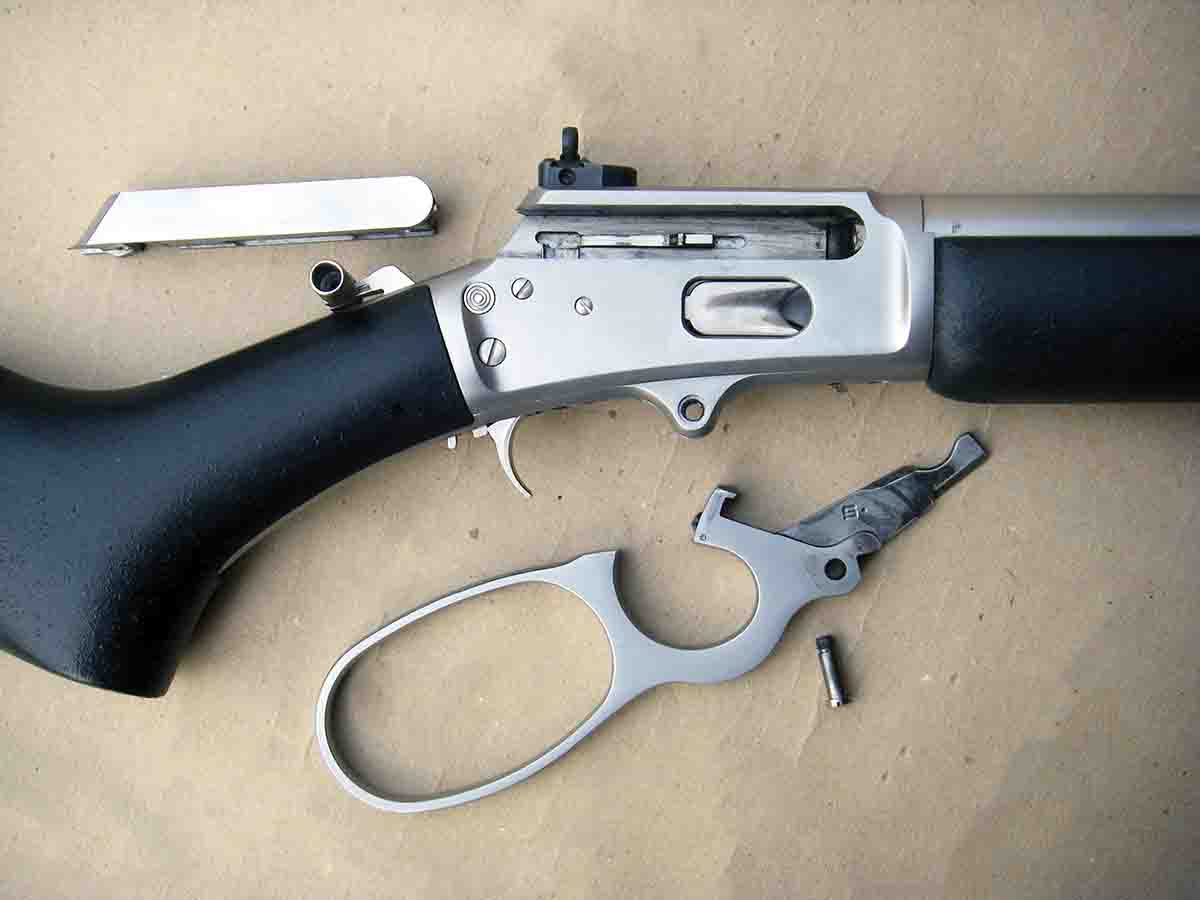 My initial impression of the Model 1894CST carbine is very positive. The action works more smoothly than any out-of-the-box Marlin (except Custom Shop guns) that I have tried in more than a decade. Overall, machining is good, the trigger breaks crisply at 4.2 pounds and the matte finish offers low reflection. The rifling is smooth and the barrel is straight. The receiver, trigger, hammer, lever and locking bolt are all forged, the same as they have been since the Model 1894 was originally introduced 126 years ago. Said parts are well machined and fit properly. In addition to preferring traditional finger lever loops, I would like to see the forearm thinned.
Time was taken to break in the barrel, which was accomplished by firing one jacketed cartridge, then removing the copper fouling, followed by placing a light coat of oil in the bore, then repeating for the first 10 shots. For the next 30 shots, three rounds were fired between cleaning, etc.
Factory ammunition included loads from Buffalo Bore Ammunition, Federal Cartridge and Hornady Manufacturing – all containing 158-grain jacketed bullets. As can be seen in the accompanying table the Model 1894CST is accurate, with 75-yard, four-shot groups hovering between .70 inch and 1.85 inches. The most accurate factory load was the Hornady Custom containing the 158-grain XTP-HP bullet (1,799 fps) that grouped into .90 inch.
Moving to handloads that were assembled in new Starline cases, the Nosler 158-grain JHP bullet reached 1,932 fps when loaded with 19.5 grains of Hodgdon Lil'Gun powder and capped with a CCI 550 primer. This load is pretty remarkable, as it generates between 33,000 and 34,000 psi while yielding high velocities. Four-shot groups fired at 75 yards ranged from 1.05 to 1.65 inches. Switching to 14.9 grains of Accurate No. 9 powder (CCI 500 primer) yielded 1,777 fps and produced the best single group of .70 inch.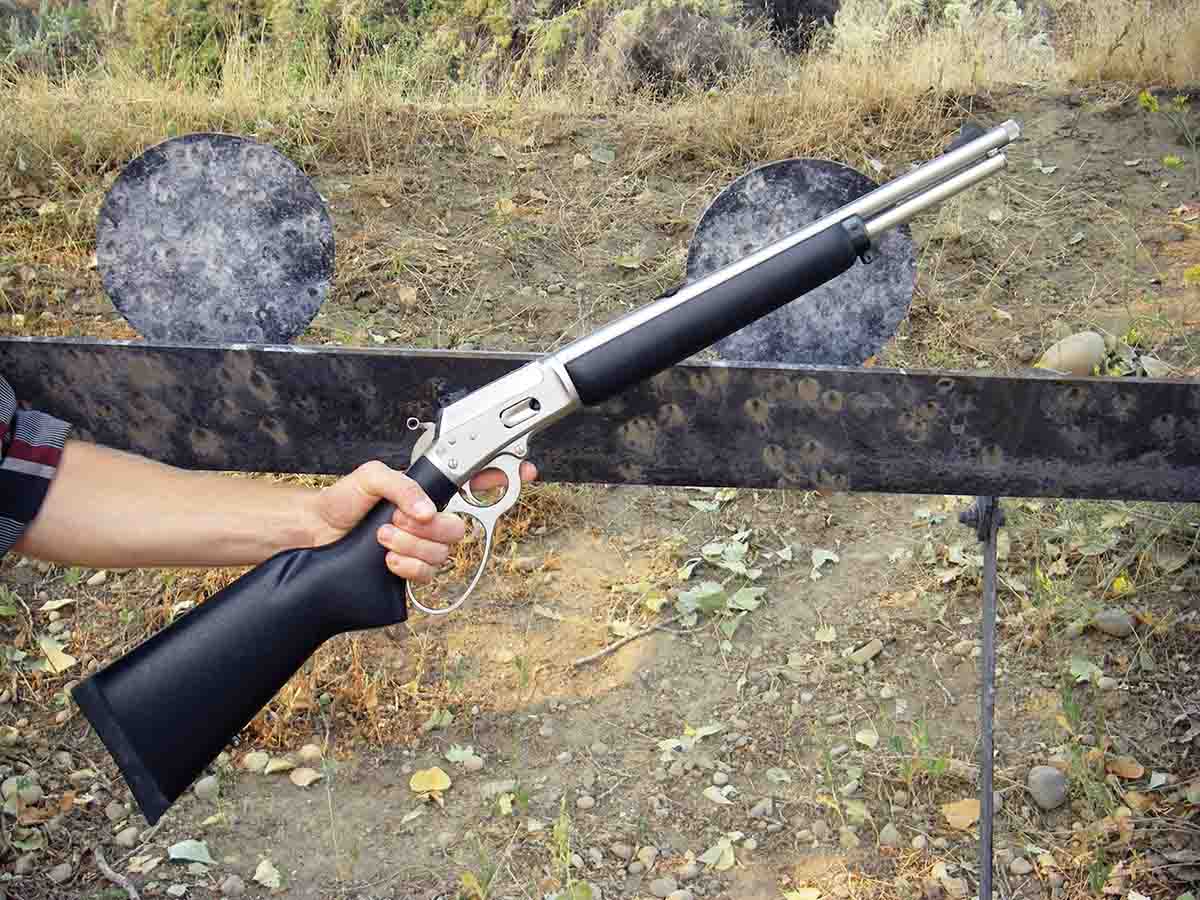 Cast bullets from RCBS mould 38-158-SWC (with gas check installed) weighed 168 grains and were sized to .3575 inch, then seated to an overall cartridge length of 1.595 inches (important for proper function). First, a full-power load containing 14.9 grains of Accurate No. 9 powder was used that produced 1,805 fps, and gave respectable accuracy with one group measuring 1.05 inches.
Additional data was developed in an effort to offer a subsonic load, but the above RCBS bullet proved unstable at lower velocities. After switching to 160-grain cast bullets from the original RCBS mould 38-158-SWC (with a smaller .205-inch meplat), stabilization was perfect, as were bullets from Lyman mould 358156. A simple approach was to use Hodgdon Trail Boss powder, with 4.7 grains producing 938 fps while 5.1 grains lowered the velocity to 915 fps. Wanting a bit more velocity and potentially better accuracy, I switched to Hodgdon Titegroup powder. This propellant is largely position insensitive, which is important for consistent velocities in longer cases. Using 4.2 grains produced 1,036 fps and resulted in an extreme velocity spread of just 11 fps. At 50 yards was a ragged hole that measured .65 inch.
Feeding and function was flawless. The 1894CST is a great rifle for a beginner, those that want to hunt deer at moderate distances or use it for home and property defense. It offers low recoil, accuracy, economy, reliability and is especially fun. The manufacturers' suggested retail price is $1,154.