Unlike many traditional shooting sports companies, Nosler has remained a family-run operation for three generations, having gained its true notoriety first with Partition (1948) and then Ballistic Tip hunting bullets. It has continually expanded its product line over the years and its ammunition and brass offerings have been significant, as has the company's evolving and growing stable of sporting rifles and proprietary cartridges.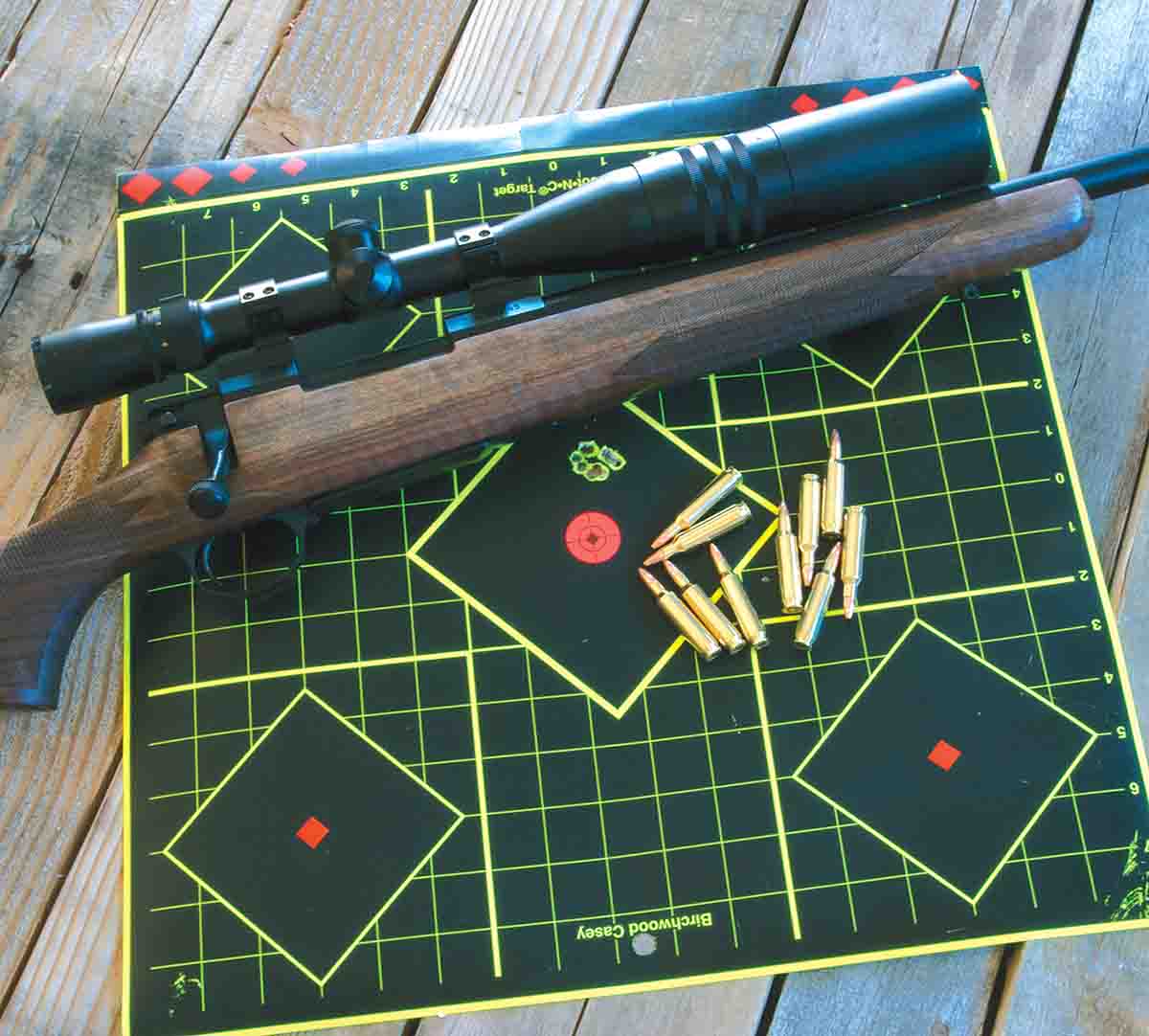 The limited edition NoslerCustom .300 Winchester Short Magnum, introduced in 2005, was the first. Rifle options have changed and expanded since then, but the Legacy model caught my eye due to its classic walnut stock said to be shaped to founder John Nosler's ideal specifications. That model was unfortunately discontinued in 2013 before I had the opportunity to shoot one. The more recently introduced Heritage is a nearly identical rifle and features a "fancy-grade," oil-finished walnut stock with 20 lines-per-inch checkering; a shadow-line cheekpiece and a very slight palm swell; a narrow forend that measures about 1 1⁄2 inches wide at the front sling swivel stud; a soft recoil pad and a comb tall enough to keep the shooter's head erect – the bolt clears the nose of the comb by about 1⁄8 inch.
This nicely shaped comb is not unimportant, given the fact that today's shooters and hunters are increasingly gravitating to riflescopes with larger objective lenses, requiring increasingly taller mounting hardware. Of course, stock design is purely a personal preference, but a comb that starts out too low and continues to drop as it nears the butt of the stock is not very advantageous when using a scope mounted high up off the receiver.
Other features are standard Nosler: The Model 48 receiver (more or less a derivative of the Howa twin-lug design) has flat sides and a flat bottom with an integral recoil lug, and a pleasantly unobtrusive bolt release lever opposite the bolt. The trigger is made by Timney and is adjustable; from the box, the test rifle used here provided an average pull weight of 3 pounds, 2.5 ounces. It features a two-position, lever-type safety of traditional "forward-to-fire" design but without any means of locking the bolt closed. This point is recognizably a stickler for some riflemen who will only hunt with a rifle having a safety that locks the bolt, yet more and more rifles are made without this feature.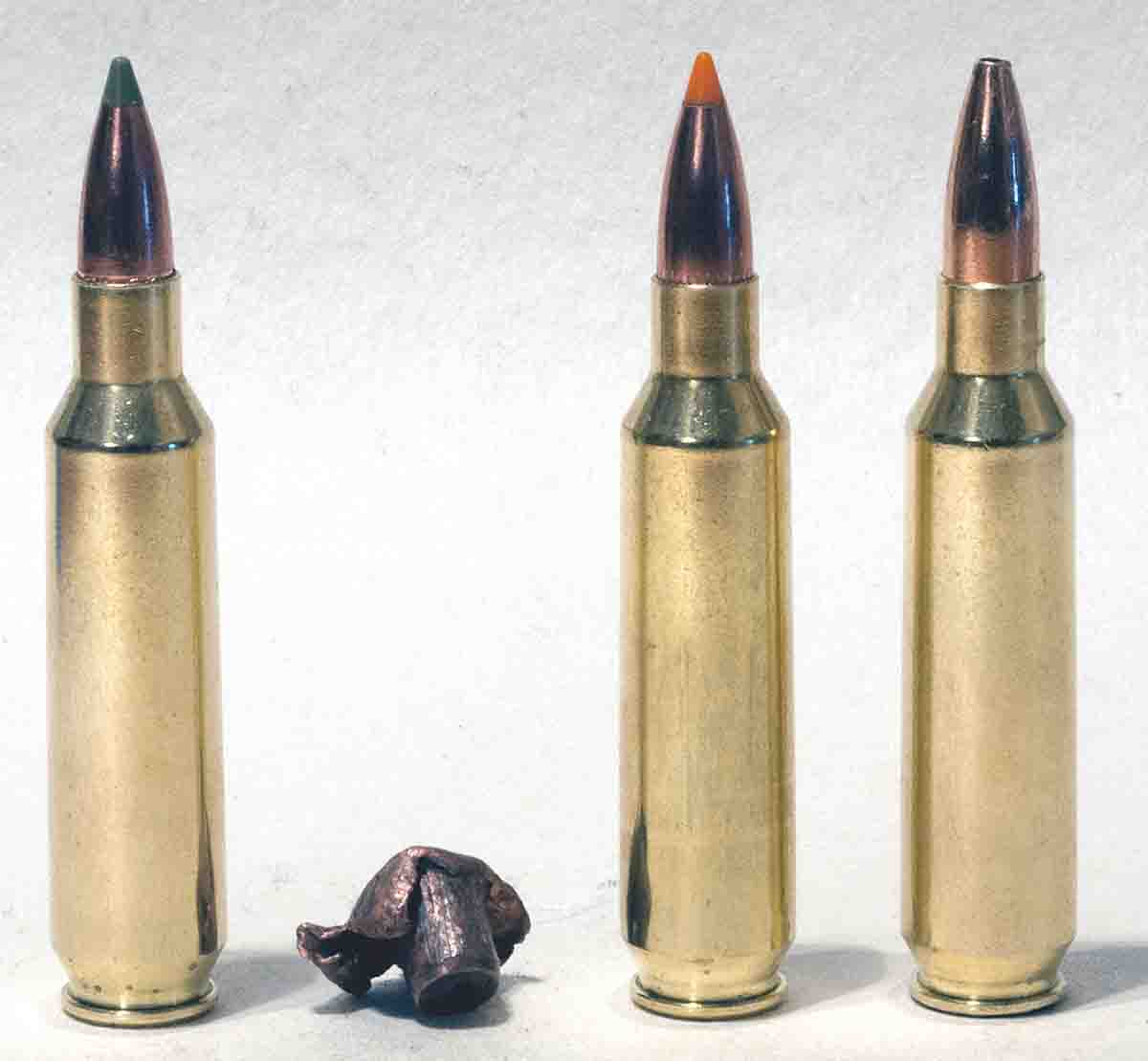 The bolt has a plunger ejector and a large hinged extractor. After shooting several boxes of factory ammunition and a few handloads through the sample rifle, the rear- facing surfaces of the lugs were polished to a shine, indicating complete, or nearly complete, contact with the receiver. There are also two large ports at the bottom of the bolt shank to expel gas in the unlikely event of a ruptured case. Barrel length is 24 inches, and total bare-bones weight is said to be 7.25 pounds. With a favorite old Weaver 6-24x 42mm AO varmint/target scope attached, the test rifle weighed about 9 pounds, a suitable heft for a prairie dog rifle that most likely will be shot from a portable bench.
With the decade-long growth in the use of AR-15 and -10 rifles in the U.S., and Nosler having a solid relationship with Oregon-based Noveske Rifleworks – plus focusing heavily on the engineering of its own cartridges – the company set out to design an offering that would function in an AR. By the end of 2016, the result was the .22 Nosler with a maximum overall cartridge length of 2.260 inches. It fits neatly in the AR-15 and is said to offer better downrange ballistics than the .223 Remington.
Nosler has never indicated that the new cartridge has a parent case, thus fueling Internet speculation that it was loosely based on the 6.8 Remington Special Purpose Cartridge (SPC). While the 6.8 SPC is similarly shaped, the .22 Nosler case is much closer in design to the .224 Winchester E-5 experimental cartridge. Depending on sources, the E-5, with its rebated rim, is believed to be one of many cartridges Winchester experimented with after (or perhaps during) the company submitted its Winchester Light Weight Military rifle and .224 E-1 and E-2 cartridges to the U.S. Army for trials in the 1950s. That story ended when the military chose Armalite's design and the .223 cartridge.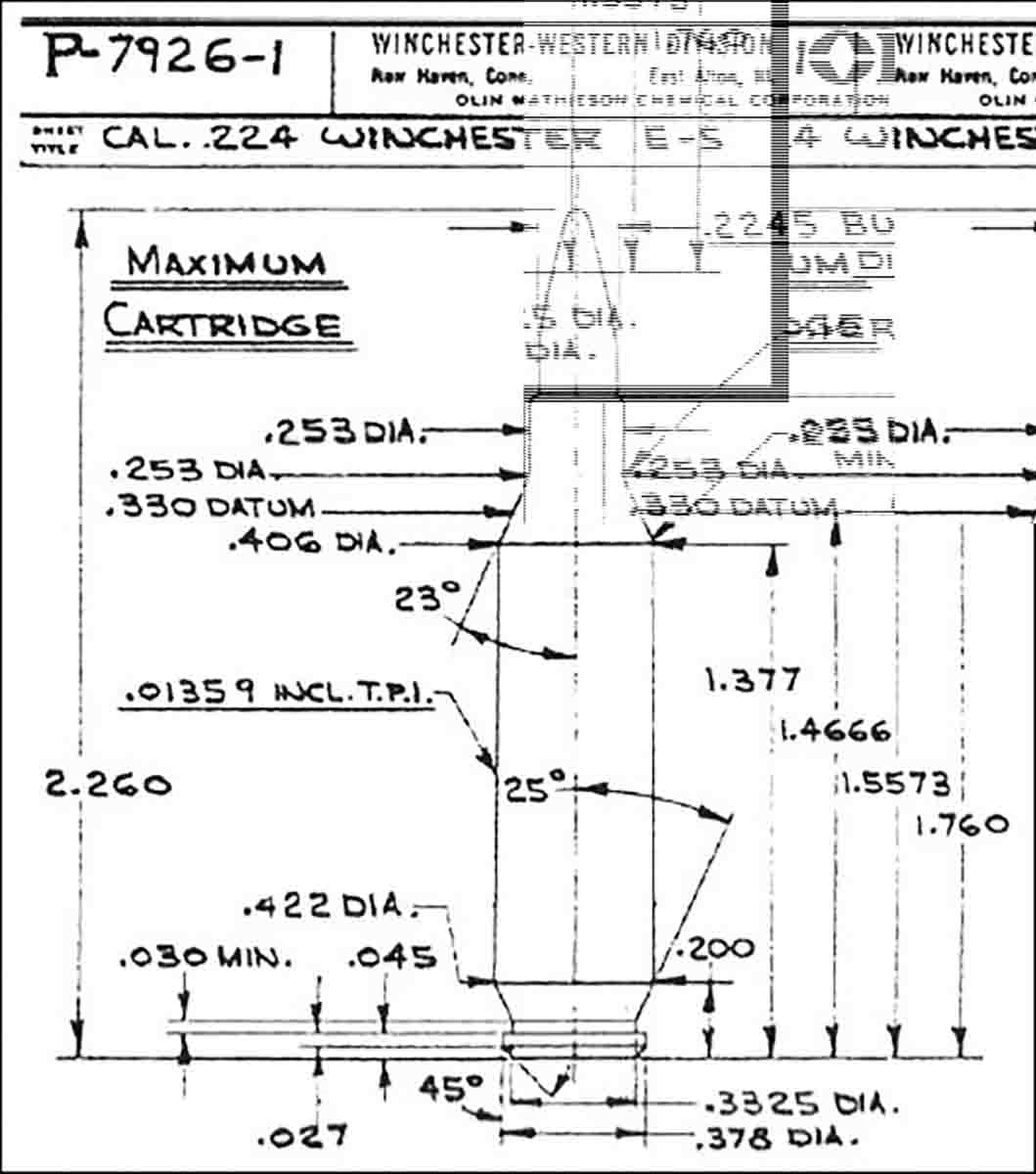 Wolfe Publishing tested the .22 Nosler in a Noveske Model N4 Nosler Varmageddon with an 18-inch barrel. The results were published in the 2017 edition of Varmint Rifles and Cartridges (1-800-899-7810). Velocity with Nosler 55-grain Trophy Grade Varmint Ballistic Tip and 77-grain Match Grade Custom Competition factory loads ended up being 3,288 and 2,839 fps, respectively. High-end velocities with handloads included 3,229 fps with a Nosler 55-grain Ballistic Tip; 2,991 fps with a Nosler 64-grain Bonded Solid Base; 2,903 fps with a Nosler 70-grain Reduced Drag Factor bullet and 2,798 fps using Sierra 77-grain HPBT Match bullets. Cumulative, five-shot group size for 15 different loads (powders/charges, bullet weights and two factory loads) shot at 100 yards was 1.13 inches.
Since its introduction, interest in the .22 Nosler has been continually growing, so it seemed sensible to offer it in a bolt action. Some enthusiasts with strong preferences for one rifle type over another may cringe at this idea, but it makes perfect business sense. It's no different, really, than selling the same pickup truck in multiple colors. Another great example can be recognized when ammunition designers neck the same basic case up and down to different calibers, like the 6.5mm and 6mm Creedmoors or all the long and short cartridges based off the .30-06 case. One may not be significantly different from the other, but cartridge tinkerers want something to fiddle with.
Because the M48 Heritage .22 Nosler test rifle arrived only a few weeks ago as this is written, tinkering is about all I have been able to do with it so far, shooting a couple hundred rounds consisting of Nosler factory ammunition and a couple handloads. Prior to receiving it, however, a completely different rifle was used on a pronghorn hunt, along with recently introduced 55-grain E-Tip bullets. At just under 300 yards, the bullet struck high, shattered the buck's spine then traveled several inches downward along the offside ribs under the skin before coming to rest. A second buck, shot by another hunter with a different rifle, was hit nicely through the ribs just behind the foreleg at a distance of about 150 yards. It ran 50 yards or so before piling up, but that bullet did not exit and was never recovered. The bullet found under the hide of the buck I shot weighed 47.1 grains.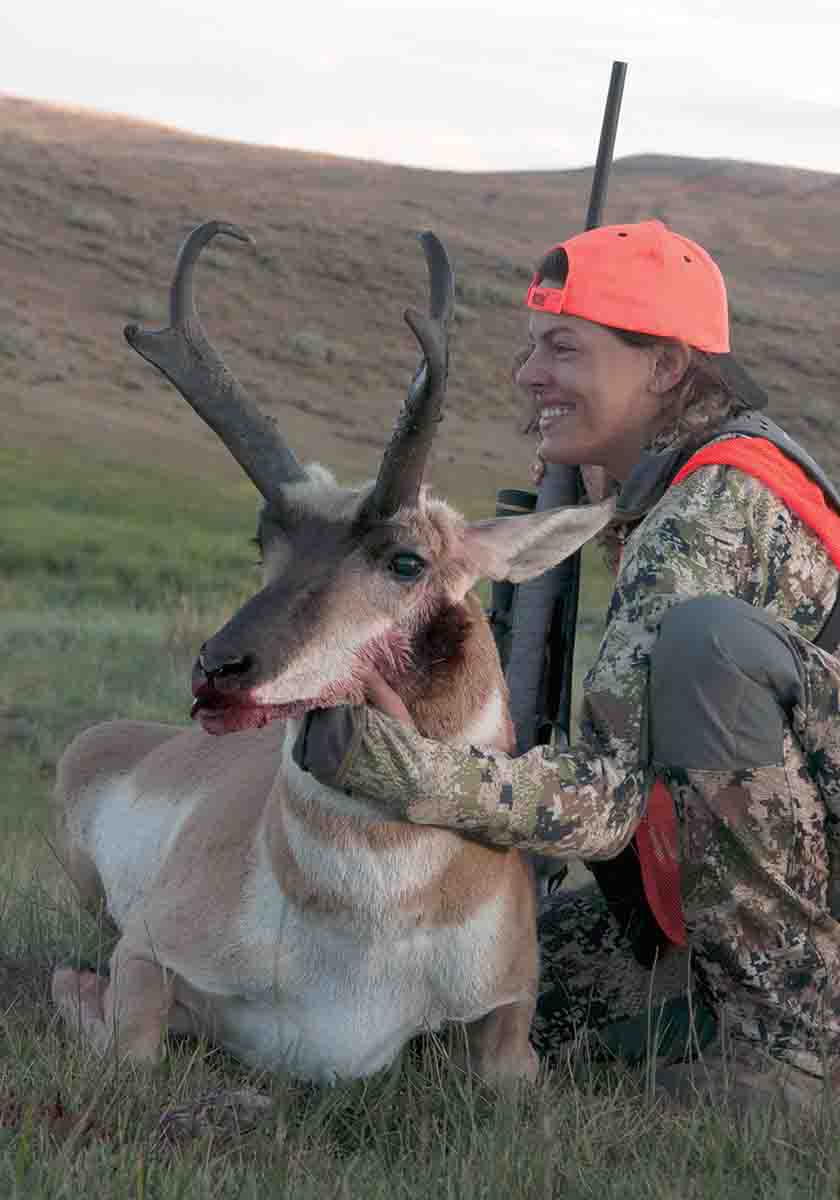 During the short hunt there was no time, or a proper facility, to test the rifle and load for consistency, and since it belonged to someone else, a second rifle was used here to shoot the same lot of E-Tip factory ammunition. The best groups ran about 1.4 inches with an average velocity of 3,482 fps and an extreme spread of 45 fps, but groups were more triangular than round. Not having any of the new 55-grain E-Tip component bullets on hand, bullets were pulled from factory loads until there were enough mostly unmarred samples to be reseated to a slightly longer overall length after resizing the brass and dumping back in the original factory powder charges. Doing so generally reduces pressures and velocity, provided bullets are not seated right up into the rifling. It also can give a handloader an idea of what might work best in a given rifle as new handloads are tried.
Factory E-Tip loads measured 2.243/44 inches, and the pulled bullets were reseated to an overall loaded length of 2.253 inches, resulting in a velocity average of 3,457 fps and a more or less round, five-shot group of .951 inch. The magazine measures 2.370 inches front to back, so there remains some room to seat E-Tip bullets out even farther when there is time.
Several five-shot groups were also shot with Nosler 77-grain Custom Competition loads (average velocity, 3,089 fps), but this particular rifle spread 100-yard groups beyond the 2-inch range. Whether these loads will respond to the same treatment given the E-Tip loads has yet to be explored. Trophy Grade Varmint loads containing 55-grain Ballistic Tips gave an average velocity of 3,669 fps, an extreme spread of 45 fps, and consistently grouped about an inch, with the smallest group measuring .627 inch. Varmageddon 62-grain flatbase hollowpoint loads provided an average velocity of 3,283 fps and an extreme spread of 56 fps. Accuracy was generally better than that of the Ballistic Tip load and included a 10-shot group of .741 inch.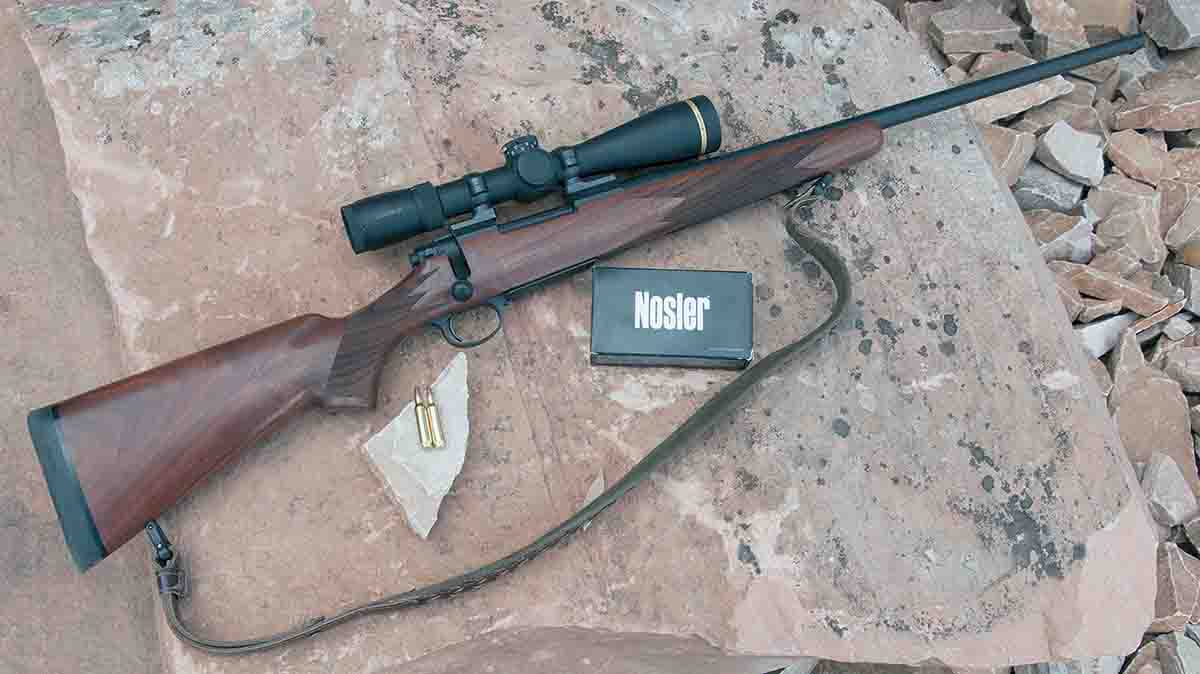 Viewing the .22 Nosler mainly as a varmint/predator cartridge, it was difficult to keep from trying a handload with a favorite coyote bullet, the Barnes Varmint Grenade, because it has provided good accuracy and terminal performance in the past when shot with handloads and the rare factory load. With an unopened bottle of Ramshot TAC on hand, a few loads were assembled in batches of five using 50-grain Varmint Grenade hollowpoints over powder charges ranging from 30 to 31 grains. The best 100-yard group measured .790 and resulted from the 31-grain charge; cartridge over-all loaded length was 2.260 inches, the SAAMI recommended maximum length. Unfortunately, that was the last load shot late in the evening, and the angle of the sunlight did not allow my chronograph to record velocities and extreme spread. It should be noted, however, that this charge weight for TAC powder is listed by Nosler as a maximum for bullets in the 50- to 52-grain weight range.