It was a crowded range and a fellow wandered over to look at what I was shooting. I handed him a shiny .270 Winchester round, and he nodded approvingly. Okay, that was out of the way; he was a .270 fan, but he held on to the cartridge while looking at it. I thought he was going to ask about the bullet and load, but instead he asked, "How do you keep your brass this immaculate?" He twirled the cartridge in his fingers. "It looks new – better than new."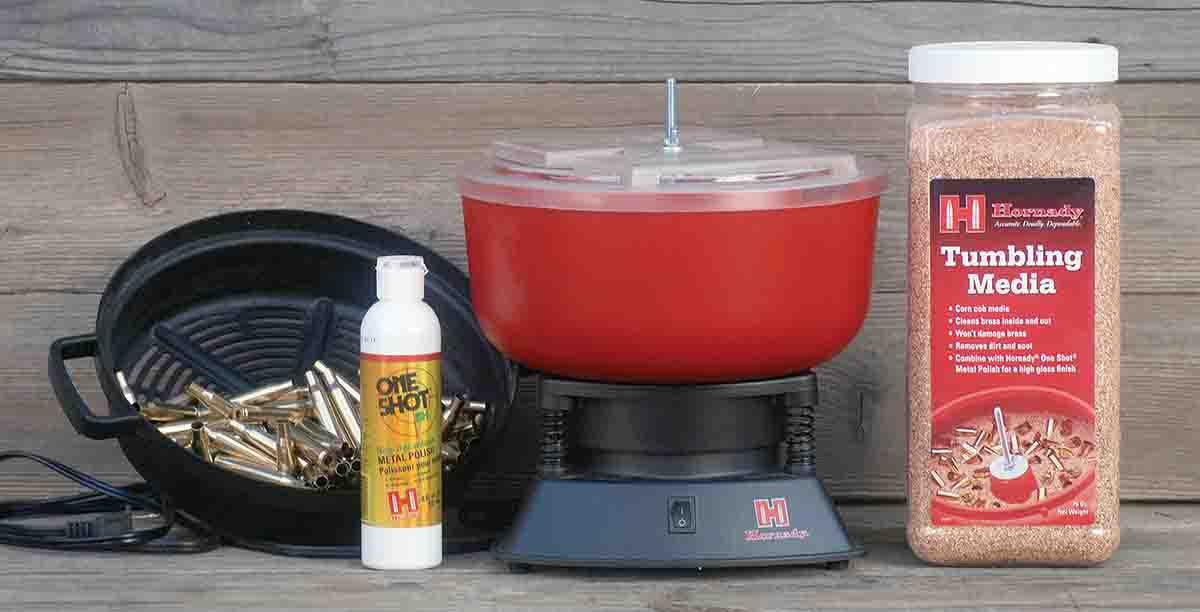 I laughed, mostly at his unexpected use of the word "immaculate." But I explained that I tumble my brass after every shooting. Like a lot of shooters – but especially hunters I know who reload – he said he just wiped down his brass before sizing and loading them again. He was like many shooters who don't own tumblers or other brass cleaning equipment.
Does clean brass have a practical application? Well – theoretically – clean, smooth brass will feed and chamber better than grungy brass, especially in autoloading firearms. I've never noticed any difference, but for the past couple of decades I have tried to keep my brass immaculate for one primary reason: It looks as good as, or better than, factory ammunition.
More than 40 years ago when a buddy and I were going deer hunting, a box of my .243 Winchester handloads spilled in the bed of the truck as we were heading out on an evening hike. He picked up a couple of the reloads and handed them to me. They were pretty dirty and smoked up, having been reloaded at least four times without cleaning. He said something to the effect that he would never shoot that dirty ammunition and that he could never trust reloads. He associated "clean" with "functional." I knew they were better than factory loads and was proud of that fact. That was when I decided appearances do matter. I bought my first case tumbler not long after that hunting trip to show that my reloads look as good as they shoot. I've used a tumbler ever since.
The motor burned out on my last case tumbler, so I ordered the new Hornady M-1 tumbler to get more capacity. What I also got was the quietest tumbler I've ever owned, and the three rubber feet keep the machine from dancing and walking around on any surface (a problem with other vibrating tumblers I've owned).
By a happy coincidence, a friend who had saved all his .270 Winchester brass for years – waiting for that day he was going to reload – came to the realization that he wasn't going to live long enough to shoot up his inventory of factory hunting ammunition. So I inherited more than 200 rounds of once-fired brass of all different types. This was perfect to test out the new tumbler.
Hornady says the capacity of the new M-1 is 180 cases of .30-06 brass, or 400 cases of .38 Special brass. I took 100 of the sized and deprimed .270 brass, loaded the tumbler with Hornady ground corncob tumbling media and added some of the company's One Shot Metal Polish. The machine was turned off a little more than two hours later. A few of the cases that were really dirty with oil-stained fingerprints and grunge still had some residue on them, but most of the brass looked like new.
The M-1 was filled with another 80 pieces of .270 brass and turned back on after adding more of the One Shot Metal Polish to the existing media. This time I let it run for 3.5 hours. Even the dirtiest once-fired cases came out really clean and polished.
The next batch, using the same media with another shot of the liquid polish, included more than 100 .30-06 cases that I ran for an hour or so, followed by another batch of 60 or so .30-30 Winchester cases that ran for about another hour. They were all nice and shiny with just an hour of run time – but I have to admit, the '06 and .30-30 brass had only been fired once since the last cleaning and were in pretty good shape to start with. (That is why you want to tumble after each firing.)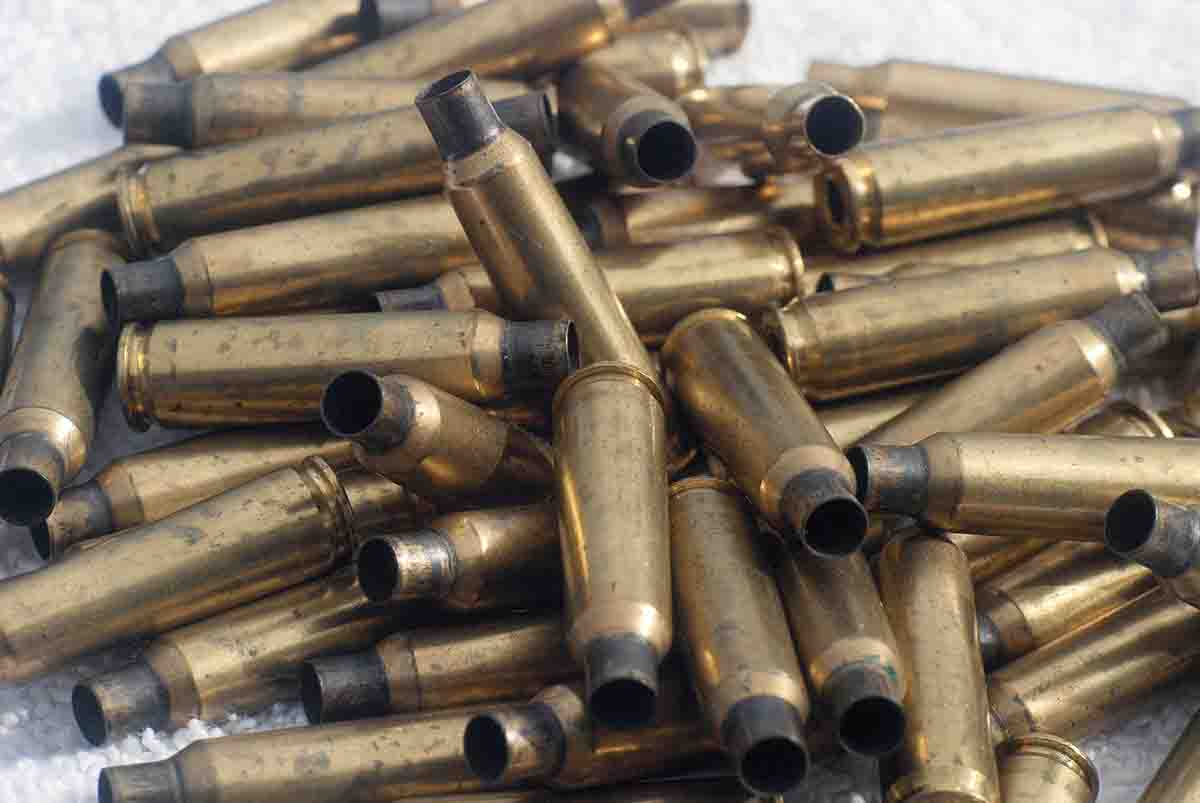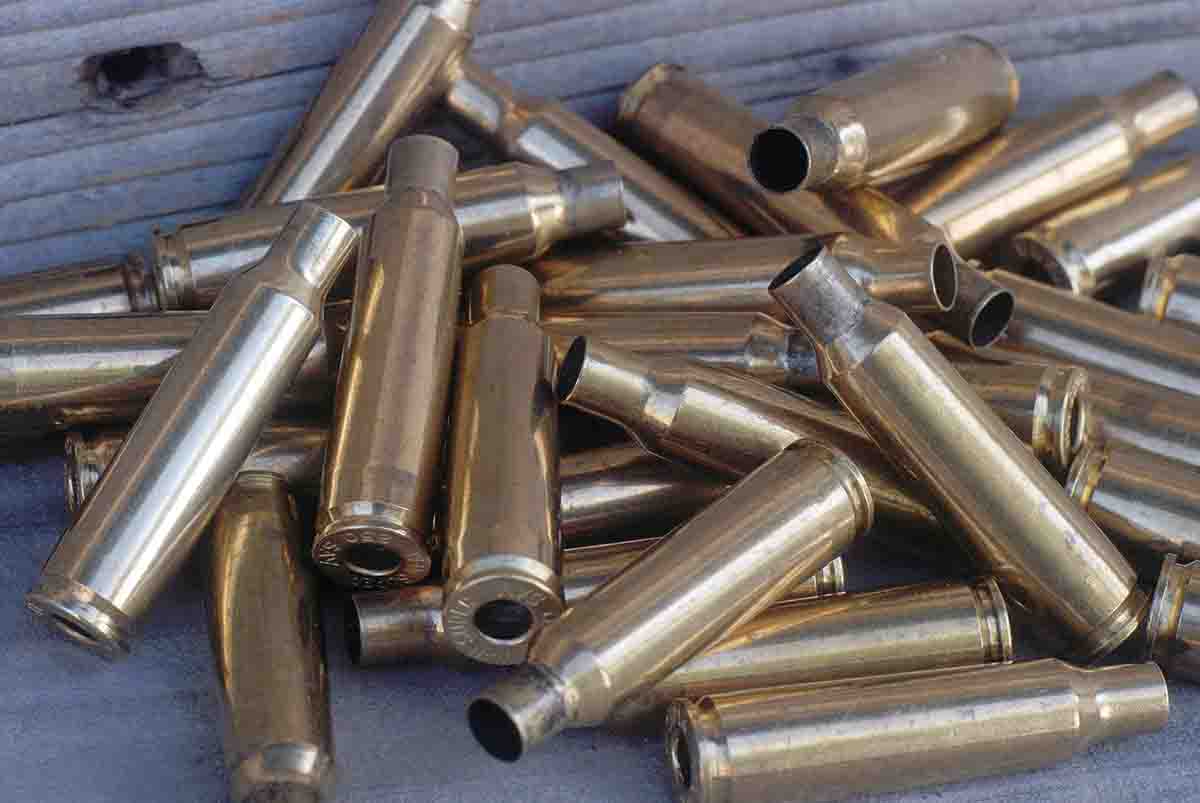 Last, there was some really dirty .250 Savage brass that had been loaded and shot two times. However, the first loads were reduced-recoil loads that had smoked the case necks very badly, and the second time – without brass cleaning – they were loaded with full-power varmint loads and shot on a damp, foggy spring day while ground squirrel hunting, baking the soot into the neck. They also got a patina of splotchy stains from the moisture. Those 100 cases were loaded into the M-1 Case Tumbler with media that had been used five times. I added the One Shot polisher and let the tumbler run for at least four hours. This brass came out surprisingly clean. I could still see some of the staining from the moisture on most of the case bodies, but most of the smoked necks were much cleaner.
(As a test, I threw a couple of the worst .250 cases into cleaned batches since the initial test. Even after five more runs through the tumbler – 10 additional hours of tumble time – they still have some of the staining. I even tried to scrub out the stains with my line of last defense – doing it by hand with an automotive polish called Nevr-Dull – and even that was futile. Moral of the story: Some brass stains just won't come out.)
There was dust from the worn down media with each tumbling session, but the media itself was still pretty sizable. I've now run 10 total batches of brass through the same media, with the last five runs consisting of smaller batches of brass. I'm going to keep using it as long as the cases are coming out clean, but the grains are getting pretty small now, and the volume is probably half of what I started with; the corn media lasts a while.
Not long after this extensive tumbler test, I was at the range shooting my heavy-barreled .250 Savage, checking its zero for an upcoming varmint hunt. A fellow asked what I was shooting and I handed him a cartridge out of the block of reloads sitting next to the rifle. He admired the round. It seems like all shooters, especially older shooters, have dreamed of having a .250 Savage, and this guy was looking at the round for a long time. I thought that was the conversation we were going to have, but then he asked, "How do you keep your brass this shiny?"
Retail price is about $55. For more information, go to www.hornady.com. – Jim Matthews
Lyman Auto Advance Remote Control Target System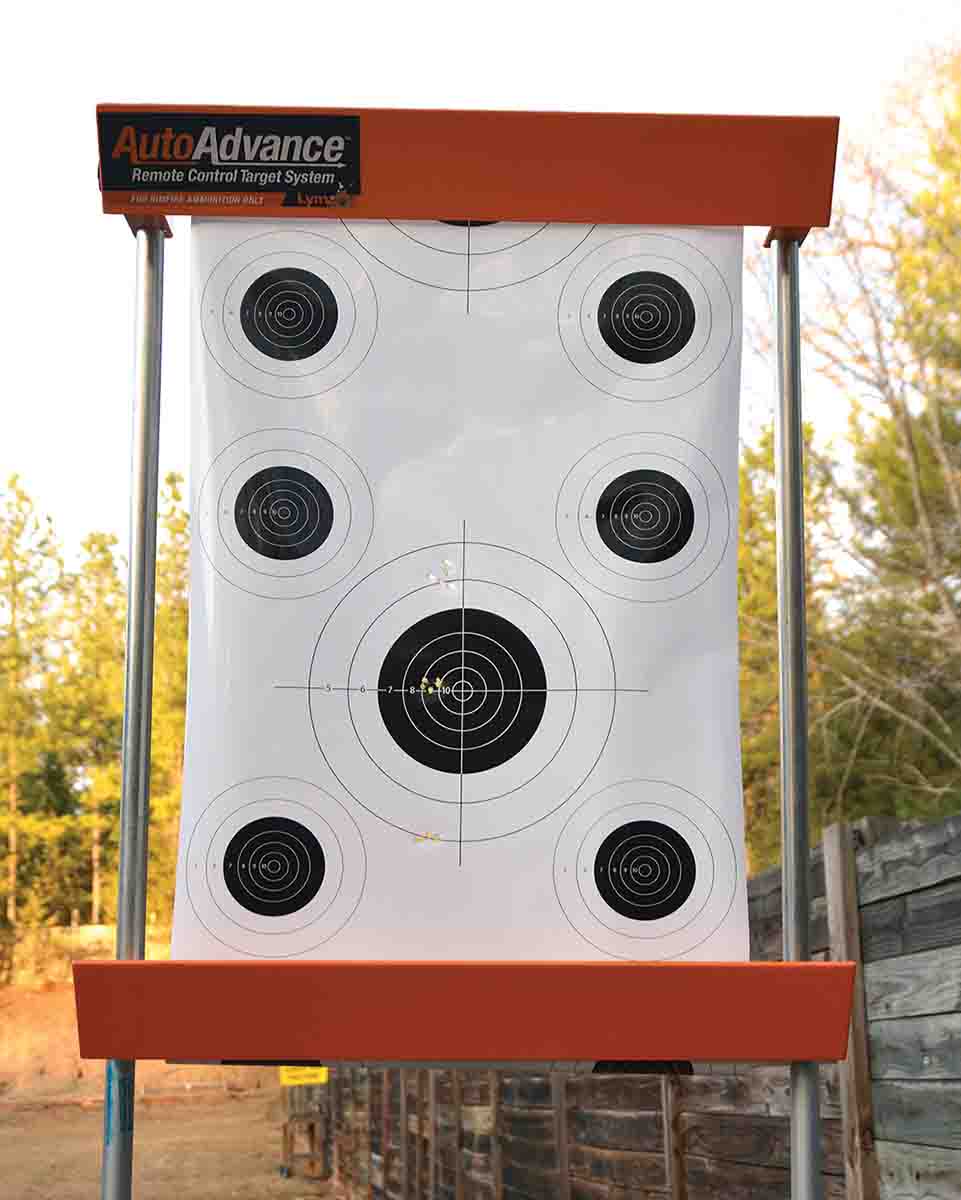 Many years ago I saw a prototype target system that used perforated fan-fold computer paper that could be advanced remotely, but it never made it to market. A few years later another appeared and I bought one, but it was very flimsy and survived only a few errant bullets. Unfortunately those are almost a fact of life, especially when using a Ransom rest, because the gun needs to settle in the rest inserts, and it will shift around for the first shot or two.
Lyman's Auto Advance Target System is advertised to withstand hits from .22 rimfire rounds and I, sadly, can testify to the accuracy of that claim. The instructions say that anything other than rimfire calibers will void the warranty, but if you hit only the target roll, who's to know? The possibility prompts the use of a plain paper target as an alternative until everything is stabilized, and then bring in the Lyman target.

The unit is sturdy, weighs 30 pounds and is easy to assemble. A 50-foot target roll is located in the top-most section, and the battery-powered takeup is housed in the lower part of the frame. It requires eight AA batteries for power. The upright structure is made from standard conduit tubing. The package contains enough tubing for an overall height of 60 inches but other lengths can be substituted as needed. The handheld remote control is powered by a standard 9-volt battery and is a simple on/off switch. The target can be advanced as little or as much as needed. There is no fixed distance to advance.
Target rolls are 50 feet long and are made of a plastic material that is more substantial than paper and leaves very well-defined holes that are easily measured and seen with a spotting scope. There are four different types of targets available: bullseye, small bore rifle, silhouette and varmint.
The unit is thoughtfully designed and works exactly as advertised. Considering today's crowded ranges, the time saved changing targets is priceless. The MSRP is $179.95, and extra target rolls are $19.98. For more information, visit Lyman Products Corporation at www.lymanproducts.com. – Charles E. Petty