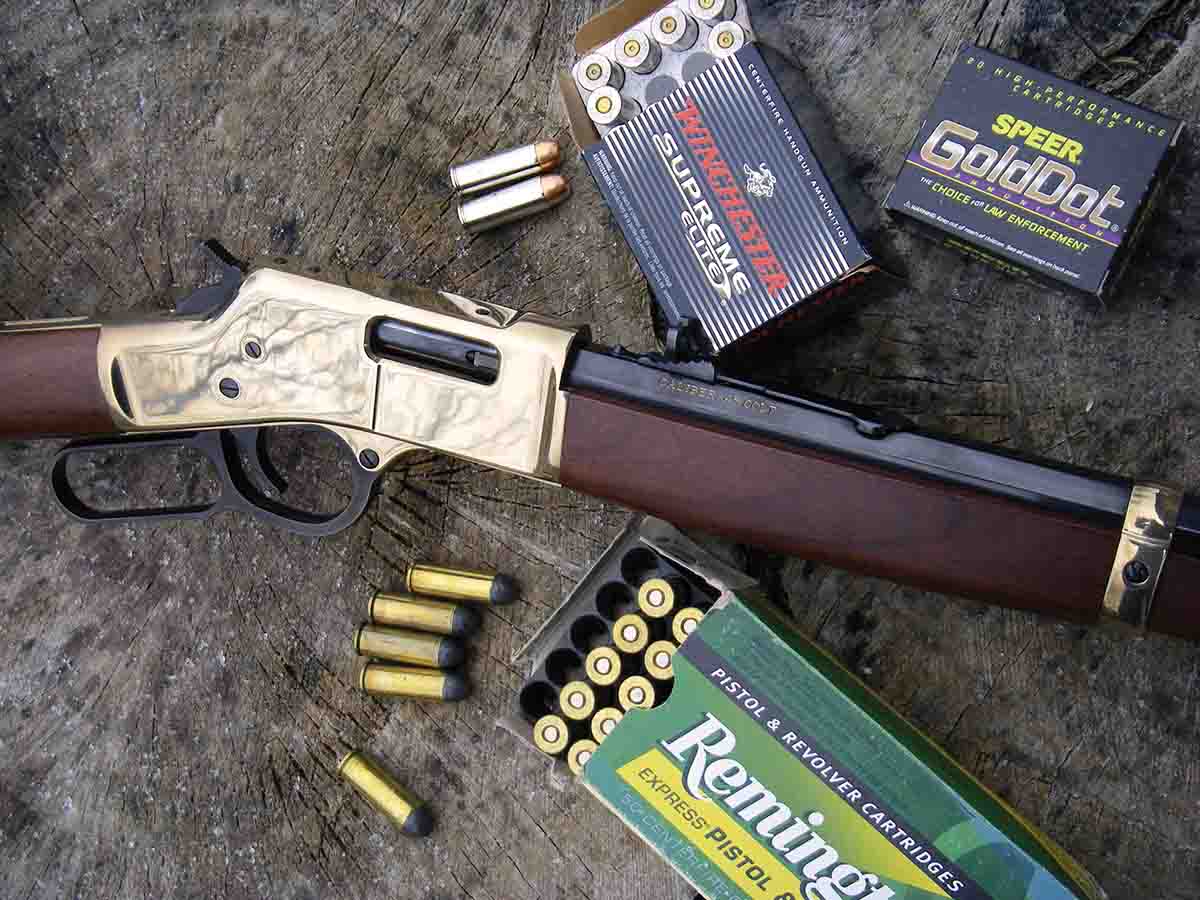 The Henry Repeating Arms Company Big Boy lever-action rifle is offered in .357 Magnum, .44 Remington Magnum and .45 Colt, and is manufactured in the U.S. It has been in production since 2003 and has become popular with shooters, hunters and those who appreciate lever-action rifles. I have received many requests to review this rifle, along with technical questions, so decided to purchase one.
From 1973 to 1978, Ithaca Gun Company began importing the Model 72 Saddlegun lever action chambered in .22 Long Rifle and .22 Winchester Magnum Rimfire. It was designed and built in West Germany by Erma Werke, who also imported the same rifle from 1976 through the 1990s, but it was known as the Model EG-712. These rifles were modestly priced and were generally accurate and reliable.
During the 1990s the Imperato family acquired the tooling, blueprints, etc., for the previously mentioned rifles and moved manufacturing to Brooklyn, New York (now located in New Jersey), where production commenced in 1997. The resulting rifle was simply known as the Henry Lever Action. Most dealers were able to sell them for less than $200 – with prices currently under $300. In addition to .22 LR, it soon became available in .22 WMR and .17 Hornady Magnum Rimfire. Variations began appearing that included octagonal barrels, youth models and even a brass frame version at a higher cost and added weight. At around 5.5 pounds with an 18.25-inch barrel and a smoothly-working action, respectable accuracy and modest price, the original Henry Lever Action rimfire rifle has rightfully become popular.
The huge success of the Henry Lever Action allowed the company to expand and begin offering centerfire rifles, such as the Big Boy and similar designs chambered in .30-30 Winchester and .45-70. The Big Boy was designed by Henry RAC and is not based on any previous design; however, it shares some similarities with rifles made by other companies.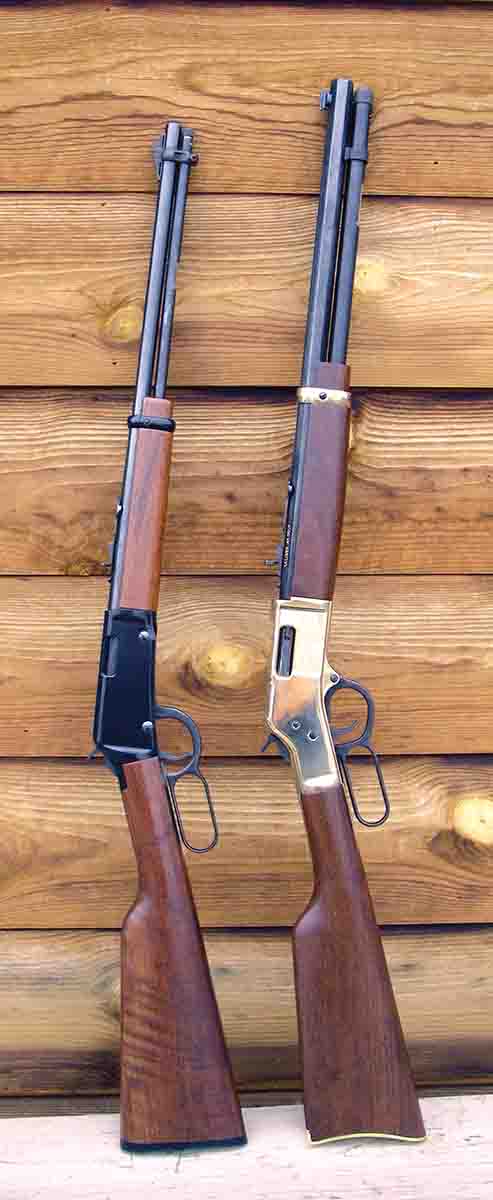 For this article a Big Boy .45 Colt was obtained. The first feature that is most distinguishing is the highly polished, solid brass receiver. The carbine-style buttplate and forearm barrel band are likewise constructed of brass, with all remaining parts consisting of a hot tank-style blue finish. Henry has certainly tried to associate its rifles with the original Model 1860 Henry rifles that were the foundation to the Winchester Repeating Arms Company. However, other than the Big Boy's brass receiver, and being a lever action, there are no design similarities. (Henry has recently introduced a copy of the 1860 Henry, but this rifle should not be confused with the Big Boy).
It should be noted that the Big Boy's stock has noticeably greater drop than most modern Winchester and Marlin leverguns and is more similar to the original Henry 1860. I favor the more modern dimensions, but that is a personal taste. It is constructed of high-quality American walnut and features a nice satin finish.
The rifle's receiver features side ejection and a solid top (similar to Marlin rifles) that is drilled and tapped for scope mounting or top-mounting XS or Skinner aperture sights. There is no loading gate; instead the rifle features a removable inner magazine tube and is loaded in the same fashion as a rimfire rifle with a tubular magazine. I do not care for this design for several reasons: Two include that the shooter should not (for safety reasons) load additional cartridges when a live cartridge is in the chamber, and when carried in a rifle scabbard, the inner tube can unlock and dislodge. The design is rather cumbersome when compared to a levergun fitted with a loading gate.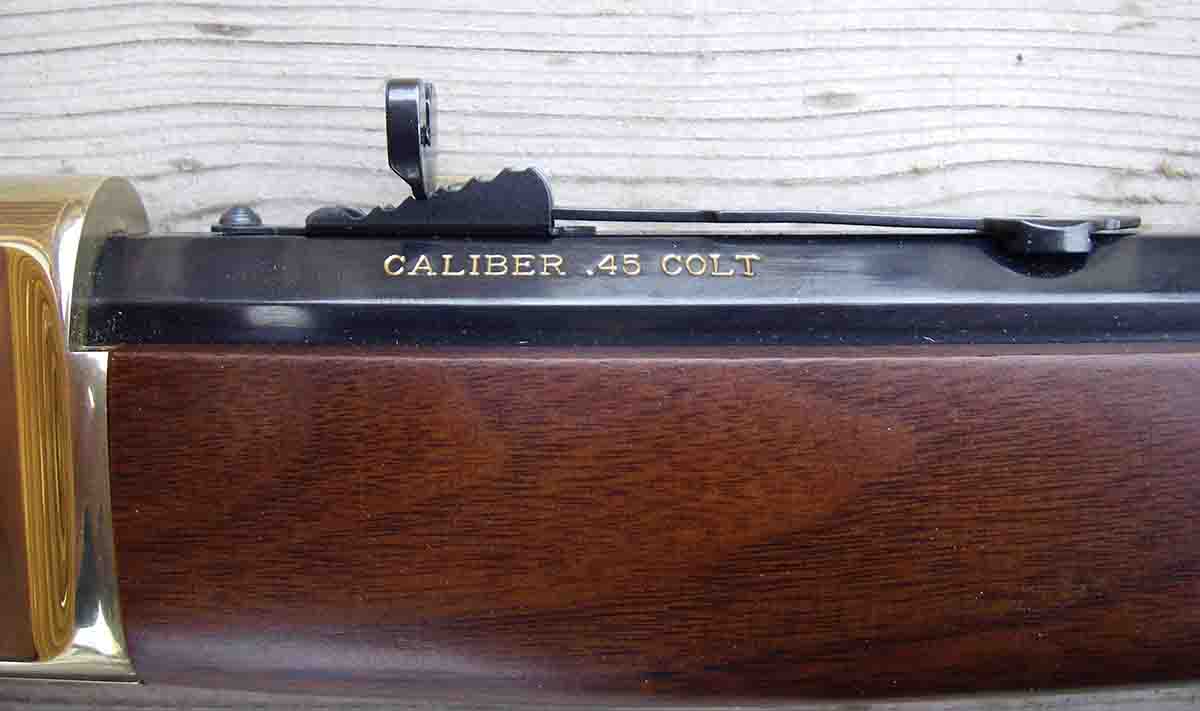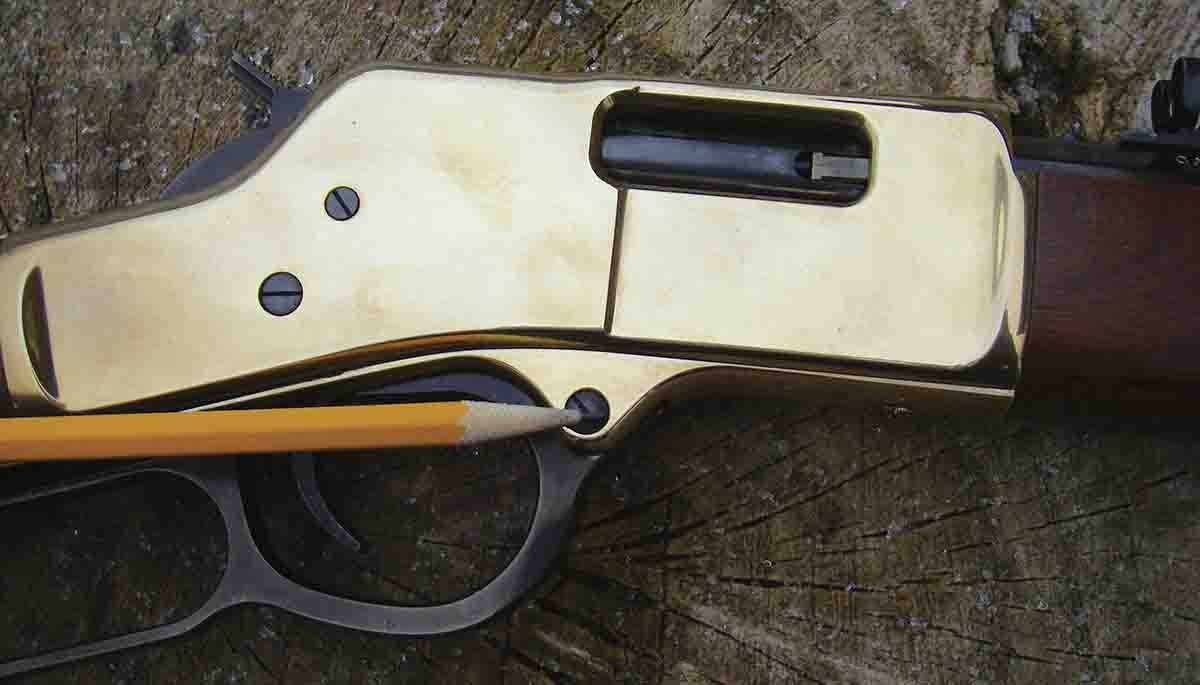 The lever operates from a single hinge screw and extends to operate the bolt, control timing, etc. This design feature is similar to Marlin leverguns. Incidentally, by simply removing the lever hinge screw, the lever can be removed while the bolt assembly, ejector assembly and other parts can be removed rearward, providing access to the barrel breech for proper cleaning. From a shooter's standpoint, this design allows for minimal lever movement without moving linkage, smooth operation and performs well when used for rapid fire applications such as cowboy action competition or hog hunting.
A question that has been asked many times is in regard to the strength of the Henry Big Boy .45 Colt, and to what pressure levels it can be handloaded. I spent time discussing this with the manufacturer, but no one could provide the technical information I was looking for. After carefully studying the design, and considering that the same action (with slight dimensional changes) is offered in .44 Magnum with an industry maximum average pressure of 36,000 psi, I have concluded that the Big Boy .45 Colt can handle loads that generate 30,000 to 32,000 psi. Loaded to that pressure level, case-head thrust and bolt pressure is similar to the .44 Magnum.
There is no half-cock hammer position; the hammer is fitted with a transfer bar that is only visible on the face of the hammer. It is very important to understand how to manage the transfer bar correctly, or the rifle will fire if dropped or if the hammer is even slightly bumped or struck. Most shooters who have been shooting traditional leverguns for a long time will work the action, then lower the hammer all the way down, then pull it back to the half-cock (or "safety") position, but only if a cartridge is present in the chamber. Since there is no half-cock position on the Big Boy, this method will result in the hammer and transfer bar resting directly on the firing pin, which in turn rests directly on the primer. By placing a live round in the chamber, lowering the hammer as described above and using a plastic mallet to lightly tap the hammer, the cartridge would fire every time.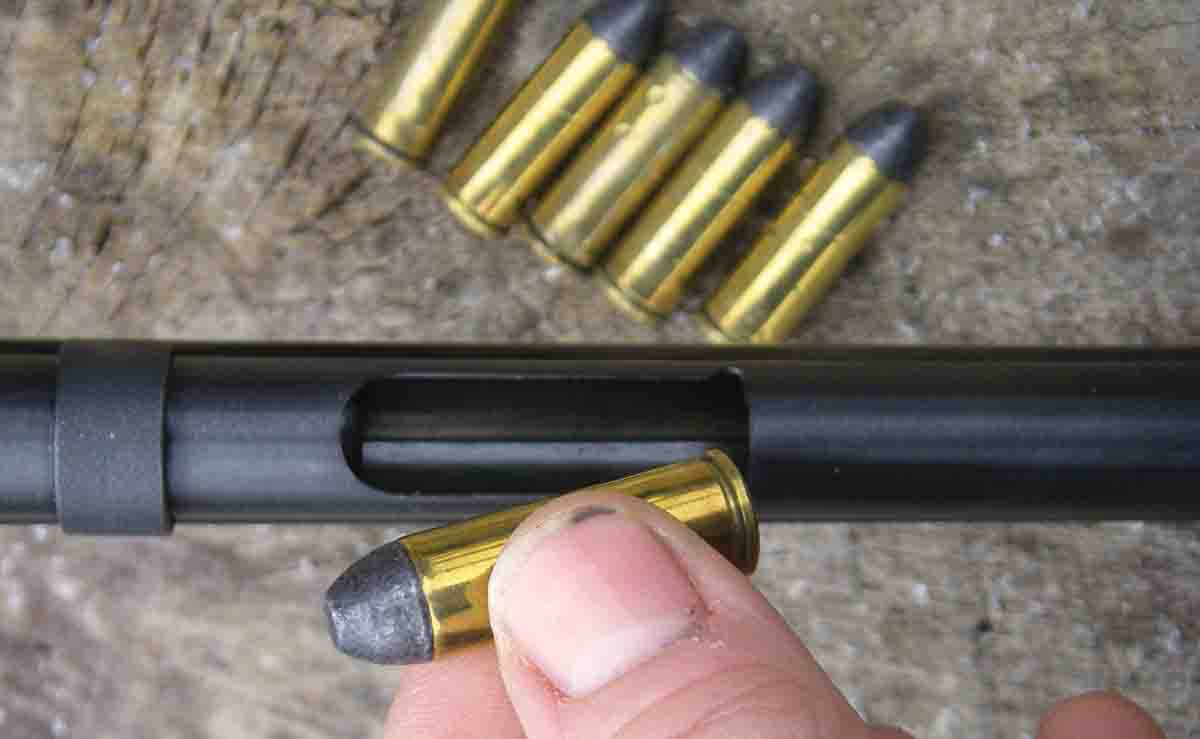 To reliably engage the transfer bar, when lowering the hammer the trigger must be "released" by the finger as soon as the trigger and hammer are disengaged, then let the hammer down. This method will engage the transfer bar, and the test rifle would not fire when the hammer was again struck with a plastic mallet. The above procedure is not described in the owner's manual, but it should be!
The octagonal barrel is nontapered, measures .830 inch in diameter and is just under 20 inches. This results in some muzzle heaviness and mild recoil, especially when the rifle is fully loaded with 10 cartridges. Empty, empty it weighs 8.68 pounds. The deep-cut rifling features six lands/grooves, and produced virtually no barrel leading with a variety of cast bullets. The rifling twist rate is 1:38, which will best stabilize bullets of around 200 to 260 grains. A few loads were tried that are not listed in the accompanying table as they were too long to feed through the action and included bullets weighing up to 300 grains. These had to be fed singly into the chamber and were loaded to velocities of over 1,500 fps to obtain respectable accuracy.
Nonetheless, best accuracy was obtained with 240- to 260-grain bullets. I would encourage Henry RAC to change the twist rate to 1:16, and certainly no slower than 1:20, which would increase the accuracy with all bullet weights and velocities. This statement is based on my own experiments with custom barrels with varying twist rates and testing with a variety of loads.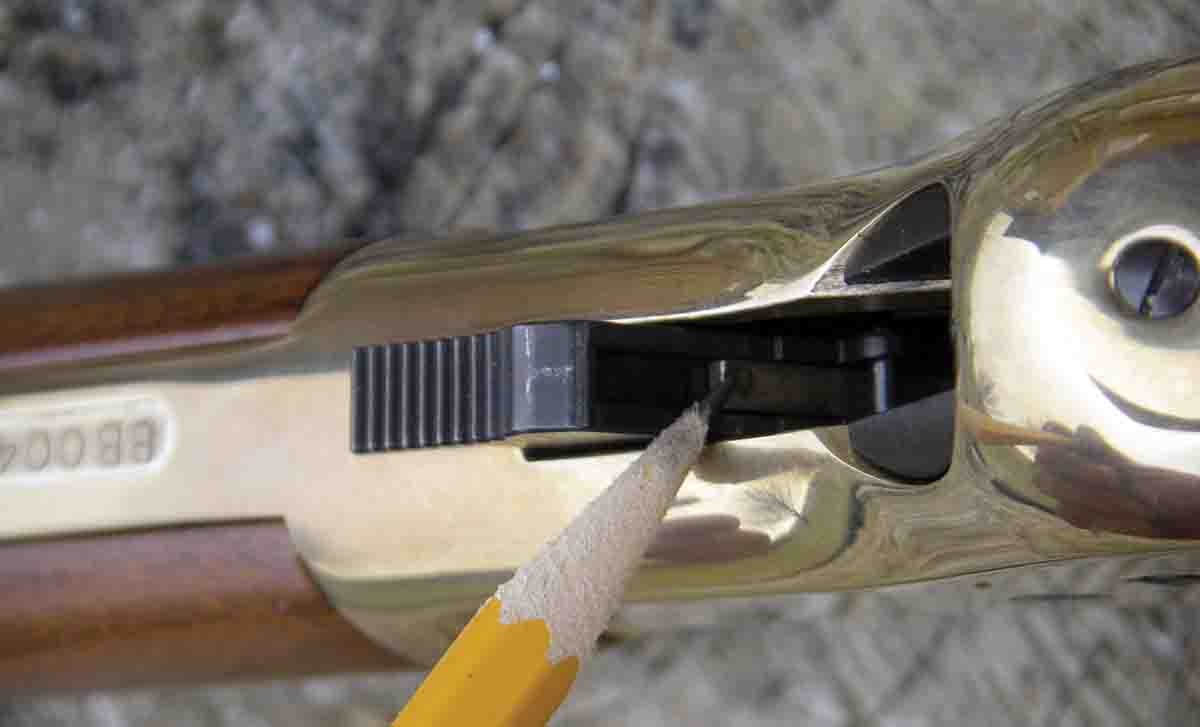 Industry maximum overall cartridge length for the .45 Colt is 1.600 inches; however, most sixguns and many rifles will easily handle cartridges that exceed this length. Using bullets with longer noses, or those that can be seated out to exceed industry overall cartridge lengths, increases powder capacity and performance for this fine, old cartridge. The Big Boy, however, would not feed any cartridges that even slightly exceeded industry limits. This is unfortunate, as doing so would have made it more appealing to hunters and performance-minded shooters.
From a sandbag rest, with my left hand gripping and separating the forearm from the sandbags and with no other support, the rifle provided several five-shot groups in the 2- to 2.5-inch range at 50 yards using select handloads. These groups were obtained by removing the factory installed semi-Buckhorn rear sight and installing a Skinner Big Boy Express aperture (www.skinnersights.com) used in conjunction with the factory gold front bead. Perhaps with a plain, black square post front sight, groups could have been tighter. Regardless, it was good enough accuracy for hunting hogs or any cowboy action event this type of rifle would be used for.
I would like to see Henry implement some of the changes as outlined here. Nonetheless, the Big Boy exhibited good machining, respectable fit and finish, flawless function and adequate accuracy.