Most humans react to being struck by a moving object, and a recoiling rifle is a moving object striking the shoulder. We often react by flinching while pulling the trigger, but with practice our brain can override the flinch/cringe reaction, especially if recoil merely startles us instead of causing pain.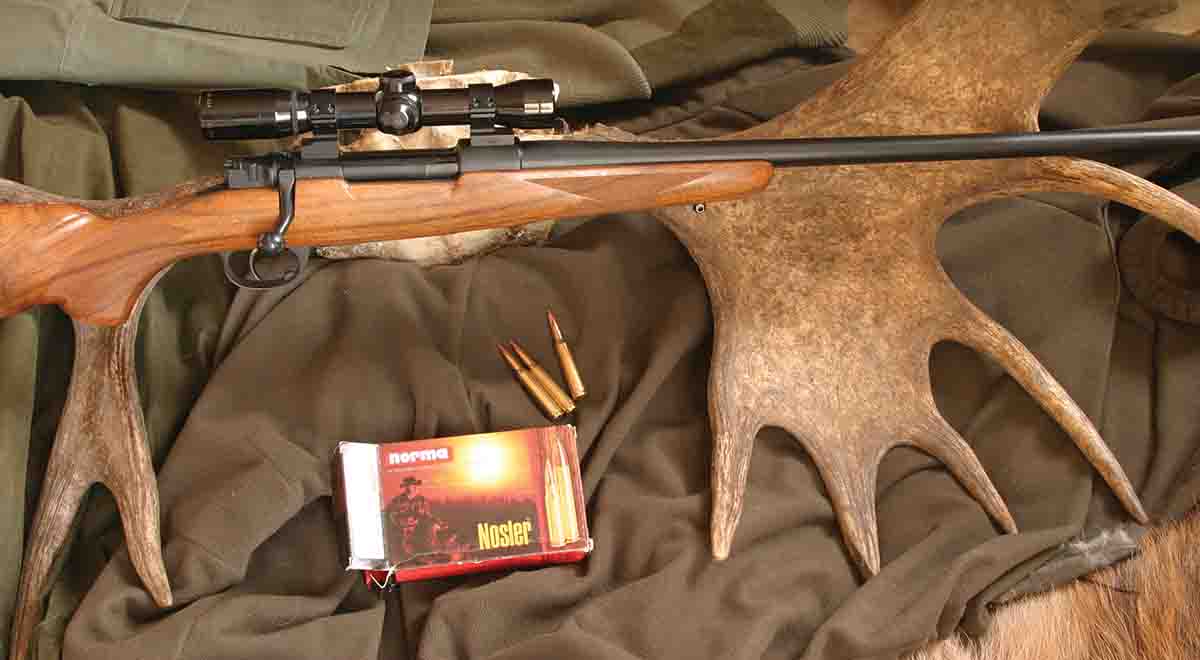 Some iron-shouldered shooters believe that shooting a harder-kicking firearm a lot is the secret to overcoming a flinch, but considerable evidence points in the opposite direction. Serious shotgun competitors often shoot more than 1,000 rounds a week, and many eventually develop a flinch so start using a "release trigger." Pulling the trigger merely sets it, and the gun goes off when the trigger is released. This eventually convinces the shooter's brain that pulling the trigger doesn't result in a whack on the shoulder, so they quit flinching – though the flinch comes right back when they try to use a conventional trigger.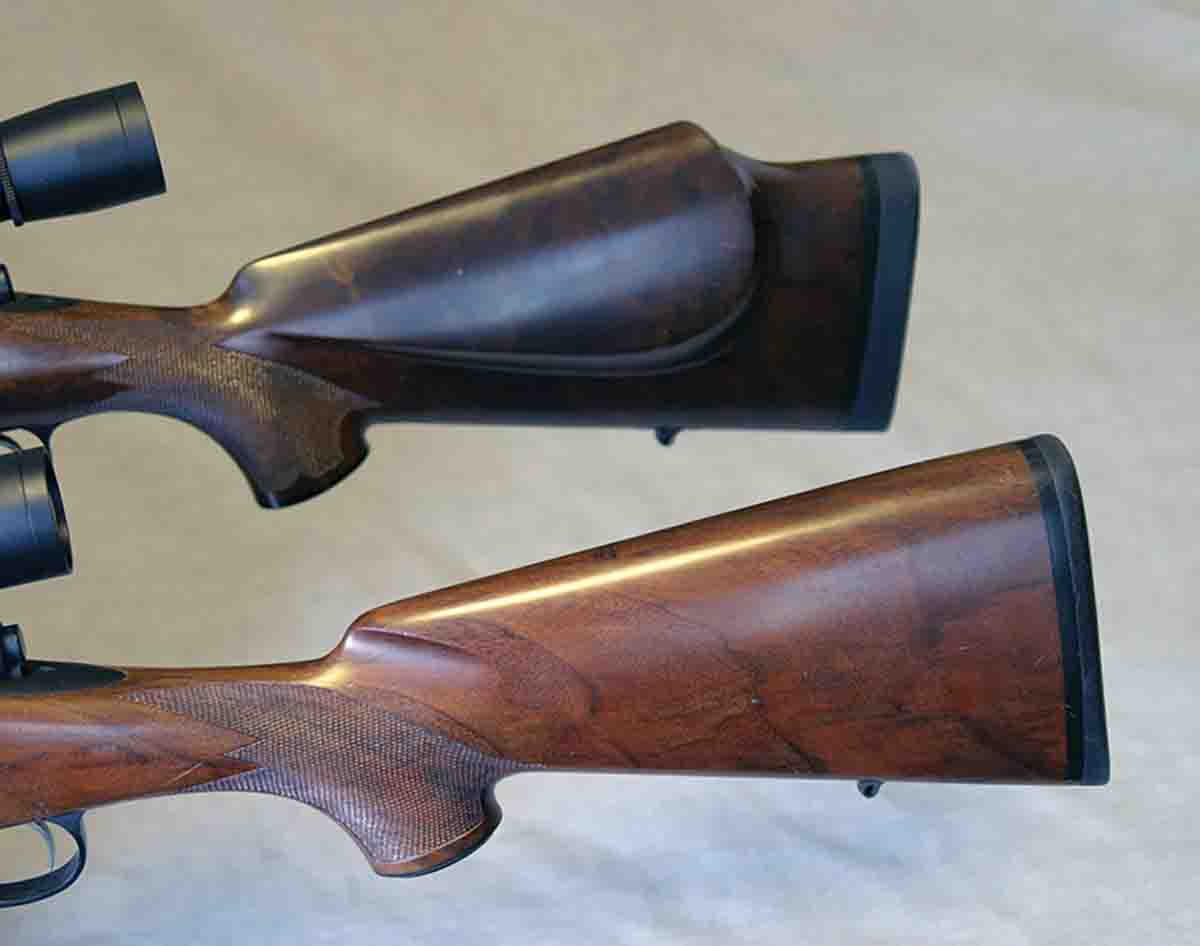 I once went dove hunting in Argentina with the late Bob Brister, a well-known shotgunner who won numerous serious shooting contests. He had long ago switched to a release trigger for competition but brought a semi-automatic with a conventional trigger to Argentina because he was afraid somebody else might pick up one of his release-trigger guns and have an accidental discharge. Unfortunately, Bob's subconscious often wouldn't allow him to pull the conventional trigger. On the first day I watched him stagger forward several steps while pointing his shotgun at a bevy of doves, his entire body jerking every time he tried – and failed – to pull the trigger.
In fact, the most effective way to "cure" a flinch is to not allow one to develop in the first place. This is one reason softer recoil pads and stocks with adjustable dimensions started appearing over the past few decades, even on factory rifles. Most previous factory stocks had dimensions that supposedly fit the "average" shooter but were often painful for nonaverage people. Most also had buttplates made of metal or plastic, or rubber hard enough to knock out a grizzly bear.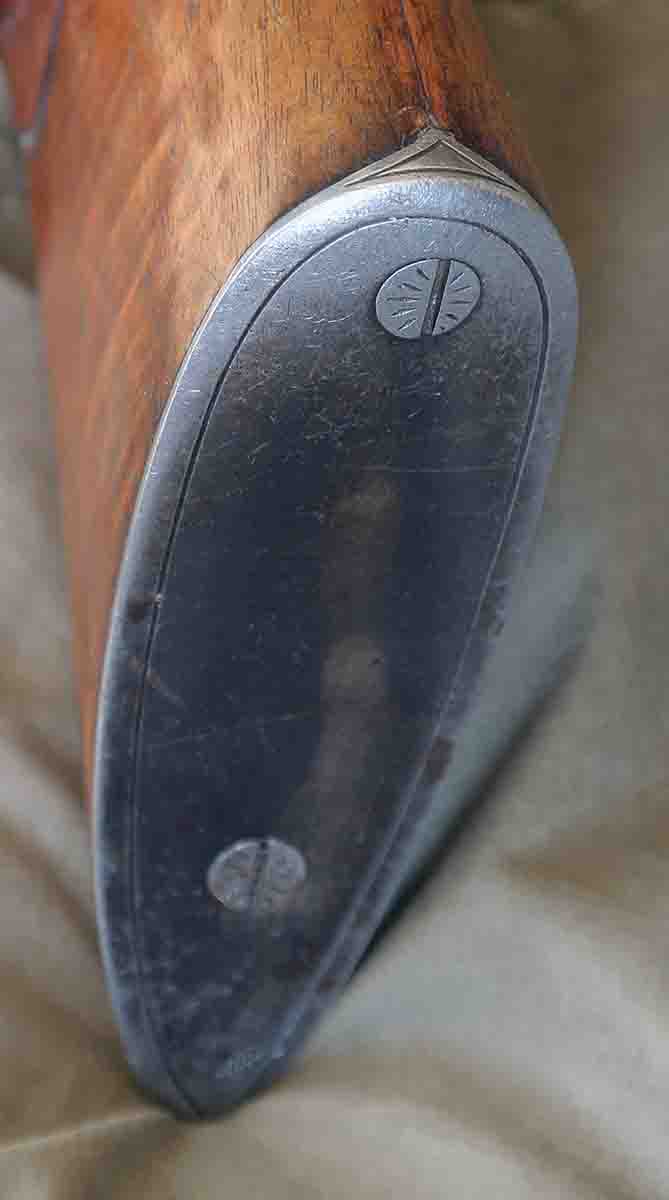 However, during the same period when truly soft recoil pads appeared, a more effective preventive method also evolved. Unfortunately, many hunters are too stuck in the past to believe it can work.To understand its effectiveness, examine the physics of recoil, a prime example of Sir Isaac Newton's third law of motion: For every action there is an equal and opposite reaction. In rifle recoil the initiating action is firing a bullet through the barrel. Recoil is the opposite reaction, pushing the rifle into the shoulder.
Some shooters might assume that Newton's third law means recoil energy of the rifle equals the muzzle energy of the bullet. If this were true, a 180-grain .30-06 cartridge would result in around 3,000 foot-pounds (ft-lbs) of recoil energy – but the recoil energy of an 8-pound .30-06 firing a typical 180-grain factory load generates about 22 ft-lbs. This number comes from the calculator in Sierra's Infinity computer ballistic program and is based on the recoil formula used by ballisticians for decades.
This vast difference occurs because of the vast difference in weight between a 180-grain bullet and an 8-pound (56,000-grain) rifle. The kinetic energy of a moving object is the product of the object's weight multiplied by the square of its velocity. While the .30-06 bullet leaves the muzzle at 2,700 fps, the rifle moves backward at only 13 fps.

A .300 magnum results in far more recoil than a .30-06, and not just due to more velocity but more powder. The extra powder essentially adds more weight to the "ejecta," the total weight leaving the muzzle.
My calculation of .30-06 recoil energy used a typical 55-grain powder charge. A .300 magnum cartridge using 75 grains of powder to push a 180-grain bullet 3,000 fps generates about 35 ft-lbs of recoil in an 8-pound rifle. This is 59 percent greater than the .30-06's recoil energy, but the muzzle energy of the .300's bullet is 3,596 ft-lbs, only 23 percent more than the 2,913 ft-lbs of the .30-06's bullet. Yet because of what their shoulders feel, many hunters believe a .300 magnum must be far more powerful than a .30-06.
Many experienced observers have concluded that most hunters can handle the recoil of a .30-06 but start cringing at .300 magnum recoil. These observers include the late Finn Aagaard, who guided in his native Kenya until he was 45 then moved to Texas and guided there for many more years. Finn estimated only a third of his clients could shoot .300 magnums accurately. John Stuver, a long-time Montana outfitter who once guided Finn, puts the number at 20 percent. This obviously doesn't apply to you and me, but observations of other hunters force me to agree with Finn and John.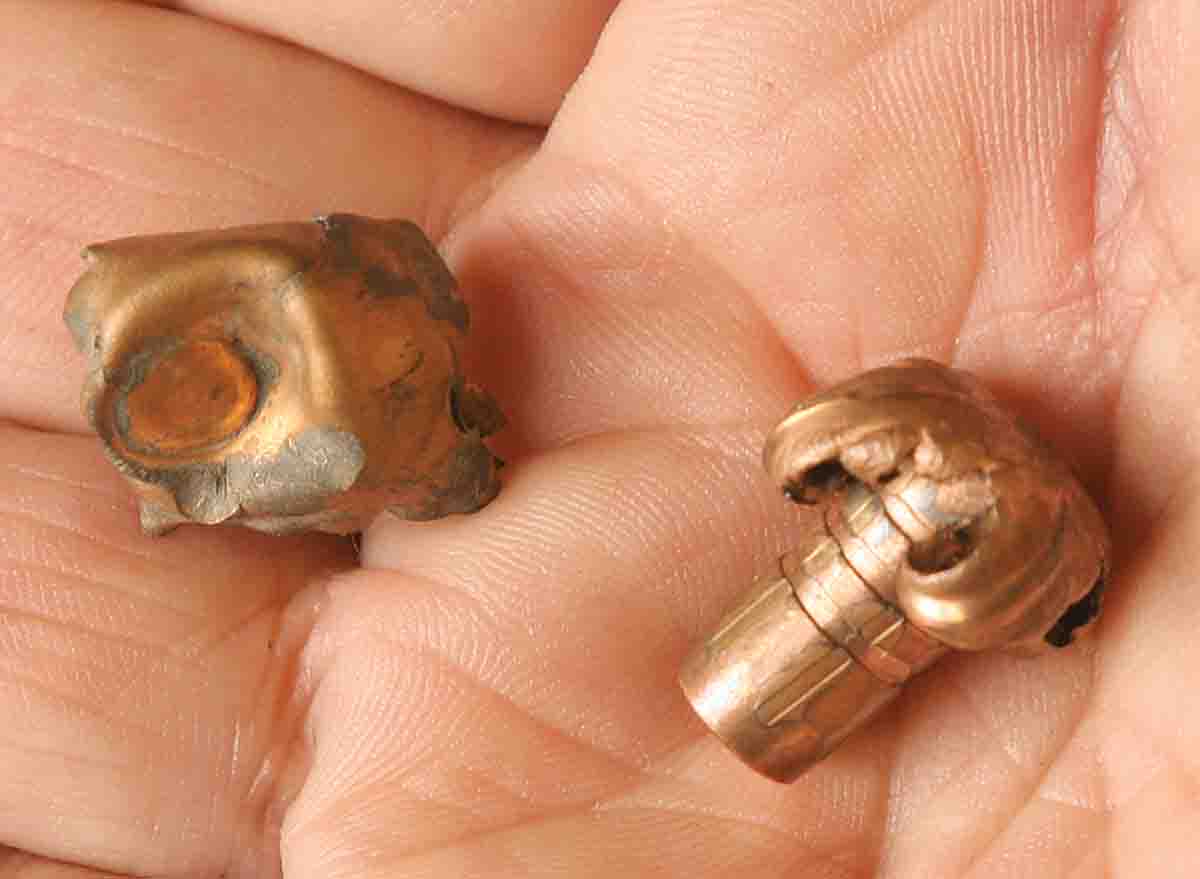 Once upon a time I firmly believed in the "vast" extra killing power of cartridges larger than the .30-06, but that was 30-odd years ago, when I'd only hunted in Montana with a half-dozen cartridges, only one of which was larger than the .30-06. Since then I've hunted with dozens of cartridges and have seen many others in action. Eventually I gradually (and grudgingly) came to the conclusion that bullet placement is by far the most important factor in killing power, with the specific bullet second and the cartridge far behind in third.
This insight is far from original or unique, but restating it makes some hunters pretty upset. They counter by stating correct bullet placement is obviously necessary, so why emphasize it over and over again? They then claim a "magnum" bullet in the same place is obviously more effective and provides more margin of error.
Unfortunately, I've seen far too many big-game animals refuse to flop just because they were hit correctly with faster and bigger bullets, even some animals pushing the definition of the word "big." One was a springbok that weighed 80 pounds on an accurate livestock scale.
This took place during a cull hunt in South Africa, where I traveled partly to field-test a brand-new Nosler bullet, the .375-caliber, 260-grain Ballistic Tip that was on the market only a year before being turned into an AccuBond. The muzzle velocity of my .375 H&H handload was 2,700 fps, for 4,208 ft-lbs of kinetic energy.
The springbok stood broadside, just about 100 yards away, and the bullet landed where I aimed, behind its shoulder. The springbok took off running and kept going for 100 yards before falling. Now, many hunters would guess the big bullet simply didn't expand much on such a small animal, but the hole through the springbok's lungs could have easily accommodated a softball.
The next year I went back to South Africa for a month-long cull hunt. One companion used a 7mm-08 Remington to place a 140-grain AccuBond behind the shoulder of a 600-pound blue wildebeest bull, considered perhaps the toughest of all African plains game. The bull ran about 50 yards and keeled over dead.
Those are two extreme examples, but hundreds more could be cited, not just from Africa but from Europe, North America and New Zealand. Sometimes lung-shot big game drops quickly, and sometimes it runs a ways, but as long as the bullet expands and penetrates sufficiently there just isn't that much difference.
The past few decades have also seen the introduction of far more "premium" big-game bullets, plus the improvement of bullets already on the market. The Barnes X-Bullet appeared in the late 1980s, and while it worked well on big game from the beginning, often the early bullets didn't shoot very accurately – partly due to considerable copper-fouling – and occasionally didn't open up much, if at all. All three problems eventually disappeared due to the grooved shank of the Triple-Shock X-Bullet and the addition of a plastic tip.

Many power advocates point out that not all animals stand perfectly broadside, where bullets from "standard" cartridges can be placed carefully through the heart/lung cavity. Often they cite the last day of an expensive guided hunt, when the "bull of your dreams" appears, heading in the opposite direction.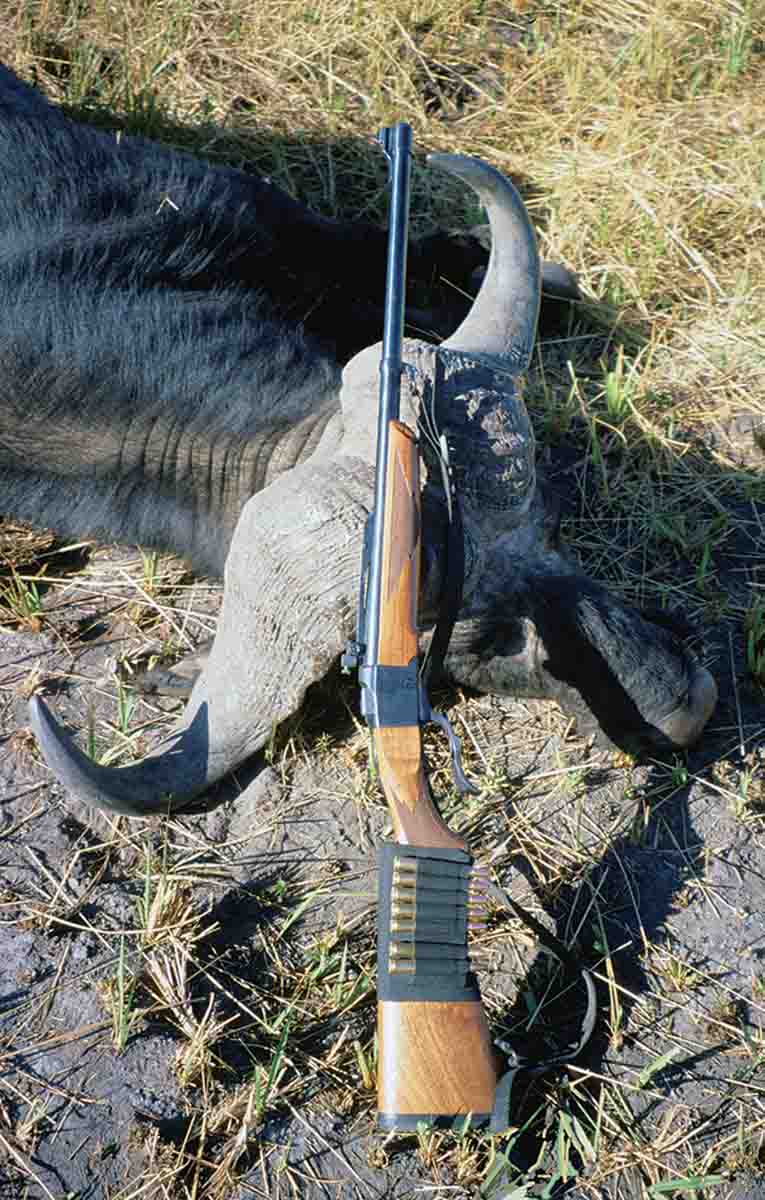 This sometimes happens. Friend Jim Gelhaus took a huge Alaskan moose on the last day of a guided hunt – using a .30-06 with Federal factory ammunition loaded with 180-grain Trophy Bonded bullets. The bull suddenly appeared from the tall brush along a small stream, walking directly away, and Jim decided to put the bullet in the middle of its butt. The Trophy Bonded ended up in the moose's heart, and while the bull didn't immediately fall (most moose don't) it stopped, angled slightly and dropped to another round in the neck. The bull's antlers were large enough for the Boone and Crockett Club to invite Jim to its triennial awards banquet, where his moose was honored as one of the top North American trophies taken over the previous three years.
A few years ago I got into a discussion about big-game cartridges with a guy who had suddenly acquired a considerable amount of money late in life and used the dough to go on expensive guided hunts, including several for trophy elk. He started with a .30-06 but switched to a .300 Winchester Magnum. He claimed he had taken "almost ten elk," but those he shot with a .30-06 always traveled farther than 100 yards before falling, and those shot with the .300 went less than 50.
I've taken elk not only with the .300 Winchester Magnum but the .300 WSM and .300 Weatherby Magnum, and have taken at least as many with the .30-06. None of the .30-06 elk traveled farther than 45 yards before falling, including the biggest bull, which went about 20 feet. One of the elk shot with a .300 was deliberately spined because only the top half of its back was visible above thick brush. It fell on the spot, but none of the elk that were chest-shot with .300 magnums dropped any quicker than the .30-06 elk. This has also been my experience when observing elk-hunting companions, and the total number is more than "almost ten elk."
Some generous fans of larger cartridges will concede that lesser rounds will work, but only out to a certain range, usually some arbitrary number like 250 or 300 yards. This is also not my experience, having seen far too many animals, from big deer on up, taken neatly at longer ranges with lesser cartridges, often even with (gasp!) factory ammunition.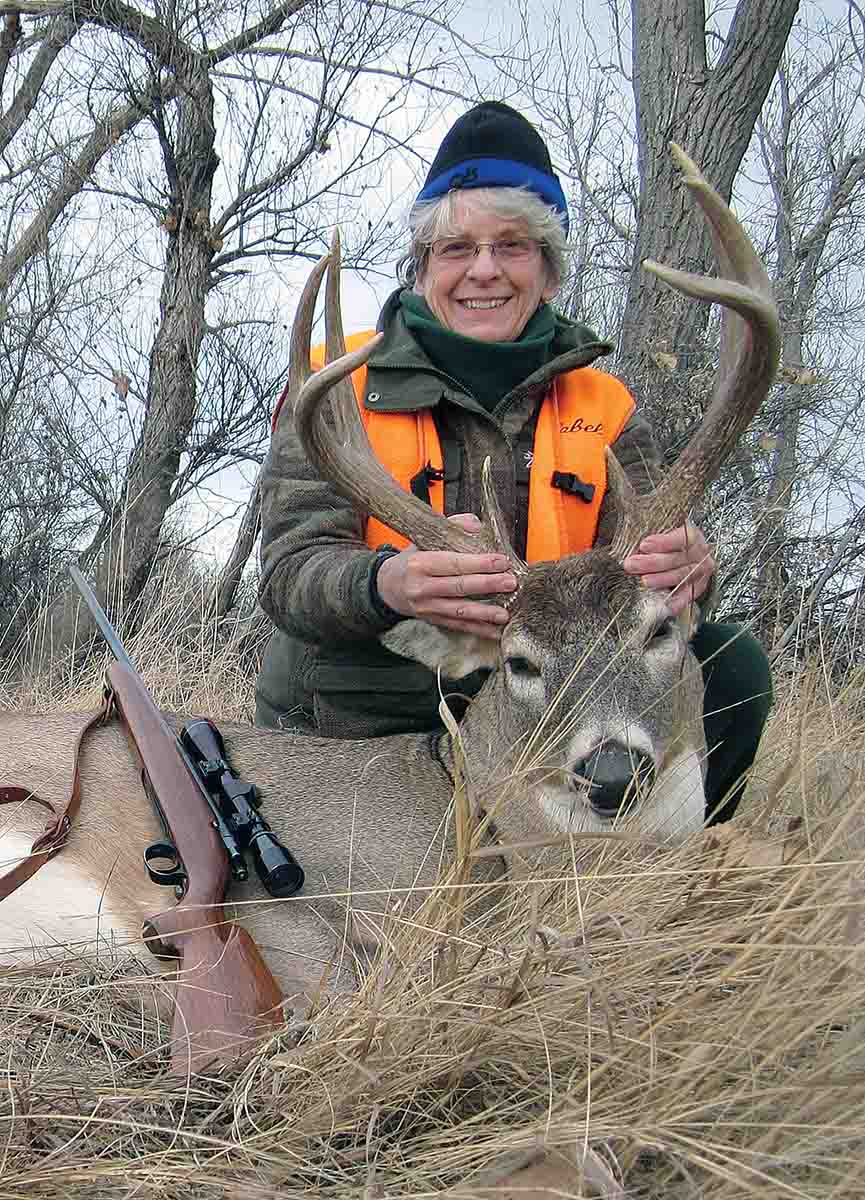 American hunters became obsessed with muzzle velocity more than a century ago, when smokeless powder replaced black. Smokeless doubled the average muzzle velocity of black-powder rounds, flattening trajectories enormously and making accurate shot placement much easier beyond 150 yards. This frequently resulted in less penetration however, because the new-fangled jacketed bullets often over-expanded or broke up when hitting big game.
By the middle of the twentieth century, new powders and cartridges added even more velocity. That's when the Nosler Partition appeared, guaranteeing deep penetration even at high-impact velocities, but since then newer premium bullets with higher ballistic coefficients (BC) have also increased retained velocity. As a result, they don't have to be started as fast to perform at longer ranges. Even 2,700 fps is usually plenty, and since high-BC bullets don't lose as much velocity, terminal performance is more consistent across several hundred yards – even with "nonpremium" bullets.
Despite both improvements, many hunters still believe in "rules" about big-game cartridges formulated 50 to 100 years ago. This is only natural because, like most humans, hunters tend to stick with what works. But if all humanity always stuck with what originally worked, we'd still be walking everywhere, and hunters would still be using rocks.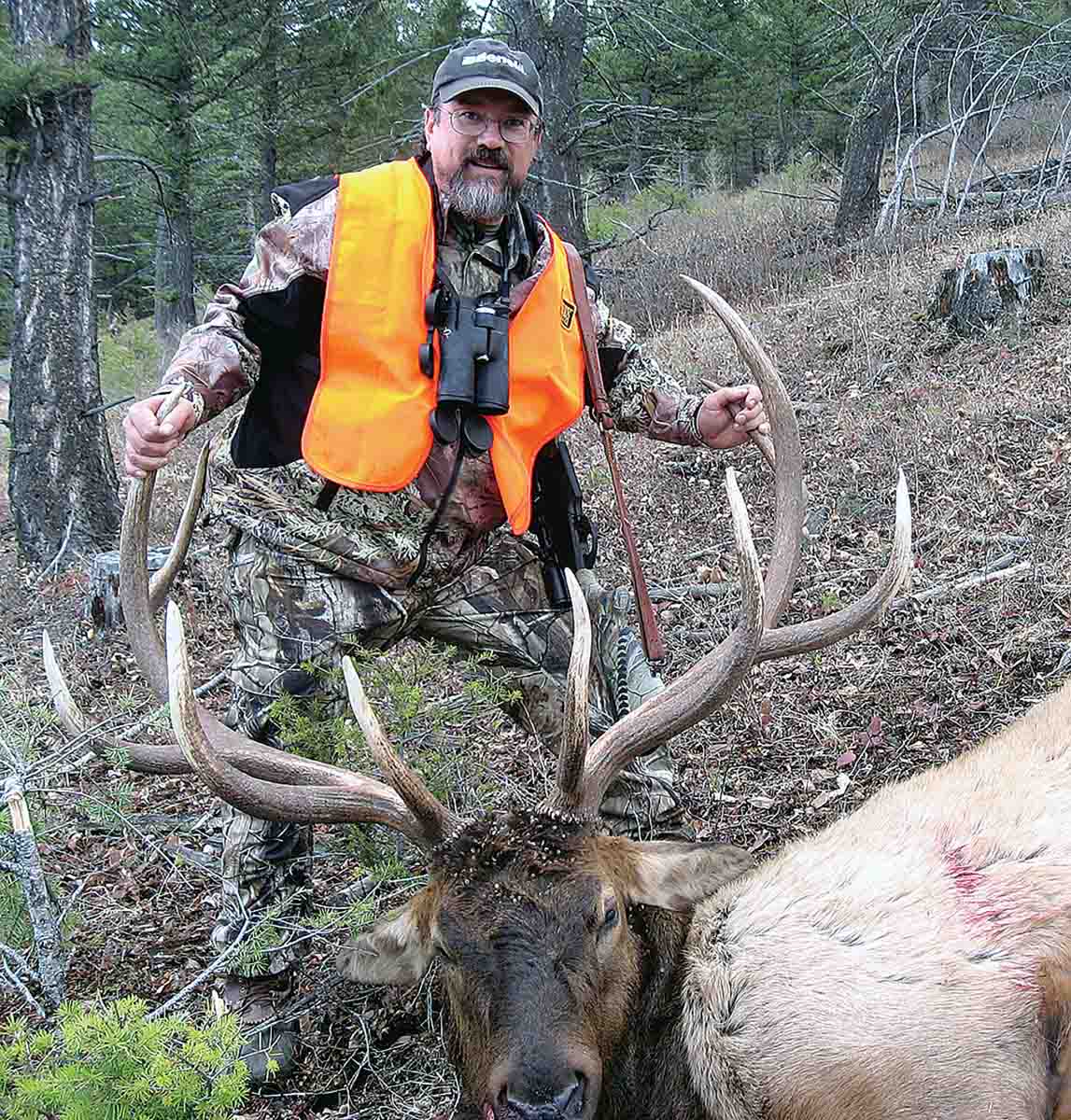 The history of hunting rifles has been an overall trend toward smaller calibers and lighter bullets. That trend continues today, primarily due to improvements in bullets, but there is a natural generation gap between hunters who stick to what they learned early on – often from their fathers – and the reality of now. Many cartridges developed well into the mid-twentieth century were designed around the relatively poor performance of available bullets, a classic example being the .338 Winchester Magnum. Its original factory loads included a 300-grain roundnose at 2,450 fps, to assure at least some of the bullet reached the vitals of larger animals.
Partly because of growing up during that era, I have plenty of experience with cartridges more powerful than the .30-06, probably the most with the .338 Winchester Magnum, and again not just my own hunting but those of several companions. There has also been plenty of field time with several .300 magnums, the 9.3x62 Mauser and .375 H&H. My safe still contains rifles chambered for all those rounds, and sometimes they go hunting – but only for animals big or dangerous enough to perhaps require more power than a .30-06. Otherwise I use even milder rounds because they are the most effective recoil-reduction technique of all, and at this point in life I don't particularly feel like being a living demonstration of Newton's third law.