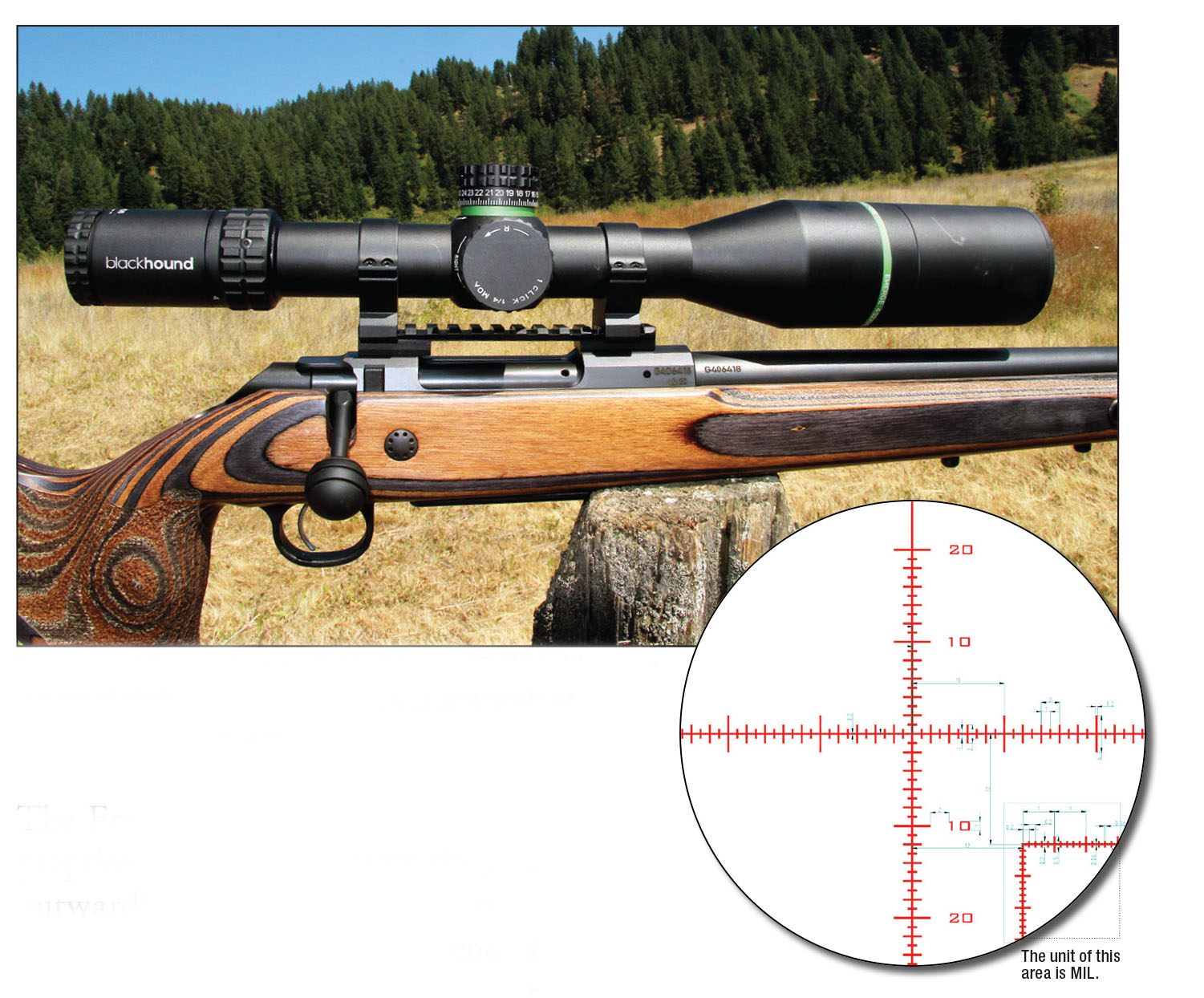 Rebranded in 2018, Blackhound Optics is a relatively new name in the optics trade and one of the company's Japanese-made, long-range riflescopes is the topic of discussion here – the flagship Emerge 4-32x 56mm FFP MOA ($1,799.99) including a 34mm tube and exposed turrets. The accompanying press release stated the brand was launched to provide the highest-quality optics combined with the best possible value, all backed by a Lifetime Promise Warranty when purchased from a certified Blackhound dealer. This warranty covers repair or replacement should anything go wrong. The rebranding included an updated logo, improved support apparatus, a dedication to providing quality, reliable products and a more user-friendly website. Four new product lines have since been introduced – the Emerge under discussion here, Evolve, Genesis and Electro optics.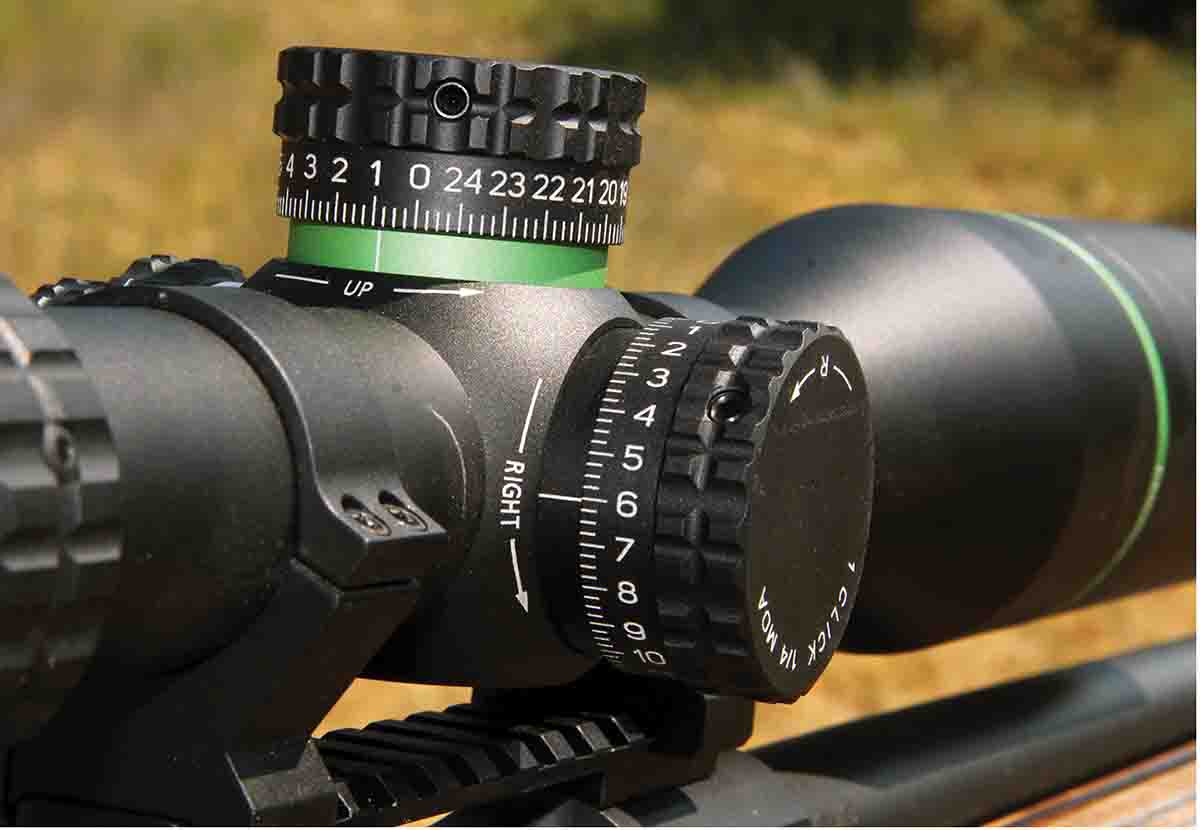 The Emerge 4-32x 56mm offers a versatile long-range option, whether banging distant steel with a big-bore rifle or belaboring open-country rodents with your favorite varmint rifle. The Emerge lineup comes with appropriately sized four-screw rings of outwardly sound aluminum construction, including recommended torque specifications, plus a dual set of magnetized scope levels to make installation more precise. Despite the 56mm objective bell – and like so many rings provided by optic manufacturers today – I found these rings a touch too high for my tastes when added to the raised Picatinny rail of the CZ-USA 600 Range test rifle. An alternative set was used for testing. The scope came with a 3-inch screw-on sunshade, a set of press-fit, spring-loaded lens covers to protect from moisture or accumulating dust, lens cloth and all necessary set-up tools. Newly implemented shipping regulations did not allow Blackhound to ship the required CR2032 lithium battery with the optic that is used to power the illumination system.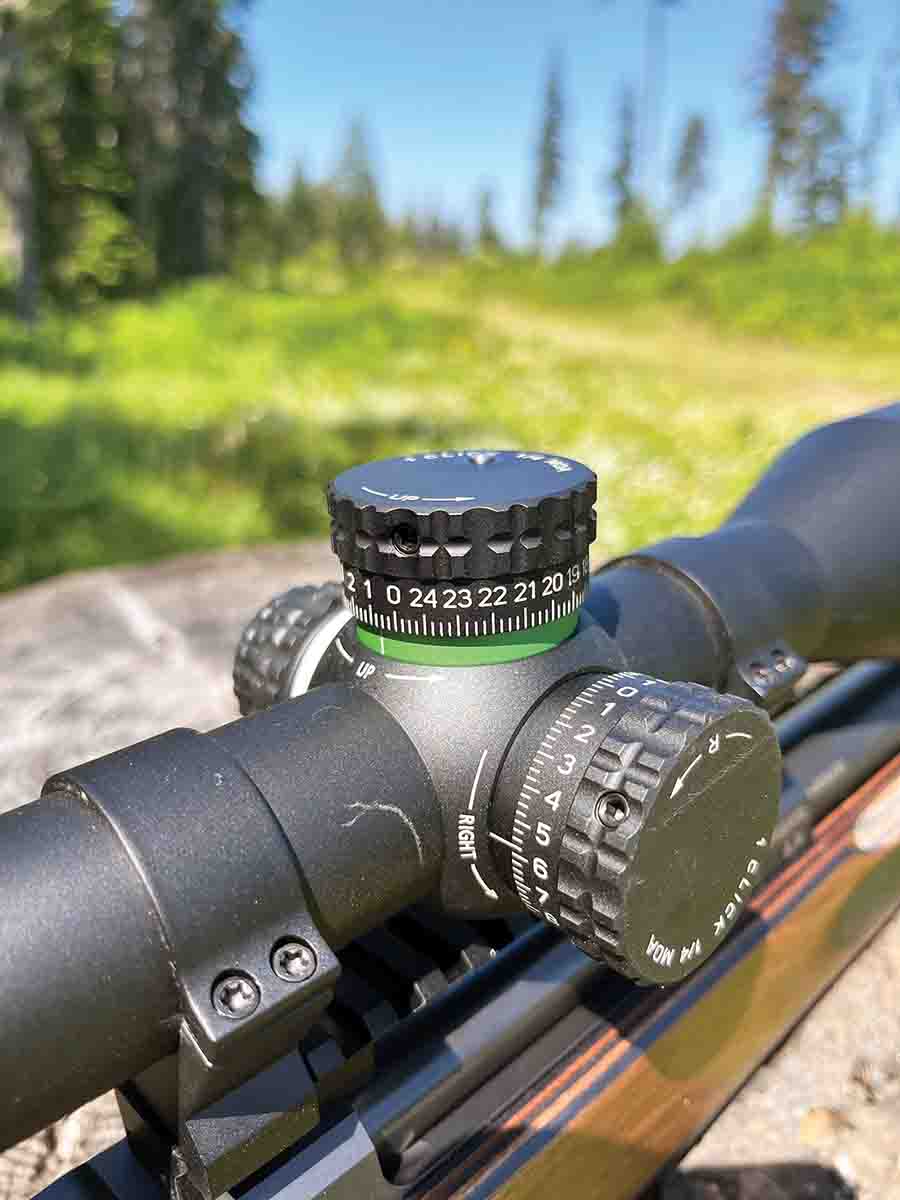 The Emerge series is designed and engineered in the U.S. and built with premium Japanese HD glass. The Emerge HD optical system is combined with new MOA (tested) and MIL glass-etched illuminated reticles. This is a first focal plane (FFP) scope and is equipped with precision machined aluminum turrets that feature a pop-up, second-turn indicator for major corrections, plus a user-adjustable zero stop. The 34mm main tube is treated with Type III hard anodizing. The turrets, side parallax knob, magnification ring, adjustable eye focus and illumination controls are all milled to include ergonomic knurling for a sure grip in wet weather or while wearing gloves.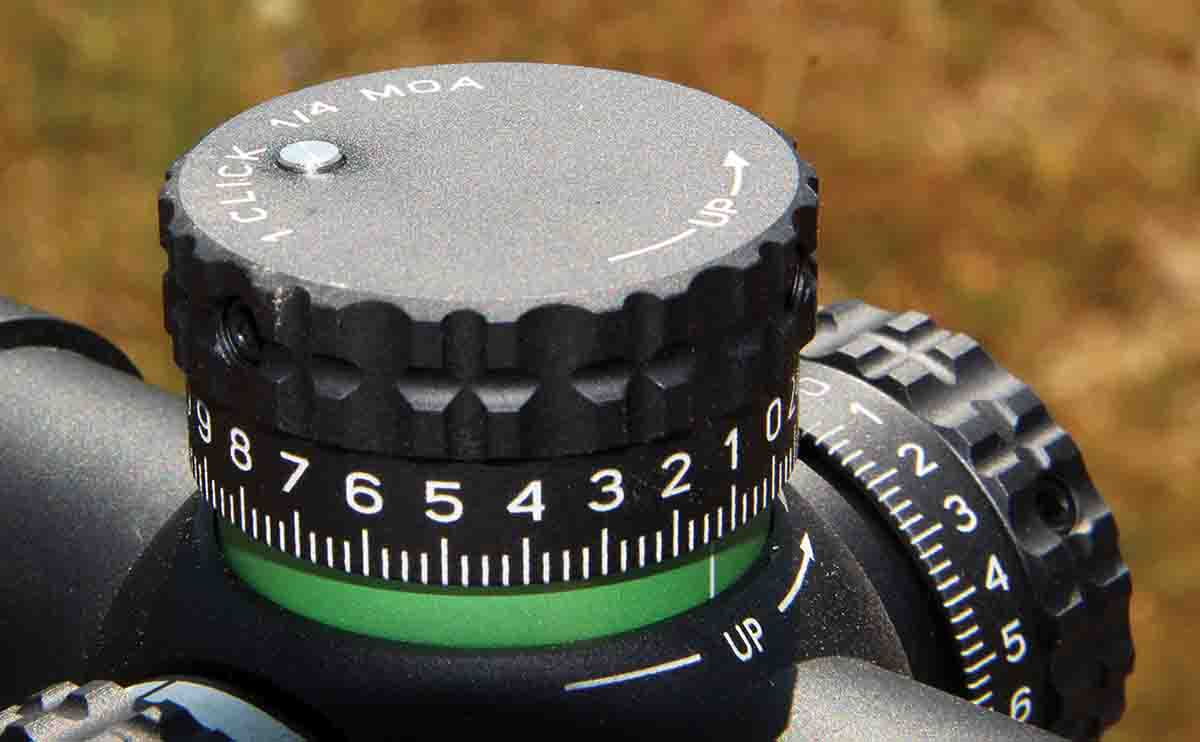 All Emerge riflescopes are shock- and waterproof and go through a rigorous two-step quality control process – first before leaving the factory in Japan, and again after reaching the U.S. The Emerge 4-32x 56mm is well suited to its intended purpose of long-range shooting. The large 56mm objective lens ensures ample light gathering at higher magnifications, offering good low-light viewing and the contrast needed to pierce deep shadows. With 3.5 inches of eye relief, the Emerge 4-32x 56mm riflescope is magnum compatible, without the worry of suffering the indignity of a scope cut while shooting from an awkward position, such as shooting off a bipod while laying prone. The FFP reticle allows establishing accurate holdovers, wind corrections or moving-target leads from any magnification setting based on targets of known size. The large objective lens also provides a field of view from 3.73 feet (4 power) to 29.9 inches (32 power) for faster target acquisition.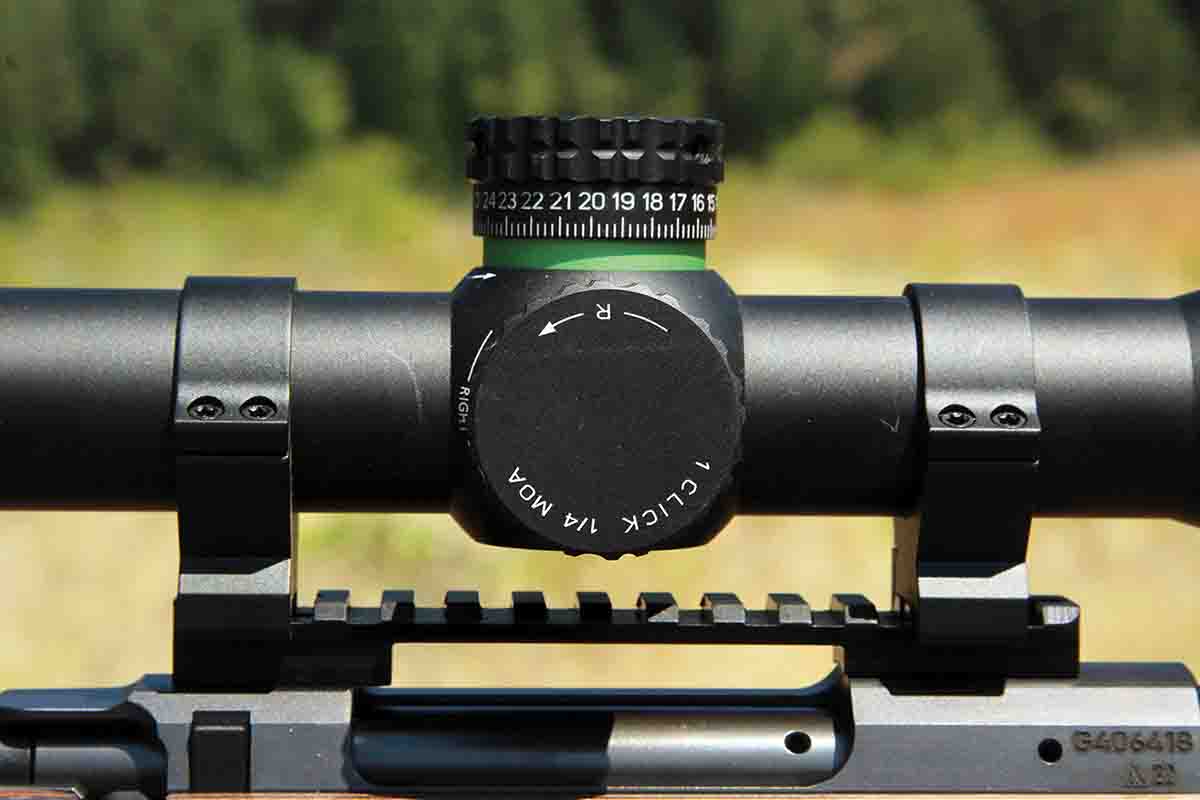 The 34mm main tube allows 90-MOA of elevation adjustment and 80-MOA of windage corrections with the exposed turrets. The exposed turrets of the tested MOA version include ¼-MOA movements, with each full rotation applying 25-MOA of movement, indicated by clearly etched numbers and ¼-MOA hash marks. Movements were positive, and both tactile and audible.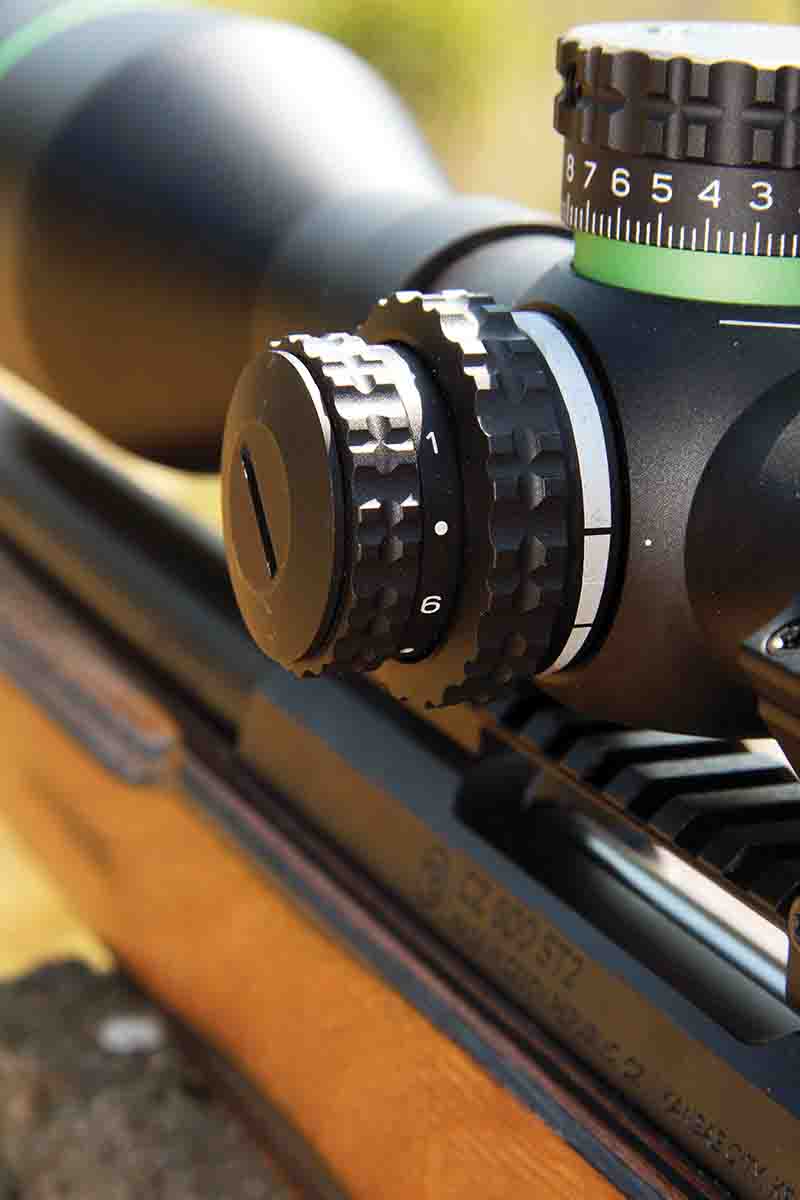 The side parallax knob is marked from 20 yards to infinity on a white tapering wedge graphic, with distinctive black lines found at the 100-, 200- and 500-yard marks for faster target focusing. The illumination dial is set atop the sandwiched parallax control, including brightness settings from 1 to 7, and including dots between each setting that allow extinguishing illumination to save battery life, while keeping a chosen brightness setting readily available. The magnification ring is marked 4, 5, 6, 8, 10, 12, 16, 20, 24, 28 and 32, with gaps left for the absent numbers. The magnification ring includes a raised throw lever sitting about a half inch above the knurled ring surface. The 12.72-inch long riflescope weighed 1.82 pounds.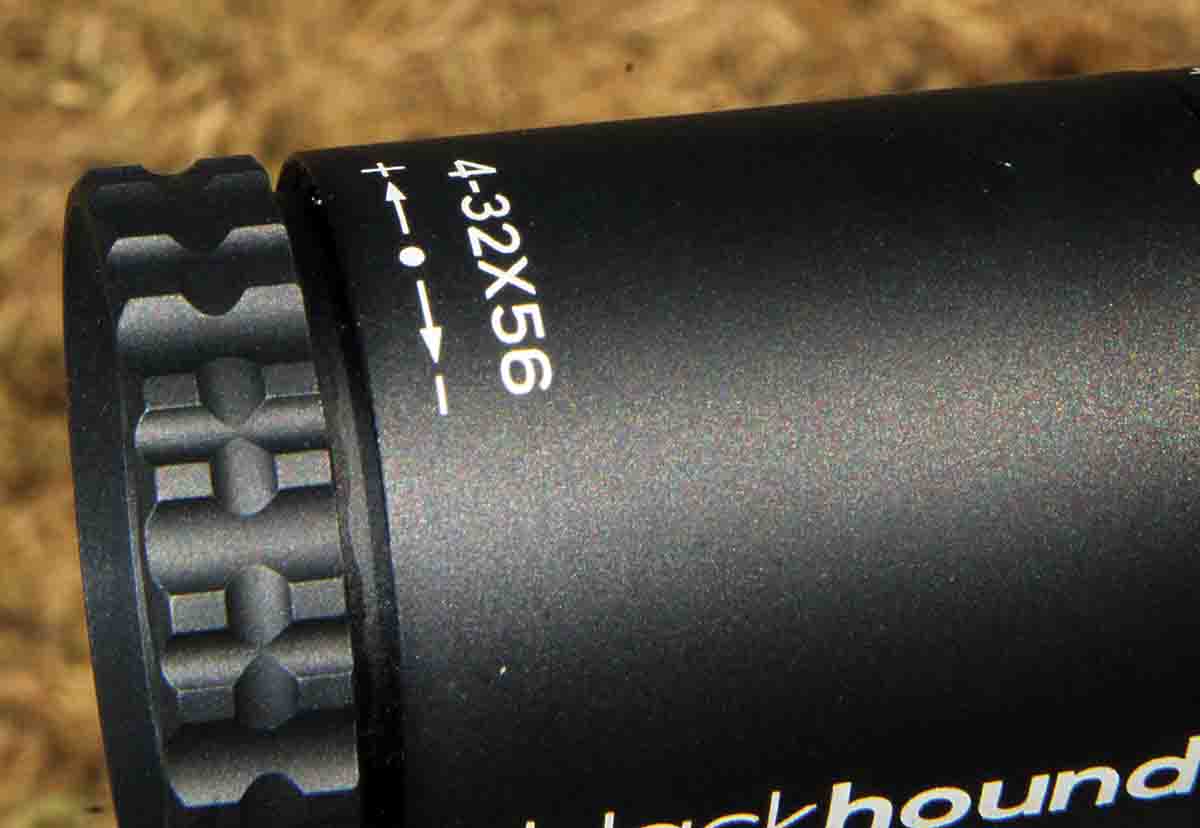 The reticle included a clean crosshair arrangement with 1-MOA hash marks above and below the center aiming point. The upper vertical sub tension is marked to 20-MOA, the bottom vertical wire down to 40-MOA, with numbers spaced every 10-MOA. Every other hash mark is 1-MOA wide/tall, offset by 2-MOA wide/tall hash marks placed at every other gap. An inverted L reference sub tension is placed in the lower-right opening and features .20-MIL hash marks. At the 40-MOA mark at the outside extremes of the reticle, the crosshair transitions into thicker, pointed sub tensions. At the highest magnification, just 19-MOA of hash marks remain inside the field of view. The center crosshair grows a touch thick for my preferences at 32 power – not uncommon for high-magnification FFP reticles. Given my druthers, the crossed crosshair center would be replaced by a floating dot or open gap, which would improve precision while addressing smaller burrowing rodents at longer distances. On standard steel targets inside a mile, I see no problem with the reticle as it is.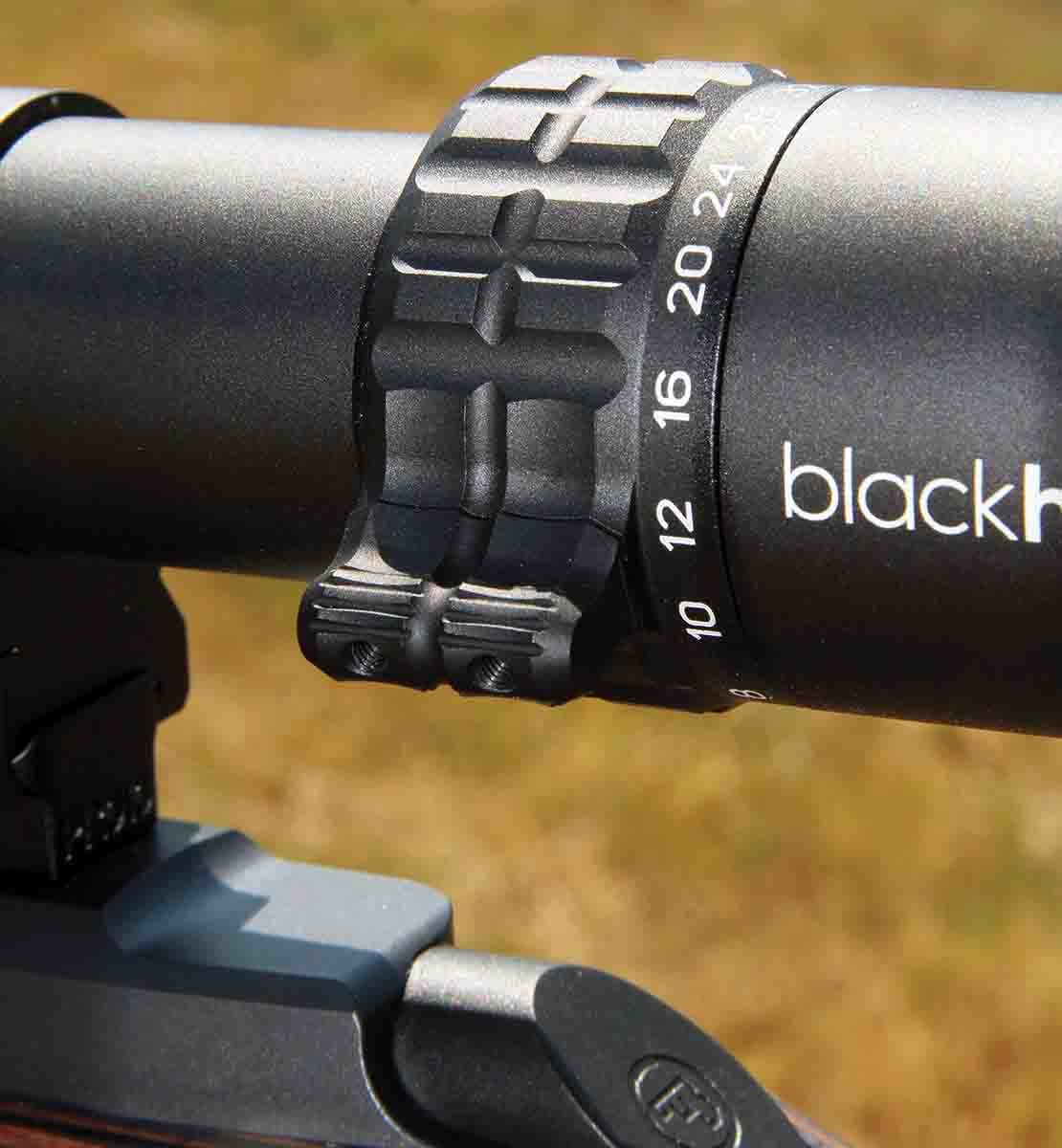 The Emerge rifle scope appears ruggedly built, with all parts milled from aluminum and no plastic in evidence. The turrets tracked precisely, providing corrections that accurately corresponded to prepared ballistics charts while sending heavy/high-ballistic coefficient 308 Winchester bullets out to 500 yards, and then returning to the 100-yard zero. The Blackhound Optics Emerge 4-32x 56mm FFP MOA would make a solid investment for any shooter looking to go long or take tiny burrowing rodents at distance. It offers an uncluttered, but effective ballistic reticle, a reliable turret system and smooth-running controls, while also providing clear viewing.
To learn more about these products, visit BlackhoundOptics.com.