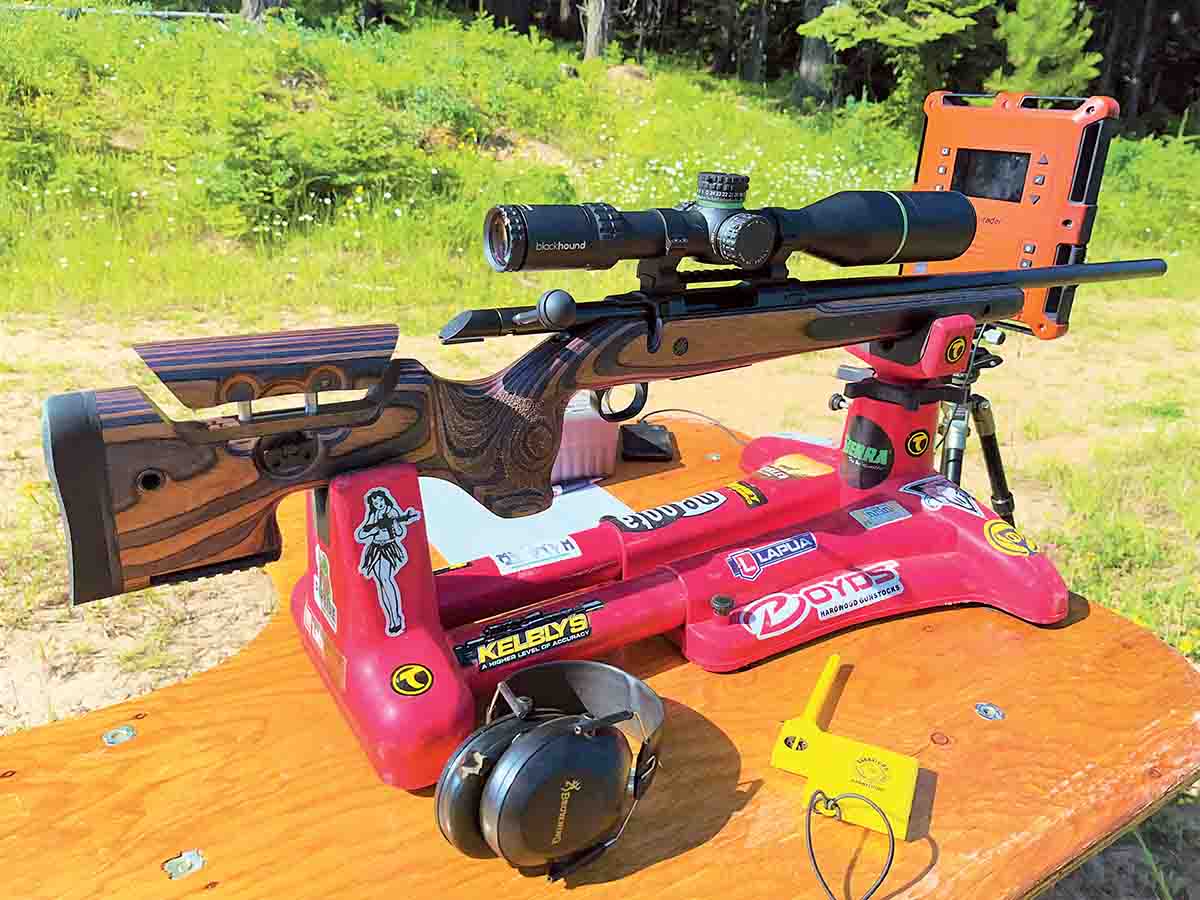 Founded in 1919, Ceská zbrojovka, also known as CZ, established its current factory in Uherský Brod, Czech Republic (then Czechoslovakia), in 1936, as far from its western borders and the threat of Nazi Germany as possible. It quickly became one of the most modern and efficient arms factories in Europe. After World War II, CZ gradually became the primary Czechoslovakian manufacturer of small firearms, largely submachine guns. By 1975, František Koucký's revolutionary CZ 75 handgun went into production (the one millionth CZ 75 assembled in 2007), starting the trend of large capacity 9mm Luger single-action/double-action pistols. CZ was privatized in 1992 and many of the company's high-quality, bolt-action rifles we know today began to take shape. CZ-USA emerged in 1997, now based in Kansas City, Kansas, while Zbrojovka Brno was purchased in 2004. Both moves made a wide selection of fine rifles more readily available to American shooters. CZ-USA began production of several CZ models in the U.S. by 2019.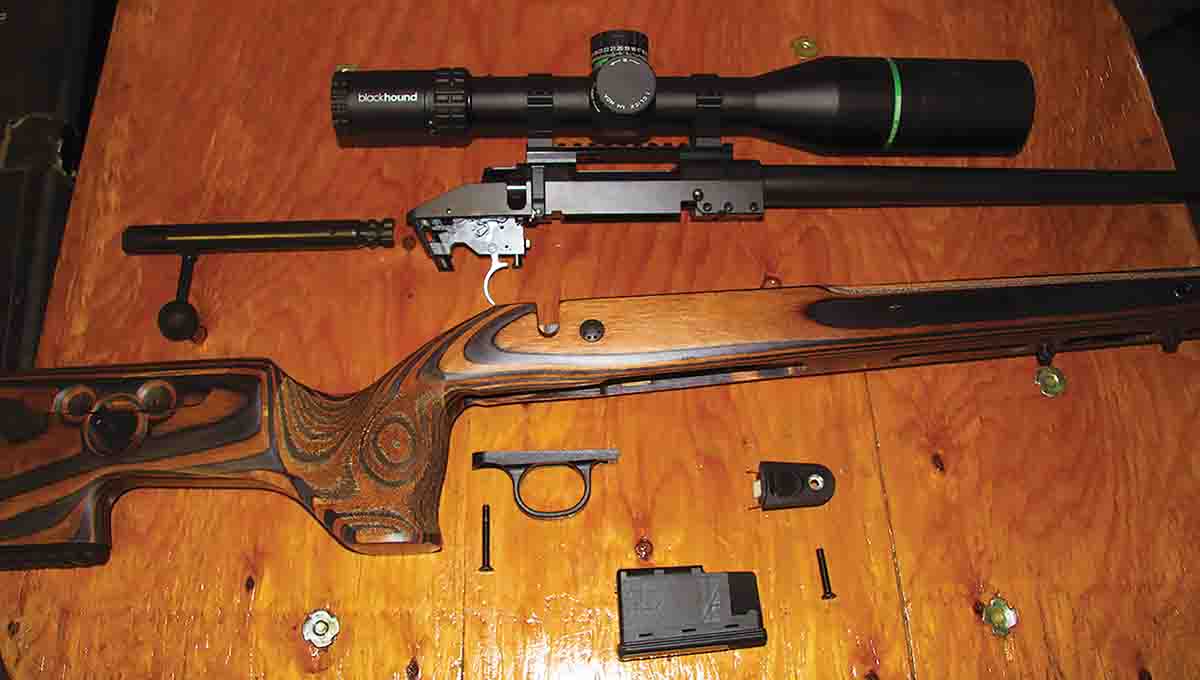 While varmint shooters and big-game hunters who have followed the company likely remember the CZ Model 527 (often labeled the Mini Mauser) and Model 557, those rifles have now been discontinued. They were replaced by the new, technically advanced and relatively affordable Czech-made Model 600. The 600 series is offered in four basic styles and multiple chamberings. The 600 Alpha includes a black synthetic stock, the 600 Lux is a gorgeous deluxe-grade walnut stock with decidedly European styling, while the 600 Trail is tactically inspired and AR and Bren 2 magazine compatible, and the 600 Range sports a more substantial target-style handle. The latter is the subject of discussion here.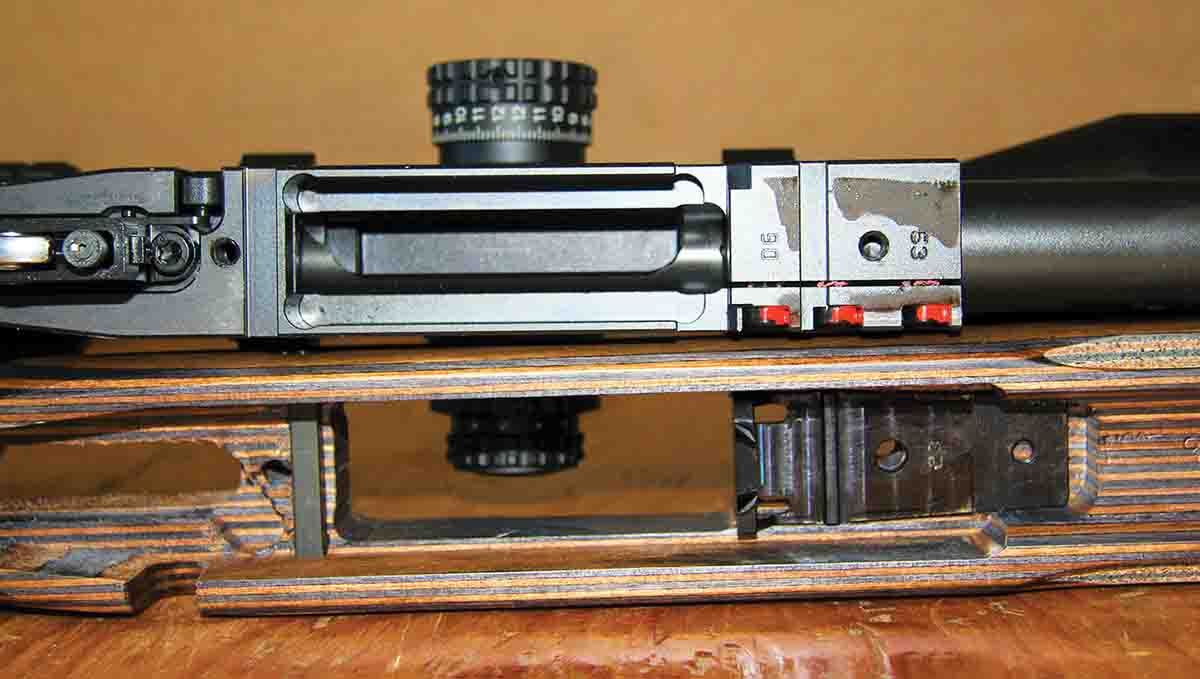 The 600 series – released last year – is a completely reconfigured design, heavy on new technologies and held to the tightest tolerances and accuracy standards. The bolt head marks one obvious departure from past CZ rifle designs. It included three rows of two lugs, in place of the two-lug/Mauser-style setup of yore. Also gone is the external claw extractor. The modular six-lug action – including three twin lug sets located at 6 o'clock and approximately 10 and 2 o'clock – feeds slickly from a double-stack magazine. Most markedly, the bolt lugs lock directly into the barrel when in full battery. This is a significant development made possible through cutting-edge machining techniques, and meaning all chamber pressure is contained within the barrel itself. The system also closely controls the lug abutment inside the barrel in relation to the chamber, guaranteeing proper head spacing from barrel to barrel. The small bolt head is pinned to the body, making it removable though rigidly anchored, further maximizing compatibility from rifle to rifle within the 600 lineup.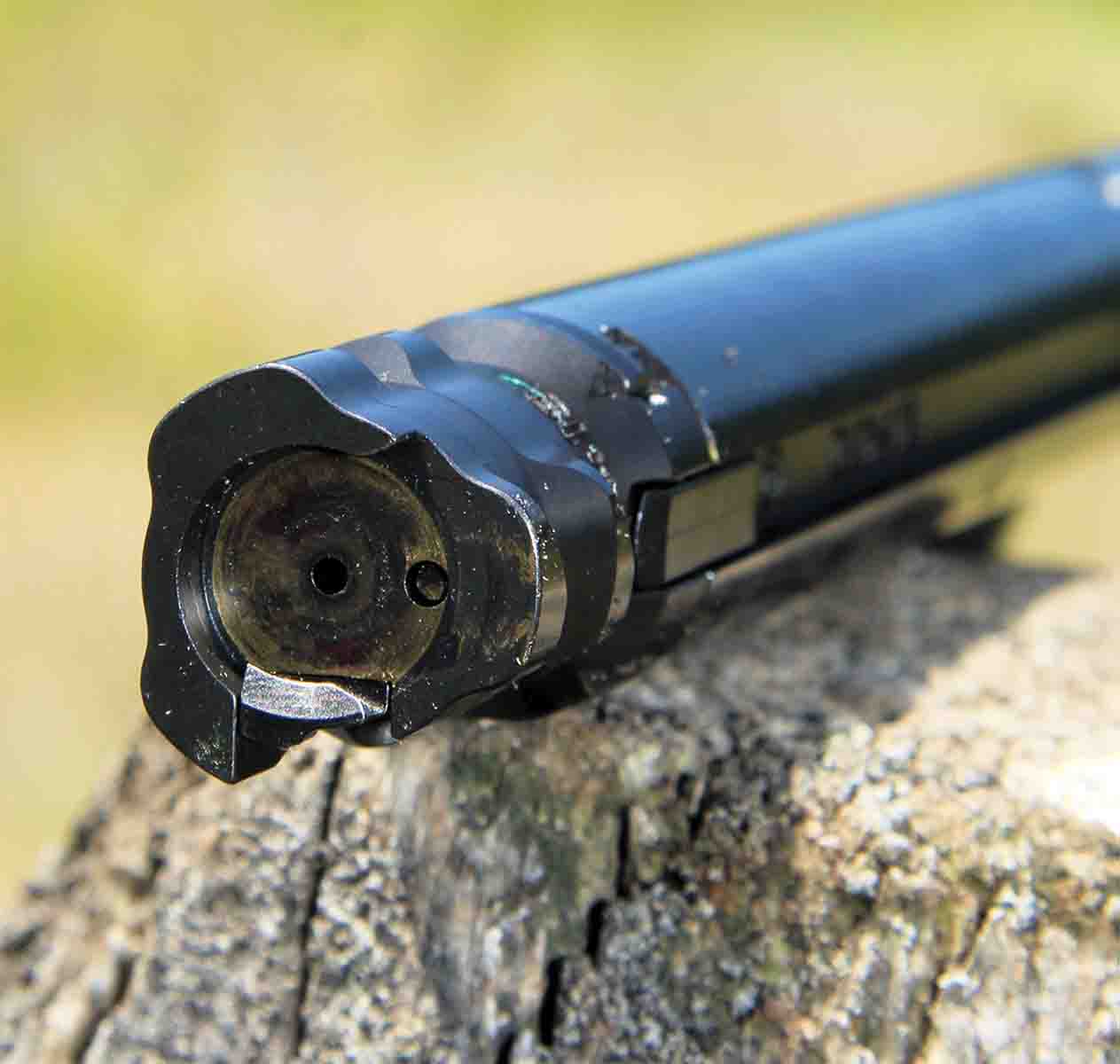 Because of the design features outlined above, barrels, bolt heads and magazines can be readily exchanged, allowing a single receiver to be fitted for multiple barrels and bolt heads to accommodate various cartridges. In fact, the first CZ 600 Range I received shortly after the initial release was presented as a "switch-barrel" rifle that could be rebarreled at home by the owner. Shortly after I'd sighted it in and began contemplating load options, CZ dispatched a recall notice and called that rifle home. It seems it was possible to install barrels in such a way that rifles could conceivably be fired while the action was not in full battery, creating a dangerous situation. Due to this development, the idea of user barrel swaps was abandoned; though it is still possible to have a 600 rifle rebarreled by a qualified gunsmith or at CZ's Kansas City factory.
The 600 Range barrel is 5⁄8x24 threaded to accept a muzzle brake or suppressor, while a threaded cap was provided from the factory. The fairly heavy (.87 inch just behind the muzzle threads), cold hammer-forged barrel measured 24 inches long and included a 1:10 rifling twist in the 308 Winchester chambering tested. The barrel included a black nitride finish. Making the chamber part of the mandrel ensures exceptional concentricity between chamber and bore, and the internal lug abutments, which offer additional support when locked in place, are indexed off the bore. All of this translated into exceptional accuracy potential.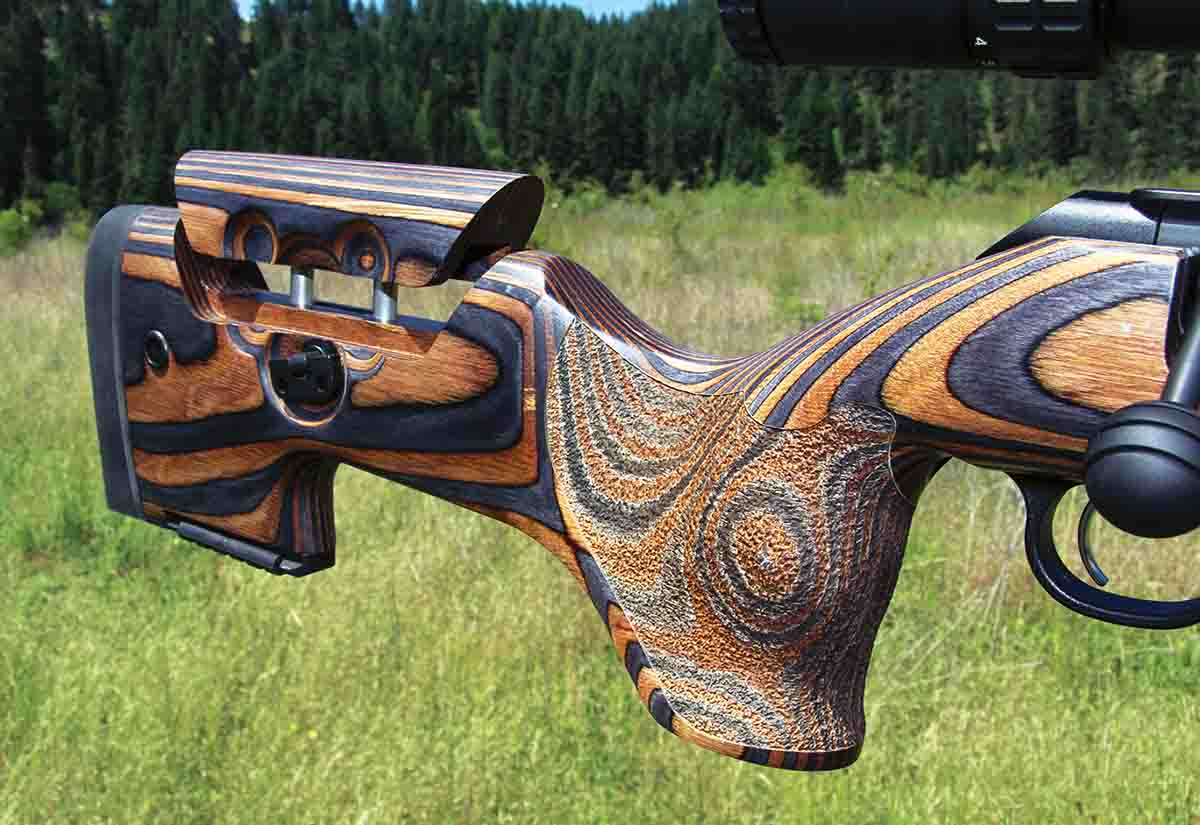 The 600 Range's receiver includes a square bottom and side and top flats – a design that saves machining time. Tight tolerances are maintained through modern computer-controlled machining approaches. A Picatinny rail was bolted to the receiver at the factory (some 600 models include an integral base machined as part of the receiver). The flat bottom solves a shortcoming of typical M700-style actions by providing improved thread engagement and less likelihood of action screws working loose. The 600 Range's steel receiver increases rigidity, combined with the internal barrel lock-up that provides improved barrel/bolt alignment. Both action screws engage a generous amount of flat bedding surface beneath the tenon, reducing stress/torque for improved consistency. The rear action screw engages another flat just forward of the trigger, instead of being threaded through the rear receiver tang in a typical fashion. This should eliminate the tendency of traditional systems to bend/stress the action, while also providing more metal to anchor into.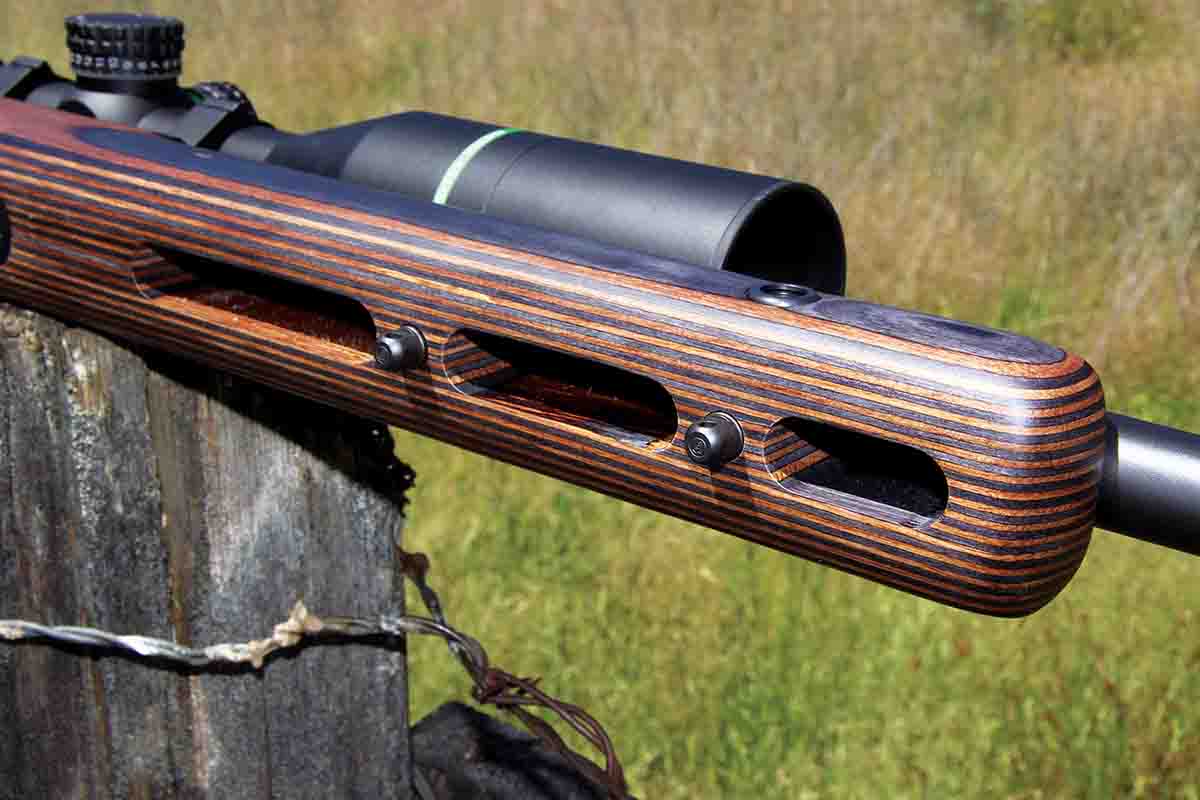 Even more unique, the 600 action holds dual "reverse" recoil lugs, including two notches milled into the bottom of the action to match the location of corresponding steel lugs rooted securely into the stock. A smaller/lower lug is placed behind the front action screw and a larger lug is located in front of the rear action screw. The two steel lugs and notches are out-the-box thinking that created solid stability after the Torx-head action screws are tightened.
During cycling, the CZ 600's 6-o'clock lug configuration reliably engages cartridge rims held by the double-stack magazine and pushes them up the lug raceway and into the chamber smoothly. The extractor is located in the 2 o'clock positioned lug set. In fact, rounds slipped into the chamber so effortlessly that I opened the bolt several times after cycling, believing the bolt had failed to pick a round up. Rounds can be pushed straight into the polymer magazine while it is clicked into place, or with the magazine removed.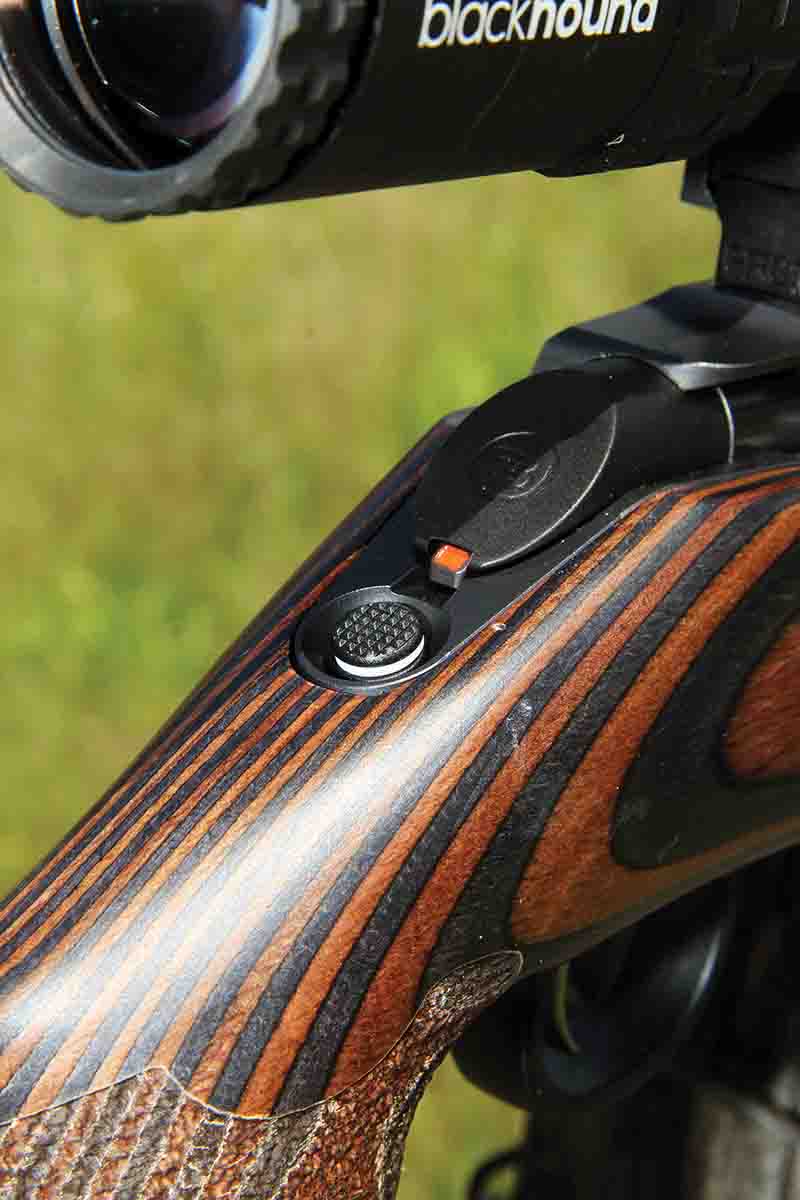 The AR-15/M16-style extractor is located low in the ejection port of the outboard lug. This created controlled-feed cartridge engagement, the open bottom of the bolt face allowing case rims to slip under the beveled extractor while being stripped from the magazine. Extraction and ejection were both quite positive, though a slow bolt cycle will leave fired cases sitting in the action to pluck out easily – a nice touch for brass-Nazi handloaders like myself. CZ 600 bolts, which include an "unlock" symbol, are easy to disassemble for cleaning (or conduct head changes to different cartridges).
CZ has a long history of providing great triggers and the 600 Range is no exception. This one is a little different, in that four trigger settings are provided, marked with one, two, three or four micro dots to correspond to 1.3- to 3-pound pulls. The Allen head adjustment screw is easily accessed inside the trigger guard without the need to disassemble the rifle. This makes setting up the trigger ultra-easy and user-friendly. The rifle arrived from the factory at the single-dot setting, which broke crisply at the advertised 1.3 pounds.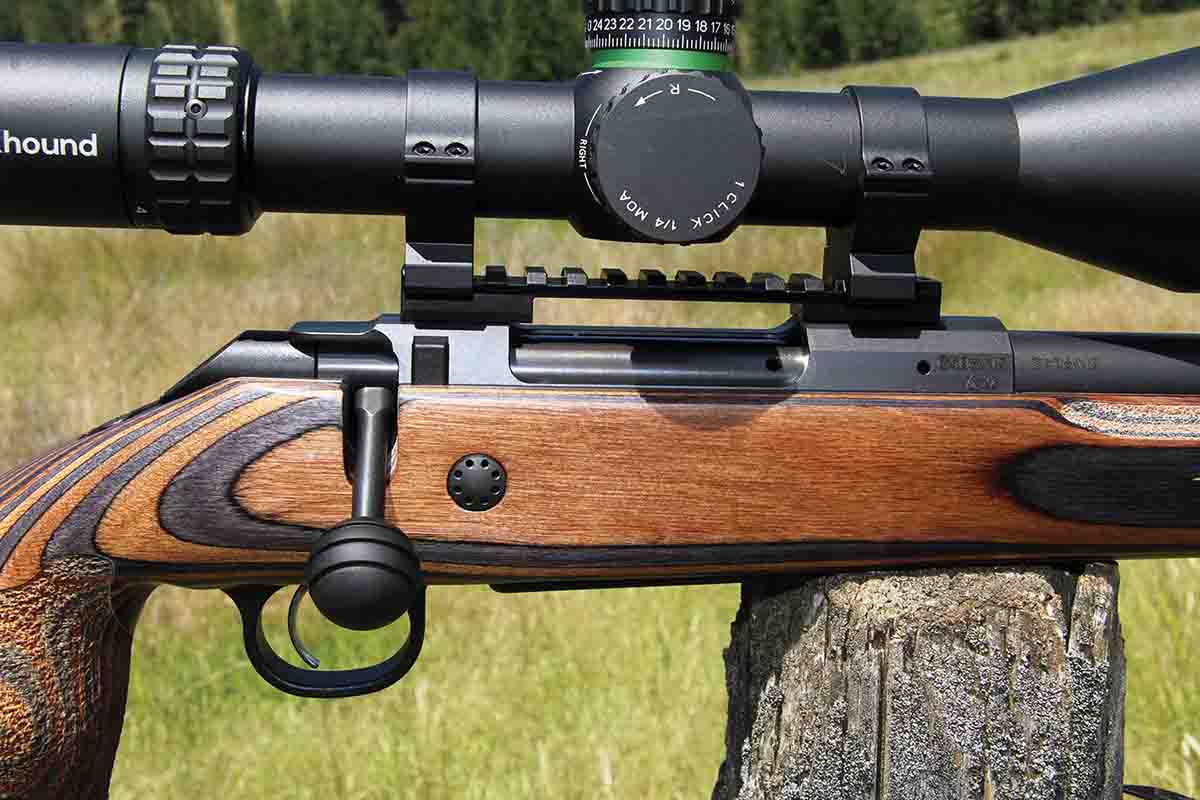 The bolt handle holds an oversized ball head for easy manipulation, released for removal through a vertical push-down tab located to the right rear of the action. The safety is another departure from the norm, a vertical two-position plunger just behind the bolt shroud – pushed down to FIRE, up for SAFE. The safety locks the bolt when engaged, and a red cocked indicator tab protrudes from the rear of the bolt shroud when ready to fire. The five-round, double-stack polymer magazine clicks into the rifle positively, the magazine releasing and popping out without jiggling with the push of a streamlined, knurled button located just in front of the magazine.
The CZ 600 Range's stock is a substantial laminated-wood design including a heavily stippled and hugely ergonomic vertical grip mirroring the design once found on the CZ Model 527 Varmint MTR. The stock also includes three large cooling vents underneath the forearm, and a quick-adjust comb height riding on twin steel rods. The tool-less comb height adjustment is controlled via a hinged finger tab, which folds flat into a milled divot when not in use. The comb must be dropped flush into its cutout to remove the bolt, though it does not interfere with bolt cycling while set in a higher position. The forearm holds dual sling studs up front, and a five-slot length of Picatinny rail for a rear monopod is found on the bottom flat of the butt just behind the incorporated butt-hook. The Picatinny rail ridges seem to be molded from a polymer material. A thick and very soft recoil pad is provided. QD sockets are installed front and back on both side flats. The stock provided a 14.6-inch length of pull – my ideal, but perhaps too long for smaller shooters. The barrel is thoroughly free-floated.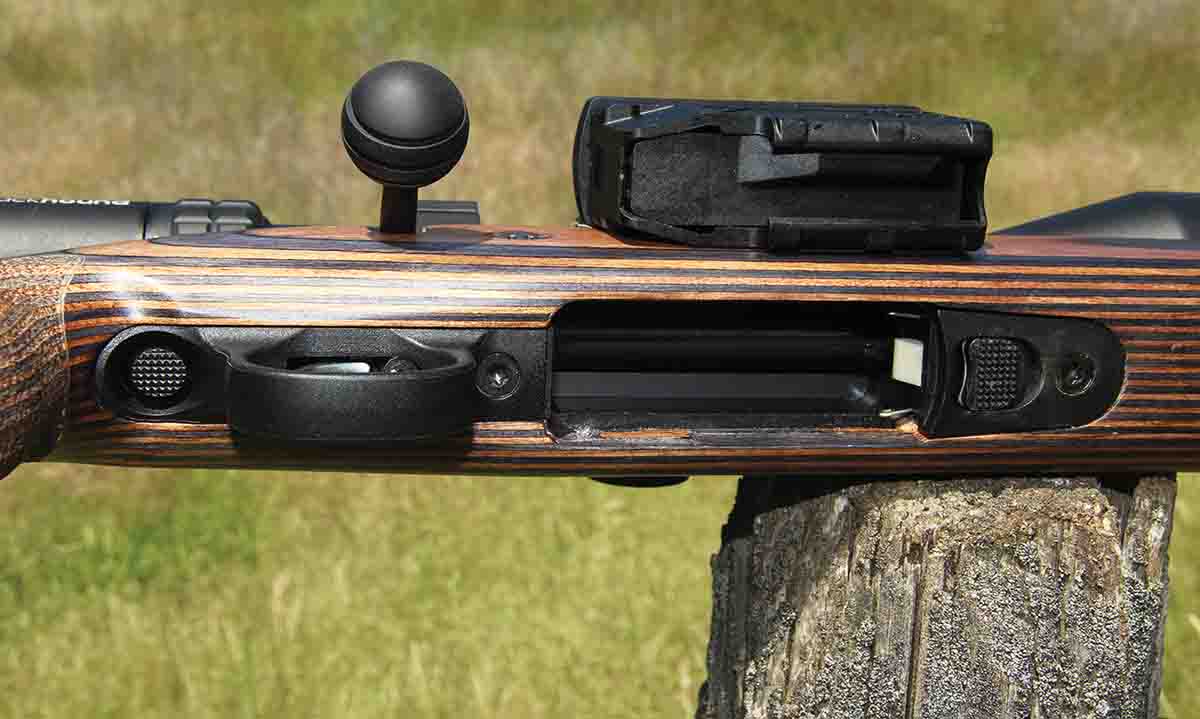 To the 600 Range's provided top Picatinny rail was added a first focal plane (FFP) Blackhound Optics Emerge 4-32x 56mm rifle scope set in 34mm Leupold PRW2 Precision Fit four-hole rings. This high-powered turret scope proved a perfect pairing, bringing the finished rifle weight to a rock-steady 13.95 pounds (the rifle weighed 10 pounds out of the box). You'll find all the details on this interesting rifle scope in my "A Rifleman's Optics" column in this issue of Rifle.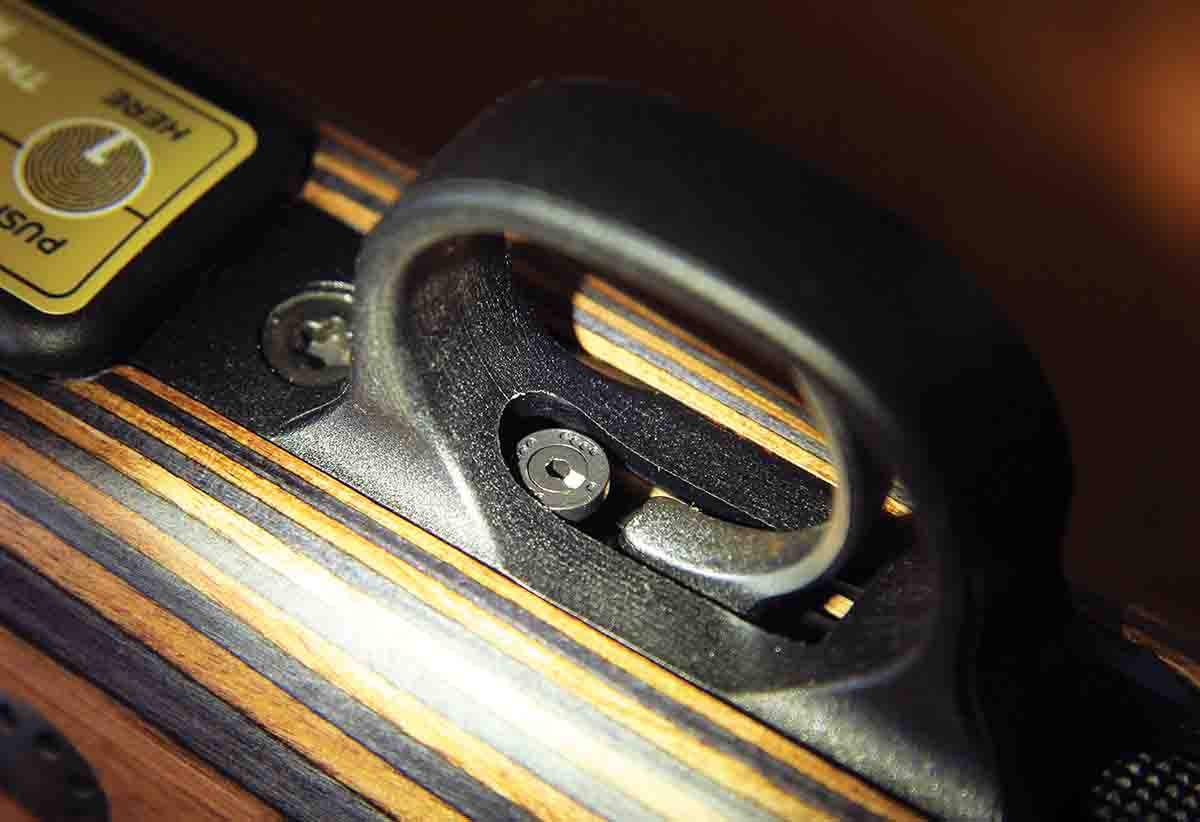 This is obviously not a mountain rifle. As the label hints, the 600 Range was made for poking holes in paper or banging distant steel, though it would certainly serve well as a precision western "Sendero" or eastern "Bean Field" rifle, or any hunt including easily-accessed stationary positions overlooking vast surroundings with the potential for long pokes. This is especially true given CZ's sub-¾-inch accuracy guarantee (five shots at 100 meters using match-grade factory ammunition) – the best offered by the company to date.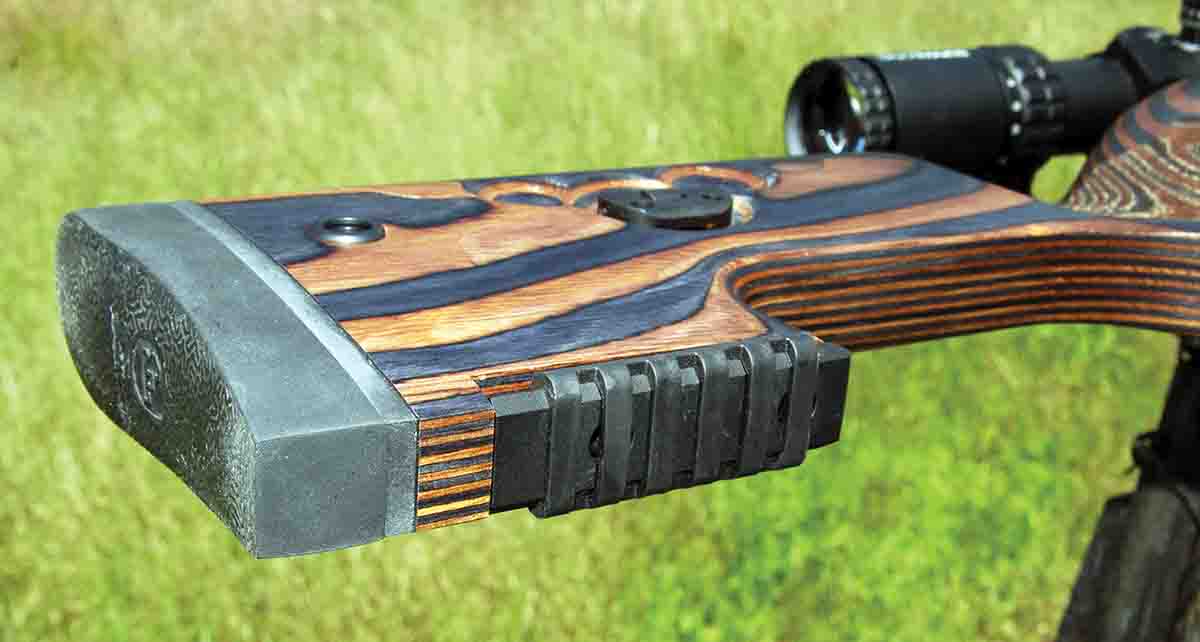 The test 600 Range was chambered in the venerable 308 Winchester, but is also offered in 6mm Creedmoor with a 1:7 rifling twist. Though I find any cartridge formed from the 308 Winchester parent case vastly more interesting, the 308 Winchester is nonetheless inherently accurate – usually a suspect assertion, but apt in this case. Of course, the round is very popular, given its versatility, as evidenced by the selected loads – serving for varmint shooting, big-game hunting or long-range target duties.
Because I don't own a 308 Winchester, I bummed handloads tailored for a heavy-barreled custom target rifle from my father – who is a fan of the cartridge. These included a Speer 125-grain TNT varmint load, a Sierra 150-grain MatchKing benchrest load, A Sierra 165-grain GameKing HP for deer and a Hornady 168-grain Match BTHP long-range steel banger.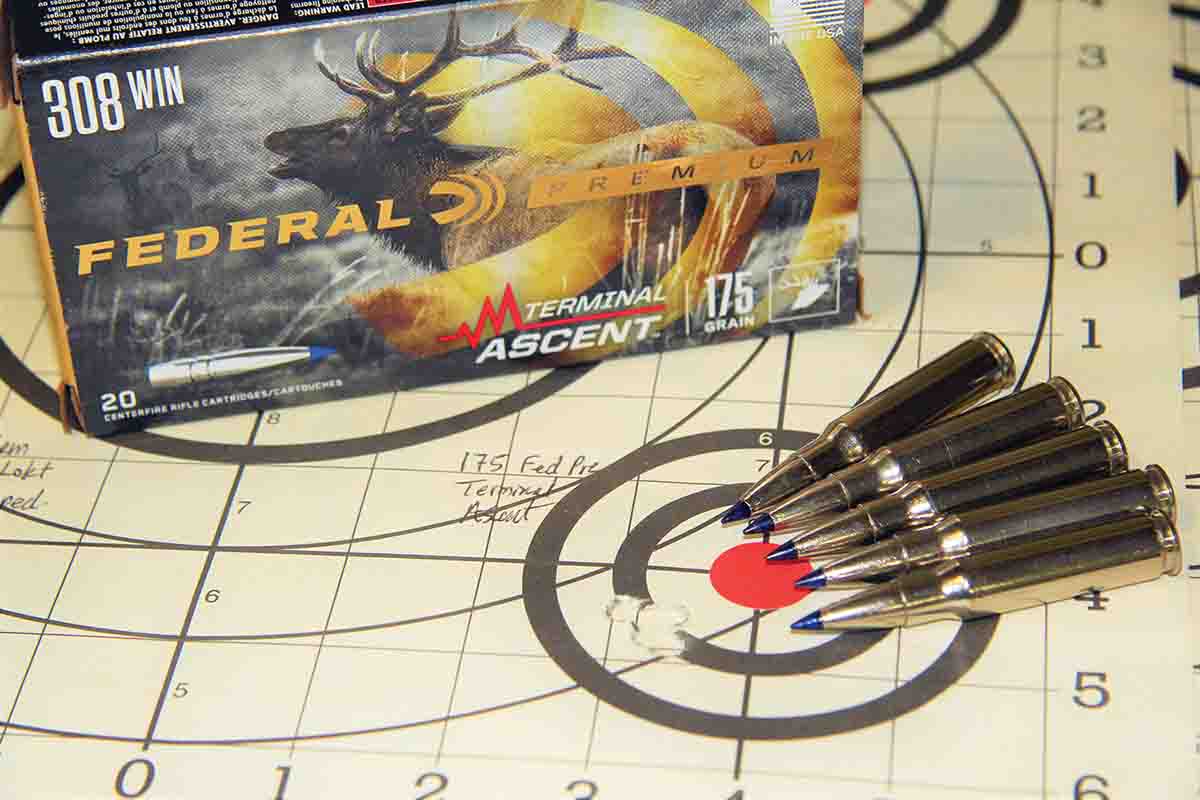 Factory ammunition for the 308 Winchester obviously offers a mega variety and is always easy to find, even during ammunition droughts like we have been experiencing. That is another of the round's selling points – my father had some 147-grain M80 military ball on hand that was picked up at a gun show. To those loads, I added an American Eagle 150-grain FMJ BT plinker rounds, generic Winchester 150-grain Power Point softpoints, Nosler 165-grain AccuBond Trophy Grade, near-prototype Remington 172-grain Premier Long Range 172-grain Speer Impact BT and Federal 175-grain Premium Terminal Ascent big-game loads.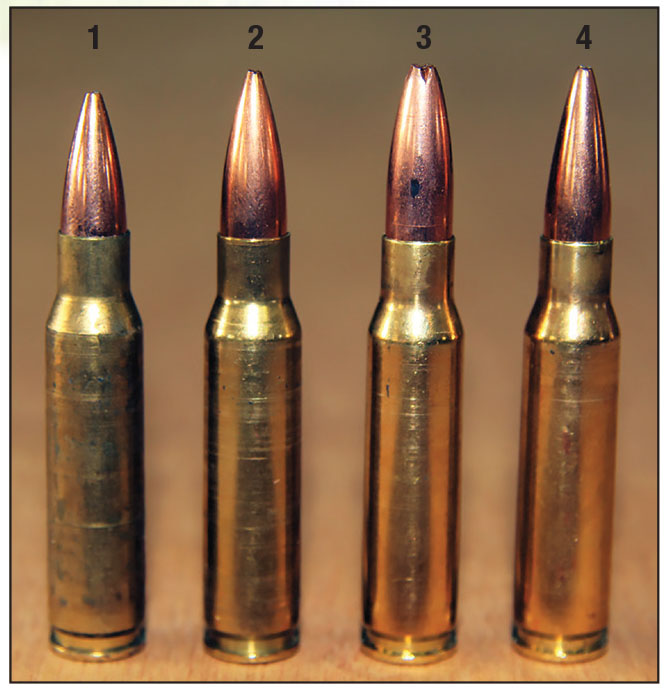 Except for the 125-grain varmint load, all handloads met CZ's ¾-MOA five-shot, 100 meter (I shot at 100 yards), with the rifle especially liking the Sierra 150-grain MatchKing with 41 grains of Hodgdon 4895 and Hornady 168-grain Match with 41.4 grains IMR-4064 combinations. Most of the factory rounds tested did not meet that standard, usually due to a single flier. The single exception proved Federal Premium's 175-grain Terminal Ascent load. That factory ammunition assembled a sub-½-MOA group, sent at 2,592 feet per second (fps) with low extreme velocity spreads.
The 600 Range is an interesting development in rifle evolution. I would be thrilled to see a 600-series mini-action in the vein of the old Model 527, but whether that dream will ever come true is left to be seen. The 600 Range is a solid rifle ideal for the pursuits already outlined and especially given its sub-$1,300 manufacturer's suggested retail price.