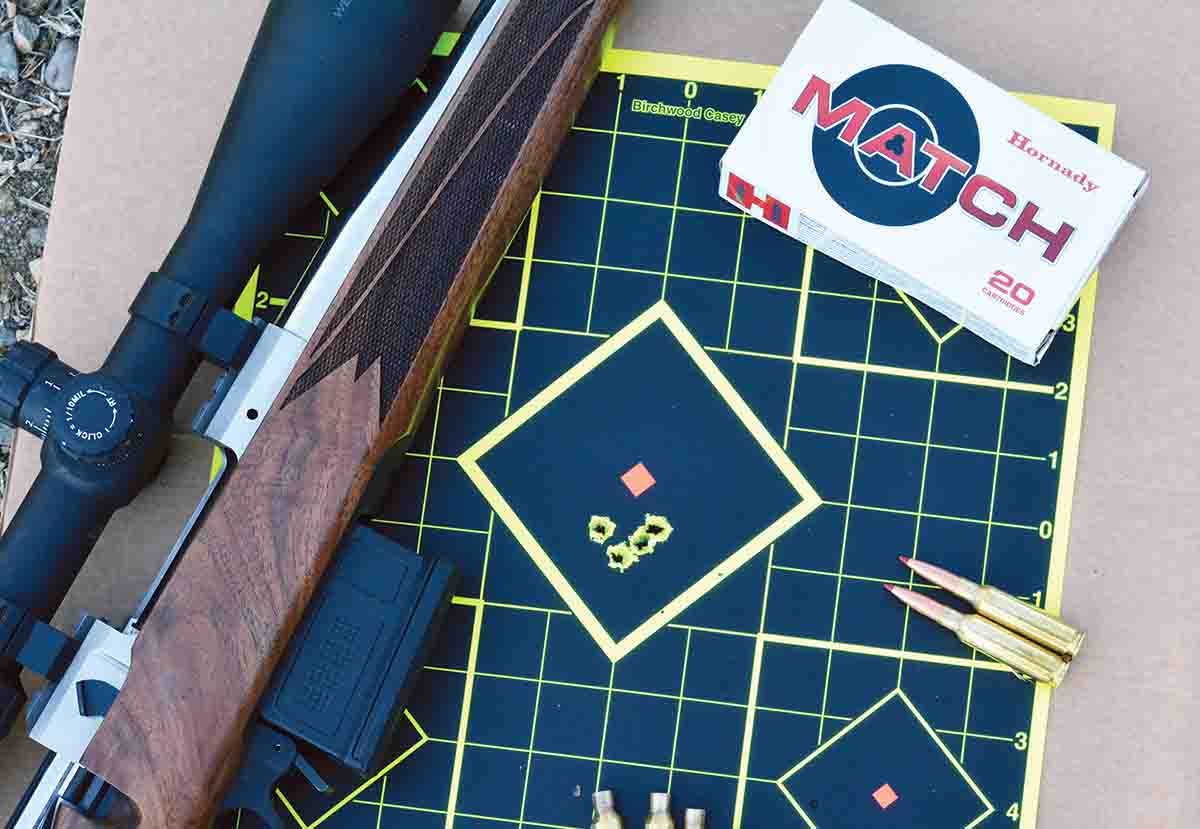 Eight years ago, I was invited to Hornady Manufacturing's facility located in Grand Island, Nebraska, wherein several new products were unveiled. Most notable was the revolutionary "Extremely Low Drag eXpanding bullet, better known as ELD-X. Naturally, nondisclosure agreements were signed that kept everything confidential until October 27, 2015, when this new bullet was formally introduced.
This plant visit was not casual, as the engineering staff, along with my old friend, Dave Emary (who at that time was a senior ballistics scientist), marketing personnel and even Steve Hornady, presented how and why this new bullet was developed. The details of their testing were first revealed in a classroom setting with data, test results of previous expanding designs and ultimately, the features of the new bullet.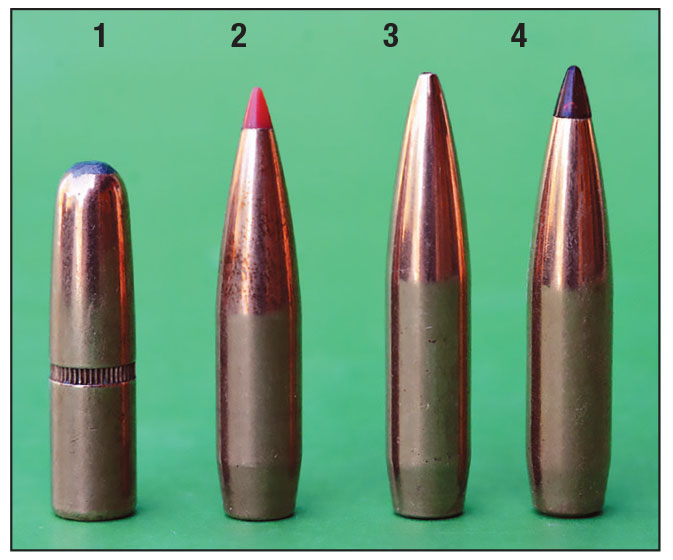 Next, we went to the lab, wherein considerable scientific testing occurred that included how the bullet's ballistic coefficient (BC) was maximized and drag minimized, long-range testing (both controlled and on the range), downrange velocity and different barrel twist rates. We observed the testing in ballistic gelatin at velocities from 1,600 to 3,000 feet per second (fps) and made considerable notes regarding the tissue damage, expansion, penetration and weight retention. On the last day, we spent time shooting at long-range distances with a variety of rifles chambered for several different cartridges, but all were .308-inch caliber as that was the only ELD-X bullets fully developed at that time. After several days of seeing firsthand almost every performance aspect of this remarkable bullet, it was clear that Hornady had developed new and significant bullet technology that would make a huge impact with accuracy-minded shooters, hunters and even long-range competitive shooters.
Development of the ELD-X (and later ELD Match) bullets began in 2012, at the request of company President Steve Hornady. He and his staff are very much in touch with industry trends and he was bothered that his company did not have a bullet to compete directly with some of the competition that was producing some excellent long-range bullets. However, most of the competition was producing long-range match bullets or long-range hunting bullets. Steve wanted a bullet that would not only do both, but would be superior in either application.
It was not an easy task to develop a new bullet that was ideal for hunting, offer controlled expansion at any practical distance and still perform equally or better with the best match bullets at extreme long-range. The road to success had many twists, turns and was rocky to boot! Several times during its development, the engineers thought they had puzzling matters figured out and ready to announce the new bullet, but with additional testing, they were forced to cancel and return to the drawing board at the last minute in an effort to ultimately achieve perfection.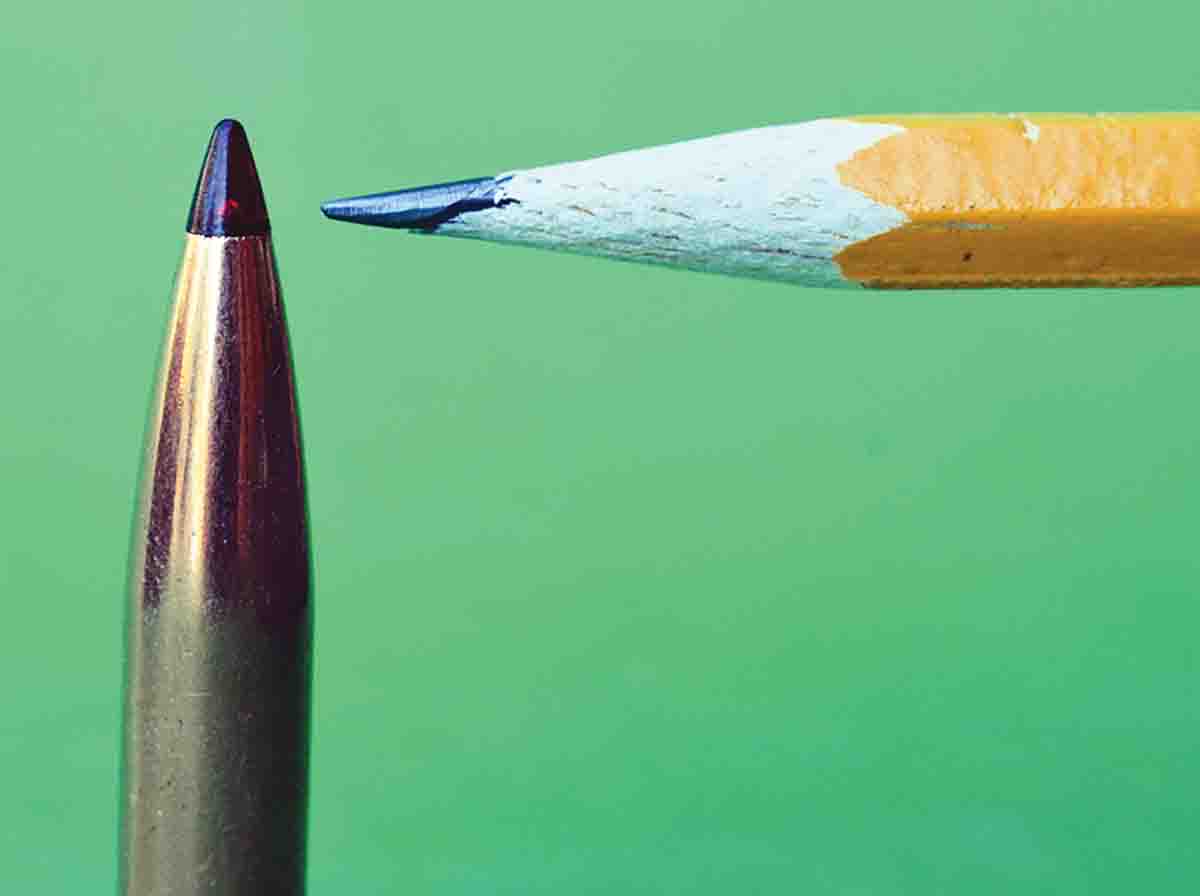 After some frustration due to varying test results, Hornady departed from traditional bullet testing methodology that usually involved calculating performance after being checked at specified distances, which can give less than perfect results. At this point, in 2014, Hornady invested in Doppler radar that was used to track the bullets entire flight and served to develop proper aero design. This precise measurement system tracks the flight of the bullet every 1 to 2 feet and virtually eliminates the variables. But this also proved to be extremely revealing regarding the flaws with traditional test methods.
For example, most bullets (even competing bullets) had BCs that were technically inaccurate, especially when distances exceeded 300 yards. In many instances, they were 6 to 15 percent below stated figures. As any long-range shooter will attest, this will result in a complete miss at extended distances if the shooter is relying on the BC figure to calculate bullet drop.
Before proceeding on that note, it's important to point out that one of the goals in developing the ELD-X bullet was that it featured a plastic tip. This serves several purposes, including facilitating expansion at a wide range of impact velocities, but especially lower velocities. Plus, a tipped bullet is much easier to manufacture with virtually zero BC variance from bullet to bullet, which is a critical element for long-range shooters. The tip also prevents the bullet from being battered when in the magazine and subjected to recoil. By contrast, hollowpoint match-style hunting bullets pose several problems, including variable bullet length and BCs, and they often fail to expand reliably at longer distances (and low velocities) due to the lack of an expansion facilitator.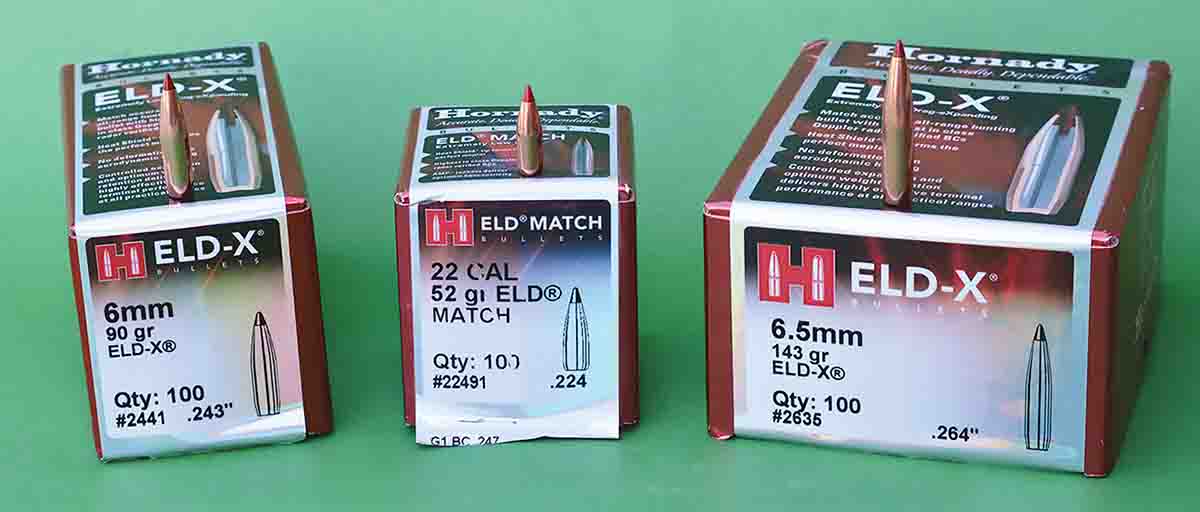 One of the more puzzling items discovered with Doppler radar was the changing (or decreasing) BC at longer distances. In Dave Emary's words, "Why and what would change the bullets BC and show abnormal drag coefficients during flight?" Like virtually every other bullet manufacturer offering plastic-tipped bullets, Hornady was using an industry standard polymer tip. That was the culprit. As the sustained heat associated with shooting long, heavy-for-caliber bullets, with high BC and low drag, muzzle velocities around 3,000 fps and fired at long-range were actually causing the tip of the bullet to melt. This is known as aerodynamic heating. In this instance, temperatures of the bullet were actually reaching above 320 to 345 degrees Fahrenheit, which is the melting point of the above polymer tips. Additional testing indicated that the temperature of the bullet was actually reaching in excess of 800 degrees, which the polymer tip could withstand, but for only a very brief moment. In other words, at longer distances, it would suddenly melt and instantly change the BC and drag coefficient. As a result, a new proprietary synthetic material was obtained that would withstand the above sustained temperatures and still facilitate expansion, which Hornady refers to appropriately as the Heat Shield Tip. (Note: the above testing does not make polymer tip bullets obsolete, as they still offer proper performance for the majority of varmint and big-game hunting bullets.)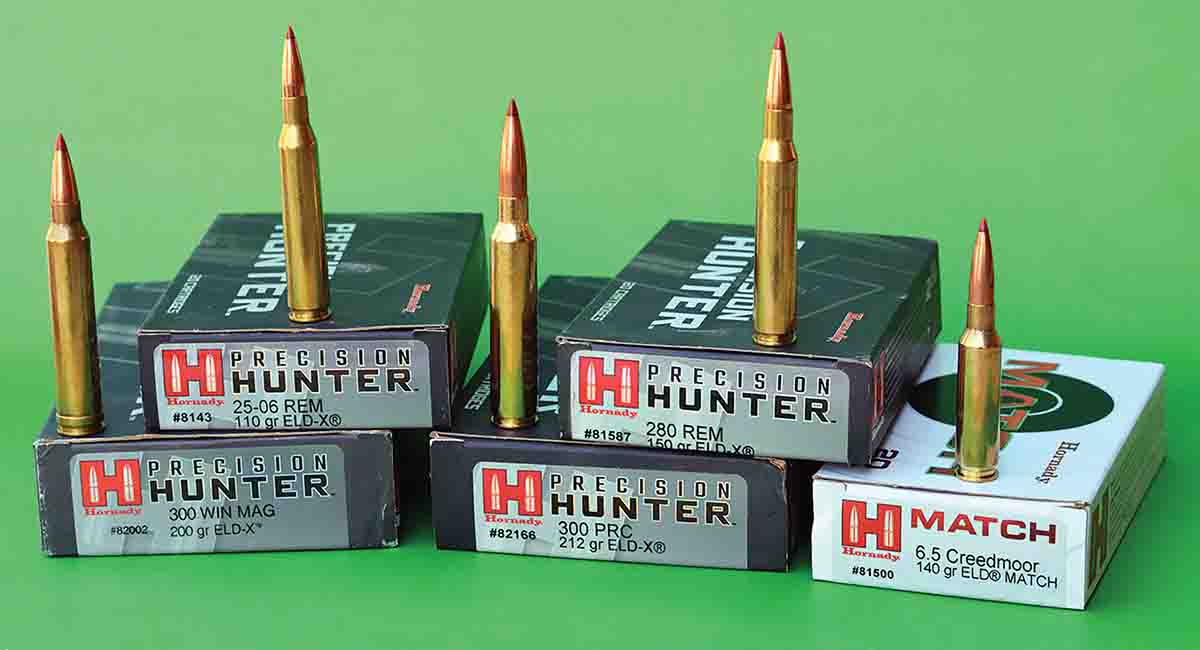 Once again, Hornady ballisticians had to reengineer a new long-range bullet that would become known as the ELD-X. Incidentally, in addition to the Heat Shield Tip, the new design included a secant ogive and optimized boat-tail that offers especially high aerodynamic efficiency – probably the highest in the industry. The Heat Shield Tip is larger giving it greater heat capacity, but the tip's shank is also larger and meticulously engineered to aid with reliable expansion at low velocities. Plus, the jacket is Advanced Manufacturing Process (AMP) that boasts of virtually perfect concentricity and zero wall thickness variances. The jacket's shank is unusually thick and the lead core features Hornady's proven Interlock control expansion ring that serves to keep the jacket and core together during expansion. At closer ranges, retention weight is usually around 60 percent, which I have witnessed on both moose and elk, but at long-range, the weight retention is usually 85 to 90 percent.
Wound channels are always very impressive. In test mediums at 150 yards (simulated), the .30-caliber 200-grain ELD-X expansion is in full swing within a couple of inches of entry, and penetration is usually around 20 to 22 inches, but at long-range (with lower velocity impact speeds) penetration increases up to 24 inches. The amount of devastation to the soft tissue is impressive, especially considering the depth of penetration. In the years since, this same performance has been observed in the field on deer, elk and moose. Hornady stated that expansion is reliable at velocities as low as 1,600 fps, but indications are that it is probably as low as 1,400 fps.
At extreme long ranges, engineers report a .20- to .30-MOA improvement in accuracy (from machine testing) over their own conventional polymer-tipped bullets. Examples of the unusually high G1 BC of .30-caliber ELD-X bullets included the 178 grain .545, 200 grain .626, 212 grain .673 and 220 grain .650, while the 225-grain ELD Match boasts of a whopping .730.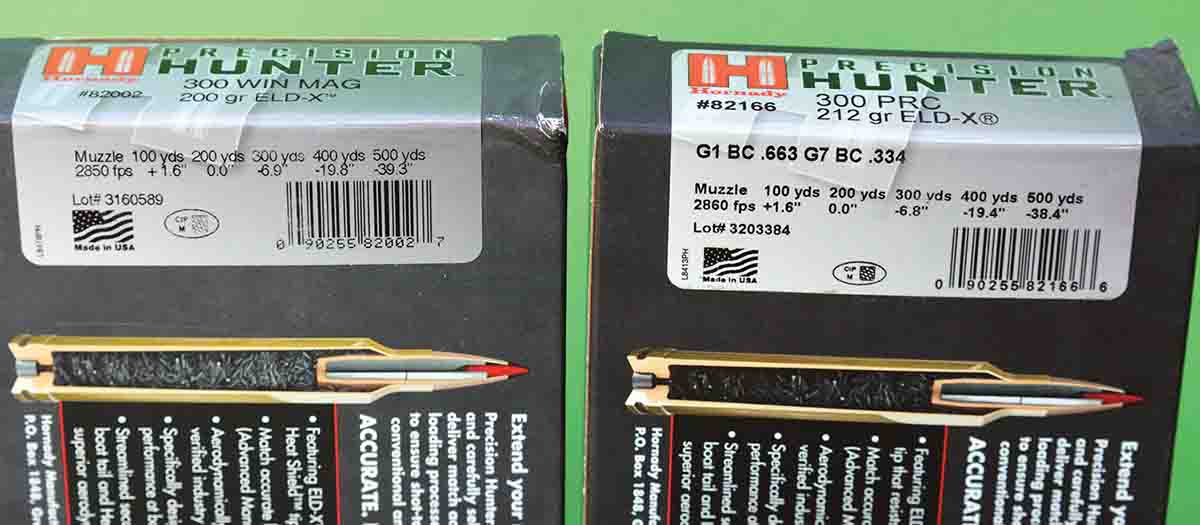 In the years since its introduction in 2015, Hornady has expanded the ELD-X product line to include every practical caliber and bullet weight option ranging from .22 to .338 inch and as new calibers and twist rates are offered, Hornady is certain to add any practical need that might arise. Also, Hornady has developed the ELD Match bullets that share the same technology as the ELD-X, but are offered in purpose-specific weights. In addition to offering ELD-X and ELD Match bullets as a component to handloaders, Hornady offers each in the Precision Hunter and Match ammunition product lines.
I am in a unique position to work with a huge variety of modern rifle bullets in many different calibers. The ELD-X always offers top-notch accuracy. However, it must be used within the velocity window that a particular bullet was designed to operate. For example, the muzzle velocity of many large-capacity magnum cartridges has the ability to push long, heavy-for-caliber bullets to velocities higher than the ELD-X was intended, which will cause stabilization issues and poor accuracy. To discuss the ideal velocities and barrel twist rates for a given caliber and bullet weight would take more space than we have here. Rather, it is suggested to study the velocities offered in Hornady factory loads. A great resource for handloaders is to study suggested velocity ranges for each bullet as presented in the Hornady Handbook of Cartridge Reloading.
Over the past eight years, the impact (pun certainly intended) of the ELD-X bullets with shooters and hunters has been huge.