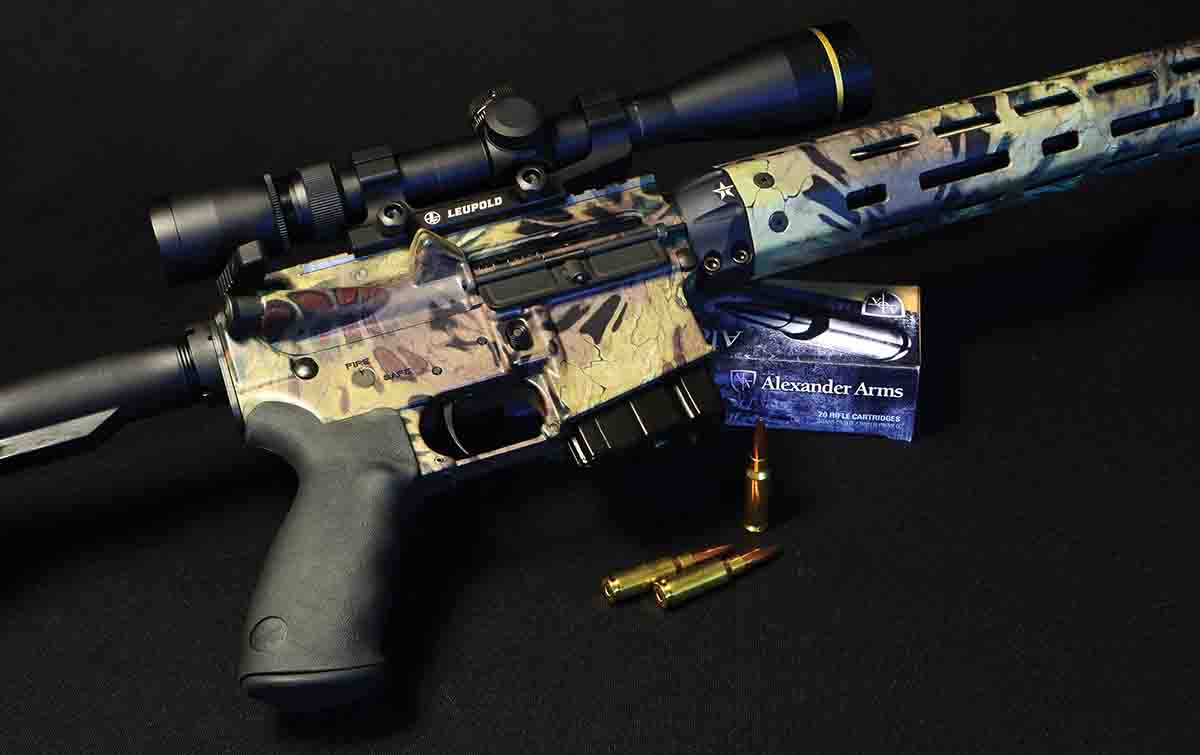 A half-dozen years ago, I drove down to Mississippi to take part in my first serious pursuit of feral hogs. In the past, I have hunted them, one at a time, here and there, using everything from a S&W .41 Magnum to a light-loaded .450 Ackley. Since then, hogs have become a pest of such monumental proportions that landowners are using everything from helicopters to machine guns to reduce the numbers. To put it mildly, the gloves are off.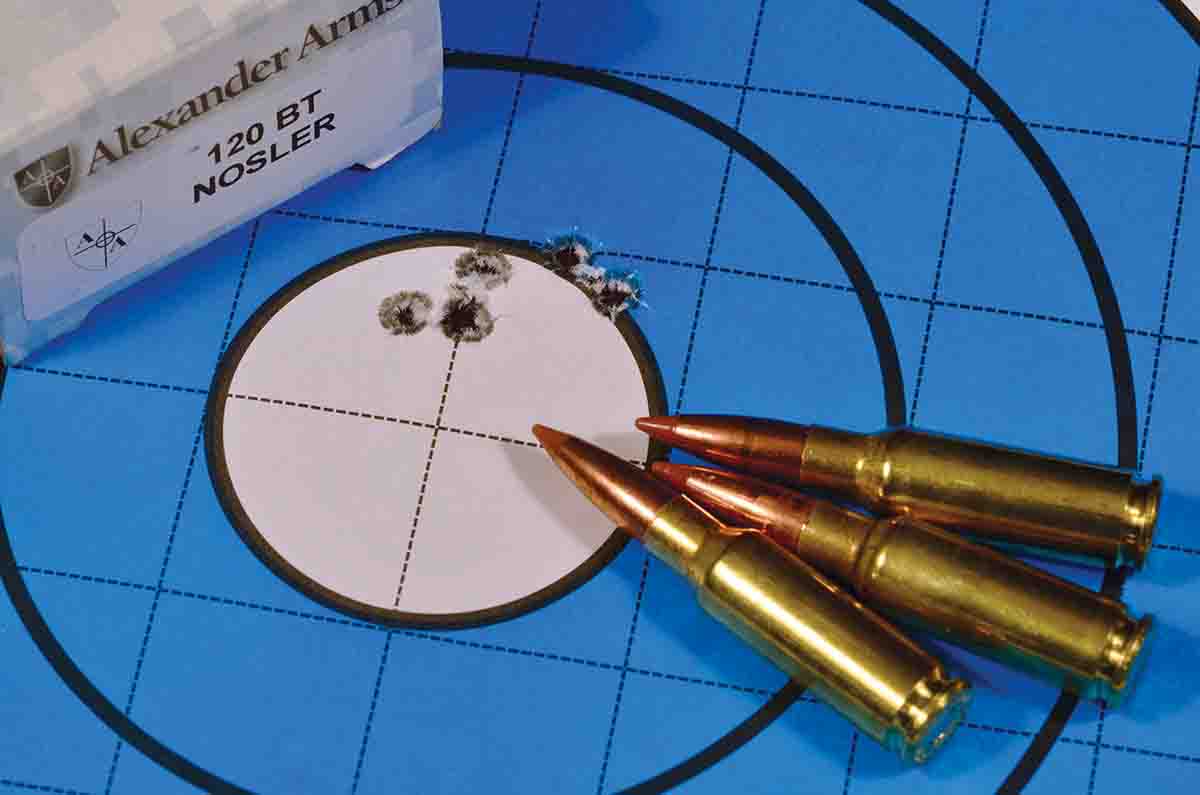 What I found when I reached the Mississippi Delta, however, was still a surprise: To a man, the feral-hog hunters were dressed head-to-toe in camouflage, faces painted, and all carried AR-15s ranging from what appeared to be standard military issue to the most exotic custom jobs arrayed with Picatinny rails, night-vision scopes and tactical flashlights. Most of them had 30-round magazines, taped together like we used to do with magazines for the Sterling submachine gun. We slept by day and hunted by night, and there were no holds barred.
When I got home, I contacted Alexander Arms and asked if I could get a couple of its AR variants to try. The company sent two – one in .223 Remington, the other in its own nifty little .26-caliber 6.5 Grendel. Both had the usual complement of Picatinny rails, no iron sights, and collapsible buttstocks. Both worked well, were more than adequately accurate with factory ammunition and functioned the way a tactical semiauto should. Neither, however, stole my heart.
Long before that, I was involved in a project for the 50th anniversary of another magazine, and had the bright idea that an AR could be fitted with a nice walnut stock and made to fit the image that the National Shooting Sports Foundation (NSSF) wanted to present: what it calls a "Modern Sporting Rifle." With that in mind, I put together a little consortium that consisted of a gunsmith, a stock maker, a supplier of high-quality walnut and a maker of basic ARs.
Together, we created an AR in the image of a traditional custom hunting rifle. The bluing was beautiful, the walnut was stunning, the overall effect exactly what we were aiming for, and it graced the cover of the 50th anniversary issue. The rifle was then donated to the NSSF to be auctioned off, with the proceeds going into its rifle-defense fund.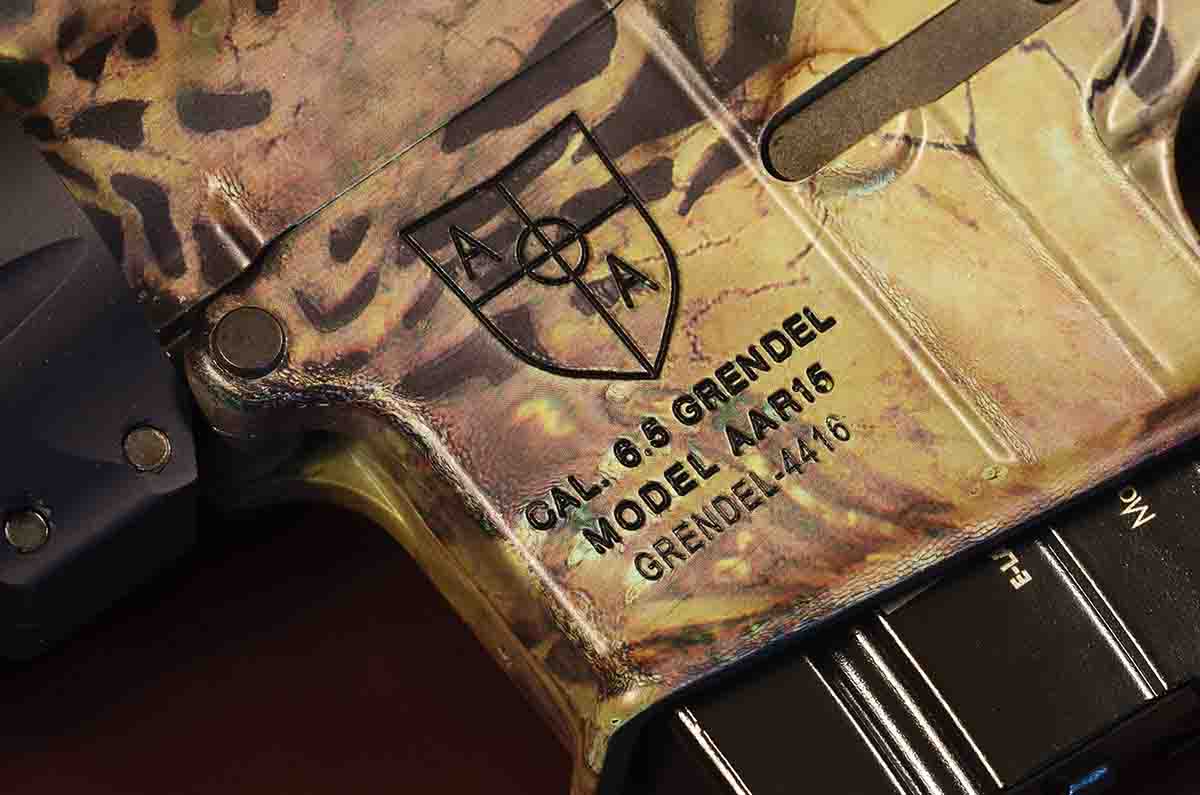 If I expected that example to cause a rash of wood-stocked ARs to flood the market, with riflemakers hollering "Eureka!" I was wrong. That was 10 years ago, and in the ensuing decade not a single wood-stocked AR did I see.
Not, that is, until I visited the Alexander Arms booth at the 2019 NRA convention, to find not one but two rifles – one stocked in nice walnut and the other in a wood laminate. Another variation was fitted not with wood, but with one of the nicest camouflage flavored composite stocks I've seen in a long time. These days, more new hunting rifles come stocked with composite than wood, so that was no surprise. However, this particular composite stock has been designed and refined with the demands of hunting in mind.
There is little that can be done to minimize the noise of a semiauto, but Alexander Arms has really made an effort. The composite stock is very ergonomic in the sense that it fits the hands both nicely and naturally, with no sharp edges to inflict cuts and an absolute minimum of protrusions to snag on clothing or branches.
If I have one major complaint about ARs, aside from their noisy aspect, it is the proliferation of sharp edges and corners that cut fingers, snag clothing and make them generally uncomfortable to shoot. The Alexander Arms Hunter is as comfortable to shoot as any semiauto I've ever encountered, and far more so than most.
The rifle I was sent was, happily, chambered for the 6.5 Grendel, which has been one of my favorite cartridges since I shot that first Alexander AR in 2014. This remarkable little cartridge was designed by Bill Alexander, an armourer for the British armed forces who founded his company in 2001. The manufacturing plant is located on the grounds of Radford Arsenal in Virginia.
The name "Grendel" causes a few raised eyebrows among those who have not studied Beowulf, which includes 99.9 percent of people under the age of 70. Beowulf is an ancient Norse saga dating from around 975 A.D. The eponymous hero slays a monster named Grendel who is attacking a Danish kingdom.
Bill Alexander called on both names in designing two cartridges: First, in 2001, came the .50 Beowulf. It was followed two years later by the 6.5 Grendel. Both are tailored to fit the standard AR, not the larger AR-10 suited to the 7.62x51 NATO. The .50 Beowulf has proven itself an admirable deer and hog cartridge, while the 6.5 Grendel – more compact than the 6.5 Creedmoor, which appeared in 2008 – is a great little all-purpose cartridge anywhere from 40 to 400 yards. It is asking a bit much of it to do anything but perforate paper beyond that, but considering how well it fits in the AR, it is several cuts above the traditional .223 as a hunting cartridge.
When Bill Alexander set up his company, it was intended initially to produce ARs in .50 Beowulf and .223 Remington. The 6.5 Grendel followed a couple of years later. With those three cartridges, however, he had pretty much covered the potential of the diminutive AR-15. As for the rifles themselves, his professed goal was to make a rifle that was as good as an AR could be made. This goal of quality included dependability and accuracy, which are both essential in a rifle on which someone may stake his life.
The 6.5 Creedmoor is, hands down, the most successful cartridge to be introduced since 2000, and probably including a few years before that. It was created by Hornady Manufacturing, a company known for its innovations in both bullets and cartridges. At the time the Creedmoor came along, its vice president was Wayne Holt. He left the company and moved over to Alexander Arms, where he is looking after sales and marketing as well as, I suspect, a lot of product innovation.
At the NRA convention, Holt was reticent as to whose idea the new hunting models were, but I expect he had a major role in it. He certainly spoke about them with a great deal of pride. Wayne and I have both been around long enough to qualify as old school, if not old, old school. We are both lifelong big-game hunters with remarkably similar ideas as to what, exactly, constitutes a great hunting rifle.
Turning the AR into a genuinely good (not just adequate) hunting rifle requires some effort. The first step, of course, is to offer something other than .223. I know a lot of deer have been killed by .223s, but in all probability, I suspect at least as many have been wounded and never found. With feral hogs, wounding and losing animals is not the same consideration as it is with whitetails, where questions of hunting ethics and fair chase are front and center. When you are protecting crops – that is, your livelihood – you don't worry about sporting ethics. That, however, is an aside.


Both the 6.5 Grendel and the .50 Beowulf provide seriously better hunting capability in the standard AR, and both are likely to put a pig down where it stands than allow it to escape, perhaps to root, grub, and breed some more.
While the noisy operation of an AR cannot be eliminated, it can be minimized. One way is to machine and hone its internal parts to allow it to work smoothly and quietly while being eased into position. My friends in Mississippi all carried their ARs inside the truck cab, with a round chambered. It wasn't my truck, but it gave me the willies all the same. On our first encounter with a pig, I got out of the truck and was still trying to chamber a round when my two companions opened up on a running sounder of hogs, making desperately for the woods from the bean field where we'd surprised them. Danny rolled two, Eddie dropped one, and I got . . . none.
With the new Alexander Arms Hunter, I tried easing the breechblock closed, chambering a round at the same time, to see just how easy it was, and how noisy. In fact, it would close almost every time without assistance from the thumb-piece that Armalite (or Colt) put there years ago to help clear partial jams. When it did hang up, it required minimal pressure on the thumbpiece to ease it the rest of the way.
Another aspect of noise is the echoing reverberations that are set up with the average composite stock. I first noticed this with bolt-action rifles fitted with early fiberglass stocks 30 years ago, and the effect is magnified with any spring-operated semiauto. The wood stocks of the Alexander are definitely quieter, but the more ergonomic composite hunting stock seems to be quieter as well.

You might think, in this age of lasers and CNC machines, that there is nothing to making a wood stock for an AR, but I can tell you, based on my experience 10 years ago, that it is difficult indeed. Once you have the design, a composite stock can simply be cast in a mould and the parts fitted together like a jigsaw. Not so with wood. Once you've completed a workable pattern, it is not a simple matter to duplicate them. Laminates (which I personally like very much) not only have all the difficulty of working in wood, their glue and cross-grained structure can turn cutting tools into scrap metal. For my money, a laminate would probably be the overall best choice for an AR stock from the point of view of durability, accuracy, stability and silence, and Alexander Arms deserves credit for even attempting it.
Usually, the first question anyone asks of a rifle like this is, how accurate is it? The accompanying target, fired at 100 yards with one type of Alexander Arms factory ammunition, shows what it can do. This is not to say all types of factory ammunition performed as well; it did not. Some was not what I would call even hunting accurate if you are talking about anything beyond 200 yards, but all of it would be more than adequate for hogs or deer at 100 yards.

The 6.5 Grendel is somewhat contradictory in that it is an excellent cartridge for handloading with a wide variety of bullets, but the rifle for which it was intended is not a handloader's friend. First, for proper function and feeding, you need to pay attention to overall cartridge length and power to operate the action. Second, an AR flings empties all over the map, and spending a half-hour on your hands and knees at a busy range looking for cases is not my idea of a way to spend a summer afternoon. But, that's the nature of the beast. There are attachable nets to catch empties, I believe, and the guys on the benches down the row will thank you for doing that.
My overall impression: Next time I go to Mississippi (or Texas) to chase feral hogs, I know what I'll be carrying. The Alexander Arms Hunter is a genuinely nice hunting rifle.