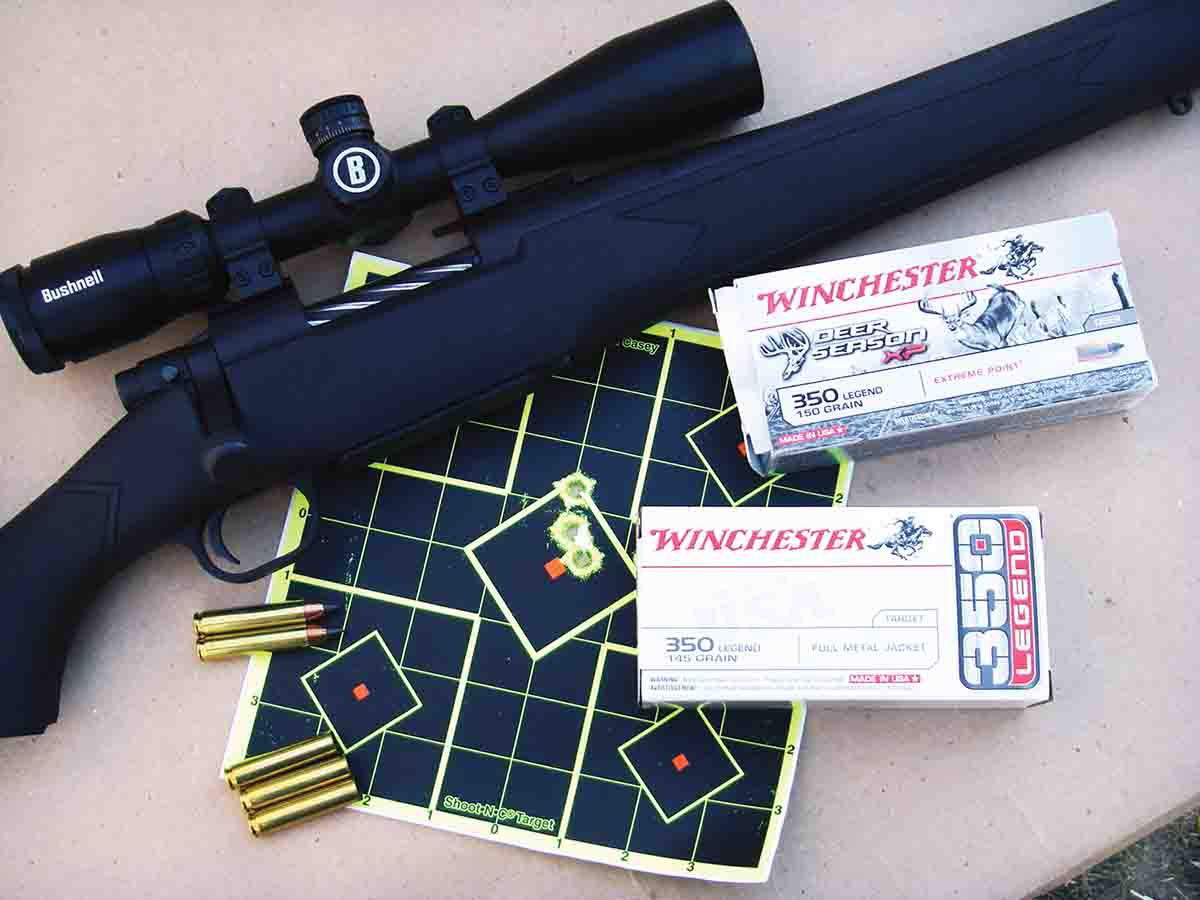 In early 2019 Winchester Ammunition announced a new cartridge, the .350 Legend, which is advertised as the "World's Fastest Straight-Walled Hunting Cartridge." It is designed primarily for deer hunting at moderate distances and is suitable for AR-15 rifles. However, it is also being offered in several bolt-action rifles from Mossberg, Ruger, Winchester, Savage and others, with a Mossberg Patriot used here.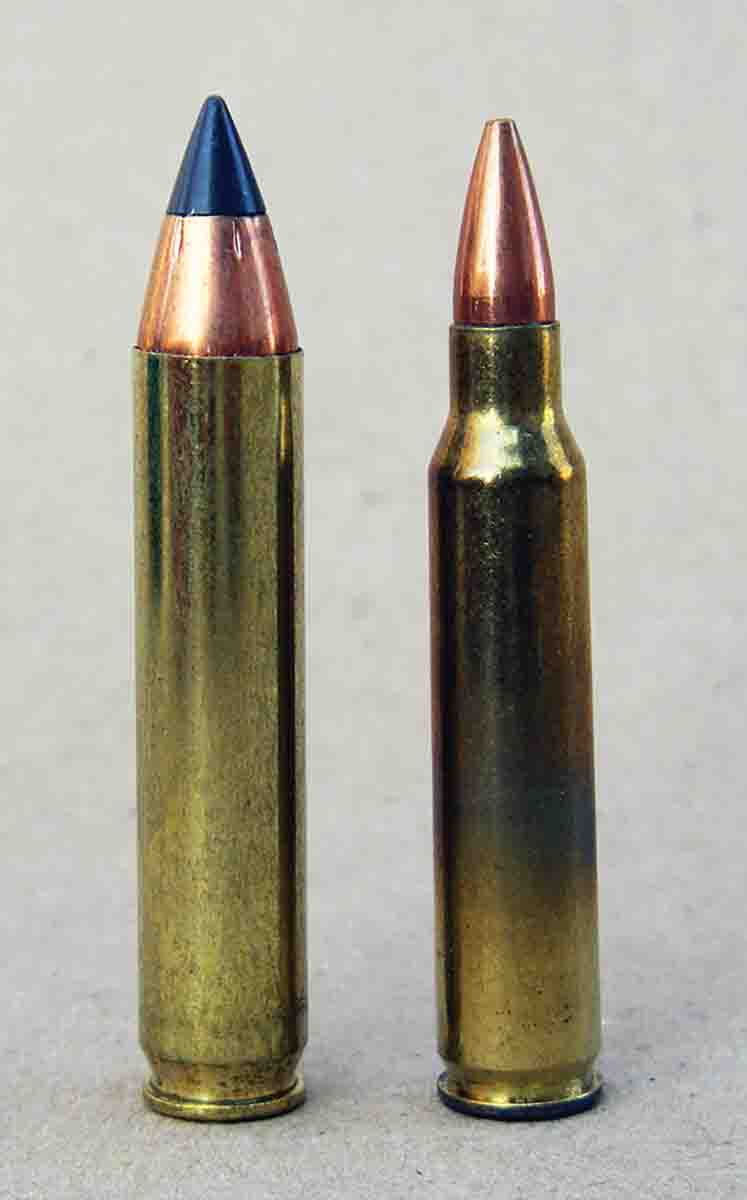 Several loads are available that serve to increase its versatility, including a 265-grain subsonic version, but the most popular loads will contain 150- to 180-grain expanding bullets at advertised velocities of 2,325 fps and 2,100 fps, respectively. The .350 provides similar energy (a term that I don't care for) as the widely popular whitetail deer cartridge – the .30-30 Winchester – while producing approximately 20 percent less recoil than the .243 Winchester (based on measured recoil of 7-pound rifles).
The .350 is based on a .223 Remington case, but straightened to a maximum case length of 1.710 inches, while overall cartridge length is 2.26 inches. Bullet diameter is specified at .357 inch rather than the traditional .35-caliber rifle cartridge diameter of .358 inch (.35 Remington, .358 Winchester, .350 Remington Magnum, .35 Whelen, etc.). However, I pulled bullets from Winchester factory ammunition that included the 145-grain FMJ and the 150-grain Extreme Point (XP), and both measured .355 inch. The Sporting Arms and Ammunition Manufacturers' Institute (SAAMI) specifies that the .350's groove diameter is .355 inch and the bore is .346 inch. I have asked Winchester representatives why the above measurements are not corresponding particularly well, but no accurate responses have been offered.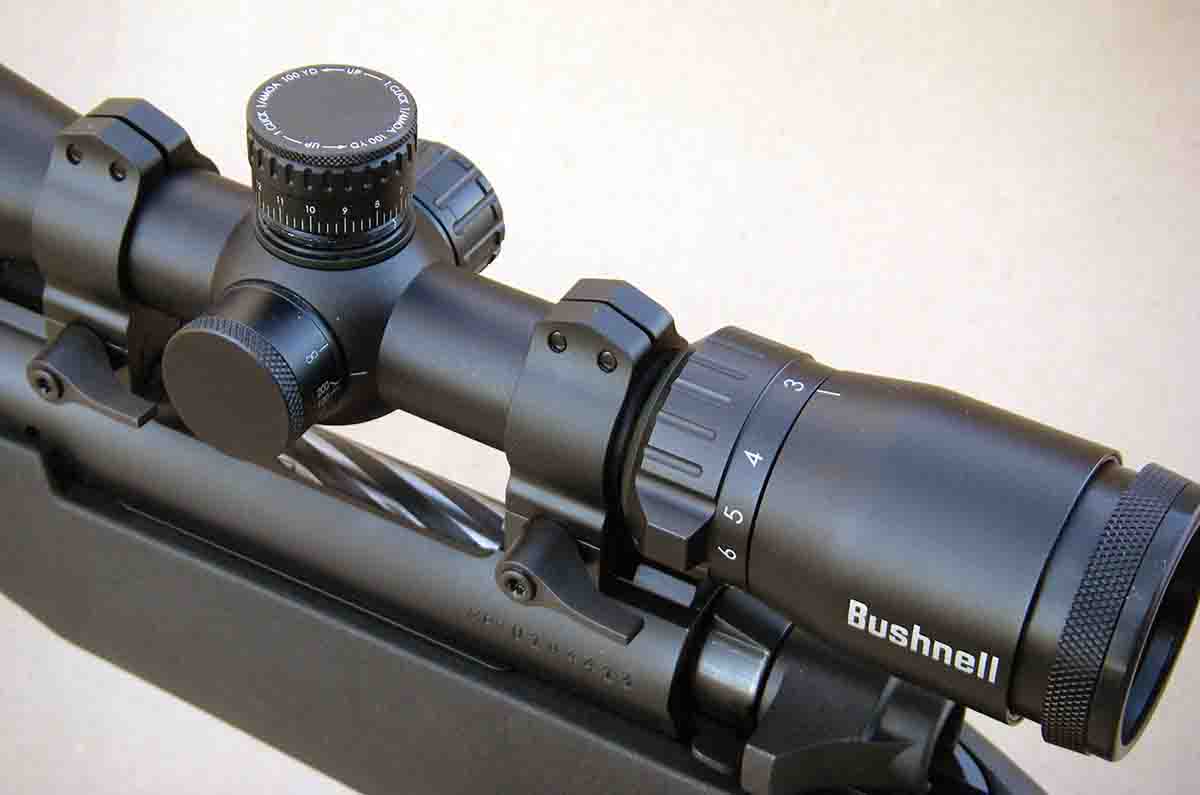 Incidentally, Hornady offers two excellent bullets for handloaders that include a 165-grain FTX and a 170-grain InterLock softpoint, both measuring .355 inch. Other companies are tooling up to offer additional bullets for handloaders. Many 9mm Luger bullets and .38 Special/.357 Magnum bullets do not offer correct construction to be suitable for handloading the .350, and neither will their profile be conducive for reliable feeding (especially in AR rifles).
For clarification, for several reasons it is not practical to consider making .350 cases from .223 brass, but Starline is already producing brass that is available factory direct at (800) 280-6660.
As of this writing, Winchester is offering five factory loads with velocities being advertised from a 20-inch barrel in its catalog: a 145-grain Full Metal Jacket at 2,350 fps, 150-grain Extreme Point XP at 2,325 fps, 160-grain Bonded Rapid Expansion Protected Hollow Point at 2,225 fps, 180-grain Power Point at 2,100 fps and a 265-grain Open Tip Sub Sonic at 1,060 fps. The expanding 150-, 160- and 180-grain loads are expected to be the most popular among deer hunters. The 145-grain FMJ is available as a lower cost practice/target option while the subsonic version will prove interesting for suppressed rifles.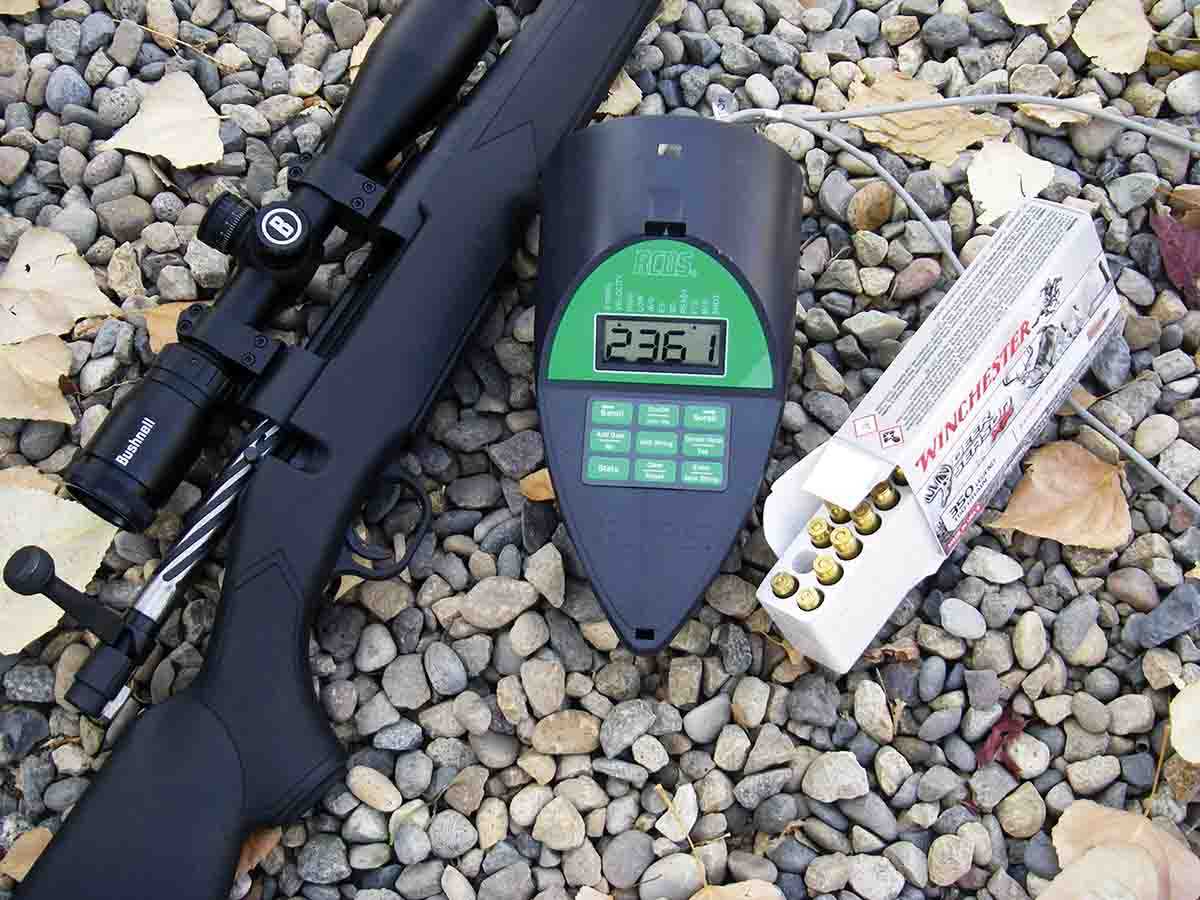 To save confusion, it is noteworthy that Winchester ammunition boxes state velocities from a 16-inch barrel, which is a popular length with AR-pattern rifles. However, those posted velocities are lower than the above listed velocities from the company's catalog. At press time, the only two loads available included the 145-grain FMJ and 150-grain XP.
The Mossberg Patriot is priced competitively and has many desirable features for a hunting rifle. For example, I like the open design of the receiver, which reduces the possibility of cartridge or case hang-ups and allows cartridges to be loaded directly into the detachable magazine without the need to remove it from the rifle. The bolt features traditional, twin forward locking lugs for a 90-degree bolt lift, which is notably smooth and bind free. The bolt body is spiral fluted to further aid smooth function. To better understand how smooth this action is, with the bolt handle lifted the bolt body will slide open when the muzzle is elevated at between 15 and 20 degrees. The bolt head is staked to the bolt body while the bolt face is countersunk and houses a plunger ejector and rotating extractor. The trigger broke at just under 3 pounds and only exhibited slight creep.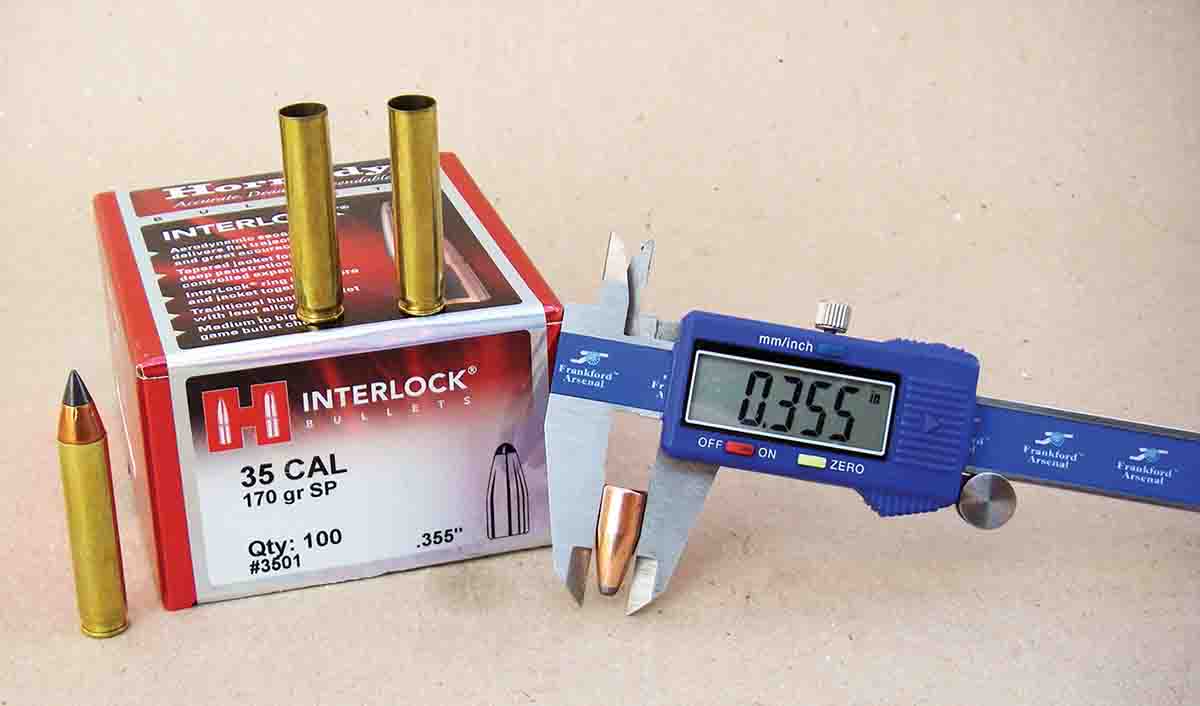 The two position safety is located to the right of the bolt cap, is easily accessible and positive. The bolt can be lifted when the safety is in the "on" position, permitting removal of a cartridge in the chamber without placing the safety in the "off" position. While not large and massive, the bolt stop is adequate to provide reliable service. The barrel is fluted, the crown is cut deep for protection from damage and the twist rate is 1:16. While MSRP is $409, street prices are currently running around $299.
A Bushnell Prime 3-12x 40mm scope was installed using Talley rings on Weaver bases. The scope features target turrets that can be replaced (supplied with scope) and re-indexed back to zero to correspond with a variety of cartridges and varying trajectories. But for the purpose of this article, that feature was not tested; rather it was only sighted in at 100 yards to check the accuracy of the ammunition and rifle.
As expected, velocities of the 145-grain FMJ and 150-grain XP loads were greater than the figures printed on Winchester ammunition boxes when fired from the Mossberg rifle with a 22-inch barrel; 2,354 and 2,356 fps, respectively. The extreme velocity spreads for a five-shot string were 16 fps and 10 fps, respectively.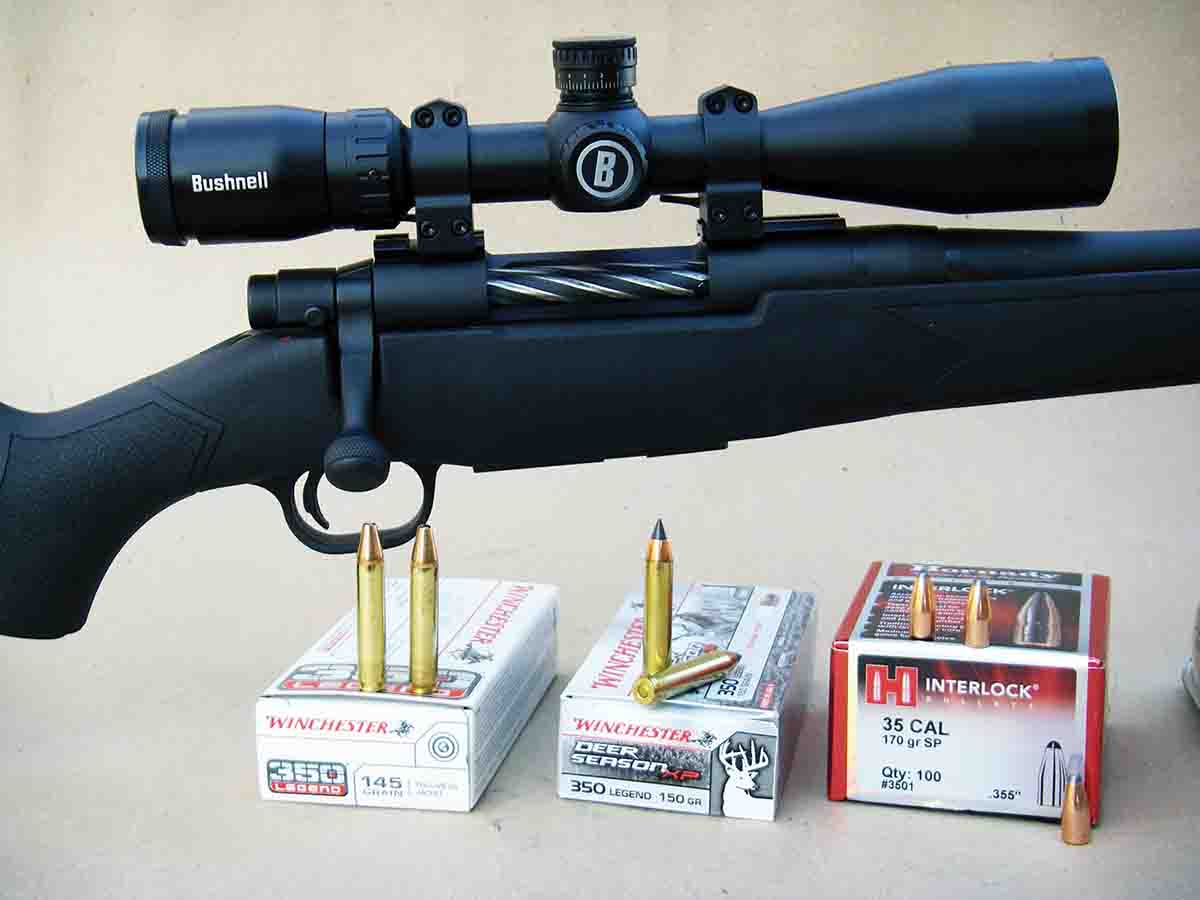 From a bench and with the aid of sandbag rests, three groups were fired with each load, with three shots being fired for each group. They averaged 1.45 inches and 1.10 inches, respectively. This is plenty of accuracy for hunting any deer within this cartridge's intended range limits.
I am always careful when making a comparison of two cartridges; however, it seems appropriate to look at the ballistic similarities between the .350 Legend and the .30-30 Winchester, a popular deer cartridge for 125 years. For simplicity, let's consider only the 150-grain bullet for each. The .30-30 is advertised with a muzzle velocity of 2,390 fps from a 24-inch barrel. However, from the ever popular 20-inch carbine, actual velocity is almost always around 2,200 fps. Depending on manufacturer, this flatpoint, lead tip bullet usually has a ballistic coefficient of around .225. With a 100-yard zero, the bullet will drop 7.6 inches at 200 yards (generally considered maximum practical range for this cartridge), and the 2,390 fps muzzle velocity has dropped to 1,702 fps. If the velocity drops much below this figure, reliable expansion becomes questionable.

As indicated, the .350 Legend 150-grain XP bullet starts with a muzzle velocity of 2,325 fps, and due to the plastic tip offers a BC of .223. This is essentially identical to the .30-30 bullet in spite of its rather light-for-caliber configuration. With a 100-yard zero, the bullet will drop 7.6 inches at 200 yards (identical to the .30-30) and velocity has decreased to 1,647 fps. The commentator in me is quick to mention that the .350 will probably offer a bit more shock due to its larger caliber, but the practical performance differences between the two cartridges are minimal.
Incidentally, some people may have concerns about the low sectional density of a 150-grain, .35-caliber bullet offering enough penetration for deer-sized game. However, it should be noted that Winchester designed the XP bullet with an alloyed lead core and a tapered jacket to control expansion and assure sufficient penetration, while the polymer tip serves to facilitate reliable expansion even at distances of 200 yards.
Essentially, the .350 Legend is intended to serve as a "modern 30-30," but chambered in AR and bolt-action rifles. It offers modest recoil and has an effective range of around 200 yards. It will be interesting to see if modern shooters and hunters find it useful.