Contrary to what many twenty-first century hunters assume, lightweight hunting rifles have been around a long time, from nifty little flintlocks to the carbine models of the Winchester Model 1894 and Mannlicher-Schöenauer Model 1903 introduced more than a century ago. Both carbines weighed about 6 pounds, but many hunters thought the .30-30 Winchester and 6.5x54 Mannlicher- Schöenauer weren't adequate for big game.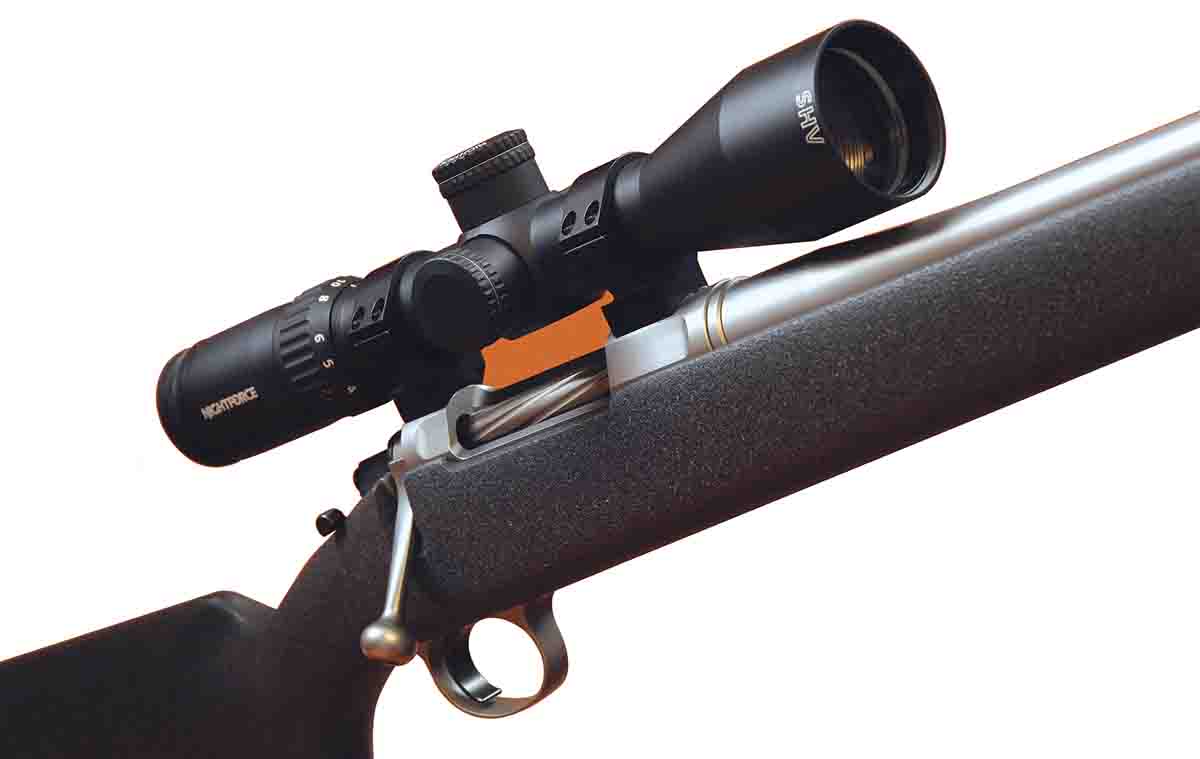 Unfortunately, larger rounds kicked more. Rubber recoil pads of the day were relatively hard and often crumbled with exposure to sunlight, so most rifles featured steel or "hard rubber" buttplates. These could be painful on light rifles chambered for more powerful cartridges, so many influential gun writers advised heavier rifles to mitigate recoil.
Back then, many hunters also believed light rifles worked okay for quick shots at modest ranges, but not at longer distances. This didn't help sales of America's first light bolt-action, big-game rifle, the Savage Model 20 introduced in 1920. Despite being chambered in the mild-recoiling .250-3000 and .300 Savage cartridges, the Model 20 only lasted until 1931. In the meantime, Remington introduced the Model 30, based on the 1917 Enfield action, and Winchester the Model 54 that eventually morphed into the Model 70. All three weighed close to 8 pounds – before adding slings, scopes and a magazine full of ammunition.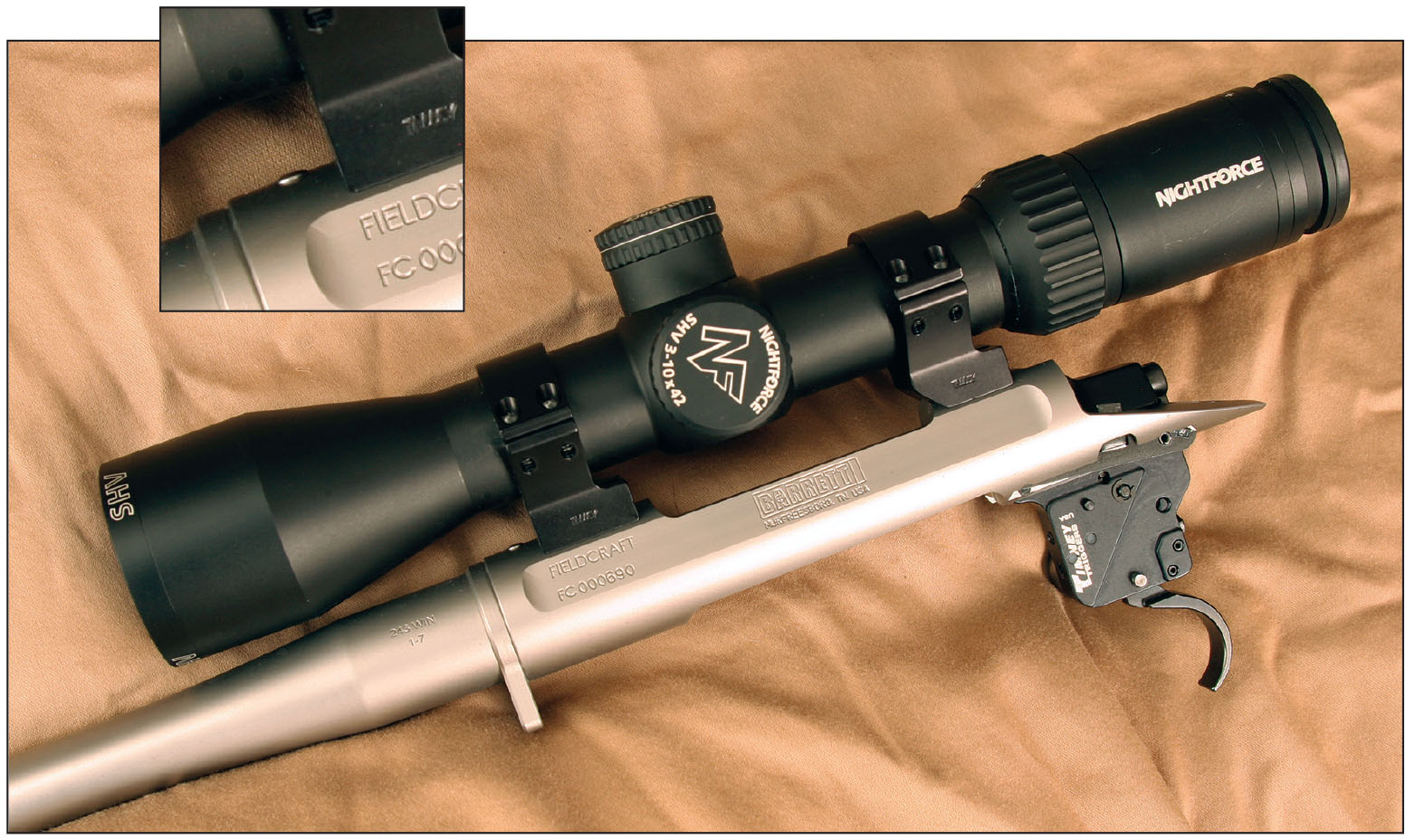 Scope sights started becoming far more popular in the late 1930s, about when the Model 70 appeared, due to Bill Weaver selling reliable models at affordable prices. As a result, many hunters hiked the hills with bolt-action rifles weighing 9 to 10 pounds.
The post-World War II economic boom vastly increased demand for sporting firearms. Many ex-soldiers had never fired any sort of firearm before the war but decided they liked shooting, and might like hunting. Demand increased for lighter rifles, partly because so many ex-soldiers disliked carrying M1 Garands; hunting was supposed to be fun, not another march with a 10-pound rifle.
The first really successful light, bolt-action centerfire in the U.S. was the Winchester Model 70 Featherweight, introduced in 1952. With the typical 4x hunting scope of the era, a full magazine and sling, Featherweights weighed around 8 pounds, and many hunters discovered they could shoot them accurately enough to drop big game well beyond 100 yards.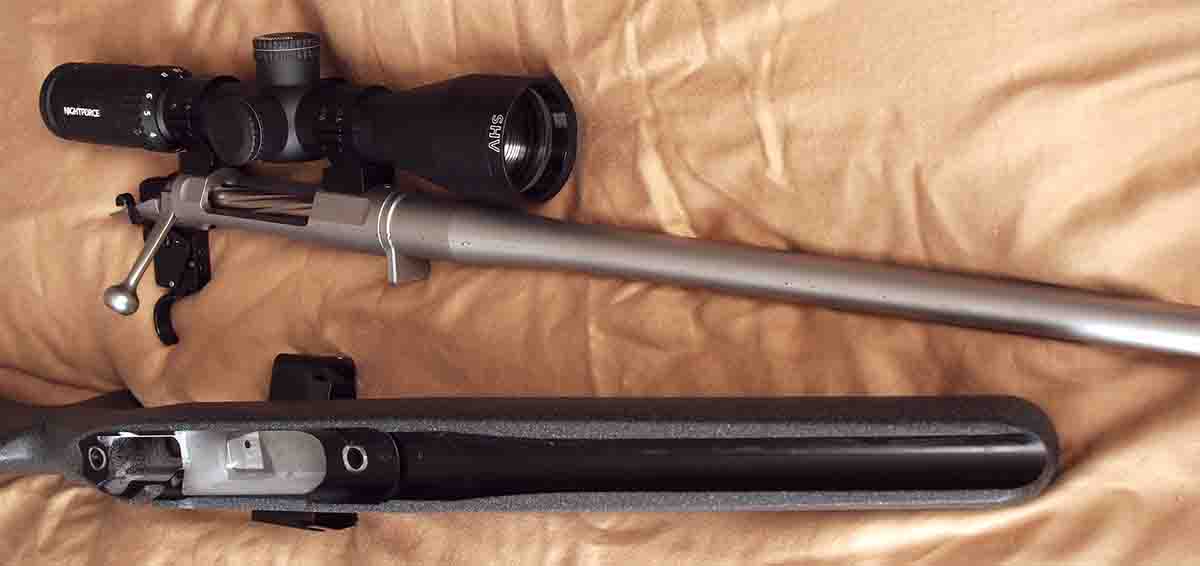 During the next three decades, the weight of bolt-action rifles kept dropping due to three factors: better bullets, softer buttpads and light synthetic stocks. "Premium" bullets allowed hunters to reliably kill bigger animals with smaller, lighter-recoiling cartridges, softer pads like the Pachmayr Decelerator reduced felt recoil and synthetic stocks could drop at least a pound of weight.
Relatively heavy actions limited how light rifles could be, however, and in 1985 West Virginia gunsmith Melvin Forbes started a company called Ultra Light Arms, using his custom-made, minimally sized bolt actions. The lightest Ultra Light rifle was the Model 20, so named because the action only weighed 20 ounces, a pound less than the short Remington 700 action.
Forbes also constructed a synthetic stock from a mix of modern materials, thanks in part to one of Ultra Light's original investors, an actual rocket scientist who worked for Hercules. With one-inch-thick Pachmayr Decelerator recoil pads, the stocks averaged around 20 ounces, a pound less than a typical walnut stock. After experimenting with various bedding methods, Forbes fully bedded the Douglas barrels he selected, because the damping of barrel vibration resulted in the finest accuracy.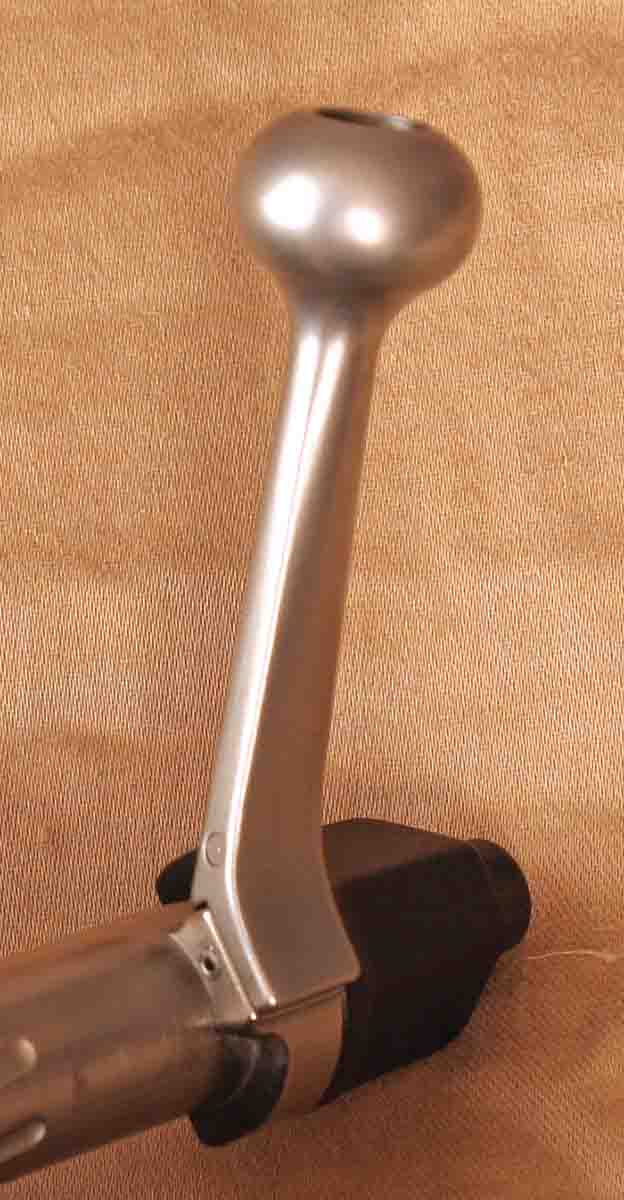 He also designed very strong aluminum scope mounts, weighing about 2.5 ounces (now produced as Talley Lightweights), resulting in Model 20s weighing around 6 pounds scoped – or even less. In the 1990s, I hunted with a Model 20 7x57 for several years. It weighed 5.75 pounds with a Leupold 4x Compact scope and shot well enough to take animals out to 350 yards.
By the 1990s, Ultra Lights were selling well. They were, however, essentially custom rifles, each built to customer specifications and priced accordingly. Melvin Forbes eventually decided a standardized production version could be built for a considerably lower price.
Colt agreed, and in 2000 it purchased Ultra Light Arms and started manufacturing the Colt Light Rifle (CLR), a not-quite-so-light version with an injection- molded stock. The Ultra Light Arms shop in West Virginia became the Colt custom shop, producing the original Ultra Light rifles under the Colt name. Within a few months, however, the Colt employees who initiated the deal had left the company, and the CLR was eventually dropped. Forbes reacquired his company and reorganized it as New Ultra Light Arms (NULA), returning to making rifles one at a time.
In 2013, one member of the original Colt group persuaded Forbes to try a production rifle again, and with a third partner they formed Forbes Rifles, setting up a factory in Maine. Forbes Rifles featured stocks identical to NULA rifles but would only be available in standard models and chamberings. The only real difference occurred because Douglas couldn't supply enough barrels to meet anticipated demand, so Forbes Rifles used E.R. Shaw barrels.

Melvin Forbes helped set up production in Maine and had a major hand in the production of the first few dozen rifles. However, when the Maine factory started making rifles without his guidance, quality fell off so quickly he decided he wanted out and insisted the partners buy out his share of the company. Within a year or so, Forbes Rifles declared bankruptcy.
The idea was too good to die, however, and in 2015 Barrett Firearms Manufacturing purchased the remaining assets of Forbes Rifles. This might seem surprising for a company famous for .50 BMG rifles, but Barrett also offers Sovereign double-barrel shotguns. By then, what was left of Forbes Rifles amounted to a couple dozen complete rifles and a few dozen actions. After taking a closer look, Barrett decided to produce a somewhat different rifle, the Fieldcraft.
Outwardly, the Fieldcraft strongly resembles the Forbes, but there are a number of differences. I first examined one in February 2017. It looked and felt like a quality rifle, but obviously a real test would involve more than just handling one, and a few months later Barrett sent a sample in .243 Winchester.
Fieldcraft rifles currently come in two action lengths to accommodate cartridges from .22-250 Remington to .30-06. In short-action models, the barrel is either 21 inches long, or 18 inches with a threaded muzzle, so a suppressor can be easily attached. The sample rifle came with a 21-inch barrel measuring .550 inch in diameter at the muzzle.
The long-action models have 24-inch barrels, about like a No. 2 contour from most manufacturers. Barrett's website lists overall rifle weights from 4.75 to 6.0 pounds, depending on configuration.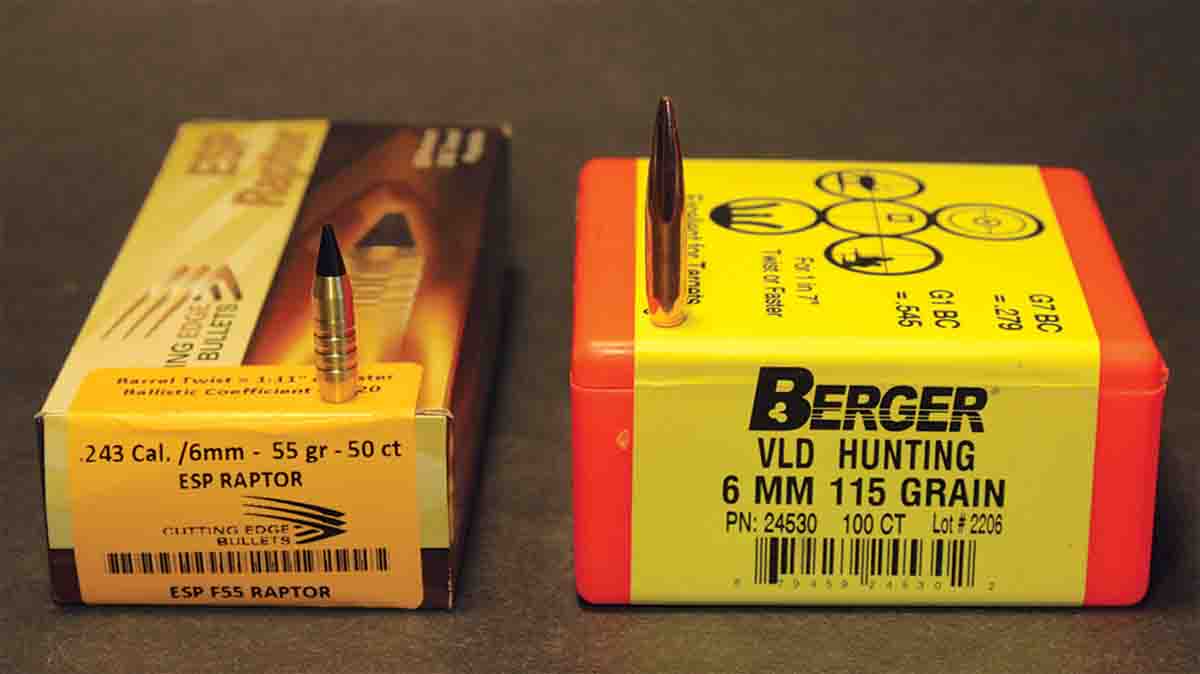 The action differs from the Forbes in several details. The most obvious are flats milled on the sides of the receiver and the spiral-fluted bolt, but the petite bolt handle is also pinned in place at the base rather than brazed, allowing easy switching. In the future, Barrett intends to offer other models, including one with a larger "tactical" bolt handle. The recoil lug between the action and barrel is also pinned. The action is made of 4140 chrome-moly steel finished in silver MP3 nickel-type plating.
Aside from the fluting, the bolt body is slightly smaller in diameter just behind the bolt head. The right locking lug also includes a narrow slot, like those on Remington 700 bolts, that slides along a thin rail inside the right side of the action, reducing bolt binding. All three features result in a very smooth-running bolt. The bolt release is the same as the Forbes, basically the same system as the Winchester Model 70; a lever with a tab sticking up through a slot on the left side of the tang.
The top of the action is drilled and tapped for 8-40 scope-mounting screws rather than conventional 6-48s. It also has a third hole on the receiver ring so the front mount can be mounted in one of two different positions for scopes of varying lengths. The mounts with the rifle sample were Talley Lightweights specifically made for the Fieldcraft action with 8-40 screws. Both one-inch and 30mm diameter versions are available from Barrett for $50.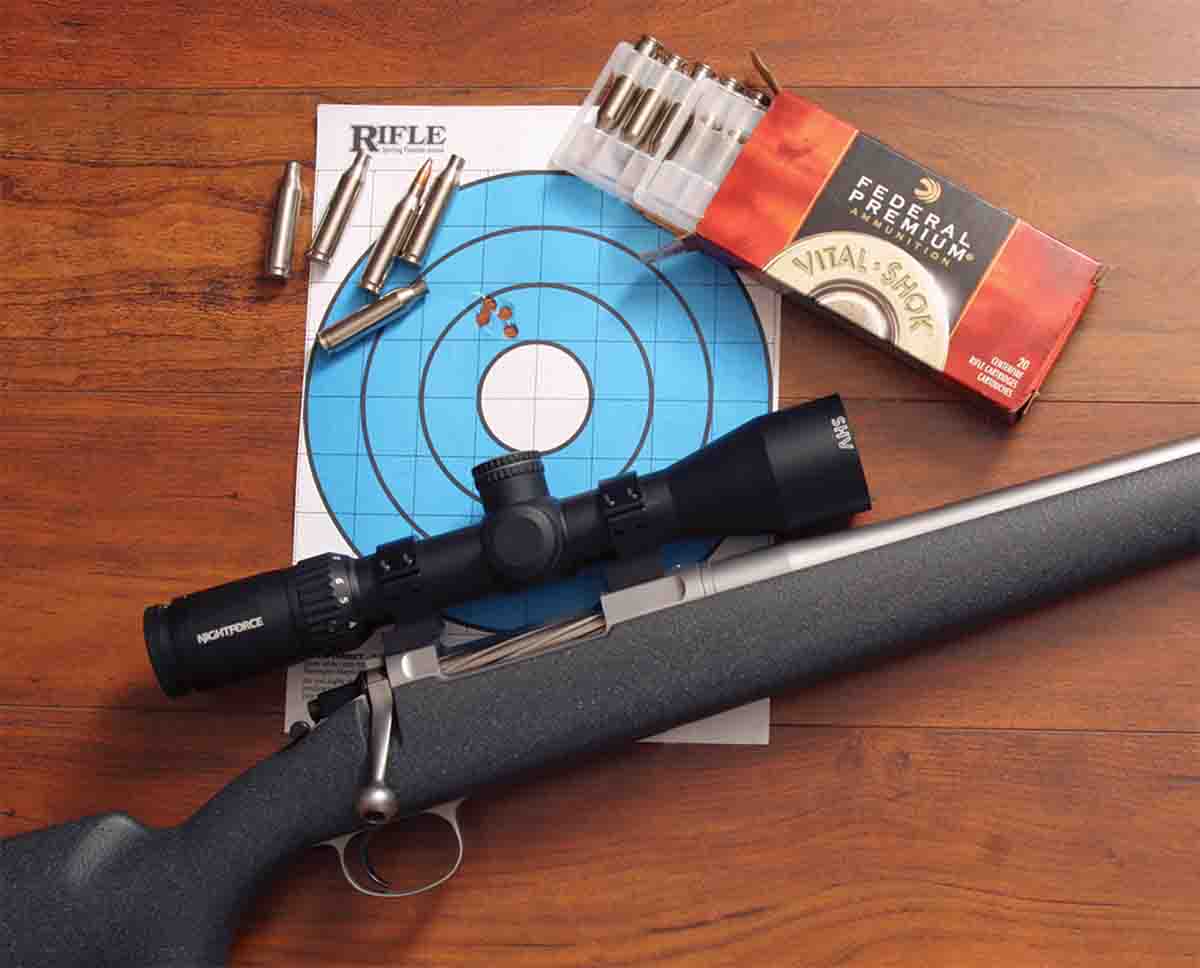 As in the Forbes rifle, the trigger is a Timney, but the safety is a two-position type – rather than a three-position safety like those found on Forbes and NULA rifles – so it doesn't lock the bolt closed. On the test rifle, the trigger broke very cleanly at 2.5 pounds, and I didn't bother to adjust it further.
The stock shape strongly resembles the Forbes/NULA stocks but is made with carbon fiber rather than a combination of materials. It's also pillar-bedded at both ends of the action, not just the front. (The Forbes/NULA stock doesn't have a pillar under the tang since that area is solid. Pillars weren't originally designed to enhance accuracy but to prevent compression of stock materials, whether in wood-stocked rifles like the '98 Mauser or synthetic lay-up stocks with thin exterior shells.) At this time, Fieldcraft rifles only come in charcoal gray with a textured finish for better gripping and a length of pull of 13.75 inches. Barrett's website (www.barrett.net) states, "Each barreled action is individually bedded in its stock from bolt shroud to end of forend to reduce barrel harmonics and increase stock rigidity." The bedding on the sample .243 Winchester was clean and precise, and the stock weighed 27.5 ounces.
Barrett barrels are made of 416R stainless steel, honed, button-rifled and stress-relieved twice during the manufacturing process. The chambers are "proprietary Barrett designs to reduce bullet jump and improve accuracy," according to Barrett's website, and the rifling twists reflect today's trend toward longer bullets with higher ballistic coefficients (BC). In the .243 Winchester, the twist is one turn in 7 inches (1:7), and since the short-action magazine box is 3 inches long, longer boat-tails can be seated out to the lands, even after the chamber throat starts to erode.
Barrett test-fires each rifle from a bench with "high quality" hunting ammunition and guarantees sub-MOA accuracy. The company does not say how many shots are fired in each group, but a reasonable guess would be three, the modern standard for hunting rifles and the number usually quoted by other companies in their guarantees.
For range-testing I used a Nightforce SHV 3-10x 42mm scope that had already proven reliable on several other rifles, and the thin center of its IHR reticle provides a very fine aiming point. It might seem strange to put a 20-ounce scope on a very light hunting rifle, but a rugged "dialing" scope is very appropriate for rifling twists designed to shoot high-BC bullets. Plus, it was long ago discovered that one virtue of truly light hunting rifles is that even after mounting heavier scopes, they're still far lighter than average hunting rifles. In this instance, the scoped weight of the .243 Fieldcraft turned out to be 6.7 pounds, about a pound lighter than a pre-'64 Winchester Model 70 Featherweight with a K4 Weaver. With a typical 3-9x weighing 12 ounces, the Fieldcraft .243 would weigh 6.2 pounds.
The ultimate test of any rifle is accuracy. I tried nine handloads that had shot well in other .243s, using bullets ranging in weight from the Cutting Edge 55-grain Raptor monolithic to the Berger 115-grain Hunting VLD. The 115s were tried to take advantage of the 1:7 rifling twist, and the 55s were tried to demonstrate, once again, that well-balanced, light bullets shoot accurately from fast-twist barrels; and to provide a light-bullet load for handloaders who prefer very high muzzle velocities to very high ballistic coefficients.
With any rifle weighing 7 pounds or less, I fold a towel a couple of times then place it over the front sandbag. In my experiments, a softer front rest has proven to improve accuracy with light rifles as much as any other shooting technique.
All groups with handloads included three shots, but a couple of days later, two four-shot groups were fired with Federal factory ammunition, because I was curious about factory-ammunition accuracy and whether the very light barrel might "wander" when warm. The temperature was around 80 degrees Fahrenheit, and I shot two groups without allowing the barrel to cool. While the accompanying table lists the average accuracy as .70 inch, the first group was .70 and the second .69 inch. These results are similar to what I've experienced with other properly stress-relieved, light barrels over the decades.
The suggested retail price for the Fieldcraft is $1,799 for standard models and $1,849 for the threaded-muzzle variations. That's not cheap, but quite a few other factory rifles are priced in that range. It's also quite appropriate for a lightweight, all-weather bolt action that shoots a wide variety of ammunition very well right out of the box.