The Mauser Model 1898 is often referred to as the forebearer of modern two-lug, turn-bolt rifles, as most have incorporated select design features. At the very least, the '98 is the rifle against which all others are compared. Originally patented by Paul Mauser in 1895 and adopted by German armed forces April 5, 1898, it has proven reliable in battle. Its nearly unbreakable design has helped it become hugely popular among sportsman, big-game hunters, guides and professional hunters. It has been manufactured in countless countries, resulting in variances in quality, materials, etc.; however, quality versions command premiums and remain in high demand, such as Browning's FN High-Power rifle.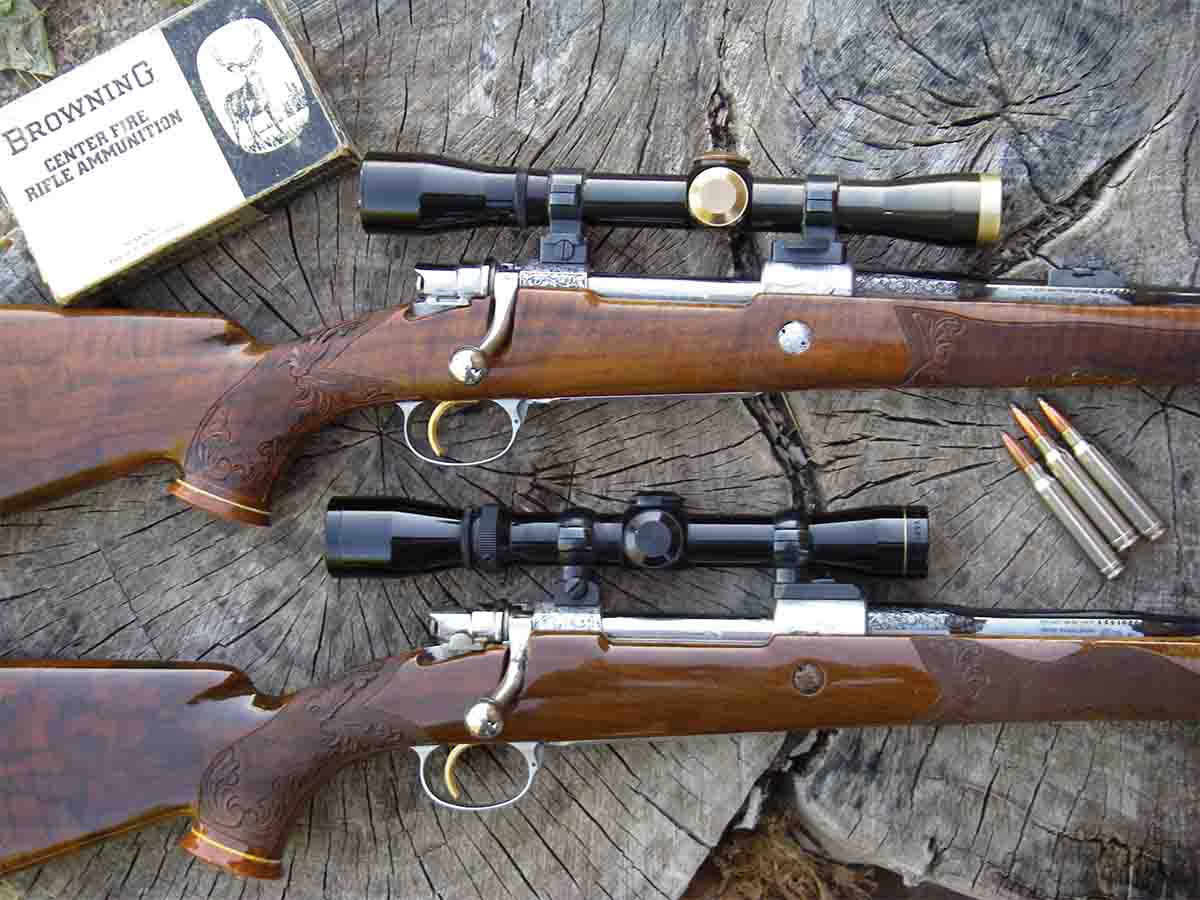 Commercial '98 actions began appearing soon after the Model 1898's introduction and were quickly utilized by prominent European gunmakers such as J.P. Sauer, Krieghoff, Merkel, the British firms Gibbs, Rigby and Holland & Holland, and the noted American firms of Griffin & Howe, Hoffman Arms and others. The '98 action remains popular with modern craftsmen.
Some of the Model '98's significant design features include control-round feeding with a claw extractor and blade ejector, a clever safety lug and shooter protection from escaping gases in the unlikely event of a ruptured case or a severely overloaded cartridge with resultant catastrophic failure. Critics are quick to point out the design's comparatively slow lock time, direct pull trigger, poorly positioned safety, cumbersome floorplate and poorly shaped bolt handle. While the lock time is slow, this is not a legitimate criticism for most big-game hunting applications unless the rifle is built specifically for long-range work. There are many top-quality, modern trigger and safety assemblies (available from Brownells: www.brownells.com) that are easily installed, as well as hinged floorplates. Likewise, the military bolt handle has traditionally been replaced with a more palatable configuration when building a custom sporter rifle. It should also be noted that post-World War II commercial '98 actions feature most of the above changes.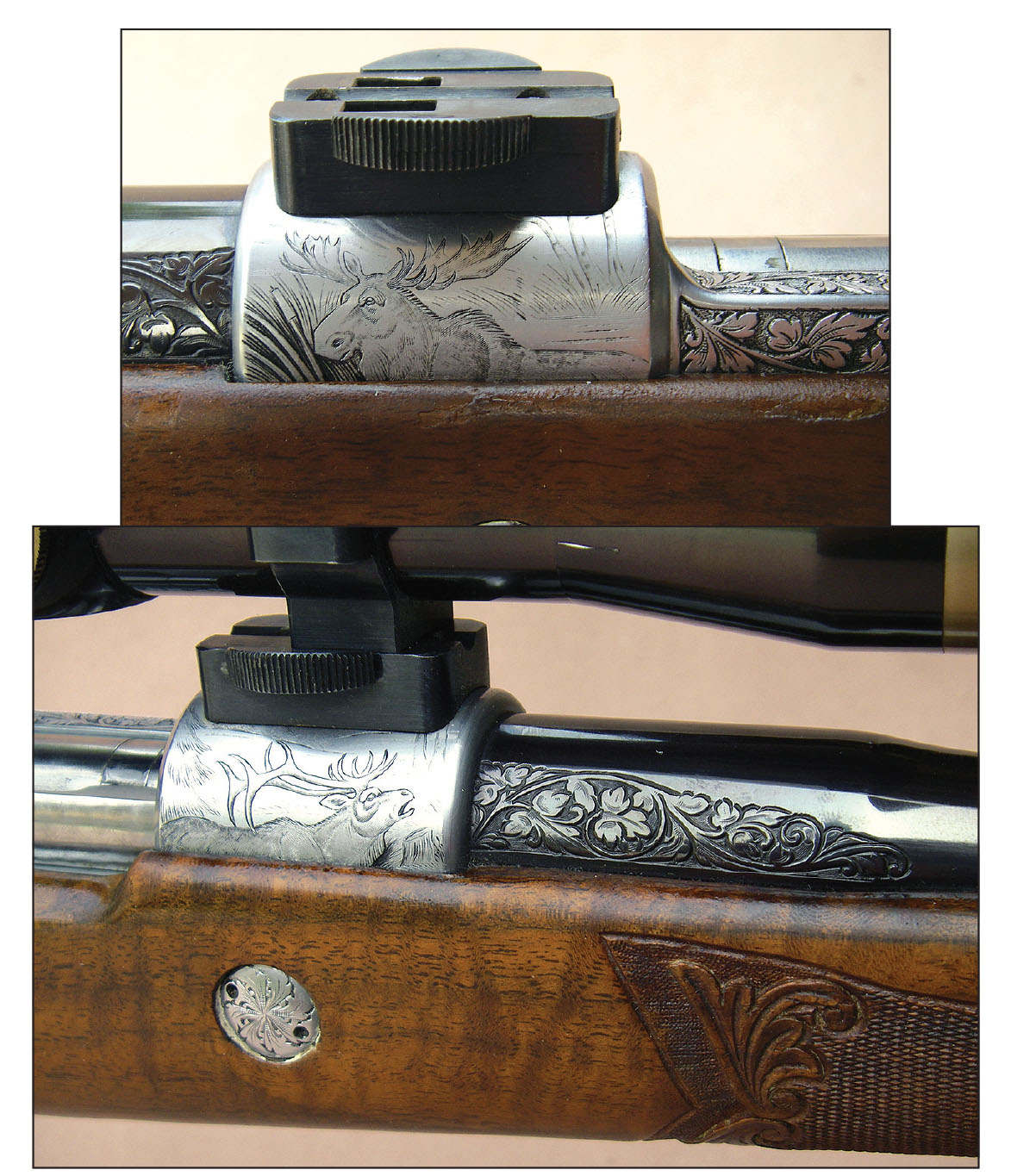 Fabrique Nationale (FN) of Belgium began importing Mauser 1898-pattern rifles and actions to the U.S. by 1947 in three variations that included the Sporter Deluxe, Presentation Grade and Supreme Magnum. These rifles featured actions with special "high tensile" steel to handle the pressures associated with modern cartridges and to increase durability. Tolerances were held to much tighter specifications than were military actions. This helped eliminate much of the "slop" between the bolt body and receiver and also assured that the lugs and breech face were true. Machining and finish work were of top quality.
The FN action was not just a commercialized military version, as it featured a checkered bolt handle knob with the handle being swept back for more natural operation and improved appearance. The trigger was changed to a single pull design without slack, and a sporter-style, hand-engraved, steel, hinged floorplate was installed and secured via a reliable quick-release latch housed in the front of the trigger guard. In addition to modern high-tensile steels being used, the thumb slot – common on military actions and some pre-World War II commercial actions – that was necessary to reach and depress the follower to close the action was eliminated. This increased the receiver's rigidity, improved the rifle's appearance and further distinguished it from surplus actions. The modern button-style sliding safety, located to the right of the bolt sleeve, was out of the way for installing a scope, and was a three-position design. The middle position allowed removal of a cartridge from the chamber while preventing the rifle from firing – a similar concept as found on the Winchester Model 70.

The barrels were made of chrome vanadium steel. Care was taken to assure that internal dimensions were cut to minimum tolerances. Each was tested to meet rigid accuracy standards and serialized to match the receiver. The blue finish was especially handsome, as it was nonglaring and similar in appearance to the comparatively light-colored, pre-World War II rust blue finishes that had proven so durable.
Browning Arms' long-lasting relationship with FN began around 1897, when John Browning contracted the firm in Belgium to manufacture his Model 1899 pistol, as well as many subsequent rifles, shotguns and pistols. By 1960, Browning Arms recognized the obvious void in its product line and began importing the High-Power rifle to compete with other U.S. companies. FN discontinued importation of its rifles shortly afterward.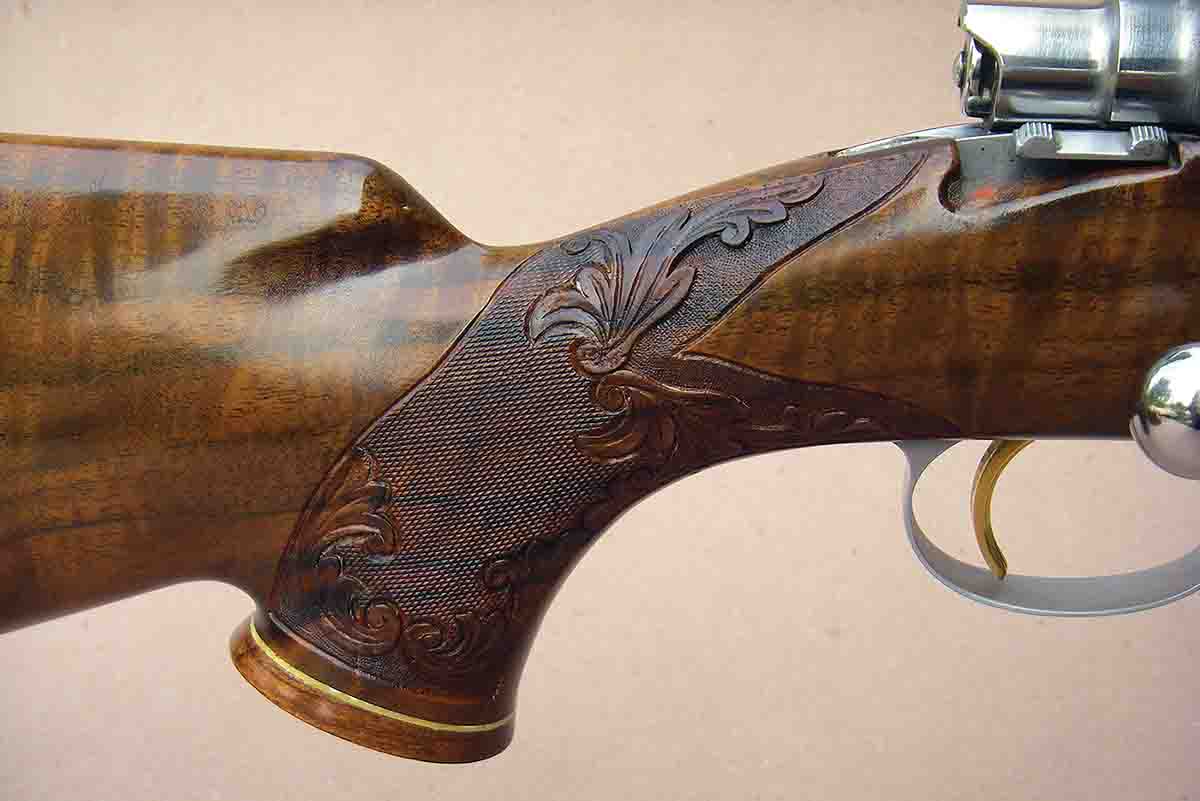 The new Browning rifle was built on the same Mauser '98 action as the previosuly described FN rifles, though there were a few notable changes. For example, the bolt stop was smaller and had an external spring, but it was still robust. The classic-style stock was replaced with a Monte Carlo design and fitted with a ventilated rubber recoil pad (on most models) with a white line spacer, which was popular in the U.S. A barrel-mounted rear sight and bead front became standard, but optional sights were available, and rifles could be ordered without sights.
The High-Power was offered in three grades, including Safari, Medallion and Olympian. In spite of the Safari being the base rifle, it was a beauty with select walnut stock wood and hand-cut checkering. Rifles in most calibers included a steel recoil lug, and the stock was fit by hand and bedded to a specific barreled action to maximize accuracy. The trigger guard and floorplate were lightly engraved and highlighted with gold. Although the stock finish was gloss (or semigloss), which was popular at the time, it was a high-quality finish. As previously indicated, the rust bluing was beautifully colored, deep in appearance and durable.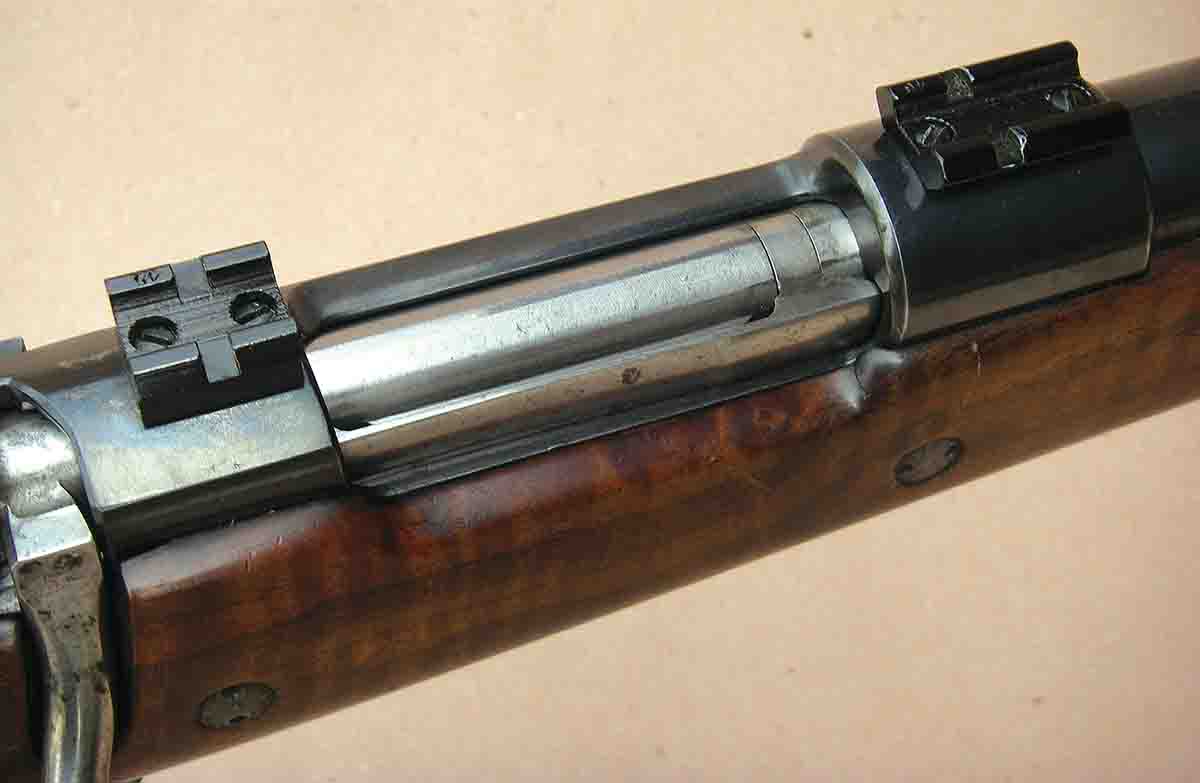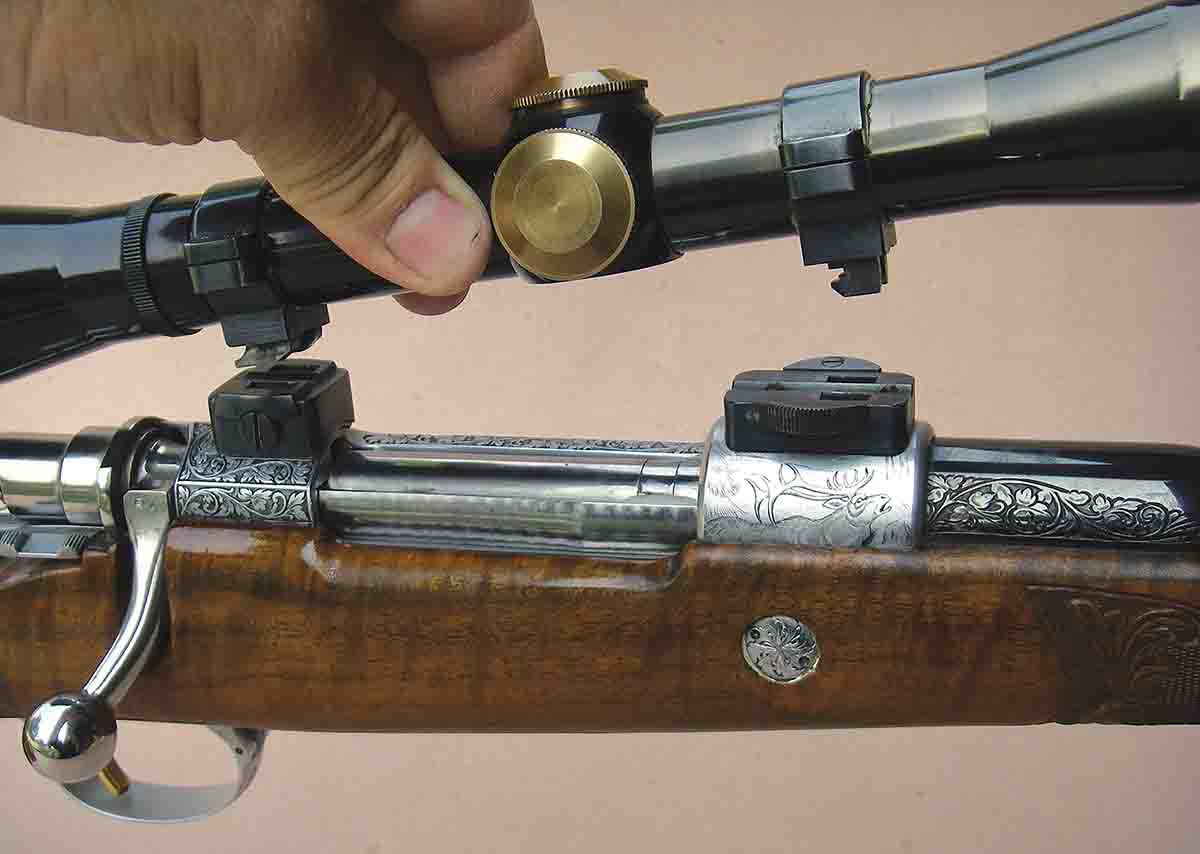 The Medallion Grade was nearly twice the cost but included upgraded wood, skip-line, hand-cut checkering, a rosewood grip cap and forearm tip and a scroll pattern, hand-engraved receiver and barrel.
The Olympian Grade was a factory-built, custom rifle that featured a coined satin receiver with multiple game scenes that were hand engraved by master engravers, and usually signed. The animals chosen for a rifle were typical of what was commonly hunted with the caliber of that particular rifle. The receiver engraving coverage is classified as "full coverage," and the trigger guard and floorplate were likewise fully engraved with game scenes while scroll engraving graced the bridge and barrel. The stock consisted of high-grade fancy walnut and was finished with hand-carved floral patterns and checkering.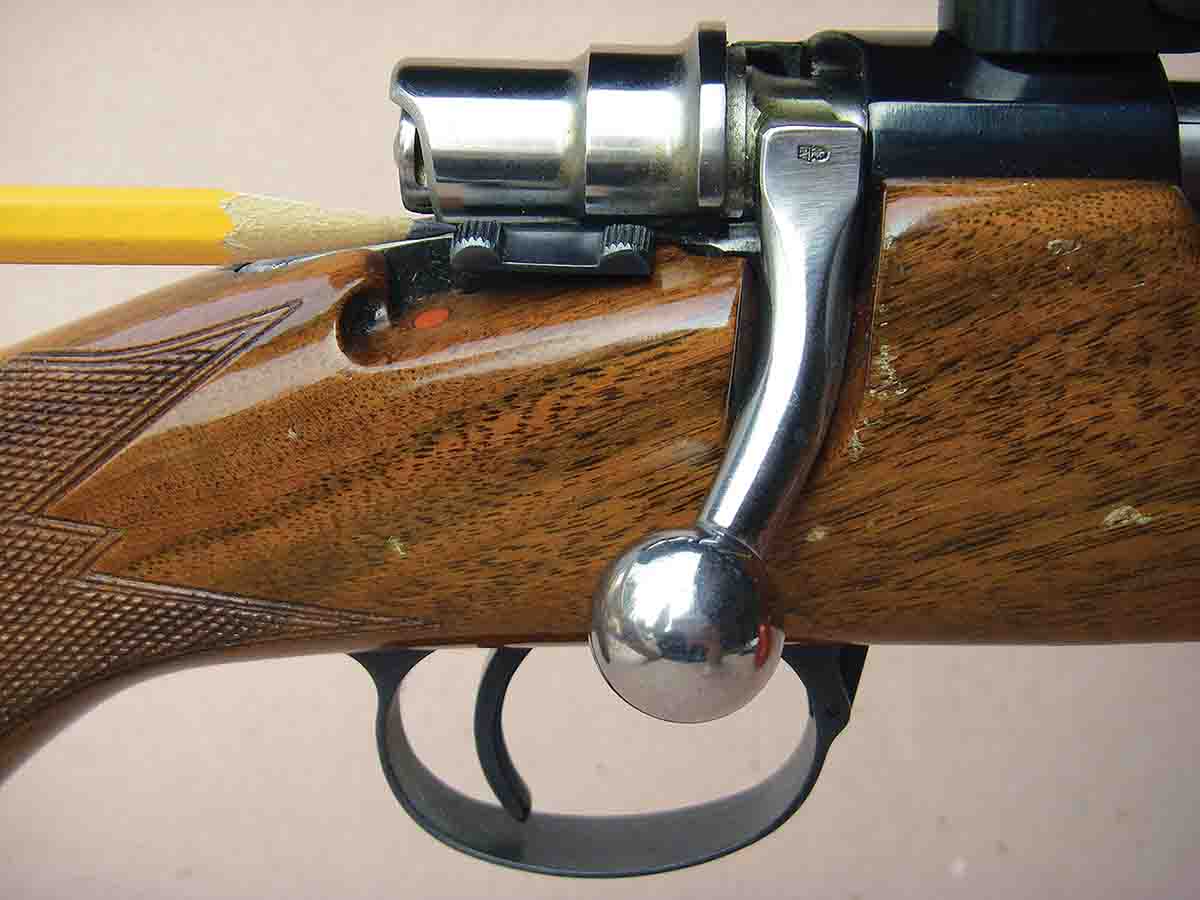 The High-Power rifles were available in popular calibers from .243 Winchester to .458 Winchester Magnum; however, the majority were for .30-06-length (3.340 inches) and .375 H&H-length (3.600 inches) cartridges. Short action cartridges (.243 and .308 Winchester) were produced in limited quantities on the '98 action. Browning chose instead to offer these cartridges, as well as the .222 Remington, .222 Remington Magnum and .22-250 Remington, for Sako Finnish-built rifles that have a reputation for top-notch accuracy. This action features a unique push-feed system with a robust rotating extractor that snaps over the rim upon closing, while the ejector is a blade style that allows control of cases (or cartridges) as they are pulled from the chamber. The Sako is well known for its precise action and barrel specifications that offered smooth, flawless function and accuracy.
Economics tragically began to take its toll on the High-Power rifle. In short, the cost to produce the commercial Mauser '98 action was high, and competing companies were developing new manufacturing methods and began designing rifles that cost notably less to produce. During the late 1960s, Browning responded with a modified version of the Mauser '98 known as the "FN Supreme" action that was a push-feed design with a rotating extractor, a countersunk bolt face and spring-loaded plunger ejector, all of which helped keep manufacturing costs down. This was a good design; however, purists and big-game hunters generally frowned on it. Even though sales remained strong, it was an expensive rifle to produce, and by 1974-1975 the last of the Browning High-Power rifles were imported to the U.S. (though they continued to be sold throughout Europe into the 1980s).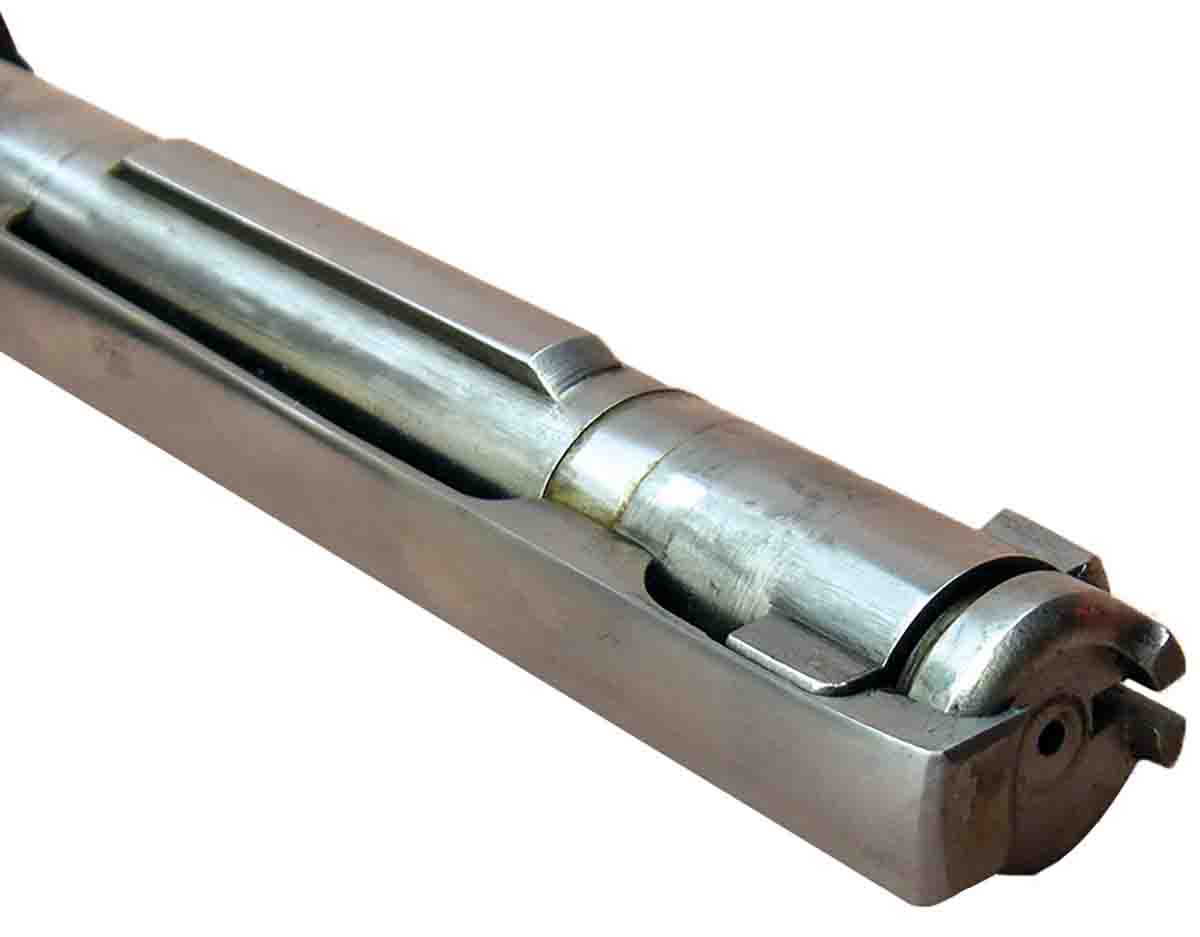 One significant problem occurred during High-Power production and included wood that was cured with salt to help speed the process. These stocks in turn caused the actions and barrels to rust and deteriorate. Browning covered owners with a warranty, but many rifles were never returned for correction. If considering a purchase, the rifle should be carefully inspected to be certain that the wood is not salt cured.
Over the past 40 years I have owned, shot and hunted with perhaps three dozen High-Power rifles that have ranged from .222 Remington to .458 Winchester Magnum. They have always proven accurate and reliable. During the early 1980s, I owned a Safari Grade .300 Winchester Magnum that often placed five shots into .25 to .5 inch at 100 yards with a variety of handloads and Federal's Premium load containing the Sierra 200-grain bullet. It proved an excellent field rifle and accounted for elk, deer, antelope and black bear. I have no idea why I sold it, but I certainly regret it! I currently own several High-Power rifles in a variety of calibers, and with similar load development most will come close to duplicating the accuracy of that .300 Winchester Magnum.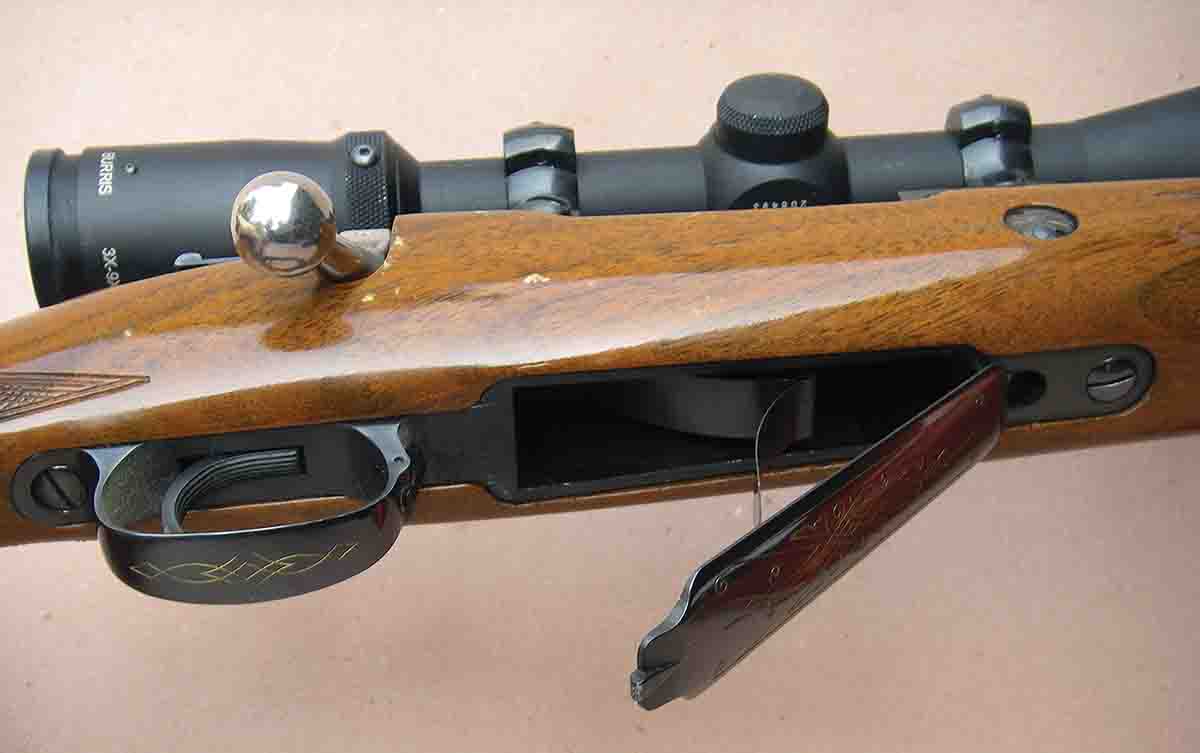 One Olympian Grade rifle I have had the pleasure of owning and shooting was purchased from the Elmer Keith collection. According to records, it was the first Olympian Grade .338 Winchester Magnum produced in 1960. It is beautifully engraved and signed by master engraver Marie Magis. It features a standing brown bear with a mountainous background on the floorplate, a snarling mountain lion on the trigger guard bow, a bull elk bugling on the right receiver ring and a bull moose in a swamp on the left receiver ring. The remainder of the receiver is engraved with relief scrolled acanthus on the sidewall and bridge, as well as two inches of the barrel.
The front sight is a sourdough, while the folding rear sight is adjustable and housed in a base. The barrel is 24 inches long and measures .675 inch at the muzzle. A low-numbered Leupold M7 4X scope is housed in George Hoening installed claw bases and rings, which can be quickly detached to access the iron sights. The reticle is a fine German post.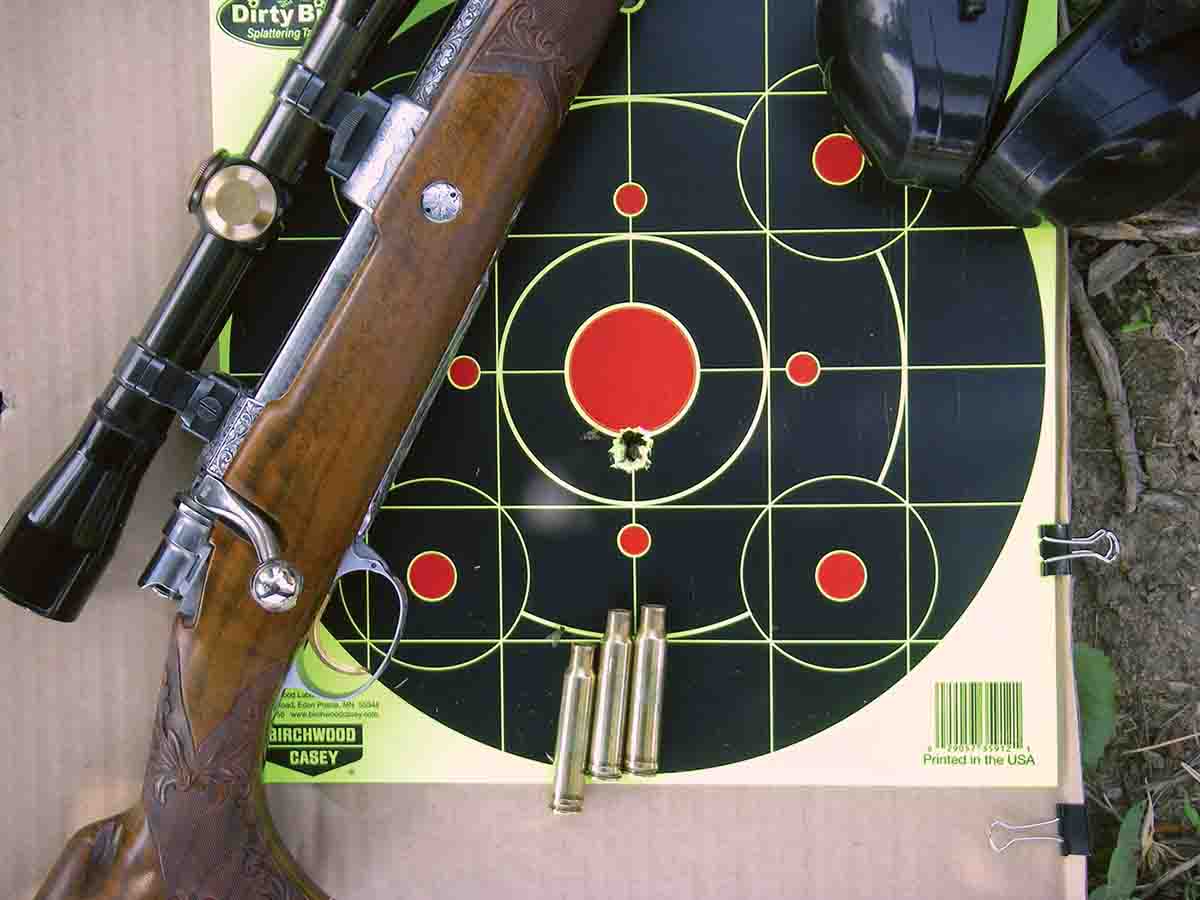 Having had the pleasure of knowing Keith, as well as his close friend and gunsmith the late Don Mihaljevic, and several of his regular hunting friends, along with having Keith's handwritten notes that accompanied this rifle, I know a bit more regarding its history. Keith used it on many hunts and took several elk during the 1960s in both Idaho and Colorado, pronghorn in the Pahsimeroi valley, along with several mule deer. The rifle was also referenced in several articles and books. Regardless, the rifle shows honest wear and use and was not just a gun cabinet queen. It was a working rifle used on horse and carried in the dark timber in the rugged continental divide that separates Idaho and Montana, not far from Elmer's home in Salmon, Idaho.
Upon receiving the Keith rifle, I took it to my 100-yard range with several handloads. The scope had been removed upon shipping from James Julia Auction Company, but I had not noticed that one of the mounting screws had also been loosened. My first shots from the bench were a bit erratic, so all guard screws and mounts were checked to discover and correct the problem. The next group was fired using Sierra 250-grain boat-tail bullets over 74.5 grains of Hodgdon H-4831 powder and capped with Federal No. 215 primers for 2,700 fps. I looked through the spotting scope after the second shot but could only see one hole, so a third shot was fired. Again, only one hole could be observed on the target, about one inch below center. Upon retrieving the target, all three bullets had passed through the same hole, with the group measuring a mere .216 inch, center to center, which was the same level of accuracy Keith reported many years ago.
The High-Power became a victim during an era when costs for traditional machining methods, labor and hand craftsmanship soared. Nonetheless, it holds the status of being a classic rifle that still appeals to discriminating shooters and hunters.