Ruger quietly announced the temporary discontinuation of its rotary-magazine, bolt-action rifle line in September 2016 to include all 77/22, 77/44, 77/17 and 77/357 variants. This unique series dates back to the 1984 introduction of the 77/22R and RS .22 rimfires, the first bolt actions to incorporate the use of the Ruger 10/22 magazine. Beyond appropriately designed bolts and magazines, these rifles closely represent scaled-down versions of the original M77 centerfire rifle from the late 1960s.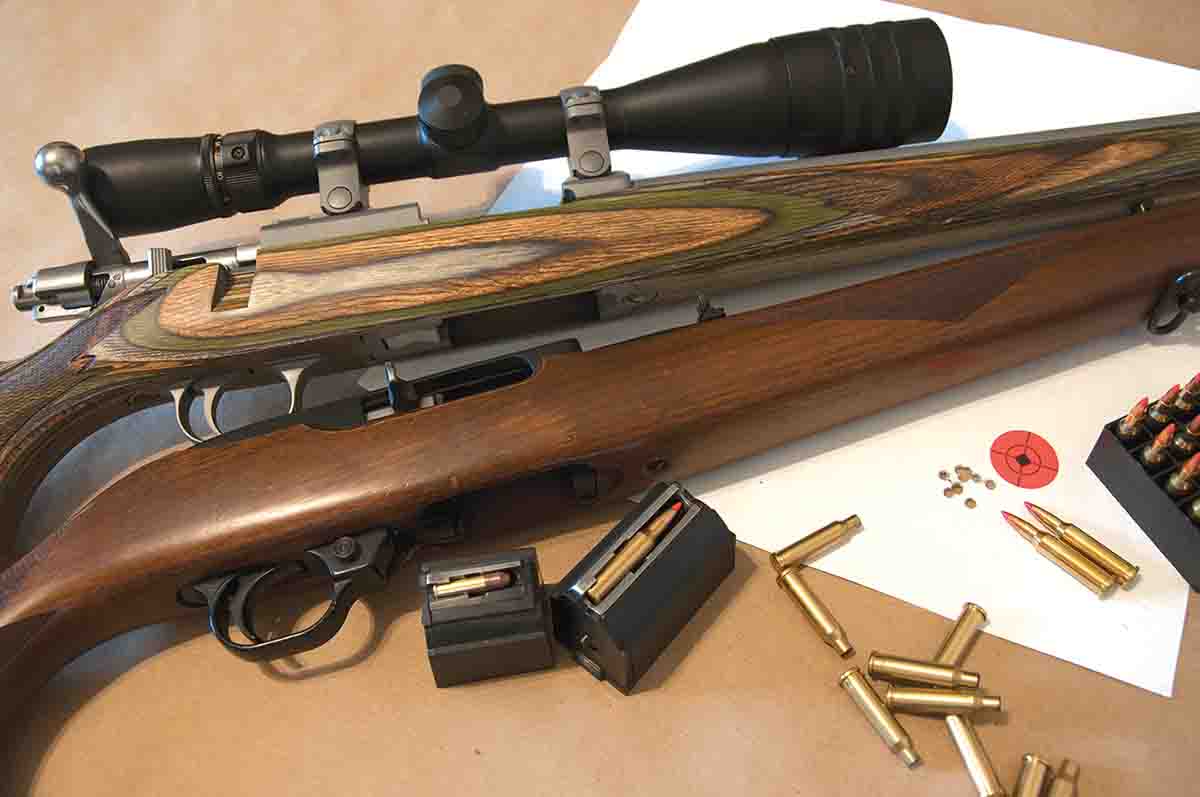 In Rifle No. 291 (March/April, 2017), this column was used to cover the surprising production halt. Difficulties were encountered at the time in regard to current, detailed information, likely resulting from Ruger planning several significant staffing changes. This included the upcoming retirement of the company's CEO and resultant changes in upper management, plus further moves in its public relations staff. All of this was played out this year about the time April turned into May.
As this is written in July, however, the good news is several of these rifles have been put back into production for an unspecified period of time. The following models supposedly are – or soon will be – on dealers' racks by the time this issue is published.
• 77/17 .17 Hornet, stainless steel barreled action, laminated stock, 24-inch barrel
• 77/17 .17 Winchester Super Magnum (WSM), stainless steel, walnut stock, 24-inch barrel
• 77/22 .22 Hornet, blued steel, walnut stock, 20-inch barrel
• 77/22 .22 Hornet, stainless steel, laminated stock , 24-inch barrel
• 77/357 .357 Magnum, brushed stainless, synthetic stock, 18.5-inch barrel
• 77/44 .44 Remington Magnum; blued steel with walnut stock, matte finish with synthetic stock or brushed stainless with
synthetic stock; 18.5-inch barrel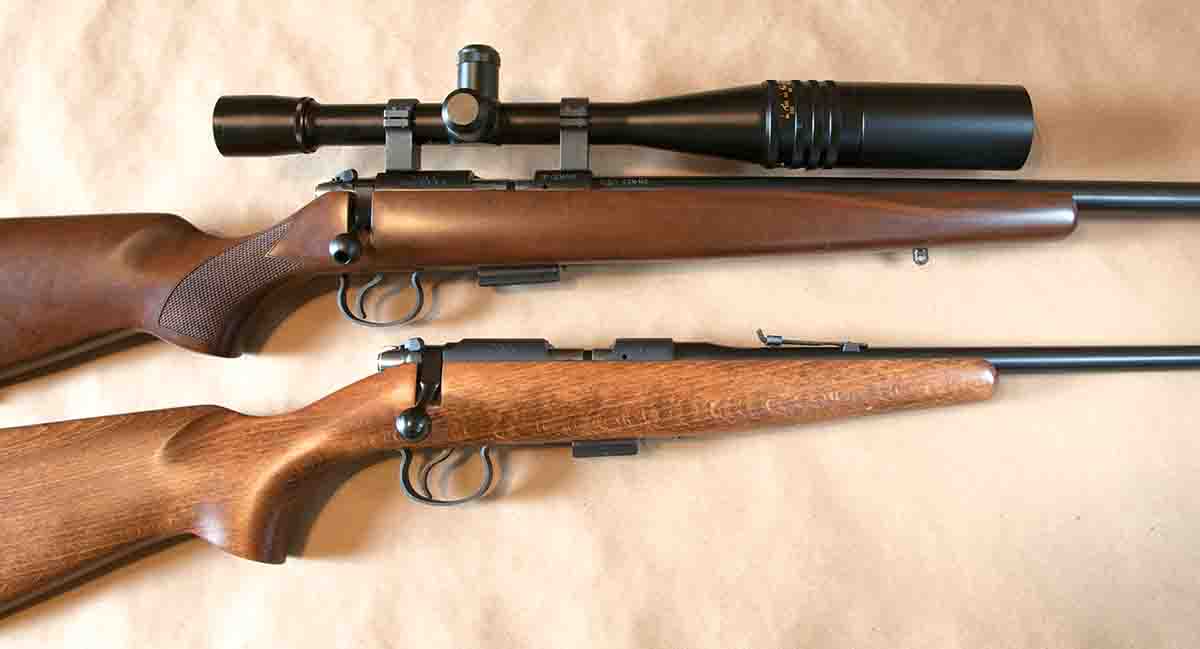 While the above is significant news, note there is no mention of 77/22 .22-caliber rimfire or 77/17 .17 Hornady Magnum Rimfire (HMR) offerings. A source at Ruger recently indicated that when news spread of the discontinuance of the 33-year-old, bolt-action design, fans of the rifles were upset enough – in fact, "outraged at first" – that the rifles listed above were put back into production, and an announcement was made July 2017. As for the possibility of .17 HMR, .22 Long Rifle (LR) and .22 Winchester Magnum Rimfire (WMR) models being produced in the near future, there was no earmarked date, but "the rimfire cartridges are currently being considered." All of this begged a final question: Had changes been made to the relaunched rifles listed above? "No," I was told, "they are being made with the same parts."
When introducing new cartridges, Hornady Manufacturing has had a long partnership with Ruger, and the latter's 77/17 was perhaps the first walnut-stocked rifle available to accommodate the .17 HMR and the more recent centerfire .17 Hornet, a modernized (altered case shape, new powders and bullets) version of the old .17 Ackley Hornet from the 1950s. Still more recent is the Ruger 77/17 .17 WSM, a 2013 cartridge developed by Winchester Ammunition and its industrial impact tools division.
Having shot all of these cartridges in bolt actions, they have proven to be accurate from several Ruger and Savage rifles, but the only one I kept is a Ruger .17 Hornet with a 24-inch barrel. Even with its 5-pound factory trigger pull, if I do my part, it will group 10 shots under an inch at 100 yards when shot from a bench using Hornady 20-grain V-MAX Superformance Varmint factory loads that provide an average velocity of 3,755 fps as chronographed 10 feet from the rifle's muzzle. That's about as fast as the cartridge gets.
Whether Ruger expands the rotary-magazine, bolt-rifle line by bringing back the .17- and .22-caliber versions depends largely on what the shooting public requests. I suspect now, as was the case last fall, the Ruger American Rimfire rifle is still selling well enough that it's using up a lot of the company's time and energy. If rimfire fans prefer a classier rifle with a nicely shaped hardwood stock, read on.
CZ's 455 Varmint .17 HMR
CZ sporting rifles built in the Czech Republic began showing up in the U.S. in noteworthy numbers in the 1990s, thanks to a few intrepid importers. By the end of that decade, Česká zbrojovka, Uherský Brod recognized the vast marketing potential for its guns in the U.S. and launched its own importation subsidiary, CZ-USA, first located in California then moved to Kansas City, Kansas. Since then, American shooters have grown quite fond of CZ rifles, including the Model 455 Varmint.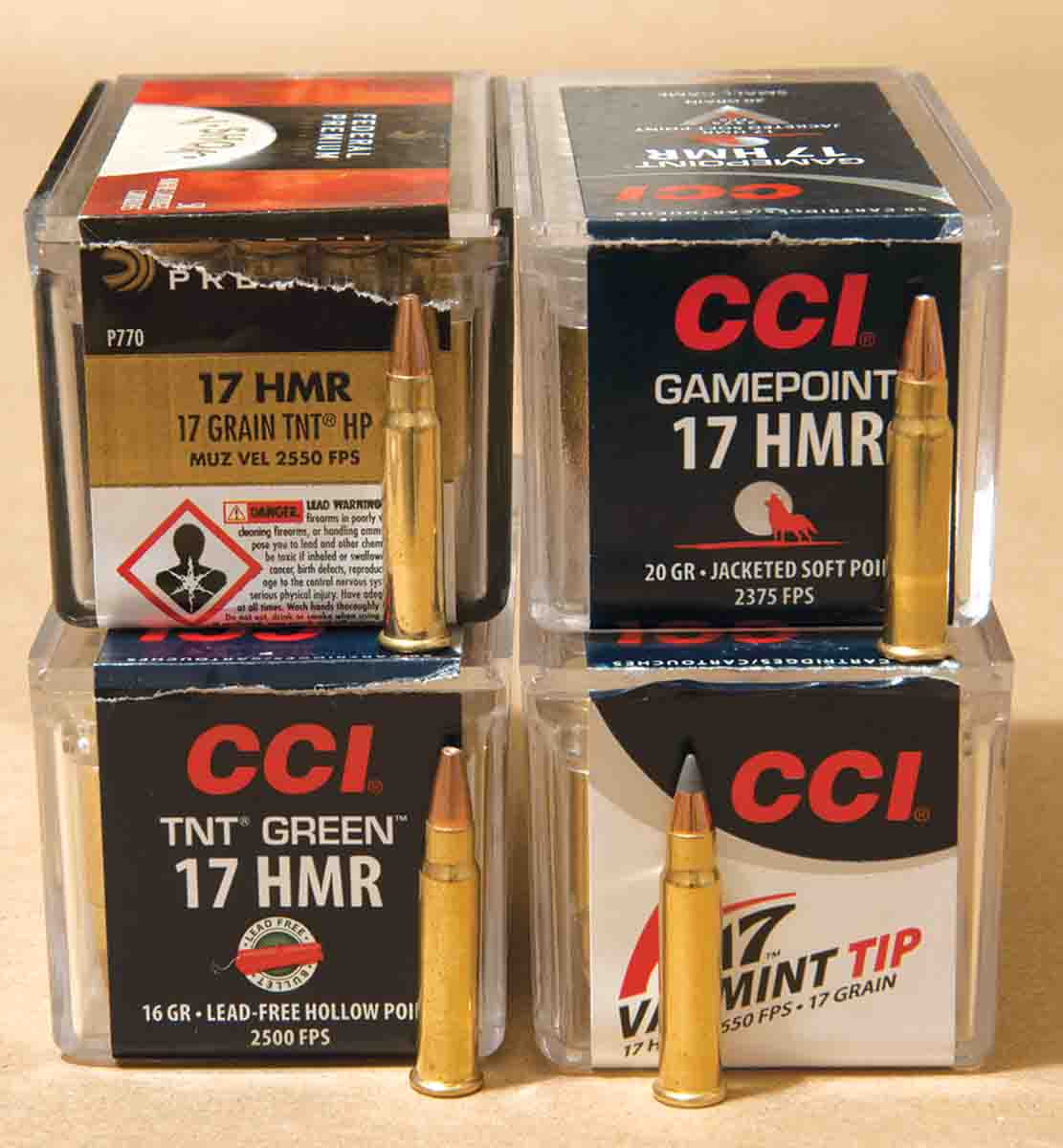 The rifle was introduced in 2012 as a new rimfire option as the company was in the middle of phasing out its Model 452 rimfire rifles, the origin of which (the Model 451, apparently built as a military training rifle under the duress of war) dates back to the early 1940s. There is currently one Model 452 listed in CZ's catalog, a left-handed rifle of limited production.
At first glance, the Models 452 and 455 appear nearly identical, though there are two notable differences: The 452 barreled action is held to the stock with a single screw located roughly in the center of the bottom metal while the 455 has screws at both the front and rear of the receiver. Secondly, 455 rifles feature user-interchangeable barrels. The 455 Varmint test rifle's heavy .17 HMR barrel (.860 inch in diameter) can be swapped out with a .22 LR or .22 WMR sporter barrel and proper magazine. Unlike the 452's threaded barrel, 455 barrels are cut to provide a push fit into the receiver and are properly headspaced and held in place with screws. Stocks for the 455 are also interchangeable and have been covered in this magazine. (Rifle No. 283, "CZ 455 American," November/December, 2015.)
Much like Ruger, CZ-USA has had a strong relationship with Hornady, quickly introducing rifles chambered for various cartridges such as the .17 Hornet, .204 Ruger, .17 HMR and .17 Mach2. CZ currently lists more than a dozen rifle options for the first three cartridges but none for the .17 Mach2, which never became as popular as the cartridges preceding it.
The Model 455 Varmint rifle is quite a looker with a nicely blued barreled action and attractive stock of dark, Turkish walnut. The forend is wide enough for bench shooting, and its grip is nicely checkered. It was requested to test several current CCI and Federal .17 HMR loads. Before it was fired for accuracy, its trigger pull was weighed with a Lyman digital scale that revealed an average of 3 pounds, 1.6 ounces. Pull weight can be adjusted, and doing so may have improved the group sizes listed in the accompanying table. It appears appropriate, however, to review rifles for accuracy before adjusting trigger pull weight, for it seems to me most factory rifles, especially rimfires, are rarely disassembled – even more rarely are factory rimfire triggers adjusted.
With a Weaver T-Series 24x 40mm AO scope that features a fine reticle with a 1⁄8-MOA dot, the rifle shot well enough from a portable shooting bench and sandbags. As can be seen in the table, the loads tried provided good accuracy and velocity, but just like any other rimfire or centerfire rifle, this 455 Varmint shot smaller groups with some loads than it did with others. In fact, CCI's 20-grain FMJ loads were the only load of the five tested that have been omitted from the table, because every third cartridge or so failed to extract from the rifle. There were no problems whatsoever with the four other loads listed.
The .17 HMR Arrives
Having heard conflicting stories regarding exactly who first developed a .17-caliber magnum rimfire cartridge, it is appropriate to say that any development preceding the .17 HMR died on the vine with no commercial viability.
One known example includes the .17 Magnum Rimfire, or .17 FMR, Federal Cartridge was tinkering with in the early 1990s. There is a short reference to this cartridge in Layne Simpson's 1992 Gun Digest "Rifle Review" column. The cartridge was also covered about the same time in Shooting Times by Rick Jamison. Having known them both for about 16 years, conversations revealed that Federal did take a run at it with no apparently beneficial outcome. This was largely due to inefficient powders available at the time. Allen Jones, who retired from CCI/Speer's development engineering department some years ago, also said CCI was, to some extent, "evaluating the idea" of a .17 rimfire magnum, citing several manufacturing difficulties involved in mass producing rimfire ammunition, not the least of which is powder bridging. Take a .22 WMR case and neck it down to accommodate a .17-caliber bullet, and bridging of the powders available at the time became an even greater difficulty to deal with.
Now fast-forward about a decade, to when Hornady ballistician Dave Emary was several years into the development of his own .17 rimfire magnum cartridge: "I had made a test barrel and several rifles, and we were killing prairie dogs before anybody else knew about it," Emary said. "I did the cartridge design, chamber design and ballistics." In mid-2000, Hornady approached CCI to load the .17 HMR. "Brett Olin [CCI/Speer, retired] deserves a lot of credit for taking a demonstrated concept and mass producing it," Emary said. "The cartridge was introduced in the fall of 2001."
The cartridge came to fruition due mainly to the use of newer powders, and it has been said that the powder-bridging problem was solved by charging the case before necking it to .17 caliber, though that note could not be substantiated at this time; most people involved at the time have long since retired. Hornady naturally had exclusivity to market the .17 HMR for some time, after which CCI began selling it under its own label.