The .30 U.S., .30 Army, or better known today as .30-40 Krag, was officially adopted by the U.S. military in 1892 and was the first U.S. military cartridge to contain smokeless powder. It replaced the .45-70 Government load and at that time was considered a "small bore." Original loads contained 40 grains of nitrocellulose powder to propel a 220-grain bullet at 2,000 feet per second (fps), but that was increased to 2,200 fps by 1899. The Krag-Jorgensen rifle that housed it, formally adopted as the M1892 Springfield, was rather unique in design as it only had a single locking lug that limited strength, but it was noted for smooth operation. The magazine was integral to the receiver and had a small, hinged door on the right side of the receiver for loading cartridges, which could be accomplished with the bolt closed. It had limited commercial appeal.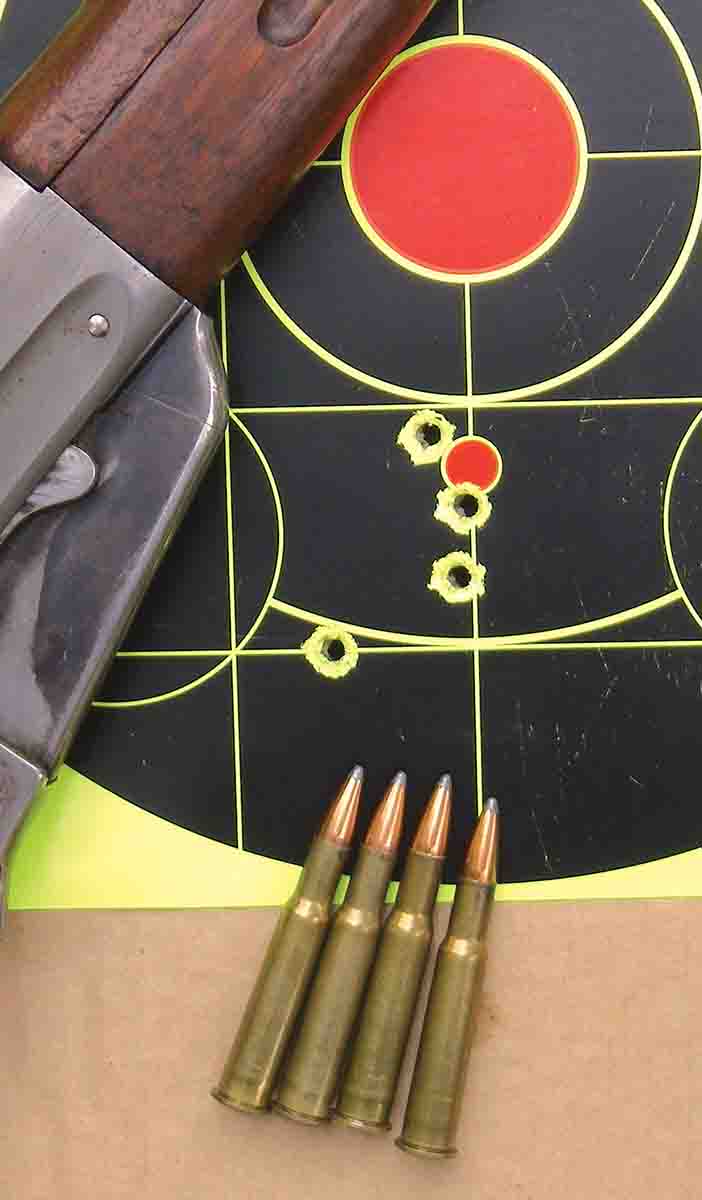 Winchester wanted a sporting rifle chambered for the new cartridge, and since leverguns were still in huge demand and selling as fast as they could be produced, they met with John Browning and discussed a rifle that could handle pressures of the new .30 U.S. cartridge as well as additional sporting cartridges with spitzer profile bullets. After completing the design details of the Model 1893 shotgun and Model 1894 rifle, Browning commenced work on a new levergun, the Model 1895. It was initially offered in .30 U.S., with the .30-03, .30-06, .303 British, 7.62x54R (primarily for Russian contracts), .35 WCF, .38-72, .40-72 and .405 WCF being added at various times in its production. Standard barrel lengths were 22 inches for carbines and 24 or 28 inches for rifles, depending on caliber.
Due to the metal patch and spitzer bullets that were common in these cartridges, the 1895 featured a single-stack box magazine that resulted in a nontraditional look; however, with the absence of a tubular magazine that typically attached to the barrel by way of bands or dovetail slots, many rifles offered good accuracy.
Working the action is certainly different from other lever actions. The lever loop is of two-piece design and locks closed to assure that the bolt is fully forward and the action is locked when the rifle is fired. As a result, the lower "half" of the lever loop pivots to unlock the lever and allow the action to cycle (this feature is only applicable to rifles produced after approximately serial 7200 or the year 1898). As the finger lever is cycled, it directly moves the bolt backward while the trigger drops and pivots. The hammer features the traditional three positions. The action works remarkably smoothly and can be run fast from the shoulder.
Loading the Model 1895 is accomplished by opening the action and inserting cartridges with the base (or rim) downward into the magazine, then tilting the cartridge forward while pushing down. It can sound rather complicated to describe but works very well, and with practice it can be accomplished rather quickly and without looking at the rifle.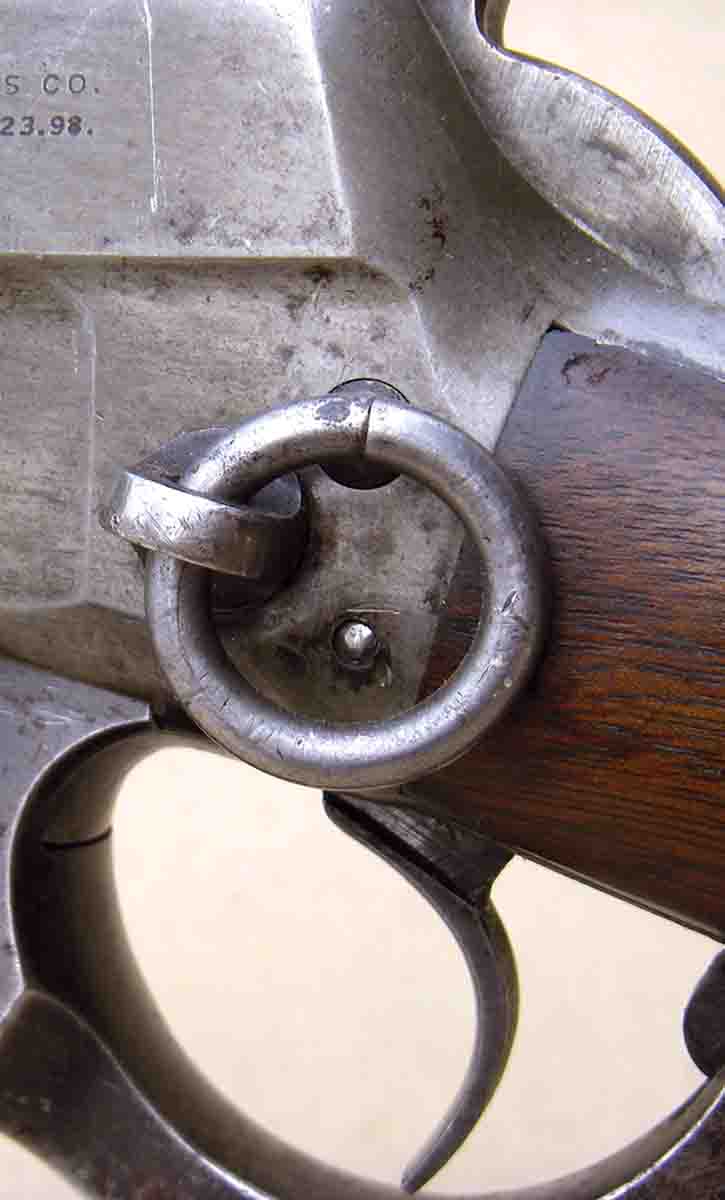 At the time of the 1895's introduction, the frontier was still rugged and wild, with horses being the primary source of transportation. Guns were often continually exposed to the elements, and the Model 1895 has proven one of the most rugged and dependable of all levergun designs. When the action is closed, there is no place for dirt to penetrate to any large degree. The Russian military conducted torture tests on the 1895 and was impressed with the design, which resulted in their ordering around 300,000 rifles for the 7.62x54R cartridge. In battle, the rifle proved rugged and reliable.
For 40 years I have shot and hunted with a variety of Model 1895 Winchester and Browning reproductions. To me, they are not an antique or frontier novelty, because they are still just as useful for hunting as they were in 1895. When outfitted with good aperture sights and proper loads, they often produce minute-of-angle (MOA) accuracy, which I have seen from original rifles as well as Browning and USRAC guns produced in Miroku, Japan. I have used Model 1895s in Alaska and have taken moose, caribou and dall sheep at distances out to 400 yards and have never felt handicapped. At the end of each hunt, guides and outfitters have tried to talk me out of my rifle, so apparently I am not the only one who likes them!
The Model 1895 is well suited for building a handsome custom rifle and can house a variety of medium-bore and big-bore cartridges suitable for heavy game. Guide friends in Alaska, such as Ed Stevenson of Sheep River Hunting Camps, are currently using custom-built Miroku (Browning and USRAC) rifles chambered for .338 Scovill, .35 Whelen, 9.3x62, .375 Scovill and .411 Hawk, any of which are suitable for Alaska's largest game and African plains game.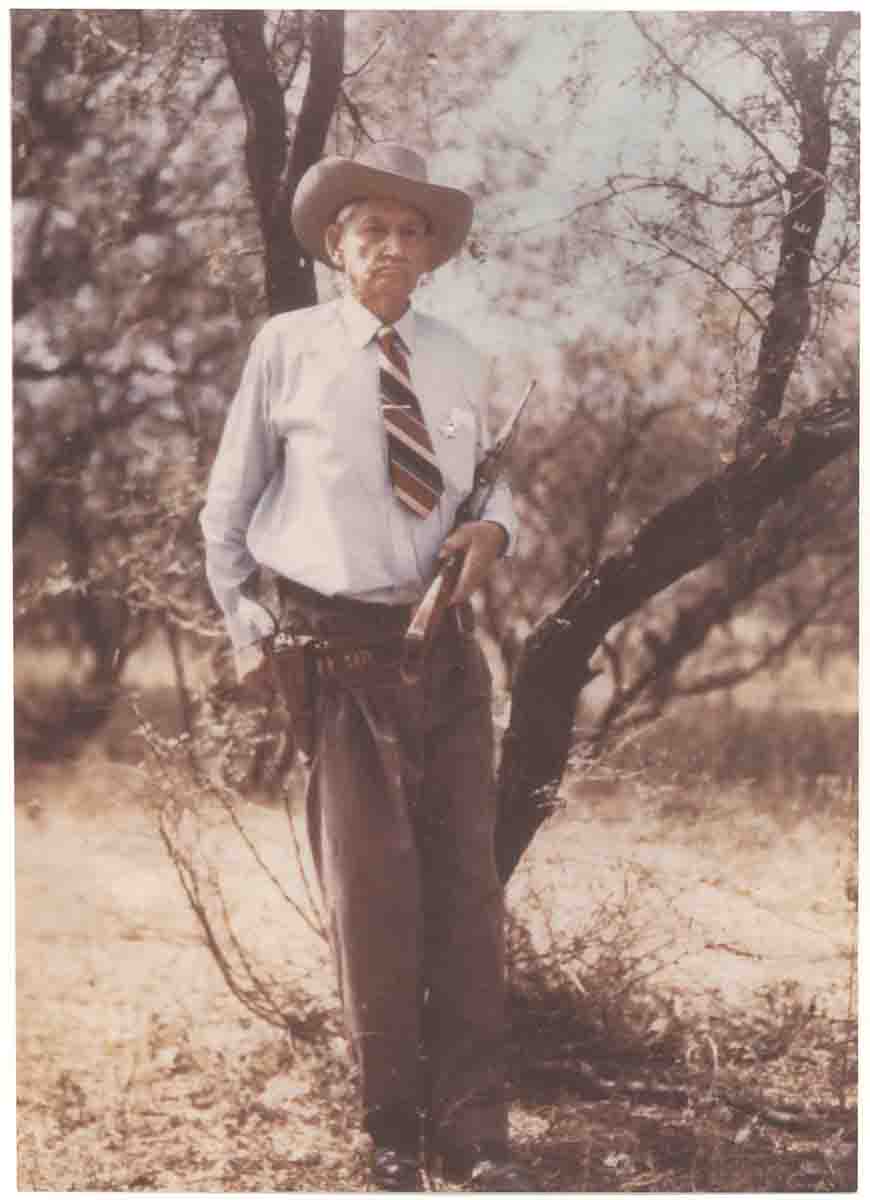 For the purposes of this column, I wanted to briefly review a vintage Model 1895 Carbine chambered in .30 U.S. to better understand the potential and limitations that the Arizona Rangers experienced from 1901 to 1909, when this was the legislatively mandated rifle and cartridge. The featured carbine was manufactured in 1902, the same year my grandfather, Joe Pearce, met with Captain Rynning to join the Arizona Rangers. It shows wear, but no abuse and an excellent bore. It features a 22-inch barrel, a ladder rear sight and bead front, and its 4-pound trigger pull is exceptionally crisp.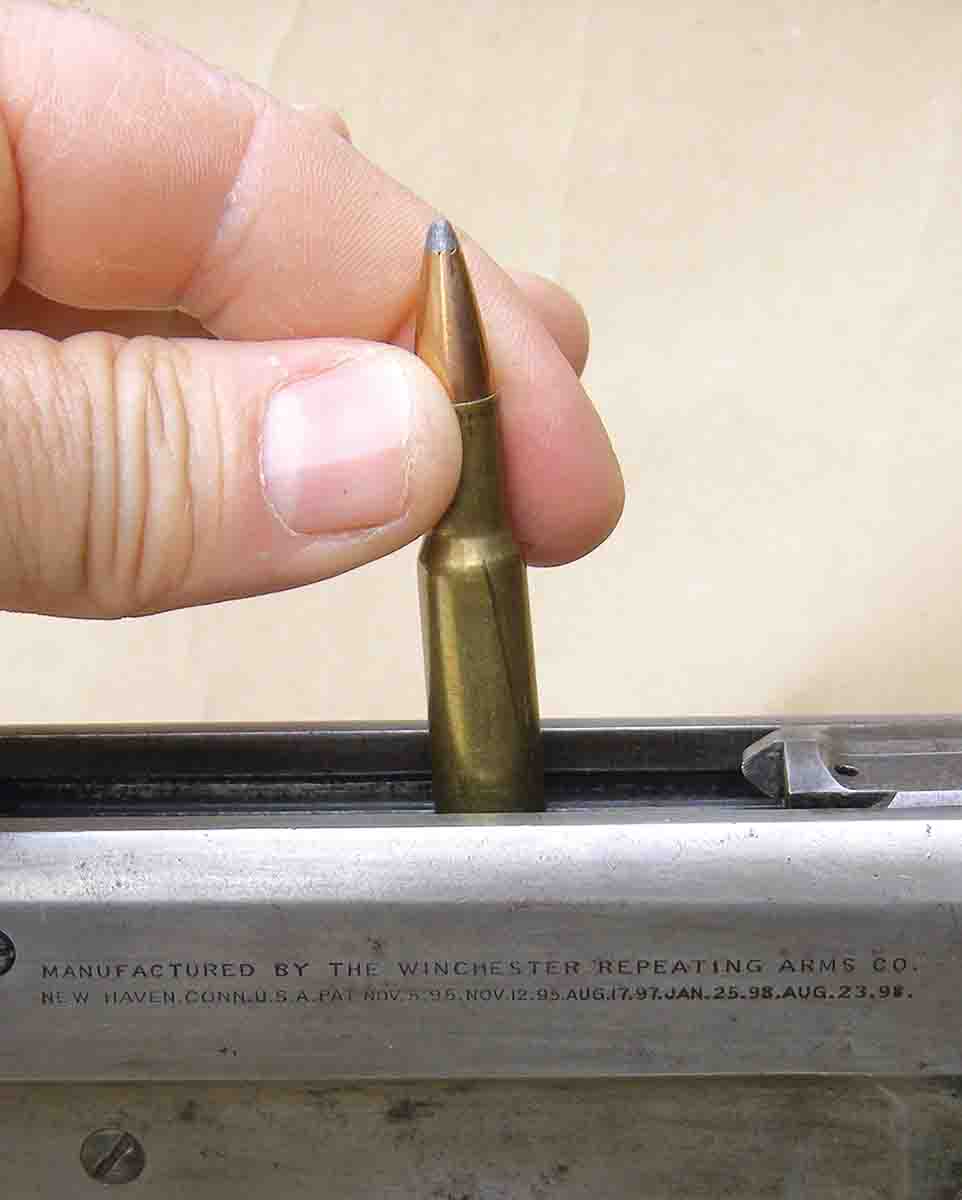 Factory .30-40 Krag loads containing the above mentioned 220-grain bullet at 2,200 fps (with velocities established from longer barrels) have long since vanished from Remington and Winchester catalogs. They have been replaced with 180-grain spitzer bullets at 2,430 fps. From the Rangers' carbines, I believe that vintage loads reached around 2,100 fps to not over 2,150 fps. To duplicate vintage ammunition, handloads were assembled in Winchester cases with the Hornady 220-grain RN bullet at 2,125 fps using 41.2 grains of IMR-4350 powder and CCI 200 Large Rifle primers. Bullets were seated and roll crimped with an overall length of 3.080 inches.
From a sandbag rest, several four-shot groups were fired at 100 yards and produced groups from one to 1.25 inches, which was pleasing from an iron-sighted rifle that has seen frontier use and is 115 years old!
After the formalities were over, I could not resist taking a quantity of ammunition to my long-distance range, standing the ladder rear sight up and launching bullets into targets at 800 yards (the first setting on the ladder sight) and at 1,000 yards. While the load cannot compare with today's higher-velocity cartridges stoked with low-drag, high-ballistic coefficient bullets, the rifle lobbed bullets consistently into the target and would have made it extremely troublesome for an outlaw.