The .22 Winchester Magnum Rimfire (WMR) appeared in 1959, filling a gap created by the demise of older, larger rimfire rounds. Since then the .22 Magnum has seen both ups and downs, and to understand why, we need to examine rimfire history.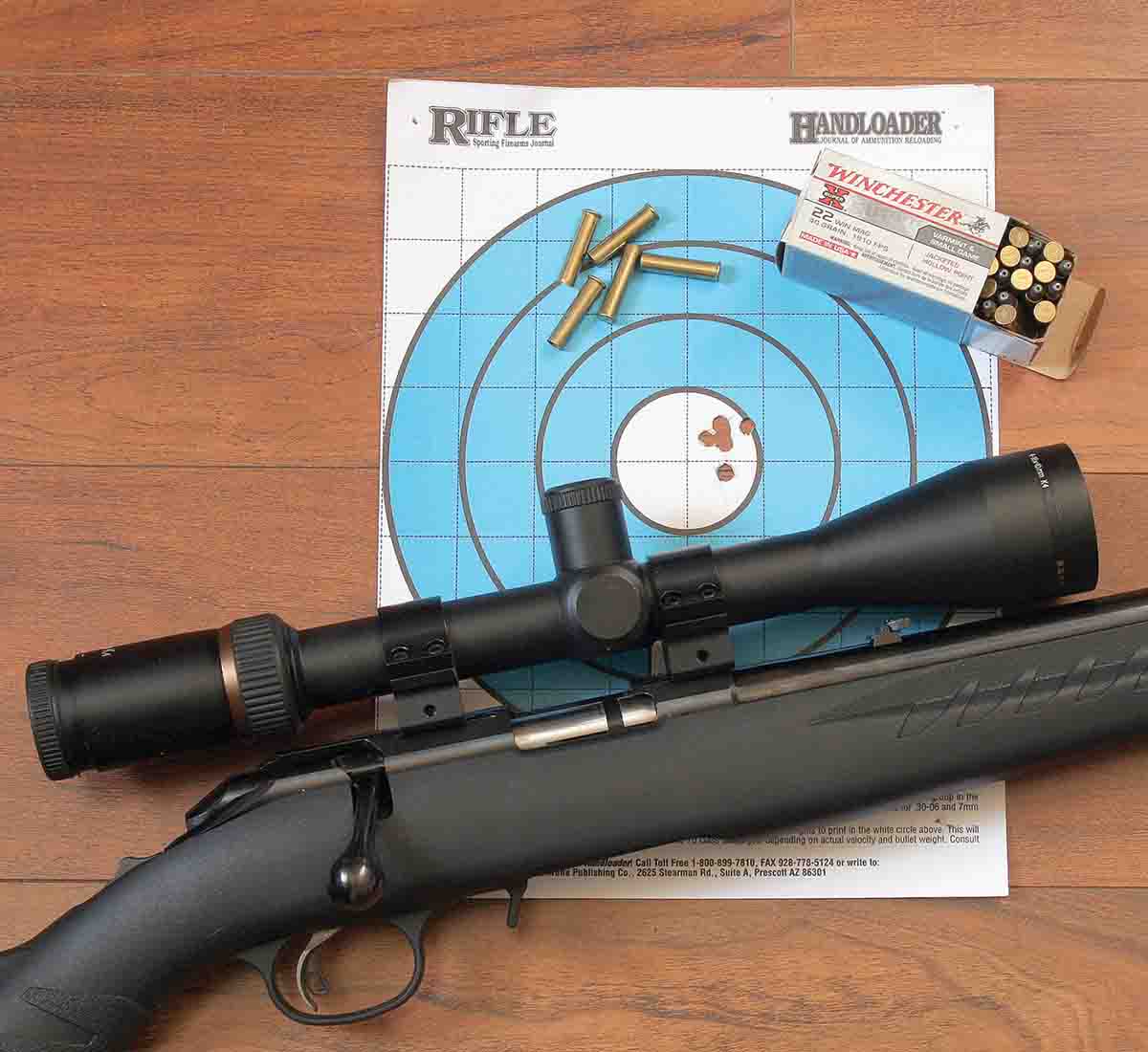 Rimfires first appeared in the mid-1800s, among them the oldest cartridge still produced today, 1857's .22 Short. By the 1860s much larger rimfire rounds appeared, the most popular being the .44 Henry and .56-56 Spencer, chambered in early lever-action rifles, but the advent of smokeless powder pretty much killed them off. While a few .25- to .32-caliber rimfires lasted until World War II, after the war only .22 rimfires remained in production.
By then telescopic sights were becoming more popular, and some shooters wished for higher-velocity rimfires. The easiest way to increase velocity was a longer .22 case, but instead of stretching the .22 Long Rifle, Winchester based its new round on the slightly larger .22 Winchester Rimfire cartridge, introduced in 1890. Also loaded by Remington as the .22 Special, the "High Velocity" load featured a 45-grain bullet at a listed 1,450 fps, plenty for iron sights but not enough velocity to satisfy scope users.
The original .22 Winchester Magnum load featured a 40-grain hollowpoint bullet at an advertised 2,000 fps, which promoted the .22 WMR like 3,000 fps promoted the .250 Savage in 1913 and 4,000 fps promoted the .220 Swift in 1935. (Later, the WMR's listed muzzle velocity was reduced to 1,910 fps, but by then it didn't matter.) The new cartridge became immediately popular in both rifles and handguns, and I bought my first in the late 1960s while still a teenager, a Savage Model 24 combination gun with a .22 Magnum barrel on top of a shotgun barrel also chambered for a relatively new "magnum," the 3-inch 20 gauge.
I hunted a lot with the Savage over the next few years, taking animals from prairie dogs to sage grouse, although the 20-gauge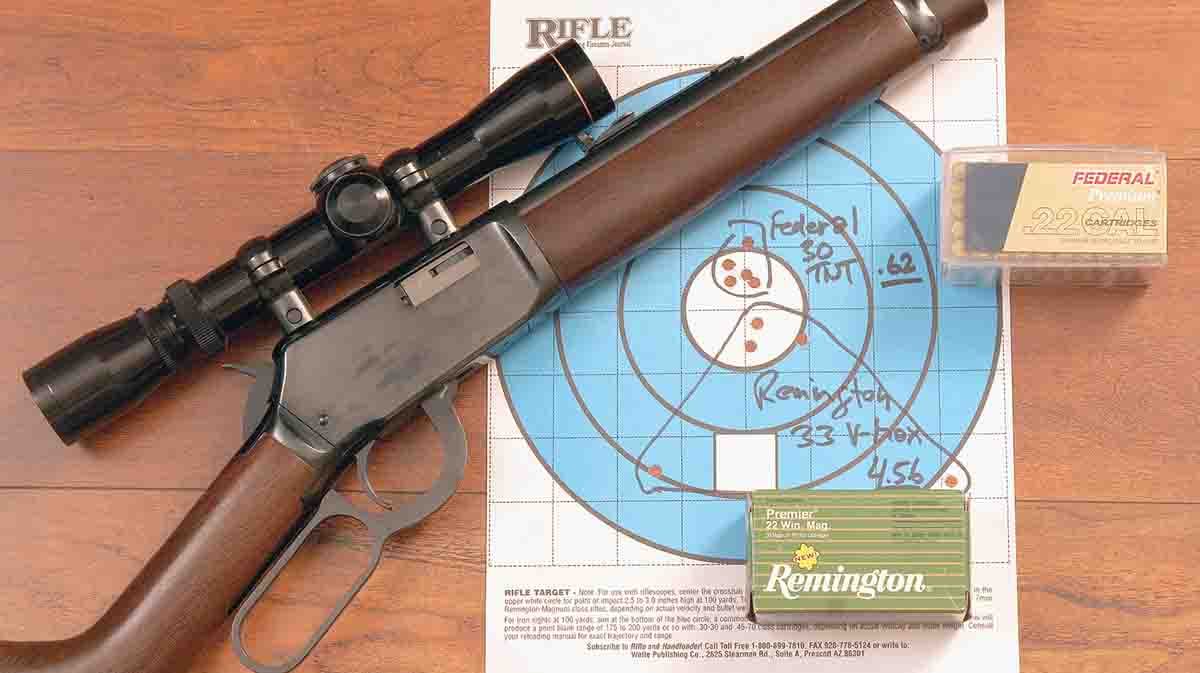 barrel shot so high only the bottom fringe of the pattern hit where the gun pointed. I got used to that, but the barrel-selector button on the action tended to get stuck halfway. The first time this happened I scattered some No. 6 shot at a coyote over 100 yards away. The coyote was alarmed but unharmed, and eventually the Savage ended up with my first wife's youngest brother, whereupon I forgot about the .22 Magnum until 2003.
That fall I hunted deer in Texas with a friend during a high point in the jackrabbit population. After getting our deer, the landowner/outfitter loaned us his .22 WMR to thin out the jacks. The rifle was a Winchester Model 9422M, which dropped jackrabbits quicker than any .22 Long Rifle load I'd ever used. Soon after arriving home in Montana, I stopped by Capital Sports & Western Wear in Helena, by some odd chance finding a brand-new 9422M.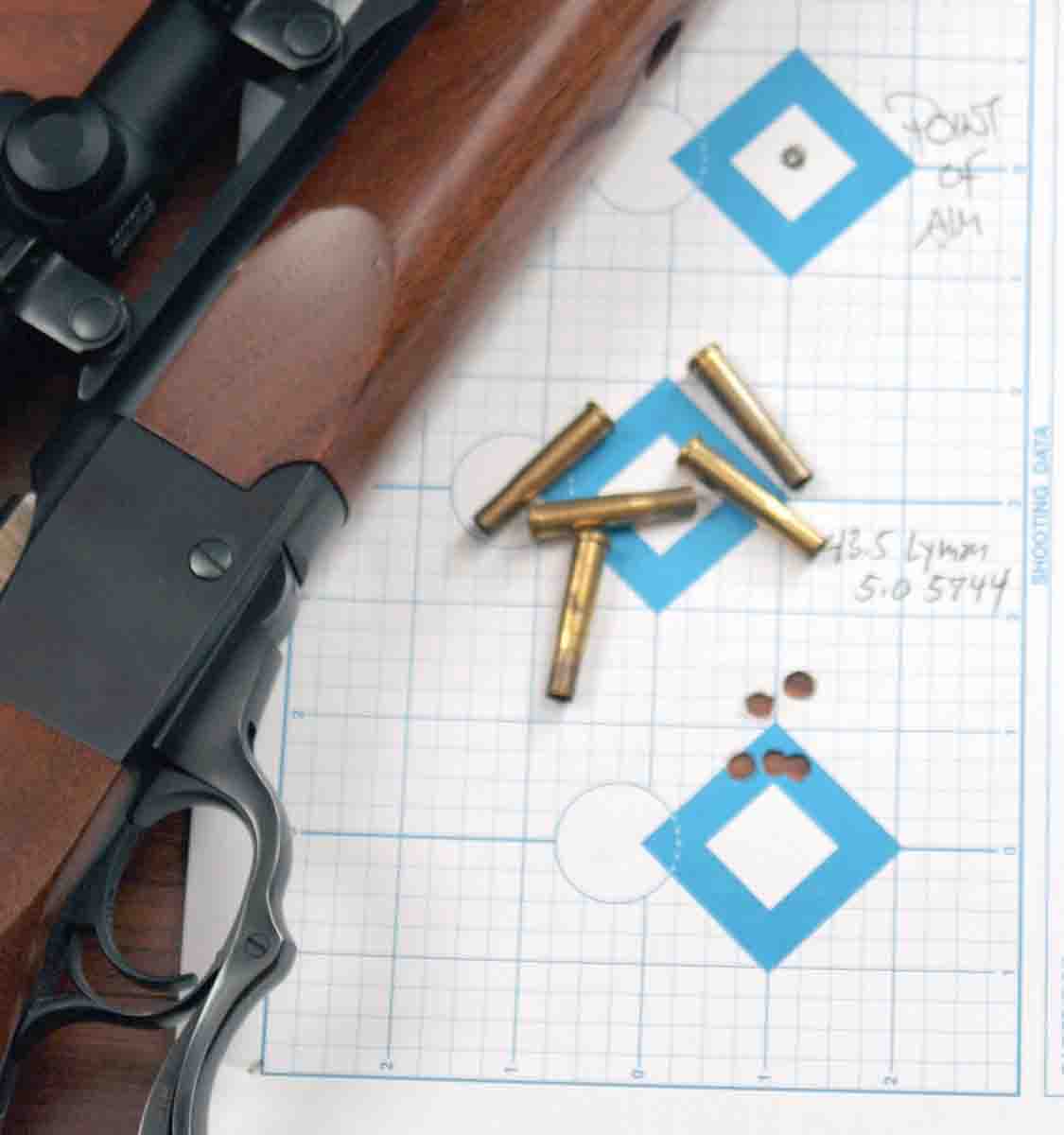 It proved accurate with the original Winchester load, putting five shots into a little over an inch at 100 yards, but I'd also purchased several boxes of a new Remington load featuring a 33-grain AccuTip spitzer with a higher ballistic coefficient (BC). This seemed ideal for smaller varmints like prairie dogs, but a pair of five-shot groups measured over 3.0 inches. Montana's jackrabbit population was at a low point, so the 9422 was used on prairie dogs with the Winchester 40-grain JHPs – and the rifle started spraying bullets a little as the barrel warmed up, not uncommon in tube-magazine lever actions.
That same year I'd purchased a CZ 452 .17 Hornady Magnum Rimfire, the .22 WMR necked down. Five-shot groups went well under an inch with any ammunition, and the 17-grain bullets not only shot flatter than the Winchester .22 Magnum load but also drifted noticeably less in the wind. This seems counterintuitive to the average shooter, who believes heavier bullets should drift less because heavier stuff is harder to move. In reality, wind drift is controlled by BC and velocity, and the BC of the .17-caliber V-MAX bullet is higher than all but the very heaviest .22 Magnum bullets, which start out almost 1,000 fps slower. (Despite this, a few Montana prairie dog shooters still claim they "prefer" the .22 WMR, because its bullets drift less in the wind, a sure indication they've never used a .17 HMR.)
A few years later I went on a prairie dog shoot with Remington and Marlin and got a chance to try a Marlin bolt-action .22 Magnum that shot consistently even after the barrel got warm. So I sold the 9422M and bought a Marlin, but its best groups at 100 yards were twice the average size of .17 HMR groups. Many shooters said CZ's .22 Magnums were very accurate, and based on my .17 HMR, this seemed a reasonable assumption. I traded the Marlin for a CZ, but it shot about the same way.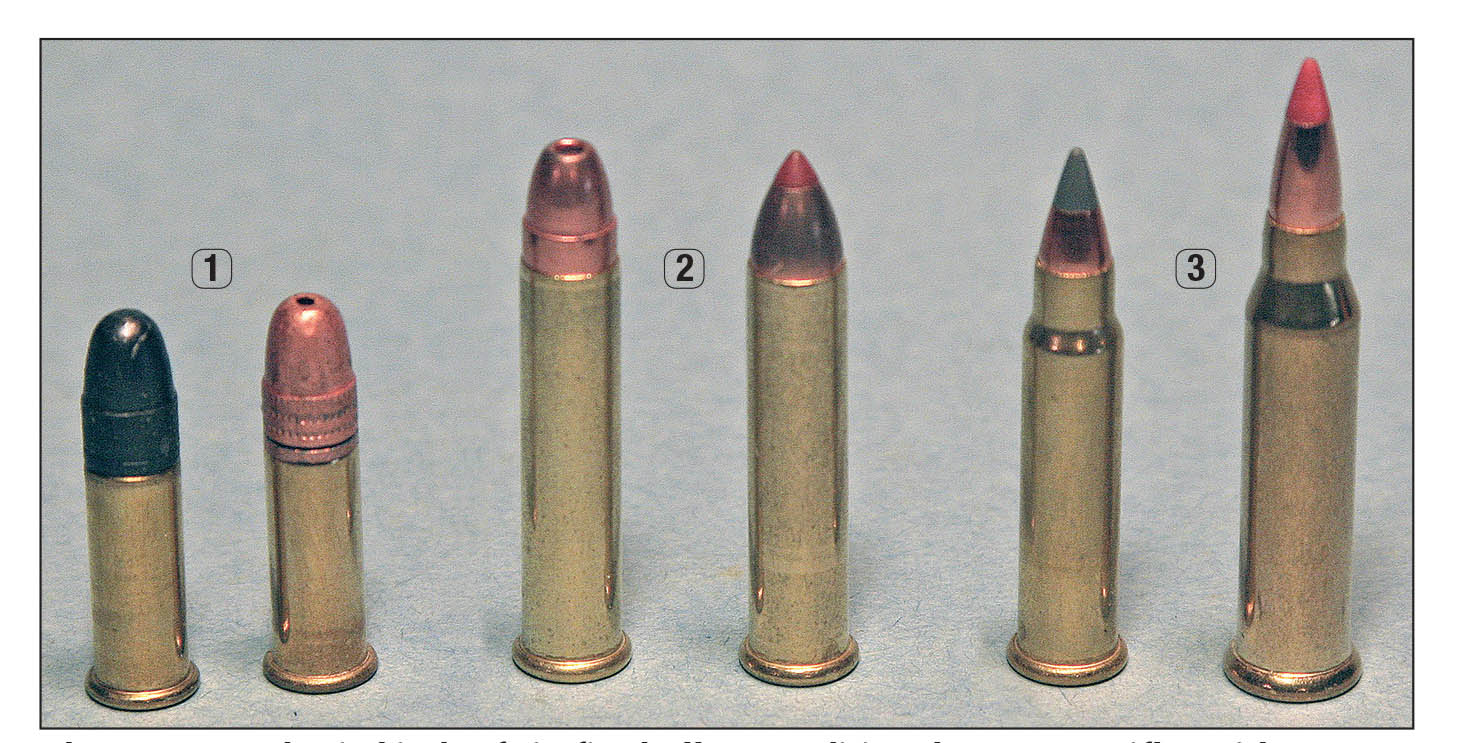 By this time I was getting somewhat stubborn so continued to ask other shooters about .22 Magnums. A few advised buying an Anschutz, a temptation because I owned an Anschutz Model 54 that shot very accurately with a wide variety of .22 Long Rifle ammunition. But even used "Annies" in .22 Winchester Magnum cost far more than I was willing to pay after some experience with my $400 .17 HMR.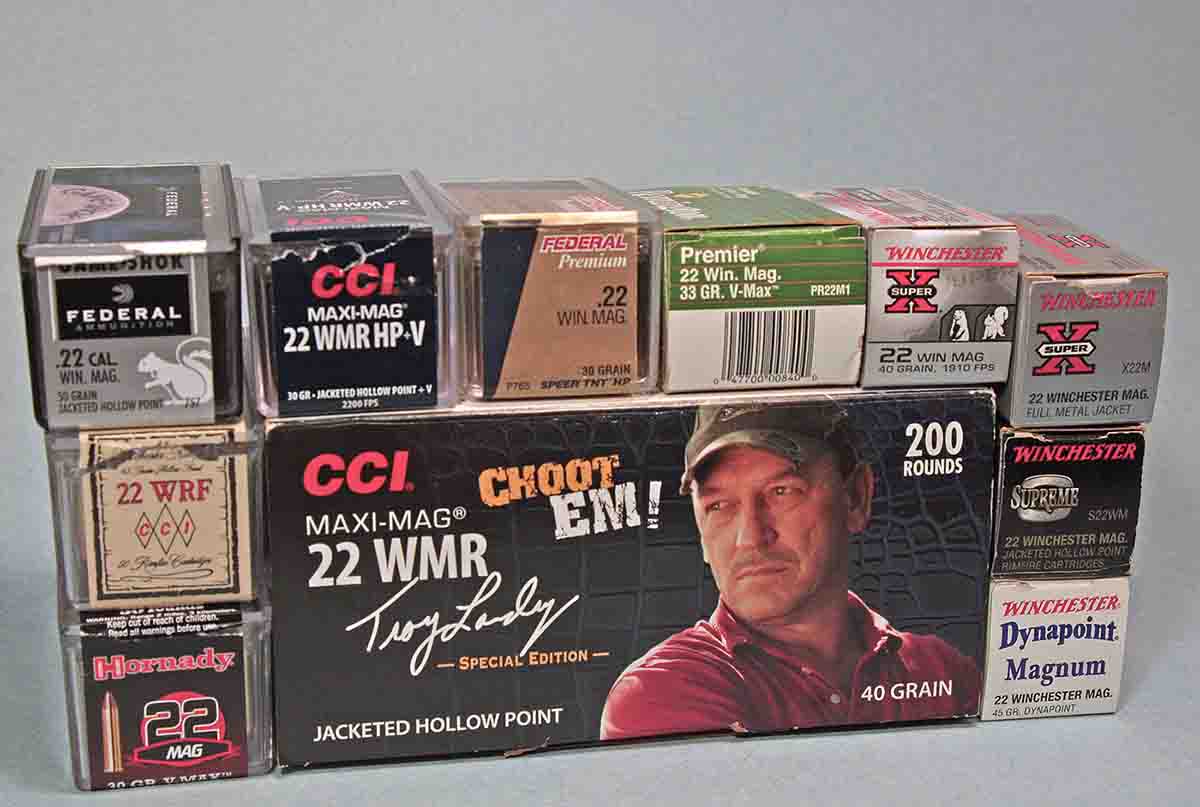 The consensus was that .22 WMR rifles usually "liked" one or two loads, so a varmint hunter should accept that fact and shoot those loads. This made sense, so I sold the CZ and looked for another 9422M. (Nobody ever claimed being a rifle loony is rational.) The second Winchester, a used rifle from the 1970s, shot Federal 30- grain TNT loads as accurately as the first rifle had shot Winchester 40-grain HPs. It shot the Winchesters all right too, but it sprayed the Remington 33-grain V-MAXes into even larger groups. I'd learned to accept that from .22 Magnums so decided to stock up on 30-grain Federal loads and 40-grain Winchester loads.
Unfortunately, about then the "Obama Reelection Shooter's Panic" began. Suddenly rimfire ammunition became scarce, with .22 Magnum ammunition almost nonexistent. Eventually the panic changed how Americans buy rimfire ammunition: Instead of being able to walk into stores and buy whatever they desired, smarter shooters searched the Internet, pouncing on any good deals.
Eventually I got smarter too, and after a couple of years had ample supplies of 10 kinds of .22 Magnum ammunition, along with a brick of CCI .22 Winchester Rimfire hollowpoints. This may seem excessive, but my wife and I own three other .22 Magnums, an 8- inch Krieghoff shotgun-barrel insert for my Sauer 16x16/6.5x57R drilling (a far more satisfactory combination gun than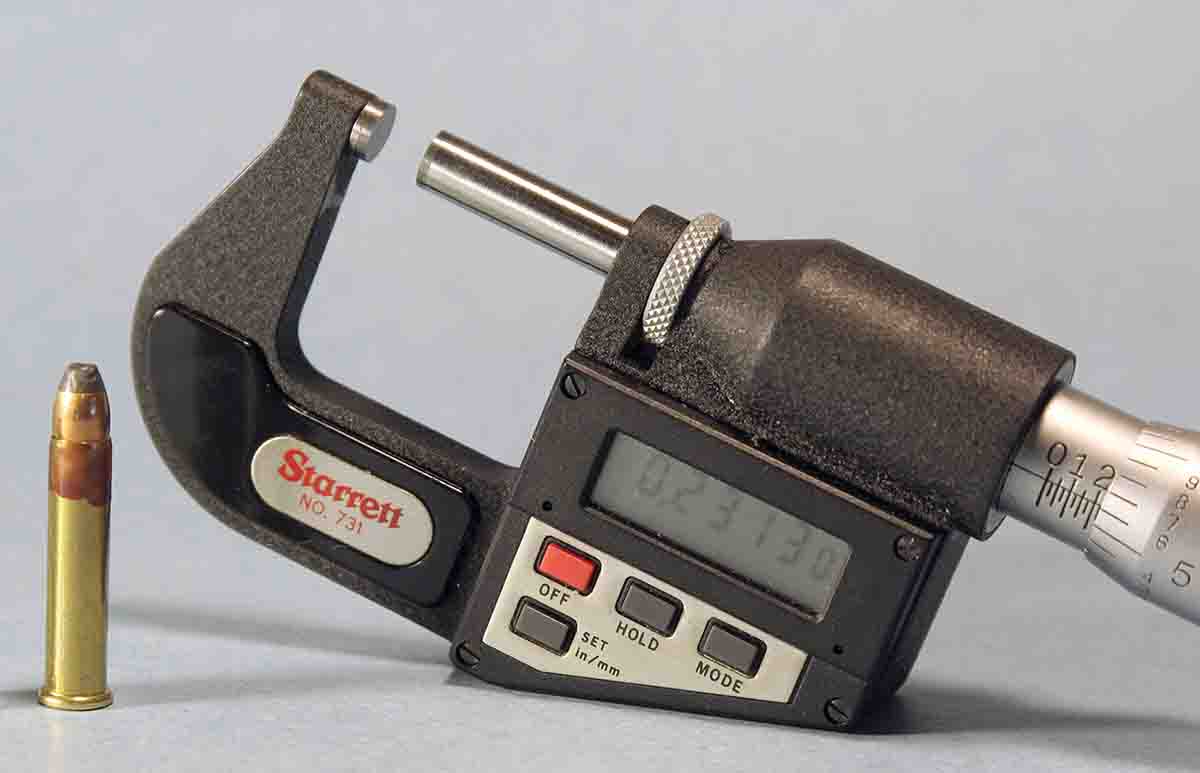 the Savage 24) and a pair of Ruger Single-Six revolvers with interchangeable cylinders.
During this period Ruger American Rifles (RAR) appeared. I tried a .22 Long Rifle and a .308 Winchester, both confirming the RAR's reputation for accuracy. One day in 2015, a .22 Magnum RAR appeared at Capital Sports for about one-quarter the price of the average Winchester 9422M, and a few days later the rifle went to the range one afternoon with a wide variety of .22 WMR loads, just to see what it liked.
Like many Montana afternoons it was breezy, so the shooting was done at 50 yards. (Another fact unknown to casual shooters is wind drift doesn't double at twice the range, but essentially quadruples.) The largest five-shot group measured an inch, with the rest between .5 and .8 inch, which converts to 1.0 to 1.6 inches at 100 yards, confirmed a few days later on a very calm morning. Even the Remington 33-grain V-MAX load grouped very well, a decade after I'd bought the ammunition.
Why are .22 Winchester Magnums so mysteriously fickle about ammunition? I started asking not just other shooters but shooting- biz professionals. One magazine editor said he'd always suspected the standard rifling twist of one turn in 14 inches was a little too slow, but I knew that wasn't true. During the height of the rimfire shortage, I'd developed several rimfire-equivalent loads for a Ruger No. 1B .22 Hornet, also with a one-in-14-inch rifling twist. All shot very well with bullets similar to those in .22 Magnum ammunition.
One gunsmith thought the chamber throats in .22 Magnums were too short. A check of the SAAMI website, however, listed the standard throat as .06 inch, shorter than the throat for any other rimfire cartridge except the .22 Short, and considerably shorter than the .22 Long Rifle "Match" chamber.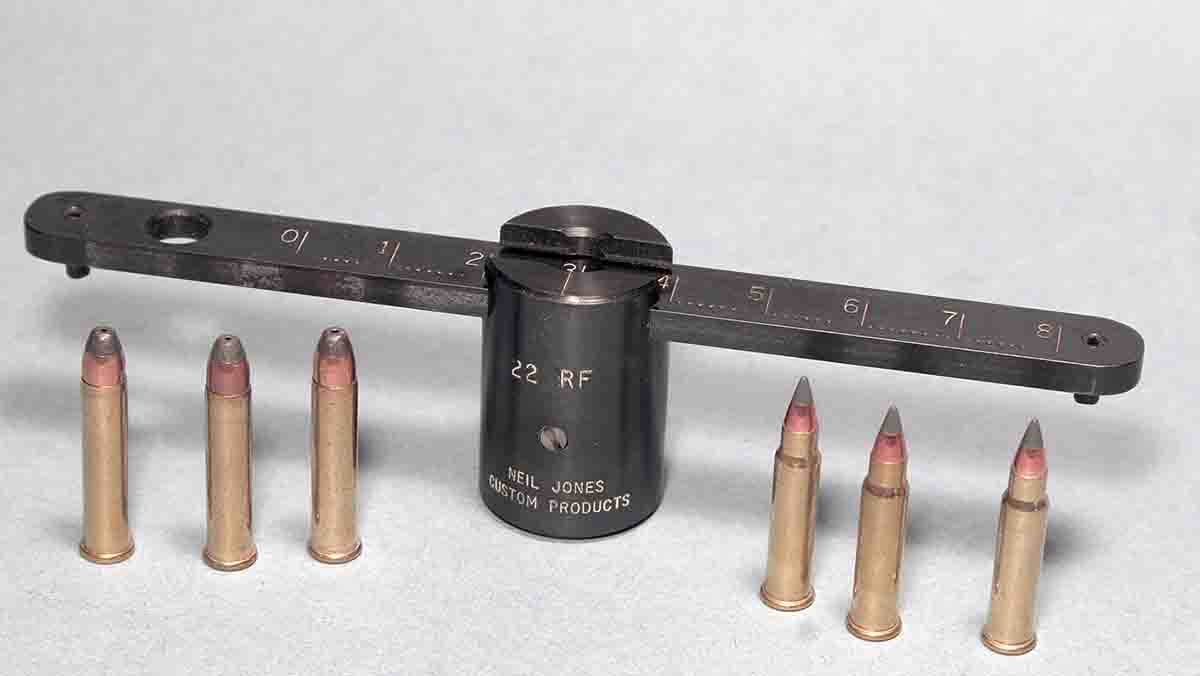 What really puzzled me was the difference in accuracy between the .22 Magnum and .17 HMR, its direct descendant. Perhaps the rims of .22 Magnum ammunition weren't as consistent? Many .22 rimfire target shooters sort ammunition by rim thickness, figuring it can make a difference not only in headspace but ignition. This has been contradicted by at least two people who tested a lot of target ammunition and couldn't find this accuracy advantage, but I'd acquired a Neil Jones rimfire gauge somewhere and decided to use it. It turned out there wasn't any significant difference in the rim thickness between .22 Magnum and .17 HMR loads measured, which wasn't surprising.
I also emailed Mark Gurney, Ruger's product manager, describing the accuracy of my American Rifle and asking why it might shoot so consistently. Mark had been forthcoming about Ruger manufacturing techniques before, but this time his response was one word: "Luck?"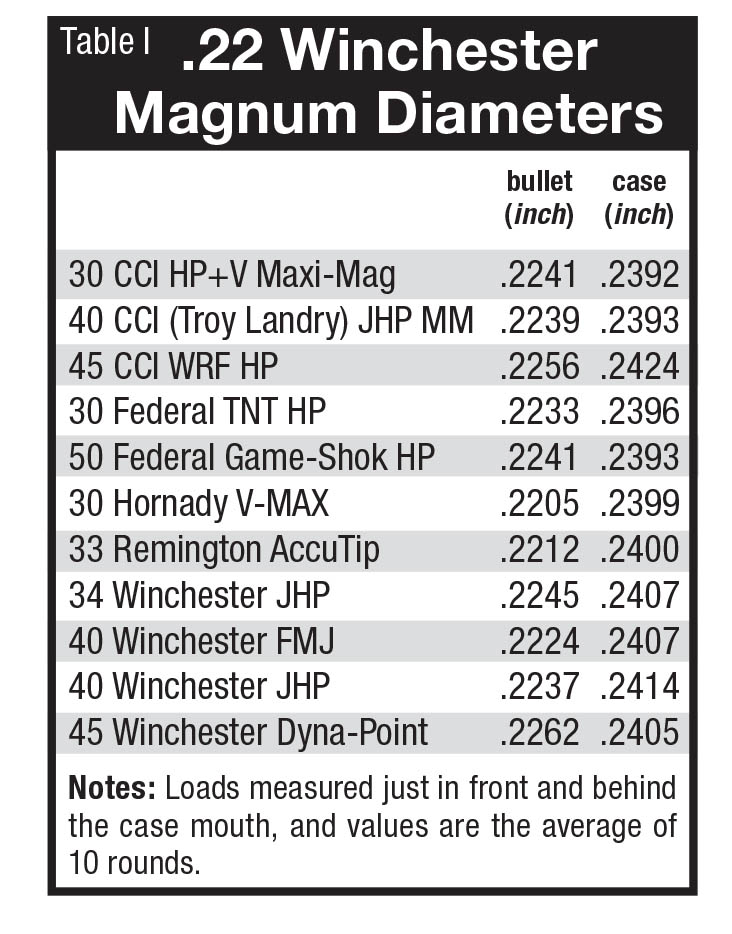 Eventually I suspected the mystery might lie in the wide variations of .22 Magnum bullets, so a Starrett digital micrometer was used to measure bullet diameter just in front of case mouths and also measured the cases just behind the mouths (see Table I).
All this measuring revealed several factors I hadn't previously realized. First, two kinds of bullets are loaded in the .22 Magnum these days, including what might be called "traditional" rimfire bullets, such as the original Winchester 40-grain JHP with a full-diameter, cylindrical section in front of the case mouth and "modern" spitzers with the cylindrical section inside the case mouth. Bullets with outside cylindrical sections varied in diameter from .223 to .226 inch.
All .22 Long Rifle bullets have an outside cylindrical section, and the .22 Long Rifle "Match" chamber is short enough for the rifling to engage this cylinder, much like cast bullets in black-powder cartridge rifles are often seated firmly into the rifling. Also, all .22 Long Rifle match ammunition uses plain lead bullets, in order to eliminate minor bullet imbalances possible from copper plating or jacketing. All .22 Magnum bullets are jacketed.
In contrast, all the bullets loaded in .17-caliber rimfires are very similar jacketed spitzers. These are seated very similarly to jacketed bullets in centerfire rifle cartridges, close to the rifling.
The .22 Magnum's present loads include several where the bullets have to "jump" quite a distance before engaging the rifling. Over the years I'd found the original Winchester load with the 40-grain JHP the most consistently accurate in various .22 Magnum rifles, and other shooters confirmed my observation. This made sense, since it's a traditional rimfire bullet with a cylindrical section in front of the case mouth, very close to the rifling.
At this point a Hawkeye borescope was used to look inside the American Rifle's six-groove barrel. It wasn't quite as smooth as some recent Ruger barrels (They've been nicely hammer-forged since the 1990s.) but was still very good. Slugging the bore indicated the dimensions were very consistent, with an average groove diameter of .2239 inch and a bore diameter of .2193, both slightly under nominal SAAMI specs. Slightly tight bores often shoot more accurately.
However, cartridges fitting loosely inside the chamber won't line up bullets very consistently with the rifling. I thought about this for a while, then painted the front of the case of a Winchester 40-grain JHP round (the load with the largest case diameter) with polyurethane-based wood stain. After allowing the stain to dry thoroughly, the round's diameter increased only .0014 inch, but that was enough to make it stick slightly in the Ruger's chamber, indicating the front end of the chamber is only about .001 inch larger than the Winchester ammunition. This combination of a tight chamber and bore is probably what allows the Ruger to shoot a wide variety of ammunition accurately.

These days .22 Winchester Magnum ammunition is apparently produced only now and then, and as a result buying the specific load a particular rifle prefers is far more difficult. A look at several Internet sites in mid-September 2015 found two kinds of .22 WMR in stock, Hornady 45-grain Critical Defense designed for handguns and Armscor 40-grain JHPs made in the Philippines. On all the sites, .22 Long Rifle, .17 HMR and .17 WSM ammunition were abundant.
In an informal survey on an Internet chat room, about 75 percent of Ruger American owners reported their .22 Magnums shot a variety of ammunition reasonably well, but the other 25 percent said theirs were typically picky, so apparently "luck" was indeed involved in my purchase. However, I did finally find a .22 Magnum that shoots a wide variety of ammunition accurately – for under $200!