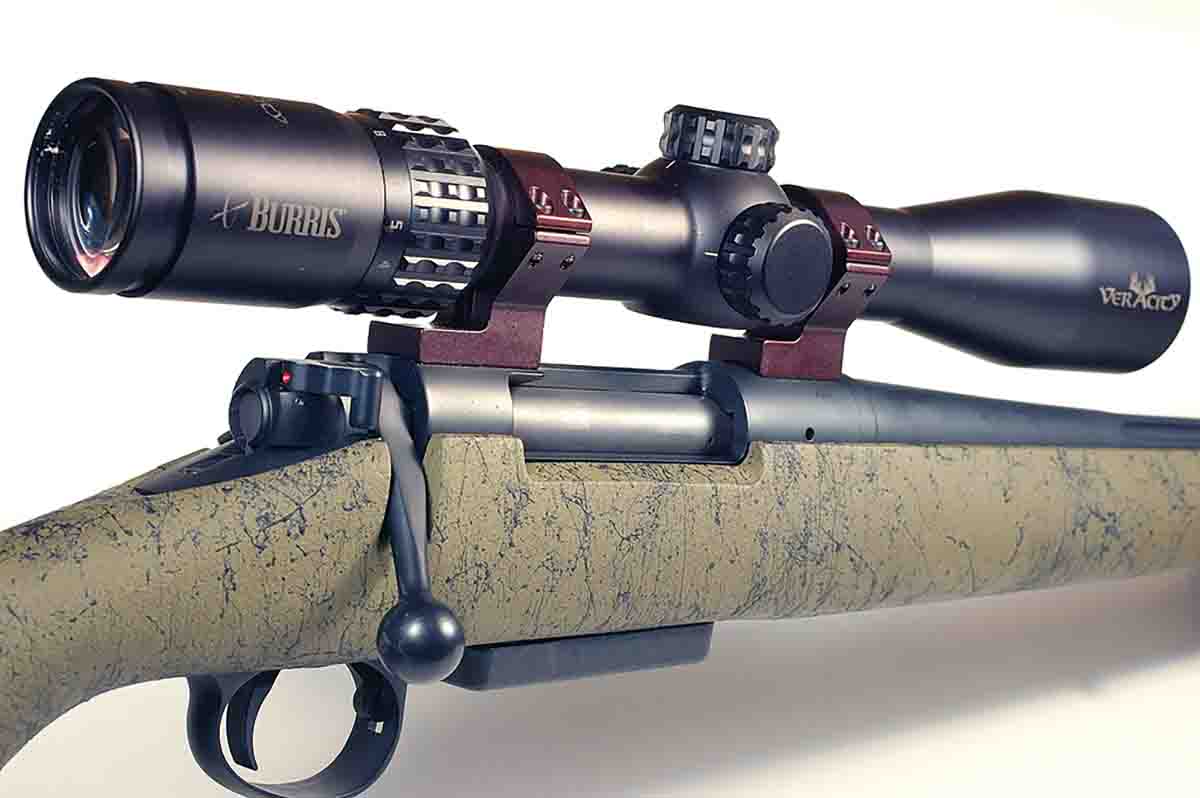 Don Burris founded his namesake optics company in 1971. In the ensuing years, Burris introduced a full line of rifle and handgun scopes and his was the first company to sell scopes with multicoated lenses. Burris passed on to his reward in 1987, but the company continued to expand its product line to include binoculars, spotting scopes and more scopes. Beretta Holdings of Italy bought Burris in 2002 to complement Beretta's 25 other companies producing shooting sports guns, optics and gear. Production at the Burris plant in Greeley, Colorado, reached 80,000 products in 2007.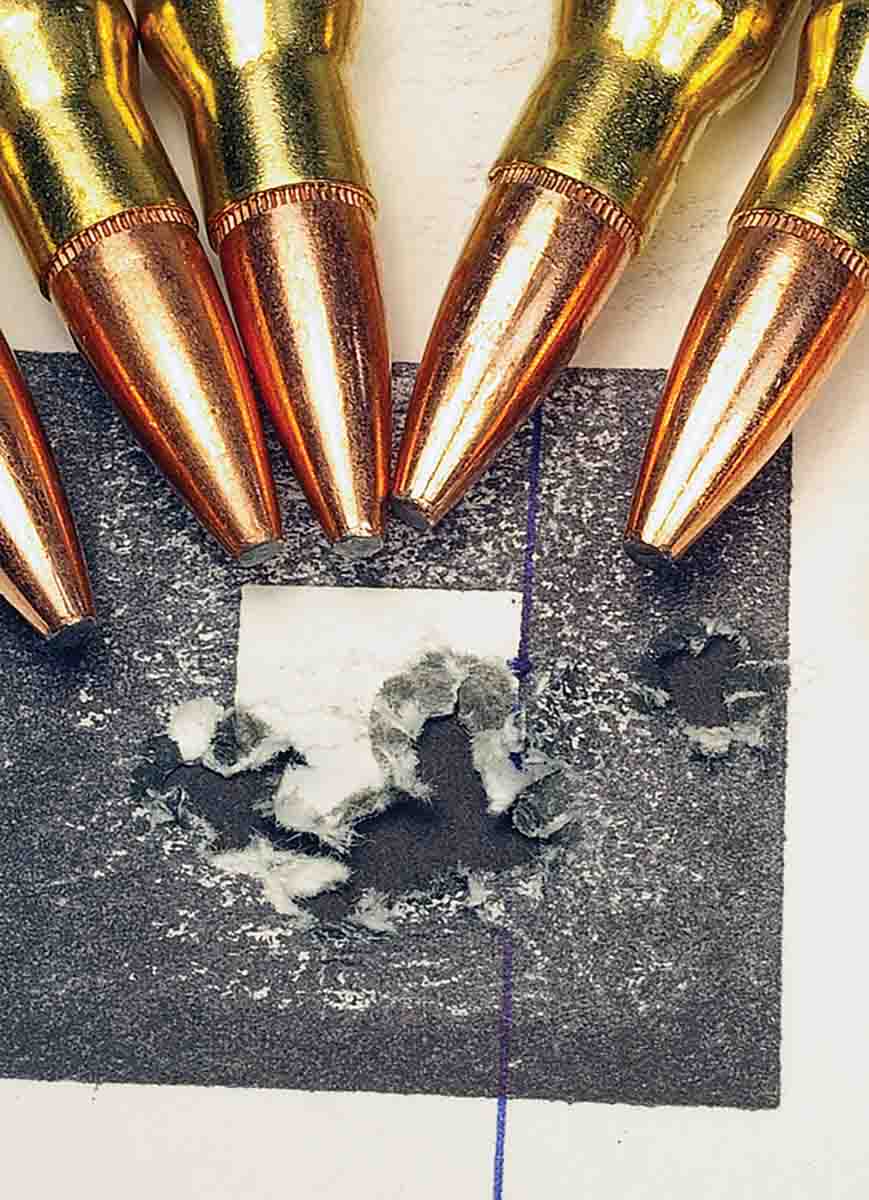 Market competition soon forced Beretta to choose between lowering product quality or moving manufacturing offshore to reduce labor costs. Beretta moved Burris scope production to the Philippines and the manufacture of some of its mounts to China.
Burris's current product lineup is sizable enough to fit every shooter's budget. It includes 43 variations of 14 models of riflescopes, 3 handgun scopes and 7 types of sights. These optics range from the huge Eliminator III LaserScope with a built-in laser rangefinder and trajectory compensator to tactical scopes, scout scopes, hunting scopes and red-dot reflex sights. Burris is big into bullet drop compensating reticles. Of the 27 reticles Burris offers, 22 have some type of reticle that help compensate for range, wind or both.
Two Burris scopes were recently tested on centerfire rifles and a red-dot sight on a .22 pistol. The Veracity 2-10x 42mm is a heavy scope at 22.7 ounces. (In comparison, a Swarovski Z3 3-10x 42mm scope weighs 12.7 ounces.) Some of the Burris's weight comes from a 30mm main tube and side parallax adjustment dial. The Veracity's reticle is in the front focal plane, which decreases in size as magnification decreases and increases as magnification is turned up. That feature means the Ballistic Plex E1 FFP reticle is always in the correct proportion to use the hash marks to compensate for bullet trajectory out to 600 yards. The Fullfield II 2-7x 35mm riflescope is a basic hunting scope. With a retail price of $191, the Fullfield includes
index-matched, Hi-Lume multicoated lenses. With a weight of 12 ounces and length of 11.4 inches, the Fullfield fits just right on a hunting rifle. Group sizes shrank by about half with a FastFire 3 reflex red-dot sight on my Ruger 22/45 Mark III Target .22 LR pistol compared to the pistol's open sights. The FastFire's 3-MOA red dot was also faster to aim and with a weight of 1.5 ounces maintained the pistol's balance.
The view through the two rifle scopes was tested during low light. I pinned up a 10-inch square board painted with one-inch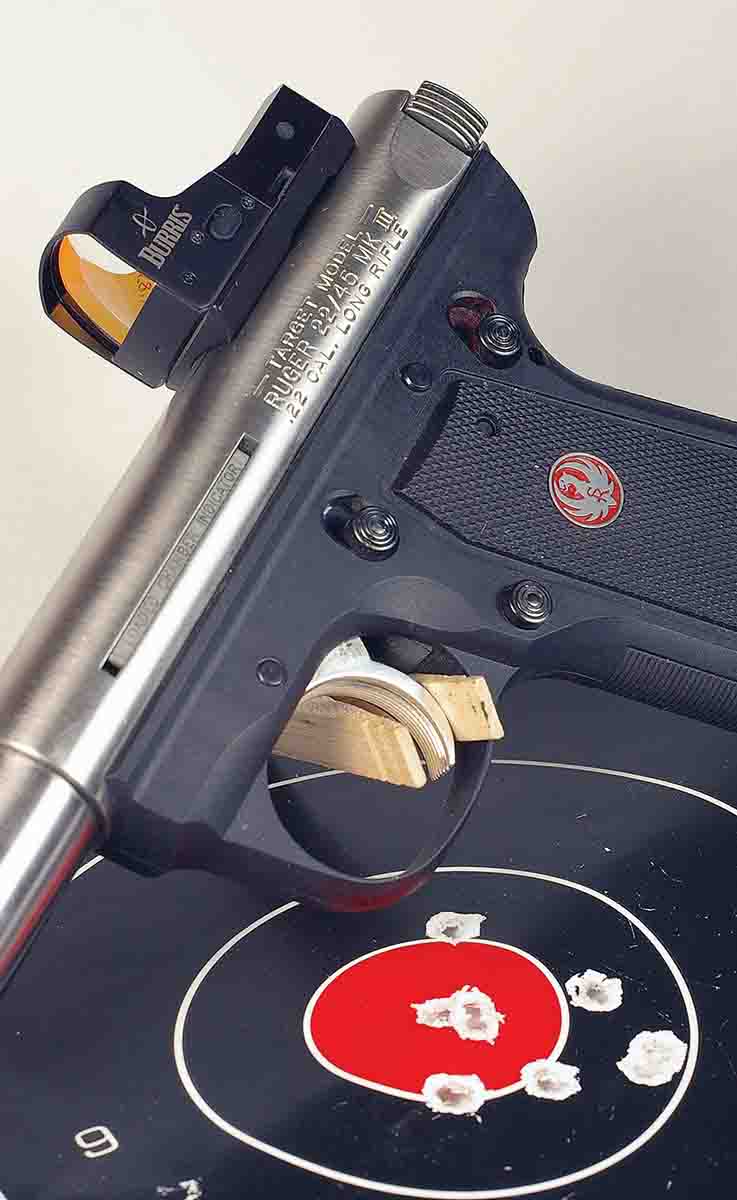 thick alternating black and white lines at 30 yards. Right next to the board I set a bare 60-watt bulb in a lamp connected to a rheostat. The rheostat was marked with numbers, the lowest indicating the dimmest light and on up to the brightest. A longer distance, say 100 yards, would have probably produced a more favorable performance for the scopes' higher-power settings in low light, but I was alone and had only 30 yards of extension cord.
On a summer night, the Veracity was aimed at the lined board. Set on 2x, the lines were easily discernible with a 2.5 rheostat setting. With the scope set on 6x and then 10x, the lines where easy to see at a setting of 2.0, with the bulb barely glowing. Add a hint of moonlight, and you could hunt coyotes most of the night with the Veracity. The Fullfield lagged only slightly. Set on 2x, the rheostat mark was 2.75 when the lines came into sharp view. Set on 4x and 7x, the rheostat setting was 2.5. In the daylight I dialed the windage and elevation screws, shot the guns the two scopes and FastFire 3 reflex sight were mounted on and dialed some more to determine how precisely their reticles adjusted.
The Veracity was on an H-S Precision .308 Winchester rifle. The first three, 150-grain bullets from Federal Fusion cartridges punched out the center of a .5-inch target square at 100 yards. Each click of both of the Veracity's windage and elevation dials moved the reticle .25 MOA at 100 yards. With the elevation dial turned down 24 clicks (6 inches) and the windage dial turned left 24 clicks, three more shots were fired. The group was about an inch lower than it should have been, but exactly 6 inches left. With the elevation dial turned up 40 clicks, three bullets hit 10 inches higher. After turning the dials back to their original setting, I ever so carefully fired three more shots. The first and last three bullets formed an .80-inch group.
The Fullfield was mounted on a Remington Model 783 .243 Winchester and was shot with Nosler 70-grain Ballistic Tip bullets to form the corners of a 6-inch square box. Each click of the Fullfield's reticle adjustments was .5 MOA at 100 yards. After turning the elevation dial down 12 clicks, I fired three shots that hit exactly 6 inches below aim. Twelve clicks of correction to the left moved bullet impact 6 inches; 12 clicks up raised impact 6 inches. Turning the dials back to their original setting, holes from three final bullets overlapped the first set of holes to form a 1.25-inch, six-shot group.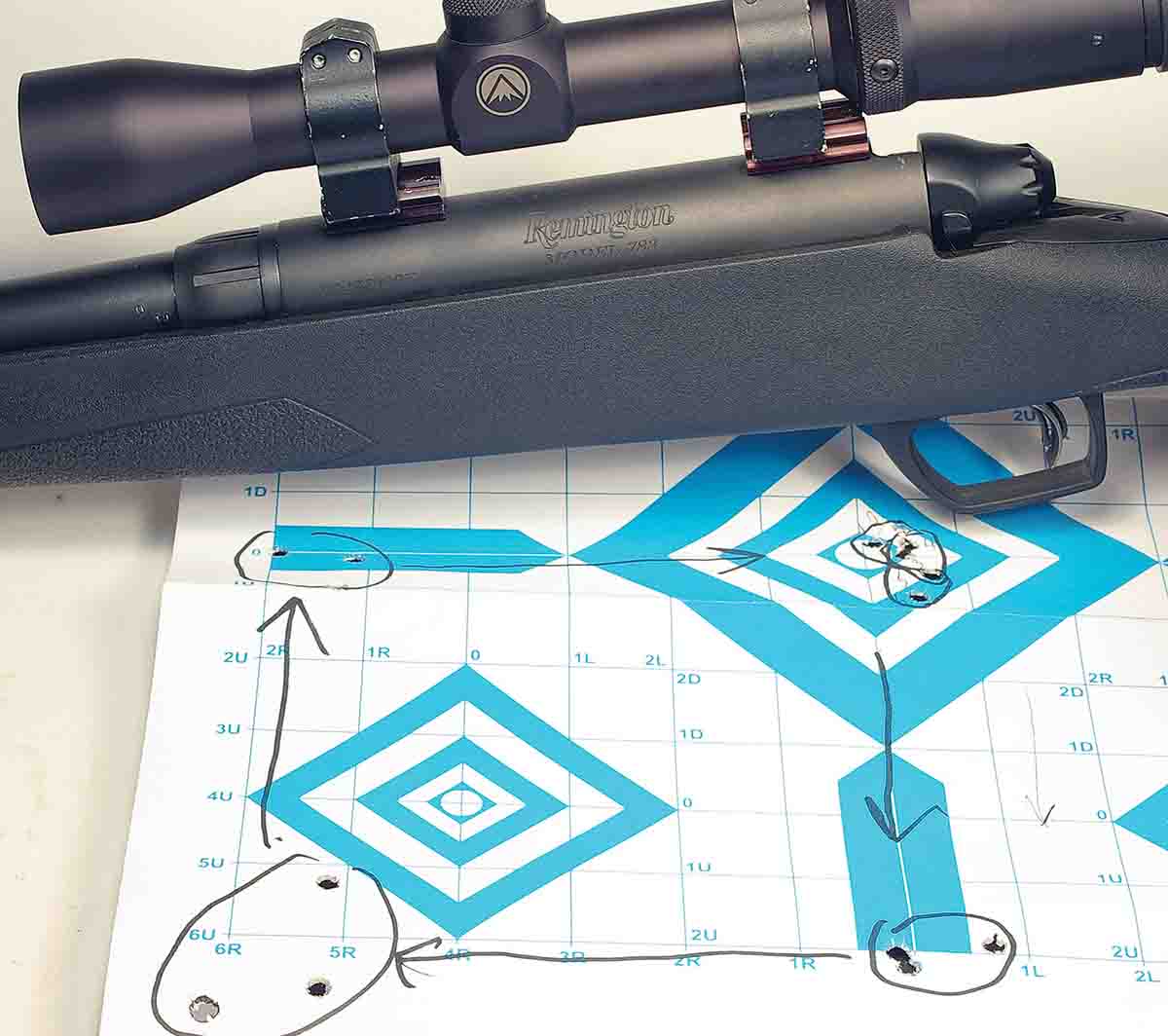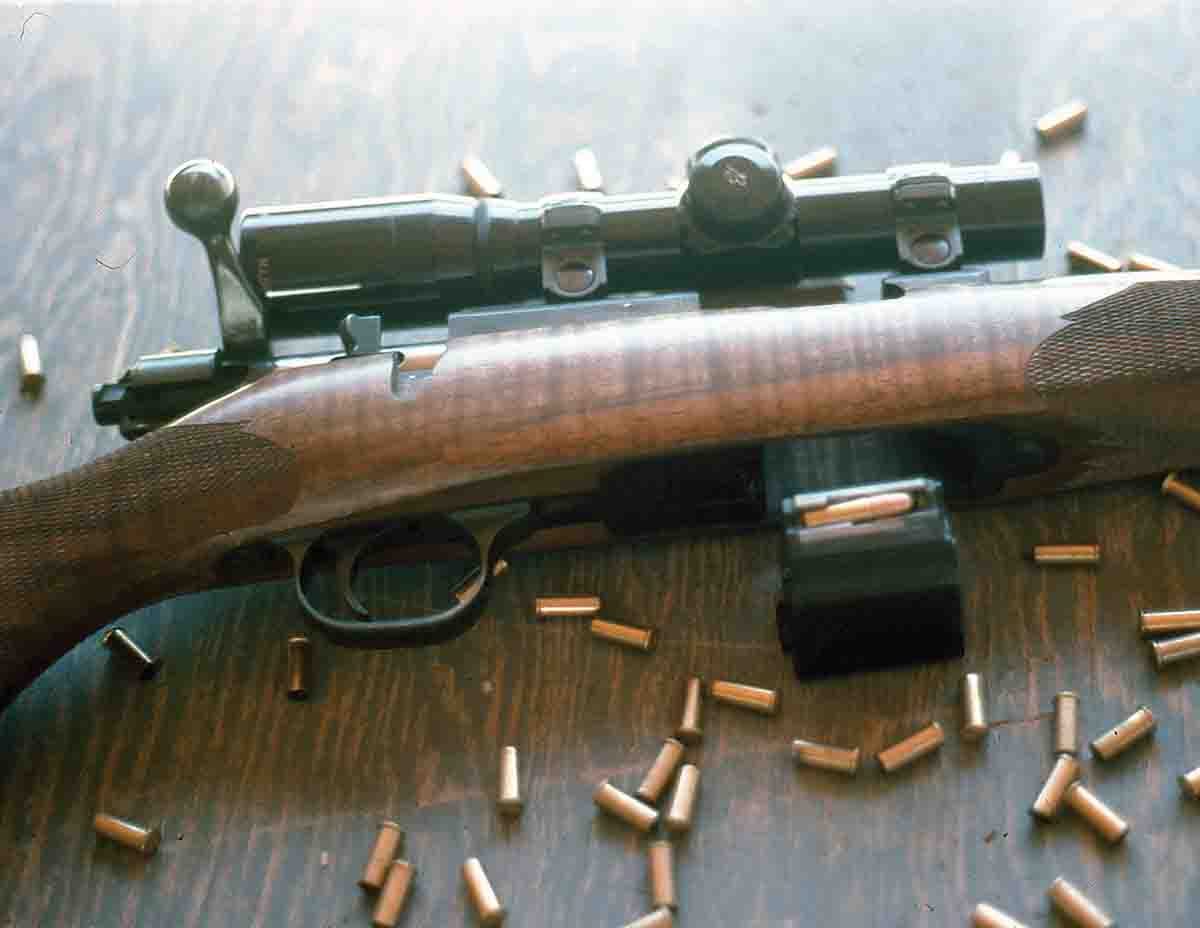 The FastFire went on a Ruger Mark III 22/45 Target .22 LR pistol. One scale division on the windage and elevation adjustment screws corresponds to approximately an inch of movement at 100 yards. I adjusted the FastFire's windage and elevation screws so the pistol hit where the sight's 3-MOA red dot pointed at 25 yards. With the elevation screw turned down 12 divisions and the windage screw turned left the same amount, bullet impact shifted 3 inches lower and left. Turning the elevation screw up 12 divisions raised bullet impact 3 inches. With the elevation and windage screws turned back to their original settings, bullets from three final shots hit the same place as the first three bullets, and all six bullets formed a 1.50-inch group.
The dialing reticle adjustment screws back and forth and subjecting a scope to recoil from 100 or so rounds reveals whether or not a new scope holds up for the day, but what about years on down the road? A scope's warranty is a good indication of its dependability. The Burris website (www.burrisoptics.com) states "Every Burris optic is covered by the Burris For-ever Warranty. We will repair or replace your Burris optic if it is defective." However, the pamphlet with the Fullfield II scope states, "We will repair or replace your Burris optic if it is damaged or defective."
Warranties are usually limited for scopes and sights that contain electronics. The pamphlet included with the FastFire III states the reflex sight has a limited warranty of 12 months. However, the Burris website declares the FastFire is covered with the Forever Warranty, but there is no need to fret about guarantees. Reputation and performance are much more important.
I bought a Burris compact 4x scope 30 years ago. Over the decades the scope never blinked on a variety of rifles that included a .270 Winchester, 7mm-08 Remington, .30-06, .338 Winchester Magnum, .35 Whelen, .45-70 and a 12-gauge slug gun. The scope currently resides on a .22 rifle. I expect it will never require any sort of warranty work.