In the previous issue (Rifle No. 289, November-December 2016), we took a brief look at the history of the Winchester Model 70 – its ups, downs and design changes from its introduction in 1936 to the closing of the New Haven, Connecticut, factory in 2006.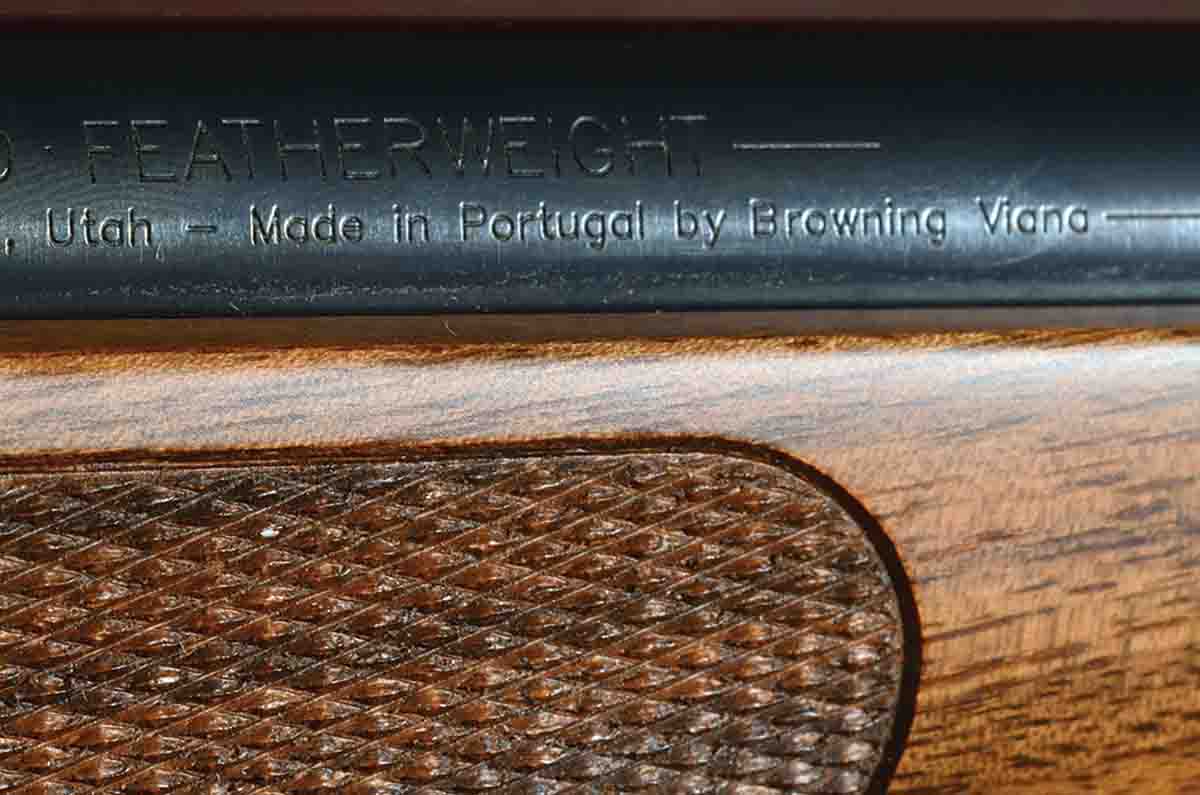 At that time, Browning Arms took over the licensing for production of the Model 70, relocated Winchester Repeating Arms (as it became once again) to Utah and entirely reorganized its production. Browning is part of Belgium's Fabrique Nationale d'Armes de Guerre (FN), one of the world's foremost firearms manufacturers, with facilities in various parts of Europe and North America. Production of the new Model 70 makes full use of this expertise and technological capability.
A Winchester Model 70 purchased today has the words "Made in Portugal" engraved on the barrel in place of the old, familiar "Made in New Haven, Connecticut." This has led some to suggest that manufacture of the Model 70 has been subcontracted to a country where labor costs are low, leading in turn to questions about the quality. This is unwarranted and, given the quality of the rifles themselves, hugely misplaced. In my opinion, based on what I've seen of rifles both old and new, today's Model 70 is the finest this iconic rifle has been in its 80 years of production.
FN is a huge multinational armsmaker, manufacturing both military and civilian guns in a network of factories in several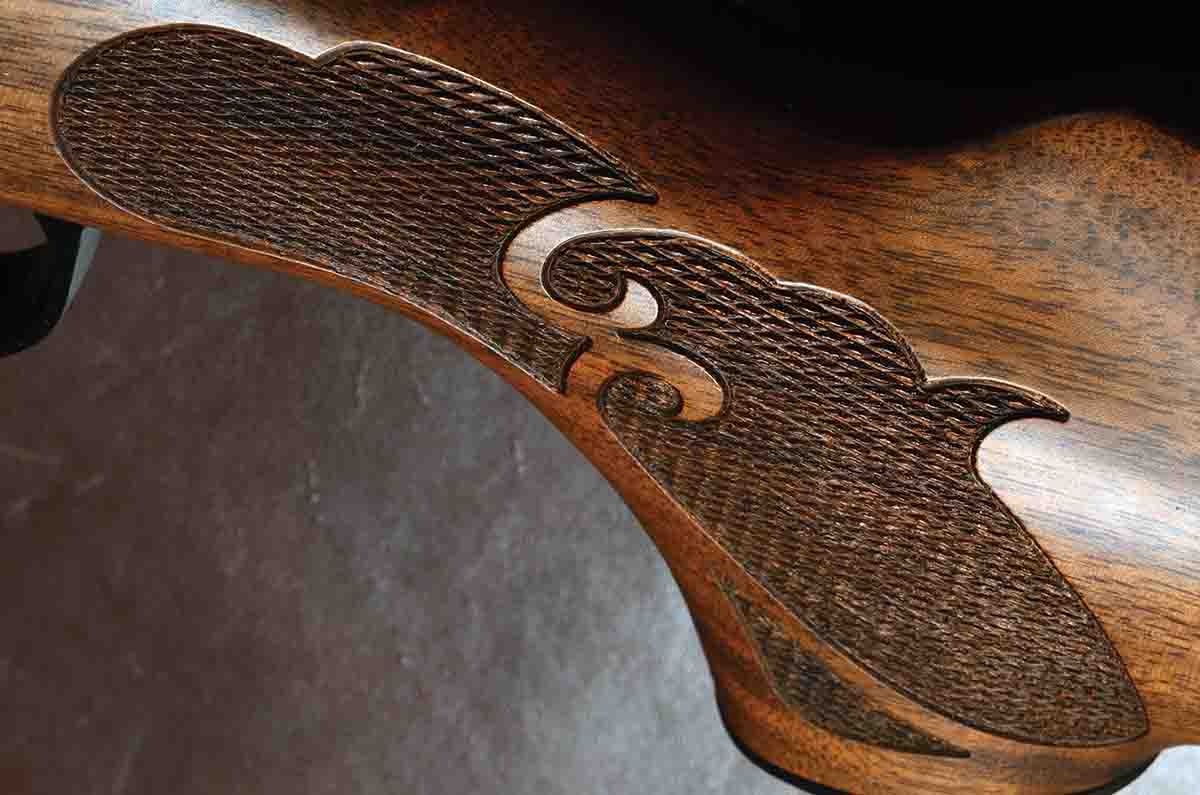 different countries. Just as FN itself was originally a subsidiary of Ludwig Loewe & Co. of Berlin (DWM) and held to DWM's high standards, so FN's many factories are held to the quality standards maintained in Belgium. It's safe to say that no firearms company has a higher or more deserved reputation than FN.
The Model 70's component parts are manufactured in several different factories; its hammer-forged barrels come from FN's plant in South Carolina, while actions are produced by a company in the U.S. These parts are shipped to Browning's Viana factory in Portugal. That facility produces the stocks and carries out final assembly. The rifles are marked "Made in Portugal" because, given the level of value added, it's required by international trade agreements.
From 2008 to 2012, Browning assembled the Model 70s in South Carolina, and during that time Viana supplied walnut stocks for it. Before that, Viana supplied Model 70 stocks to U.S. Repeating Arms in Connecticut, so it has a long association with Model 70 production.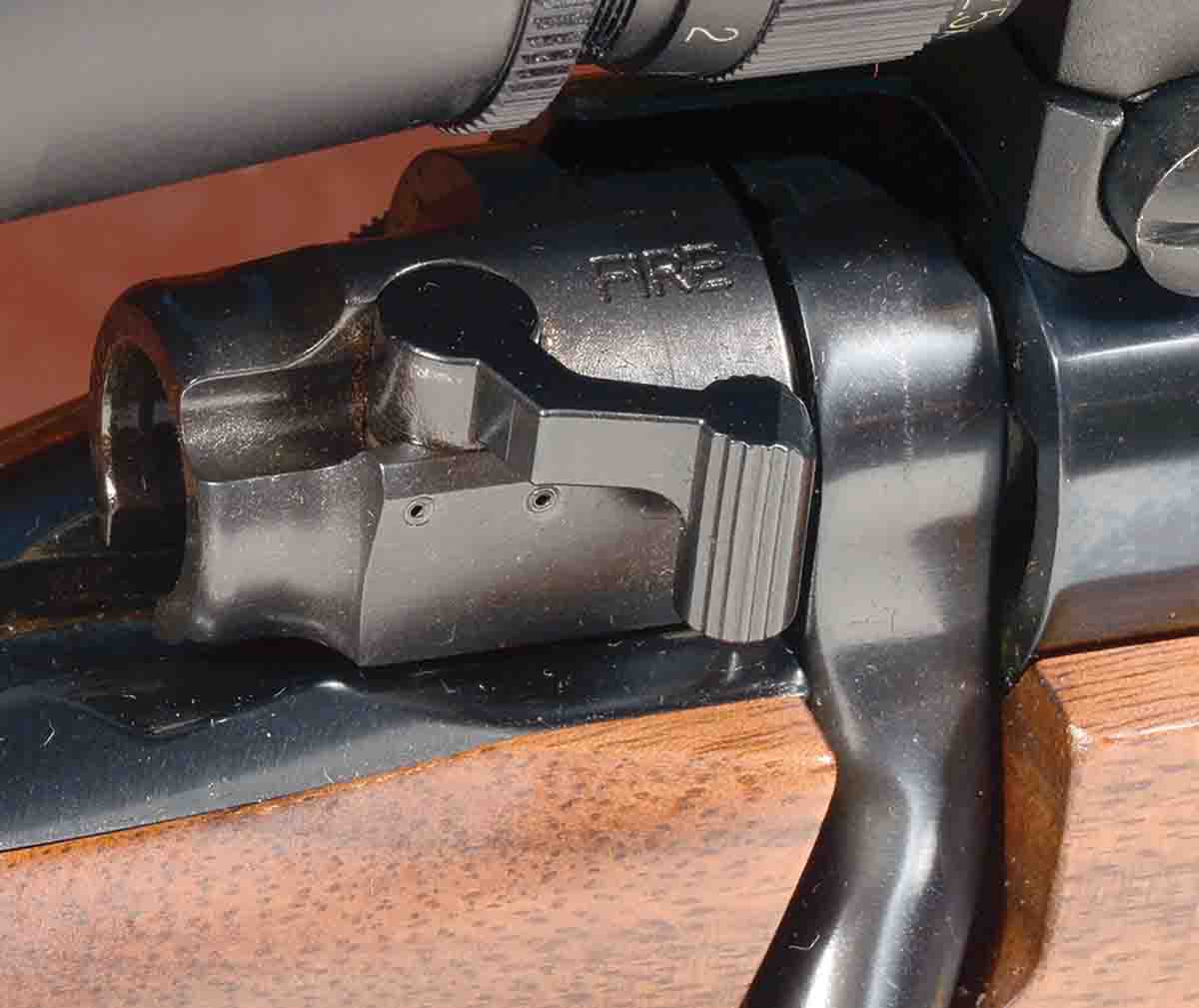 Today's Model 70 is a combination of old, new and resurrected features. The action is essentially the "post-93 pre-64." In 1993, U.S. Repeating Arms reworked the Model 70, reinstituting the Mauser-style extractor and controlled-round feed, one of the most lamented losses in 1964's monumental redesign. The new Model 70 also retains the bolt-stabilizing slot in the right locking lug, a feature that was added in 1968. This grips the lip of the magazine box as the bolt is worked, and the result is the smoothest-operating Model 70 ever made.
The protruding cocking indicator is gone from the bolt shroud. The floorplate is steel, but on some models the trigger guard and bottom metal are alloy. The alloy finish is so close to that of the floorplate that the only way to tell which is which is with a magnet. Like the post-64, the bolt is machine-turned (jeweled), but this is very well done and mostly hidden from sight by the extractor, which is finished in a refined French gray. Likewise, the bolt knob is knurled. There are no garish red dots or other such indicators on the bolt shroud, just the word "FIRE" beside the forward position of the safety. The rifle comes from the factory drilled and tapped for scope mounts but without iron sights on most models.
In 1964, along with the redesign, Winchester revamped the model lineup. For whatever reason, the company dropped the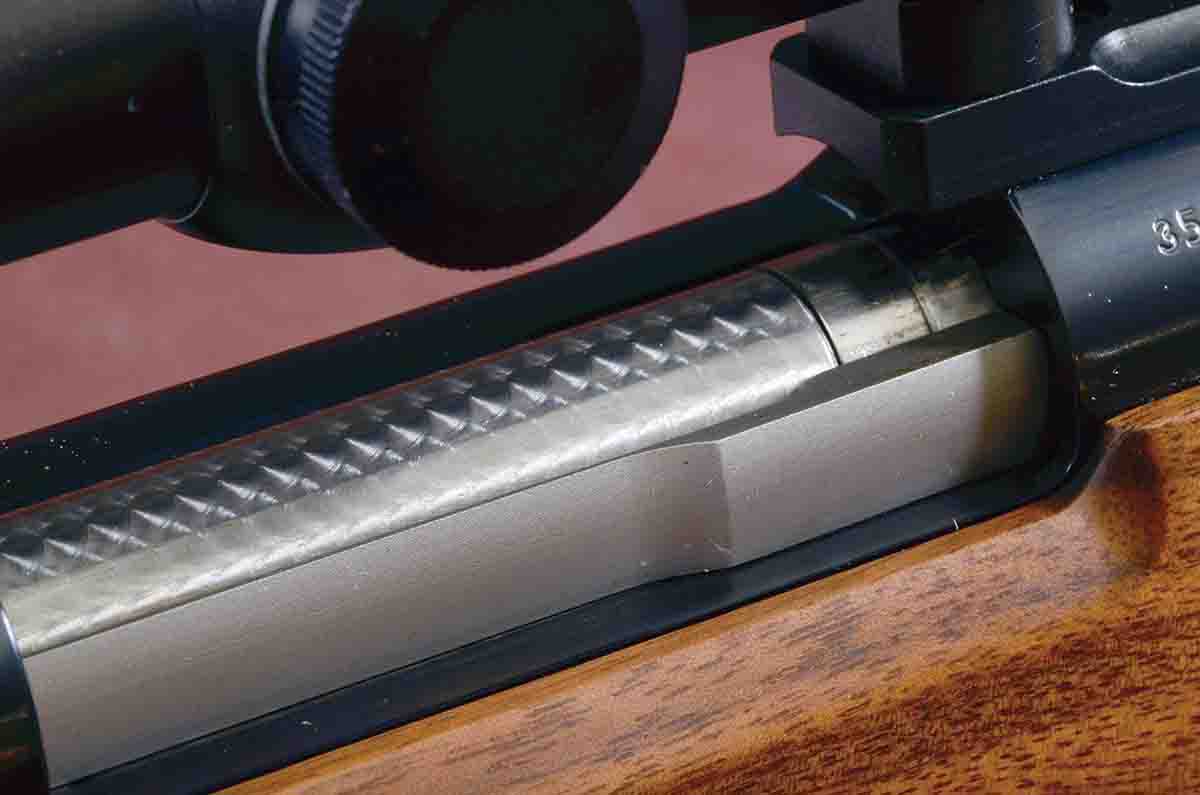 Featherweight, which had been introduced in 1952, with its shorter, slimmer barrel and weight trimmed from 8.0 pounds to 6.75 pounds. It also had a trimmer stock with a slender forend. Of the entire line at that time, it was the model for the mountains, the woods, the backpacker or the saddle scabbard. Its exclusion was, to me, inexplicable. The Featherweight was not returned to the line until 1981.
For purposes of this evaluation, two models were acquired, a Super Grade and a Featherweight, both chambered in .270 Winchester, a cartridge that is almost synonymous with the Model 70. The Featherweight has a 22-inch barrel (.56 inch diameter at the muzzle), while the Super Grade has a 24-inch barrel (.60 inch at the muzzle). For the record, the Featherweight, fitted with a Leupold VX-III 2.5-8x36 scope, weighs 7 pounds, 14 ounces, while the Super Grade, with a Meopta Meopro 3-9x40, is 9 pounds, 7 ounces. Both were unloaded, with no sling.
Other models in the line today include the Sporter (replacing the Standard Grade), Safari Express (replacing the African), Alaskan and several others. Some models have composite stocks.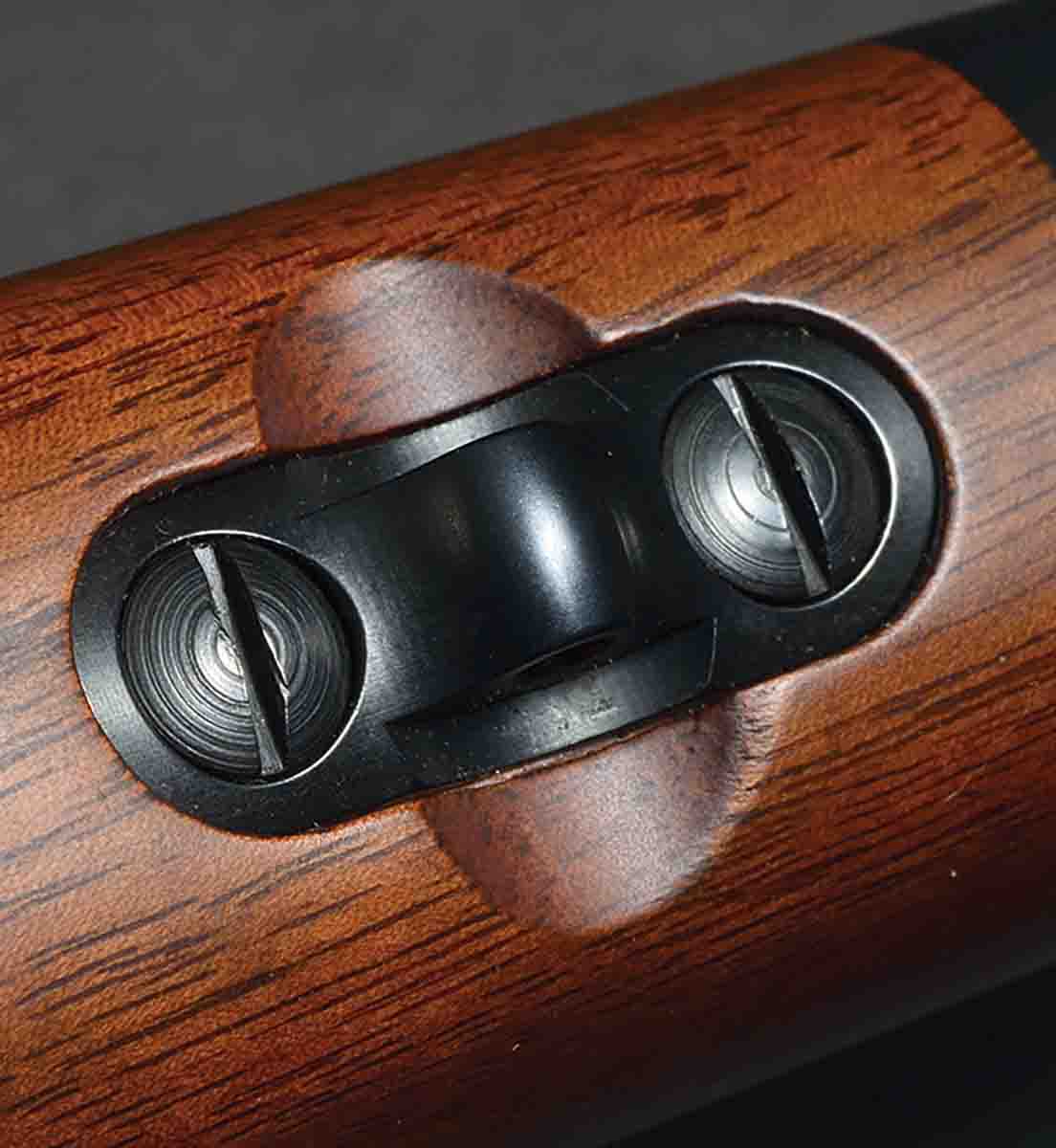 Stock design is one of the major points of difference among the different models. Those here are both walnut with lines that are pure American classic. The Super Grade has a cheekpiece with a shadow line but no Monte Carlo. Its forend is full-length with a black forend tip and nicely inset double-screw sling swivels. It has a solid black recoil pad, steel grip cap and wraparound checkering in a classic point pattern. The Featherweight stock omits the cheekpiece and has a Schnabel forend, black plastic grip cap, solid black recoil pad and standard sling swivel studs. It also retains the old Featherweight curlicue checkering pattern.
Some of these cosmetic features originated with the post-64 Model 70. I disliked them then, but here's a critical difference: Those rifles also had white-line spacers, and today there is not a white-line spacer to be seen. With those removed, the remaining features are somewhat retro but still very attractive. Both walnut stocks have attractive figure and a dark oil finish.
It's difficult to make a blanket statement about all the variations of the Model 70 available today, because it comes in nine different models, including a 150th anniversary commemorative, and each has its own features. For example, both the Alaskan and Safari Express have iron sights, but the Alaskan has a Monte Carlo while the Safari Express does not. The metalwork on both the Featherweight and Super Grade is glossy blue, but the Model 70 is also offered with a matte finish or stainless.
The barrels are free-floated, which generally is an aid to accuracy with any machine-produced stock, but the gap between barrel and wood is barely noticeable. The checkering is undoubtedly cut by machine, but it is definitely cut, and very well cut at that. There are no over-runs, and each diamond is sharp and polished. Two of the loudest complaints about the post-64 were the useless impressed checkering and the yawning barrel channel. Both are things of the past.
One major mechanical change that may inflame some Model 70 purists is the abandoning of the Model 70 trigger in favor of a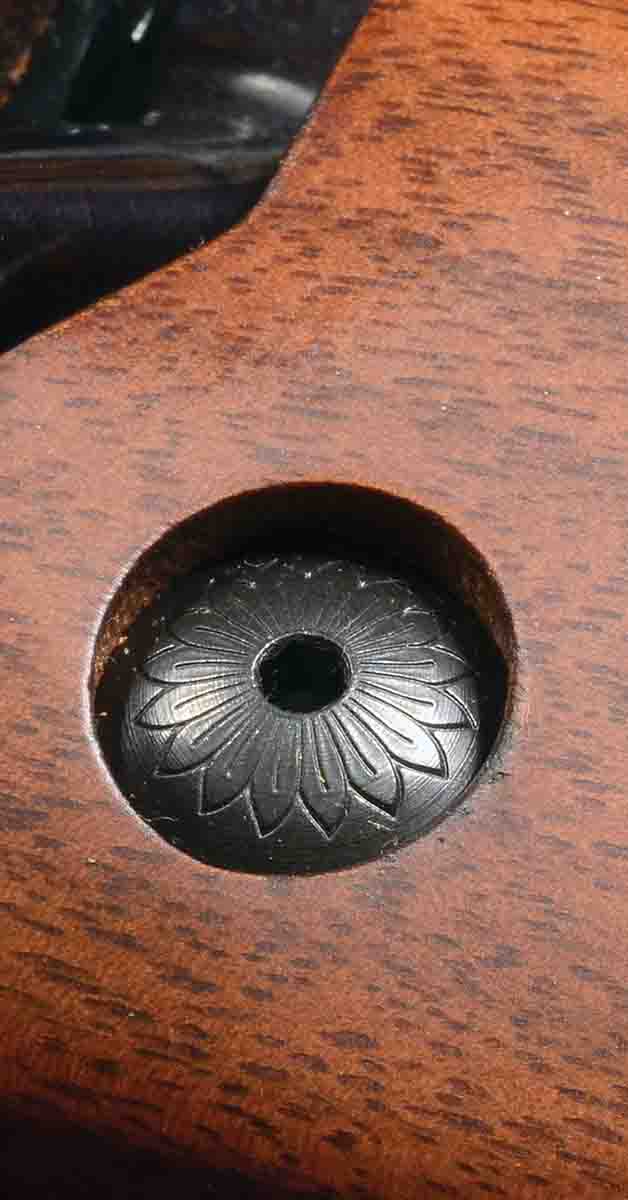 new Browning design called the M.O.A. For years, the Model 70's unique trigger was admired for its crisp operation and range of adjustment – so much so that Paul Dressel, for one, began manufacturing a Model-70 style trigger for use on Mauser actions. So why would Browning discard it?
The answer is that, good as the Model 70 trigger was, the M.O.A. is better. It utilizes a system of leverage to maintain maximum sear contact with minimum trigger movement. The result is a trigger pull that is stunningly crisp and feels lighter than it actually is. Browning advertises it as having zero take-up, zero creep and zero overtravel. It has a pull-weight range of 3.0 to 5.0 pounds and is supposedly factory-set at 3.75 pounds. The Featherweight sample averaged a hair over 4 pounds for five pulls; the Super Grade was 4 pounds, 1 ounce.
Out of the box, both rifles functioned to perfection. Charging the magazine was positive, every cartridge fed effortlessly and extracted and ejected on cue. On factory rifles today, this is no small thing. Mauser-style staggered box magazines are not a one-size-fits-all proposition. The follower and the magazine box must be fitted to the cartridge in question; you can't expect a slender .270 to work with the same box and follower tailored for a .300 Winchester Magnum, yet many manufacturers seem to think this is the way it works. The need for after-market tuning has kept many a gunsmith off the bread line. Obviously, I cannot attest to how well the various Model 70s function with stainless-steel actions or chambered for difficult cartridges, like the .300 WSM, but in my opinion, the two test rifles were perfect – and "perfect" is not an exaggeration.
No attempt was made to work up super-accurate handloads for either rifle. Instead, I shot each with a variety of factory ammunition – whatever was on hand – as well as with a couple of handloads that have proven very accurate in other rifles. Experience reveals that if a rifle gives indications of accuracy by liking some loads and disliking others, then chances are handloads can be made to deliver excellent accuracy at hunting velocities.
With both rifles, factory loads delivered accuracy ranging from about an inch for five shots at 100 yards to groups a little over 2.0 inches. There was no particular pattern; what one rifle liked, the other might not. The one exception was Norma's 120-grain Kalahari load; both rifles would put five shots just around an inch.
With other .270s, I have had really good luck with a load using Reloder 15 and Sierra 130-grain bullets. Starting at 45.0 grains, this is a relatively low-velocity practice load that is almost always accurate, and most rifles respond well to tuning when increasing the powder charge. The two Model 70s were no exception, with groups tightening as the 47.0-grain charge approached maximum as listed for 130-grain Sciroccos in Swift's manual.
Another load that worked extremely well was Tom Turpin's standard of 59.5 grains of H-4831 and virtually any 130-grain bullet. I tried it with Sierra and Nosler bullets, as well as the Swift Scirocco II, and the results were good. If taking either rifle hunting, I would concentrate on one combination to come up with a tack-driving load, and that may be a future Handloader article. For the purposes of this evaluation of the rifles, I did come up with four or five loads for each that would be a fine hunting load, grouping five shots around an inch or slightly smaller. I don't believe, however, that I ever reached either rifle's optimum load and best accuracy. Going strictly from memory, I am convinced that either of these new Model 70s would shoot rings around any of the post-64 Model 70s I worked with in the 1980s, and certainly I have never seen an unaltered pre-64 that would shoot like these.
The Model 70 saga is now 80 years long. The rifle is an item of major interest to collectors, with some specialists collecting only Model 70s in one caliber or model or from one era. They have their own opinions, of course, but speaking as a hunter, shooter and rifle nut, and looking at it from every aspect, today's Model 70 is the best it's ever been – once again, the "rifleman's rifle."