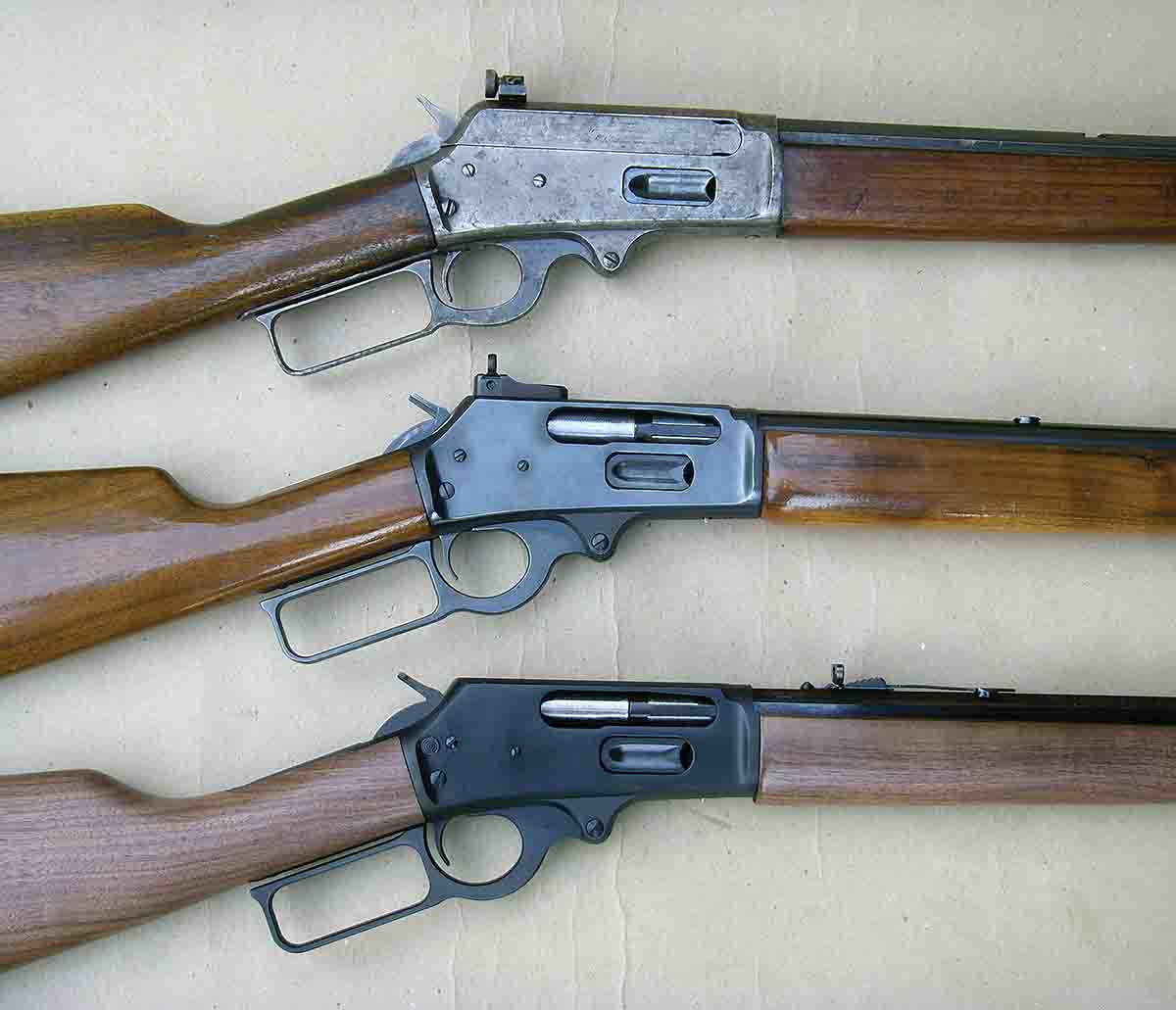 Marlin Firearms began producing guns in 1870, but its first lever-action, repeating rifle was the Model 1881; 135 years later, the company is still producing leverguns that are highly regarded among shooters and hunters. The latest rifles are manufactured in Ilion, New York, in the Remington Arms plant.
Although new production rifles share the same design as previous models, they are built using the latest CNC tooling, with much of the handwork associated with previous production methods having been largely eliminated. Marlin has been steadily improving quality and function while offering variants that are in high demand. For the purposes of this article, two Model 1895s and one Model 1894 were obtained for testing and evaluation, which produced some interesting results.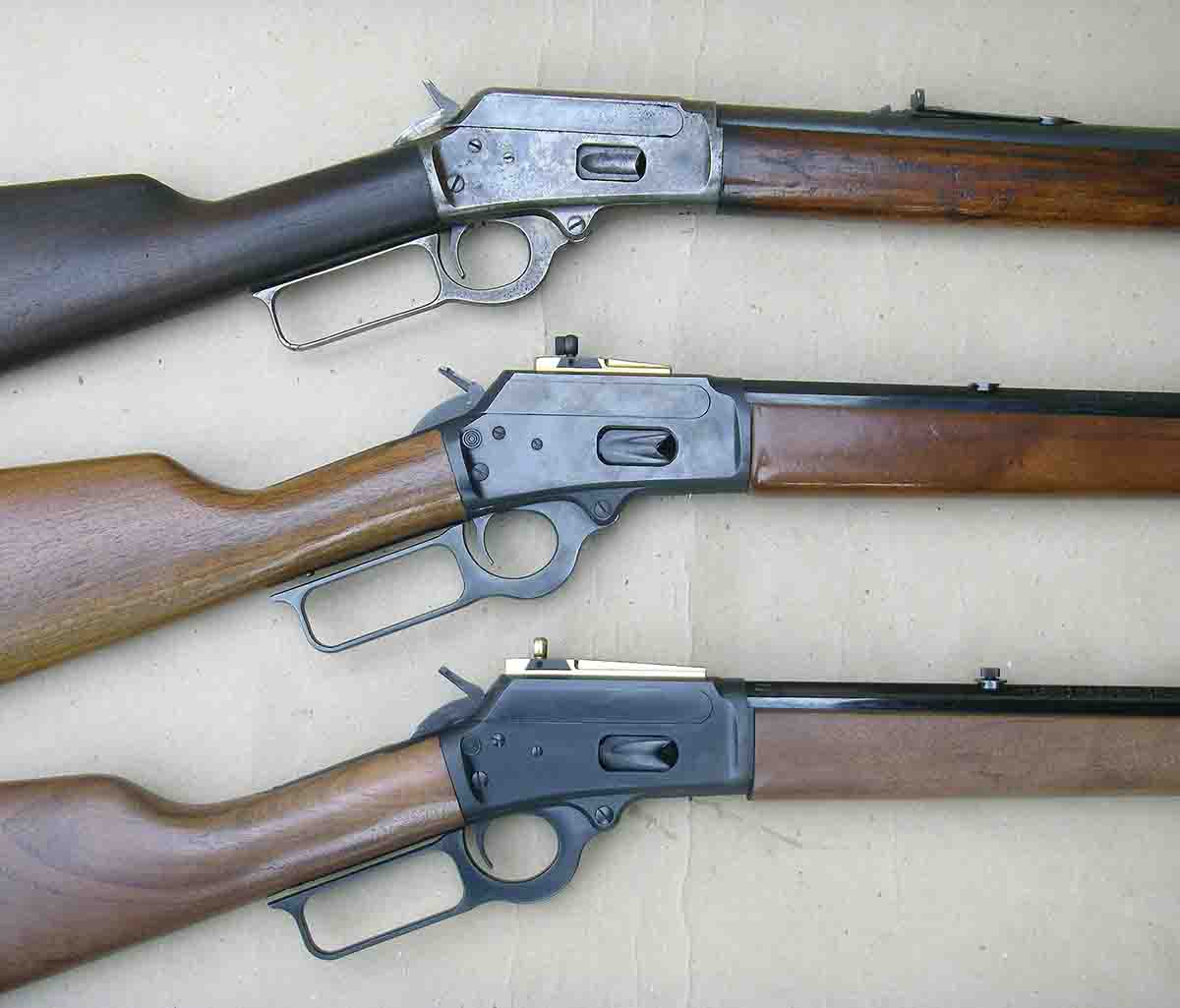 The Model 1881 was chambered for many popular cartridges, including the potent .45-70, and was the first repeater to house that cartridge. Over the next few years, Marlin continued to advance and improve its lever-action design with the Models 1888, 1889, 1891 and 1892. However, it was the Models 1893, 1894 and 1895 that were truly modern in design. In short, they were unusually compact, simple, rugged, reliable and well made and with excellent barrel quality were known for accuracy.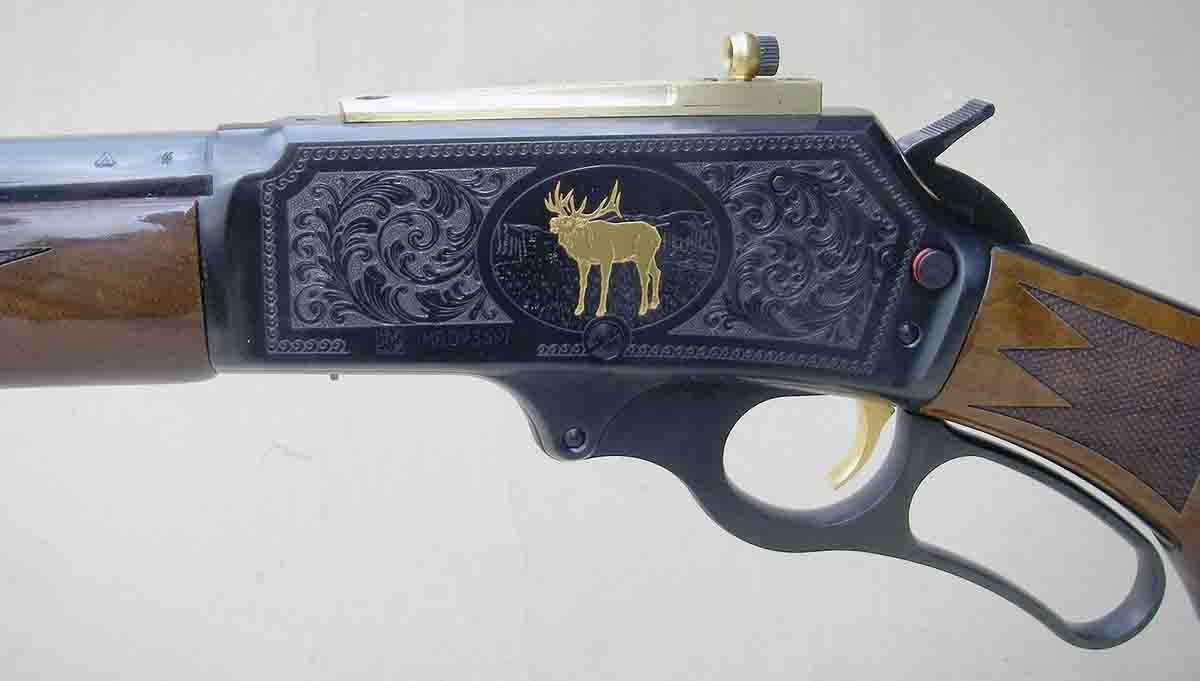 A few notable features of the Marlin levergun design include a solid top receiver that would later accommodate scope mounting and aperture sights. The flat bolt helps seal up the action and largely prevents water and debris from entering, an important virtue. Even when they are exposed to the elements, they usually continue to function reliably. The design consists of a minimum of moving parts, all of which are robust and not prone to breakage. For example, the receiver, trigger plate, hammer, lever, carrier and locking bolts are constructed of forged steel and rarely fail.
The Marlin lever pivots from a single screw, which minimizes travel. This allows speed when cycling the action with the gun held at the shoulder and is one of several reasons Marlin rifles are so popular among cowboy action competitors. With a screwdriver, the lever screw can be quickly removed – with the action halfway open – and the lever pulled downward, followed by removing the bolt assembly out the rear of the receiver. This feature not only allows easy access to the action for cleaning but also permits the barrel to be cleaned from its breech, with both features being an advantage when compared to most other lever-action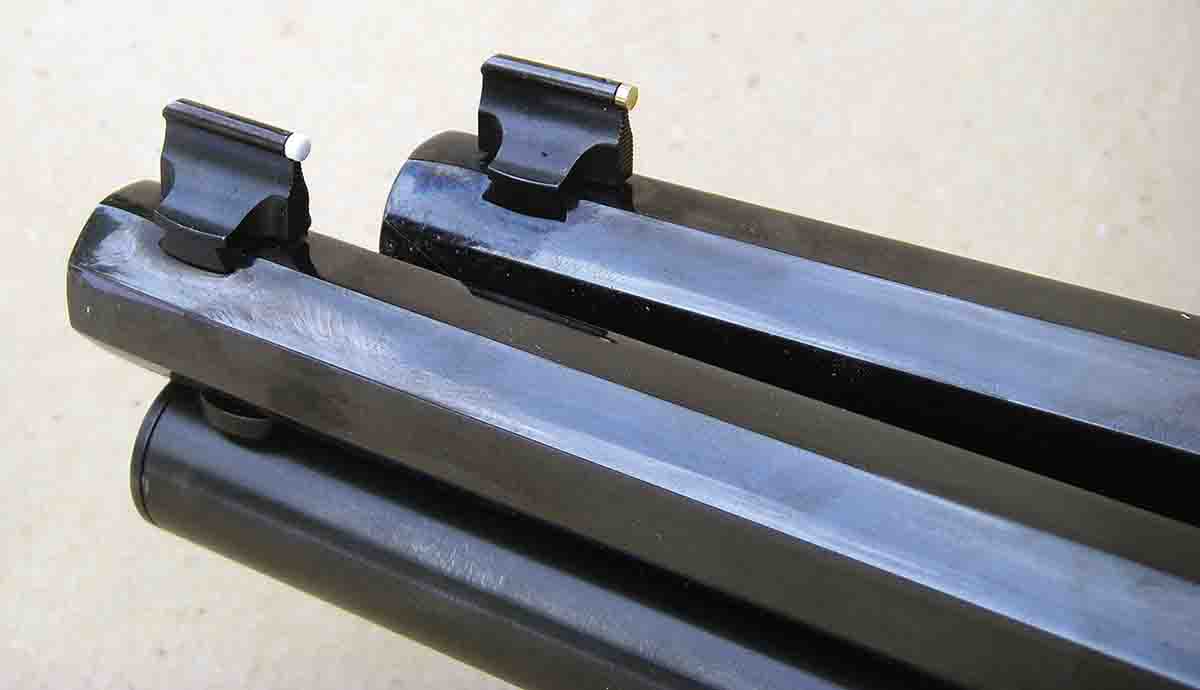 designs.
The Model 1893 evolved into the Model 93, 36 and 336 that we know today. A modified 336 receiver became the basis for the Model 1895 introduced in 1972 to include the .44 Magnum, .444 Marlin, .375 Winchester, .450 Marlin, .356 and .307 Winchesters, .308 and .338 Marlin Expresses and other cartridges, and is the same rifle in production today. The list of cartridges this receiver has been chambered for is rather long; however, the .30-30 Winchester has been the most popular.
The original Model 1894 was discontinued in 1934 due to limited interest in the aging cartridges for which it was chambered, such as the .25-20, .32-20, .38-40, .44-40 Marlins, aka WCFs, but it was also a financial move due to dismal sales experienced during the Great Depression. After development of the popular .357 and .44 Magnum sixgun cartridges, many gunsmiths began converting rifles to these cartridges, so Marlin responded by introducing the Model 1894 in .44 Magnum in 1969 and .357 Magnum in 1979. Sales were extremely strong.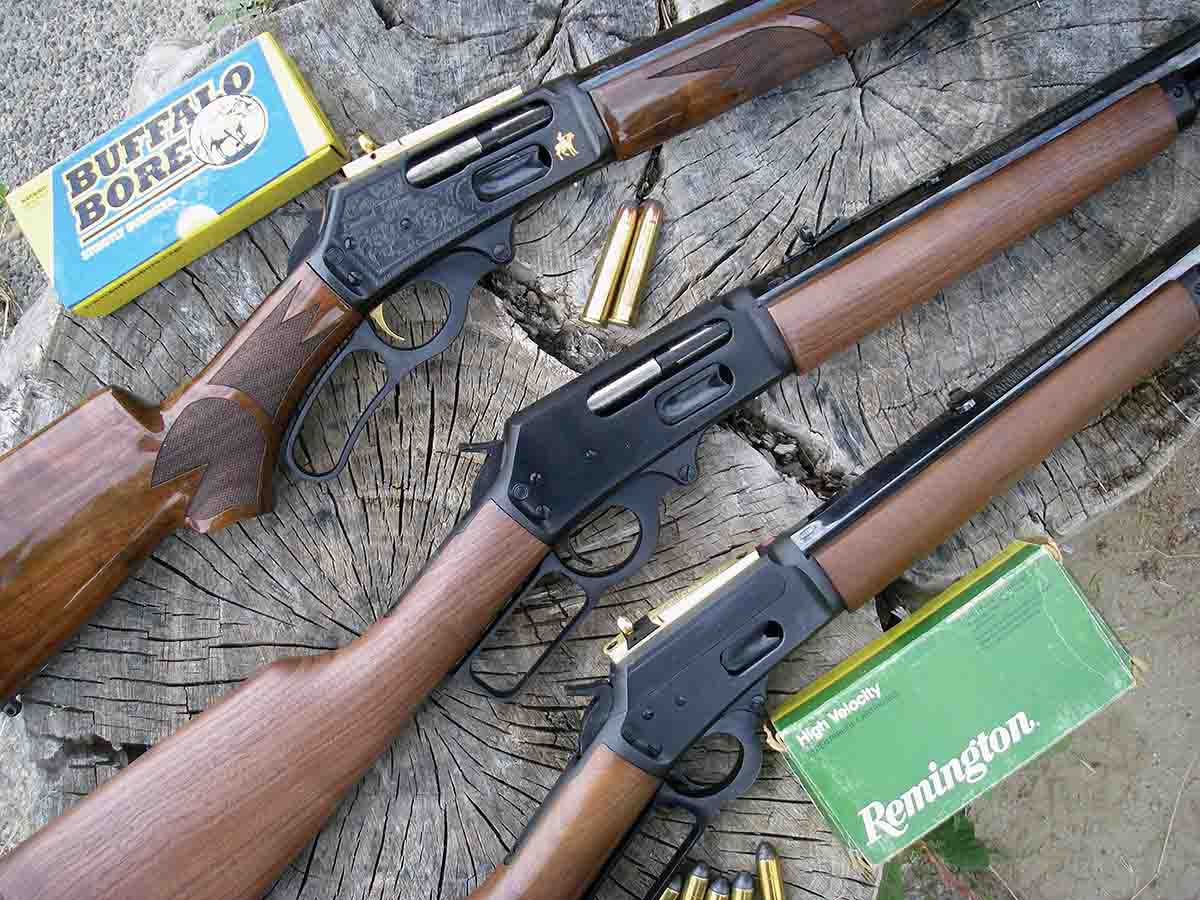 During the 1980s, additional Model 1894s were offered in classic cartridges, such as the .218 Bee and .25-20 and .32-20 WCFs. With interest in cowboy action shooting and older cartridges, Marlin began offering the 1894 Cowboy in several existing cartridges, as well as .45 Colt. Rifles featured a straight-grip lever, full-length magazine tube, buckhorn sights, Ballard cut rifling (ideal for cast bullets) and octagonal barrels. These rifles sold well but were unfortunately discontinued in 2010 when operations were moved to New York. Today, Cowboy rifles (Models 1894, 336 and 1895) originally produced in North Haven, Connecticut, are scarce and command a premium – when they are offered for sale.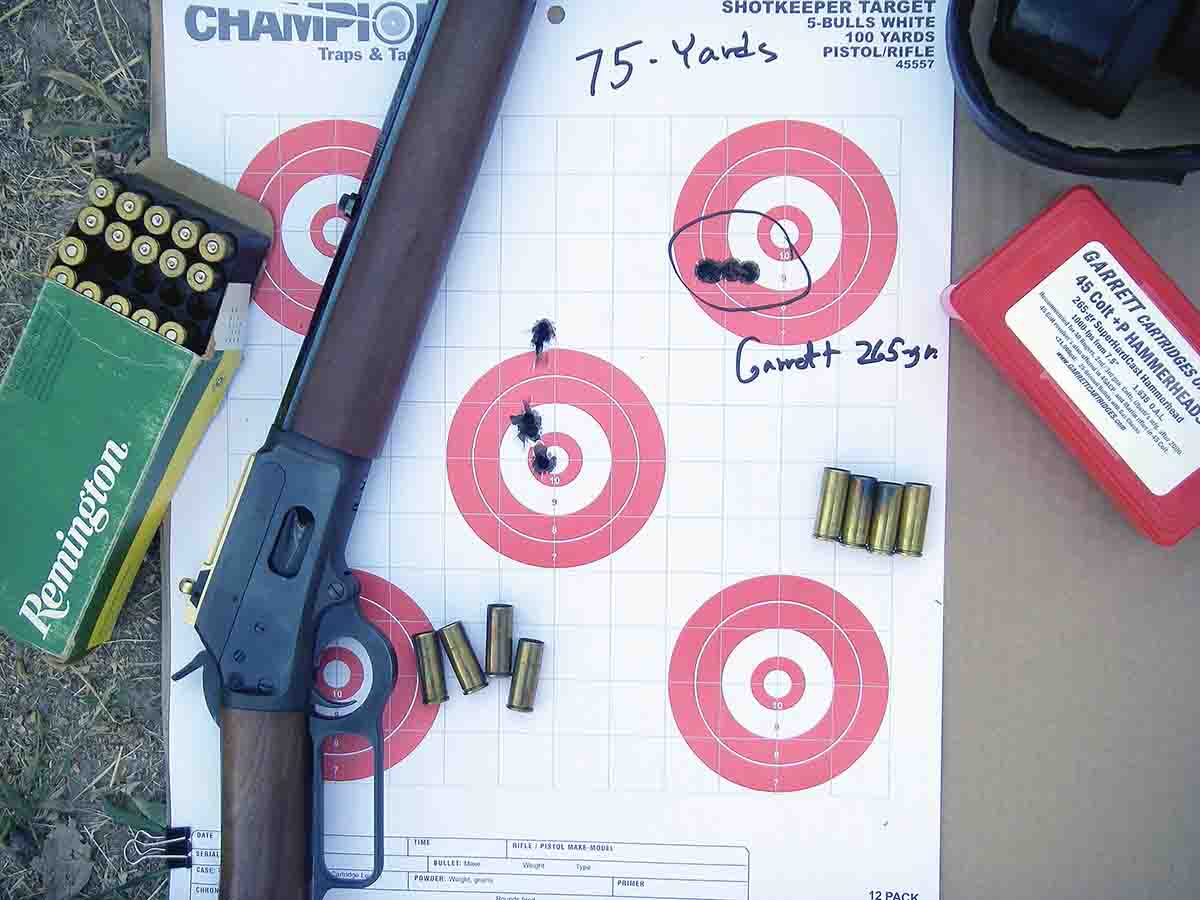 In 2008 The Freedom Group purchased Marlin Firearms. Soon thereafter it announced that operations would be closed in Connecticut and moved to the Remington plant in Ilion, New York. The move took place in the fall of 2010, and Marlin lost its most important resources – its skilled North Haven employees. As a result, for the first year or more, the rifles produced in New York were assembled using existing parts inventory. Unfortunately, many of those rifles (2010 through 2013) failed to function correctly.
The decision was made to rewrite blueprints and corresponding computer programs and to purchase new CNC tooling, which took considerable time. The first fully manufactured rifles in New York were Model 336s. I have tested two, which shot well and functioned reliably, but there were some areas that needed improvement.
For the purposes of this article, three Marlin leverguns were obtained – a Model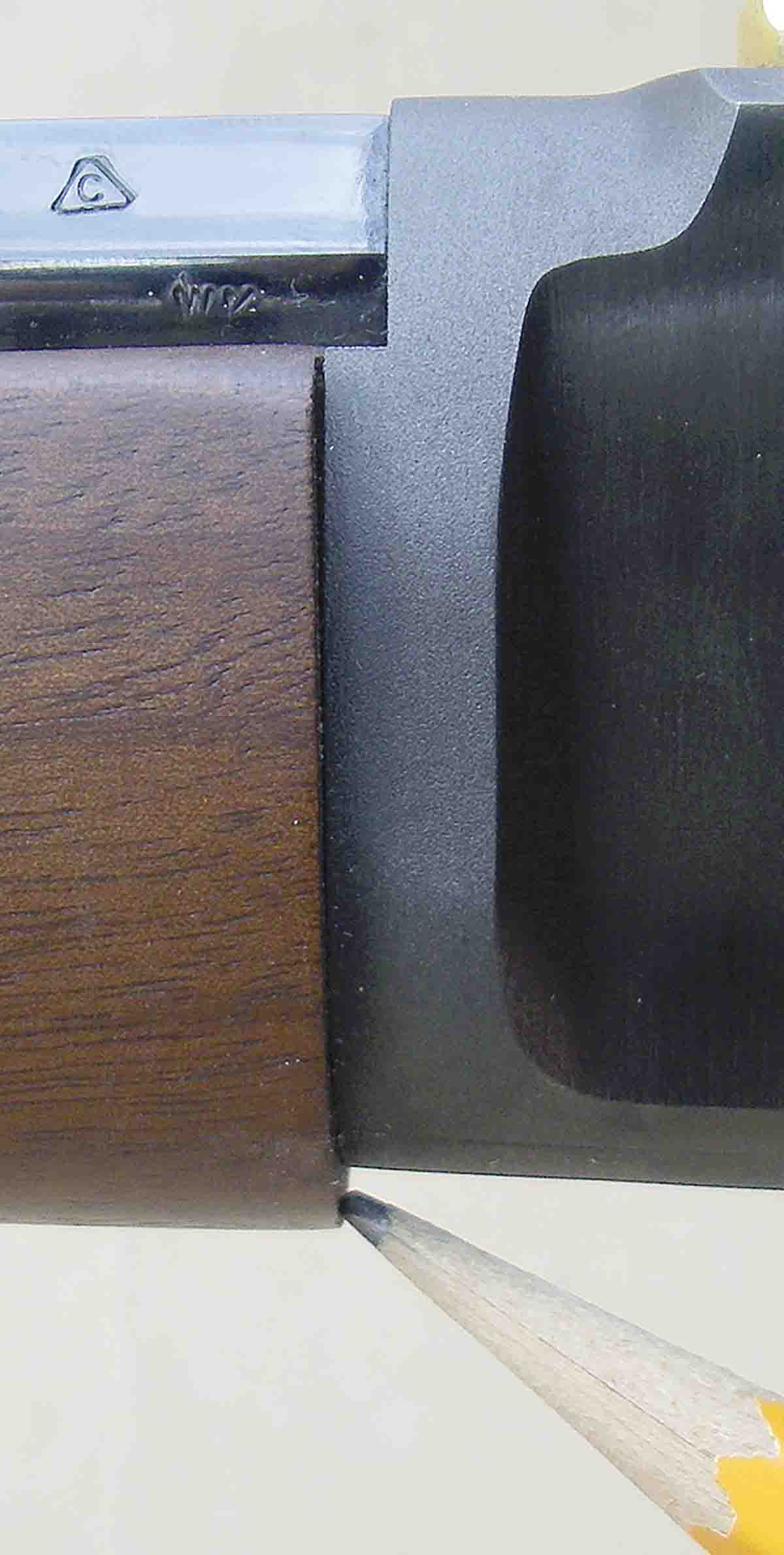 1895LTD .45-70 (limited to 1,500 units), a Model 1895CB Cowboy .45-70 with an 18.5-inch barrel and a Model 1894CB Cowboy Limited .45 Colt. Overall these rifles are well machined and are actually held to tighter tolerances than rifles produced in North Haven. As a result, they feel somewhat stiff when working the lever and operating the action. With considerable shooting, all three rifles began to limber up, but it took nearly 1,000 rounds through the Model 1894CB .45 Colt before bluing on metal surfaces and contact points began to wear off. Nonetheless, the actions were much smoother at the end of testing and evaluation.
The receiver, trigger plate, hammer, locking bolt and lever are all still manufactured from forgings, features that helped Marlin build a reputation of strength, longevity and reliability. The carriers are machined from solid bar stock steel, which has helped eliminate some of the variables associated with forgings; the tolerances of this critical part can now be held at much tighter specifications. (Incidentally, prior to 1978 Marlin leverguns featured a machined carrier.)
There are a couple of areas that could be improved. The trigger pull of all three rifles was rather heavy at just less than 5 pounds and would be easy to correct with CNC tooling. The forearm fit was tight on all three guns with no detectable movement and is an improvement. Unfortunately, the forearms of the 1895CB and 1894CB were rather blunt on each end, rather than being beveled down to meet the receiver and forend cap, respectively, while the 1895LTD forearm was beveled correctly.
The sides of the finger levers on both Model 1895s featured rather sharp edges, while the 1894CB (produced a few months later) was much improved. The hammers on all three rifles had comparatively sharp edges, and I would encourage Marlin to round and shape them closer to the originals, which will make them considerably more comfortable during long shooting sessions. While all three rifles fed and ejected cases reliably, I would like to see the timing changed to eject fired cases slightly farther from the action. In spite of the above comments, I am impressed with the overall quality and machining of the new Marlin rifles.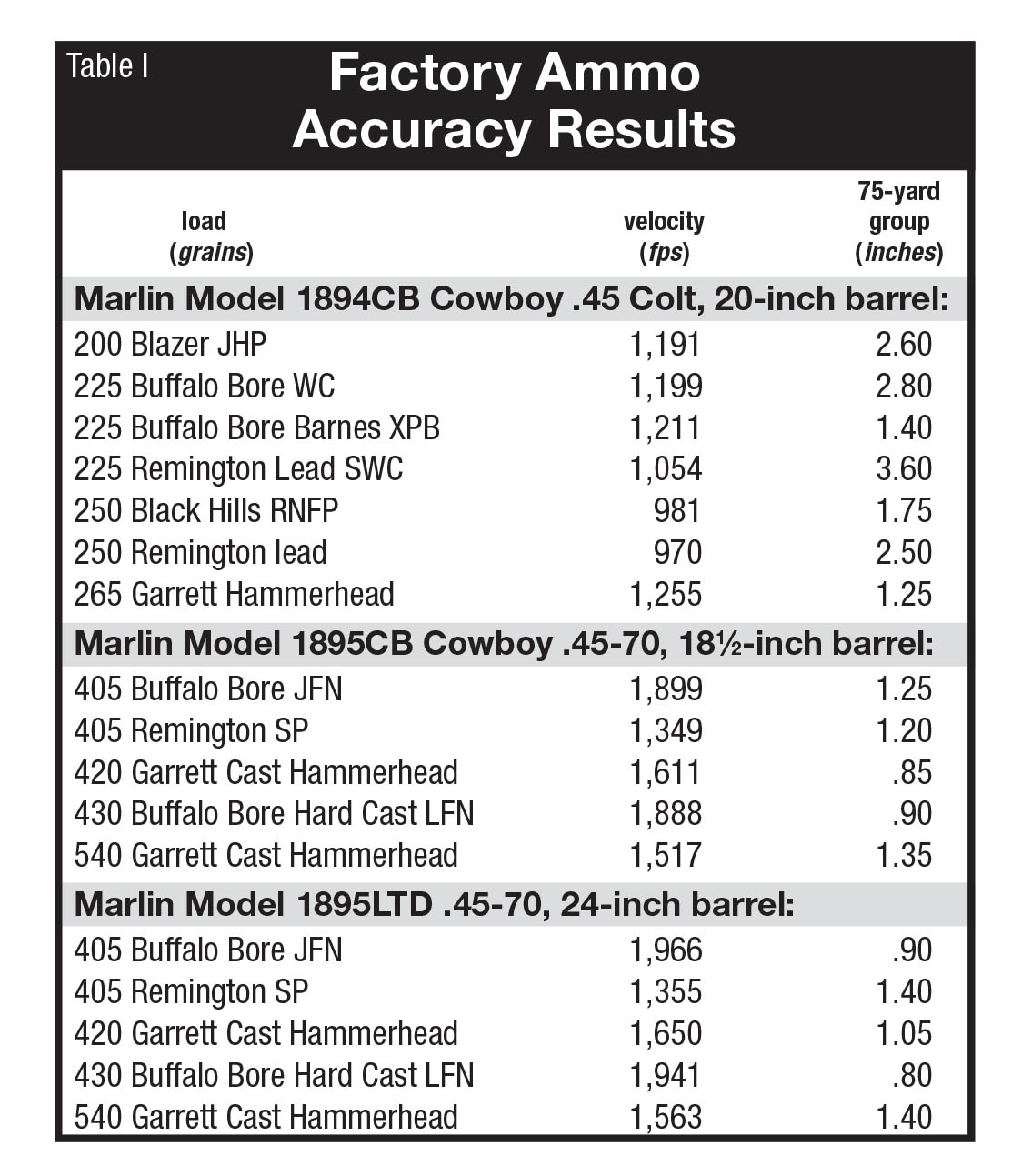 All three feature Marlin's deep-cut, Ballard-rifled barrels with six lands/grooves. These barrels have earned a reputation for accuracy with lead or cast bullets and are also accurate with jacketed bullets. All three rifles were fired with jacketed bullet loads for the first 30 rounds to help with barrel break-in, with minor cleaning between each shot, which was followed by wiping a light coat of oil in the bore, firing and repeating.
For accuracy testing, the Model 1895LTD and 1894CB were fitted with Skinner aperture rear sights, while the 1895CB was fitted with an XS aperture rear. Both are excellent sights that are fully adjustable for windage and elevation. They aid accurate shooting under a variety of lighting conditions and are durable and well machined. The brass Skinner Express sight installed on the 1895LTD complimented the gold highlights of that rifle.
More than 1,000 rounds were fired in the Model 1894CB .45 Colt, and feeding and function were reliable with a variety of loads; however, when using Blazer 200-grain JHP loads, cases had a tendency to fail to eject, due to their extremely light weight. When the lever was worked enthusiastically, cases would then clear the action without issue. A variety of bullet profiles were tried for function, and the rifle easily fed cartridges with an overall cartridge length up to 1.665 inches (and will probably accept longer cartridges), including SWC or Keith profile bullets.
With the aid of a sandbag rest and with my left hand positioned solidly between the forearm and the sandbags, four-shot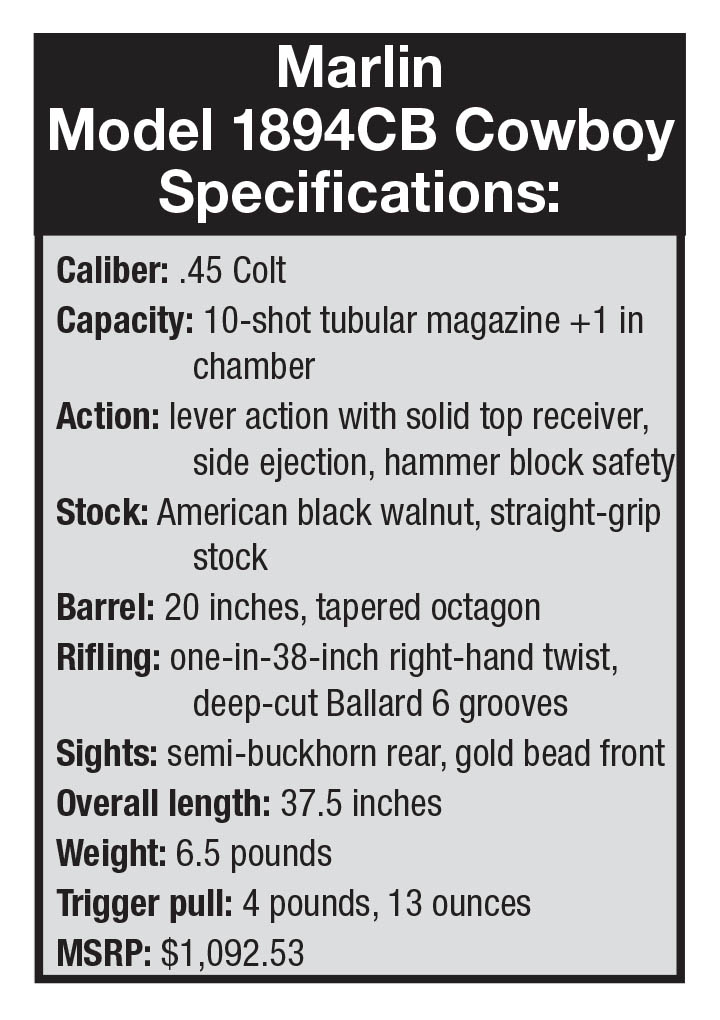 groups at 75 yards often hovered between 1.25 to 2.0 inches with a variety of factory loads. With handloads, select groups stayed within .75 inch, but most hovered around one inch. I have an original 1990's-era Marlin 1894CB Carbine Limited .45 Colt. In checking the accuracy of the two rifles side by side, the new rifle showed a slight accuracy edge with most loads. Although this rifle shoots well, I have encouraged Marlin to change the rather slow one-in-38-inch twist rate to 1:16 – and no slower than 1:20. This change would further increase accuracy and better stabilize 300- to 350-grain bullets, making the rifle more versatile for hunting large game. Nonetheless, this is a good rifle.
The Model 1895CB .45-70 shares the same overall length as the popular Marlin Guide Gun. With its 18.5-inch octagonal barrel and full-length tubular magazine it holds six (+1) cartridges. At 7 pounds, it will find favor with horsemen, guides or those who want a compact, lightweight and powerful package. From the bench it regularly clustered four shots inside one inch at 75 yards using a variety of factory and handloads containing both cast and jacketed bullets. Although it was not tested at 100 yards, all indicators are that it is capable of sub-MOA accuracy.
The Model 1895LTD .45-70 features an upgraded, figured American black walnut stock with gloss finish and checkering, curved pistol grip and 24-inch, tapered, octagonal barrel with full-length magazine tube. The receiver is machine engraved in an attractive, vintage scroll pattern and features 24-karat gold highlights of an elk (left side) and Marlin horse and rider (right side). The rear sight is full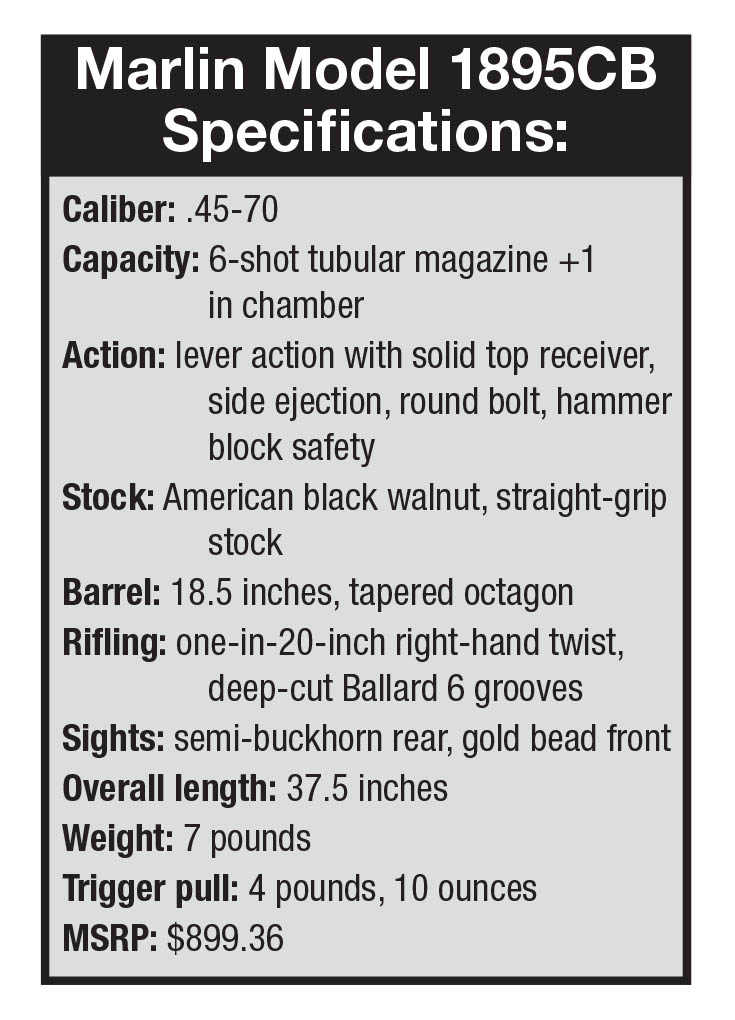 buckhorn, while the front is a white bead. Quantities are limited to just 1,500 units.
The 1895LTD likewise proved accurate with several groups clustering under one inch, but it was slightly more sensitive to the individual loads used than its short-barreled counterpart. Its single tightest group at 75 yards was a handload that consisted of a Speer 400-grain JSP bullet pushed with 47.0 grains of Accurate 2015BR powder for 1,688 fps, which measured .70 inch. Subsequent efforts to duplicate that group resulted in others that hovered around one inch, which is still impressive for an aperture-sighted levergun!
Since setting up manufacturing in New York, Marlin has addressed and corrected many problems. In spite of these latest rifles having a couple of areas that I would like to see improved, the fact is they are quality rifles that shoot very well and are still manufactured 100 percent in the U.S.A.