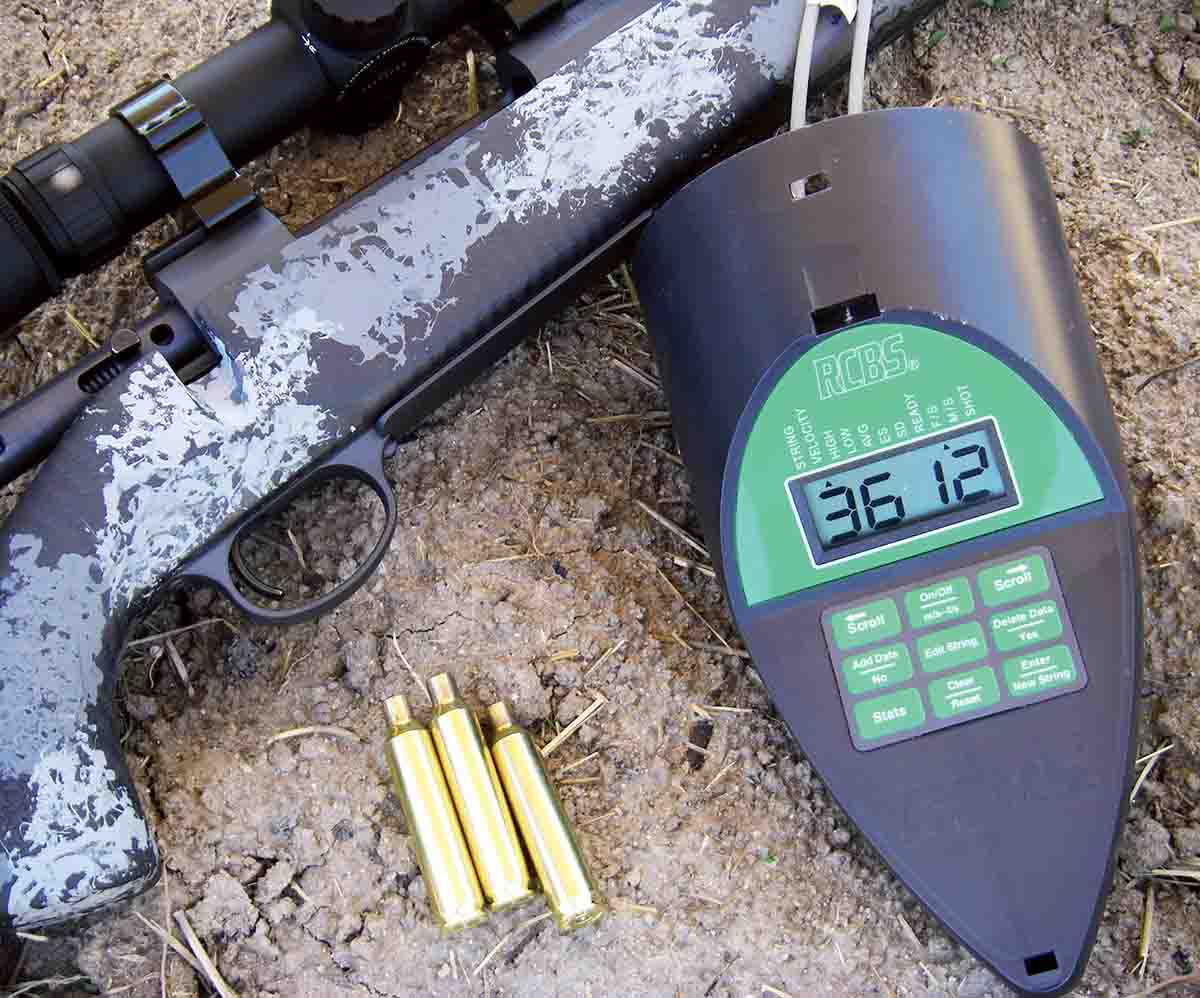 The new .27 Nosler is fast, flat-shooting, accurate and offers a substantial performance advantage over Grandpa's .270 Winchester, and many other modern long-range cartridges.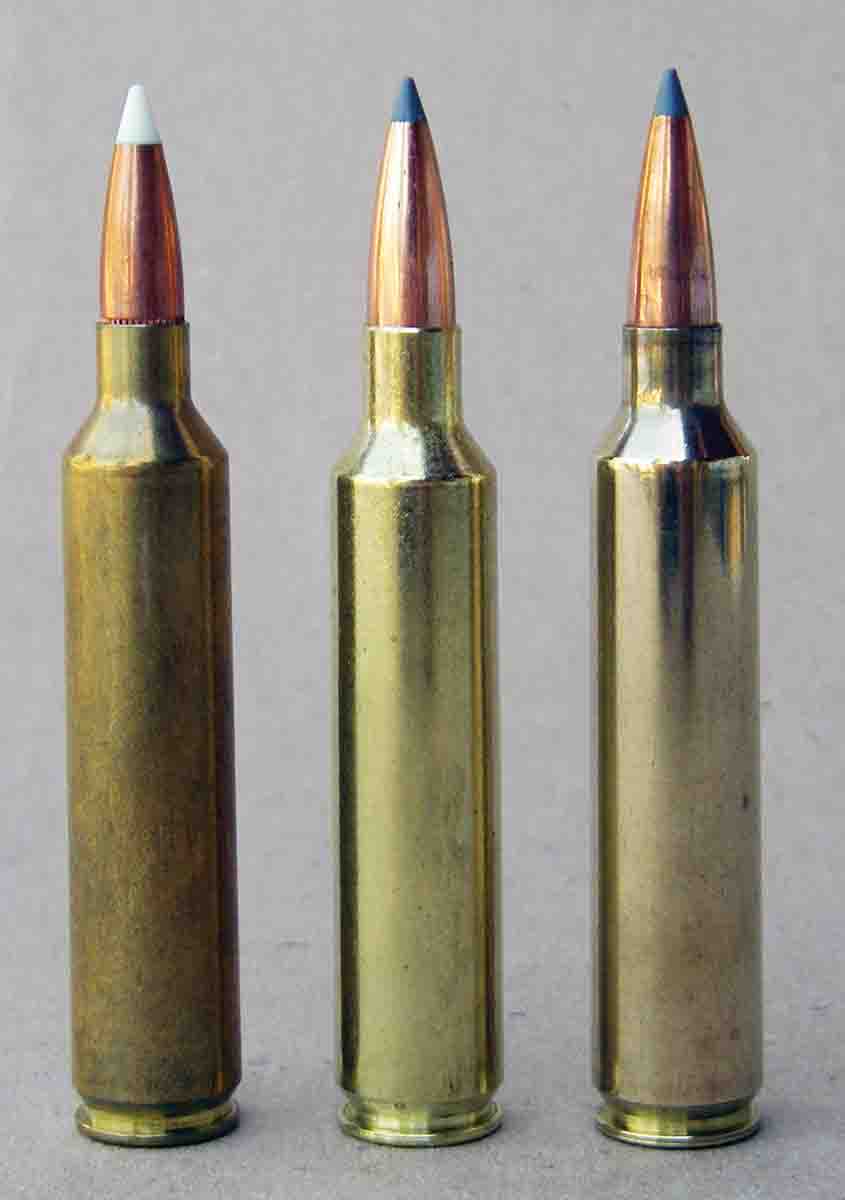 Beginning in 2014, Nosler surprised the industry by designing and introducing a sizzling hot 6.5mm cartridge known as the .26 Nosler that offered, at least at that time, the highest velocities of any commercially available 6.5 cartridge. It was modern in every respect, as it was based loosely on the .404 Jeffery case that is void of a belt, is rimless and offers substantial case capacity. The .26 Nosler featured a 35-degree shoulder and the overall cartridge length was 3.340 inches, which allowed it to function in standard .30-06 length (3.340) actions. Nosler had introduced the Model 48 Trophy Grade bolt-action rifle in 2006, with "48" being the year John Nosler founded the company, and it was the rifle used to launch the .26 Nosler cartridge. In 2015, Nosler introduced the .28 Nosler, and in 2016, the .30 and .33 cartridges, with each being based on the same .404 Jeffery case. Each was designed with a maximum overall length of 3.340 inches to allow them to function in .30-06 length actions, but with small technical engineering changes to prevent improper chambering from one to the next. The company's latest offering is the .27 Nosler, introduced at the 2020 SHOT Show as the fastest regularly-produced .27-caliber cartridge available.

The first widely successful .27-caliber cartridge was the .270 Winchester that was developed in 1923 by necking down the .30-03 Springfield case (not the .30-06) to accept .277-inch bullets, which was introduced commercially in 1925 in the Model 54 bolt-action rifle. For its era, it was a remarkable sporting round that offered a unique blend of flat trajectory and long-range potential while providing moderate recoil and sufficient terminal performance. Period ballistics listed a 130-grain bullet at 3,160 fps (which was rather optimistic and reduced today), and later a 150-grain bullet listed at 2,770 fps (subsequently increased). While the .270 was not widely popular in its first decade or so, due to its many virtues and outstanding reputation along with praise from period gun writers, including Townsend Whelen, Elmer Keith and Jack O'Connor, it eventually gained widespread acceptance among big-game hunters based on its own virtues. It became particularly popular for hunting deer-sized game in open country, such as mule deer, mountain goats, sheep, antelope, etc., when long shots are common and accuracy is required. Based on ammunition sales, it still ranks as one of the most popular rifle cartridges.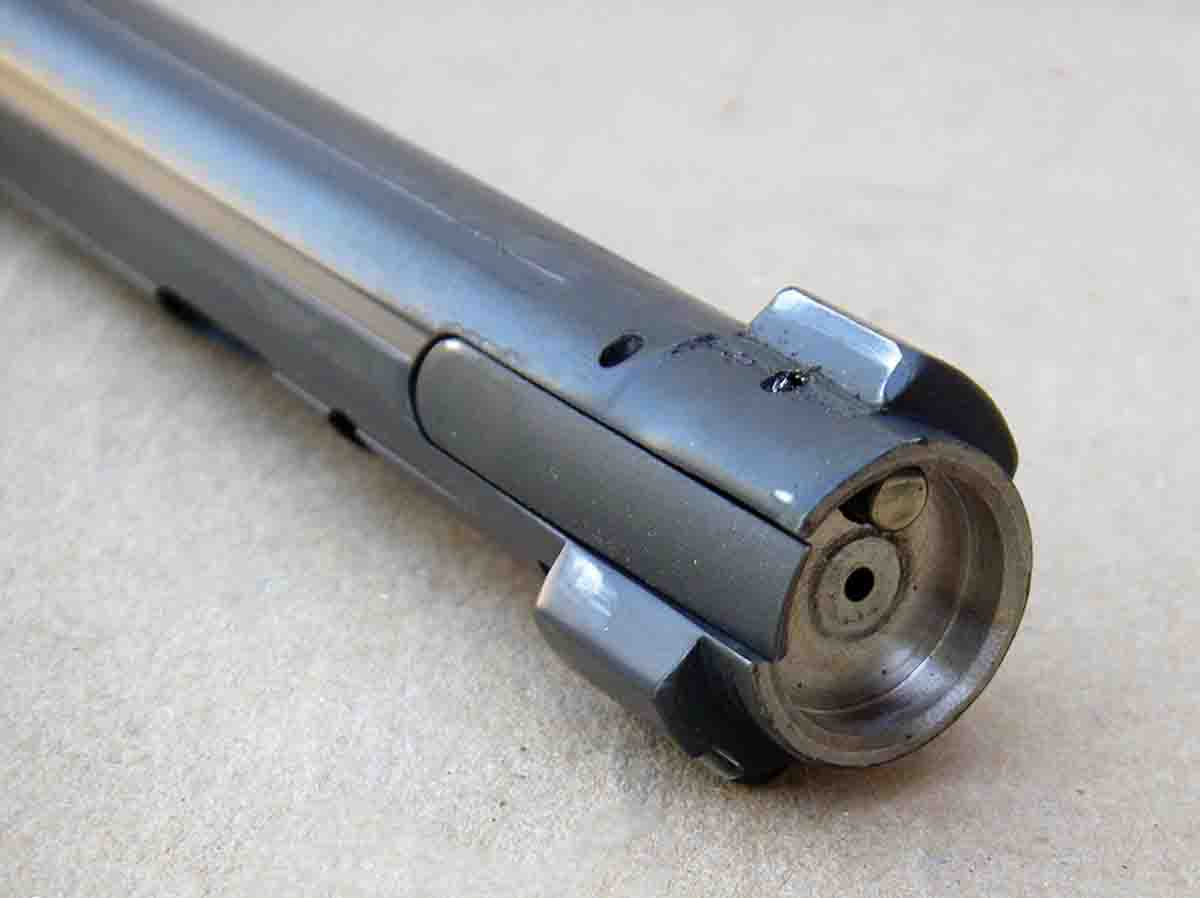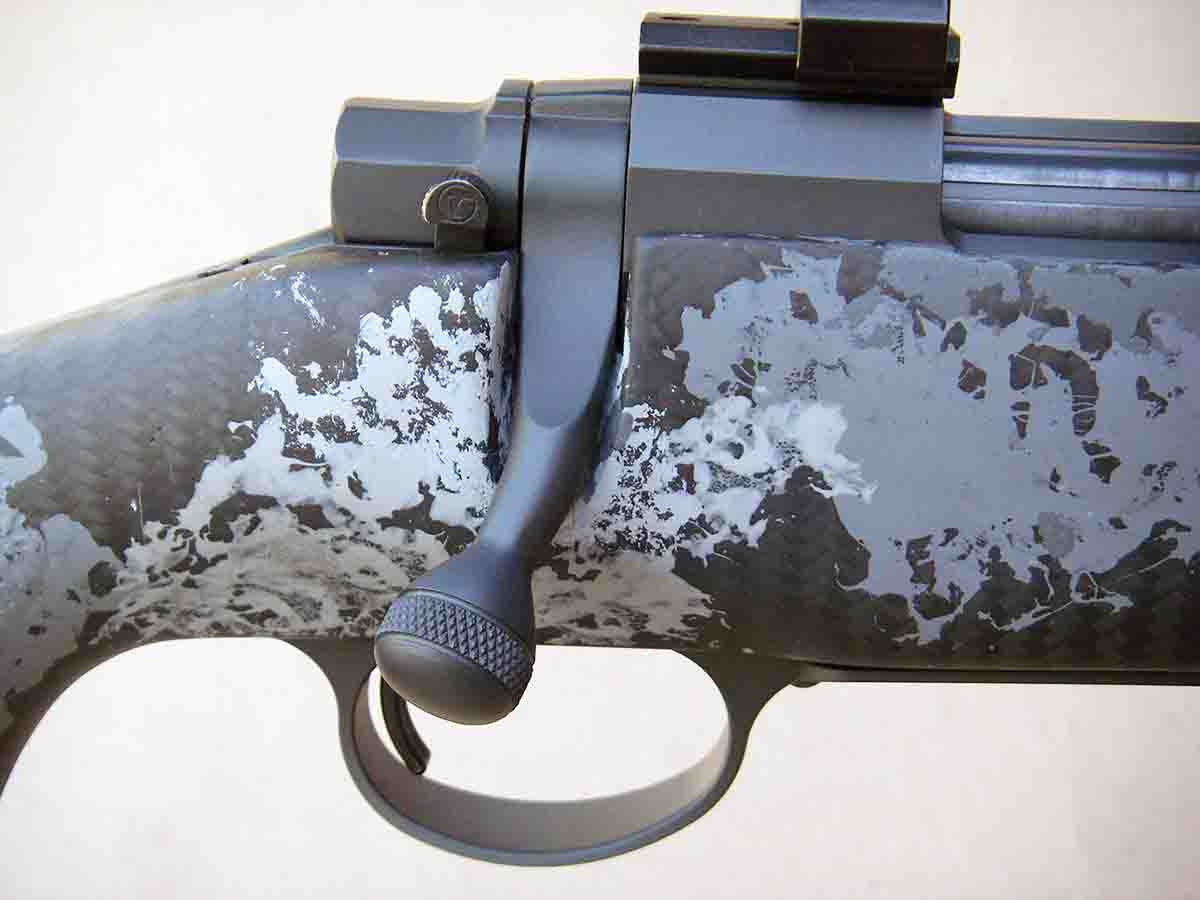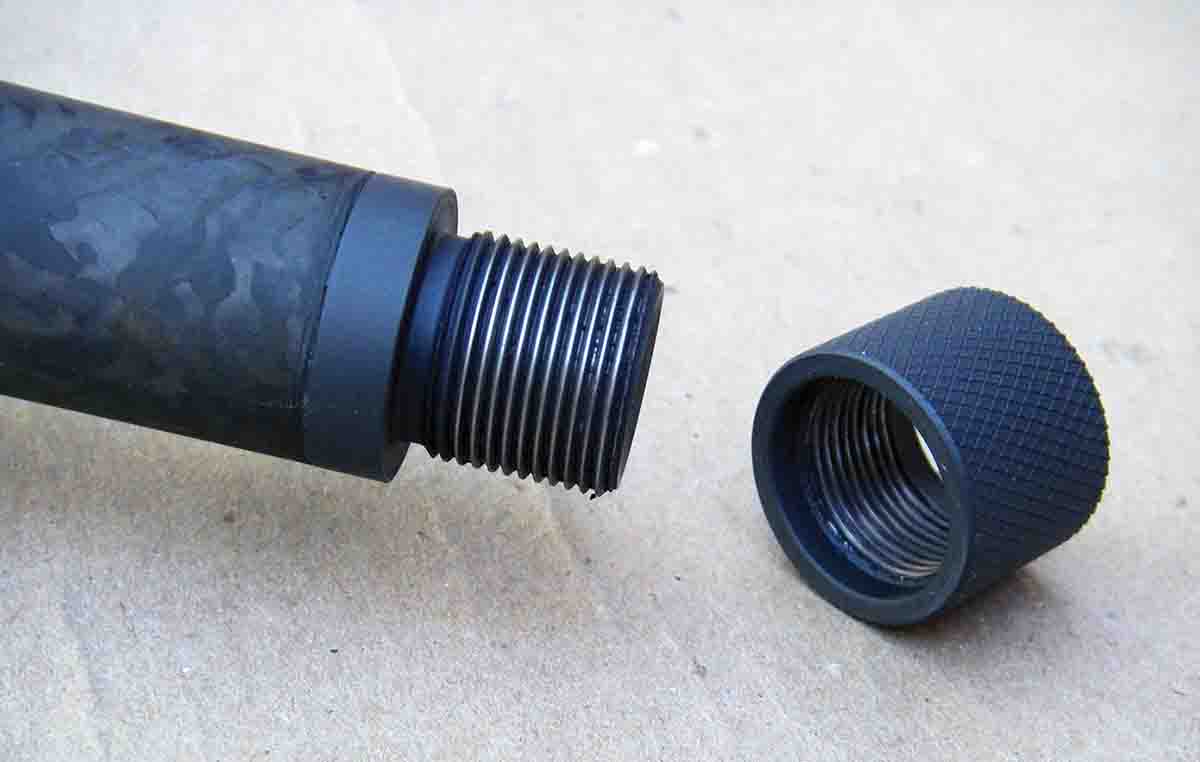 In 1943, Roy Weatherby introduced the .270 Weatherby Magnum based on the .300 H&H Magnum case blown out and necked to accept .277-inch bullets, which offers high velocities and has been one of the company's most popular cartridges. Winchester introduced the .270 WSM in 2002, designed to function in .308 Winchester length actions and improve on the .270 Winchester's velocities. It has earned a loyal following and has become the second most popular .27-caliber cartridge. Around 2002, Remington developed the 6.8 SPC in conjunction with the U.S. Army Marksmanship Unit and United States Special Operations Command. It was based on the .30 Remington case necked to accept .277-inch bullets and function in AR-15 pattern rifles. Although it is a good cartridge, its success in the civilian (and military) market has been limited.
In late 2019, SIG SAUER announced the .277 Sig Fury, which was designed specifically for the U.S. Army's next generation squad weapons program and is similar to the .308 Winchester in length and diameter. It features technology developed and patented by the late Dick Casull. The case head is steel, which allows chamber pressures of around 80,000 psi. SIG is claiming a 135-grain bullet at 3,000 fps or a 140 grain at 2,950 fps from a 16-inch barrel, with both bullets featuring a high BC. While the .277 Sig was primarily designed for military use, the demand for it in bolt-action rifles such as the SIG SAUER Cross, is already high. When the military adopts a given cartridge, civilian interest historically soars. While the .277 Sig may or may not achieve widespread acceptance with hunters, it is certain to result in better bullets and increased interest in the .27 caliber.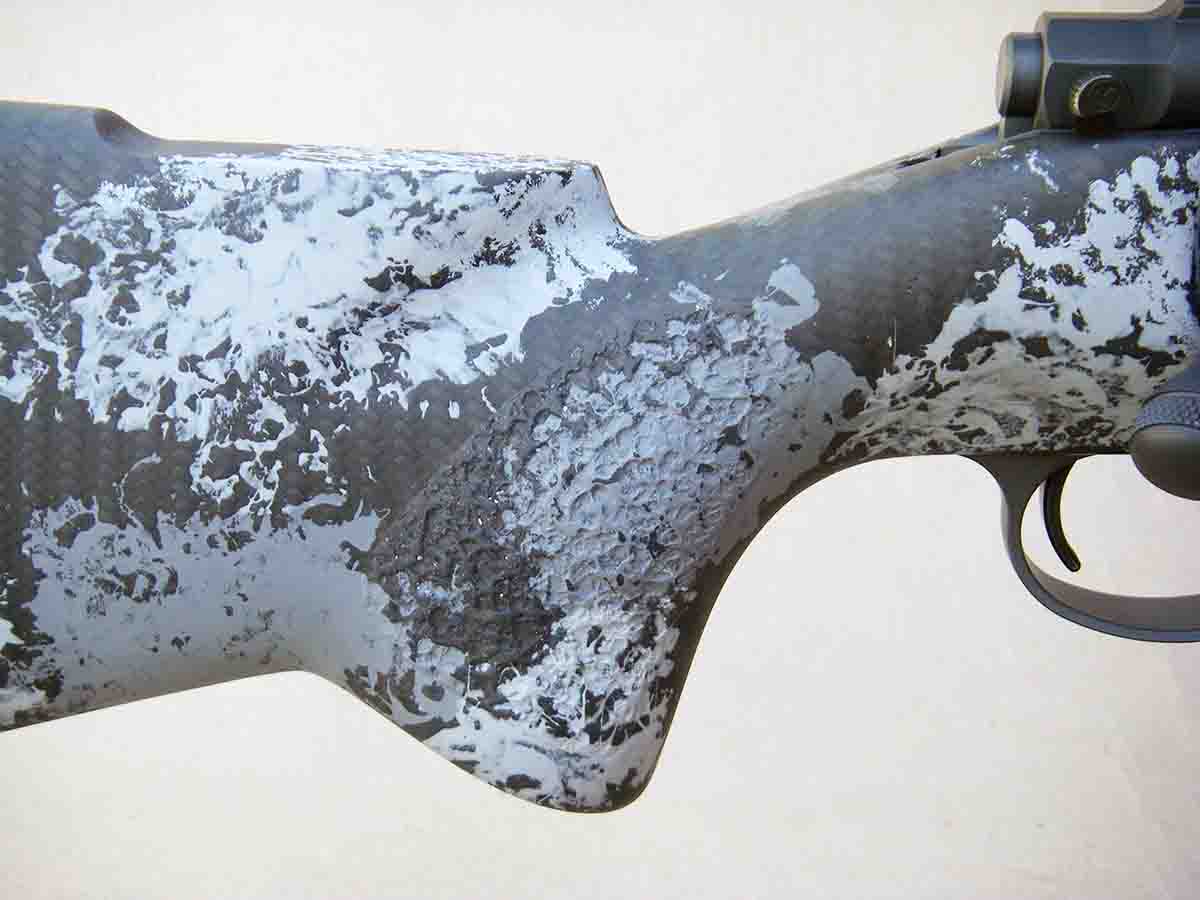 While the .270 Winchester, .270 Weatherby and .270 WSM have remained popular among deer hunters, modern long-range shooters and competitors have generally ignored this caliber in favor of others that offer a wide selection of match and long-range hunting bullets that feature the highest BCs, low drag, etc. However, with the introduction of new bullets along with the military association with the .277 Sig, there has been a resurgence of interest in this caliber.
This brings us to the .27 Nosler, which seems to have had a very timely introduction and is certain to catch the attention of hunters desiring a completely modern, high-velocity, flat-shooting, long-range cartridge. As expected, the .27 is based on the .30 Nosler case necked down. It retains the same 35-degree shoulder and maximum overall cartridge length of 3.340 inches. Incidentally, due to the longer neck and shorter length to the shoulder of the .27, a .28 Nosler cartridge cannot be inadvertently fired in a rifle chambered for the .27. The traditional 1:10 twist rate used on the .270 Winchester, .270 WSM and .270 Weatherby Magnum has been abandoned in favor of a 1:8.5 twist that will better stabilize long, heavy-for-caliber, high BC bullets.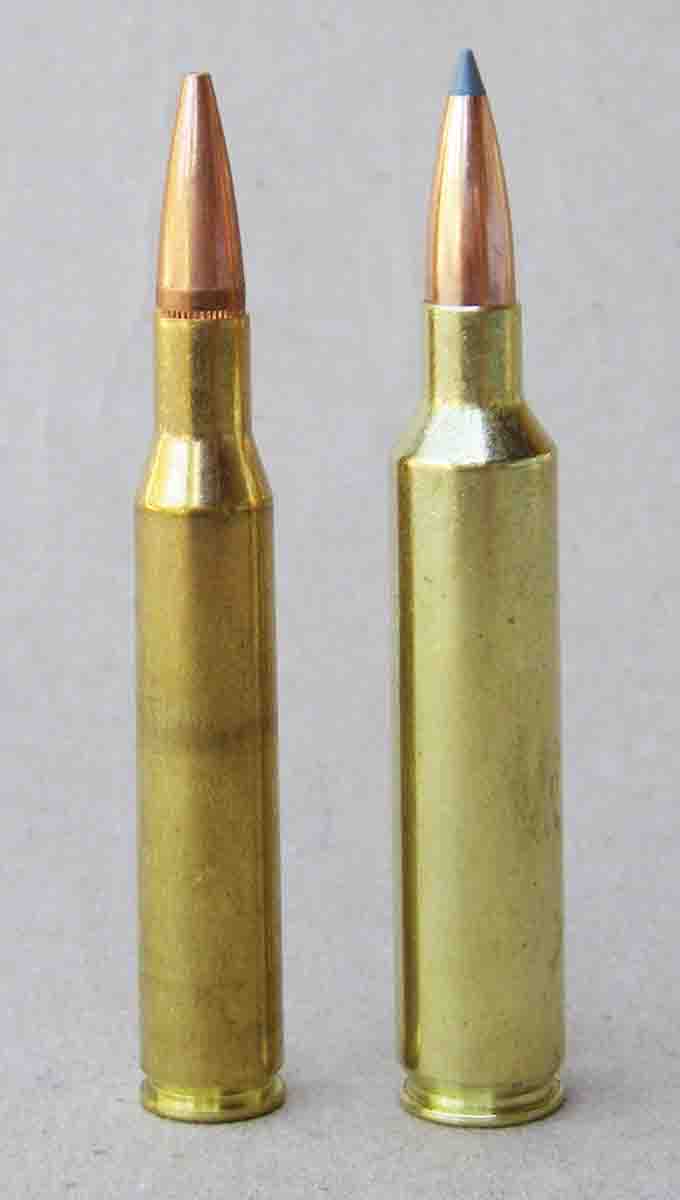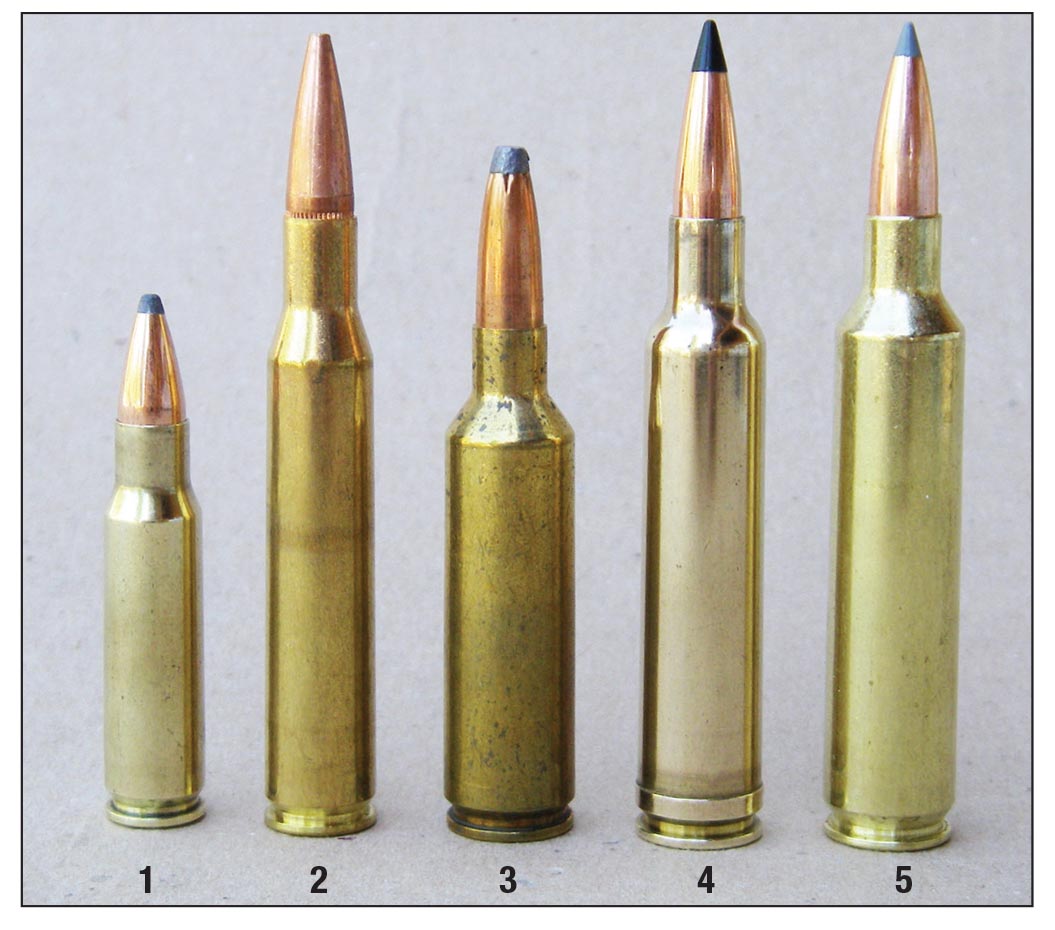 Nosler factory load ballistics include a 150-grain AccuBond bullet at 3,300 fps (however the box of factory loads indicates 3,250 fps) and a 165-grain AccuBond Long Range at 3,158 fps. G1 ballistic coefficients are .591 and .620, respectively, and have been verified by independent testing utilizing Doppler radar. Bullets with such high BCs are truly modernizing this caliber for the twenty-first-century and are serving to make it a viable caliber for long-range shooting which, combined with the high muzzle velocity of the .27 Nosler, results in an especially flat trajectory. The above 150-grain load clocked 3,267 fps while the 165-grain reached 3,073 fps.
I am always hesitant to compare cartridges; however, in this instance a couple of comments are appropriate. Since the .270 Winchester is the original, most popular .27 caliber, the standard if you will, let's compare. The .270 is capable of pushing a 150-grain Nosler AccuBond LR bullet at 2,880 fps from a 26-inch barrel and the .27 can push the same bullet at 3,300 fps (more on that in a moment). With a 200-yard zero, the .270 drops approximately 275.8 inches at 1,000 yards and has an impact velocity of 1,520 fps while the .27 Nosler drops just 202.3 inches and retains 1,803 fps. Switching to the popular 6.5 Creedmoor, the flattest shooting advertised factory load lists a 147-grain Hornady ELD Match bullet at 2,695 fps that drops 292.3 inches at 1,000 yards with the same 200-yard zero and offers a velocity of 1,559 fps. Another popular cartridge is the 6.5 PRC, with its flattest shooting factory load consisting of the 147-grain ELD Match bullet at 2,960 fps, which drops 245.9 inches at 1,000 yards and retains 1,712 fps velocity. The .300 Winchester Magnum has been popular for many decades, and one of the flattest shooting (if not the flattest) is the Hornady 195-grain ELD Match bullet at 2,930 fps, which drops 267.1 inches at 1,000 yards and has an impact velocity of 1,540 fps. Clearly the .27 Nosler offers noteworthy performance! (Note: In an effort to make the above ballistic comparisons accurate, calculations are all from Bison Ballistics.)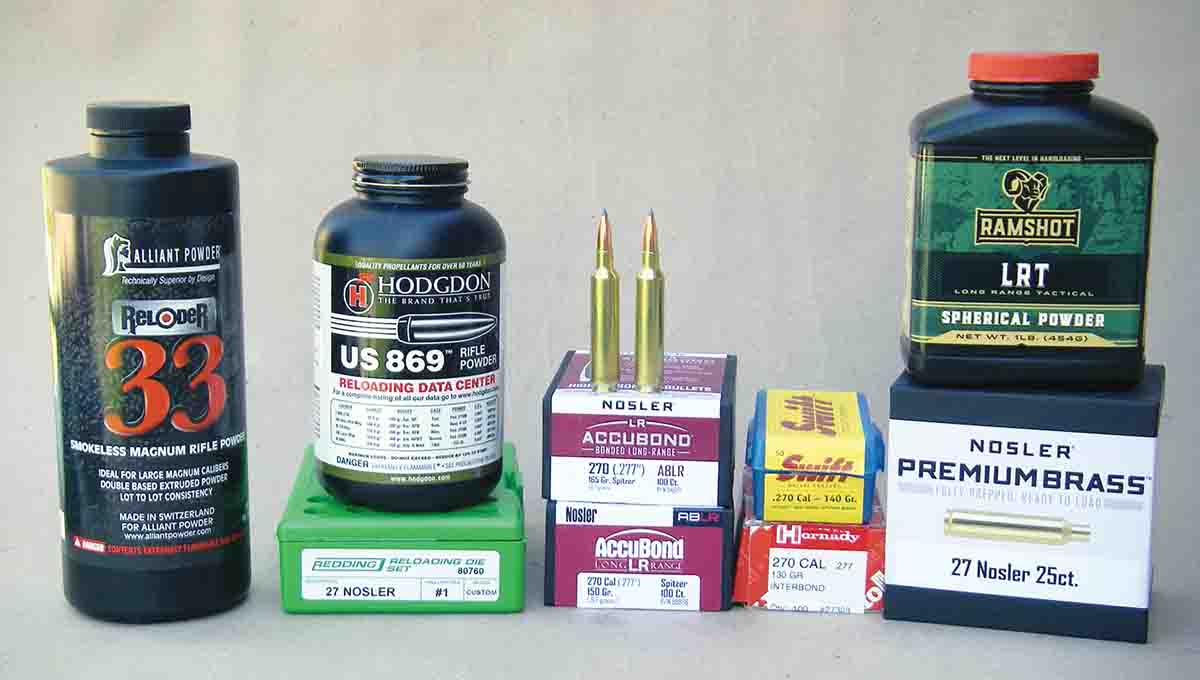 To further evaluate the cartridge, a Nosler Model 48 Long Range Carbon rifle was selected. The Model 48 was first produced in 2005 with the NoslerCustom Limited Edition Rifles; however, regular production began in 2006. The rifle was built to honor company founder John Nosler and the year that he began producing the famous Partition bullet, but it was also designed to meet the needs of discriminating hunters wanting an accurate and reliable out-of-the box rifle. Now, 15 years later, the 48 is offered in many configurations and calibers, and it has earned a stellar reputation as an outstanding field rifle.
For example, the action is blueprinted and hand lapped to assure smooth function. It features twin forward locking lugs with 90-degree bolt lift, and a swept bolt handle that provides a natural feel while cycling the action, but it's also low in profile to accommodate any practical scope mounting system. The countersunk bolt face features a plunger ejector and an approximately 1.25-inch long rotating "Sako-style" extractor that results in a push-feed system, all of which worked reliably throughout shooting sessions. The bolt body is fluted and properly vented to divert gases in the unlikely event of a ruptured primer or case, but it also features a bolt sleeve cap to further stop escaping gases and protect the shooter. While the bolt stop is small and unobtrusive, it is strong and simple. The firing pin is one piece, and its assembly is simple and has proven reliable. The trigger is a Timney that is fully adjustable and broke cleanly at 2.8 pounds right out of the box. The safety is a two-position design and allows the bolt to be opened while it is in the "ON" position. The aluminum floorplate is hinged, and magazine capacity is three.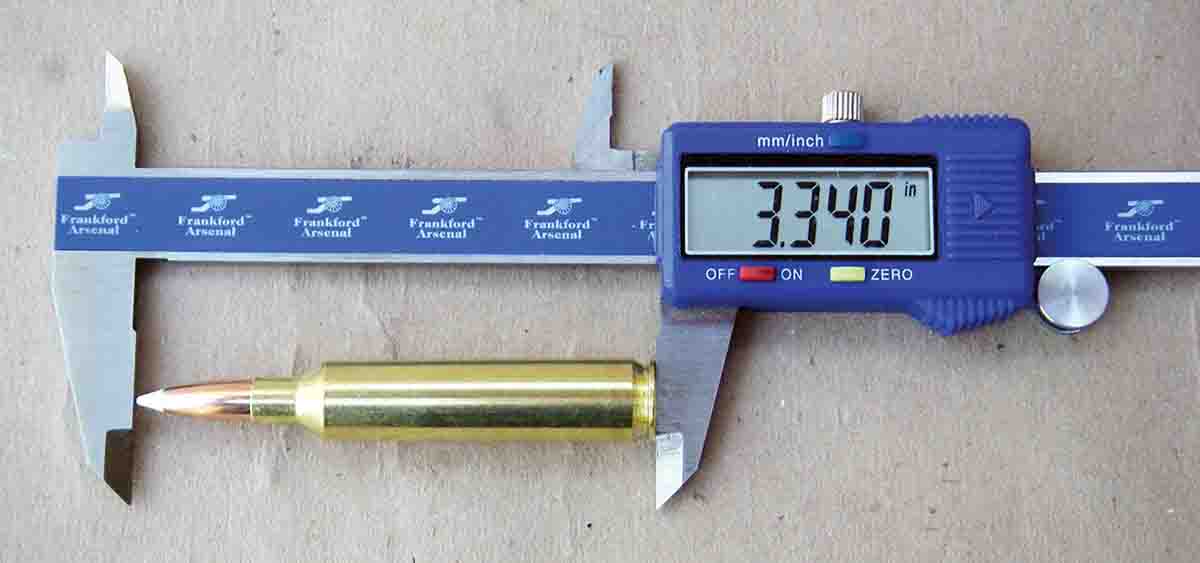 The 26-inch Proof Research match grade, carbon fiber wrapped barrel measures .816 inch in diameter at the muzzle and has a threaded protector. The rifling is 1:8.5 to properly stabilize long, heavy-for-caliber bullets designed for long-range work. Incidentally, the .270 Winchester has traditionally been fitted with a 1:10 twist, which has been limiting with modern low drag, high BC bullets.
All metal surfaces are finished with Cerokote Sniper Grey, which is tough and rust resistant. The Manners stock is carbon fiber and finished in Midnight Camo. The forearm channel is open to allow the barrel to free-float while the action is glass bedded and features aluminum pillars. It also features a high cheekpiece, forend and palm swell, moulded texturing and other features that have become popular with modern long-range riflemen. In addition to its futuristic appearance, the Model 48 Long Range Carbon weighs just seven pounds.
A Leupold VX-3i Long Range Precision 4.5-14x 50mm (30mm main tube) scope with Front Focal Plane TMR reticle was installed using Leupold QRW rings. This scope needs no introduction; however, it should be noted that it offers desirable long-range shooting features, including side focus, LRP target adjustments, a zero stop, magnification throw lever and Twilight Max Light Management System that reduces glare, offers edge-to-edge image clarity and excellent low-light transmission. Lenses are fully coated and are mil-spec scratch resistant. Eye relief is generous, making it ideal for shooting in a variety of field positions while keeping a proper distance from the eye, and it is built in Leupold's Beaverton, Oregon, plant. Incidentally, Leupold offers a full lifetime "forever" guarantee, even if you are not the original owner!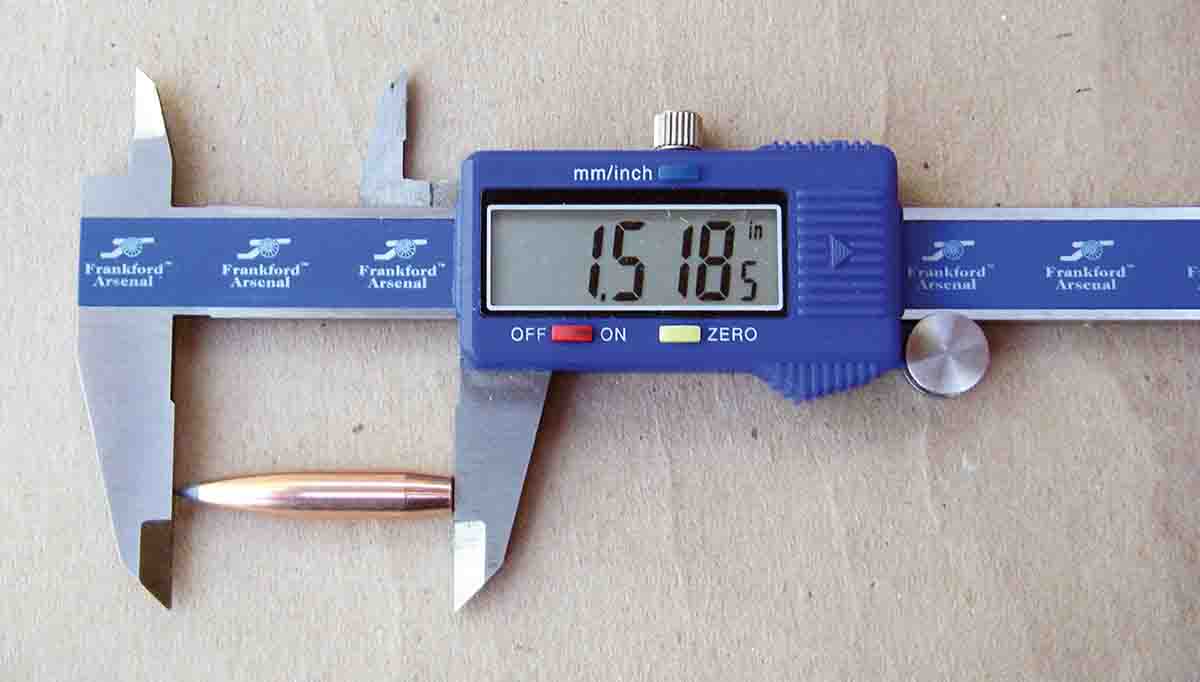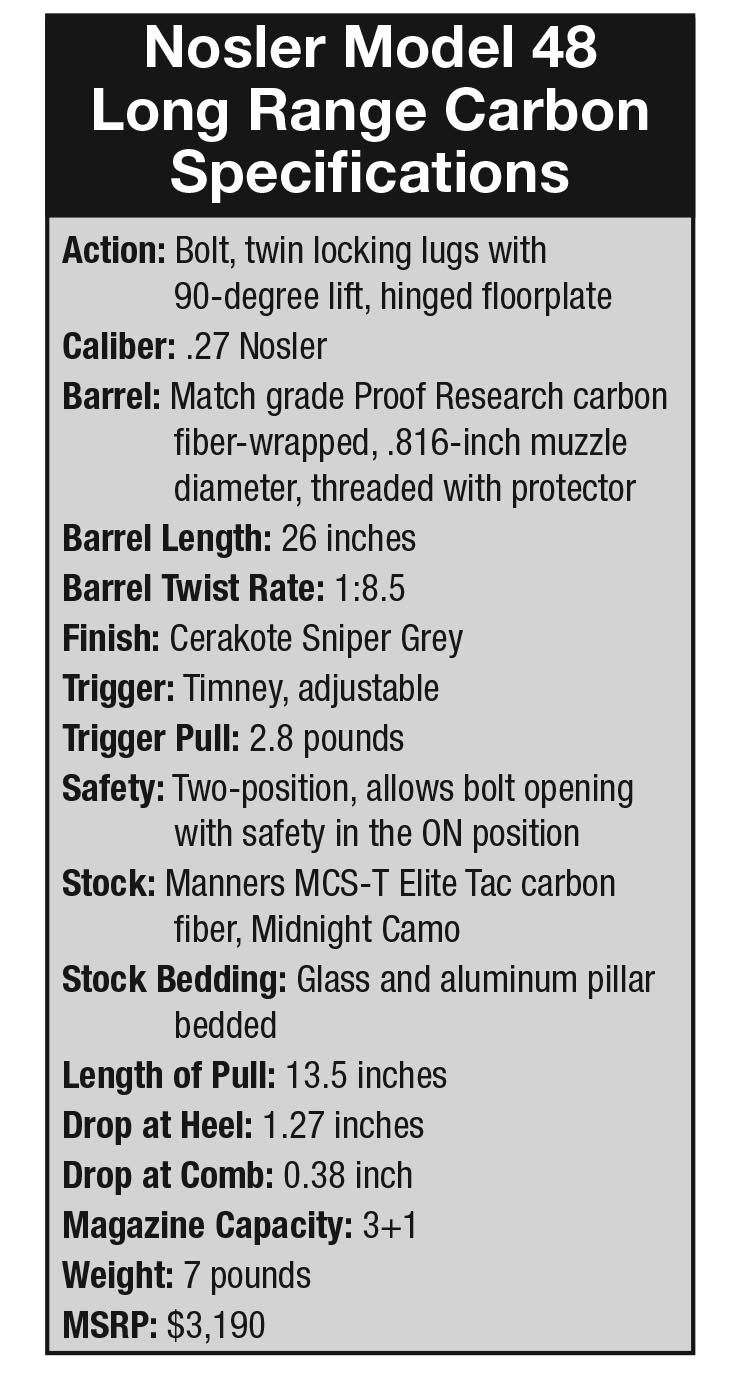 While Nosler tests all rifles for accuracy prior to shipping, barrel break-in is still suggested. This can be rather time consuming, so I chose to shorten the process by firing two rounds, completely cleaning the bore of all copper residue, then firing two more rounds and repeating for the first 10 shots. For the next 20 shots, four rounds were fired between cleanings, with cold air being blown through the bore to fully cool it between shots.
At that point the rifle was checked for accuracy and velocity with factory loads. As indicated, the 150-grain Nosler AccuBond clocked 3,267 fps while the 165-grain AccuBond Long Range reached 3,073 fps. From the bench, with the aid of a Champion sandbag rest, three groups were fired with each load, each group consisting of four shots. Average groups were .65 and .80 inch with the 150- and 165-grain loads, respectively (numbers being rounded).
In developing a number of handloads using new NoslerCustom fully prepared cases, I was able to duplicate and even exceed factory load velocities with like bullet weights. But first, due to the extreme popularity of the 130-grain bullet weight, I developed loads with the Hornady InterBond bullet. Working up to 82.0 grains of Alliant Reloder 25 powder, velocity reached 3,588 fps and groups were sub-MOA.
Moving up to the 150-grain Nosler AccuBond Long Range bullet, 91.0 grains of Hodgdon US 869 powder reached an impressive 3,362 fps, a load that is within SAAMI pressure guidelines. Again, accuracy was good, with one four-shot group measuring .548 inch.
Switching to the 165-grain AccuBond Long Range bullet, 86.0 grains of US 869 powder produced 3,131 fps and offered an extreme spread of 18 fps. Although group size increased when compared to the above 150-grain ABLR, they averaged just over .70 inch. Due to bullet yaw and downrange stabilization, the two bullets should be tested for accuracy at long range to fully determine the most accurate load.
The Nosler Model 48 Long Range Carbon rifle and .27 Nosler beg to be tested at long range, but as this is written, Idaho's rainfall is heavy and has been for days. Deadlines being what they are, additional long range testing will have to wait, but preliminary tests and facts confirm that the .27 offers a flat trajectory, accuracy and comparatively moderate recoil. Combined with Nosler's new long range bullets as well as forthcoming bullets from additional manufacturers, the .27 caliber has planted its feet well into the twenty-first-century.