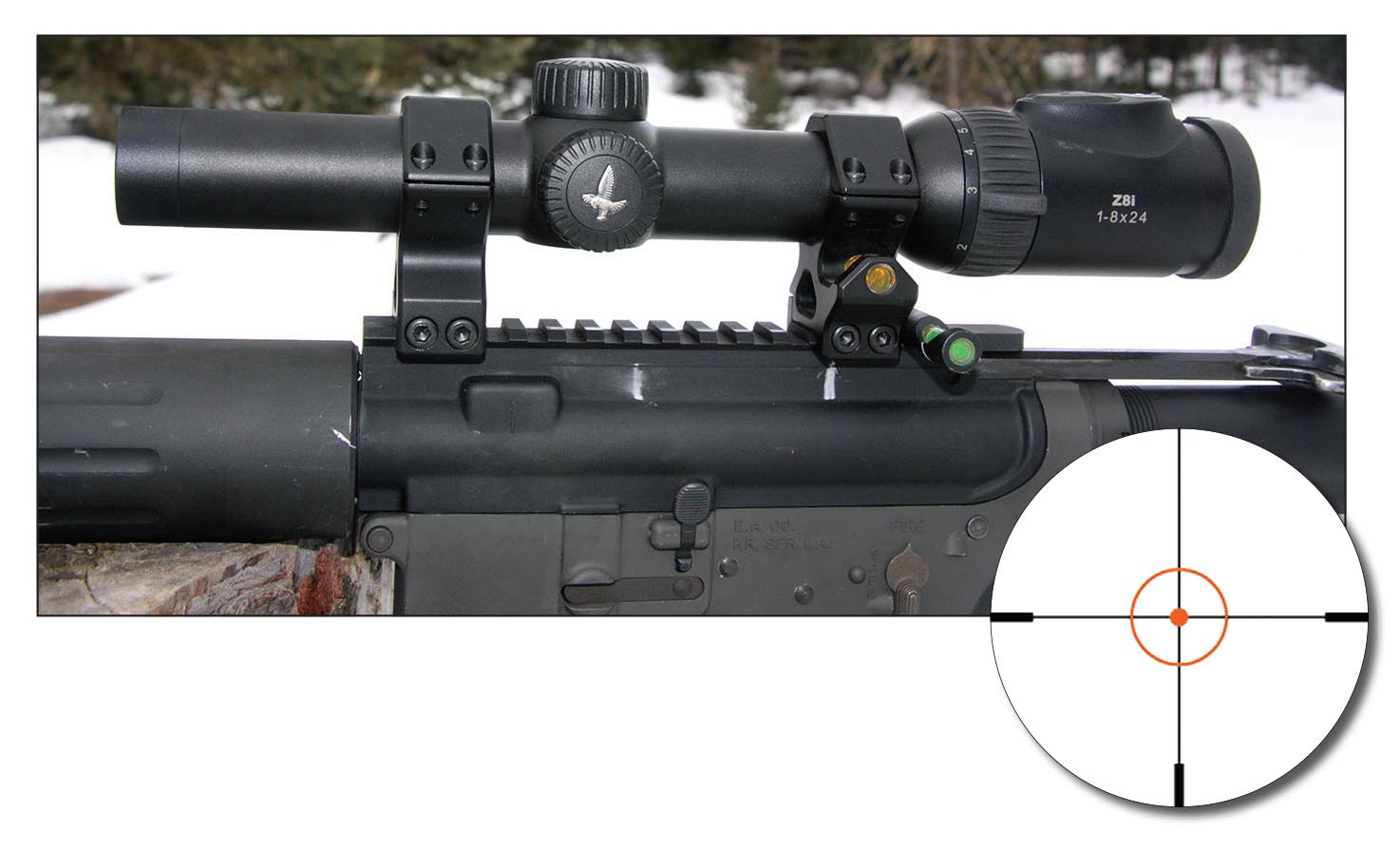 The AR rifle, whether AR-15 or AR-10, is an American rifle. These handy autoloaders are so popular the National Rifle Association estimates U.S. gun owners now own eight to 10 million of them. Continued improvements to the original ArmaLite design have made them more affordable, reliable and more accurate. Given this degree of accuracy, it was only natural shooters would begin adding optics to their ARs, looking for added precision and reach.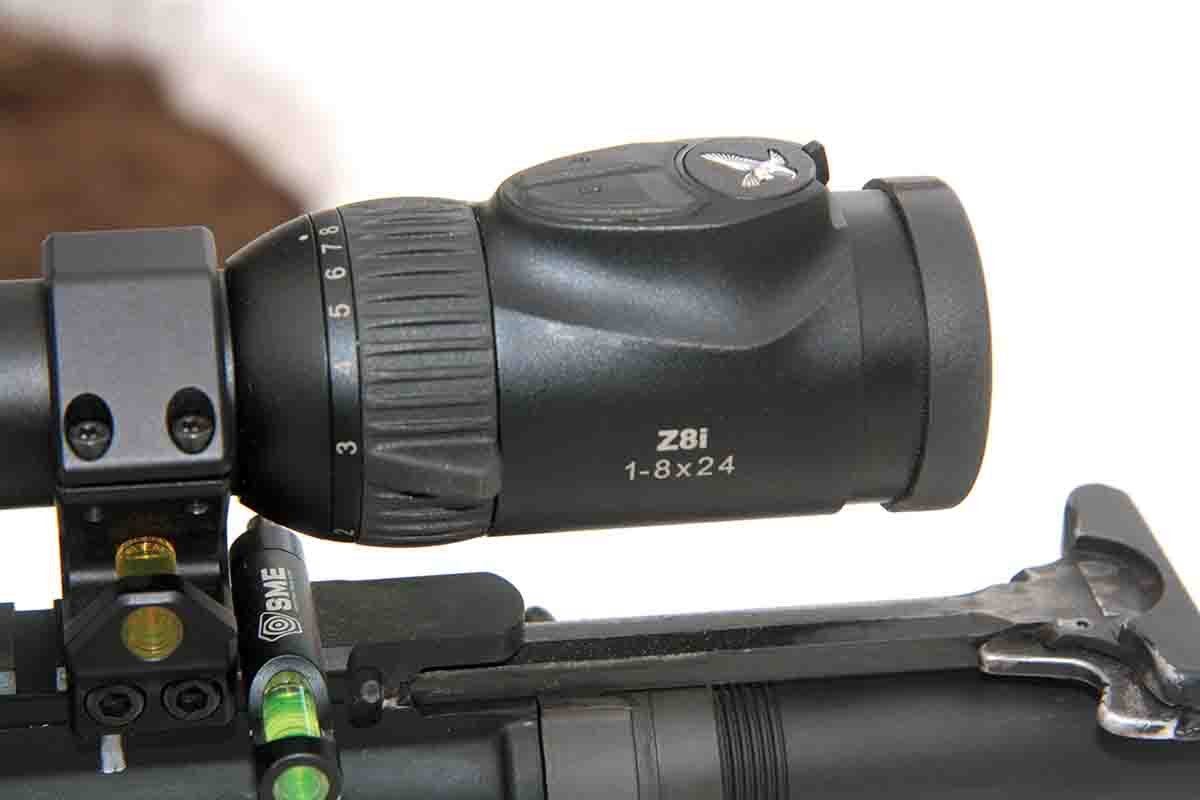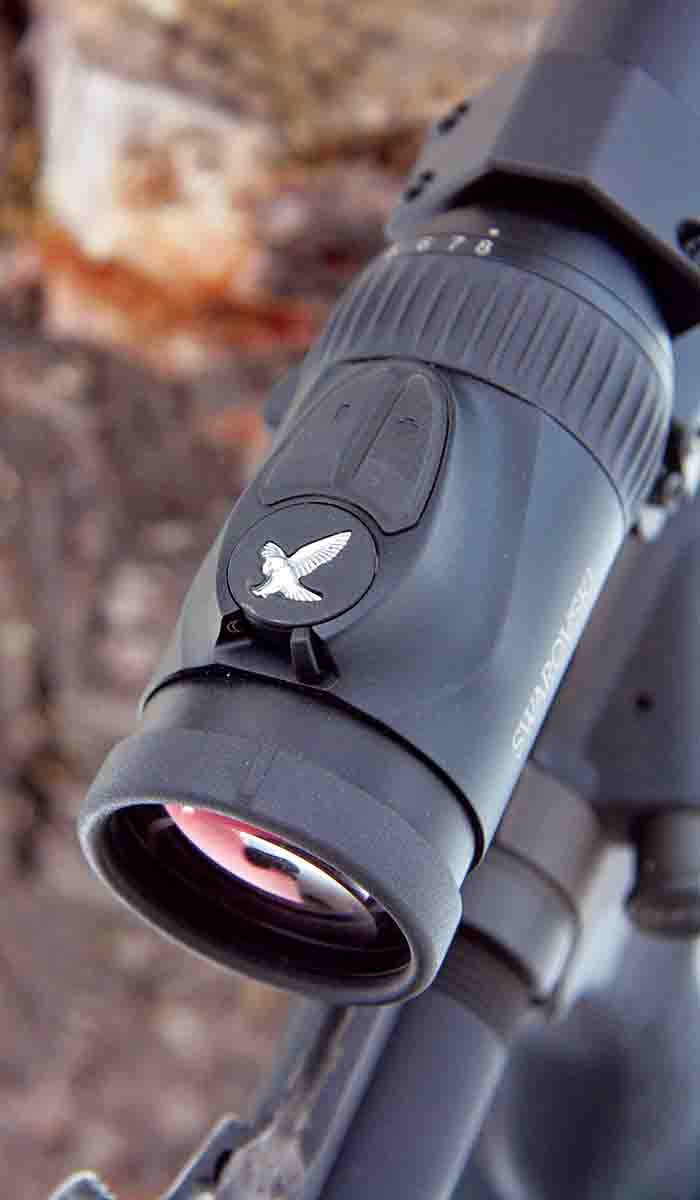 The question then becomes: What would an ideal AR scope look like? For me that depends on season. During spring and early summer, when Western burrowing rodents become my obsession, I add something big and powerful, something with 20x top end magnification for shooting from a portable bench. During fall and winter, when my ARs become my go-to predator calling and hog rifles, I want something to accentuate the design's fast-handling characteristics and make getting on target nearly instantaneous.
Swarovski Optik's Z8i 1-8x 24mm with L 4A-IF reticle is, in my opinion, an ideal option for a .223 when hunting coyotes, bobcats, foxes or hogs shuffling through thronged Texas underbrush, or white-tailed deer ghosting past a tree stand when using a 6.5 Grendel. The Z8i 1-8x 24mm would also prove wholly viable for 3-Gun competition. Swarovski's compact 11.9-inch long, 18.2-ounce Z8i riflescope, including Flexchange 4A-IF reticle, was designed by European hunters specifically to address moving big game during driven hunts. The idea was to provide an exceptional field of view for rapid target acquisition (127.5 feet wide/24 degrees at 1x, 15.9 feet wide/3 degrees at 8x), but with the ability to dial magnification higher when more precision is demanded. The Z8i 1-8x 24mm offers quick response to fleeting or running shot opportunities (think called coyotes or rutting whitetails) and the ability to draw a fine bead on a more distant target. It is also waterproof to 13 feet of submersion.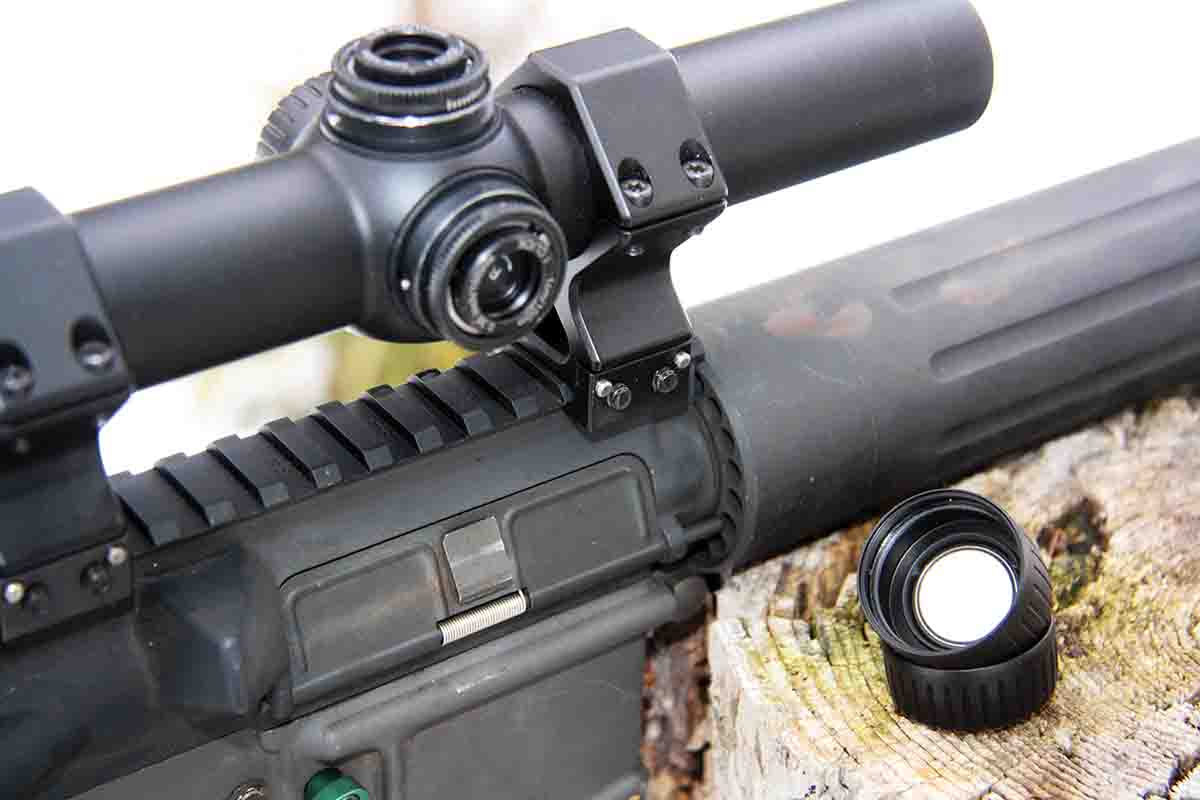 The overall geometry of the Z8i 1-8x 24mm is something that looks right at home on an AR. It includes a straight 30mm tube with no objective bell, the rear bulkier in diffidence to the illuminated reticle system and magnification-selection ring. Aluminum caps cover the left side illumination-system battery compartment, top elevation turret and side windage adjustment. A spare battery is held in the windage cap, a tactile rubber cap allowing it to be pushed out when needed. Elevation/windage knobs include knurled rings around a center well. Optional exposed Ballistic Turret Flex turrets can be added for $321 (BTF 1) to $642 (BTF 2). The objective lens is recessed a full inch to help keep it clear of dust and moisture. An ocular lens ring focuses the crosshair and is covered by soft rubber, and the magnification-select ring is also covered in ribbed rubber. Magnification numbers turn on this ring, correlated to a static dot on the main tube. Magnification movement is positive without being too tight or too loose. The scope comes with high-quality covers, including clear lenses and dual, heavy rubber band connectors to protect from dust when in storage, or from moisture in inclement weather.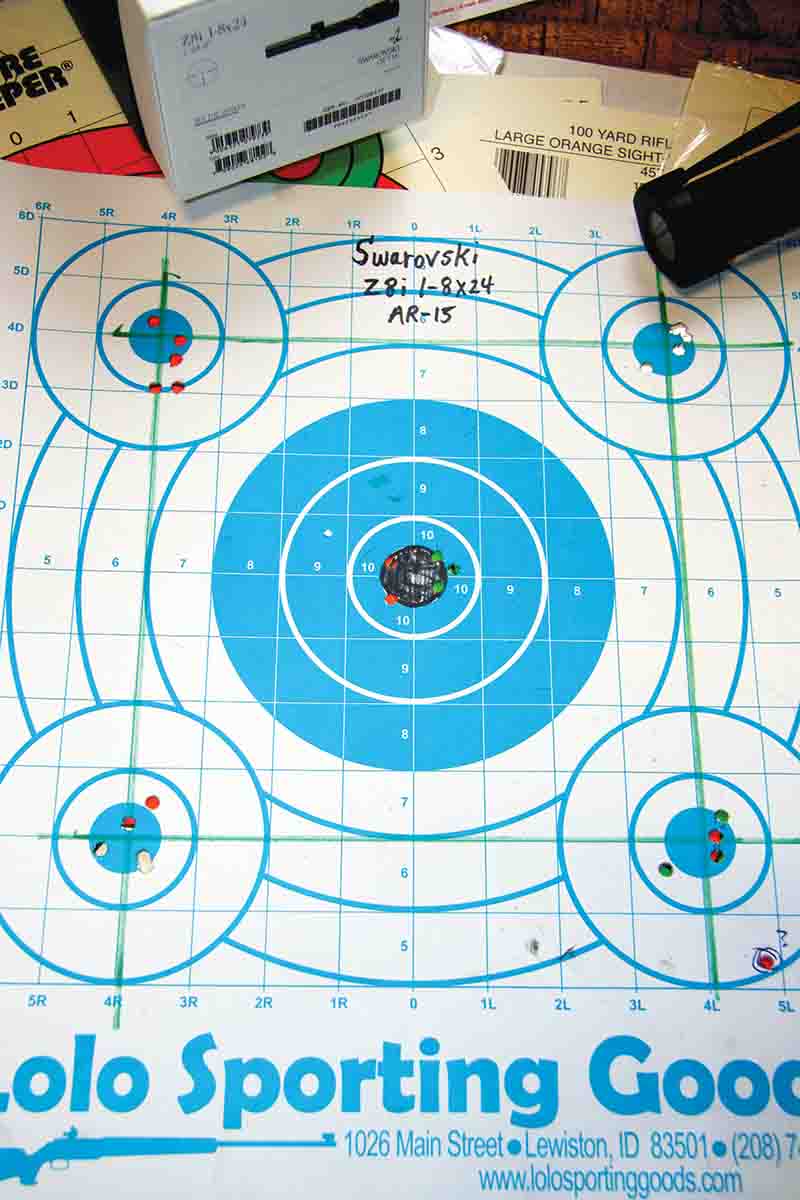 Swarovski products are some of the best optics in the business, providing razor-sharp, high-contrast images with maximum color fidelity. This scope provides 93 percent light transmission via some of the industry's most precisely ground, polished and coated ED glass, then it's inert-gas purged for anti-fog and moisture protection. Cutting edge technologies also come in other areas, such as Swaroclean lens coatings that repel dust, finger smudges and moisture, and Swarolight technology.
The Z8i 1-8x 24mm with 4A-IF reticle includes Swarolight illumination with an integrated inclinometer sensor that automatically shuts the lighted reticle off when it is canted out of plumb – a quick reminder to level the rifle before shooting. The system also shuts down when the rifle is pointed up or down past 45 degrees. This feature also means the lighted system can be left engaged without draining batteries while the rifle is laid across your lap, carried in the field or leaned against the side of a blind interior. Illumination also disappears briefly during recoil, a feature that should allow a clearer view of bullet impact.
As mentioned, the Flexchange 4A-IF reticle was a product of driven hunting, and includes the option of illuminating a center circle (subtension 14.52 inches at 100 yards, 13.9 MOA or 4 MRAD) with a lighted center dot (.66 inch at 100 yards, .60 MOA or .20 MRAD). The illumination system includes a top, left/right toggle switch and tactile rubber plus/minus side buttons to adjust brightness intensity. Click this lever to the center, and illumination is powered off, or switched right to engage the brighter Daytime Mode, or left for the dimmer Twilight Mode intended for low-light periods. The system includes optimized electronics to maximize battery life – up to 1,400 hours in Twilight Mode or 180 hours in Daytime Mode at medium settings. Twilight Mode includes brightness levels from 0 to 32, and Daytime 33 to 64.
Set on my custom .223 Remington AR-15 in Precision Hardcore Gear Black Ops 30mm rings with a side-mounted, integrated bubble level, the scope provided about 3.75 inches of eye relief and edge-to-edge clarity at the highest 8x magnification. Exit pupils of 8.1mm to 3mm (1x to 8x, respectively) provide excellent low-light viewing, the 8x/3mm eliminated only at the very edges of day. The 6x to 7x settings provided good twilight target discernment.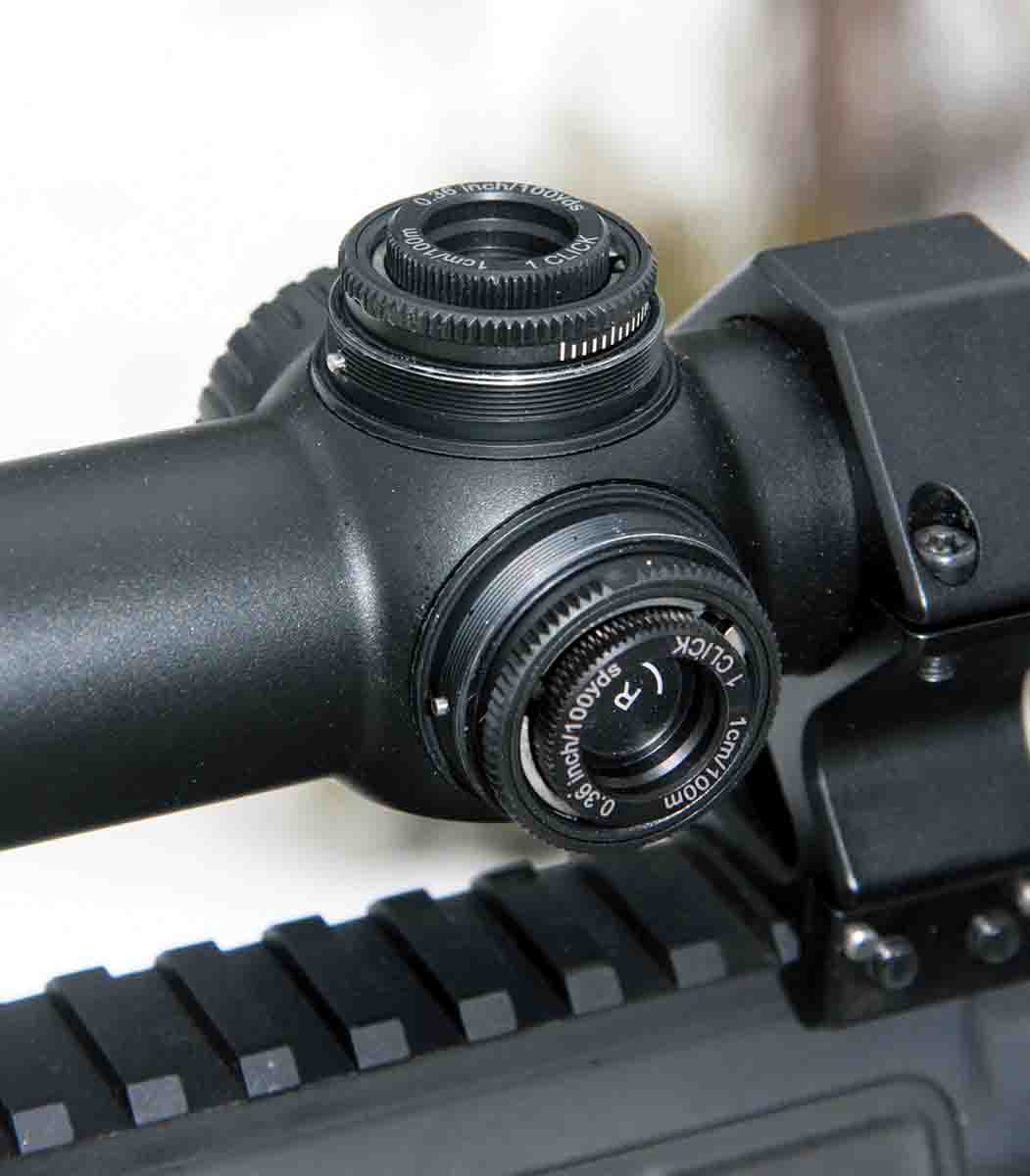 My only knock against this scope, as an American shooter at least, is its metric correction system. Impact corrections are translated to .36 inch at 100 yards, or an even 10mm at 100 meters. It's pretty close to our American standard .25-inch-per-click system, but it is also far enough off to cause noticeable deviations past 100 yards. For instance, this translated into 11.1 instead of 16 clicks while testing turret tracking on a five-spot target with "corners" (bullseyes) located four inches up and left/right and down and left/right of the center bullseye used to zero my AR at 100 yards. I used my standard AR varmint ammunition because I have a lot of it loaded – affordable Rocky Mountain Reloading long-for-caliber, 50-grain Lead-Free Frangible bullets over 24.5 grains of Hodgdon H-322 at around 3,100 fps. These loads typically form groups measuring from 0.5 to 1 inch from this particular AR, depending on how dirty its bore is and how much caffeine I've consumed. Aside from one oddball flyer, the Z8i tracked precisely – which was no surprise – the extra 0.1 inch seeming to move groups very slightly right. Maximum elevation/windage movement is 72 inches at 100 yards, or 2 meters at 100 meters.
I'd planned to use the Z8i for some coyote-calling sessions during its consignment period, but various loading/shooting deadlines did not allow time. Instead, I shot a collection of water-filled jugs set along a snowy wooded trail. These were shot at 50 to maybe 100 yards while walking up and shooting offhand, twisting the magnification ring up and down according to range. It was fun to shoot something other than paper, and the 4A-IF Flexchange reticle made this enjoyable. Even the longer shots seemed all too easy.
This shooting, on a bright spring day under a deeply-shaded, old-growth canopy, accentuated the Z8i's exceptional optical system. Even targets in deep shadow were tack sharp and distinctive. At home, hanging a handmade optical chart in the shade, with its .75-inch black-on-white letters, corresponding red, blue and green letters, 0.5-inch red, blue and green spots and stars, the letters remained clearly legible and colors were distinct to 100 yards with the scope set on 8x. Waiting until the very last minute of legal Idaho shooting hours (30 minutes after sunset) on a partly-cloudy evening, letters remained legible and colors distinguishable at 50 yards at about 5.5 power.
The Z8i 1-8x 24mm L 4A-IF fits my idea of an ideal AR scope, though it would certainly prove suited to any moderate-range, big-game rifle, despite action type. Its sleek profile and quick targeting abilities accentuate the AR's handy, fast-pointing nature. Its optical design is indisputably as good as anything available today, especially in low-light conditions when predators, hogs and white-tailed deer move most freely. No doubt a $3,154 suggested retail price (illuminated 4A-IF reticle, BRT-1 reticle $2,766) leaves it out of reach of many shooter's budgets, but this is a scope built to last, and it's backed by an excellent warranty. With technology so far ahead of the curve, it will remain viable for decades to come.