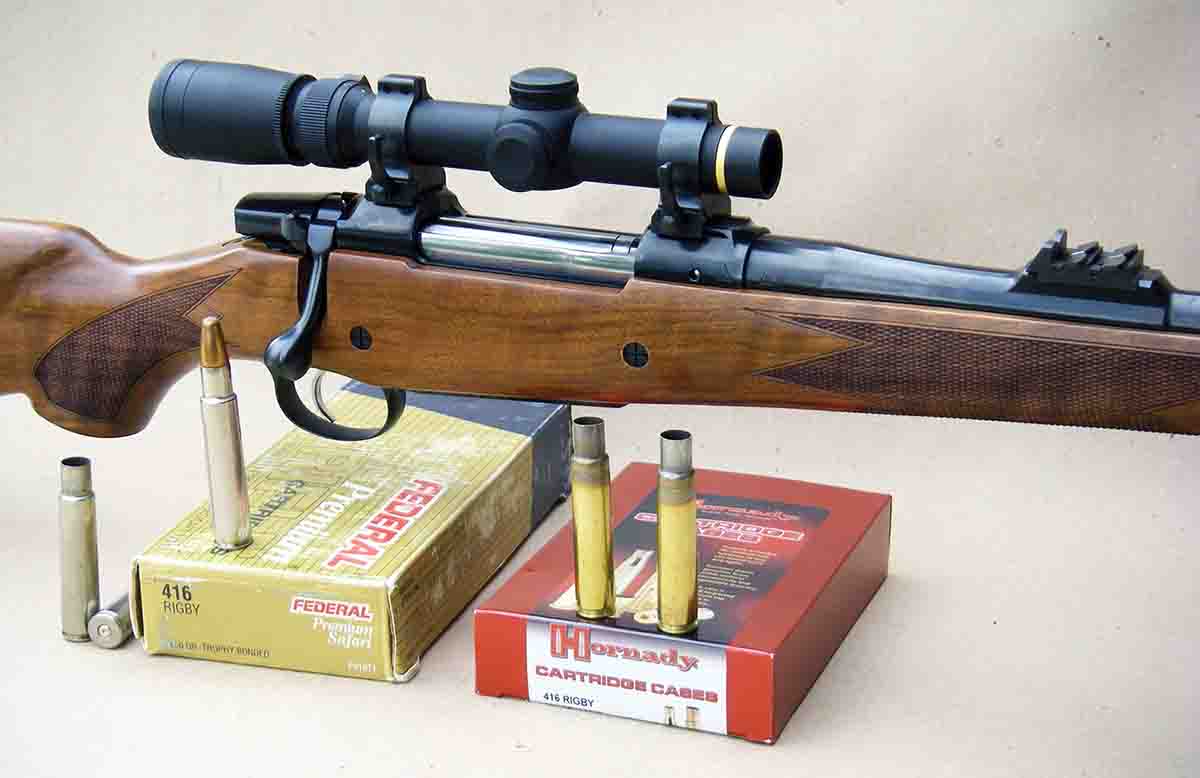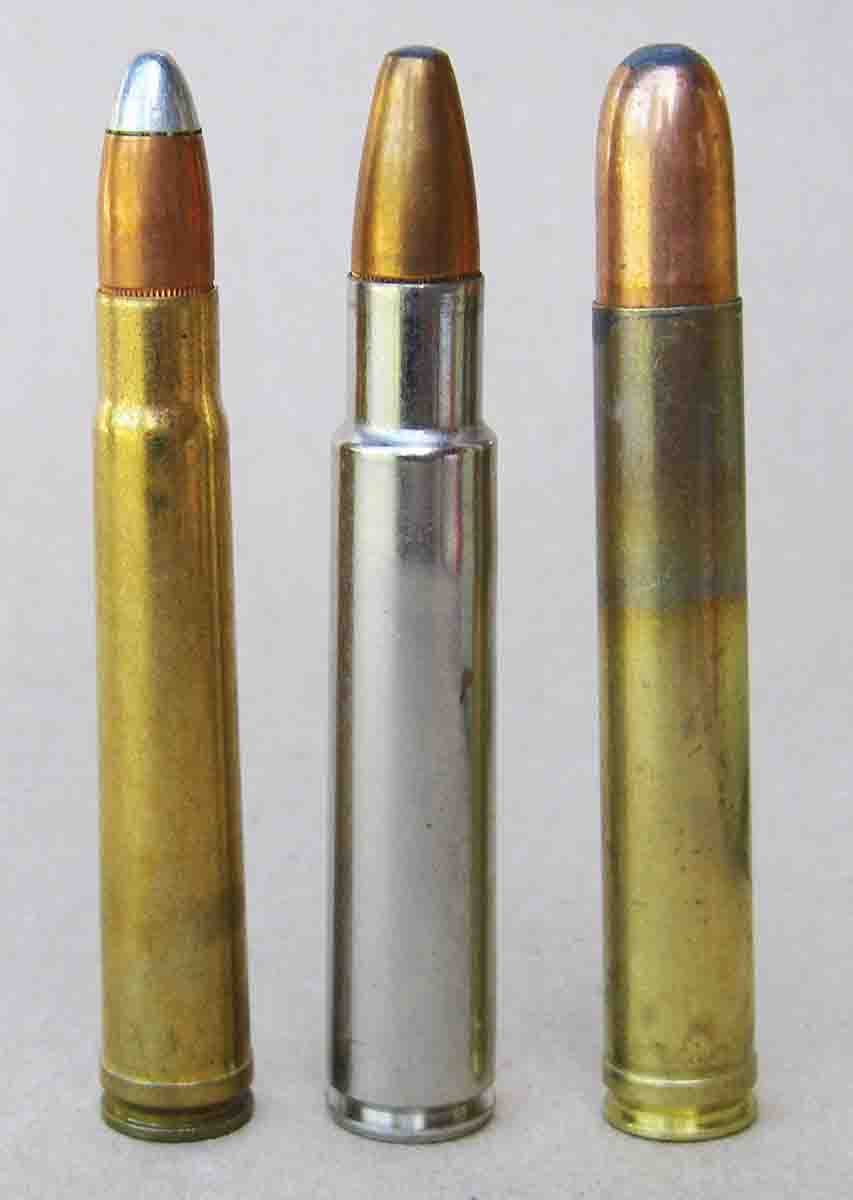 For more than a century, CZ has been producing a huge variety of military and sporting firearms that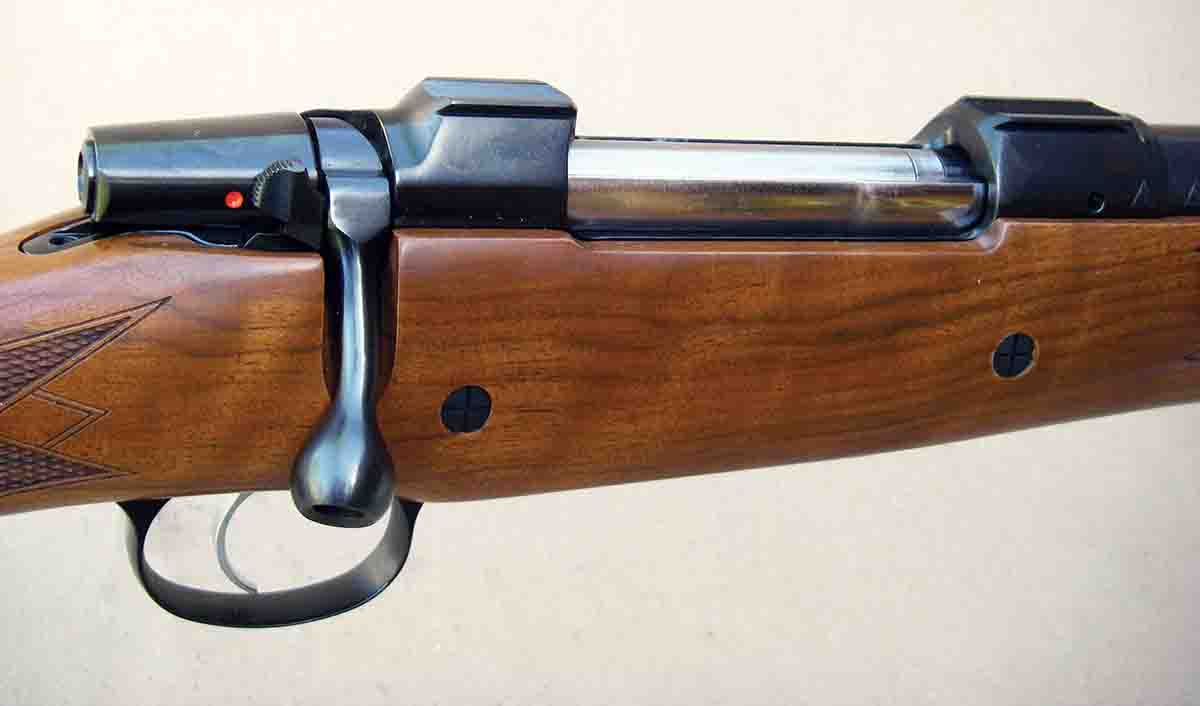 include pump, autoloading, side-by-side and over/under shotguns, autoloading pistols and bolt-action rifles, which are of particular interest. The CZ story really began during World War I (circa 1916 to 1918) with the building of the Zbrojovka Brno plant, which was followed with moves and mergers that lead to CZ producing arms in Uhersky Brod, around 1936. During World War II, the company ultimately suffered from Germantakeover. Like so many other gun companies during this era, it produced a variety of non-firearm related products, including diesel motors. In 1995 CZ-USA purchased Dan Wesson, which produces outstanding Model 1911-pattern pistols, and its double-action .357 Magnum revolver offers legendary accuracy.
Today CZ offers a variety of sporting bolt-action rifles that range from rimfires to big bores such as the 550 Magnum (aka Safari Classics Express), which have earned a reputation of outstanding reliability and accuracy. These rifles are offered at comparatively modest prices. This column's subject is the 550 Magnum, which is a descendant of the CZ Brno ZKK 602 rifle that dates back to the 1960s but is simplified and generally considered improved. It is designed specifically to handle large, big-bore cartridges such as the .375 H&H Magnum, .416 Rigby, .458 Lott, .505 Gibbs (all currently offered) and many others. It is often described as a large ring magnum Mauser 98 action, which is only partially accurate. While it does feature the important controlled-round feeding system with a non-rotating claw extractor and blade ejector, twin forward locking lugs and a third locking lug located on the bolt body just below the bolt handle, 90-degree bolt lift, etc., there are design departures that serve to offer the needed mass and strength of large and magnum cartridges.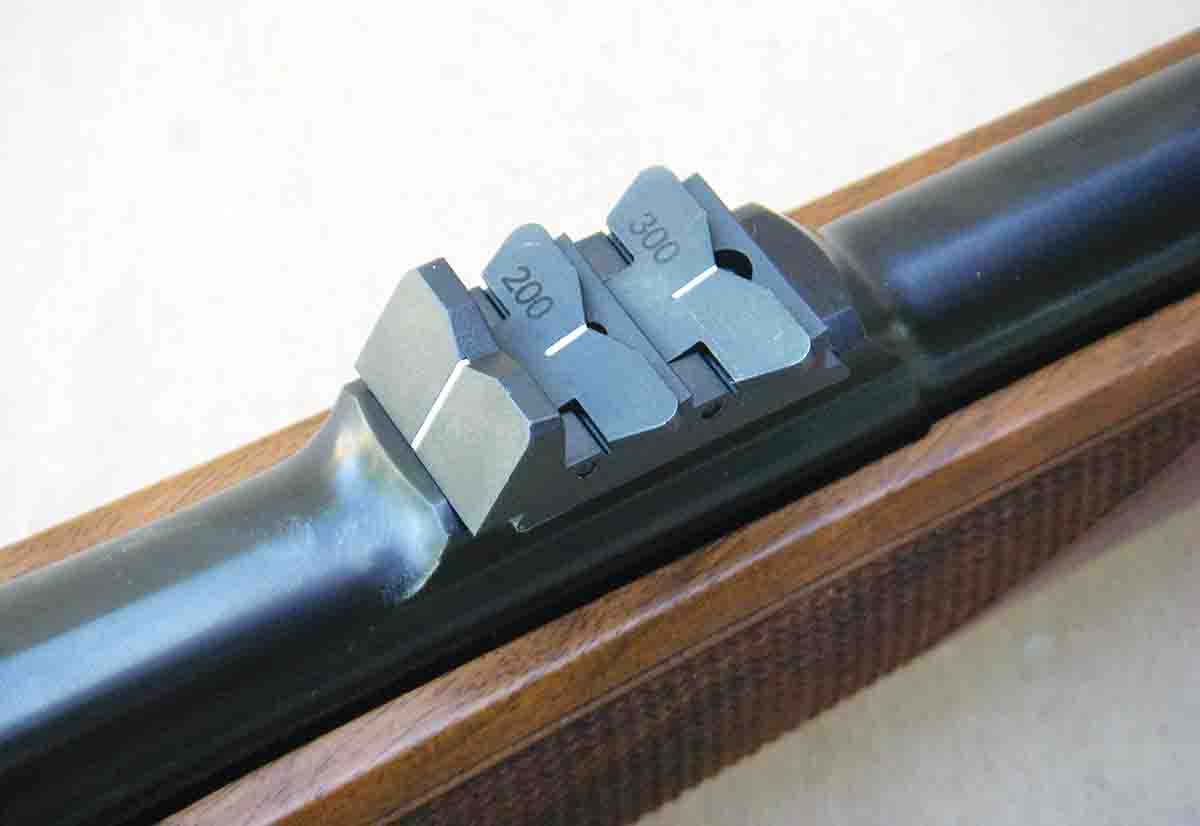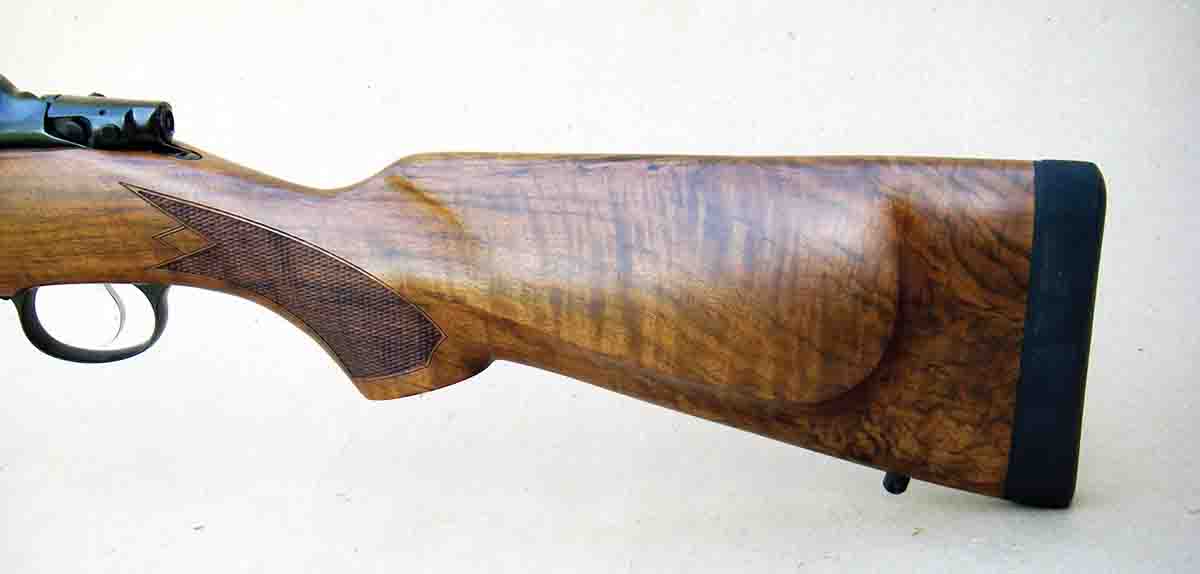 Rather than getting bogged down in design technicalities, suffice to say that the action is machined from solid steel, as are all other parts. The bolt stop is strong and positive, and the safety is a two-position design located on the right side of the breech bolt sleeve. The bolt handle is slightly swept and the floorplate is hinged. It features a single-set trigger, but I fail to see the value of such on a dangerous-game rifle; however, the set can simply be ignored, and the trigger used conventionally. The trigger pull weight is adjustable. Like most Mauser 98 variants, the 550 Magnum receives high marks in diverting gases to protect the shooter in the unlikely event of a blown primer, ruptured case or worse. It features a double-square bridge, which limits the number of scope mounting systems. The action is rugged, strong, reliable and virtually never breaks. It is designed to easily handle the largest bolt-action rifle cartridges intended for hunting heavy and dangerous game. This action is often selected as the basis for many high-grade custom rifles.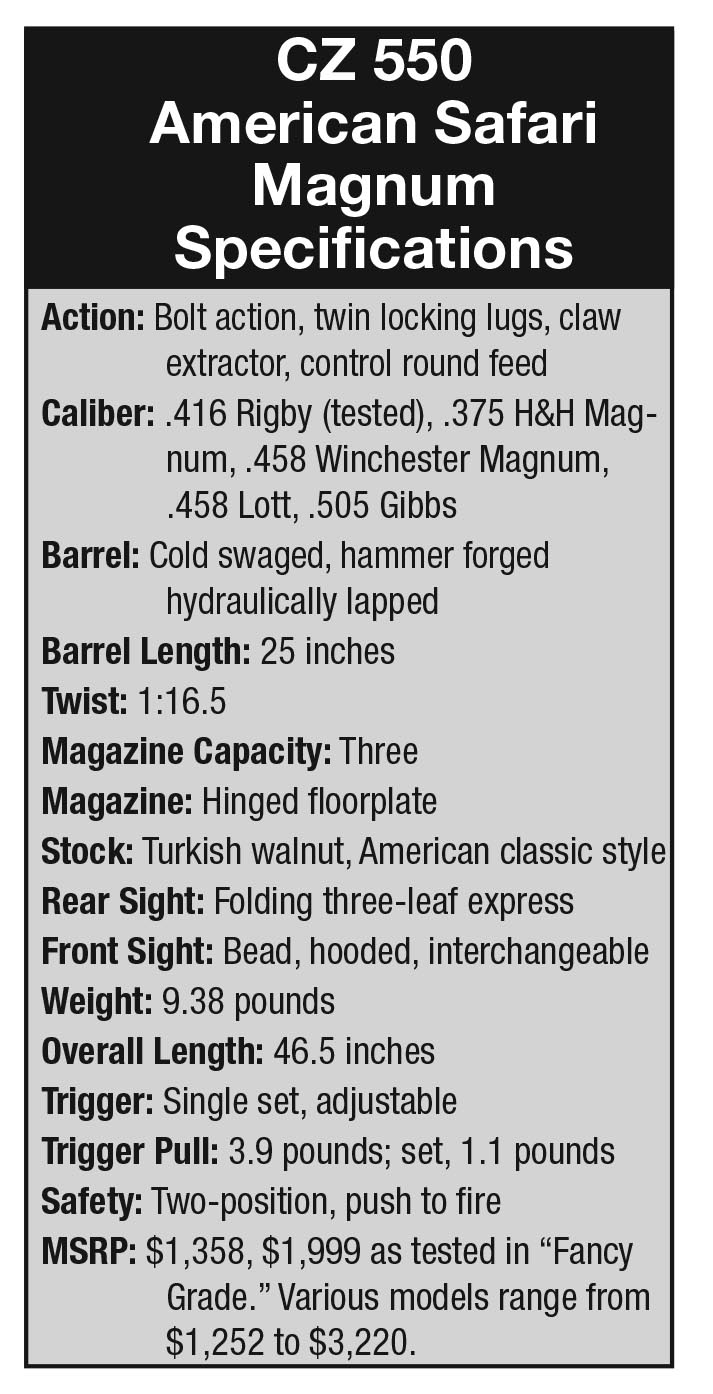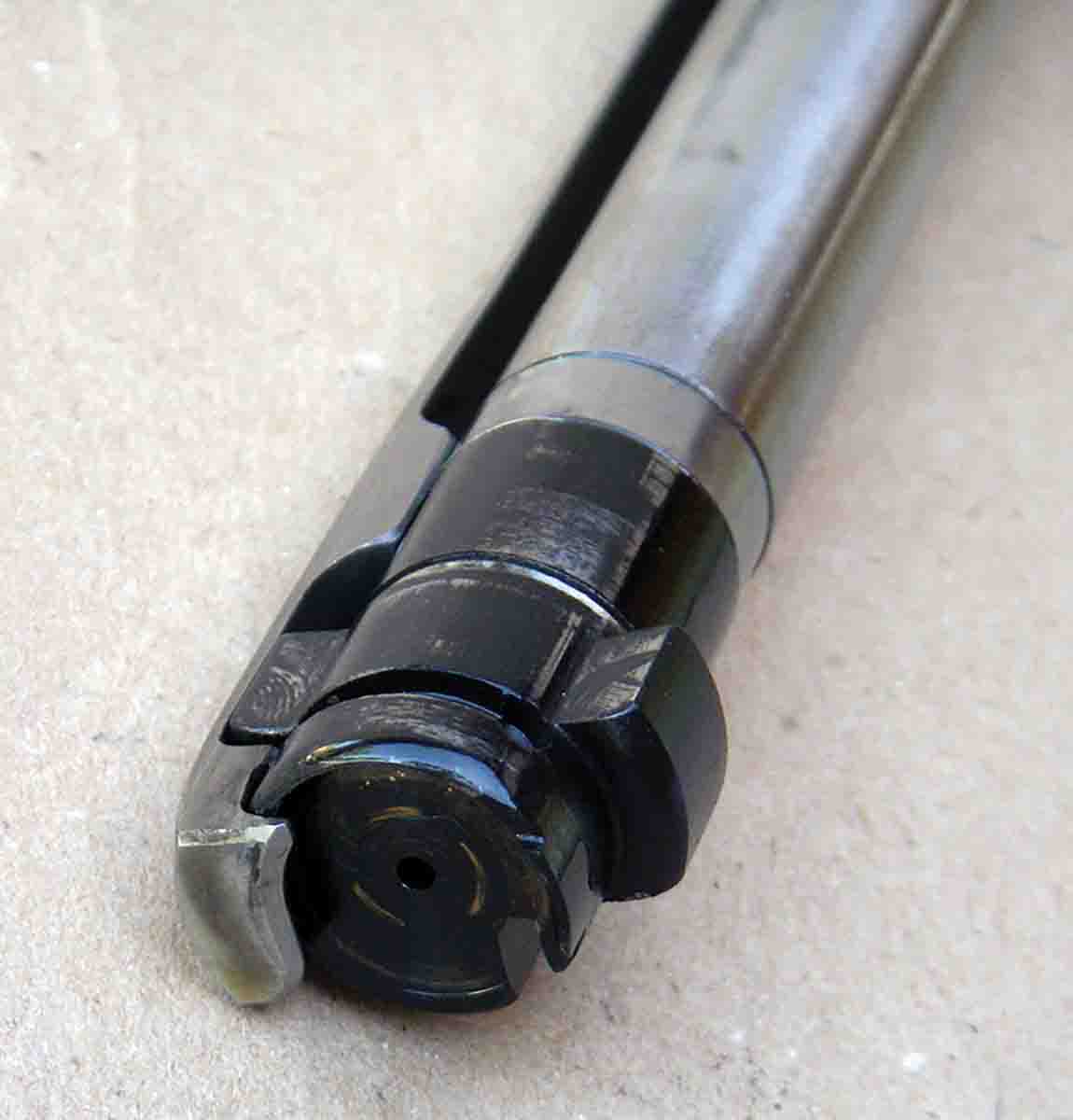 CZ rifles have earned a reputation of producing outstanding accuracy. Barrels are "cold swaged" hammer forged, which serves to prevent stress and warping, then hydraulically lapped to achieve an ultrasmooth finish for decreased fouling and better accuracy.
All dangerous-game rifles should have iron sights, even if a scope is the primary sight. The CZ 550 Magnum features a three-leaf rear sight that has two folding blades and one fixed that are regulated for 100, 200 and 300 yards/meters, respectively. They are wide V with a white stripe centered on each. The front sight is a bead and features a removable hood. Incidentally, the front sight is easily changed, as it is retained with a spring-loaded plunger.
There are several variations of the 550 Magnum, with my sample rifle being the American Safari Magnum "Fancy Grade" with a classic-styled Turkish walnut stock and is chambered in .416 Rigby. The stock features a cheekpiece and two recoil lugs that serve to help prevent breaking due to recoil.
The rifle was initially checked for point of impact using the express sights and Federal Premium 400-grain Trophy Bonded ammunition, which grouped very close to center at 100 yards right out of the box. Velocity was recorded at 2,321 fps.

A Leupold VX-3 1.5x5 50mm variable scope was installed using Talley Quick Release rings with levers, which are precise, strong, handsome and can easily be detached for instant access to the express sights (talleymanufacturing.com). This is a classic combination for hunting large, dangerous game at close distances, whereas scopes with high magnification can become detrimental.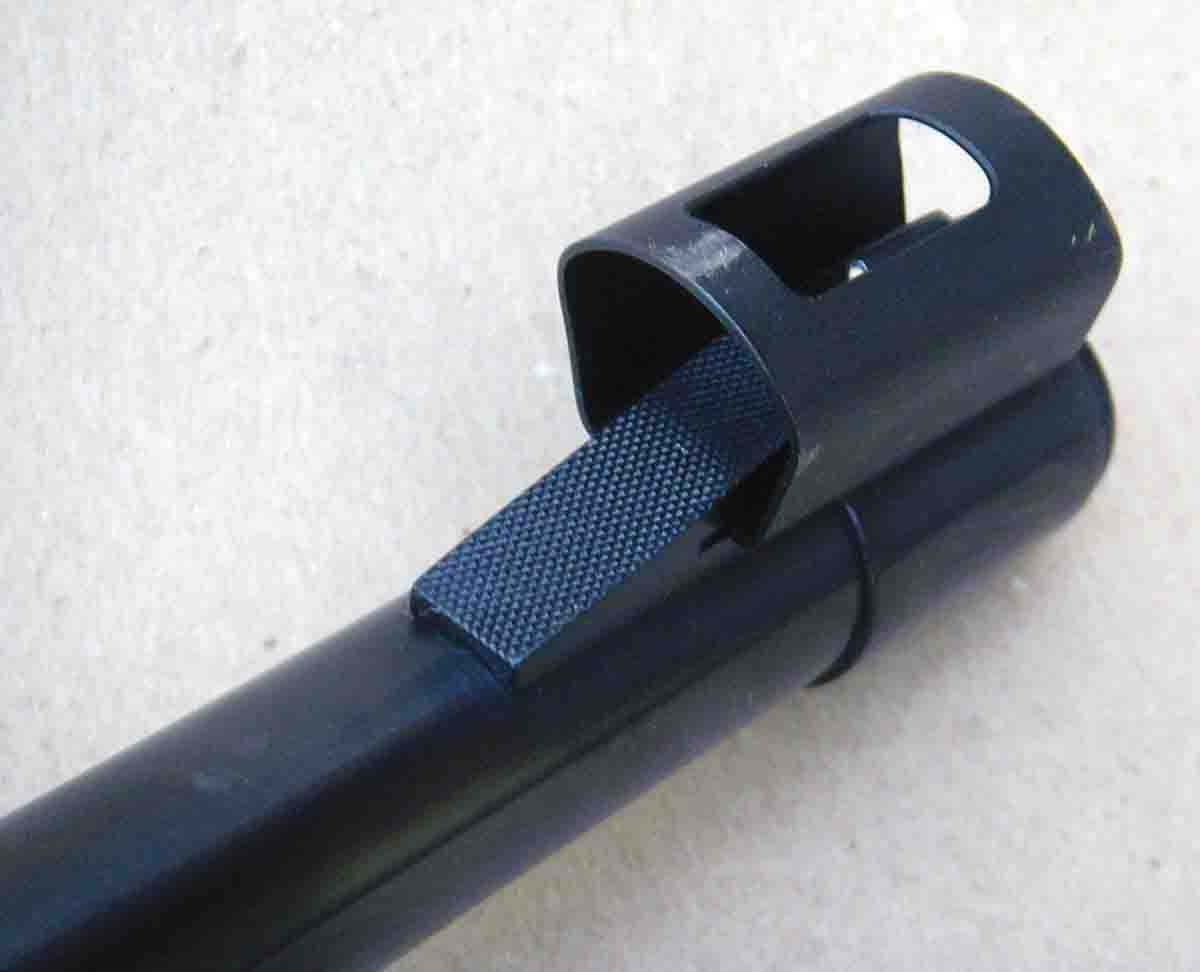 The above Federal Premium load was sighted at 100 yards and grouped four shots just under an inch . . . twice, which is plenty of accuracy for hunting heavy or dangerous game.
One handload was tried that consisted of the Hornady 400- grain DGS bullet seated with an overall cartridge length of 3.710 inches and pushed to 2,405 fps using 99.0 grains of Hodgdon H-4831 powder. Federal 215 primers and Federal cases were used, along with a firm roll crimp. After getting settled in on the sandbag rest, four shots clustered into .731 inch. In spite of being 109 years old, the .416 Rigby remains an outstanding large-game cartridge.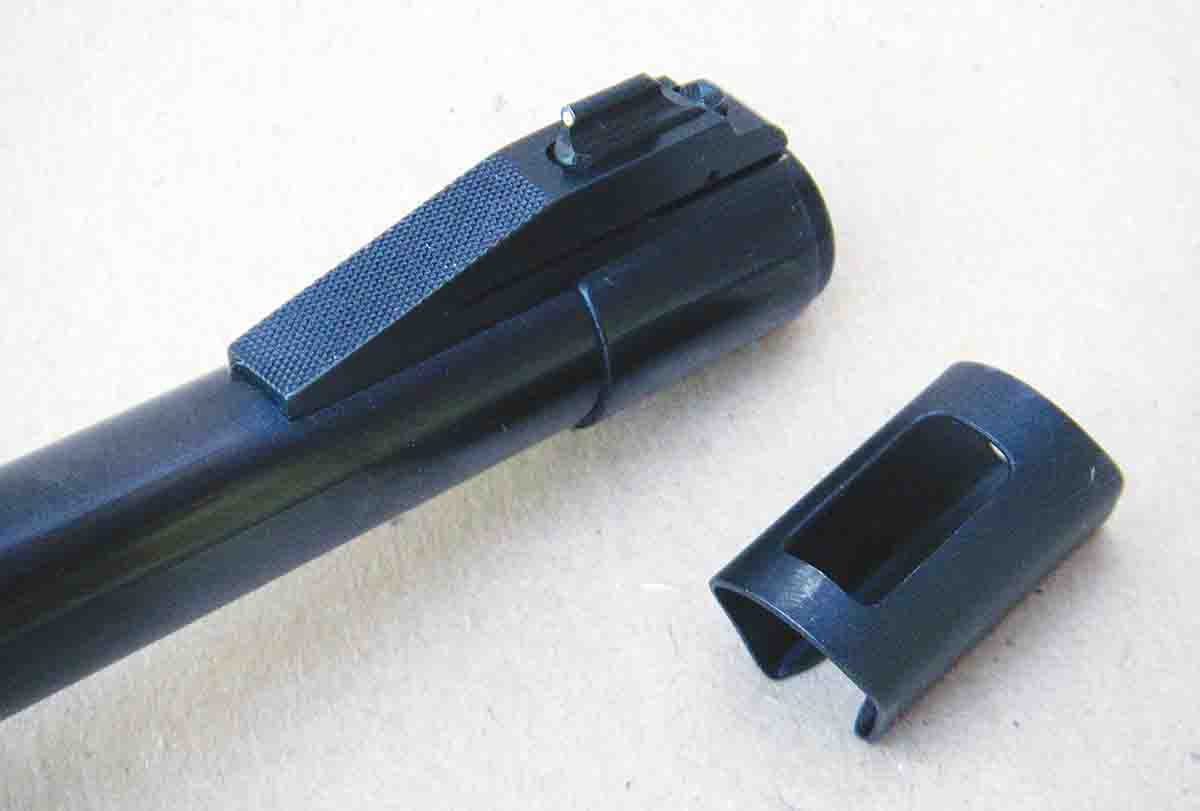 The CZ 550 Magnum is a true classic that has proven highly valuable for hunting large and dangerous game where power and reliability really do matter. Tragically, the tooling used to manufacture this modern classic is aging, and CZ is considering discontinuing it. While CZ-USA currently has a good inventory of rifles on hand in all calibers, if it is discontinued, its replacement will likely be a modern push-feed design. I might suggest hunters contact the factory and express continued interest in a modern, controlled-round feed, magnum bolt-action rifle.
Perhaps the company will reconsider and invest in tooling that will keep this fine rifle alive! CZ-USA can be contacted at 800-955-4486, or visit cz-usa.com.