In 2014 Nosler introduced the flat-shooting .26 Nosler, following it up in 2015 with the .28 Nosler (7mm) that was based on the .26 case but necked accordingly. In 2016 the .30 Nosler was announced, and the latest cartridge to join the Nosler line is the .33 Nosler. It is purely a big-game hunting cartridge that utilizes .338-inch bullets. Like other Nosler cartridges, the case is based loosely on the beltless .404 Jeffery case, which offers magnum capacity and performance. The Nosler case, however, is strengthened, and like other Nosler cartridges, it is designed with an overall length that allows it to function in standard .30-06 length actions.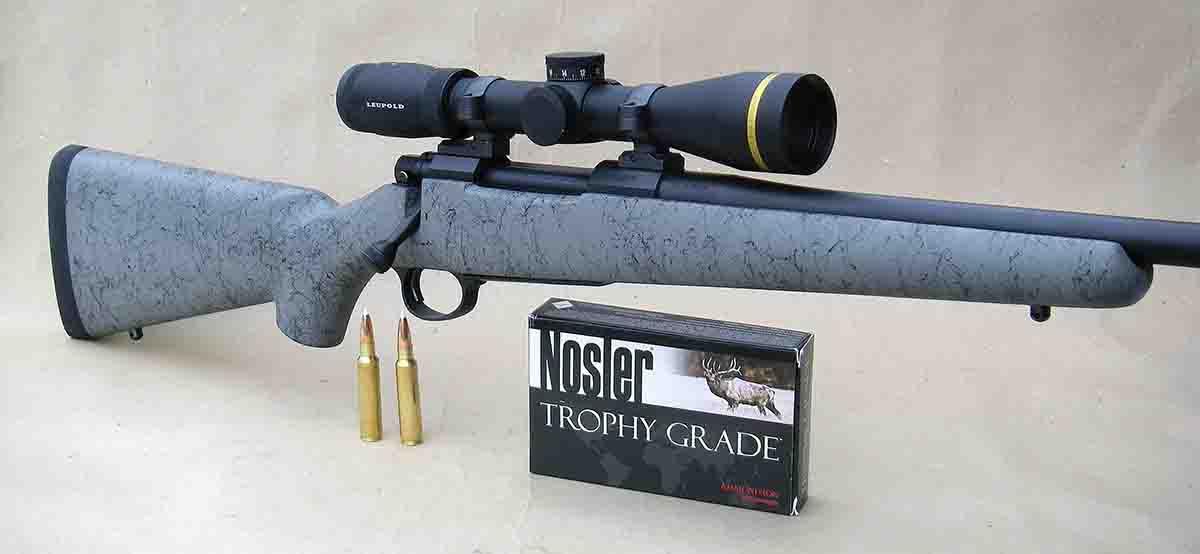 The first U.S. commercially available .338-caliber rifle was the .33 Winchester introduced in the Model 1886 lever-action rifle around 1902. It pushed a 200- grain bullet around 2,200 fps. Although it became popular for woods and timber hunting, it was not a long-range powerhouse for large game, as it shared a trajectory similar to the .30-30 Winchester.
Beginning in the 1930s, experimenters Charlie O'Neil, Elmer Keith and Don Hopkins began designing .33-caliber wildcat cartridges and building rifles. Their most noted included the .333 O.K.H. based on the .30-06 case necked to accept .333-caliber Jeffery bullets weighing up to 300 grains. The .333 O.K.H. Short Belted was based on the .300 H&H Magnum case but shortened, blown out and necked to accept .333-inch bullets and had an overall length that allowed it to function in .30-06 length actions but gave notably greater velocities than the .333 O.K.H. The .334 O.K.H. Long Belted was based on the full-length .300 H&H Magnum case blown out and necked to accept .333-inch bullets and was easily the most potent of the three cartridges. They chose .333-inch bullets because .338-inch .33 Winchester bullets were too light and gave poor performance on big game when pushed to O.K.H. velocities, and they had a much lower ballistic coefficient than desired.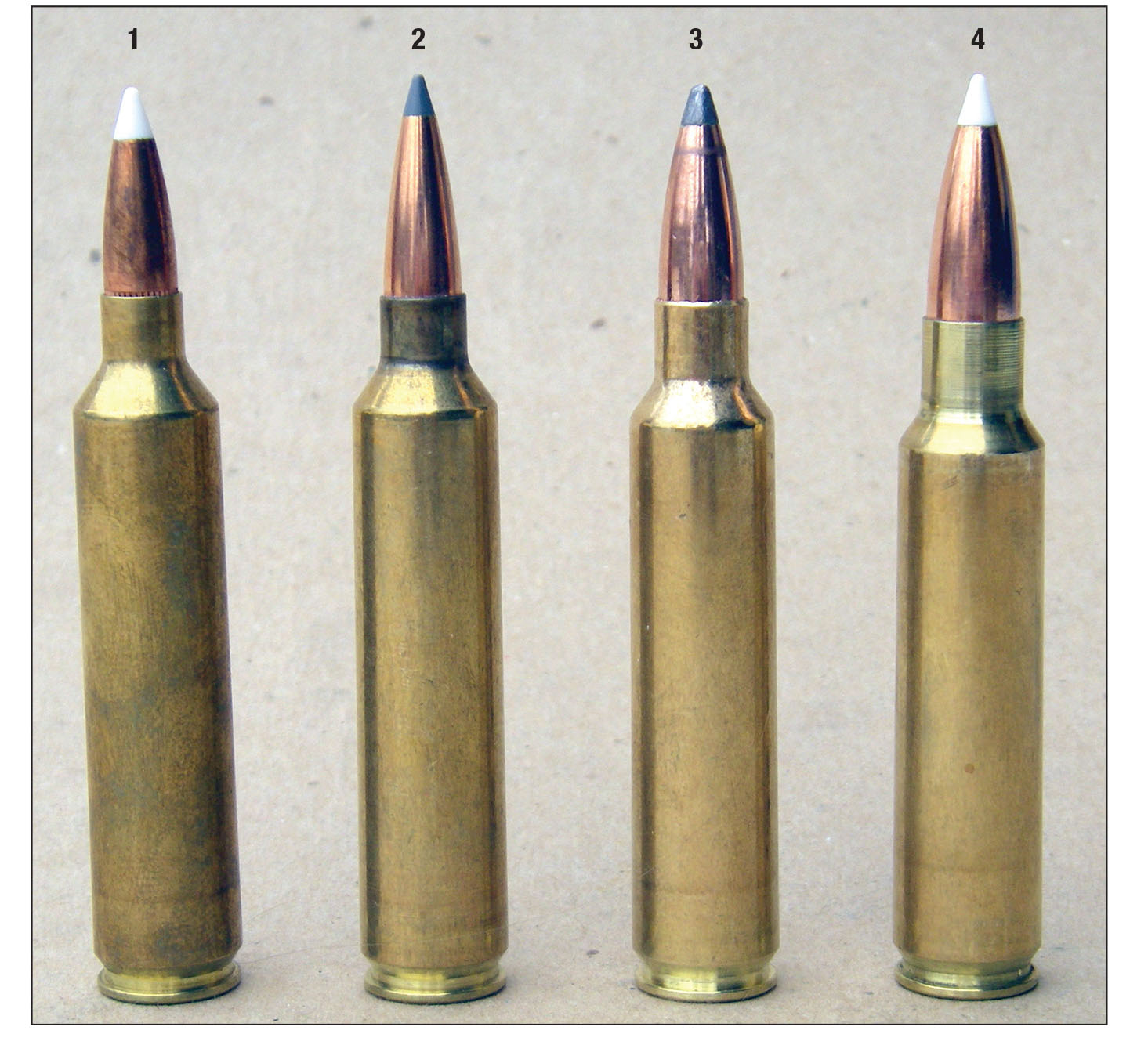 O.K.H. wildcats gained some popularity; however, British .333-inch bullets were not always readily available in the U.S., which limited their acceptance among shooters and hunters. Nonetheless, their performance captured the attention of major manufacturers. For example, in 1958 Winchester announced the .338 Winchester Magnum (for the Model 70 rifle), which was the .300 H&H Magnum case shortened, blown out with a 25-degree shoulder and necked to accept .338-inch bullets. It too was designed to function in .30-06 length (3.340-inch) actions. In 1962 Roy Weatherby announced the .340 Weatherby Magnum for his Mark V rifle that was based on the full-length .300 H&H Magnum case blown out with a double-radius shoulder and necked to accept .338-inch bullets. Respective similarities between the .333 O.K.H. Short Belted and .334 O.K.H. Long Belted wildcat cartridges and the .338 Winchester and .340 Weatherby cartridges cannot be ignored. The latter two have become popular and have proven extremely effective for large game such as moose, Alaskan brown bears, etc. They also played a vital role in introducing .338-caliber cartridges to shooters and hunters around the world and filled the obvious performance gap between the .30- and .375-caliber magnum cartridges.
Many other companies have introduced .338-caliber cartridges with industry standardized examples including the .338 Remington Ultra Mag, .338 Norma Magnum, .338 Marlin Express, .338 Ruger Compact Magnum, .338-378 Weatherby Magnum, .338 Lapua, .338 Federal, .338-06 A-Square (very similar to the .333 O.K.H.), .330 Dakota and others. Some of these have been very successful commercially with hunters and match shooters and with various militaries, but for several reasons others have struggled. The trend has been that the more potent versions are those gaining in popularity.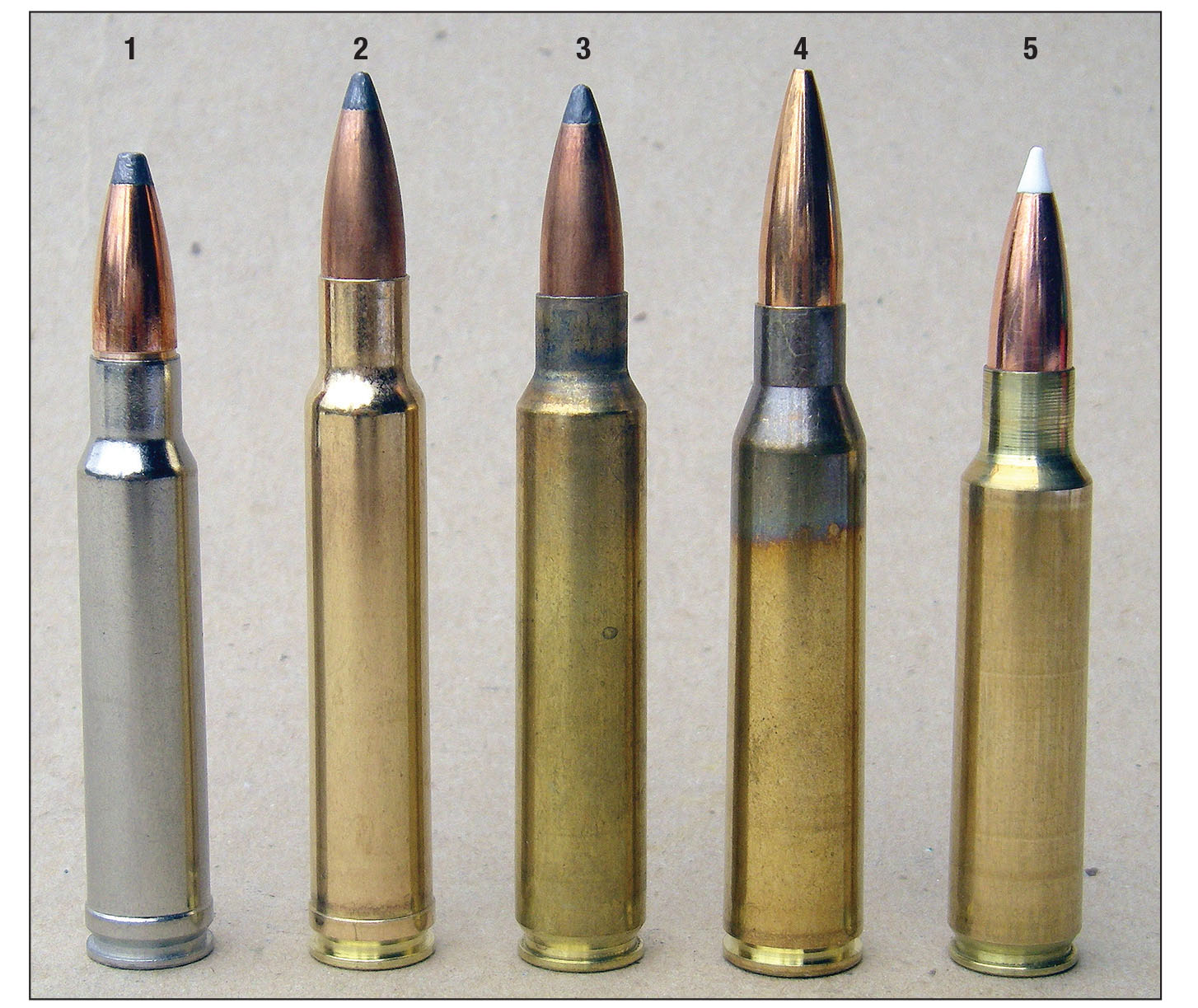 The .33 Nosler is the latest; modern in every respect, it fully delivers (even exceeds) its advertised ballistics of pushing a 225-grain Nosler AccuBond bullet 3,025 fps. Using preproduction ammunition, muzzle velocity averaged 3,099 fps from the 26-inch barrel of the Nosler Model 48 Patriot rifle. In rough figures, this is around 175 to 250 fps faster than the .338 Winchester Magnum with the same bullet weight and barrel length, but also easily exceeds the .338 Remington Ultra Mag and is similar to the .338 Lapua while using approximately 18 percent less powder. That the .33 Nosler fits into a standard .30-06 length action (maximum cartridge length being within 3.340 inches) makes it feasible to be chambered in many rifles and actions. This also shortens bolt travel and usually results in a lighter rifle. The .33 will be introduced with a long-range load that contains the Nosler 265-grain AccuBond LR bullet pushed 2,775 fps, but that load was unavailable at press time.
My experience with a variety of .338 cartridges began in the 1970s, which in the decades since has included all the abovementioned cartridges, as well as several proprietary and wildcat variants. I have taken a considerable number of big game with .338s, including elk, moose, black bear, caribou, deer, pronghorn antelope, grizzly and Alaskan brown bears and have also used them in long-range target work at distances out to 2,000 yards. I have considerable respect for the capabilities of this caliber. With premium hunting bullets, they will completely penetrate a large Alaskan brown bear, moose and other large game, including Cape buffalo (where legal and as demonstrated by my old friend, the late Bill Jordan). They also deliver terminal performance that is not much different than the .375 H&H Magnum, while offering a flatter trajectory and are generally chambered in lighter, handier rifles. When fired from a cartridge with ballistics similar to the .33 Nosler, low-drag .338 bullets often better many smaller magnums.
When taking game at longer distances, the .338 magnums boast considerable downrange energy that produce reliable results. To better understand and appreciate the .338's potency at long distance on big game, I can recall an Alaskan hunter who gut-shot a large bull moose with a big-bore, bolt-action rifle at less than 100 yards, missed his second shot and then severely scope-cut his forehead with his third shot and was unable to shoot again. By the time the guide sat down and got into position with his rather rusty and heavily worn Ruger M77RS .338 Winchester Magnum rifle, the 1,700-pound bull had crossed the river and was beyond 500 yards, with its long legs rapidly increasing that distance.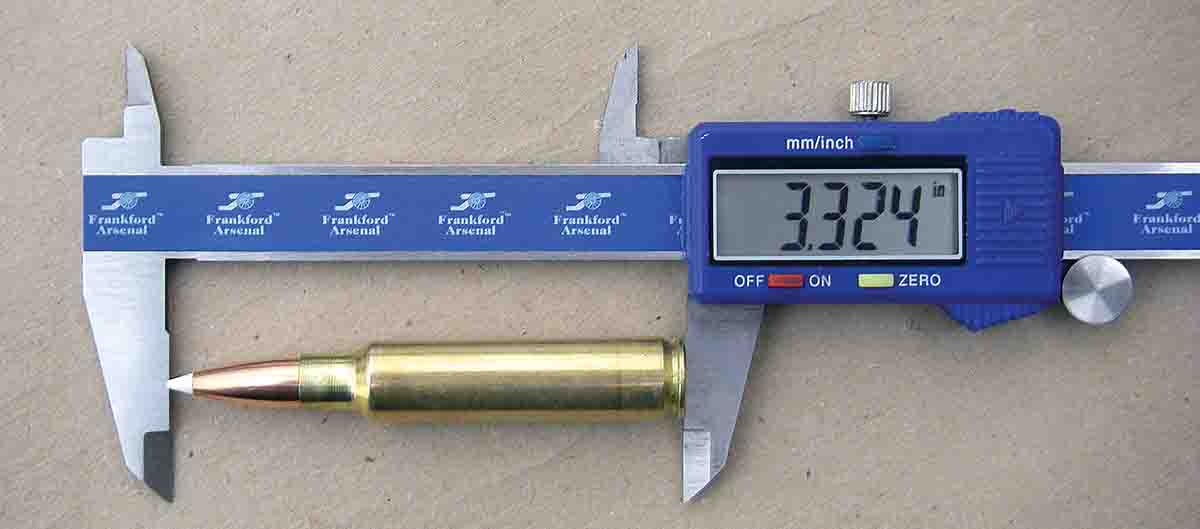 I watched through a binocular as the guide's first shot struck in shallow water behind him, while his second shot caught the moose too far back and had little effect. I called the shot and told the guide to give him an additional three to four feet of lead. His third shot struck in the vitals, and within a few feet the moose stumbled and went down for good. Upon skinning it, the third bullet, a Nosler 250-grain Partition, was found under the skin on the offside and showed perfect expansion and had destroyed the lungs. The guide thanked me for doing the spotting, then stated, "And that is why we use .338s in Alaska. They work on grizzlies at close range but can reach out to put down a wounded moose at long range."
By any standard, the .33 Nosler is an impressive hunting cartridge. Due to its efficient case design, including a shorter powder column and 35-degree shoulder, and careful selection of powders to optimize velocities, it burns around 18 percent less powder than the .338 Lapua Magnum while achieving similar velocities. Water capacity (filled level with the case mouth) is 94.6 grains, while the case weight is 281.8 grains with a primer installed. The .33 Nosler is already SAAMI approved and has a maximum average pressure of 65,000 psi. During testing, extreme spreads were an impressive 30 fps for a 10-shot string.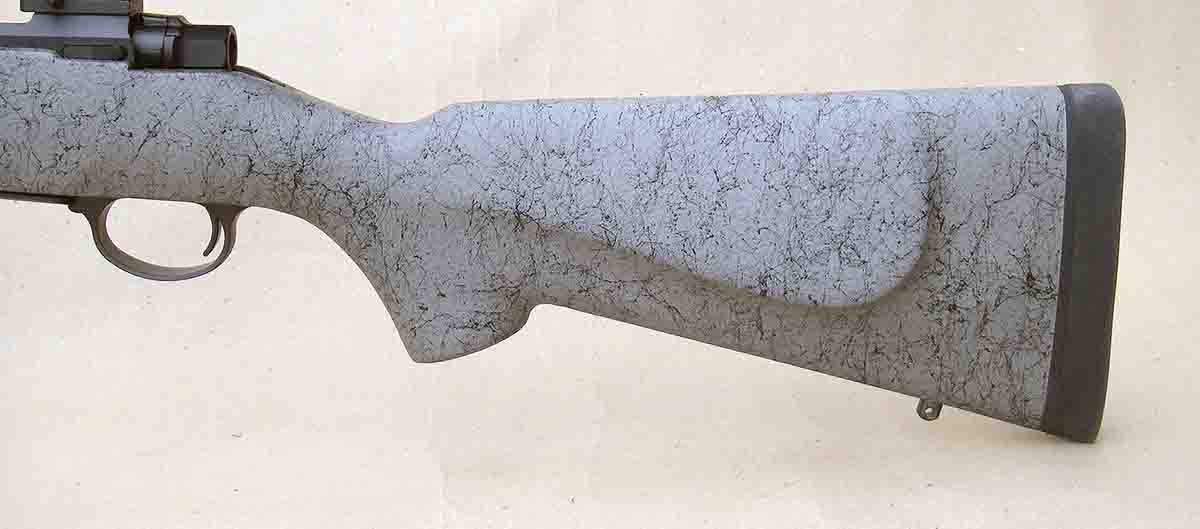 The .26 and .28 Noslers share the same case dimensions except for the neck being sized to accept respective bullet diameters, but the .30 Nosler case has the shoulder datum moved back to a shorter dimension. This was done primarily to correspond with the bullet ogive profile, obtain proper neck length and keep the overall cartridge length within 3.340 inches. It also prevents cross-caliber chambering. For these same reasons, the .33 Nosler has had the shoulder datum moved back (or is shorter) than the .30 Nosler.
The Model 48 Patriot rifle used to evaluate the new .33 Nosler cartridge features twin locking lugs, a smooth 90-degree bolt lift, fluted bolt body and swept bolt handle for easy cycling. It is a push-feed system with a countersunk bolt face, rotating extractor and plunger ejector. The bolt body is generously vented to arrest and direct gases away from the shooter in the unlikely event of a ruptured case, while the bolt sleeve cap offers additional protection. Other notable features include a two-position safety, hinged floorplate, one-piece firing pin and an adjustable Rifle Basix trigger. The classic-style, synthetic stock (a proprietary blend of Kevlar and other lightweight synthetic materials) features aluminum pillars and is Marine Tex bedded. It is finished with a base gray color with a dash of green and a black speckled overlay. The match-grade, stainless steel barrel is button rifled, hand-lapped and free-floated. All metal parts are bead blasted then coated with CEROKOTE. Throughout shooting sessions, the trigger broke cleanly at 2 3⁄4 pounds. Feeding, firing and case extraction were flawless.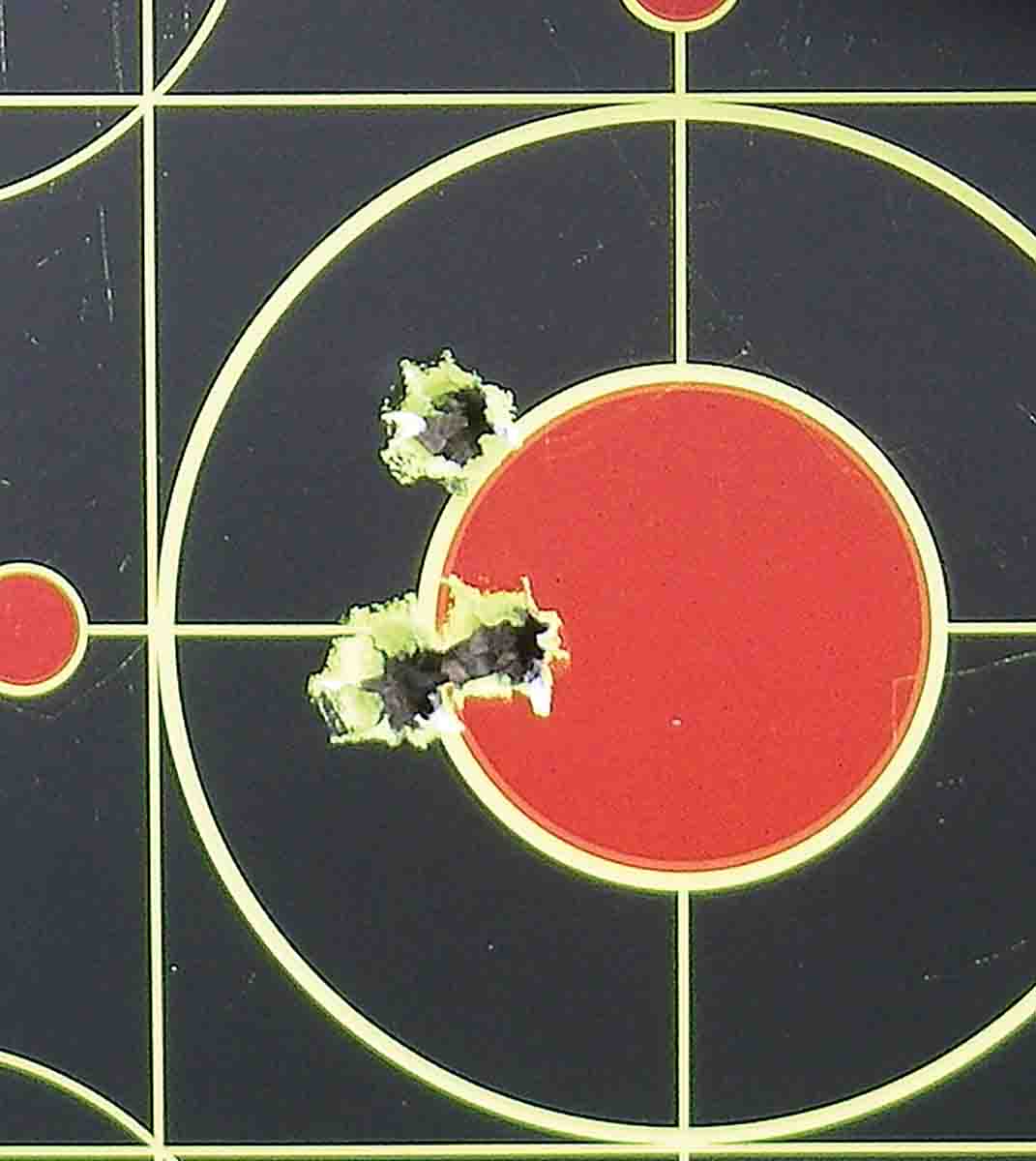 A Leupold VX-6 2-12x 42mm CDS-ZL variable scope was installed. It features a 30mm main tube and 6x optical zoom. Its twin bias erector system is constructed of shock resistant beryllium copper. When set on 2x, this makes a great scope for brush or timber hunting, as it offers a wide field of view. The higher magnification settings make it suitable for taking game in open country where longer shots can be expected. The crosshairs are illuminated for low-light shooting, while the click finger adjustments are 1⁄4 MOA. The eyepiece is fast focus, a feature I am especially fond of. The CDS (Custom Dial System) can be custom tailored at no cost to correspond with the precise ballistics of a given load to compensate for bullet drop. The knobs are comparatively compact, unobtrusive and are locked to prevent accidental movement in the field. It is available with a one-turn Zero Stop or a two-turn without the Zero Stop.
The barrel was broken in by firing one round, then completely cleaning the barrel after each shot for the first 10 shots. The bore was then cleaned after every three shots for the next 15 shots. For the next 20 rounds, it was cleaned after every five shots. After a couple of fouling shots, it was ready to be tested for accuracy. Several four-shot groups were fired. Often three shots would cluster in a single ragged hole that was easily under .5 inch, but twice the fourth round opened the group to around .75 inch, which was shooter error. Regardless, the rifle and cartridge proved accurate for any reasonable field application.
In a rather crowded field of excellent .338 magnum rifle cartridges, the .33 Nosler is outstanding. It features a beltless case, functions in standard length actions, is powder efficient, accurate and offers impressive velocities.