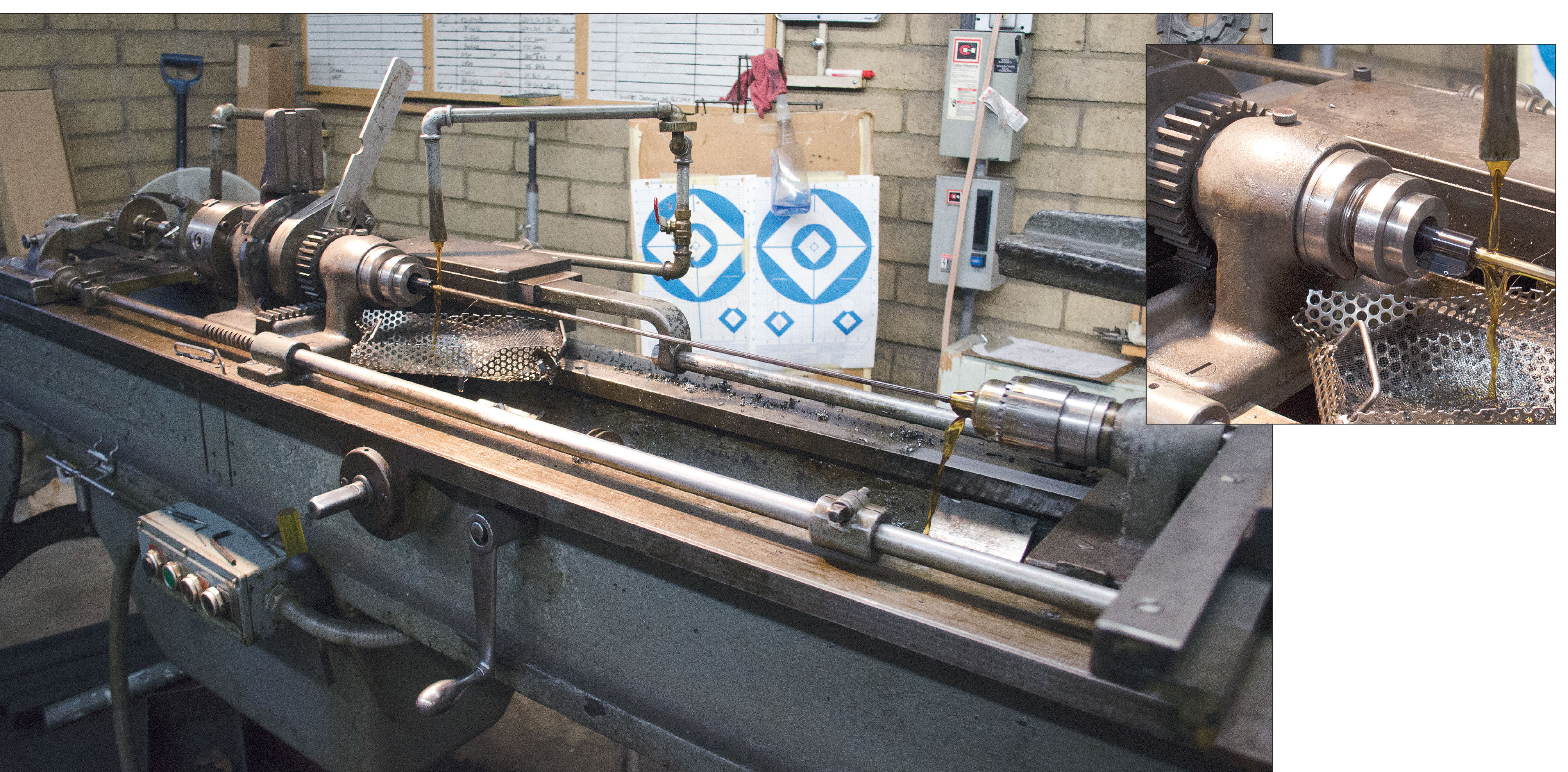 Rifled barrels appeared in what is now named Germany in the early 1500s. The first rifling was straight, apparently designed to accommodate black-powder fouling, so barrels could be fired more times without cleaning. Soon shooters discovered that spiral grooves increased accuracy by spinning bullets through the air.
Back then, and for centuries afterward, each rifling groove was individually cut into a smooth bore, using a cutting tool mounted on a rod. The first cut was shallow; after all the grooves were started, the cutter was adjusted and each groove sliced a little deeper. This process was then repeated until all the grooves reached the desired depth.
Until mass production became common in the nineteenth century, reboring and rerifling barrels was normal. Before then most rifles were built one at a time, and while gunsmiths tended to build certain calibers, it was relatively easy to change hand-powered tools to other calibers. A flintlock often started life with a relatively small-caliber barrel, but after the lands and grooves degraded with use, the bore was reamed larger, then rerifled. "Refreshing" a barrel was sometimes repeated, since all a shooter needed for each new caliber was a new bullet mould.
Rerifling (usually simply called reboring) became less common after power-driven machinery speeded up production of barrels early in the nineteenth century, and again after metallic cartridges for breechloaders appeared in midcentury. Most worn-out barrels were replaced rather than rebored.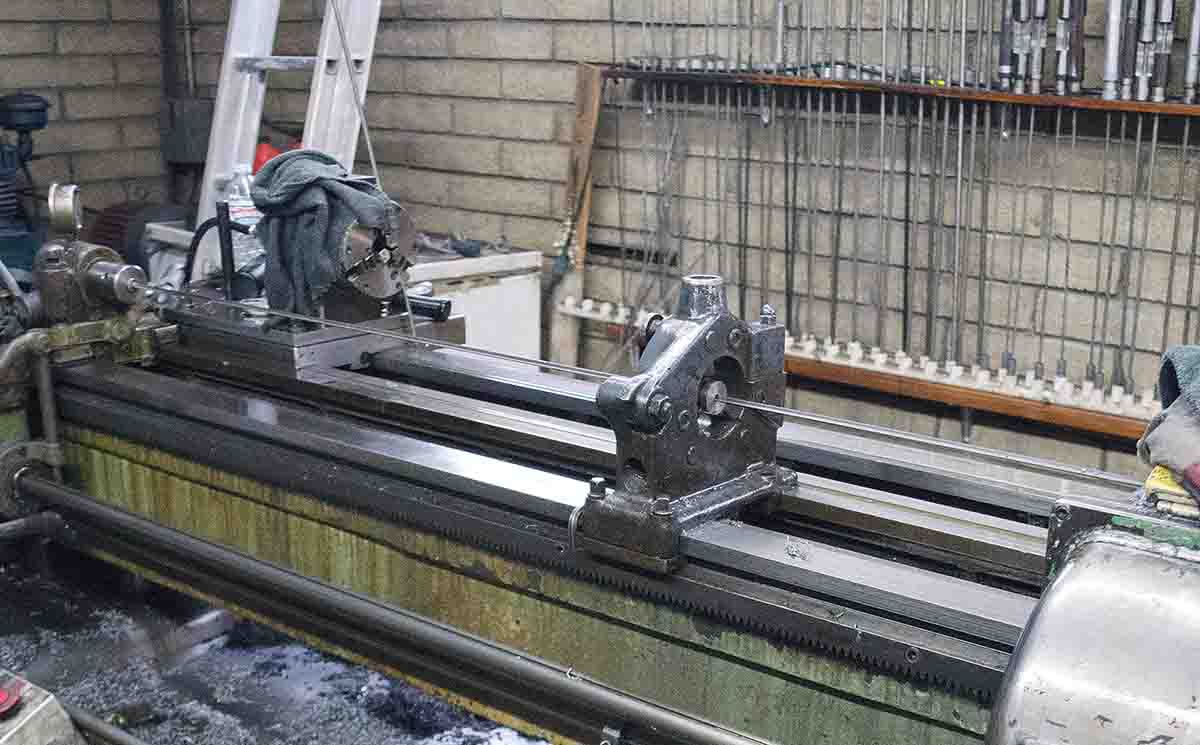 After the appearance of smokeless rifle powders in the 1880s, barrel life increased, although before noncorrosive primers became common in the 1920s, many black-powder and smokeless barrels died due to a lack of cleaning. From the 1920s onward, most barrels lasted until the rifling in front of the chamber eroded away.
Around the same time a new, faster method of cutting rifling appeared. Broaching had been used in manufacturing since the mid-1880s but wasn't widely applied to rifling until after World War I. Instead of each groove being cut and deepened individually, a broaching "head" with multiple in-line cutters sliced all the grooves at once.
Unfortunately, World War I did not turn out to be "the war to end all wars," and an increasing demand for military firearms resulted in a need for more barrels, especially for automatic weapons that quickly burned out rifling. The two rifling methods used by most factories today were both perfected around World War II. In button-rifling, a small rifled cylinder is pushed or pulled through a smooth bore, impressing rifling into the steel's surface. In hammer-forging, several extremely powerful, mechanized hammers beat the barrel around a rifled mandrel. Both resulted in new barrels becoming cheaper and, to a certain extent, better.
Today several firearms manufacturers sell complete, brand-new rifles with good hammer-forged and button-rifled barrels for about the same price most custom cut-rifling companies charge for a barrel. Yet demand for cut-rifled barrels appears to be increasing: Established firms sell all the barrels they can make, and new sources regularly appear.
Cut-rifling is also the only practical way to rebore barrels. While the number of companies offering reboring has decreased considerably in the past few decades, the few remaining in the U.S. are experiencing increasing demand. I talked to the owners of three, who reported almost too much work, and an older gunsmith said he had so much work he wasn't interested in any more. I twice attempted to contact High Plains Reboring & Barrels, but they were apparently too busy to respond, and as this article's being written in late 2016, Redman's Rifling & Reboring website states: "Currently not doing reboring due to my back log."
So why all this demand for the oldest rifling technique in the world? Primarily, because cut- rifling doesn't create internal stresses in the steel. Both button-rifling and hammer-forging involve compressing steel – buttons from inside the barrel and hammers from the outside. After the steel is compressed, it springs back slightly toward its original dimensions. Spring-back is compensated for during manufacturing to obtain the desired bore dimensions, but afterward the barrels need to be "stress-relieved" by heating (exactly how much depending on the type of steel) then allowed to slowly cool.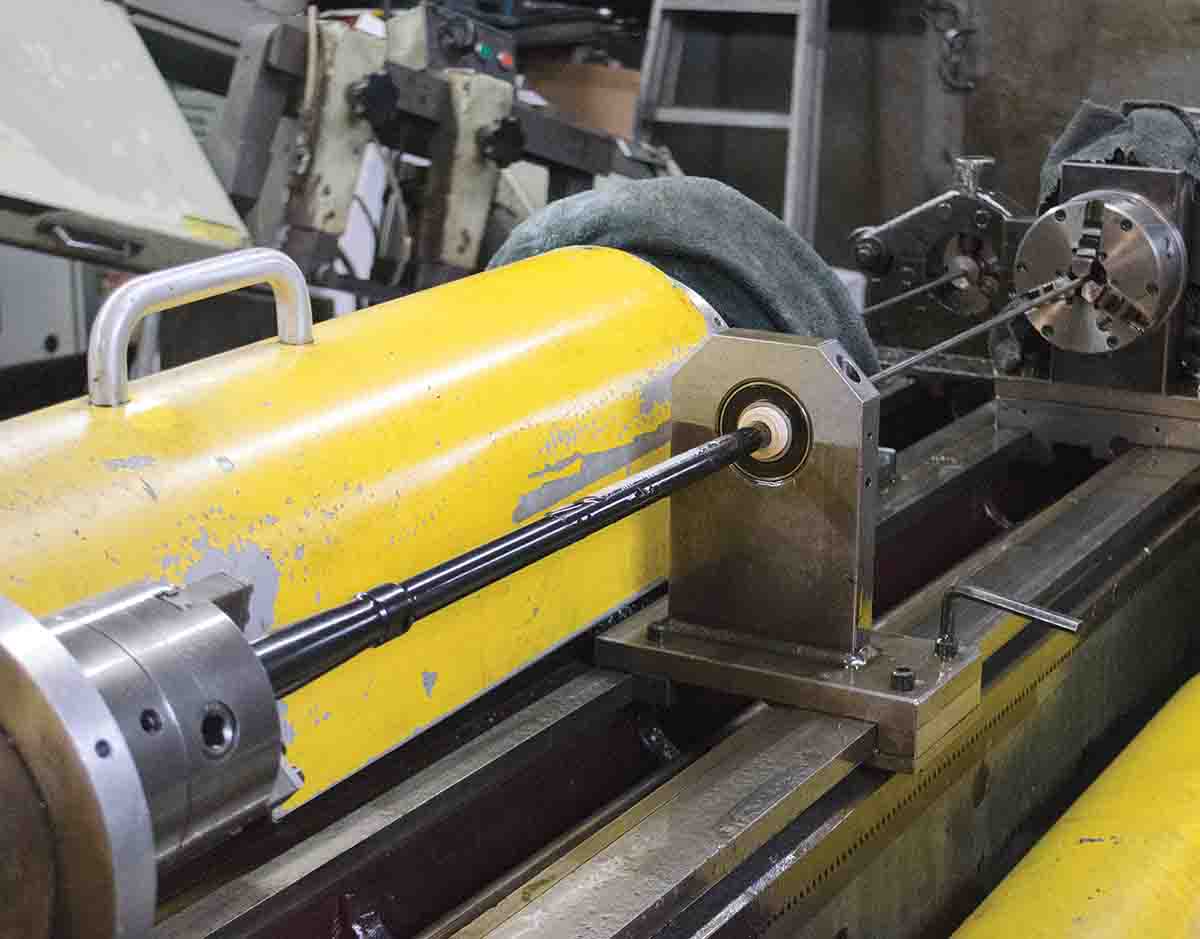 This doesn't totally eliminate internal stresses, however, and is one reason some barrels bend slightly as they heat during shooting, reducing accuracy. Button-rifled barrels are also made from thick blanks then lathe-turned to their final taper. In most button barrels, bore diameter nearer the muzzle opens up very slightly after outside-turning, also slightly reducing accuracy, one reason the best button barrels are also lapped to uniform bore dimensions.
In contrast, cut-rifling does not compress barrel steel. Instead steel is sliced away, and the rifling is sharper than in button or hammer-forged rifling. As a result, many shooters believe cut-rifled barrels are more accurate and last longer.
Reboring companies have always said their rebores will shoot at least as accurately as the original barrel, but some believe they will often shoot better, due to several reasons. First, cut-rifling a button-rifled or hammer-forged barrel often results in a more consistent diameter than the original bore. Second, the original barrel has usually been fired quite a bit, resulting in considerable heating and cooling, which can also reduce internal stresses in the steel. Dan Pedersen, owner of Classic Barrel & Gun Works, says famous black-powder barrel maker Harry Pope often told customers to bring their new target rifle back in a year or two for this very reason and have it rebored to a slightly larger caliber. Third, the reamed-out bore may end up straighter than the original.
As one example of reboring helping a barrel, a number of years ago, Dan Pedersen rebored a 7mm Shooting Times Westerner factory barrel for me. I never could get that barrel to shoot consistently, even after trying so long the throat started to erode. I tried bullets from 139 to 175 grains, several powders and even various scopes. While it occasionally shot a good group, they were apparently accidents, because during the next range session the same load never approached the same accuracy. Basically the barrel produced 1.5- to 2-inch groups, not good enough for a long-range cartridge.
Pedersen rebored the barrel to the .358 Shooting Times Alaskan (STA) wildcat, and it shot better right from the beginning, its largest groups now averaging around 1.5 inches. This is contrary to one of the basic tendencies of rifle accuracy: Barrels in larger calibers don't shoot on average as accurately as similarly contoured barrels in smaller calibers, because with bigger holes the barrels aren't as stiff. With its best handloads, the rebored barrel consistently shot sub-inch groups at 100 yards.
Another rebored barrel was already on a rifle purchased at the Missoula, Montana, gun show in 2009, where my wife and I had a table to sell our books. Across the aisle was a table full of rifles, all the barrels rebored by JES Rifle Reboring. The two guys at the table turned out to be brothers of Jesse Ocumpaugh, owner of JES, and one of the rifles turned out to be an older Remington 760, originally a .30-06 but was now a .35 Whelen. The price was so attractive, part of our book profits were transformed into yet another rifle for Johnny B.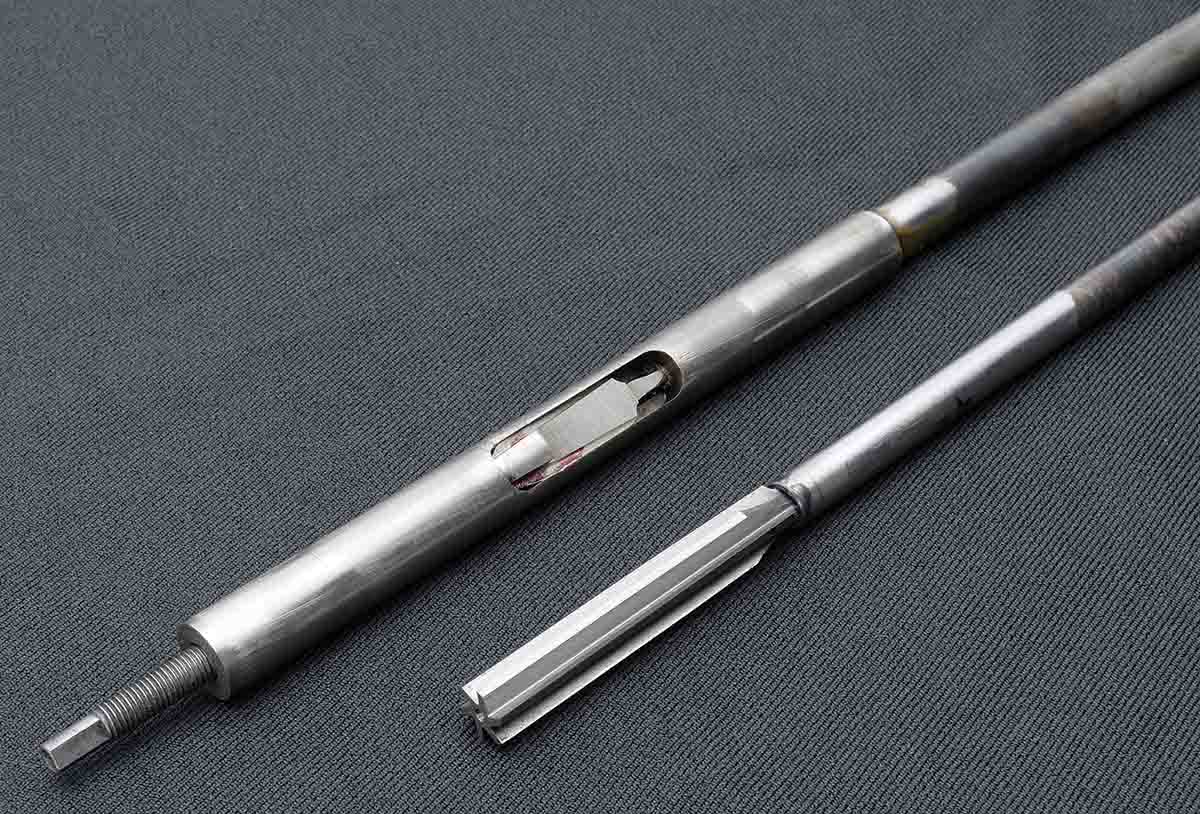 Now, Remington 760s – and today's version, the 7600 – normally shoot far more accurately than most shooters believe possible, but after a little "bedding" work on the forend assembly, the .35 Whelen shot just about as accurately as the bolt-action .358 STA. The bores on both rifles, by the way, looked beautiful through a Hawkeye borescope. While a perfect-looking bore doesn't always shoot accurately, a sad fact soon learned by new borescope owners, but those two definitely did.
Those rebores weren't aberrations by any means, yet some shooters consider rebored barrels second class. I recently had a conversation with one of those guys. He said he'd never tried a rebored barrel and never would, preferring to spend his money on "new, top-grade barrels." He refused to listen to any suggestion that rebores shoot well, apparently believing they can't because rebores cost less than rebarreling with "new, top-grade barrels."
Rebores save money in several ways, none involving cheap techniques. First, drilling a hole through a long steel rod is a major expense in barrel-making, but in a rebore it's already done. The old barrel just has to be reamed to a larger diameter, exactly like a freshly drilled new barrel, and the rifling cut. Second, unlike a new barrel, a rebored barrel rarely needs to be blued, bead-blasted, CERAKOTEd or otherwise finished. The original finish will still be there, often important when restoring older firearms to good-shooting condition. Third, the barrel fits the forend. Yes, you can have a new barrel contoured to fit the stock's barrel channel, but that usually costs extra – often considerably more if the original barrel is octagonal or includes a stud for a forend screw or the rear sight.
Reborers won't convert a barrel to a caliber only slightly larger than the original, especially a button-rifled or hammer-forged barrel, partly because even if reaming cleans up the old rifling, there's residual stress in the steel underneath. As examples, most won't rebore .25-caliber barrels to 6.5mm or .270 barrels to 7mm, because the old groove diameter is too close to the new bore diameter. Before retiring a few years ago, the well-known reborer Cliff LaBounty sometimes converted barrels to a very slightly larger bore. LaBounty worked out a method for his rifling cutter to follow the old rifling, deepening it slightly. Then he'd lap both the rifling and the bore, enlarging, say, a .308 barrel to .311. (If you're at all interested in barrel-making, LaBounty's book Rifling Machines and Methods is well worth reading; (www.riflingmachinemethods.com.)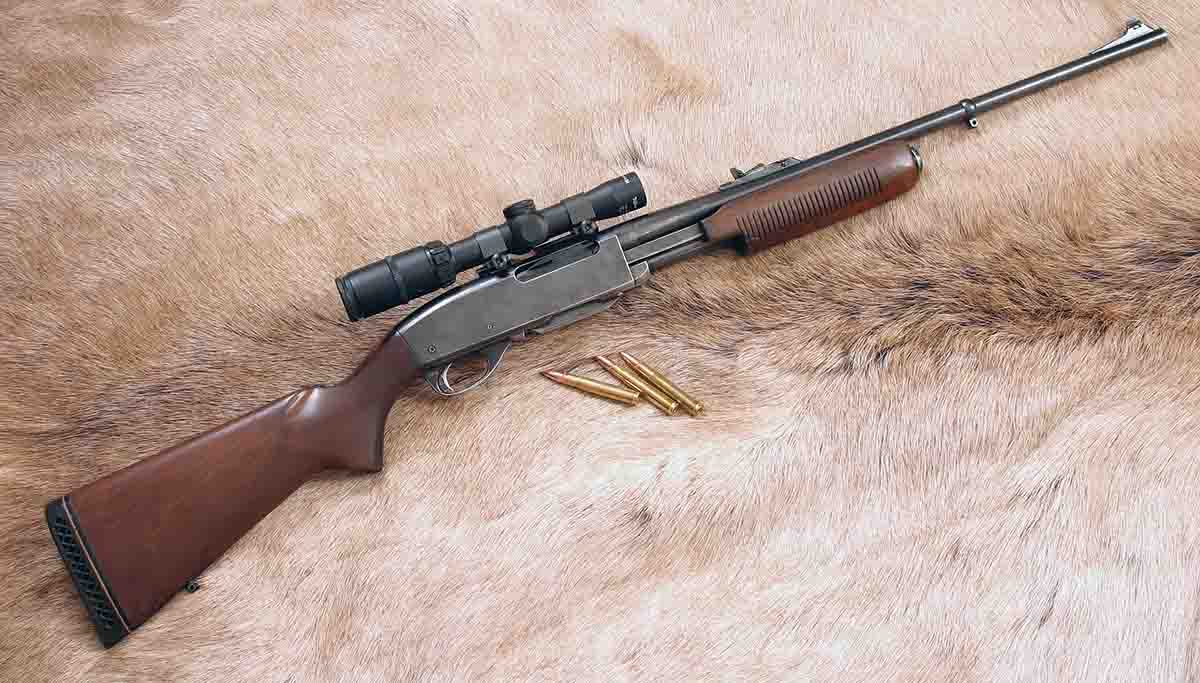 LaBounty also rebored double rifles, something no present reborer will apparently tackle, though it isn't unknown. My friend Tim Crawford has a Westley-Richards double, originally chambered for the .318 Rimless Nitro Express, that was rebored to .338-06 by the late Ward Koozer, a long-time practitioner of the art. It shoots and "regulates" fine.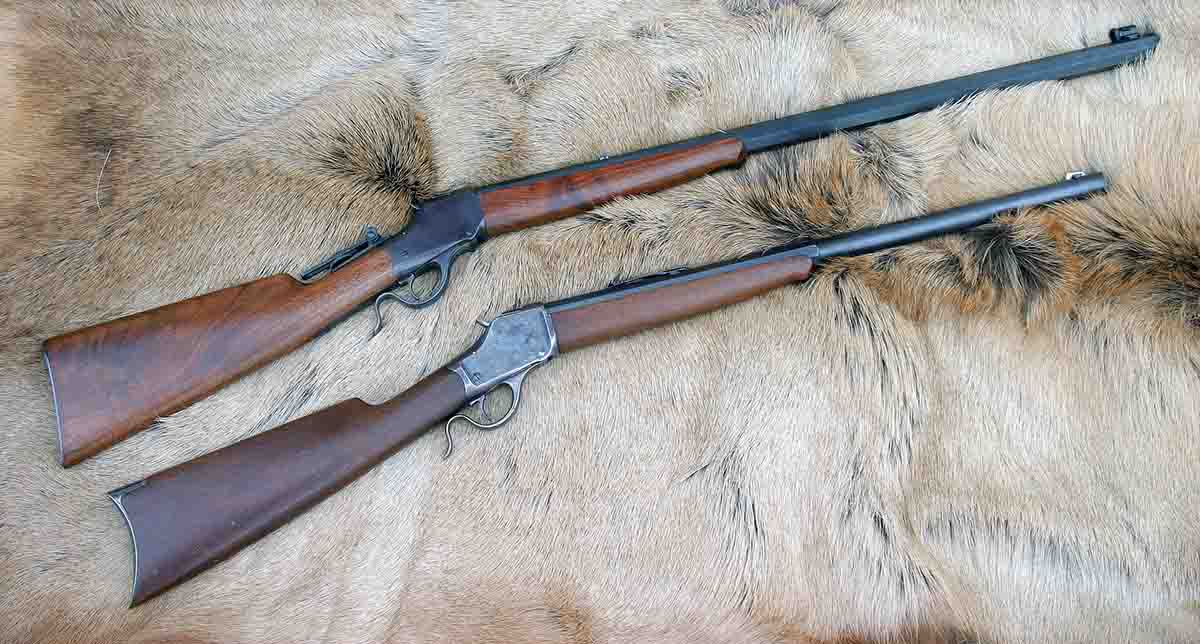 With cut-rifling, the twist can be just about anything desired: Dan Pedersen's rifling machine can make twists from straight to one turn in 6 inches. I had him make my .358 STA barrel with a one-in-12-inch twist, far faster than the standard 1-16 for .35s, to ensure stabilization of even the longest bullets. Incidentally, there's no industry standard for the widths of grooves and lands, and narrower lands normally result in lower pressures.
Many reborers specialize in certain calibers. Jesse Ocumpaugh started by converting barrels to .35 caliber, the reason his website is www.35caliber.com. He then branched out (or rather, opened up) to several other calibers from .338 to .50. I asked if he was planning any more, and he said yes, but only larger calibers. He also converts a lot of rifles other than bolt actions, especially lever actions and pumps, including some semiautomatics.
In contrast, Dan Pedersen will rebore barrels as small as from .17 to .204. He specifically won't do Remington 760s, because the action won't fit in his machinery, and says most of his rebores involve cartridges that have never or rarely been factory-chambered.
Delivery time can vary, and in fact the very first time I sent a barrel off for reboring, the job never got done. That was almost 40 years ago, when a well-known barrel company (still in existence today, though vastly changed) also offered reboring. Apparently, however, the only reboring was done in its spare time, between making new barrels. While the company warned customers rebore service was slow, I decided to send a barreled action from a 1903 Springfield, requesting a conversion to .338-06. I wrote six months later, asking how my barrel was coming, and the reply was that it would still be a while. Six months later I wrote again, saying that if they didn't plan to do the job soon, I'd just as soon have it back. It showed up a week later, postage C.O.D.
Apparently times have changed. I know more than one shooter who has sent a rifle to JES Reboring and had it done in a month – quicker than most rebarrel jobs these days. The website for Classic Barrel & Gun Works indicates about four months, but it could be longer – or shorter, if the shop is running "a batch of the same caliber."
Prices vary depending on how much work needs to be done. Turning a .30-06 into a .338-06 is pretty simple, but converting a .30-06 into a .338-06 Ackley Improved involves not only rechambering but setting the barrel back a thread. Overall prices usually run from $225 to $400, about the same range as custom after-market barrels before they're installed.
One strange contradiction is that despite increasing demand for reboring, apparently few younger people are interested in a career in cut-rifling. Dan Pedersen also teaches machining at a local community college, and so far only one student has expressed any interest in barrel-making. The people running the five existing reboring companies are all older than the average hunter, who's about a decade older than the average U.S. citizen. It sounds like a career opportunity, possibly involving learning on the job!