Discouraging news is, well, discouraging. Sometimes it spreads quickly; other times it travels as slowly as its bearers want it to. Due to the often misguided and twisted "information" provided, among countless other reasons, I have mostly tried to ignore the goings-on of the Internet so unfortunately missed Ruger's soft announcement sent out in mid-September via an e-mail list: All bolt-action rifles (rimfire and centerfire) that utilize the company's well-liked rotary magazine have been temporarily discontinued.

All of them, from the 77/22 to the 77/357 and 77/17 .17 Hornet and several others in between, are done for. Gone. When first heard, this information was brushed off as a rumor on the cusp of departure for an elk hunt in New Mexico followed by a magazine production deadline then a trip to northern Wyoming for whitetails. Why would Ruger, it was figured, give up on one of its best received rifles?
Somewhat modular, the design allows for the use of multiple receiver lengths that accept various bottom metal components to accommodate several cartridges of varying size and length, along with a corresponding magazine. Ruger's rotary magazine was introduced in 1964, along with the 10/22 .22 Long Rifle autoloader. The simple yet nearly infallible magazine design was later used on a number of rifles from the Model 96 levergun through the 77/22 .22 Hornet. It appears that the first .22 LR in this series, the 77/22-R or -RS (denoting rifle sights), was available in 1984, nearly 20 years prior to the death of Bill Ruger. The models 77/357 and 77/44 have also been popular with riflemen who enjoy shooting revolver cartridges in a short rifle.
"Temporary" can mean many things, including that a product could be back in a lineup within a few months or a year or two. It could also mean that it may never return – a thought that warrants consideration now that Ruger's wildly popular American Rimfire rifle is in the midst of high-volume production and sells for considerably less money than the 77/22 series rifles. I suspect this great production mass is also far more profitable since American Rimfire receivers are cut on modern computer controlled machinery at lower labor costs when compared to the work and time put into casting and final finishing of the receivers made for the 77/22-based rifles. Far be it from me, however, to suspect some wool-pulling. The simple fact is a business will run as its executives intend for it to, in spite of pontificating gun writers.
On the heels of Hornady Manufacturing's 2002 unveiling of the .17 Hornady Magnum Rimfire (HMR) cartridge, a Ruger 77/17 rifle so chambered was purchased and topped off with a Leupold scope; whereupon I set out single-handedly to rid some co-leased hunting ground of its population of ground squirrels, some of which were burrowing under the foundation of an old and storied cabin that served as a drafty bunkhouse. After a couple of buddies witnessed the downrange results of the new cartridge and the accuracy of the rifle, not so single- handedly that .17 HMR and its speedy bullet accounted for untold numbers of vermin, a couple of rattlesnakes, a badger and one mangy coyote.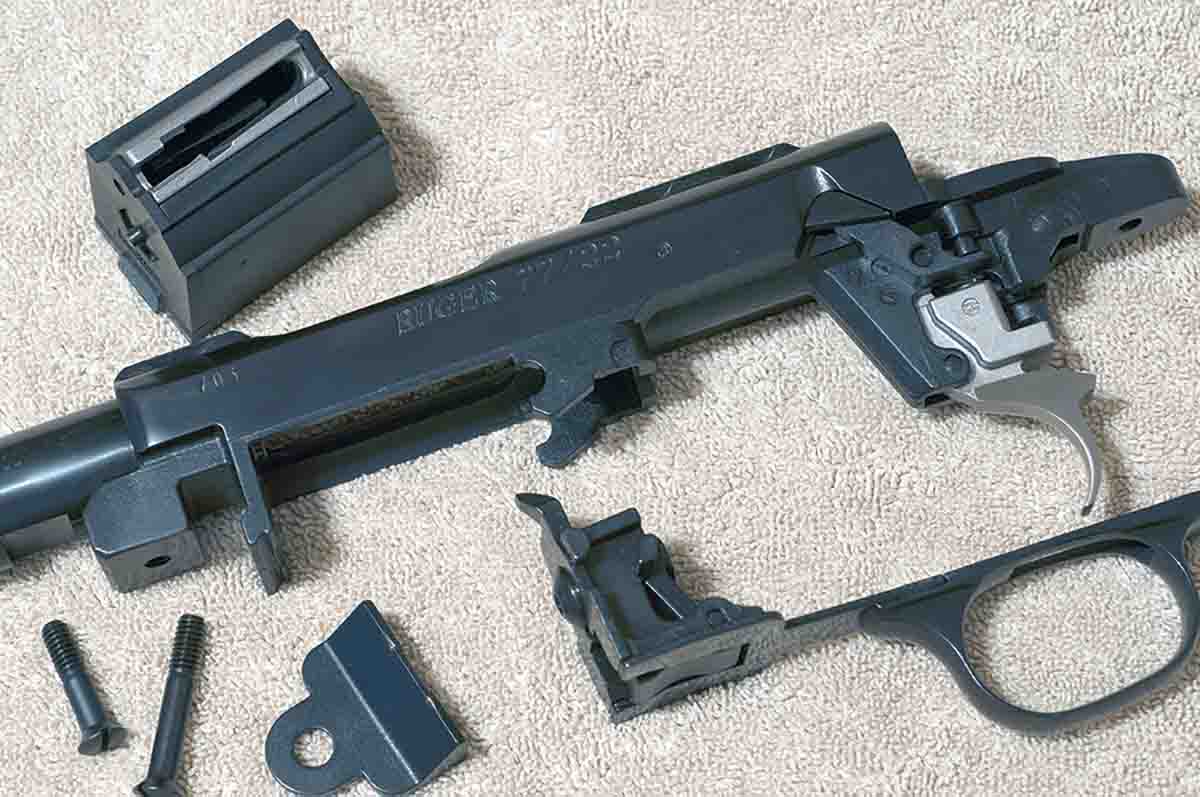 Later, during a lapse of good judgment, the walnut-stocked sub-MOA rifle was passed along to a close friend who had far more interest in year-round ground squirrel shooting than I did. Over the years that decision proved to be a regrettable mistake, for the rifle has been missed ever since. A partial replacement was made upon the introduction by Ruger of the 77/17 .17 Hornet, a hot-stepping centerfire version of the original rifle. It too shoots quite well, but with its laminated stock and longer and heavier stainless steel barrel and receiver, it lacks the handiness of the original.
So rather than over-ponder the future of the rotary magazine rifle line, and knowing no further information other than "temporarily out of production" was likely to be shared, the new task of replacing the long-lost .17 HMR was taken up in late November. There were a number of .22 LR rifles to be found online, all of which were marked at full retail, no doubt owing to the information Ruger had shared through its e-mail. On hand are a couple of really nice bolt-action .22s, so another one seemed unnecessary. The local gun shops in town had nothing different to offer either, so a hopeful phone call to a long-time friend at Ruger was placed.
The conversation revealed that "There were no more available," so the dreaded Internet was again appearing to be the best option. A few days later an e-mail arrived indicating that a .22 Winchester Magnum Rimfire (WMR) had been found, perhaps the last one available, and it could be shipped right away. When it arrived, the fact that it had a black polymer stock was only slightly surprising, but the blued receiver and 20-inch barrel were of the same proportion as the original rifle – and, after all, the man now typing these words while on vacation from the office had waited much too long to right a wrong.
While the original rifle had a Leupold rimfire scope with an adjustable objective, which was a bit of a hindrance when hunting ground squirrels and would likely be more of an issue when hunting the big jackrabbits of Arizona, a Leupold VX-1 2-7x 28mm Rimfire scope with a fine Duplex reticle and a parallax-free setting at 60 yards was purchased from MidwayUSA (again, the dreaded Internet). It is a fine small-game scope that at roughly 10 inches long does not overburden a rimfire rifle, and its gloss black finish nearly matches the rich bluing on the barreled action. A set of No. 3 (low) Ruger scope rings was also purchased from Ruger's online accessories store (www.shopruger.com) along with a pair of extra magazines, which at the time were out of stock but are expected soon. Fortunately, far too many of these handy rifles have been sold over the years to fret over the idea that spare magazines will be temporarily discontinued as well.
Over the Christmas holiday, northern Arizona got several inches of welcome snow and low temperatures, so that time was used to mount the scope and swap out the factory trigger, which gave a measured pull weight of 5 pounds, 12 ounces over an average of five pulls using a digital scale. It was replaced with a Rifle Basix trigger used while testing a 77/17 .17 Winchester Super Magnum about a year ago. On that accurate rifle, the Rifle Basix trigger was adjusted to 2 pounds, 11 ounces. When installed on the .22 WMR, it gave an average trigger pull of 2 pounds, 10.8 ounces without adjustment.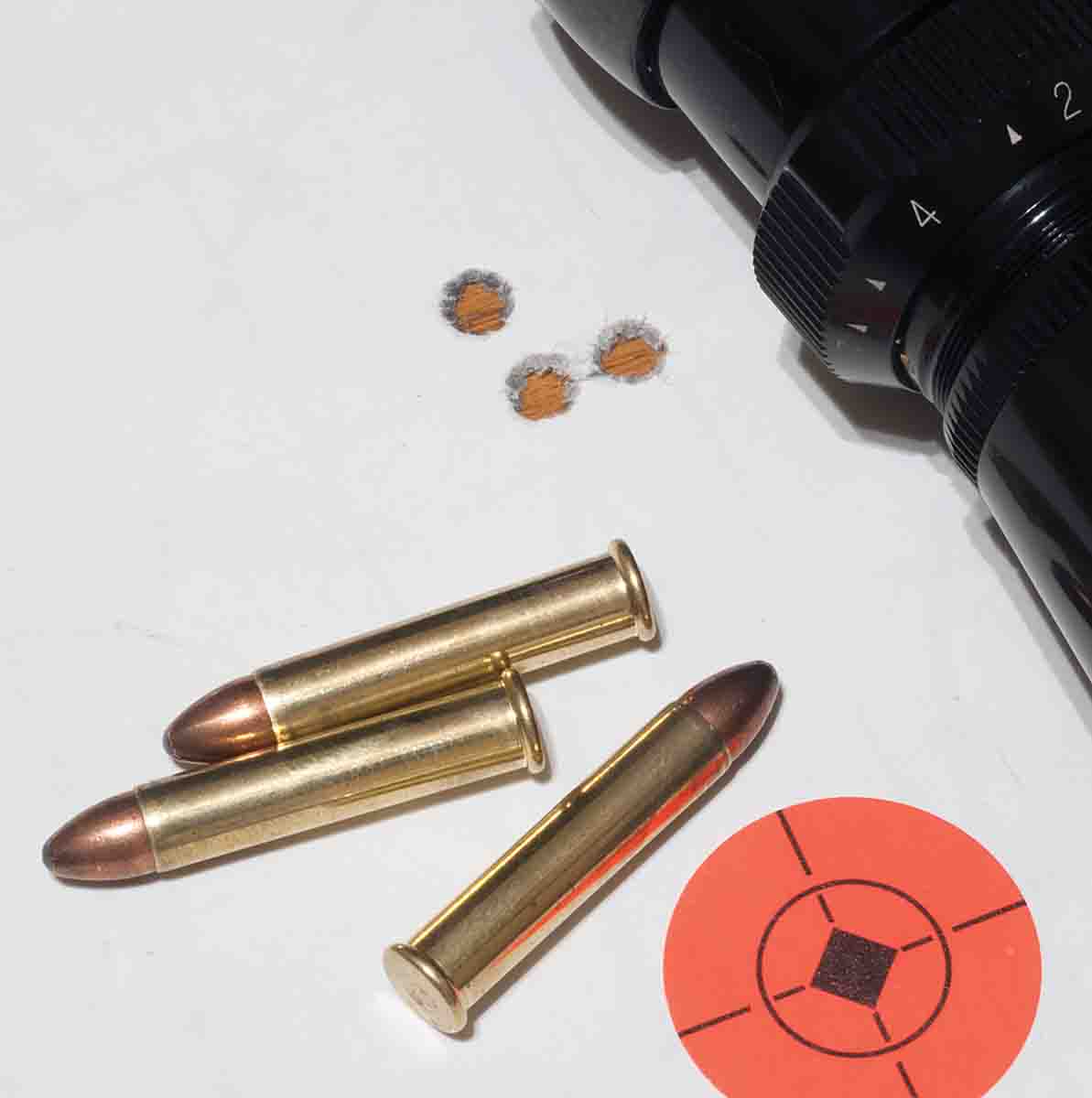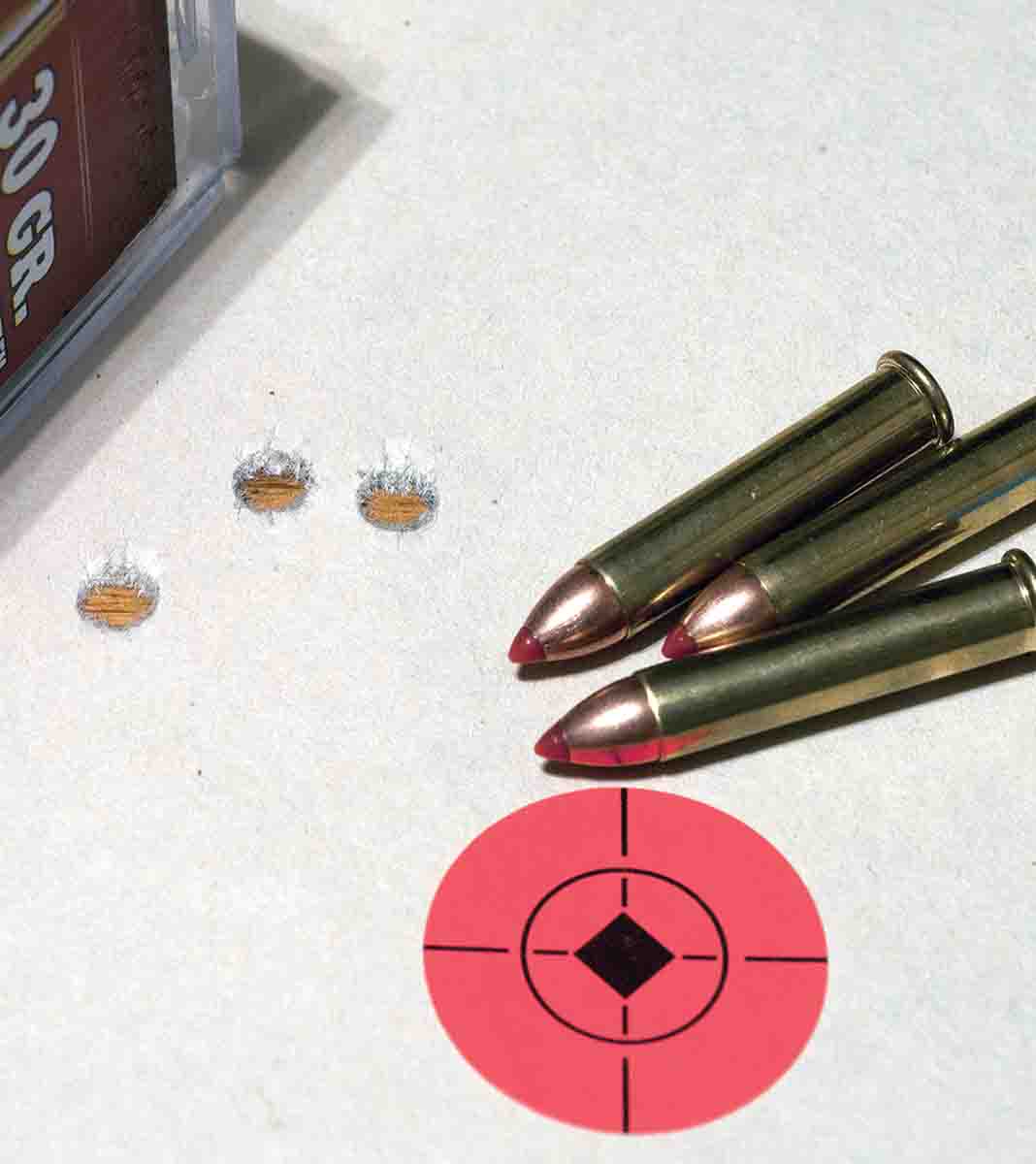 The snow had melted enough in two days to allow for a hasty trip into the cold woods for a quick rough-zeroing of the scope and to shoot a couple of cursory test groups with the new rifle, which took place the day before this was written. Not exactly expecting a .22 Magnum, ammunition on hand consisted of one partial 20-cartridge box of Hornady 30-grain V-MAX loads plus a box of CCI Game Point loads with 35-grain bullets.
Quite a bit of the CCI ammunition was used up in zeroing the scope. Ruger scope rings, which attach to an integral dovetailed flat on top of the receiver, include no provision for coarse windage adjustment. While this ring design is tough as nails, once clamped into place, the scope sits where it will, but the rings are generally centered well enough. On this particular rifle and with this particular scope, however, the first couple of shots at a target some 70 paces away were hitting more than a foot to the left. The Leupold 2-7x Rimfire scope has both vertical and horizontal adjustments of 65 minutes of angle, so corrections were made easily enough.
With a fresh target, the first three-shot group with the CCI ammunition printed a tight cluster that was three-quarters of the size of the fluorescent orange, one- inch target dot used as point of aim. The first three shots with the Hornady ammunition measured just under an inch (as measured at outside edges of the bullet holes) but grouped left of point of aim when compared to the CCI ammunition.
It may seem to some readers that two cursory groups shot on a cold and blustery winter day off a sandbag over the hood of a pickup truck are not a great indicator of the rifle's accuracy, and I would agree with that. Certainly, however, it is enough for one fellow to justify writing a check to replace another rifle that should never have been sold in the first place.
As for the future of Ruger bolt-action rifles that utilize the company's reliable rotary magazine, the shooting public will have to wait and see. In the meantime, for those readers who own and enjoy such rifles, know that their value has just appreciated in so many ways.