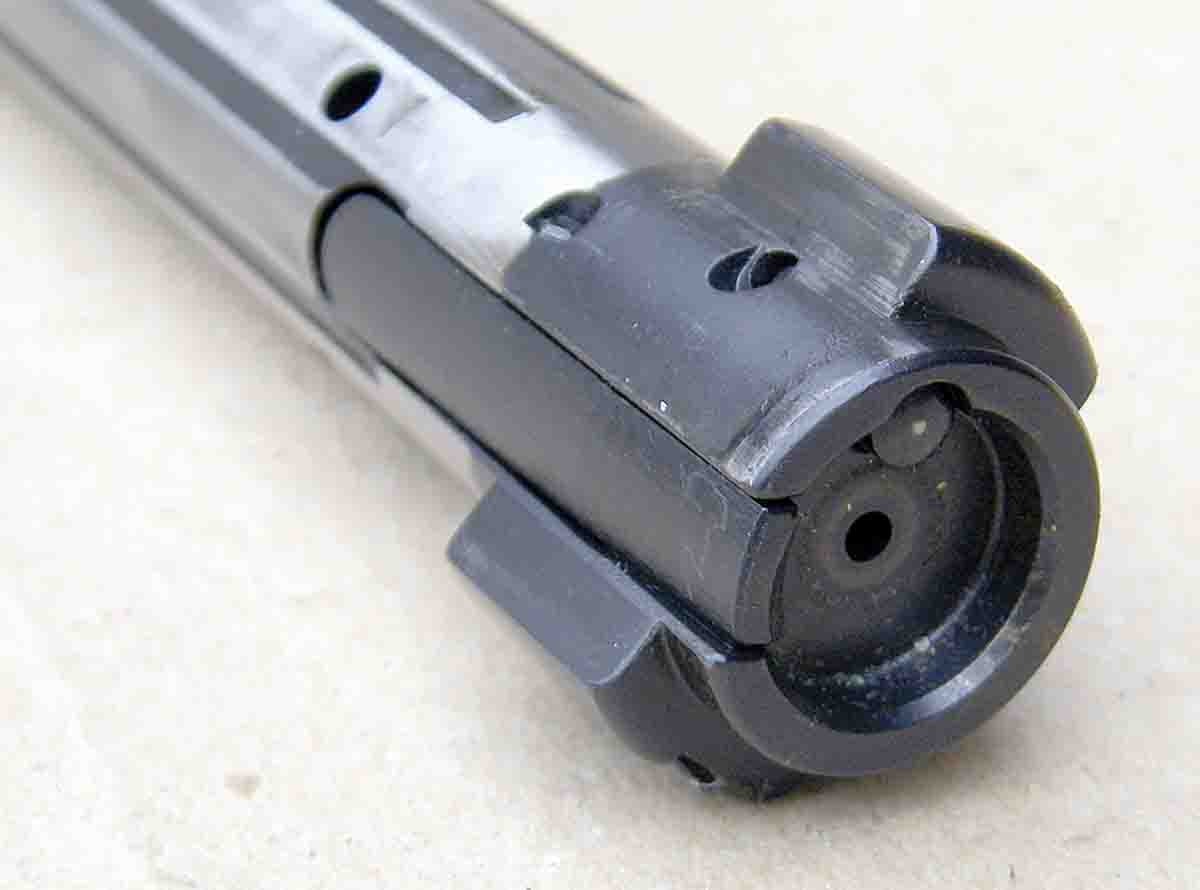 Weatherby began importing the Vanguard rifle in 1970. It was based on the Howa Model 1500 (manufactured in Japan) but with specified upgrades that were both cosmetic and mechanical. The Vanguard shared similar stock dimensions and high-gloss finish with the Mark V rifle, but it was offered in standard cartridges that ranged from the .243 Winchester to .300 Winchester Magnum, and it was offered at a notably lower price. In the 47 years since its inception, the Vanguard has been improved in function, design, accuracy and is currently offered for several Weatherby Magnum cartridges and many other sporting rounds.

The Vanguard is a push-feed design that features a countersunk bolt face, plunger ejector and a rotating extractor that is similar in design to the AR-15/M16 rifle. The solid, one-piece bolt is forged and features twin locking lugs for a 90-degree bolt lift and is fluted for smooth operation. The right locking lug is slotted, and there is a corresponding antibind, full-length rail within the receiver to
assure smooth cycling, even when the rifle is held at the shoulder while working the action. The round receiver is machined from forged bar stock and features an integral recoil lug. The trigger is housed and fully adjustable. The original safety was a two-position design but has recently been upgraded to a three-position that allows the bolt to be lifted and a cartridge removed from the chamber while the safety is still engaged. The Vanguard also receives high marks in shooter protection in the unlikely event of a ruptured case, as the receiver ring features a gas vent, while the bolt body diverts gases laterally away from
the shooter and downward into the magazine. A fully enclosed bolt sleeve arrests gases that might travel to the rear of the bolt body. The hinged floorplate and trigger guard are constructed of one-piece alloy to help keep weight low, while the latches are steel. Barrels are cold hammer forged, a process that helps prevent stress and warping.
In 1970 all Vanguards featured walnut stocks with a contrasting rosewood forend cap, white-line spacers and a high-gloss finish, which was what many shooters preferred then, and some still do. As demand grew for rifles with synthetic stocks, stainless steel actions and barrels and varmint configurations, the Vanguard product line continually expanded. The model variants are far too numerous to list here, but there is a version for the majority of riflemen, hunters, target shooters, etc. While many of the synthetic stock versions are competitively priced, several models are fitted with high-quality, composite stocks that feature full-length aluminum bedding plates and are of similar quality as stocks offered by many custom gun builders. For the rifleman who still appreciates the natural beauty of walnut stocks, several versions are available that are more conservatively designed than early rifles, i.e., without white-line spacers, high-gloss finish, etc. These are attractive rifles and are very much in step with current cosmetic trends, and select models are stocked at Weatherby's Paso Robles, California, manufacturing plant.

It is noteworthy that beginning in 2012, the Vanguard Series 2 appeared that included slight repositioning of the ejector and extractor for smoother and more reliable function. A new two-stage trigger that offers a crisp, creep-free 21⁄2- pound pull has been added, along with the previously mentioned three-position safety.
Perhaps one of the more significant changes is an accuracy guarantee that states: "All Weatherby Vanguard Series 2 rifles are guaranteed to shoot a three-shot group of .99" or less at 100 yards (SUB-MOA) when used with specified Weatherby factory or premium ammunition." In the five years since the Series 2 Vanguard has appeared, I have fired at least eight different rifles, each of a different caliber, for developing handload data for Wolfe Publishing's website LoadData.com and for personal hunting trips. Rifles have been fired extensively, have functioned flawlessly and have easily produced groups below the sub-MOA guarantee. In some instances premium factory loads – in rifles chambered for .30-06, .240 Weatherby Magnum and .223 Remington – produced groups that hovered around .5 inch. In referencing handloads that were carefully tailored, several additional rifles have placed four shots under .5 inch.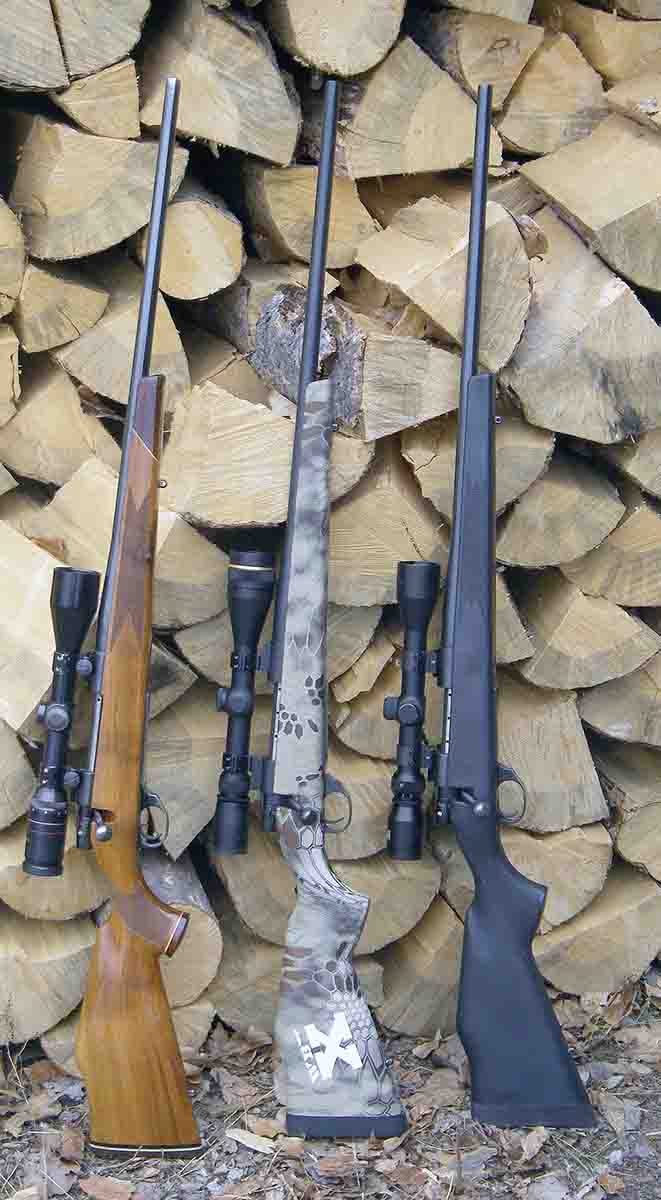 One recently introduced Vanguard model that is worthy of special mention is the Camilla, named respectfully after Roy Weatherby's wife. It was designed by ladies for ladies. This is a product that is long overdue, as women now constitute around 20 percent of hunters. The Camilla is much more than just a rifle with a shortened buttstock and forend. All dimensions have been scientifically contoured and proportioned to fit women. Just a couple of examples include a stock length of pull that is 13 inches, while the buttstock is cut with a negative angle for correct shoulder contact and is fit with a soft recoil pad. The high comb helps with proper cheek weld and eye alignment with the scope. (This is important as women's faces are much smaller than men's . . . just in case you haven't noticed!) The forend is shorter and has also been trimmed to better fit ladies' hands. The pistol grip has a slim radius, and there is a noticeably shorter distance between it and the trigger to better accommodate proper finger placement on the trigger. Barrel length is 20 inches.
The Camilla is fitted with an attractively figured Turkish A-grade walnut stock with a rosewood forend and grip caps, all of which are finished in a low-glare satin. Checkering is cut in the fleur-de-lis pattern, which is distinguishing and attractive. Metal parts are blue finished. Initially it will be offered in .243 Winchester, 6.5 Creedmoor, 7mm-08 Remington and .308 Winchester. MSRP is $849, which in my opinion is a reasonable price.
The Vanguard offers proven reliability, accuracy, affordability and is as modern today as it was 47 years ago.