Many shooters fuss about their rifles' triggers as shipped from factories in this time of lawsuit awareness. In my opinion, however, a worse detriment to precision shooting is an ill-designed rifle buttplate. I can master a stiff trigger, but I cannot make my body ignore pain. All shooters will eventually begin to flinch off shots due to recoil, although some people certainly handle it to a greater extent than others.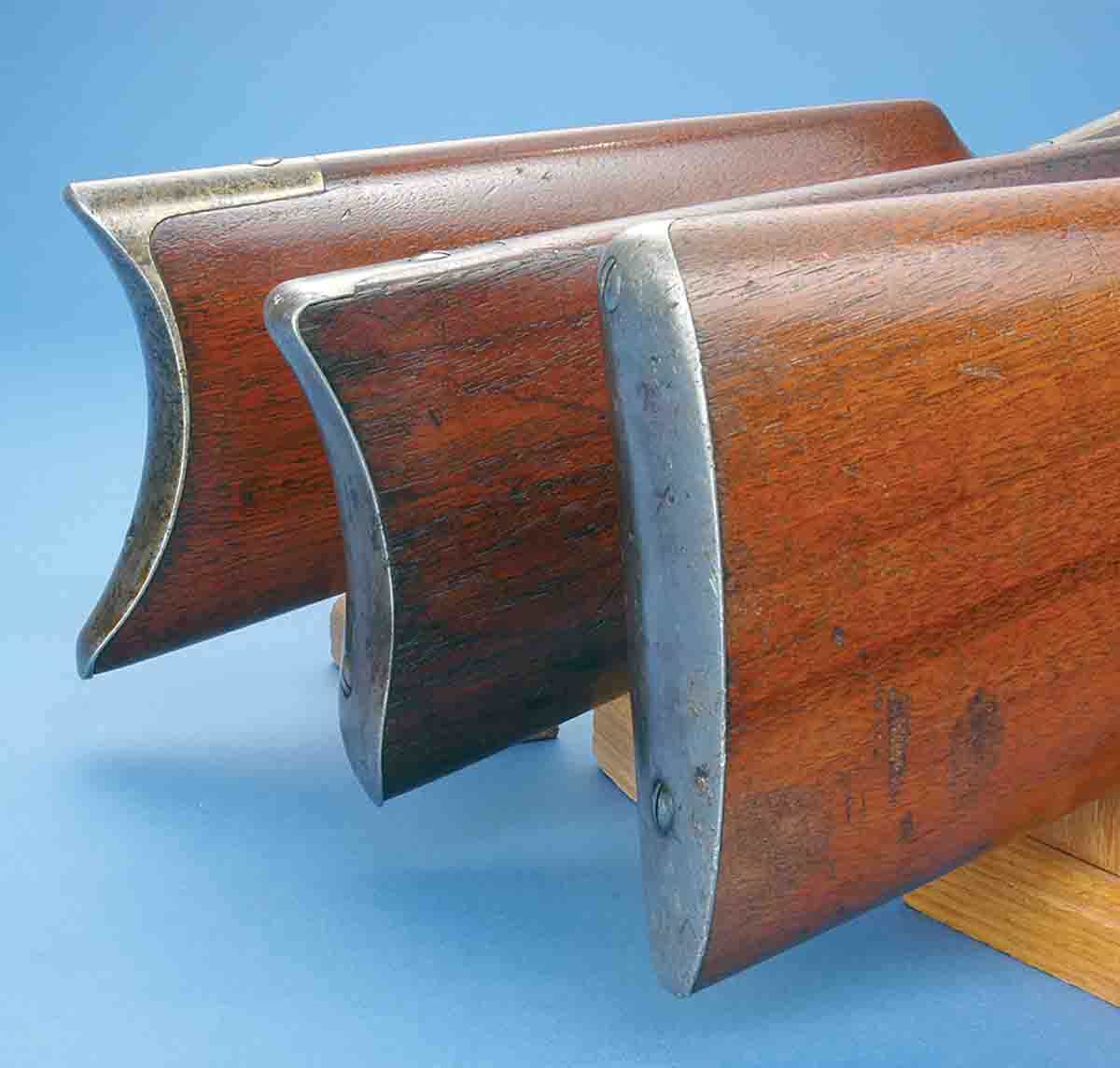 Of course, there is the old saying, "You will never notice recoil when there is an animal in your sights." That is true, but a corollary to that rule is that shooters will never become proficiently accurate with their rifles if it hurts them at every shot. They simply will not fire it often enough.
During my avid hunting days, I realized after firing thousands of rounds from a sandbag benchrest that my personal limit stopped with the .300 Winchester Magnum in a normal weight rifle. Below that recoil level I shot well; above it, I did not. Of course, today's answer to recoil is soft pads as buttplates or, in more extreme cases, recoil shock absorbers installed in buttstocks.
From my viewpoint, looking back on rifle buttplates is an interesting exercise. Until near the end of the nineteenth century, most rifle buttplates were steel or brass. In Kentucky-type long rifles, they were usually well curved, which I think was a carryover from the extremely curved "hooked" buttplates used for target shooting in Europe. Supposedly they "hung well" if properly fitting the shooter's shoulder. Schuetzen target shooters today still favor them.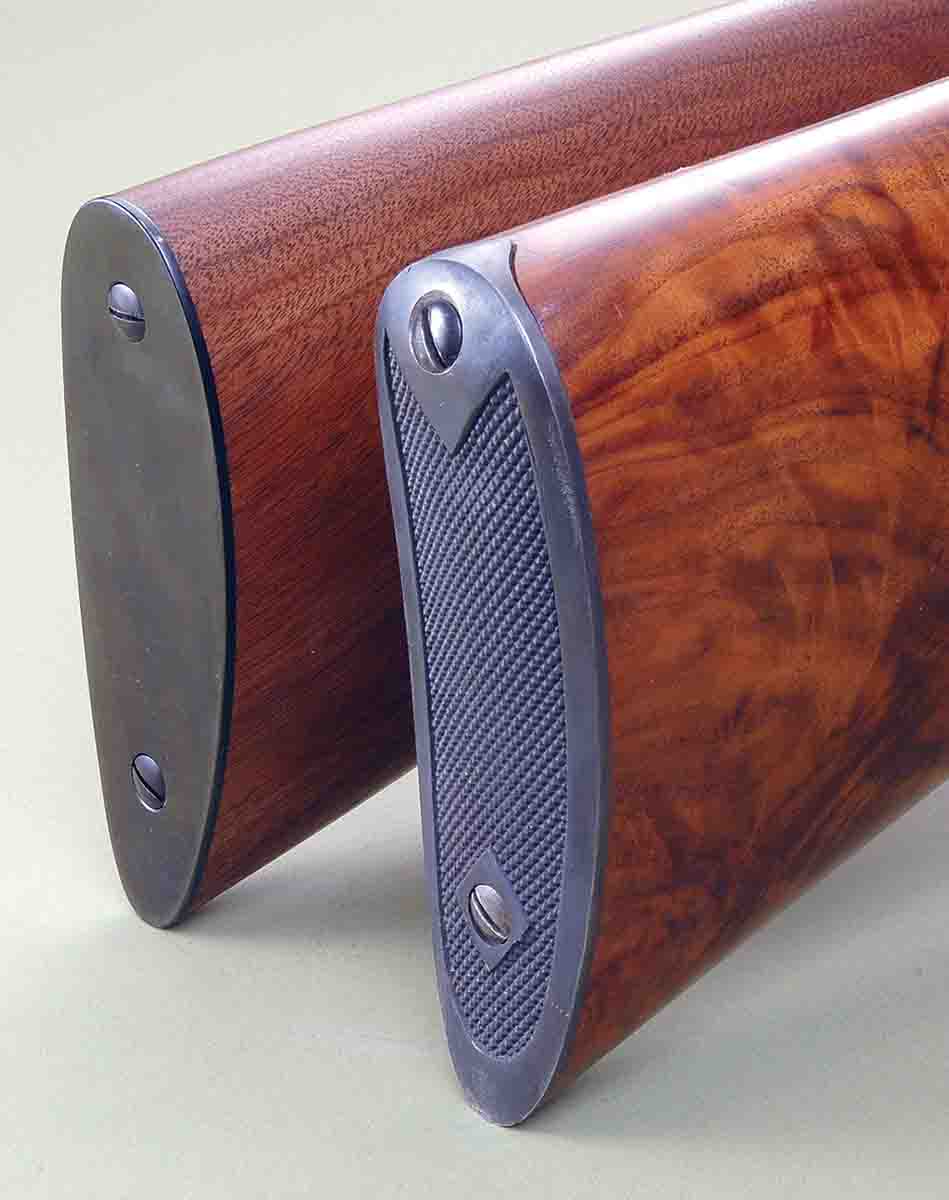 When mass production of sporting rifles began in America, shooters and hunters were finally offered choices in rifle buttplates. For instance, standard issue on Sharps Model 1874 Sporting Rifles was a steel
rifle
buttplate. It was curved in form, while most of the same company's target rifles had
shotgun
buttplates that were essentially flat and a bit wider. Being almost a custom shop, the Sharps Rifle Company of the later 1870s allowed shooters to order pretty much what they wanted. There were Sharps Sporting Rifles sold with
shotgun
steel buttplates, usually checkered, and its Long Range No. 4 target rifles had
rifle
- shaped steel buttplates.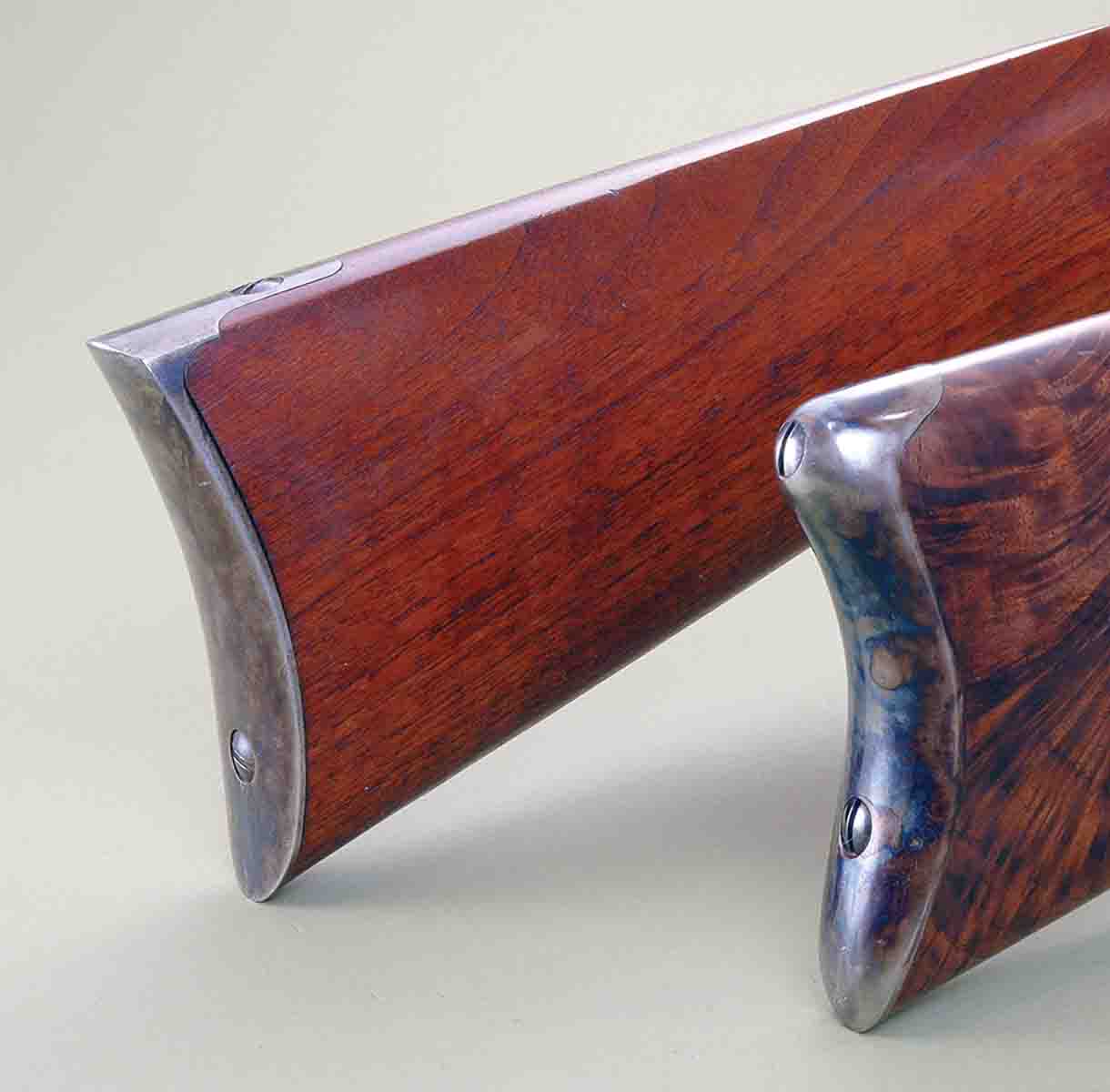 After Winchester Repeating Arms became a highly successful rifle manufacturer, it settled on three basic styles of buttplates for all models. These were labeled rifle, shotgun and carbine. Standard issue for rifles and carbines were as said, but on special orders, both versions could be had with shotgun buttplates. Most often these were made of steel – smooth or checkered – but sometimes they were made of hard or soft rubber. For some reason, the relatively few Winchester levergun muskets produced in the late 1800s were fitted with carbine buttplates.
Back in the 1980s, I owned a Winchester Model 1886 .33 WCF with a hard-rubber buttplate. Hunt- ing with it on a below-zero day, I slipped in snow and reflexively jammed the butt down to catch myself. It hit a rock, and in that temperature it shattered like glass. A steel buttplate would have merely been scratched. The Winchester Model 1892 .44 WCF rifle I gave my wife for cowboy action competition was special ordered with a shotgun-style, hard-rubber buttplate that had a large chunk busted off sometime in the past.
Perhaps the most sadistic buttplate any company designed was used on Remington's No. 1 "rolling block" Sporting Rifles and was carried over to later production, such as the Remington-Keene. It is not only curved vertically but rounded laterally. Either its designer had never fired a rifle with recoil, or he disliked those who did shoot them. Once a fellow handed me a Remington- Keene and said, "Want to try my .405?" Being young, I fired it the first time, and then being stupid and stubborn, I shot it twice more. Its felt recoil was plain awful.
Among all the vintage rifles I've fired over the last 40 years, the very worst have been .405 Winchesters. My personal example, a gift from a friend, has a checkered steel shotgun buttplate. Even so, it's no fun. A friend bought a vintage Model 1895 .405 Winchester with a rifle buttplate. I warned him, but he shot it a couple of times anyway. Then he sold it. In fact, of all the mistakes rifle manufacturers have made in recent years, the worst I encountered was Browning's new Model 1895 .405s. My sample shot well but carried a sorry excuse for a buttplate. It was flat like the shotgun designs made of smooth steel but had sharp edges. Perhaps Browning figured buyers would be putting soft rubber pads on them anyway.
Big-game hunting rifles and long- range target rifles are hard enough to gain mastery of anyway. My attitude is, "Don't let their buttplates make the job harder."