About the time the first green of spring appears, a hunter's fancy turns to varmint shooting. In days gone by, preparing for spring shooting required little more than dusting off the modest scopes on rimfire and centerfire rifles and sighting in the rifles. Today's scopes are not so modest, and choosing one is an involved matter. Decisions on selecting a scope abound from a variable's magnification range, a plain or complex reticle and turrets to leave as set or dialed to mesh with a bullet's trajectory.
In 1983 I bought a Ruger M77 Varmint .22-250 Remington and a contemporary Burris 10x scope. The fixed-power scope with plain crosshairs was considered fairly cutting edge at that time. The pair provided great fun shooting ground squirrels and marmots and revealed a lot about estimating range, holdover to compensate for range and doping the wind. My notes state the majority of my shooting was between 70 and 400 yards, and I "missed a lot by over-shooting." The .22-250 is still a great cartridge for long-distance shooting. Today, however, that scope is considered nearly Neolithic.
Once in a while I wished for different magnifications than provided by the straight 10x scope. A variable-power scope's magnification options provide a wider field of view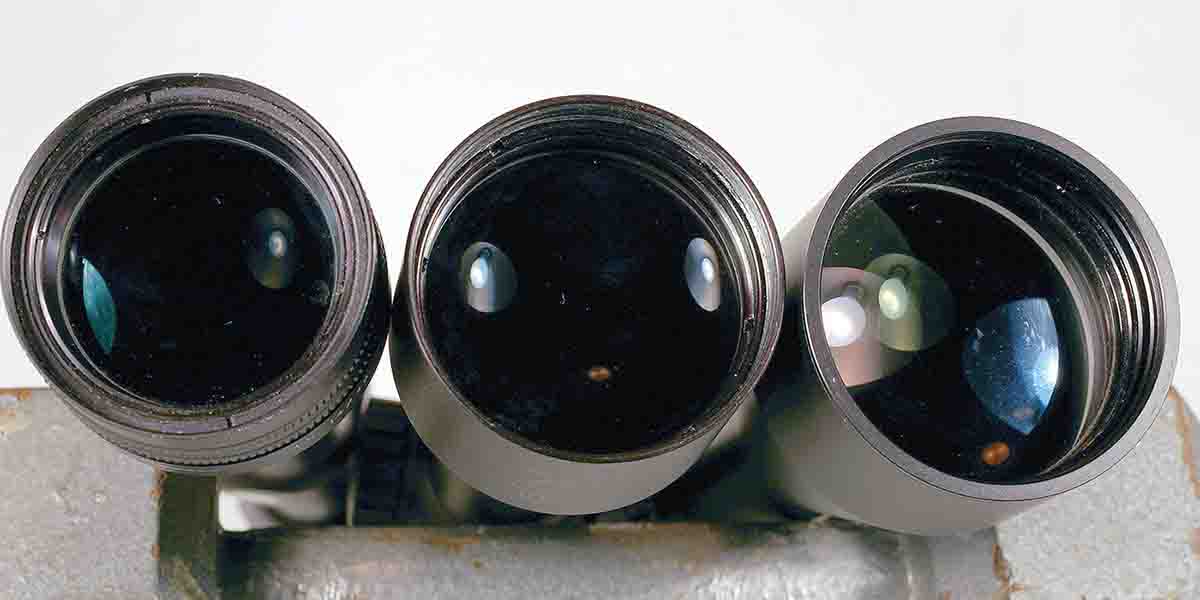 a closer look. A scope set on 6x or 8x provides a wide field of view to help scan a field to spot ground squirrels. A wide exit pupil, at that lower power, provides some positioning leeway for a full view. A scope set much over 10x magnifies quivers when walking around and resting a rifle on shooting sticks or on a gopher mound. Shooting with the support of a bench, I turn magnification up and down to match the conditions of distance and mirage. Usually it ends up set on 12x, perhaps 14x. Often it's lower, to see through mirages from midday heat simmering above a green field. Still, it looks like gophers are dancing around like fairies in a mist. The cool of the morning is about the only time the air is clear enough to dial to higher magnification. Even then, scopes with high ends of 20x and above are never dialed that high.
With that power comes the need for a large objective lens. A 42mm diameter objective lens suits variables that top out at 16x, and 50mm matches scopes that turn up to 20x. A scope with a large objective lens does sit quite a ways above a rifle, but stocks with adjustable comb height prevent a shooter from having to crane his neck to see through it. A folded towel draped over a comb also raises the eye and is handy to dab sweat from your brow while suffering under the spring sun.
The old method of placing a reticle above a target to compensate for bullet drop was just too vague to guarantee a hit. That led to reticles with hash marks on the lower vertical wire regulated for various ranges. These different aiming points only came into advantageous use with the arrival of laser rangefinders that provided an exact distance to a marmot perched on a distant rock. Some of these reticles were so complex they cluttered the view and confused the eye. The obvious step to simplify the view was to use a plain vertical crosshair (and horizontal crosshair with hash marks for windage correction) with yardage marks on the elevation turret that correspond to a specific load.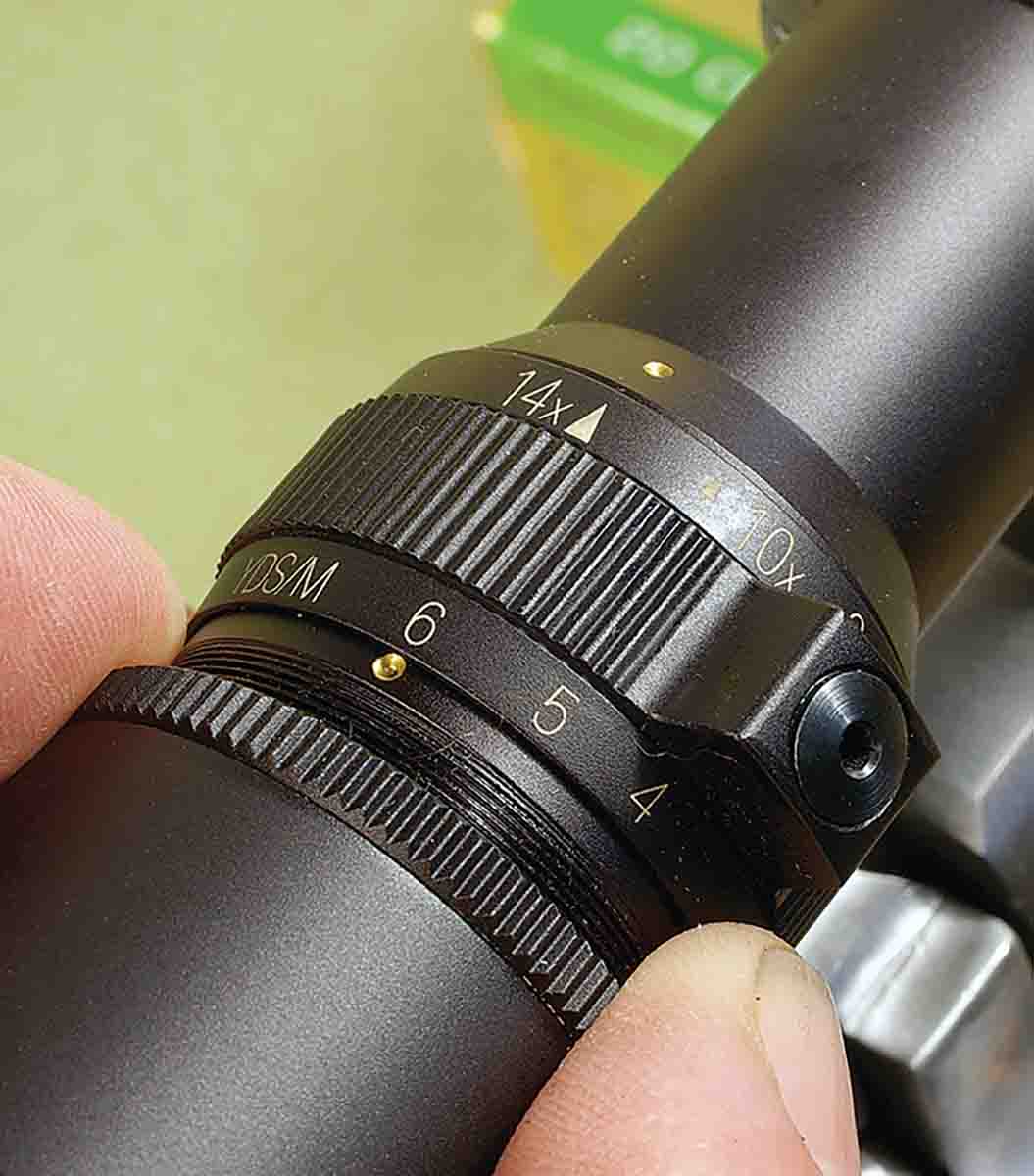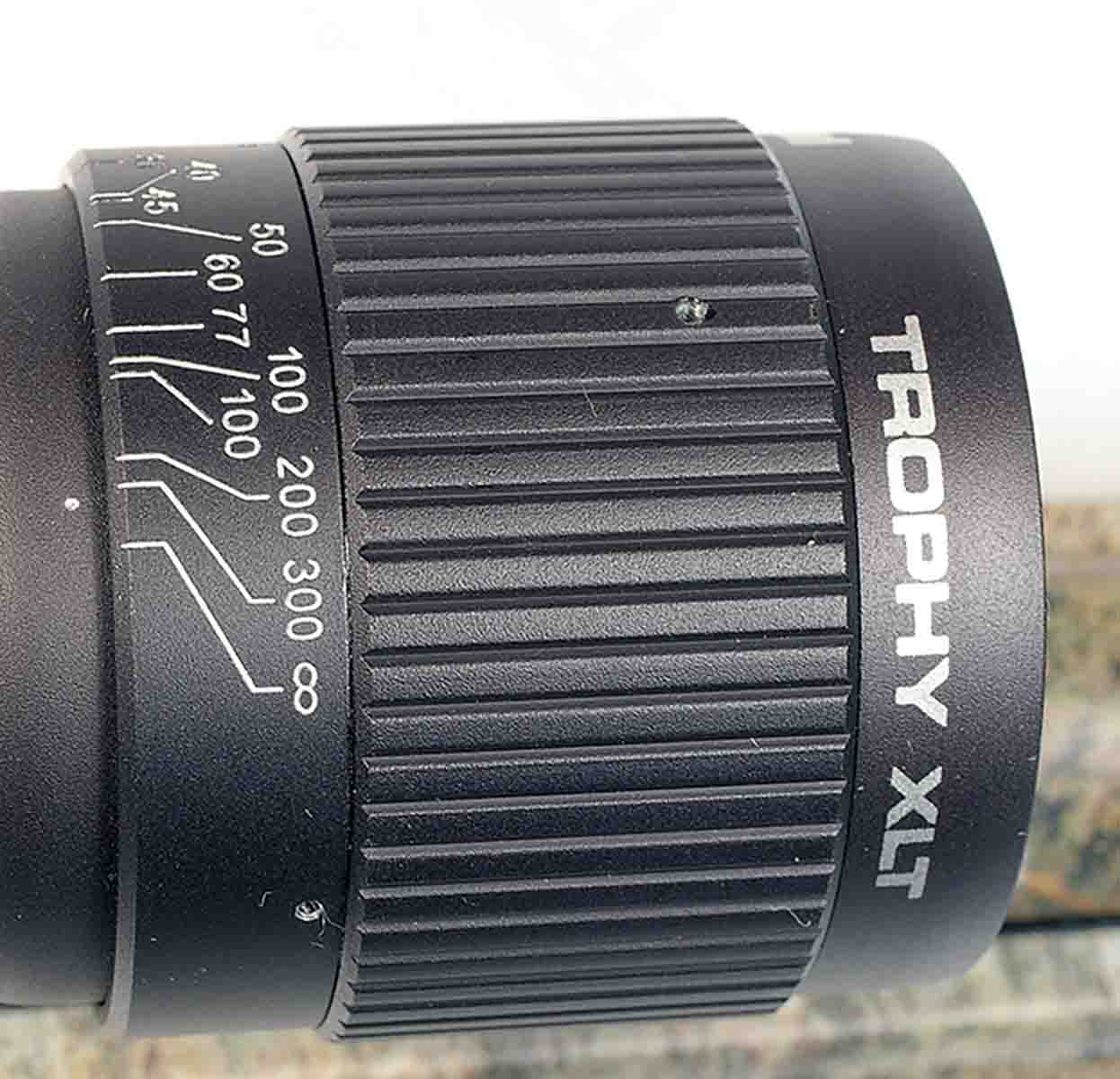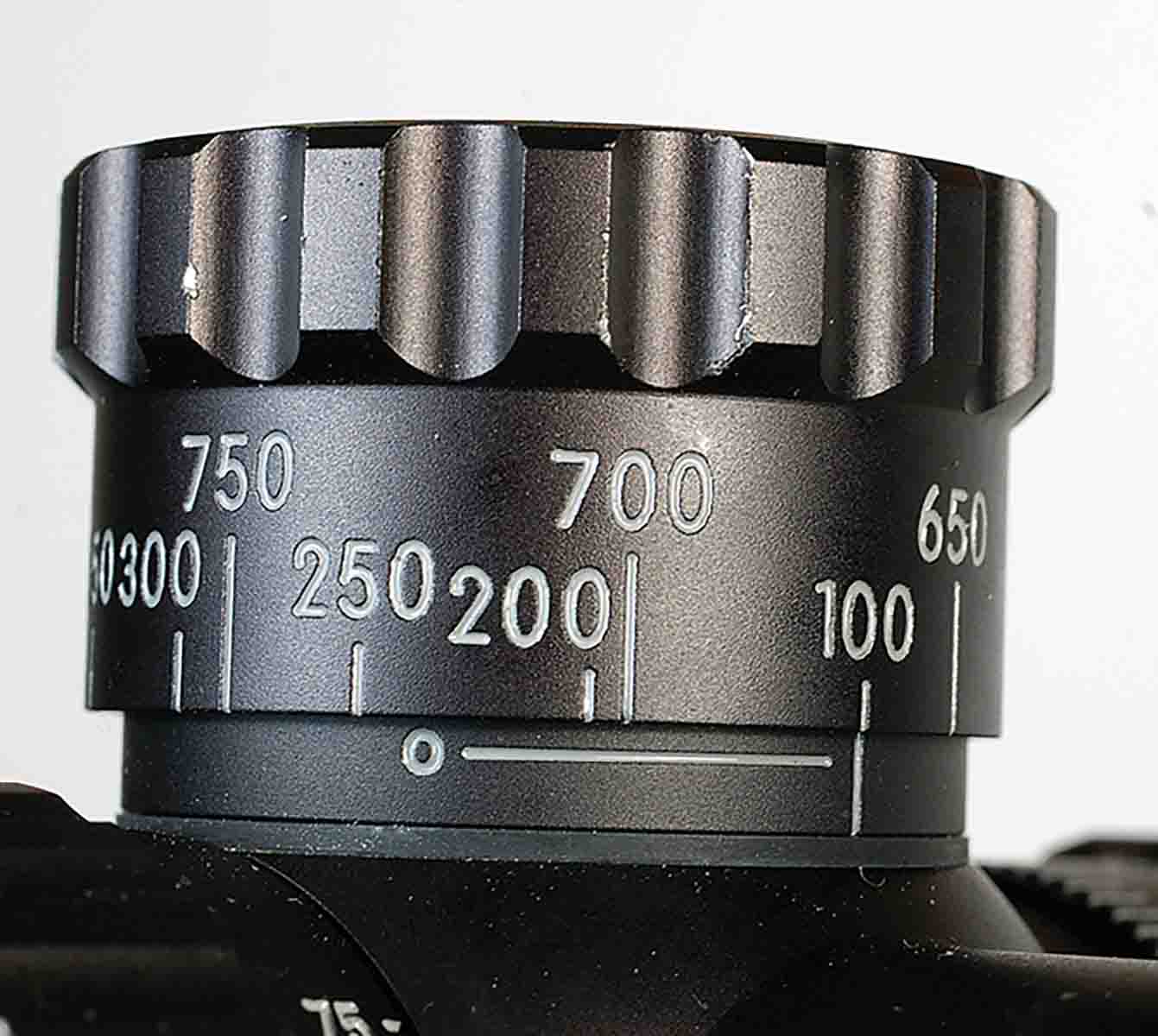 The Custom Dial System (CDS) turret for a Leupold VX-R 4-12x 40mm scope is set to match the trajectory of Nosler 50-grain Ballistic Tips fired at 3,450 fps from my .223 Remington. The CDS turret rotates one revolution, which is enough adjustment to compensate for the Ballistic Tip's drop out to 650 yards with the scope zeroed at 200 yards.
Limiting a scope to one load does seem rather restrictive, but if the load is changed to a 69-
grain HPBT with a muzzle velocity of 2,966 fps, I refer to a note that states three additional clicks past the 300-yard setting will bring the heavier and slower bullet dead-on at that distance; five added clicks at 400 yards, and so on.
With any of these reticles, actual shooting is required to verify they mesh with the real trajectory. One of my favorite rifles for marmot shooting is a Cooper Firearms Model 22 .243 Winchester shooting Nosler 70-grain Ballistic Tips at 3,306 fps. I mounted a Swarovski X5(i) 5-25x 56mm P scope with a 4WX reticle on the rifle. To create a trajectory chart for that load, I logged onto the Swarovski ballistic program (ballisticprograms.swar ovskioptik.com) and keyed in the bullet weight and its ballistic coefficient, muzzle velocity and elevation. A chart appeared that included inches in bullet drop in 50-yard increments and elevation corrections in minutes of angle (MOA) to compensate for bullet drop at the various ranges.
At 100 yards, two bullets cut the right edge of the half-inch aiming square, and the third bullet hit
the top of the square. The three bullets landed in a .79-inch group. The wind raised its ugly head while I was shooting at 200 yards. The ballistic chart indicated one MOA of elevation was required to hit dead-on at that distance. Three bullets landed even with the aiming square in a 1.35-inch group. Shooting at 300 yards, the wind blew toward the rifle from every which way. I dialed up 2.75 MOA, and three bullets hit perfectly for elevation, but 2 inches right of the bullseye. I aimed to the left about a third of a 2 MOA hash mark and shot twice. The bullets hit an
inch to the left of the bullseye – good enough to knock a prairie dog off its mound. A few minutes later the wind kicked bullets 4 inches to the right with the same hold. Wind is the bugaboo of long-distance shooting.
I watched a Nightforce optics employee shoot only a few shots to find the correct elevation turret settings to hit targets at 450 and 700 yards. The Nightforce ATACR 4-16x 50mm scope he was dialing in was on an Accuracy International rifle shooting Black Hills .308 Winchester cartridges loaded with Sierra 175-grain Tipped MatchKing bullets. He knew the ballistic coefficient of the MatchKing bullets, their velocity from the rifle and that the rifle was sighted in at 100 yards. He typed those numbers, plus the temperature, humidity and elevation into a ballistics program on his smartphone. He then dialed the nec-
essary clicks on the Nightforce's elevation turret to compensate for the program's stated bullet drop. His first shot was a bit low on the target at 450 yards. He turned up the elevation turret a few more clicks, and the second shot hit right on the money. Adjusting the turret for the 700-yard target put two bullets in the center of a steel plate way out there.
Varmint shooters would spend half their day fiddling with an elevation dial if they adjusted it for each shot. Say a cluster of ground squirrels infests a field a ways either side of 350 yards. Using an aiming point or dialing for that distance, a rifleman can eyeball how much to hold over or under and for the wind for those fluctuating distances with skill learned from shooting with a plain reticle.