Personal preferences are hard to explain; they exist despite logic. One is that Winchester Model 1873s are my favorite leverguns. Most certainly the following points are true. Winchester's Model 1892, when chambering the same cartridges as the '73, has smoother operation, weighs less and is far stronger than the '73's toggle link lockup. Furthermore, Winchester's Models 1876, 1886, 1894 and 1895 chamber more powerful cartridges. I have them all yet like '73s best.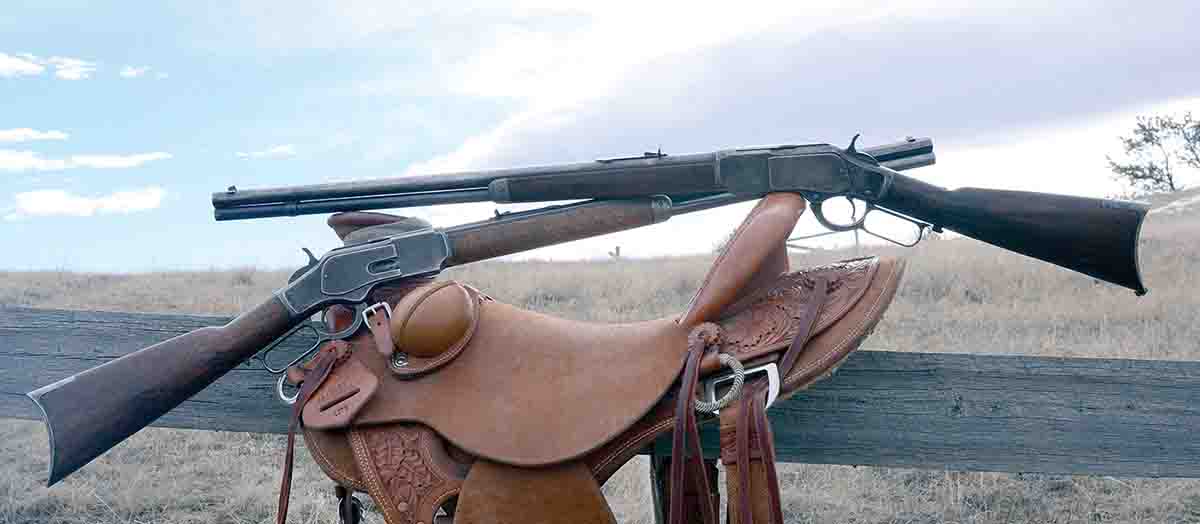 One attraction is their place in history. While 1873s really did not "win the West," as Winchester advertisements once indicated, they certainly were there in the thick of things. For example, no fewer than eight '73s have been proven conclusively to have been fired in the Battle of the Little Bighorn (aka Custer's Last Stand) in June 1876. Modern archaeological work at the battlefield has even shown precisely where those '73s were fired. All were in Sioux or Cheyenne hands. This is even more interesting considering that only 126 Model 1873s were made during the year of introduction and likely no more than about 12,000 or so left the factory in time to make it all the way to Montana prior to the battle. Of course, all those were .44 Winchester Centerfires (WCF), because it was the cartridge of introduction.
More evidence of the '73's place in western history is that Colt wanted in on the cash cow so began chambering revolvers for .44 WCF in 1878. As to more calibers, Winchester followed up with the .38 WCF in 1879, .32 WCF in 1882 and .22 Short and .22 Long (not Long Rifle) in 1888. I've owned all but the .22s; I did some shooting with a .22 Long owned by a friend. The two big bores are my favorites.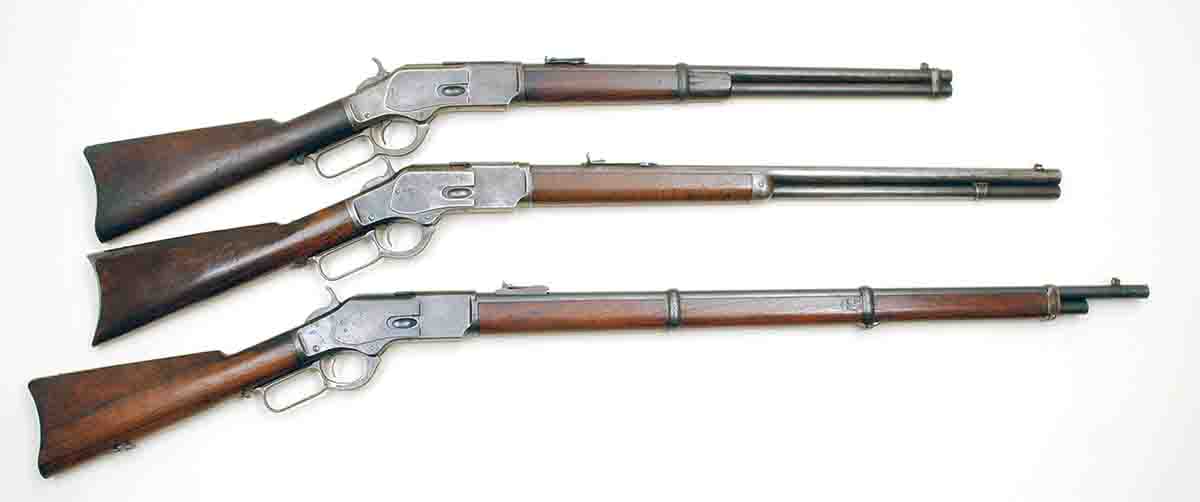 My first '73 Winchester came in February 1985, when Steve Garbe – editor of our sister publication The Black Powder Cartridge News – and I were visiting at a Livingston, Montana, gun show. He was packing around an 1897 vintage '73 .38 WCF. Its blue finish had almost all turned gray, and its buttstock had been broken albeit expertly repaired. Nowadays I like to chide Steve that he "hung" that beat-up, old Winchester on me, but proof otherwise is that I still have it. Its bore is in fine condition, and it shoots my lead bullet handloads very accurately.
In the 32 years since that first '73, a passel of them have come and gone. I've had rifles with barrel lengths of 20, 24, 26, 28 and 30 inches, and except for a single 20-inch .32 WCF (.32-20), all have been .38s and .44s. Carbines have 20-inch barrels and muskets have a 30-inch length. Muskets accounted for only five percent of '73 production. Mine even came with a bayonet. Barrel options for rifles were round, full octagonal and half octagonal/half round. Once I even had a special order, extra heavy, round-barreled .44.
Not all my '73 experiences have been wonderful. In 1999 I was in Las Vegas for the big yearly antique gun show. One treasure I returned home with was a special order '73 .44 with a 26-inch octagonal barrel and single-set trigger. Its bore was shiny, its stock condition was fine and lots of blue finish remained despite it being 115 years old at that time.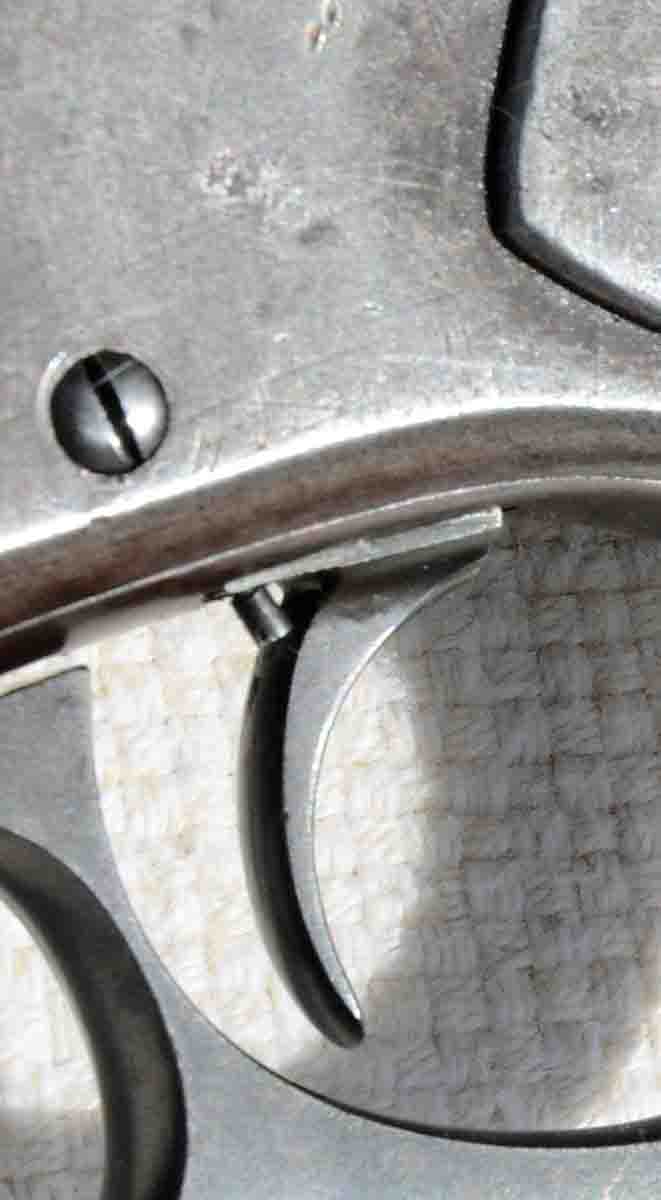 Perhaps I should have taken its nice condition as a warning, for when I took it to my range, its groups were execrably large. I'm talking washtub large. The hand-load at that time was my standard for pre-smokeless powder '73s: 214-grain bullets from RCBS mould 44-200-FN cast of 1:20 (tin-to-lead) alloy, sized .428 inch and lubed with SPG seated over 33 grains of GOEX FFg black powder in Winchester brass. Primers were CCI 350 Large Pistol Magnum. That load shot well in other Winchester, Marlin and Uberti/Cimarron .44 WCFs.
So the poorly shooting '73's bore was slugged. Groove diameter measured .444 inch. Firing a .428-inch bullet in a .444-inch barrel is bound to give poor results, even with the bumping-up trait of black powder as propellant. Little wonder no one seemed to have hunted with this rifle. They figured they couldn't hit anything with it. Because of its nice condition, it was used for the cover photo of my book Shooting Lever Guns of the Old West and then sold.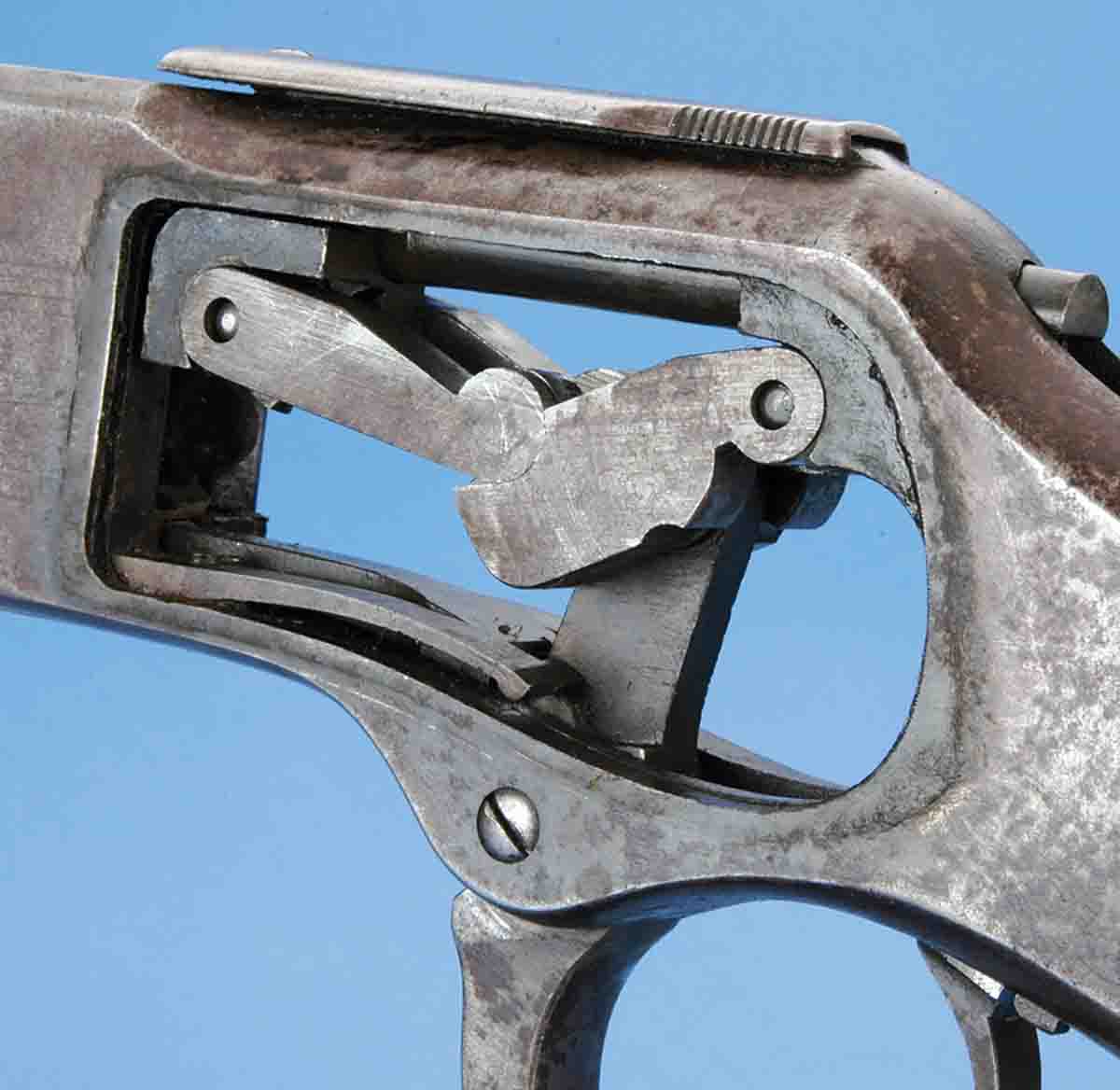 A year or so afterward, another Model 1873 .44 was purchased. This one was made in 1892. Its groups were almost fantastically good; likely because its barrel's grooves measured .427 inch. My 1905 vintage Model 1873 musket's barrel also measures .427 inch. My '73 .38 WCF's barrel is .400 in its grooves. I do shoot '73s made after about 1895 with light smokeless powder loads as recommended for revolvers if they have been checked thoroughly for safety. (Details on that will be saved for a future article.)
Just the weekend prior to this writing, I was at another Montana gun show and what did I find? Another late 1890's vintage Model 1873 was on a table, and I kept coming back to look it over. It had more bluing left than the one Garbe sold me 30 years ago, better wood and a bore in at least equal condition. Even better, its barrel was octagonal. I brought it home.