Long ago, the Sears-Roebuck catalog was the original wish book, and in those halcyon days before the Great War, the catalog carried page after page of guns – long guns, short guns, rifles, shotguns, handguns – American-made and imports of just about every description. Between 1905, roughly, and 1914, one of the most expensive rifles found in the Sears catalog was known, variously, as the Haenel-Mann-licher or simply the C.G. Haenel (pronounced HY-nul). It was a bolt-action sporter imported from Germany. It cost half as much again as a Winchester '86, and it was the rifle to carry if you had pretentions to style.

Although no one pays much attention to it now, there was a lively business in sporting bolt actions before the Great War. Today we tend to think of that period as belonging only to the Mauser 98, the very first iterations of the sporting Springfield and maybe the Mannlicher-Schönauer. In fact, European gunmakers began sporterizing military bolt rifles almost as soon as they appeared in the 1880s, and many of their creations were exported to the U.S.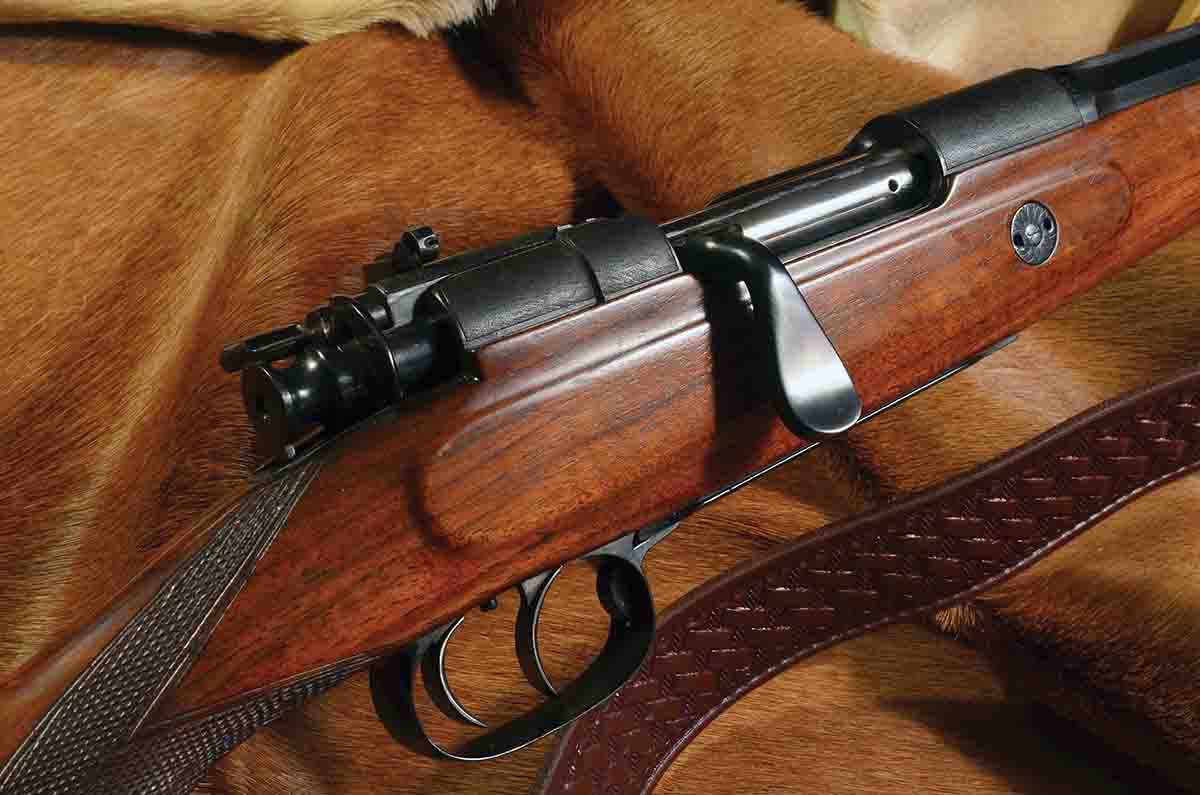 Some of these old rifles are not only beautifully made, as only a one-man German shop could do it, but are fascinating for any student of the bolt action. A few years ago, a rifle popped up on Gun Broker, described as a Mannlicher, which caused me to take a look. As it turned out, it wasn't a Mannlicher at all, but that didn't matter; I put in a bid, got the rifle and have been congratulating myself ever since.
The mistaken description was hardly the dealer's fault. It does look like a Mannlicher, superficially, and after I got it I spent weeks trying to identify the action. Even today, I am not absolutely sure how it began life. What I am sure of is that it's a beautiful rifle. I named it Marlene, as in Dietrich, and several of my gun-loving acquaintances lust after it.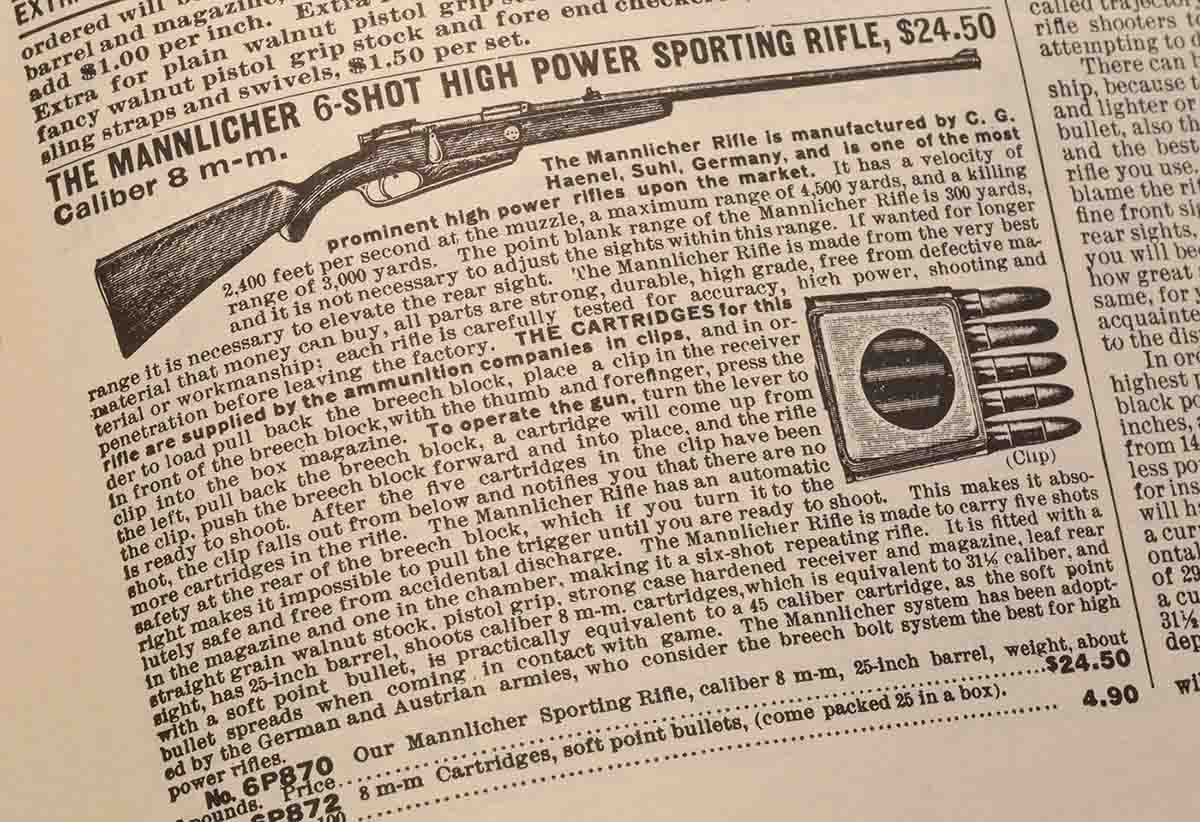 Here is what I know for sure: The rifle was built by C.G. Haenel, an old German gunmaking company in Suhl. It was almost certainly imported to the U.S. around 1910 and is a typical German stalking rifle of the period. It has a sporter stock with a cheekpiece; a 21-inch, half-octagonal barrel with a full-length rib; is chambered for the 9x57 Mauser; and is built on what, at first glance, appears to be a Commission 1888 rifle action. As was the German preference of the day, the rifle is fitted with double-set triggers.
C.G. Haenel & Co. was founded in 1840 by Carl Gott-lieb Haenel and quickly became a significant player in the German arms industry during the unification under Bismarck. It accepted government contracts but also made civilian firearms and remained in existence right through 1945. One of its most prominent employees was Hugo Schmeisser, of submachine gun fame. After 1945, with Suhl under Russian occupation, Haenel was taken over by Merkel, and the name survives to this day on a line of target and sniper rifles.
In 1888, Haenel was one of the contractors that made the famous Commission '88 rifle for the German government. Like many others (including Steyr in Austria), it saw the virtues of that action for sporting purposes and began building stalking rifles almost immediately. As well, the original 8x57 J cartridge for the Commission rifle was modified for sporting use into such cartridges as the 9x57mm.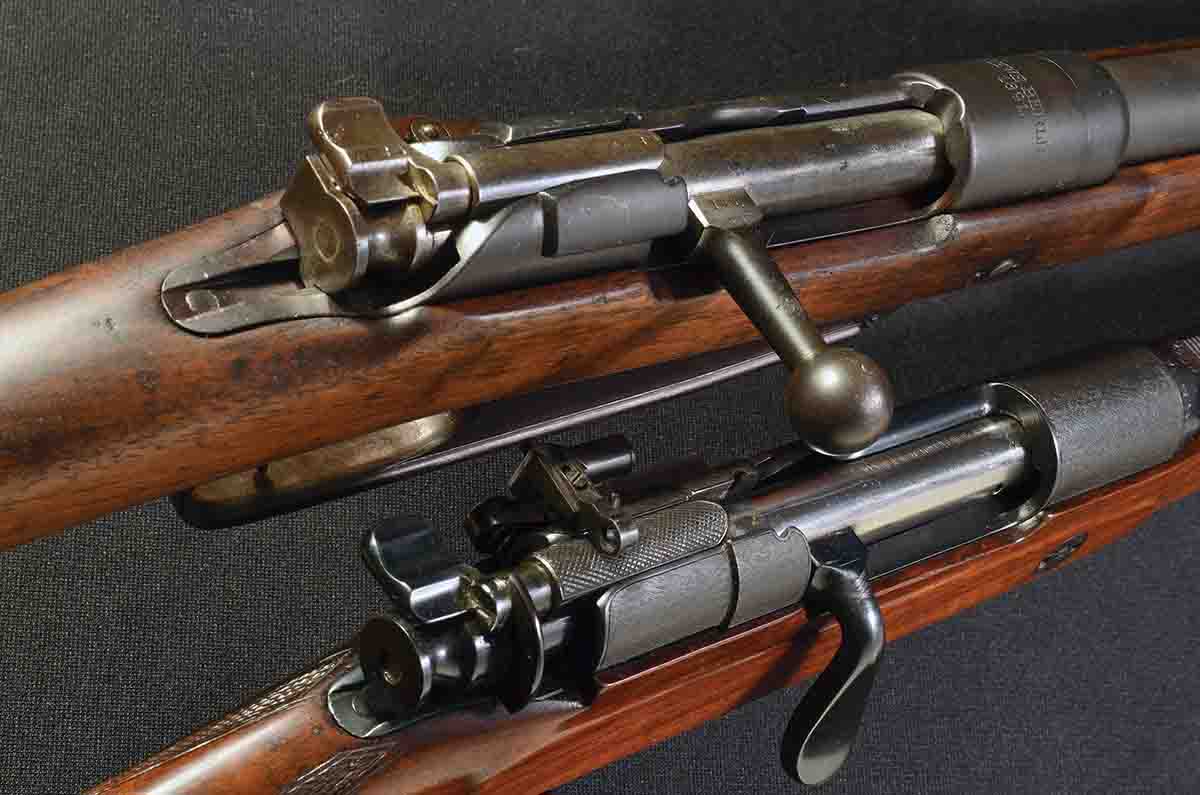 The very first Haenel importer in the U.S. was Oscar Hesse of New Jersey, beginning in 1894. At that time, there were very strong business and cultural ties between the U.S. and Germany, and because of this, more and more importers got into the act. Each had its own ideas about styling and features for the American market. As a result, there is a seemingly never-ending variety of rifles bearing the C.G. Haenel name or very similar rifles under another name entirely. Some of these appear to be modified Commission rifles; others are the Commission '88 cavalry carbine, virtually unaltered. My C.G. Haenel is somewhere in between. The bolt is almost identical to a Commission bolt, but it has the carbine's turned-down, butter-knife bolt handle. It also has a gas shield as part of the shroud and gas escape ports on each side of the bolt.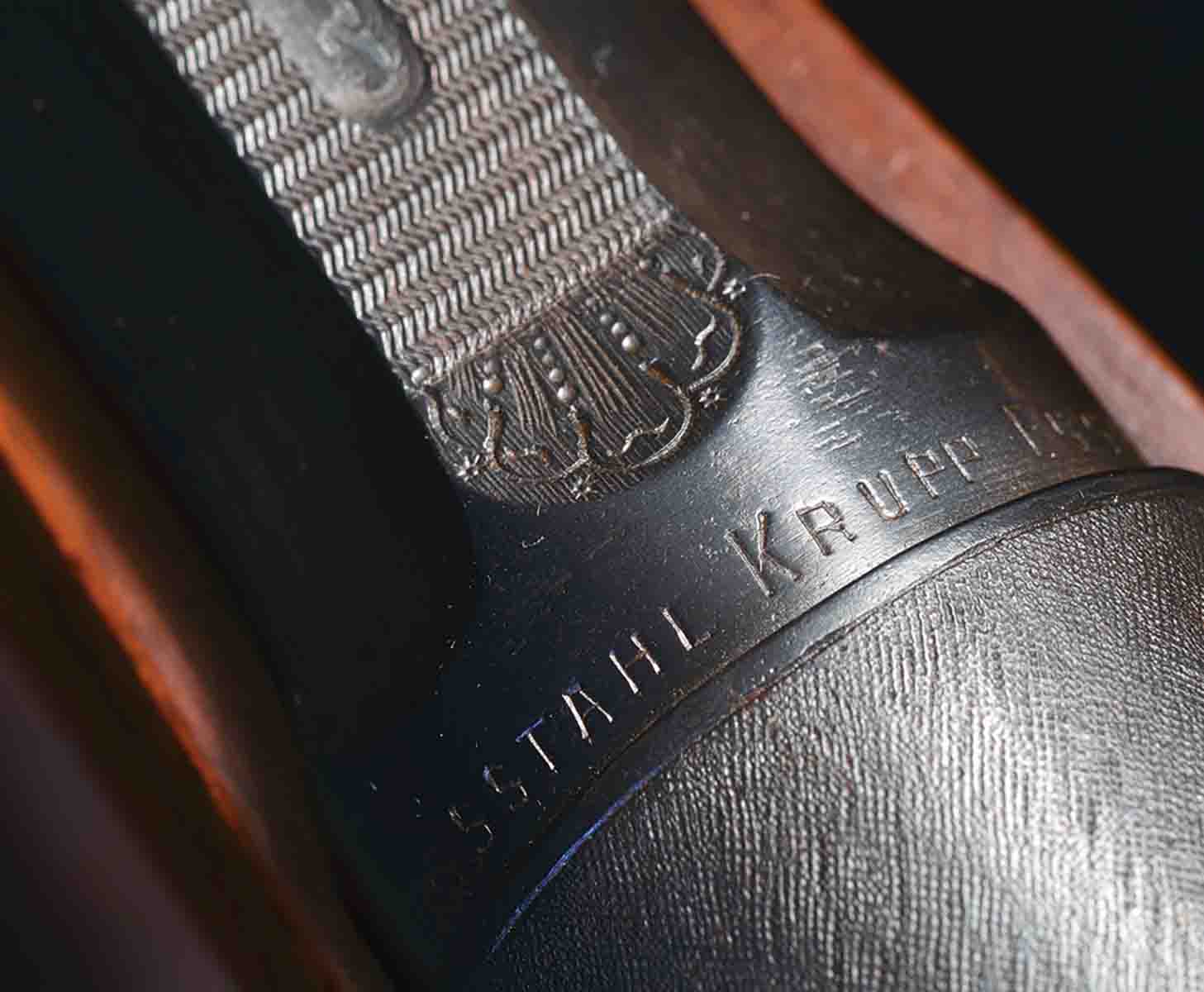 The major difference is in the magazine. Where the Commission rifle used the Mannlicher packet system – a clip of cartridges is pressed in from the top (clip and all), and the empty clip drops out the bottom after the last cartridge is chambered – mine has a Mauser-style box magazine with a follower, and the cartridges are in a staggered row. The follower and spring are unusual, because they do not use the normal Mauser "W" follower spring but have a spring-loaded "elevator" instead. The floorplate is hinged, and the release looks like a very early version of the later Oberndorf button inside the trigger guard. It opens and closes with an exactness and finality that is foreign to most Mausers, with the "elevator" adjusting itself rather than flopping when the floorplate is open, like the usual Mauser spring. Another feature that is puzzling is a thumb cut on the left side of the receiver rail, similar to the Mauser 98; the Commission rifle never had such a cut.
The Commission '88 has a bolt face that completely encircles the cartridge head with a spring-loaded ejector similar to that found on the Remington 700 and later twentieth-century rifles; mine, however, has the bottom of the bolt face opened up, Mauser-style, to allow "controlled" feed, and the left lug is slotted for a Mauser-style ejector blade in the bridge.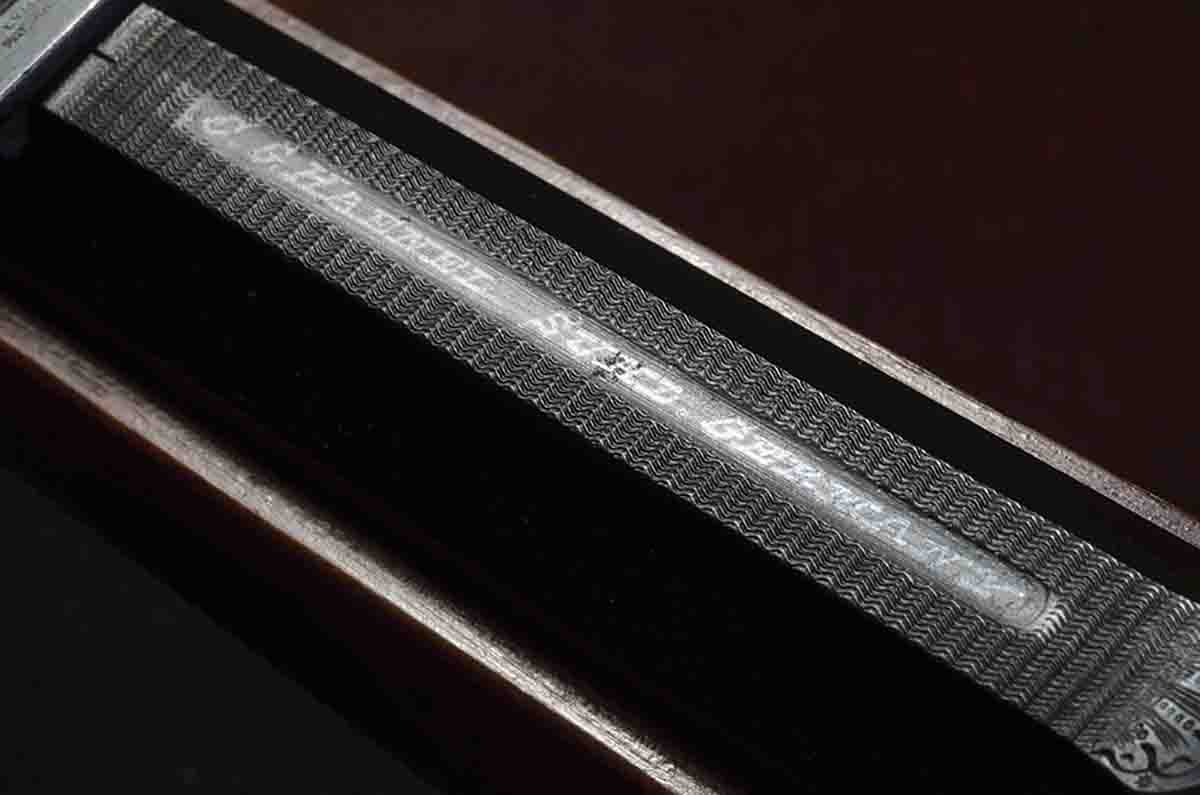 It is obvious that, regardless of any resemblance, Haenel did not take a complete military action and rework it into a sporter. Since the company produced Commission rifles from the ground up, it would not have been difficult to take parts that were only partly completed and alter them midstream. Hence, the thumb cut on the left side, the shroud with the gas shield (an excellent idea), the opened-up magazine, the Mauser ejector and slotted locking lug and the omission of several milled cuts that would have existed in a completed action. Also, while German government standards of finishing were comparable to those for today's best rifles, completing part this way allowed Haenel to achieve an even higher standard of internal and external finishing. The machine work, fitting and finishing of the action and all its parts are superb – comparable to that found on some of the finest custom rifles made today. The bolt is as slick and smooth as you could wish.
Anyone who has much experience with German or Austrian firearms is familiar with the Teutonic penchant for intricate, ingenious and beautifully executed gadgetry. The front sight on the Haenel is a good example. The ramp is integral with the full-length matted rib, and there are two sights, each in its own slot and spring-loaded. When one is pressed down, the other pops up. Any difference in height is negligible, but one has a blued bead, while the other is bronze; pick the one you want depending on the lighting.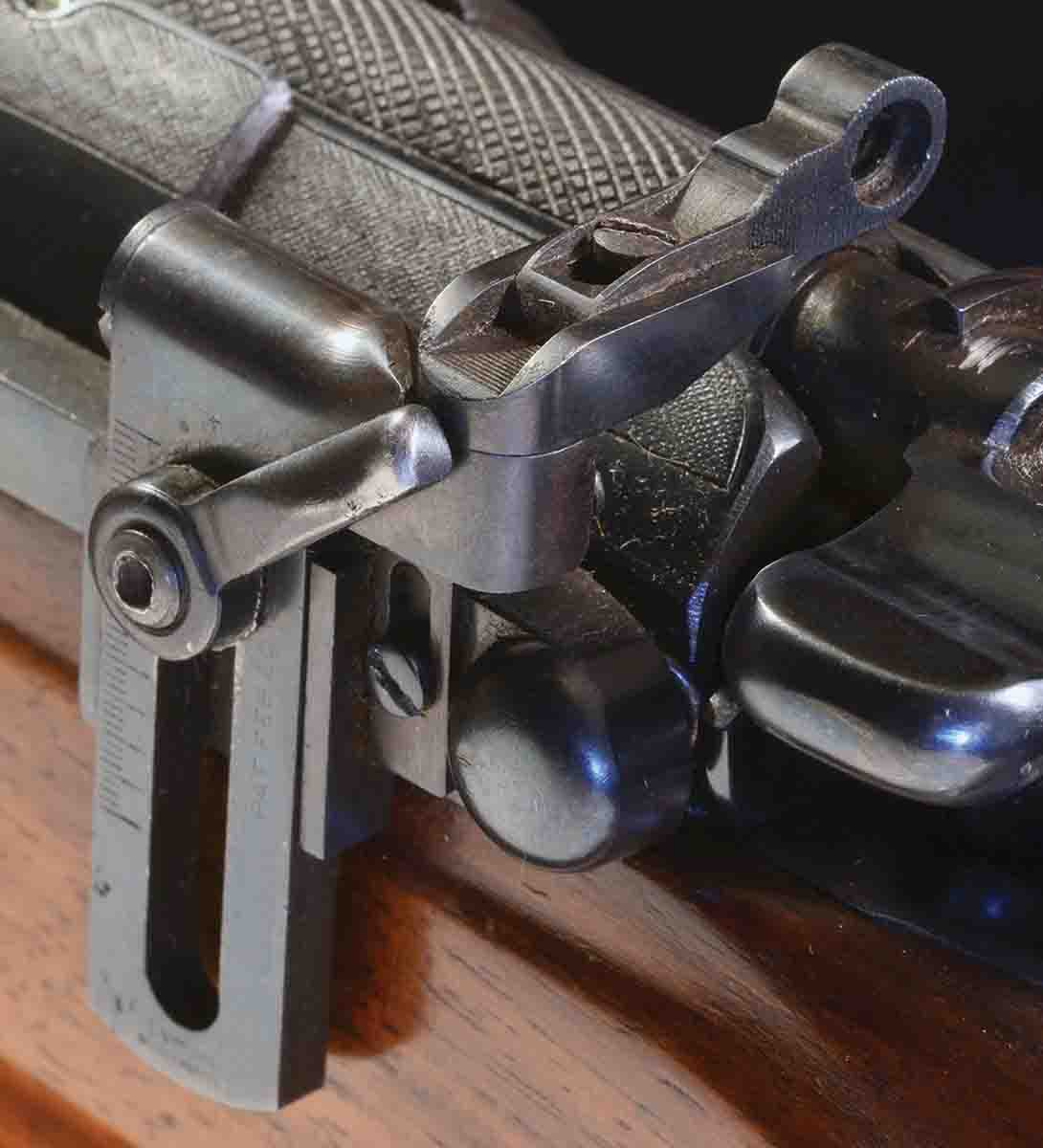 There is a Lyman two-leaf open sight on the rib, both of which fold flat. One is a straight blade like the English favored; the other has exaggerated "V" ears. These sights would be used rarely, however, because the rifle is also fitted with a Lyman Model 36, a receiver sight specially made for the Mannlicher with its slotted bridge. The arm is hinged and spring-loaded and is moved out of the way by the bolt handle as it is opened and closed. Whether this sight was factory installed or put on after the rifle arrived in America is impossible to say. It's so well fitted and integrated with the stock, however, that it appears to be factory. In case that is not enough sighting options, it has Lyman's hinged aperture with both large or small options.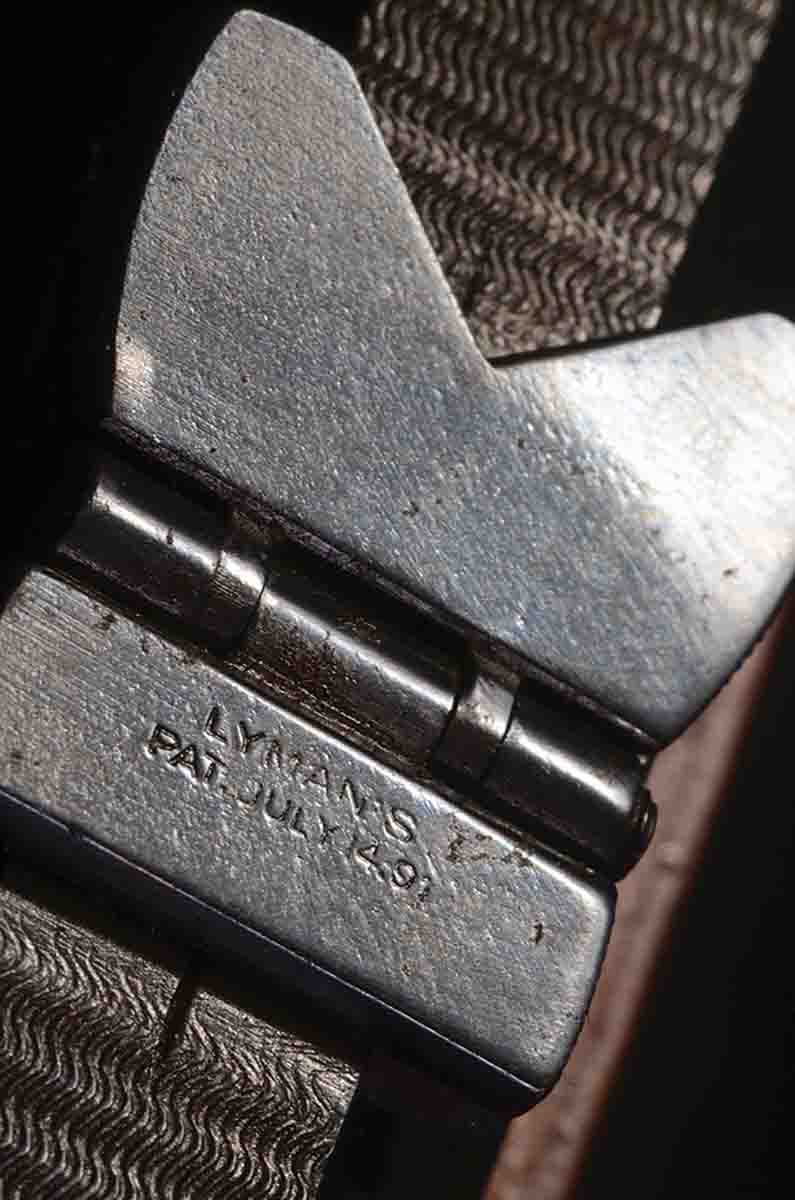 The stock of this rifle has obviously been altered. It appears to have had a Prince of Wales grip originally but has since been trimmed flat to look like a more conventional pistol grip. The butt-plate, whatever it was, has been replaced by a Pachmayr ventilated recoil pad. Since this rifle weighs only seven pounds loaded with a sling, and fires a cartridge comparable to the .358 Winchester, the recoil pad is understandable. I would never have made the alteration myself but am secretly grateful to whoever the barbarian was.
The 9x57mm is a cartridge that deserved more recognition in the U.S. than it received, although there is little excuse for trying to revive it now. It does nothing that the .358 Winchester will not do, although it has slightly greater case capacity. In terms of ballistics, it falls between the .35 Remington and the .358. Loading data is hard to come by, and most of it is for obsolete powders. I worked up a load using a Powley Computer and found a nice one with IMR-3031 and a 225-grain bullet. It runs around 2,200 fps and works beautifully with either the Sierra 225-grain spitzer boattail or the Nosler 225-grain Partition. The Sierra bullet was designed for the .35 Whelen but is perfect in the 9x57.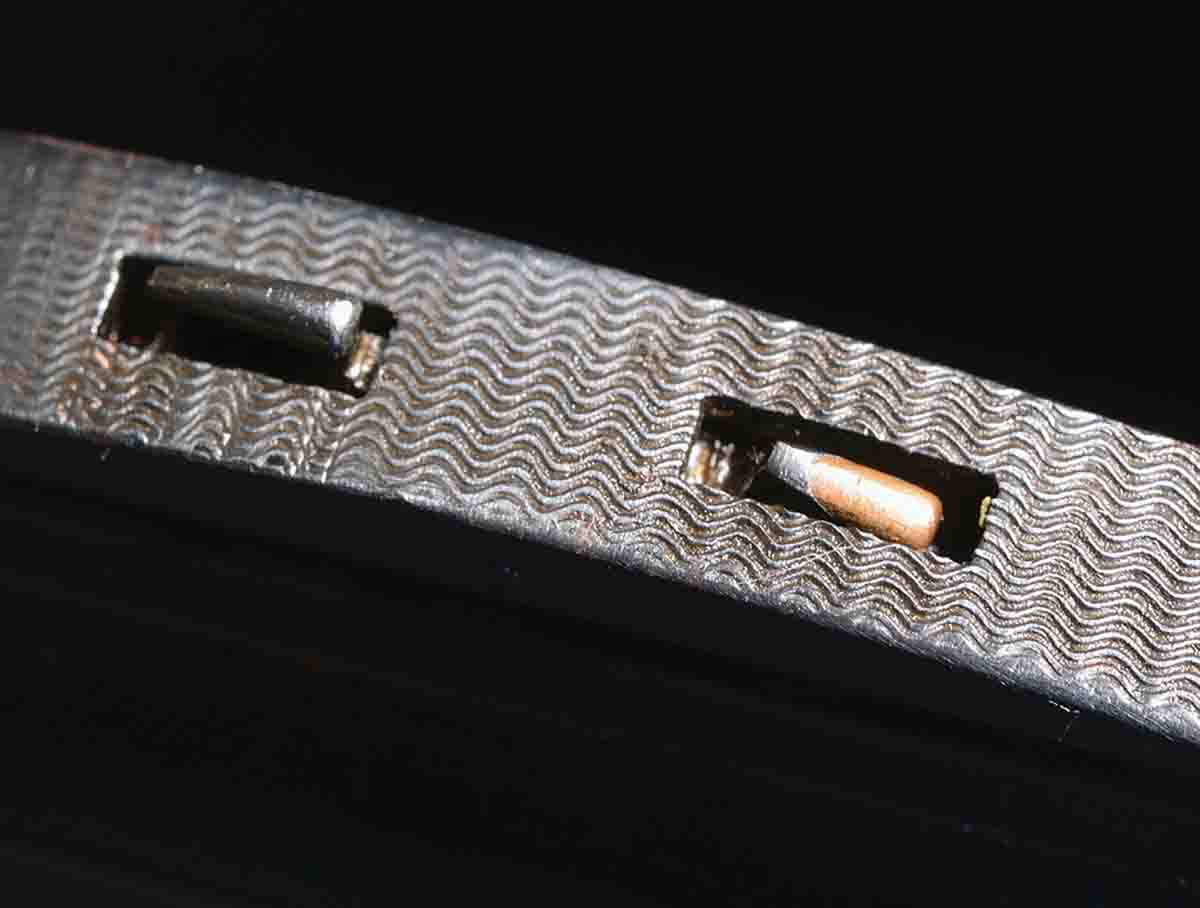 There is no point straining the rifle, even if one were willing to put up with that much recoil. Not I, thank you. Anything that load won't handle, I can go to my .358 Norma. If you find a 9x57, however, making brass is a piece of cake. Common 8x57 can be necked up, but better still is to buy Norma 9.3x57 brass and neck it down. It's superb brass and a perfect fit.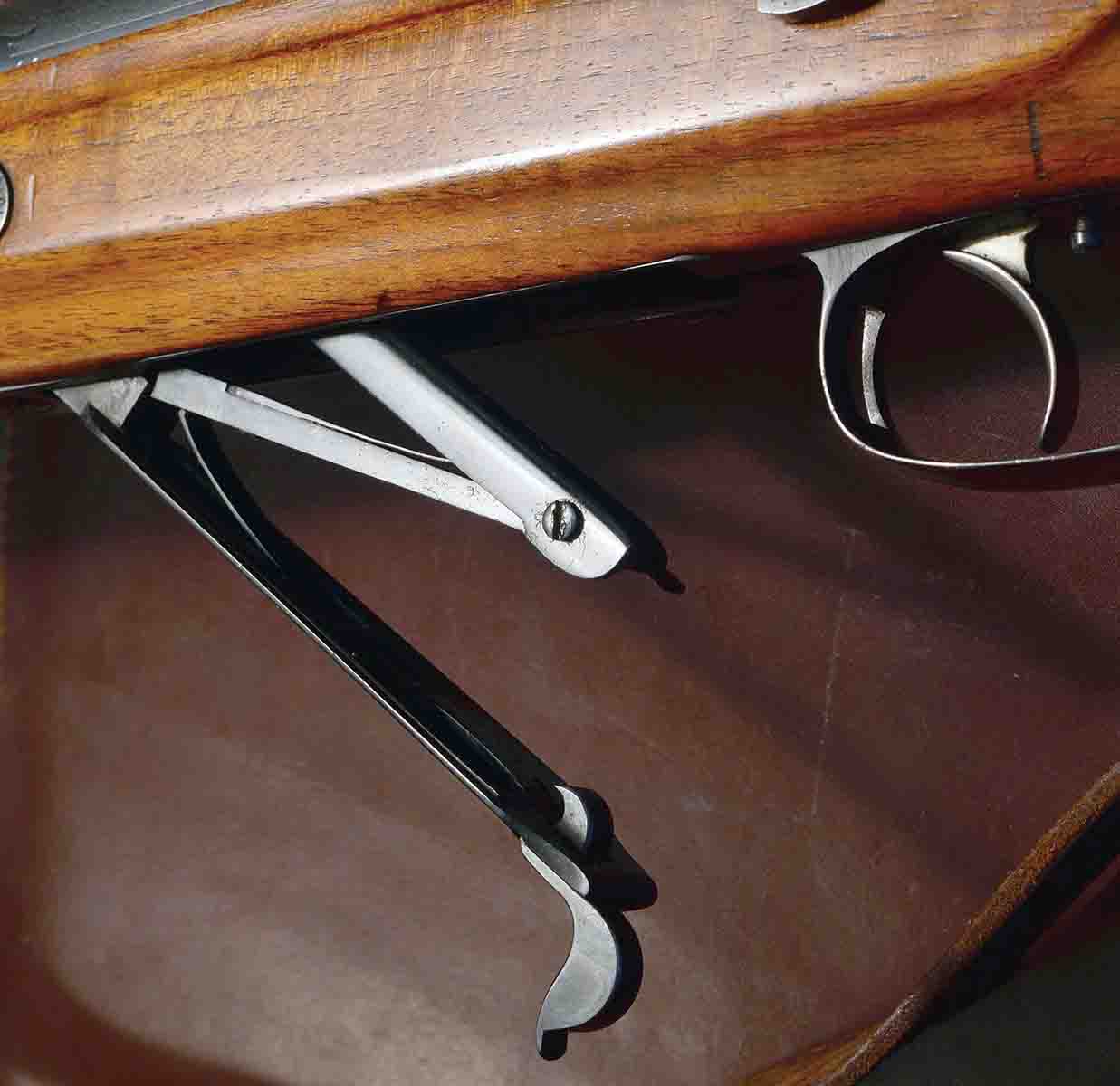 Many of these rifles have been altered over the years, mostly either to fit better sights, like the Lyman, or to put on some contraption to hold a scope. It is exceedingly rare to find them in factory condition, even if factory condition was known. This is one of the reasons there is very little collector interest in these rifles. They have neither a collectible name, like Mauser or Mannlicher, nor identifiable (and certifiable) model numbers or factory-original specifications. For anyone who just appreciates fine rifles, though, that's the good news. It means these lovely examples of the gunmaker's art do not cost an arm and a leg, and they can be shot without fear of harming their value.
Such rifles, made by Haenel and others, may be based on the Commission '88 action, the Mann-licher-Schönauer 1903 or various turn-bolt Mannlicher military designs. Each one, it seems, is a law unto itself, and part of the fascination is figuring out just what it started life as and what has been done to turn it into a minor masterpiece. If nothing else, they give us a chance to admire fine gunmaking at a bargain-basement price.