About eight years ago, upon joining the Wolfe Publishing staff, Dave Scovill gave me an assignment to write a feature for this magazine titled "A Rifle for Mule Deer." Essentially a cartridge story, I distinctly remember his suggestion that no punches be pulled with regard to cartridge selection. "Don't dance around the subject; make a case for what you prefer," he said, "as if you only had one choice."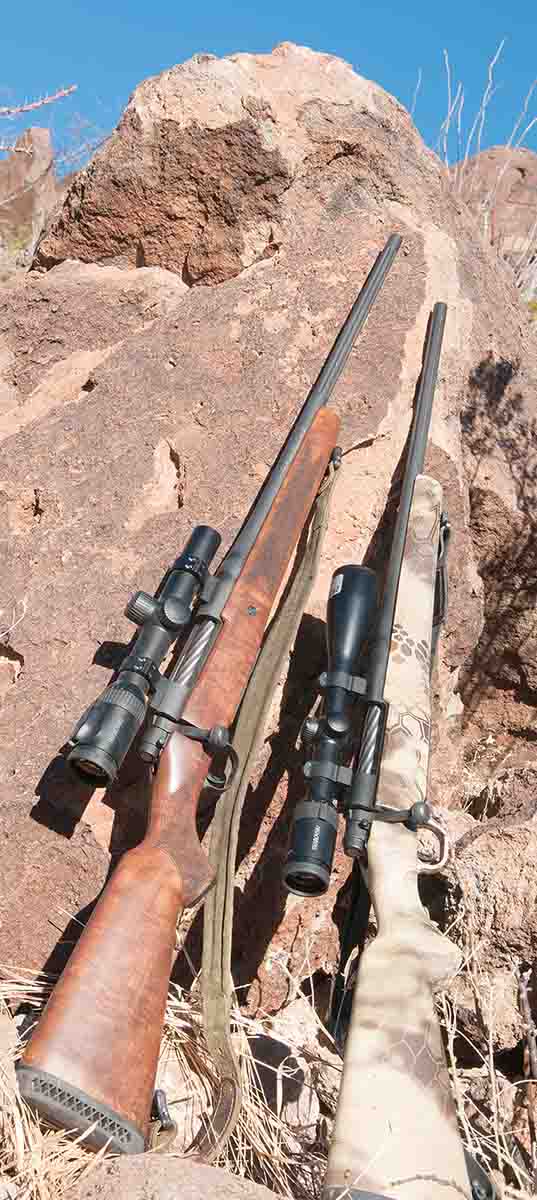 Having had great luck with the .30-06 as a mule deer cartridge and seeing no real need for something larger, the old '06 was the No. 1, one-cartridge choice; and if a hunter wanted a little more velocity and a more compact rifle, he might consider the .300 WSM, which was still popular at the time. Of course, this meant courteously dismissing a number of very good cartridges, including the fabled .270 Winchester – a cartridge I have hunted deer with off and on for years and typically have two or three such rifles handy.
Passing over the .270 naturally ignited a small blaze in a couple of online chat rooms where a few nameless personas slung derogatory comments into cyberspace. Heck, one person suggested I was "magnum crazy" and from New York, a state in which I have never set foot – unless the airport counts. Oddly, another correspondent was miffed that yours truly had killed a Dall ram with a Mossberg .300 Winchester Magnum; that is true enough, but the context was never explained.
So you learn to grow a thick skin in this writing/editing business and stick to what is known to be real from experience. That includes the fact that, in this age of "If it costs more, it must be better," Mossberg has spiffed up its not-so-costly, bolt-action hunting rifles in the past few years. Sure, the company makes rifles targeted to specific segments of the shooting community, and there are ordinary rifles with injection- molded stocks, but there also is an eye-catching sporter called the Patriot Walnut.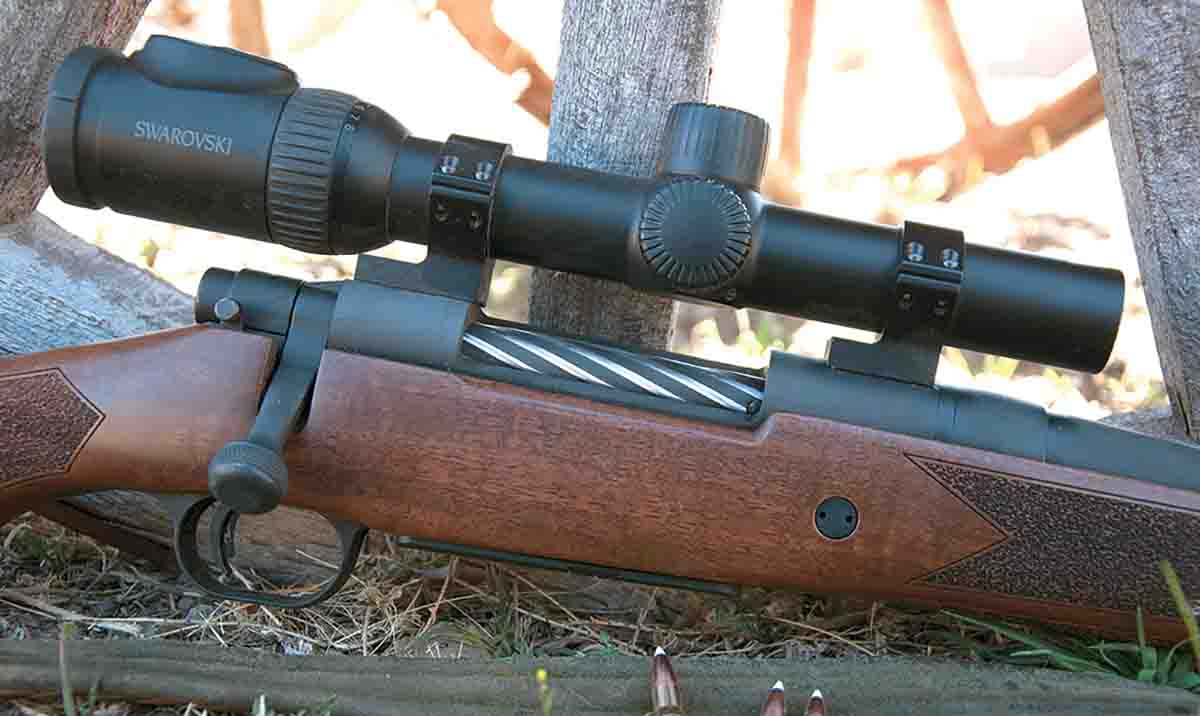 While all shooters might rejoice in owning a collection of old Winchester leverguns, $5,000 custom bolt actions – choose your favorite make and model – or even a handful of Savage 99s, the truth is, most can't. This is part of the reason that in the last decade some manufacturers have retooled entire plants with modern machinery to make rifles quickly at low cost that show up on dealers' shelves at affordable prices. The Mossberg Patriot Walnut is one good example.
There is no intention to provide a full review here, since the rifle was covered thoroughly in Rifle magazine last July (No. 287, page 52), but the basics are worth noting:
All models feature a 22-inch barrel. The first 101⁄2 inches of the barrel are fluted to reduce overall weight. The receiver is cylindrical, and the barrel is attached via a barrel nut. The bolt shank is fluted as well and cycles smoothly on the sample rifle. The bolt head is pinned to the front of the bolt shank and features dual locking lugs, a plunger ejector and sliding extractor. All "bottom metal," including a removable magazine, is made of tough polymers, a theme that is becoming increasingly common on more expensive rifles. The safety is a two-position lever, and the bolt can be removed with the lever on "safe." The trigger is user- adjustable.
Outwardly, this rifle resembles others in its price range with one exception being its stock. The "checkering" is machined stippling that is cost effective but is not overly attractive, though after hunting with it for some time, it proved to offer good hand purchase. It is the walnut itself, however, that attracts one's eye to the rifle. The stock on the sample I used could not be called a high-end piece of wood (that would cost more), but it is better looking than most of what is found on rifles priced similarly and on some that are more costly.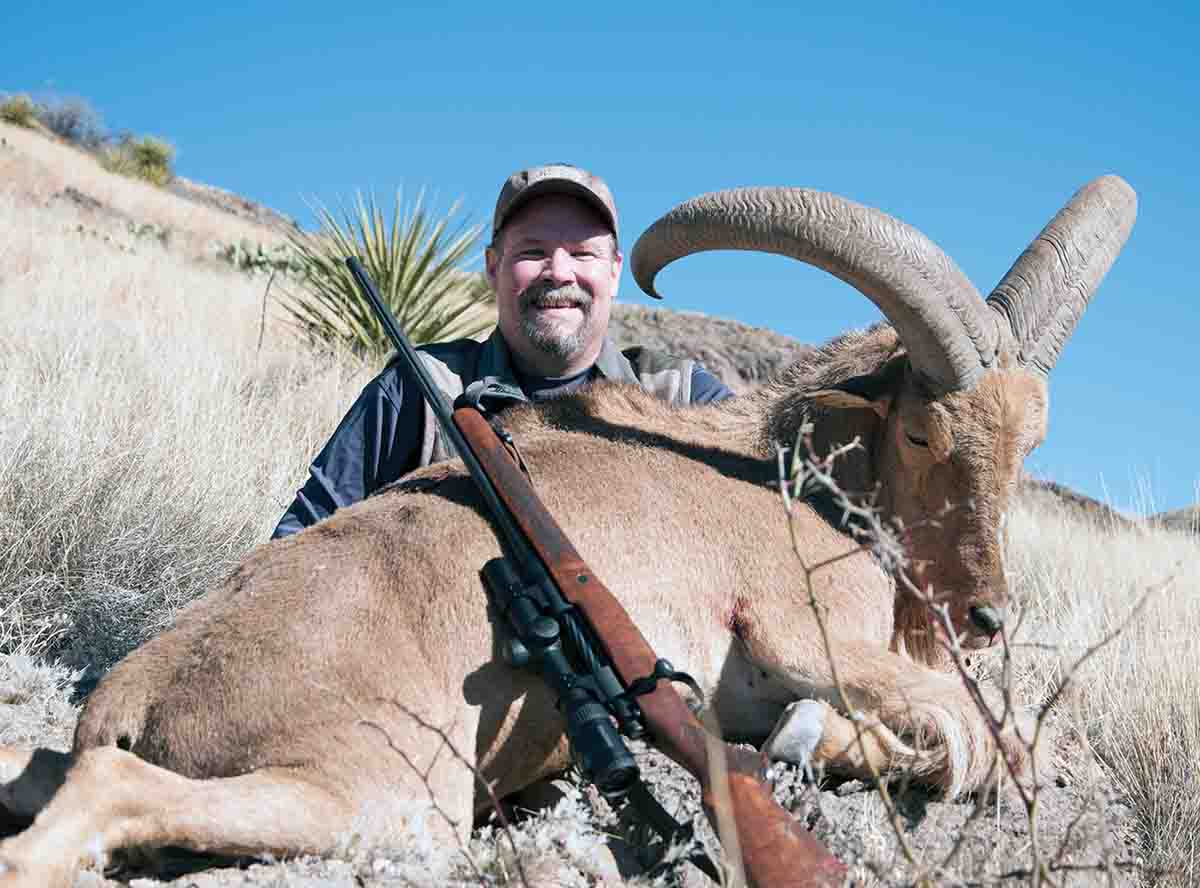 More importantly, the stock has been shaped quite well for a hunting rifle. The forend is slender, rounded and it tapers nicely inward as it nears the barrel channel. The wrist/grip is not too bulky but could be thinner. The comb is high enough so the shooter can maintain a good cheek weld while using modern scopes with large objective and ocular housings, and a rollover cheekpiece provides additional head support. This is purely and simply a well-stocked hunting rifle that retails for just under $500.
The Patriot Walnut is available in 10 short and standard cartridge options from .223 Remington to .338 Winchester Magnum. Among that mix is a bit of a surprise, the .25-06 Remington, a cartridge option that is becoming increasingly rare. (Mossberg has recently added the 6.5 Creedmoor cartridge as an option for some of its synthetic-stocked rifles, and I wouldn't be surprised if it soon becomes available in the Patriot Walnut variant.)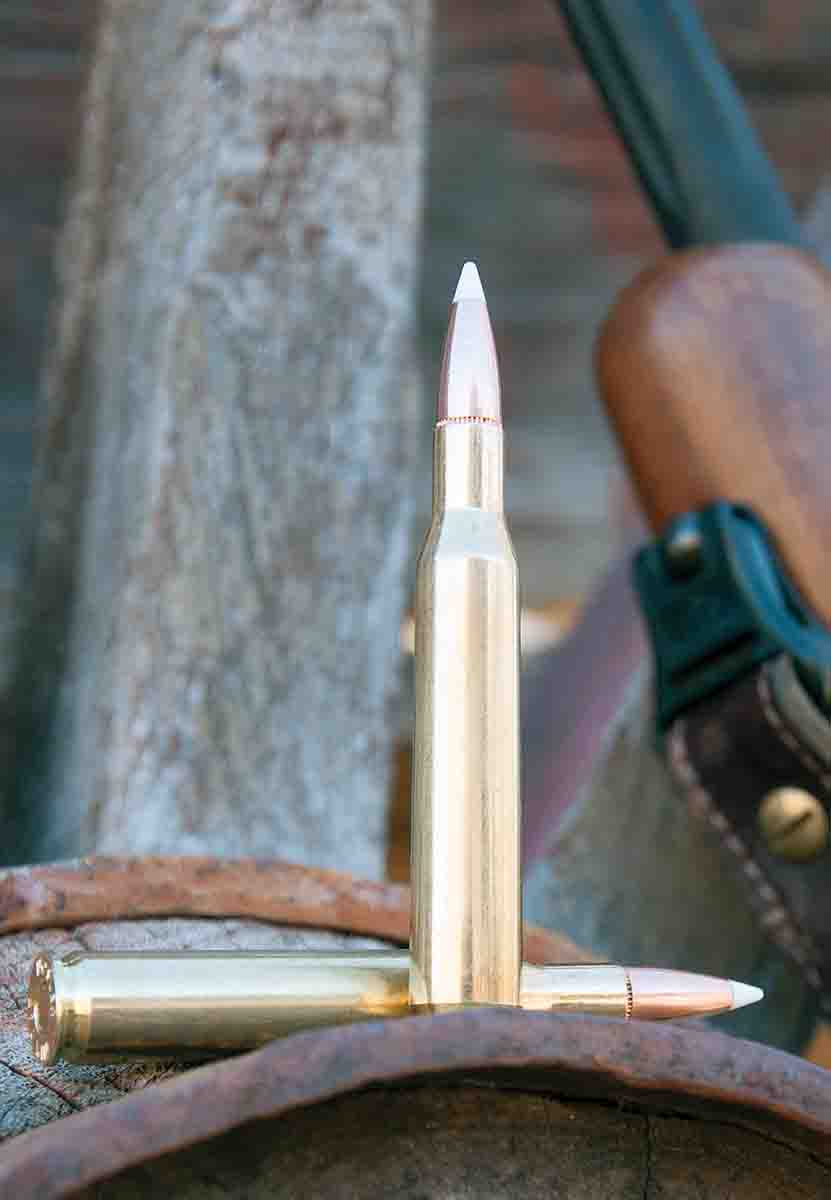 Prior to taking a Patriot .270 Winchester to West Texas to pursue free-range aoudad rams in the rugged mountains near Marfa, no lengthy range session was devised to wring out the rifle's best accuracy. Instead, my approach was to act as if the rifle had just been purchased two days before opening day (about all the time that was available anyway), which means there also was no tweaking of the user-adjustable trigger; I wanted to use the rifle straight out of the box.
For a scope, a Swarovski Z8i 1-8x 24mm was tightened down in Talley Lightweight rings. The scope was designed for dangerous game rifles and thus far appears to be a good choice for such hunting. Though after using it on a Model 700 .280 Remington while hunting New Mexico elk and Wyoming whitetails during the fall, it proved to be highly versatile if a hunter is willing to give up a bit of field of view.
Its reticle features heavy posts on the sides and bottom that transition into thin, intersecting crosshairs. There is also a circle reticle in the center that can be illuminated by way of battery power, as well as a small dot in the center of the reticle that is reminiscent of many high magnification target rifle reticles. The intensity of the reticle brightness can be adjusted, and while elk hunting it was switched on to a low brightness when tree canopy blocked out ambient light in the evenings, though there was no need to use it when it came time to shoot on the second to the last evening.
The scope alone provides plenty of light transmission in most situations. Both the elk and deer tags were punched without the aid of battery power, and only the New Mexico bull, shot at just over 400 yards, required turning the power to 8x. The Wyoming whitetail buck was shot with the scope set on 4x at less than 100 yards at the cusp of legal shooting light. For most hunting, a scope's capability to transfer light to the shooter's eye, even if it only has a 24mm objective lens, far outweighs all the fancy reticles designed in the last 15 years.
The .270 was taken to the local range the day before heading to Texas, along with two boxes of Nosler Trophy Grade Ammunition loaded with 130-grain AccuBond bullets. Four shots provided a rough zero, and a single three-shot group of roughly an inch shot during gusting winds indicated the load grouped well enough for any reasonable shot distance. In Texas the rifle grouped lower than originally set, so the elevation turret was adjusted to make bullets impact two inches above point of aim.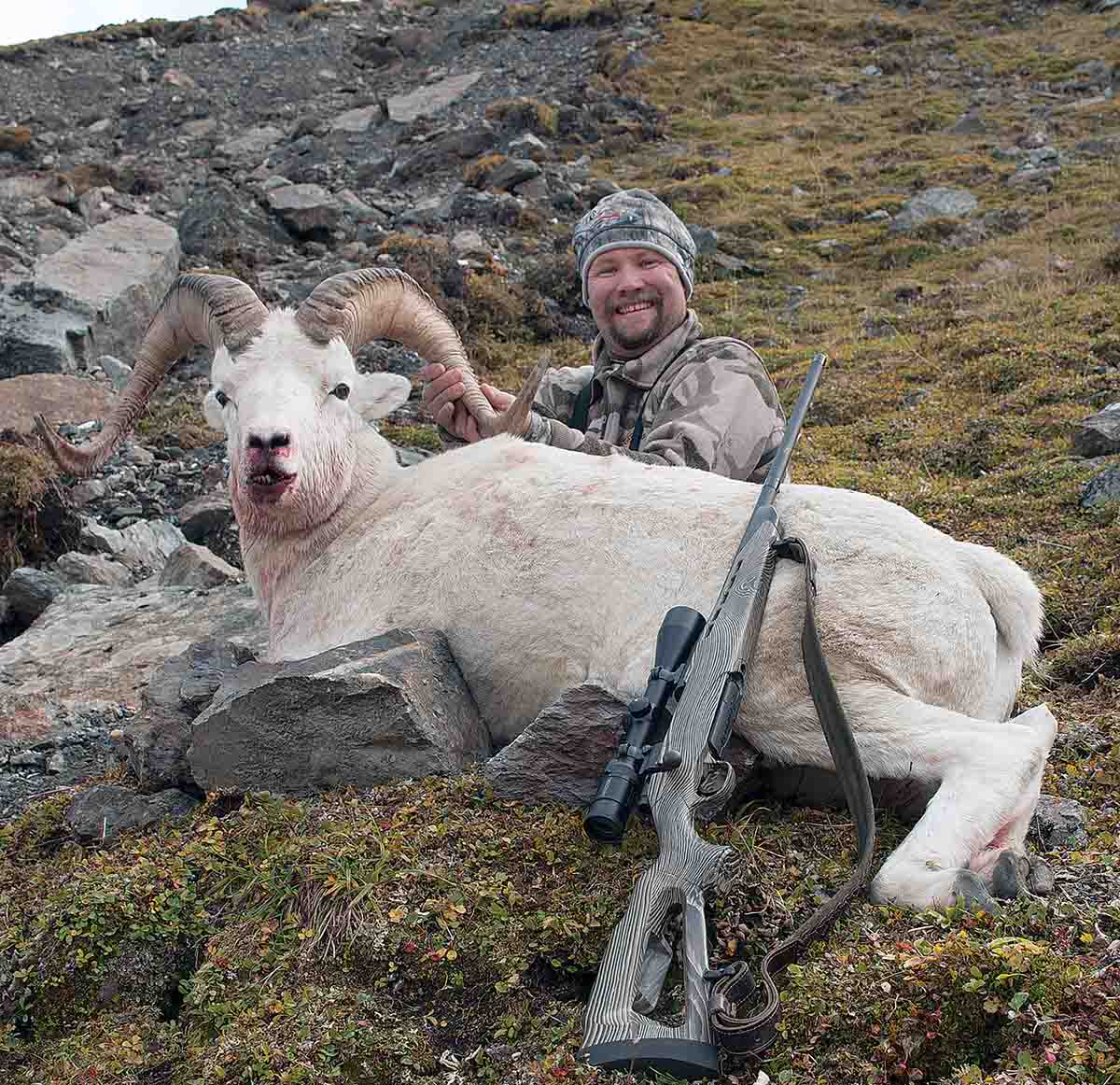 My luck rarely goes this way, but as it turned out, a herd of about 75 sheep, including two nice rams, were found scattered across a steep, rocky mountainside early in the hunt, and the Patriot Walnut .270 Winchester accounted for a fine trophy weighing in the neighborhood of 250+ pounds with long, sweeping horns of roughly 30 inches in length. Most hunters who have experienced free-range aoudad herds would consider it a darn good ram.
The three .270s in the safe, each of which cost two to four times as much as the Mossberg, would not have made the ram any more dead. It just goes to show that a solid hunting rifle doesn't have to cost an arm and a leg.