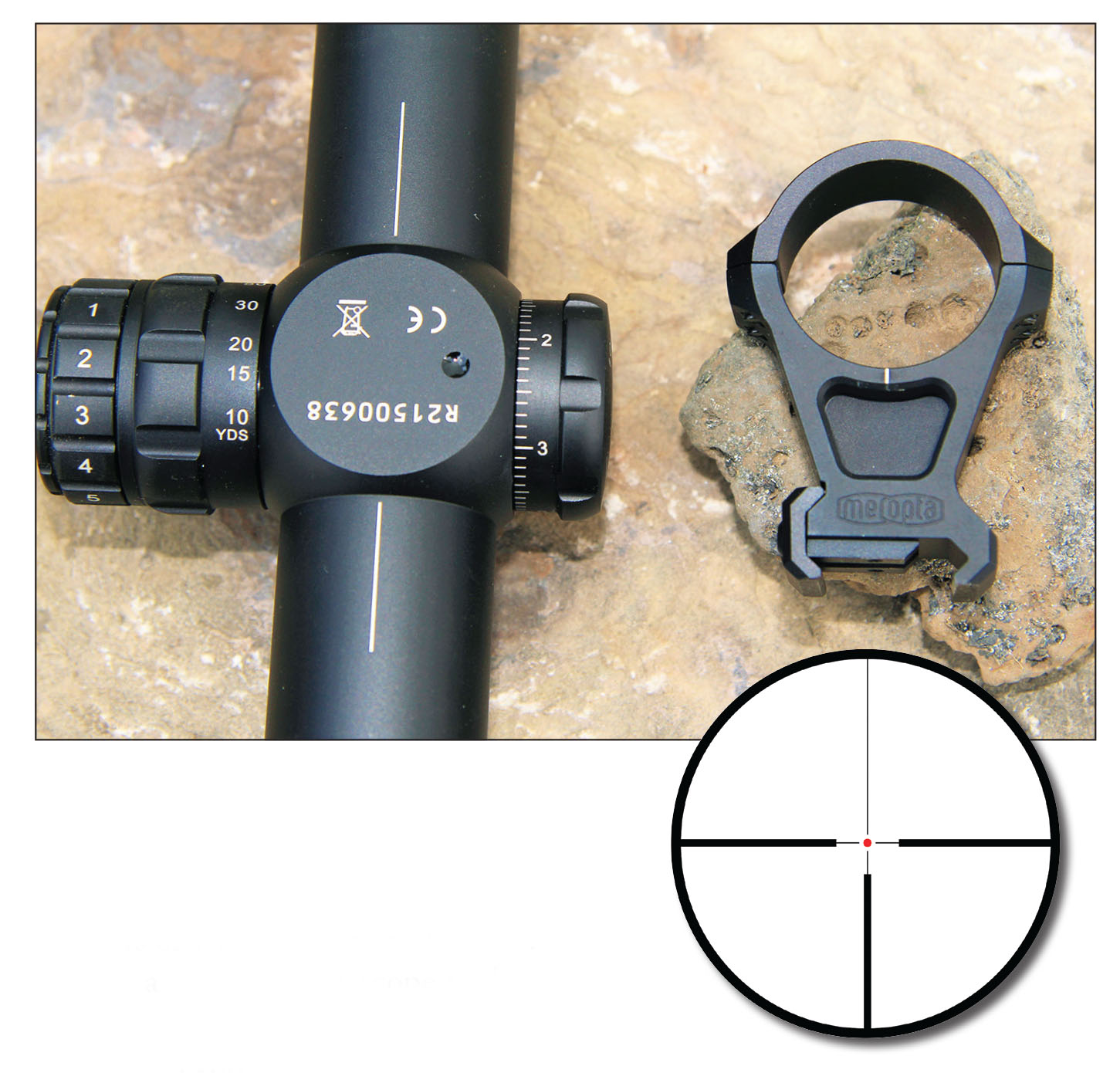 I've developed a real affection for Czech-made Meopta riflescopes. I'd enjoyed extensive use of a couple models before receiving this latest example, including a MeoPro 6.5-20x 50mm HTR (Hunt/Tactical/Range), and more recently a Optika6 MeoPro 4.5-27x 50mm SFP. "Extensive" translates to multiple hundreds of rounds fired with each while belaboring burrowing rodents with various varmint rifles. Those were turret scopes retailing in the neighborhood of $1,000, finding not only did they hold gin-clear glass, but rock-solid and wholly practical designs. Though a grand isn't an inconsequential wad of cash for most, those scopes compete favorably with optic brands offering comparable features, but including
much
higher prices. They offer plenty of long-range-capable, top-quality bang for your buck.
For 2022, Meopta took another track, introducing the all-new Meo-Sport R 3-15x 50 RD SFP under discussion. "Affordable" translates to an MSRP of $449.99, but offering high-end features ideal for long-range shooters or serious big-game hunters. This is a 5x zoom riflescope with a 30mm main tube, side parallax adjustment, exposed 0.1 MIL locking windage and elevation turrets with pop-up zero reset, illuminated 4C reticle and European-quality optics providing 80 percent light transmission for low-light shooting confidence. The 4C reticle offers super-fine center crosshairs with an isolated center dot, which can be illuminated, bracketed to the sides and bottom by beefier subtensions. The second focal plane (SFP) arrangement keeps crosshairs fine throughout the magnification range. It is a simple but effective design measuring 13.31 inches long and weighing about 1.10 pounds/17.6 ounces.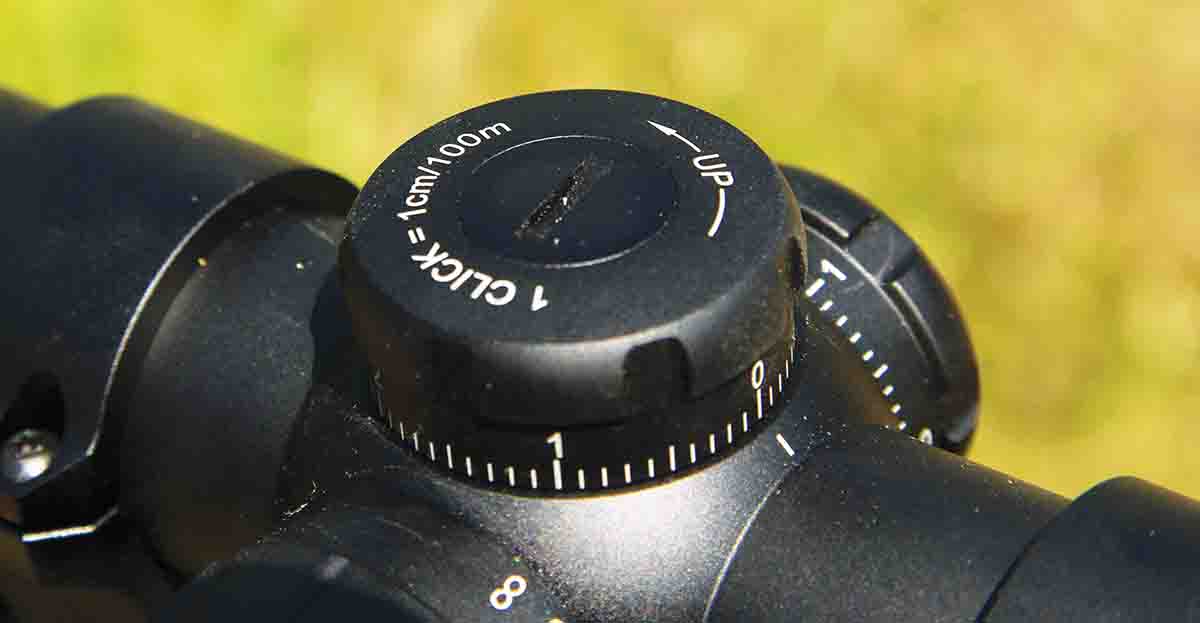 Meopta's proven MeoBright lens coating ensures bright and clear images while offering scratch resistance, the company's proprietary MeoDrop hydrophobic lens coating aggressively repelling moisture in inclement weather and oily smudges. The illuminated 4C reticle holds a glowing red dot that makes getting on target in low light conditions more intuitive. The 3x to 15x power ring, right-side windage and top elevation turrets are low profile, the left-side parallax adjustment stacked beneath a 1 to 11 intensity level illumination knob (with off positions between 1 and 11 and 6 and 7) protruding about double the thickness of the adjustment turrets. Overall, it includes pretty sleek geometry for an optic with these capabilities. The objective aperture is threaded for a M52x0.75 sunshade.
The MeoSport optic is nitrogen purged to prevent fogging in cold or humid conditions, and is fully sealed against exterior moisture, making it 100 percent waterproof. The rugged construction can withstand shock from the largest magnum cartridges or after being dropped while hunting. The scope, like all Meopta optics sold in the U.S., is backed by the company's Lifetime Transferrable Warranty. The scope also comes with a high-quality, clear-lensed, double rubber band lens covers and a soft cleaning cloth.
The exposed turrets are a locking, pop-up design that makes resetting zero after sight-in fast and easy. Turrets pop-up with a positive "click," and a feel suggesting rubber O-rings beneath. Like other Meopta scopes I have used, turret movements are positive, producing dull clicks and offering a tactile feel with each movement. Movements are in 1⁄10 MRADs, each click representing 1 centimeter at 100 meters (.39 inch at 1.09 yards, i.e. approximately 1⁄3 inch at 100 yards). Turrets offer 262 centimeters/105.15 inches of travel for both elevation and windage turrets. Inside parallax-ring movement is relatively stiff, but ultimately smooth, running from 10 yards to infinity. This feature would make it compatible with a high-end rimfire more likely to be used for short-range shooting, though this is a serious big-game rifle scope. The ribbed parallax adjustment ring is raised above the illumination ring to avoid confusion. The outside illumination ring is ribbed for a good grip when wet or while wearing gloves. It also has audible/tactile clicks between settings and positive movements. A smaller diameter, aluminum-ribbed screw cap allows access to the battery chamber. Illumination is powered by a common CR2032 lithium coin battery.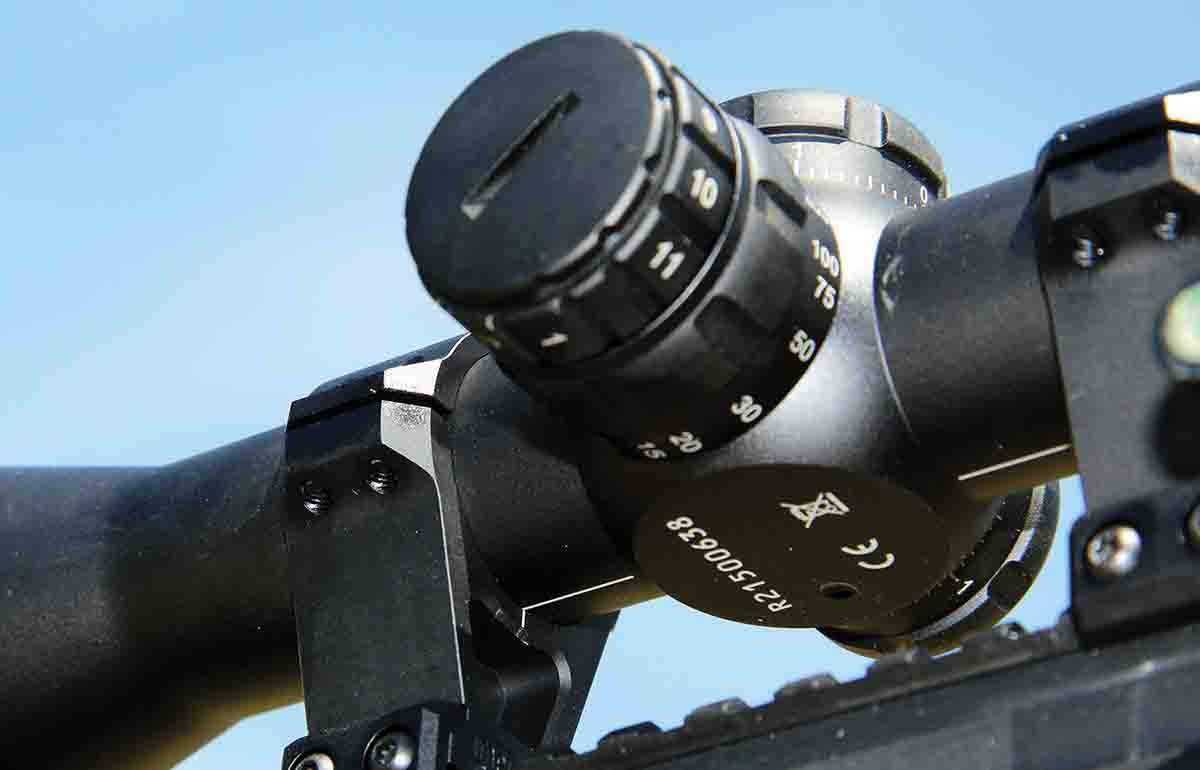 The magnification ring includes channels and raised ribs; the magnification numbers are clearly visible and move with the ring; and are referenced against a static, white, hash mark located on the top of the ocular assembly. A higher block is positioned at the 6-7 position for improved purchase while wet or wearing gloves. The only gap in magnification numbers is between the 6 and 8 positions. The rubber-ringed diopter ring allows sharp reticle focus, with top + and – direction indicators. The scope offers a 100mm/3.93-inch eye relief compatible with hard-recoiling magnums, and 40.7/7.1-degree to 7.9/1.4-degree field of view, lowest to highest magnification, respectively.
One welcome feature is the scope comes with 30mm scope rings with a height measuring 38.1 mm (1½ inches), which corelates to an American "high" ring. These rings proved too high for my bolt rifles, especially those with the added elevation of a Picatinny rail. They proved ideal for a flattop AR-style rifle. They are solid looking four-screw rings, one of them including a white hash mark to be aligned with the white alignment marks etched into the underside of the scope tube to each end of the erector assembly. These hash marks ensure proper alignment/leveling during mounting, a great feature sure to save shooters frustration by automatically eliminating scope cant. My thoughts are that medium-height rings would be more useful to a greater majority of shooters, and that the white hash marks – an otherwise ingenious idea – should be moved to the top of the rings and scope tube for easier viewing access during the mounting process.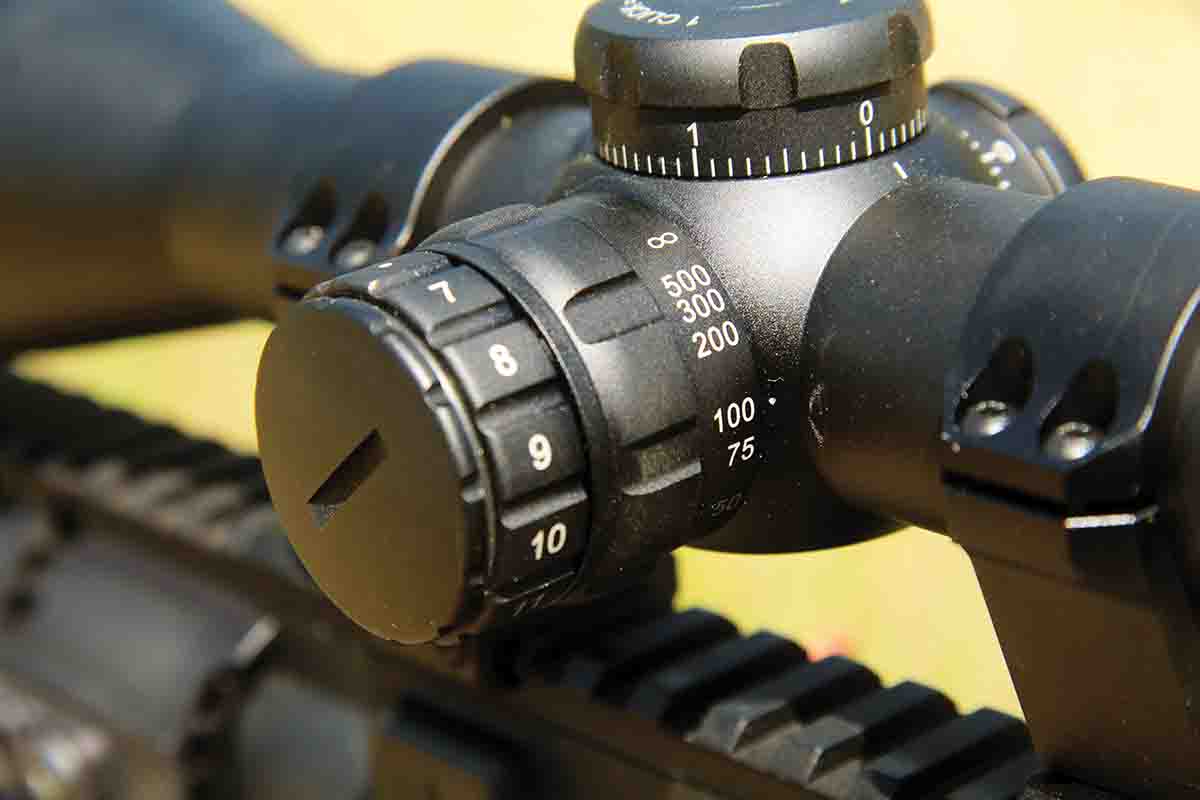 Despite the affordable price point, this scope cements my respect for the Meopta brand – a scope I wouldn't hesitate to mount on any of my serious varmint or big-game rifles. It offers true versatility, with a magnification range serving point-blank treestand hunting or long-range western shooting across canyons or open prairies, and turret dialing for point-on aiming at any reasonable range. The crosshairs are ultra-fine to allow precise shot placement, and the illuminated center dot doesn't become overbearing – quite the opposite, offering a welcomed aiming point adjustable to prevailing light conditions.