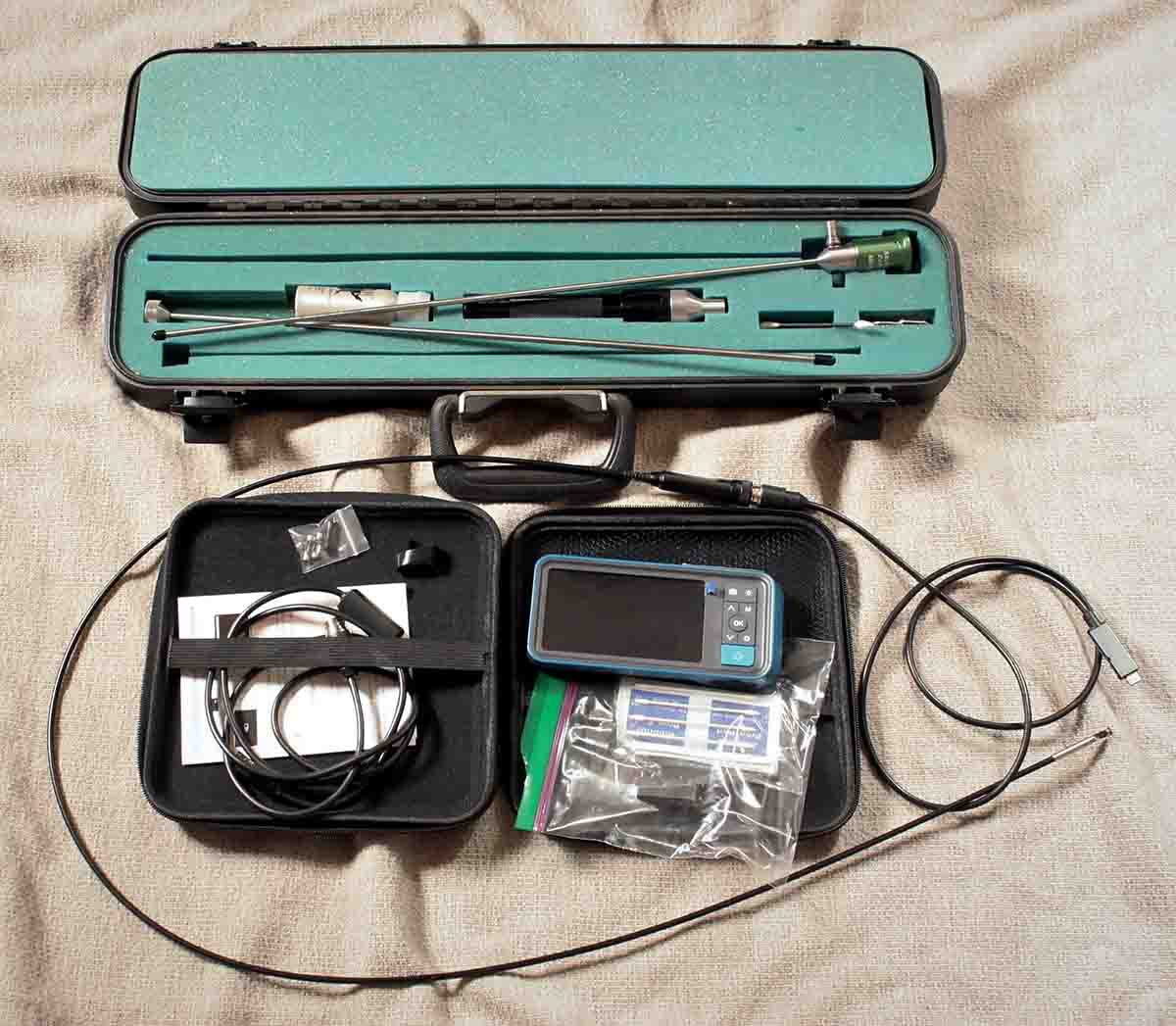 The history of rifles has been chronicled by technological advancements ever since the invention of spiral rifling in what is now Germany, about 500 years ago. However, as bores became smaller and smaller, one problem turned out to be examining the lands and grooves. Pointing a barrel toward a light source only revealed whether the bore was shiny or not, and the "not" could include fouling, machining marks and severe erosion or corrosion – but not fine details.
Eventually, another advancement solved the problem. The first borescopes apparently appeared (like many other technological leaps) during World War II, when what one reference calls "primitive" versions were used to inspect military rifle bores, both during manufacturing and in the field. They were apparently much like long, skinny, handheld microscopes.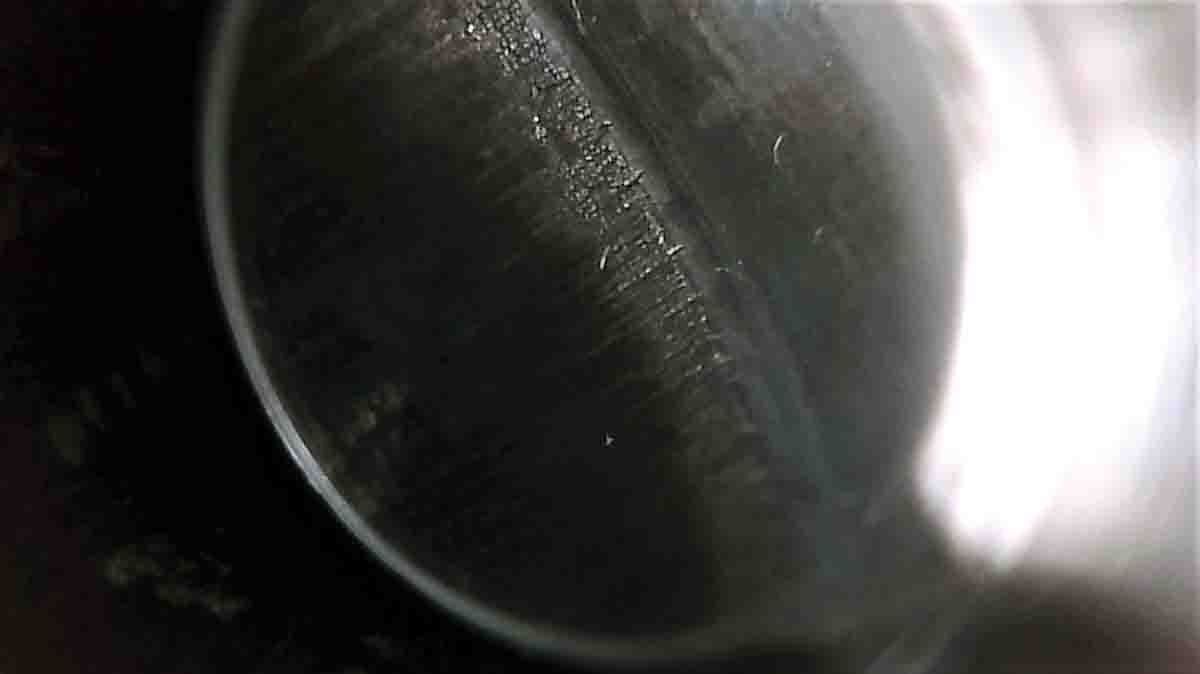 By 1960, more advanced rigid-tube scopes had been developed for industrial uses, including inspecting tiny spaces inside machinery. Made of stainless steel to resist various contaminants from fuel to rust, they included both a light source and "relay" lenses between their objective lens and the ocular (viewing) lens, providing very fine detail.
I first read about one of these borescopes in a gun magazine article around 1980. The scope was very interesting, but what I remember most was how the author was disappointed in several of his rifles' bores, including custom barrels which shot very accurately. It sounded like a pretty cool tool, but if it couldn't predict how a barrel grouped, what use was it?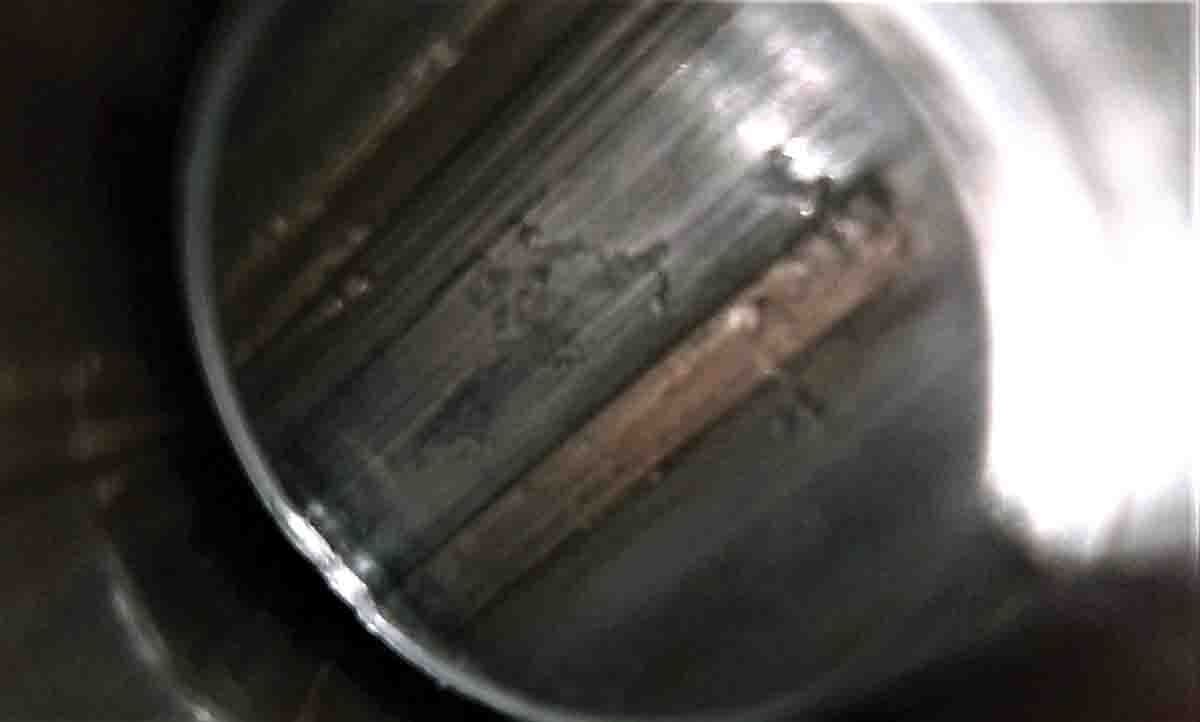 My mind changed over the next couple decades, partly because of writing quite a few gun articles, but also due to actually seeing a borescope in action, in the shop of the late Dave Gentry, a top-notch gunsmith in Belgrade, Montana, in 1991. An American rifle manufacturer had sent me a .300 Winchester Magnum to review, and the company was well-known for making "affordable" but accurate rifles, but the .300 shot very inconsistently, with groups varying from around an inch to almost 3 inches – with the same loads.
I lived an hour's drive from Dave's shop, so I took the rifle to him, whereupon he got out a borescope and examined the inside of the barrel from both ends. He discovered numerous tool-marks, mostly reamer-rings, but those aren't uncommon even on some very good barrels. The big factor turned out to be located about 2 inches behind the barrel's crown: The lands were basically missing for about .3 inch, apparently due to a major glitch with the barrel reamer. Dave suggested cutting two inches off the muzzle, recrowning, and lapping the bore to smooth the lighter reamer marks.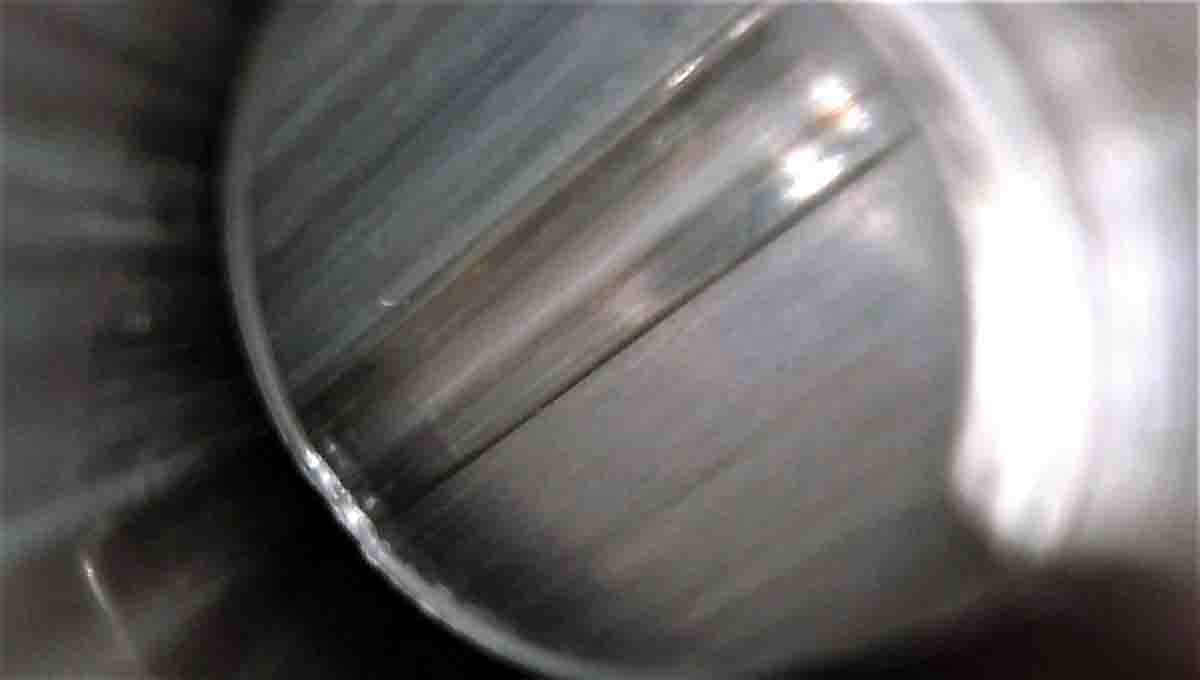 I called the public relations guy for the rifle company, who seemed bored by my news – and may have been, because he disappeared within a couple months. I told Dave to go ahead and when picking up the rifle, he suggested looking through the borescope again. The rifling was smooth and shiny.
The rifle grouped far more consistently after that, but never was a tack driver, and I'd become pretty picky. However, the borescope left a big enough impression for me to price one like Dave's, a Gradient Lens Hawkeye: It turned out they cost about as much as a very good bolt-action rifle and scope, and back then only about a fourth of my writing income involved guns.
Over the next decade, gun writing increased to three-fourths of my income, and I ordered a Hawkeye "kit" from Brownells, with a 17-inch tube small enough in diameter to fit inside .17-caliber bores, for around $800. The kit also included a second, slightly larger tube with a 45-degree mirror at the end, which slid over the smaller tube. This provided a direct look at the sides of the bore, rather than a lengthwise view, which is especially important when observing chambers and the second tube was still small enough to fit inside .20-caliber barrels.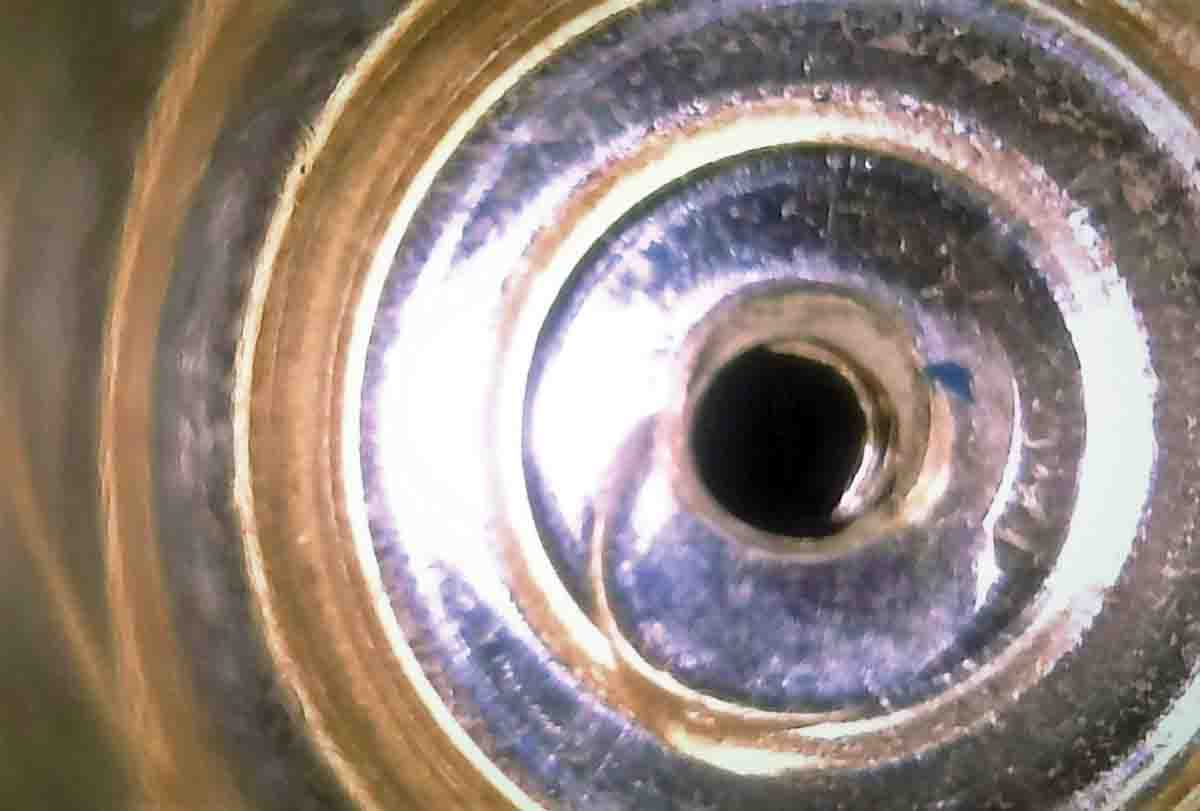 That said, it turned out the old magazine article was partly right: A borescope does not "tell" us how well a particular barrel will shoot. The bore can appear just about perfect, as that .300 magnum's did after Gentry shortened, recrowned and lapped the barrel – but the dimensions of the bore are perhaps more important, the reason the .300 only grouped so-so even after the lapping: making the reamer-marks disappear enlarged the bore, and tighter bores usually shoot better.
This has since been reproven many times with the Hawkeye. The latest example is a Sako L46 in .222 Remington, the original small-action Sako bolt rifle, purchased from an internet site in mid-2021. The serial number indicated it left the factory in Finland in 1946, the year the L46 appeared, and the photo in the advertisement showed the rifle to be in good condition despite its age.
However, the ad did not mention the bore had quite a few small pits, probably because it "looked shiny," which it does, though not so much through the Hawkeye. Still, shooting a handload worked up for another .222 during its first range-test resulted in five-shot groups averaging .62 inch smaller than the other rifle averaged with its "perfect" bore. (This "lack of inaccuracy" can also apply to bore erosion, as we shall see.)
After a few years, I decided the best use of my borescope was in testing various bore-cleaning products. Before buying the Hawkeye, I could only examine the portion just inside the muzzle, and even in larger-caliber rifles this limited "information" to the first inch or two behind the crown.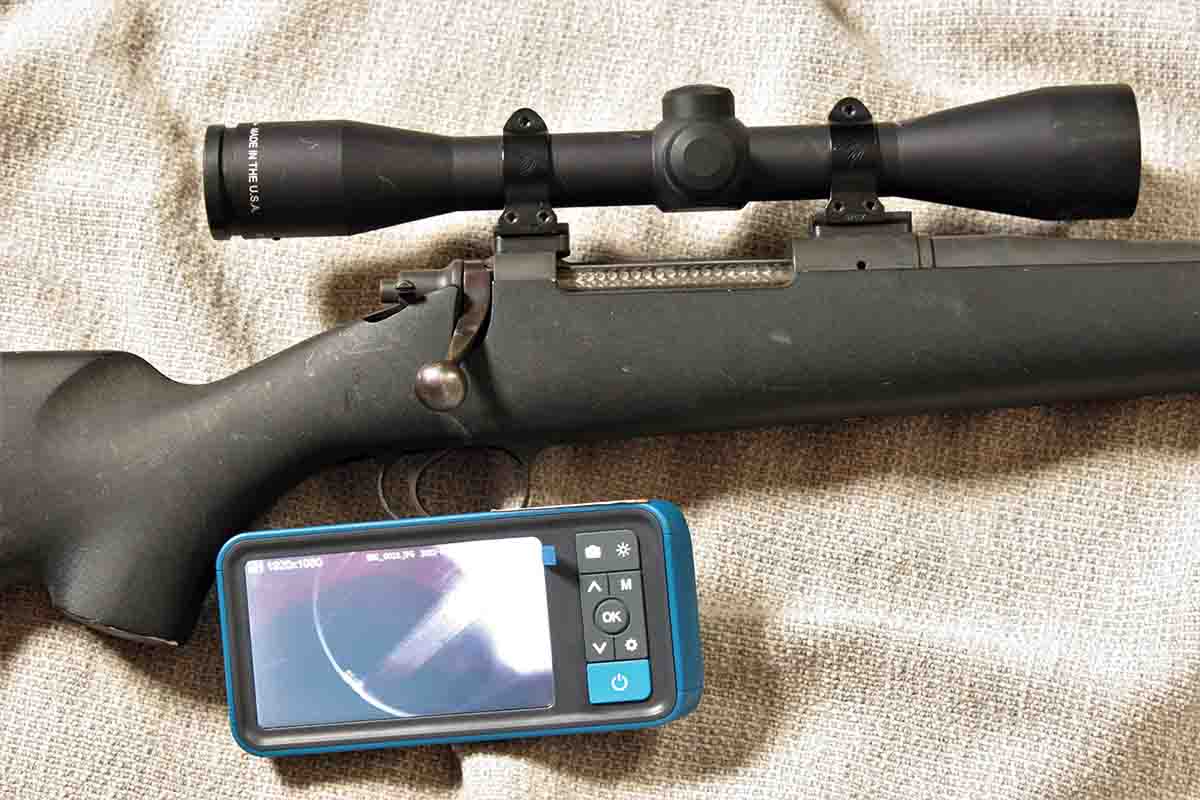 Among the interesting things discovered was how copper fouling often tends to build up more in certain sections of any bore. We might expect this in front of the chamber, where the bullet's shoved into the rifling, and also toward the muzzle, where the bullet travels much faster. As it turned out, some barrels fouled more somewhere in the middle, perhaps due to a slightly tighter or rougher area, which anybody who's "slugged" a few barrels with a lead cylinder has experienced. However, the biggie here is that it's impossible to tell how much a barrel is copper-fouled, or cleaned, by looking at the muzzle, which is how most shooters judge copper-fouling.
With a borescope, it's also easy to see how well various copper and powder solvents work, and how quickly. This is how I eventually became familiar with "geologic" fouling in rifles that hadn't been really cleaned for so long that powder and copper-fouling built up in alternating layers. This has been found both in used rifles, often with bores that looked shiny to the eye, and those of friends who think running a bore brush back and forth a dozen times after hunting season means the bore is clean.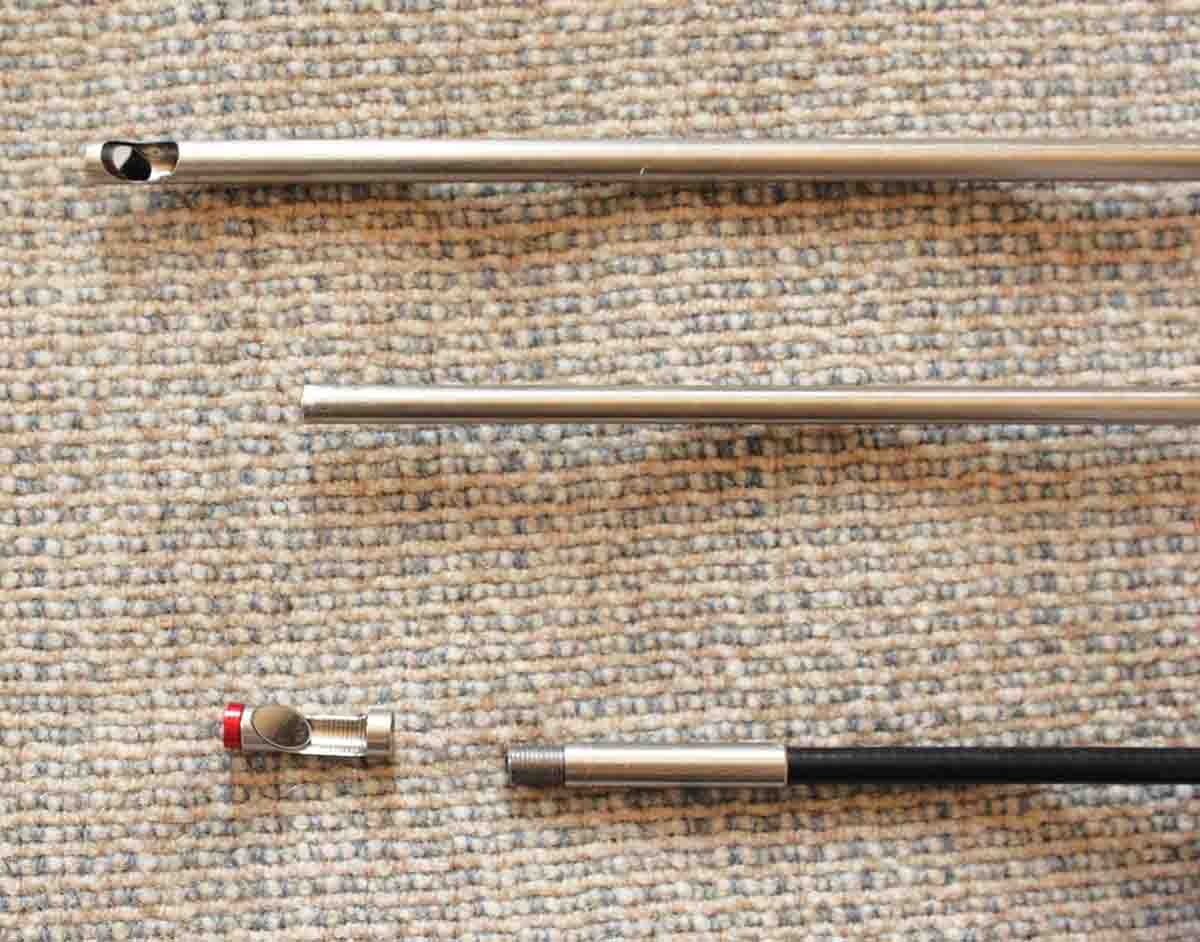 A borescope can also be useful for other jobs, such as inspecting the insides of actions, or even the inside of flash holes in cartridge cases. The last usually reveals whether the hole was drilled or punched, which can matter to obsessive-compulsive handloaders, especially target shooters. More common punched holes often leave an irregular ridge of torn brass around the hole inside the case, which can cause slightly irregular ignition of the powder charge – the reason fussy handloaders, such as benchrest shooters, use a tool to remove the ridge.
However, a rigid tube limits what can be viewed, especially with rifles where the tube can't be inserted in the chamber end. Some lever and pump rifles can be easily taken apart so a scope can reveal chamber details (The many take-down Savage 99s still around are an example.), but a flexible borescope would make looking from the rear easier. Thanks to fiber-optics, flexible scopes eventually appeared, and while some use the same sort of eyepiece as rigid scopes, most provide a digital image on a screen, allowing taking digital photos or even video.
Through advancements in all those technologies, you can now buy flexible borescopes for far less than a rigid scope. While they don't provide the same sharp, bright view of rigid scopes, they reveal enough for most purposes, whether detecting machining flaws, build-up of fouling, the results of cleaning, or corrosion and erosion. (Here, I might mention that borescopes with viewing screens have been around for a while. The first I ever saw was in Montana barrelmaker Dan Lilja's factory in the summer of 2000, when Melvin Forbes and I visited Dan's shop after a prairie dog shoot, but the screen was about the size of a 1960s console TV.)
As a result, over the past few years, flexible, digital borescopes turned into a hot subject on the internet. Due to already owning the Hawkeye, I felt no need for one, but eventually the clamor could not be ignored, so I purchased a Teslong, the most frequently mentioned brand.
After looking at its website, the MS450-NTC appeared to fit my test needs, with a 47-inch cable small enough to look inside .20-caliber bores. The electronics and screen are contained in unit similar to the average smartphone. The cable shows a lengthwise view of the rifling, but as with the Hawkeye, a 45-degree mirror is required for a sideways view. In the Teslong, this is a short, screw-on addition and my model came with three, probably because some people lose them. The total price, with shipping, was $160.
The kit also included a shorter cable to hook the viewing camera unit up to a computer, but my laptop refused to recognize the Teslong, perhaps because it's old enough to scorn newer technology. So I removed the Teslong's "micro" photocard and inserted it into a $15 card reader purchased at the local Walmart. The images popped right up, and while not nearly as high definition as photos from an average smartphone, they're sufficient to see what concerns most shooters.
The first rifle scoped was my New Ultra Light Arms (NULA) .30-06, acquired 25 years ago. Since then, it has taken more big-game animals than any of my other rifles, and due to its combination of fine accuracy and light weight, has often served as a "test platform" for new rifle scopes. With its present scope the NULA weighs an ounce under 6.5 pounds, so it kicks more than the average .30-06, around 30 foot-pounds with its "present" handload, the Barnes 175-grain LRX with 56 grains of IMR-4451. Thirty foot-pounds is about the recoil of a 9-pound .300 Winchester Magnum shooting 180- grain factory loads, which over the decades has proven very able to find any flaws in a scope's mechanics.
This rifle has not only done considerable hunting, but also testing of handloads and scopes – the latter often heating up the Douglas No. 2 barrel. The Hawkeye shows some throat erosion, and bore-cracking of the first 3 to 4 inches in front of the chamber. There's also very light pitting for about inch behind the muzzle, due to a very wet New Zealand hunt, where electrical tape couldn't keep out all moisture. Yet, when I worked up the Barnes 175-grain LRX load in August of 2020, when the barrel hadn't been cleaned for 108 rounds, three-shot groups at 100 yards measured .56 inch. This is about how the rifle has always grouped with bullets it "likes," even before the bore's hard use. (In fact, the very first three-shot, 100-yard group I fired with it in 1997, with 180-grain Speer Grand Slams, measured .56 inch.) After working up the load, I fired one more shot during hunting season, killing a mule deer at 327 yards. Since then, the rifle had been fired eight more times with the same load.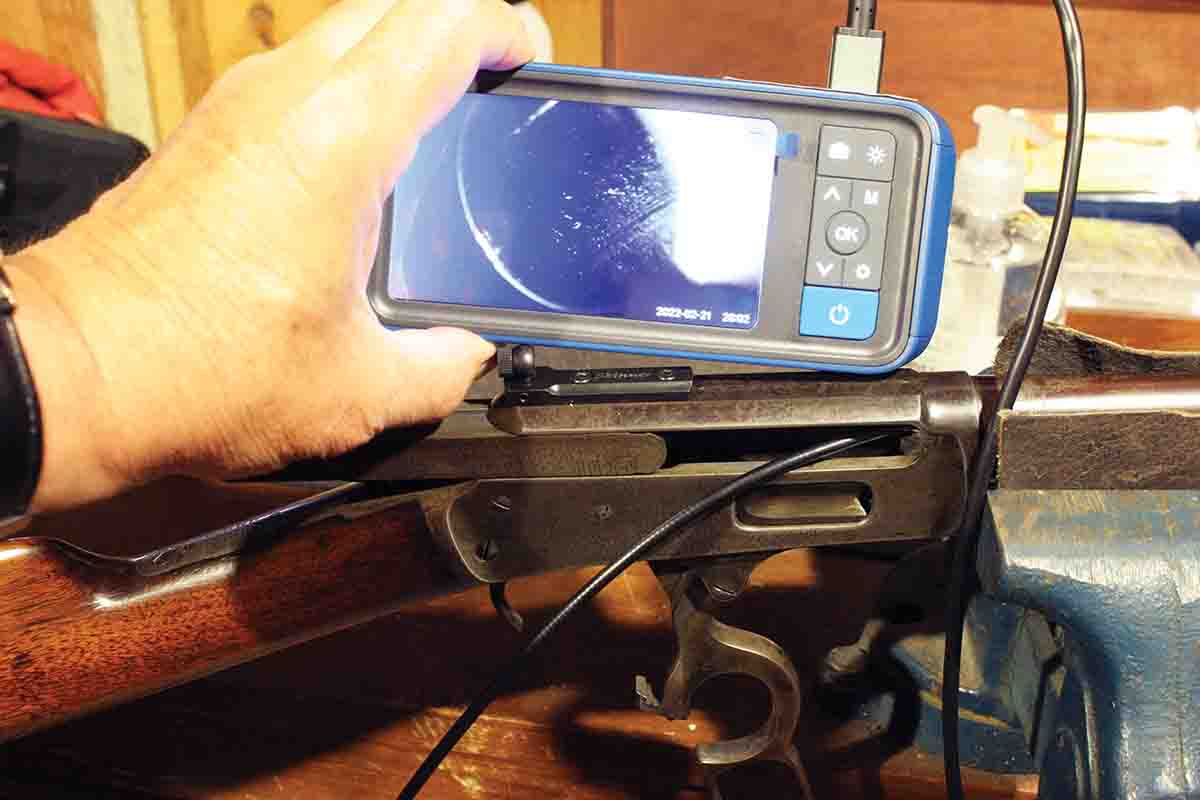 Before using the Hawkeye to review the damage, I cleaned out excess gunk with a few patches soaked in alcohol, to avoid getting abrasive fouling on the 45-degree mirror. Both the Hawkeye and Teslong came with several high-quality, lens-cleaning swabs, but the easiest way to prevent such damage is to remove as much abrasive stuff before inserting the scope. Alcohol cleans out basic bore-gunk and dries quickly, and I recently found that goopier "hand sanitizer" alcohol gathers gunk better than rubbing alcohol.
The Hawkeye showed the damage already noted, along with some copper-fouling on top of the lands and powder-fouling in the grooves. The view through the Teslong wasn't nearly as vivid, but still revealed the same basic information, shown in the accompanying photos. I then used it to examine the bore of the Sako L46 .222, finding the same pits.
After that, I looked into the chamber ends of two rifles, previously scoped only in the 17 inches behind the muzzle, a Marlin 1893 .32-40 acquired a few years ago from a Vermont hunter, and a Savage 99-F .358 Winchester inherited from a hunting mentor, who purchased it new in the 1950s when he started hunting the Catskill Mountains of New York. Both were pitted from the chamber to the muzzle, common in rifles often used in wet weather – though it was worse in the Marlin, not unexpected in the much older rifle. Yet, both shoot more than well enough for "woods" hunting, even with the Marlin's open sights, as I reported in Rifle No. 312 (September-October 2020). (Since then, the factory buckhorn rear sight has been replaced with a new aperture sight from Skinner Sights on top of the receiver, which screwed perfectly into the original factory holes. As a result, the old rifle groups a little better!)
Another fine borescope use involves "refreshing" an eroded bore with fire-lapping bullets, which often extends accuracy life. I've done this with several rifles, both used and personally eroded. With a scope, I can actually see how much each bullet smooths the throat and rear of the bore, instead of guessing. This allows a complete job, but doesn't lengthen the throat more than absolutely necessary.
Someone may not feel the need for a borescope, but for shooters interested in the finer points of rifles, they come in handy. I am not about to get rid of my Hawkeye, both because of its ultra-fine view and the ease of taking a quick look the inside of a new-to-me barrel, but the Teslong has its own virtues. These include not just the flexible cable, but the ability to record a bore's condition for future reference, instead of depending on memory.