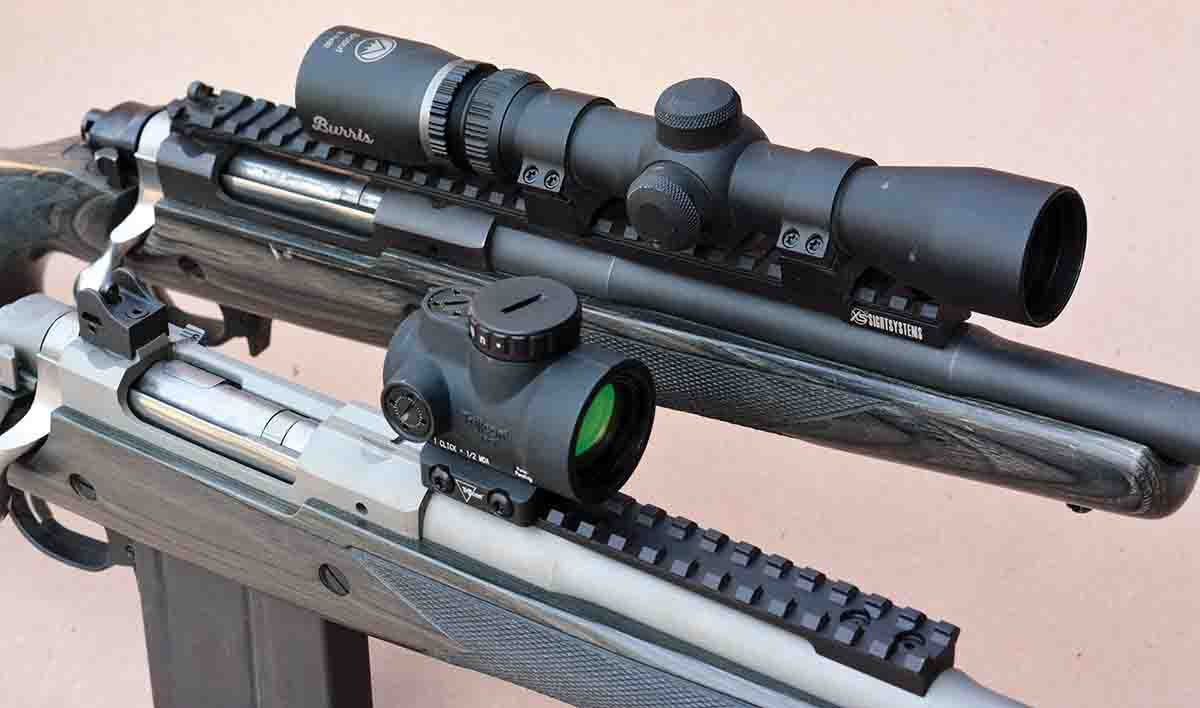 Q: I so much appreciate the quality of your magazines and that the content is geared for real shooters. I especially enjoyed your article on the "Ruger Gunsite Scout Rifle .308 Winchester" in Rifle No. 321 (March-April 2022). I finally found a stainless steel version in .308 Winchester that are very hard to find and purchased it. I temporarily mounted a 3.5-10x Leupold Vari-X III scope (that I have owned for many years) using the Ruger receiver mounted dovetail rings. The rifle is accurate and I don't think that it has ever produced a group over 1 inch using both Hornady and Nosler factory loads. I have just begun developing a suitable handload and am trying to duplicate the accuracy and ballistics of 165-grain factory loads using either the Hornady SST or Nosler Ballistic Tip bullets. Can you suggest a super accurate powder and perhaps a charge weight?
In rereading your article, I noticed that you used both red dot-style sights and Scout scopes. I am ready to purchase a more permanent sight for my rifle, but am not sure if I should go with a red dot or Scout-style scope with a more traditional reticle. I have never used a red dot sight and don't know if I will like it. I will mostly use this rifle for hunting deer and hogs here in Texas, with shots generally being limited to 300 yards, but it will also be my go-to rifle for any practical task that the .308 Winchester is suitable. Thanks in advance for any advice that you can offer.
T. B., Kerrville, TX
A: Using either the Hornady 165-grain SST bullet or the Nosler Ballistic Tip, try 47 grains of Reloder 15 powder for around 2,750 fps from the 16.10-inch barrel of the Scout Rifle, which exceeds the velocity of most factory loads that typically run 2,600 to 2,670 fps from Ruger Gunsite Scout rifles. Another top-choice powder with the above 165-grain bullets is 46.5 grains of Hodgdon Varget powder for around 2,675 fps, which will probably prove to have a slight accuracy edge. These loads were assembled in Starline cases and capped with a CCI BR-2 primer, with overall cartridge lengths between 2.790 to 2.800 inches. Reduce each of the above powder charges by 2 grains and work up to maximum load while watching for signs of excess pressure.
Regarding advice in choosing a sight; I am always hesitant to make the comparison that you have proposed, as this is truly an "apples to oranges" comparison and is not fair to either product, so I will keep my thoughts brief. Red dot sights, which are more technically known as reflex sights, have become very popular. They boast of being lightweight, compact and are quick to get on target. The dot is generally adjustable for brightness, allowing it to be easily seen in a variety of lighting conditions. High-quality versions have proven to be remarkably tough in battle and other abusive situations. They are generally battery powered, which results in concerns that the battery will die at the worst possible moment and that there will be no sight picture! However, technology has advanced to allow incredibly long battery life and some models will still give a sight picture in the event that the power source fails. It should be noted that some companies, such as Meprolight, offer versions that operate without batteries. Most reflex sights suffer from some degree of parallax, however, select models such as those offered by EOtech, boast of very little parallax. I know many hunters that use reflex sights in the field with good success, but they are generally used at short to moderate distances due to their low (or no) magnification and the size of the dot that often covers between 3 to 6 MOA at 100 yards. These features have generally limited their popularity among hunters. On the other hand, reflex sights have gained notable popularity with action competitors (such as three-gun matches) and in military and tactical applications.
By comparison, Scout scopes with intermediate eye relief and various amounts of magnification certainly weigh more than reflex sights, however, they are still generally considered lightweight as they typically weigh between 9.5 and 13 ounces. They offer crosshairs with a comparatively fine aiming point that allows much more precise shooting at any distance, but especially at longer distances, such as taking deer at 300 yards (as you indicated). Personally, I have used Scout scopes to take game and varmints at distances around 500 yards, which clarifies their long-range versatility and value in the field. The Leupold VX Freedom 1.5-4x 28mm scope offers quick target acquisition at low power, while the 4x magnification is enough power to take game at reasonably long distances. If the primary purpose of your Gunsite Scout rifle is for hunting, you might find the Burris 2-7x 32mm Scout Scope especially interesting. This is a quality scope that offers clear optics and enough magnification to make hits easier at longer distances.
There is not a right or wrong choice, but based on your desire for accuracy and considering that the primary use of your rifle will be hunting deer and hogs at distances out to 300 yards, I believe that a quality Scout scope will best serve your needs.
I must make one last point; one of the virtues of the Ruger Gunsite Scout rifle includes the Picatinny rail that allows detaching and reattaching of various scopes, sights, etc., without losing their zero. With this feature you should not be limited to just one sight; rather you can choose the one that serves best for a given application, install it in just seconds and you are ready to go. This can even include the Leupold 3.5-10x Vari-X III scope that you are already using, which is an excellent choice for hunting.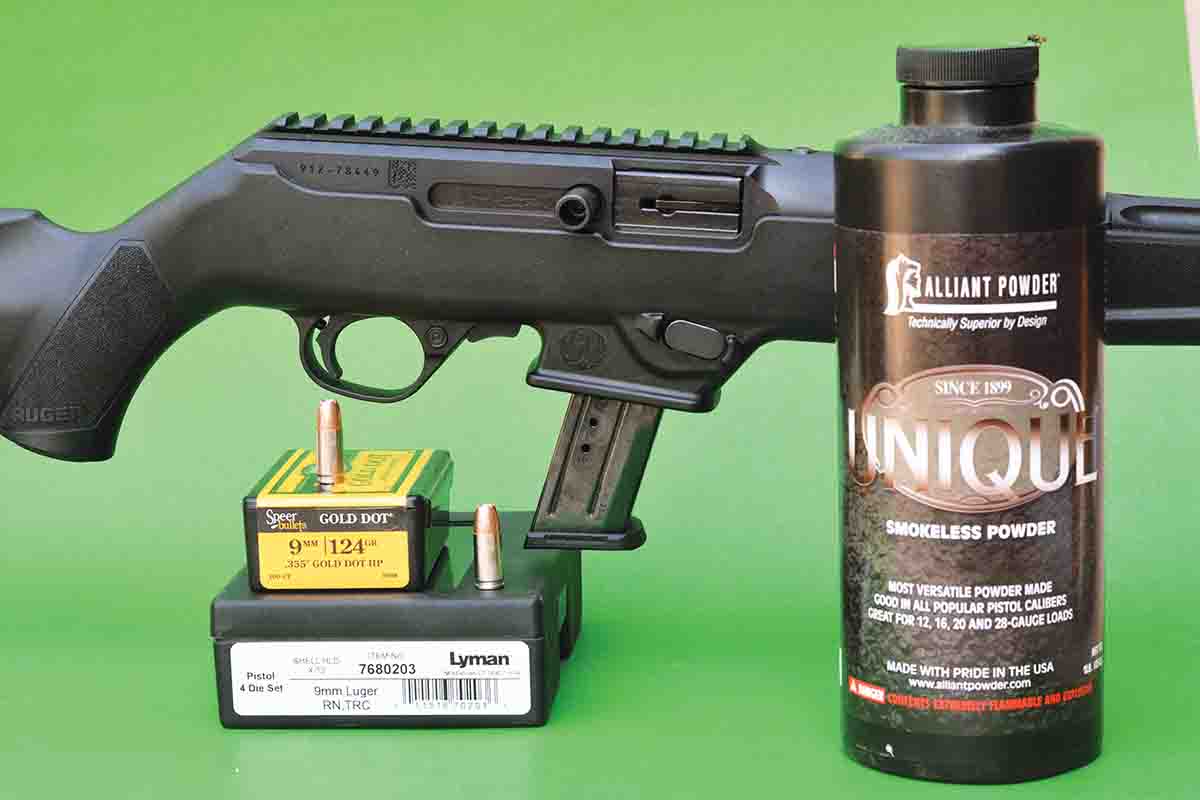 9mm Bullets
Q: I purchased a Ruger PC Carbine chambered in 9mm Luger and found your tests using factory loads very interesting. Seeing that the Black Hills 124-grain +P loads produced the highest velocity at over 1,500 fps, I have searched for that load and even special ordered it through dealers, but to no avail.
As a result, I will be handloading for my PC Carbine. I noted in your article in Rifle No. 323 (July-August 2022) that you used Alliant Power Pistol, BE-86 and Accurate No. 7 powders with the Nosler 124-grain JHP bullet that reached between 1,400 and 1,500 fps with those powders. The problem is that I don't have any of those powders on hand and neither are they available locally. I do have Alliant Unique, and I have purchased several boxes of the Speer 124-grain Gold Dot HP bullets. Can you offer a load that will reach at least 1,400 fps? The only 9mm factory loads that I have found for sale are RN FMJ-style and would much prefer a high-performance JHP expanding bullet and load. I appreciate any information that you can provide.
J.C., Eugene, OR
A: I suggest using 6 to 6.1 grains of Alliant Unique powder in conjunction with the Speer 124-grain Gold Dot HP bullet. This load is +P, but will reach 1,425 to 1,450 fps from your Ruger PC Carbine. Use a standard small pistol primer, preferably a CCI No. 500 or Federal No. 100, and seat bullets for an overall cartridge length of 1.120 inches. Please note that seating bullets deeper will increase pressure substantially. To achieve proper headspace control and bullet pull, apply a taper crimp that measures .372 to .373 inch at the case mouth.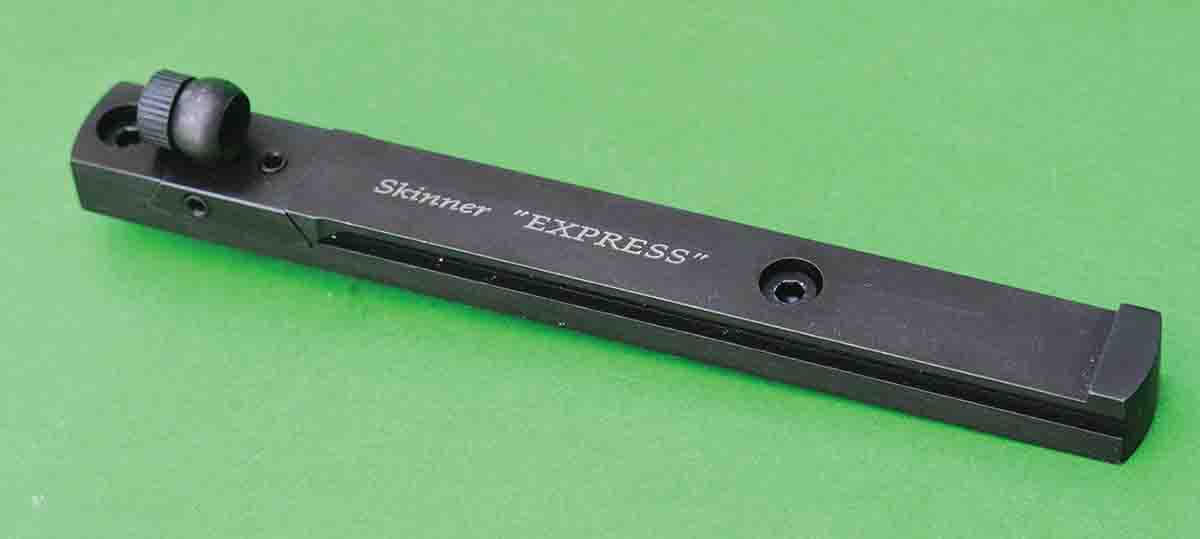 \Aperture Receiver Sights
Q: I have searched back issues of Rifle magazine trying to figure out the exact aperture sight and scope mount arrangement that you used on a Marlin Model 1895 45-70 in Africa to hunt buffalo and other game, but I cannot locate that issue. Can you enlighten me? I too have an early Marlin 1895, but with aging eyes, I would like the option of mounting a scope if needed. I would like one that can be quickly detached and reattached while holding zero and that will allow access to open sights. I have been reading Rifle for at least 25 years, which is my second favorite gun-related magazine, second only to Handloader.
A.B., Facebook
A: I used a rather odd combination to mount the Nikon 1.5-4.5x 28mm Monarch scope that included Leupold QR one-piece base and rings, along with a receiver-mounted Williams aperture sight that was removed (and placed in my pocket along with a small wrench) when the scope was installed. A reference hash mark was placed on the rear sight so that it could be installed in just seconds, while still being zeroed.
While the above combination has served me well on many hunts, today I would not choose that system, as there are new top-mount aperture receiver sights that also serve the dual purpose role as a scope mount base. These are available from XS Sights (xssights.com) and Skinner Sights (skinnersights.com). Both are quality products that are designed for strength and durability and are ideally suited to Marlin leverguns that will be used with aperture sights and scope sights.