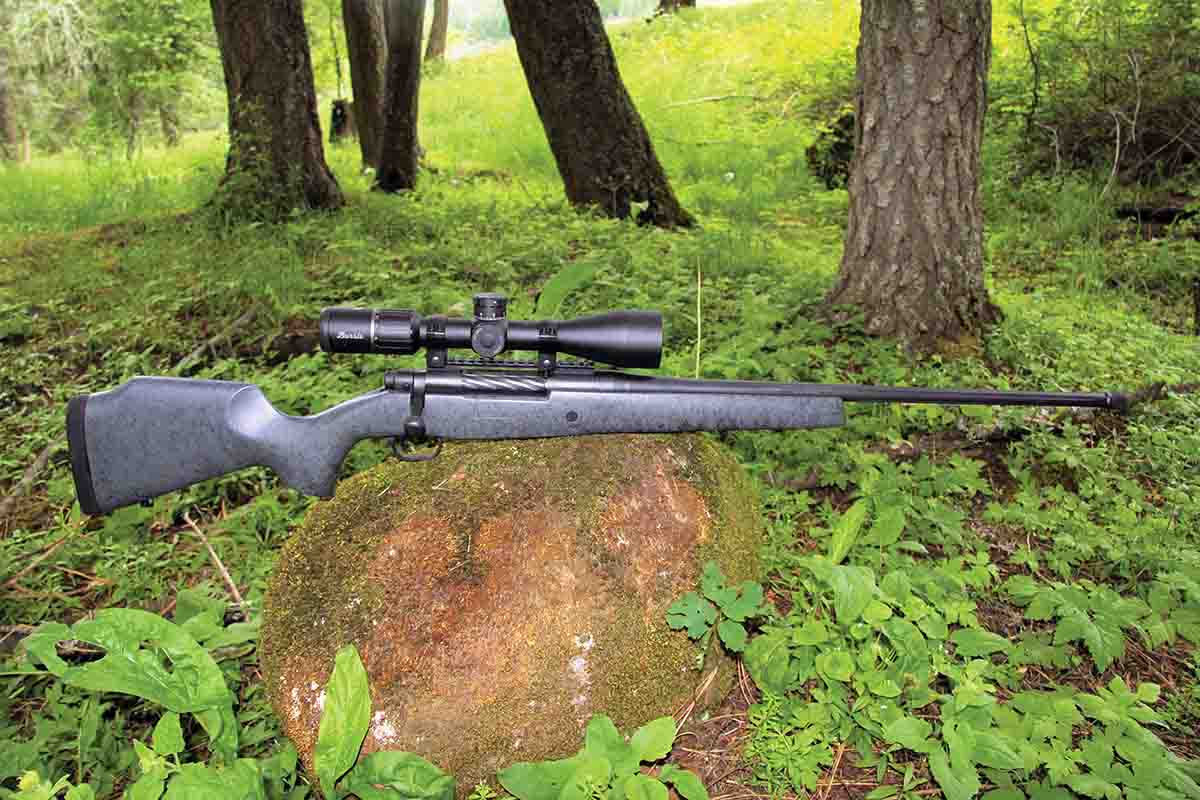 When I think of O.F. Mossberg & Sons – or just "Mossberg" to most – my thoughts involuntarily turn to shotguns. After all, the company is the largest shotgun manufacturer in the world, the post-World War II 500 Series pump shotgun alone is one of the top-selling shotguns in American history, selling more than 10 million units. This also hinges on the fact that my first real hunting gun was a Model 600CT Mossberg pump, as well as the detail that my longtime water fowling shotgun is a synthetic-stocked 835 Ulti-Mag that still sees a lot of use after nearly 25 years of what could be rightly termed as blatant abuse. Mossberg's 940 Pro Series autoloading shotgun is the newest offering.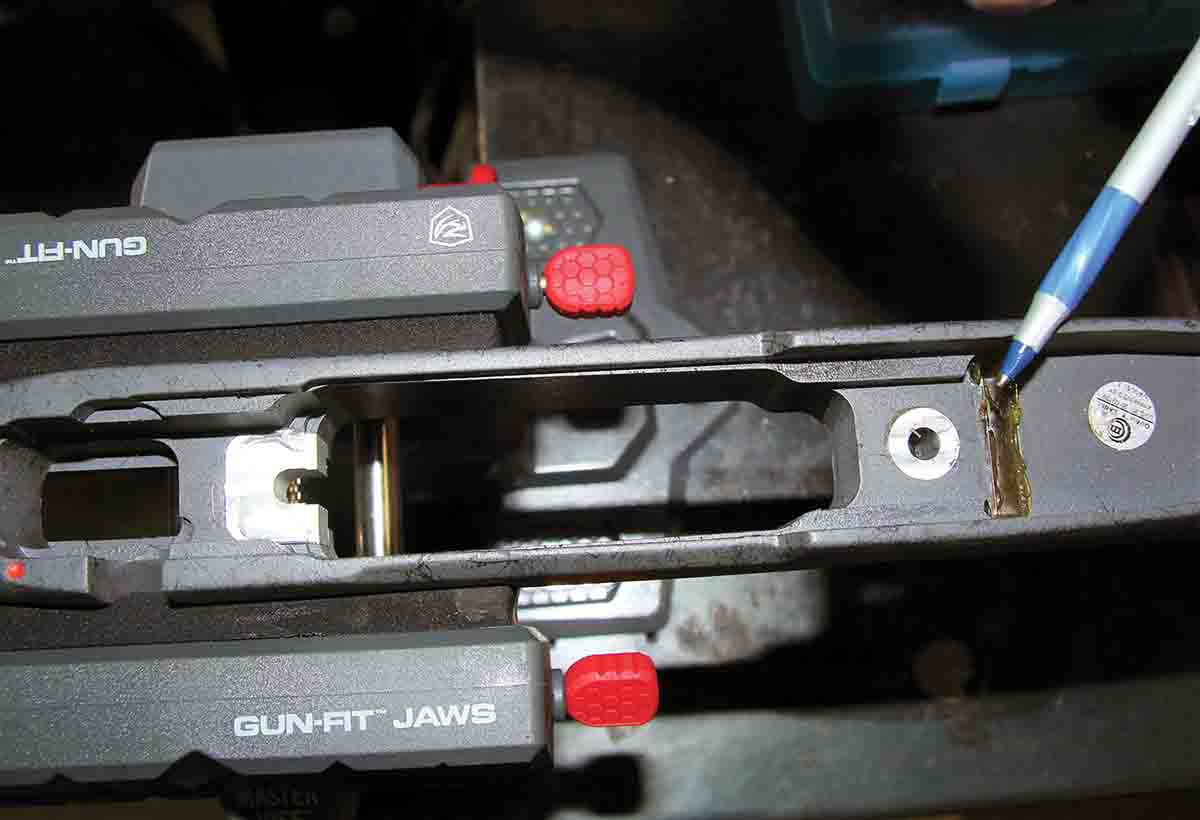 Interestingly enough, Mossberg's first commercial firearm was a pistol. The Brownie was a simple four-shot .22-caliber pocket pistol popular with trappers and the firearm that established O. F. Mossberg & Sons (Iver and Harold) as a legitimate gunmaker. Mossberg sold approximately 37,000 Brownie pistols between 1920 and 1932. Swedish-born Oscar Frederick Mossberg arrived in the U.S. in 1886 and enjoyed stints at Iver Johnson Arms & Cycle Works, C.S. Shattuck Arms Co., J. Stevens Arms & Tool Co. and Marlin-Rockwell before launching Mossberg. Mossberg just recently returned to the pistol arena, introducing the MC2c and refined MC2cs 9mm Parabellum self-defense, autoloading pistols.
O. F. Mossberg & Sons remains the oldest family- owned American firearms company to this day.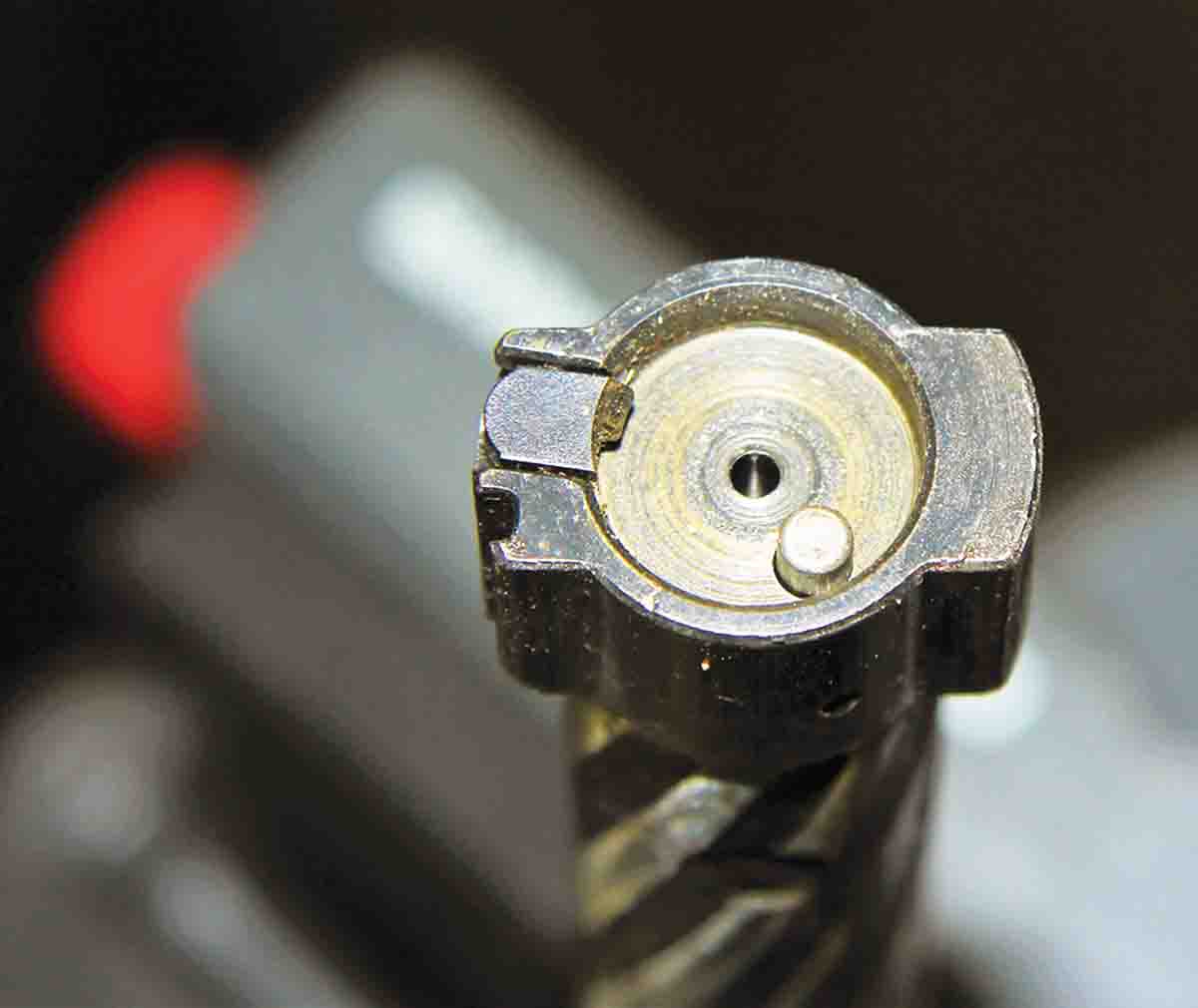 Mossberg rifle production began in 1921 with a line of new .22 rimfire rifles, pump-action repeaters designed by Arthur E. Savage (son of the owner of Savage Arms Corporation) and made in North Haven, Connecticut. O. F. Mossberg passed in 1937, the business continuing under the leadership of his son Harold. Mossberg produced the U.S. Model 42 for World War II training purposes, with most sent to the United Kingdom, in addition to producing parts for Browning M2 .50 BMG machine guns, Enfield No. 4 rifles and a Model 44 .22 LR bolt-action rifle used for training by the U.S. Army and Navy.
I vaguely recall some Howa-made Mossberg centerfire rifles that appeared in the mid to late 1980s, but things truly changed at the company in 2012 with the appearance of the MVP centerfire lineup. An MVP Varmint chambered in .204 Ruger was my first experience with a Mossberg rifle – a serious tack driver and one of my favorite choices during frequent varmint shoots. By 1989, Mossberg had moved a large majority of its manufacturing capabilities to Eagle Pass, Texas, providing employment for 450 workers. But things really took off in 2014 when Mossberg added a 116,000-square-foot expansion to that Texas facility following the passage of a gun-control bill that banned several of the company's products in Connecticut, where the company's corporate headquarters are still located. Within a year, Mossberg had introduced the Patriot Series, which has grown exponentially since 2015.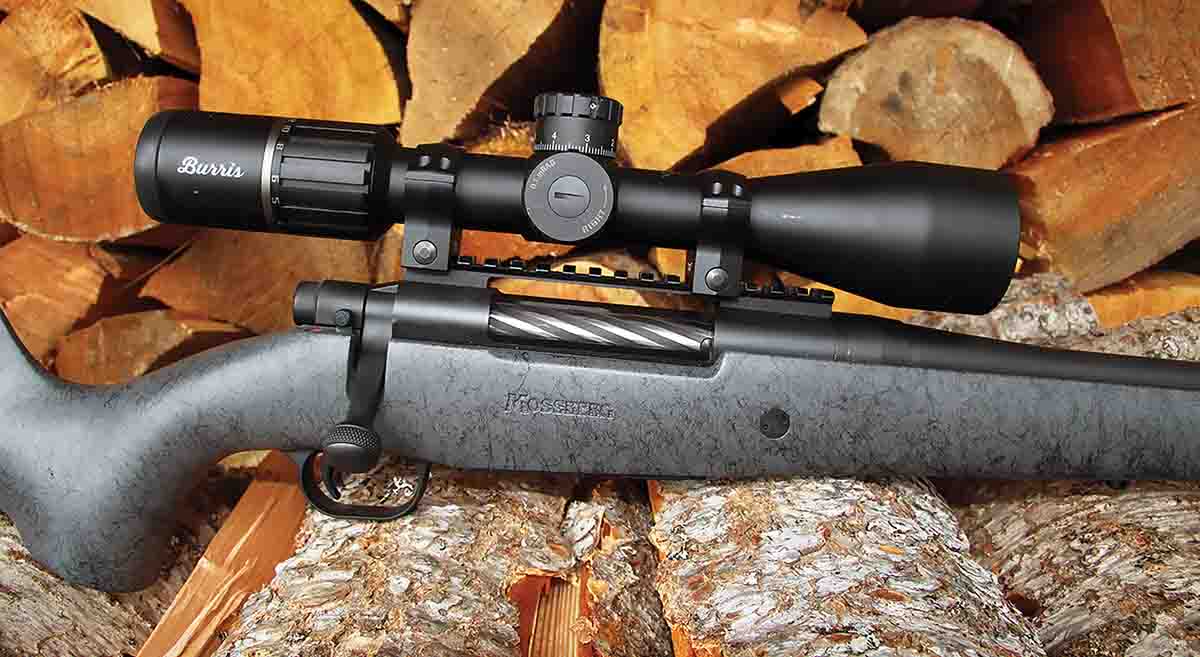 The Texas-made Patriot LR Hunter under discussion here is one of the newest of the series, designed to serve the growing trend of shooting targets and big-game animals at ever distant ranges. Mossberg designed the new Patriot LR Hunter to offer a highly affordable option to serve blue-collar hunters who want to get in on the action. In the spirit of the entire Patriot lineup, the LR Hunter offers many accuracy-enhancing features with an affordable sub-$750 street price.
The LR Hunter's nicely contoured stock is what grabbed my eye initially. The stock includes a wooden core and Spider Grey polymer exterior with nice lines that speak long-range utility and shooting comfort. It includes a soft-contour, Monte Carlo-style butt with an elevated comb ideal for high magnification, large-objective scopes that are standard to the long-range game. It also pairs well with the rifle's factory-mounted 20 MOA Picatinny rail. The forearm is flat and tapers down to about 1¾ inches at the tip, so it is made to sit snuggly on a bag – or a folded jacket in the field. A steel crossbolt is installed through the stock just behind the recoil lug.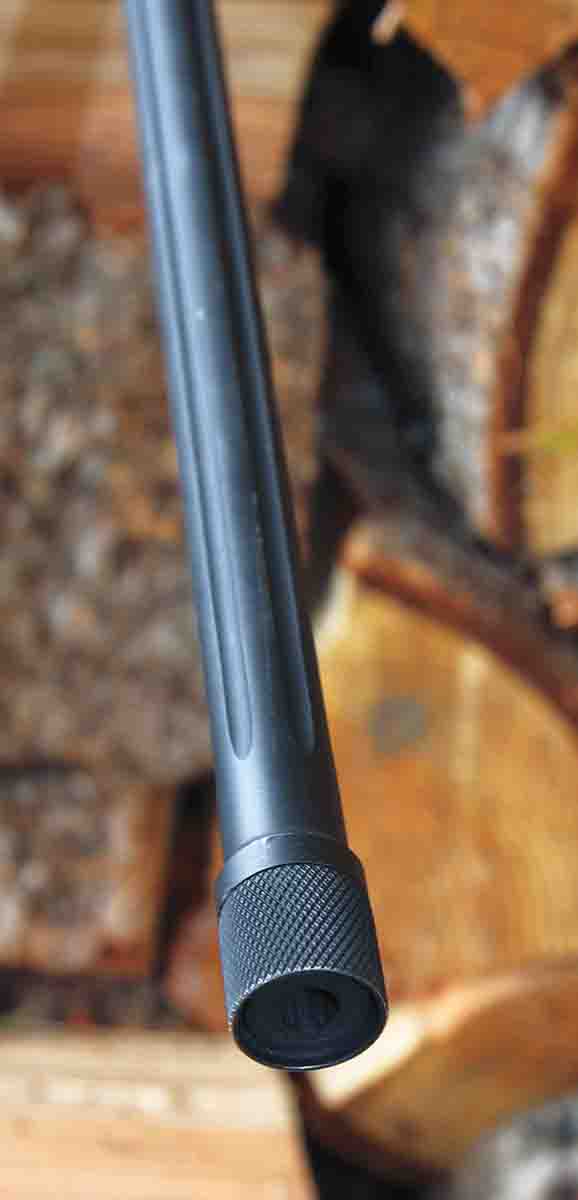 Overall, the rifle rides between the hands comfortably and points naturally, while providing a fairly average 13¾-inch length of pull. A special coating process provides a micro-textured surface that is comfortable, yet offers good purchase when wet or while wearing gloves. The deep pistol-style grip's generous ambidextrous thumb wells and palm swells make it ergonomic on a bench or while prone and shooting from behind a bipod. Duel sling studs are provided on the forearm to accommodate a clip-on bipod while also accommodating a shoulder sling. An "M" is molded into the grip cap, and Mossberg on the magazine flat and the bolt side of the stock below the ejection port. A soft Mossberg-emblazoned, inch-thick recoil pad is included, which was welcomed with this lightweight 7.89-pound rifle (without scope) and robust .300 Winchester Magnum chambering. Minor annoyances such as the recoil pad grabbing clothing while shouldering the rifle or the stock ringing hollow when rapped were absent.
Aesthetics aside, the stock was designed to affordably enhance accuracy. It includes a machined aluminum pillar up front and surrounding the front action bolt, and an embedded machined aluminum insert supports the rear action screw. The dual pillar system ensures the stock material is not crushed if too much torque is applied to the action bolts and creates receiver stability. The action bolts and rear trigger guard screw include hex heads to eliminate the possibility of stripping or marring. The recoil-lug slot appears to have received a dab of hand-applied epoxy before assembly, as an inspection sticker is found inside the stock adjacent this work.
This rifle was designed for hunting, as the label implies, for toting up mountainsides and slogging across rough terrain. Out of the box, the rifle weighs a touch short of 8 pounds – 9.62 pounds with the addition of a Burris RT-15 3-15x 50mm scope set in steel Warne Mountain Tech rings. The rifle tapes 44¾ inches end to end. This is not a benchrest rifle. The 24-inch fluted, sporter barrel measures just .685-inch behind the .73-inch thread flair, 5⁄8-24 threads making it muzzle brake or suppressor ready. The barrel is button rifled and comes with a thread protecting cap and a 11-degree muzzle crown. The rifling twist is a standard 1:10.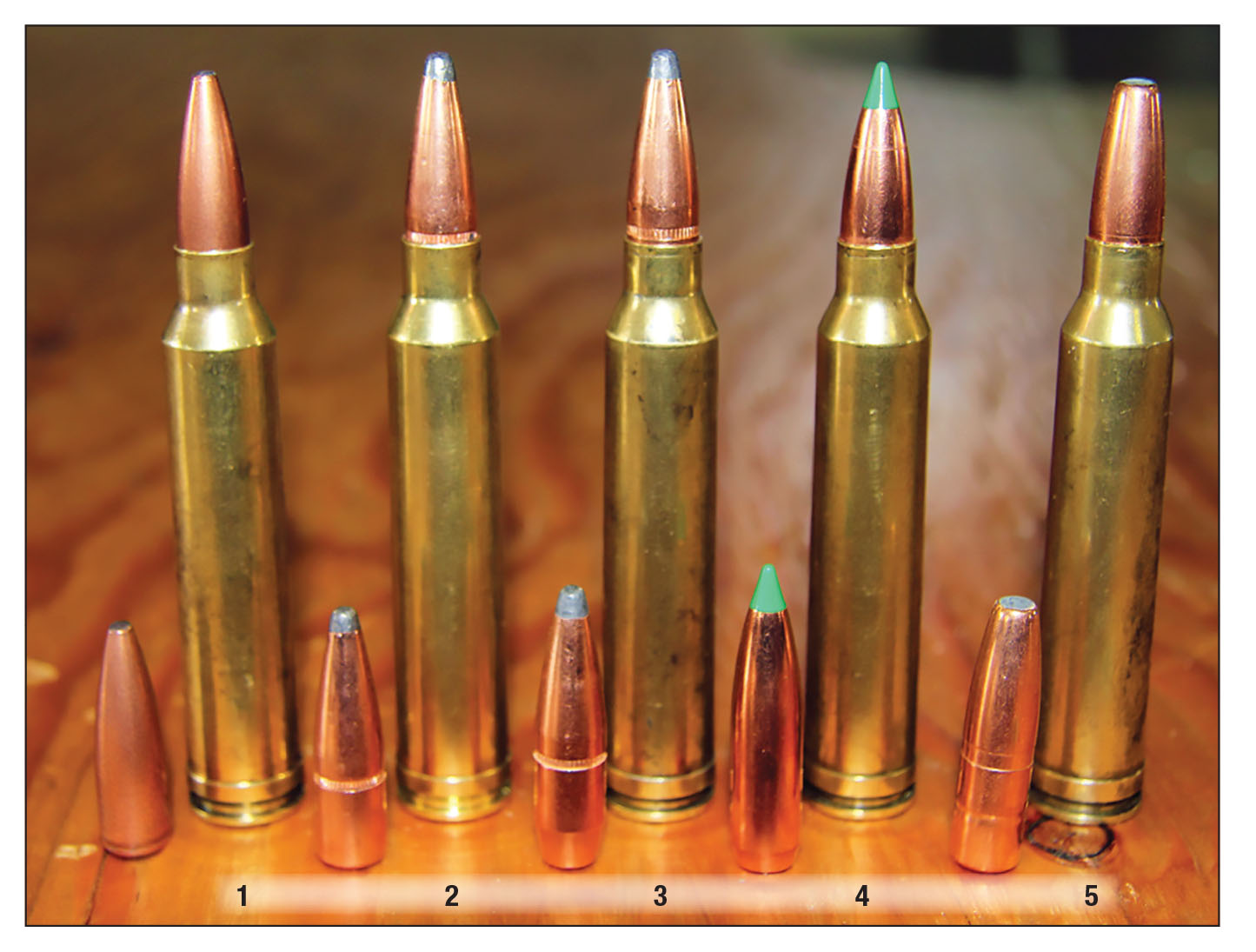 The trigger guard, three-round, flush-fit, detachable magazine and bedding block/mag-well (sandwiched between stock and action) are molded from tough polymer to save weight and lower costs. The magazine pops in and out without fuss, rounds single feed well, and the rifle can even be top loaded with the magazine clicked into place. Chambered in the .300 Winchester Magnum, recoil was attention grabbing. The rifle didn't bite necessarily, but the muzzle did jump-off the MTM Case-Gard K-Zone Rifle Rest conspicuously with each trigger squeeze. In adrenaline-filled hunting encounters this isn't an issue, but it makes sight-in and load development less than enjoyable. Using the provided muzzle threads to add a brake or suppressor would no doubt greatly help this situation.
The LR Hunter includes Mossberg's patented LBA (Lightning Bolt Action) trigger. This is a proven center-blade design allowing user adjustability from 2 to 7 pounds while maintaining in-field safety. As delivered, the trigger broke crisply at 3.86 pounds. It was satisfying enough I did not bother adjusting it. The .685-inch diameter spiral-fluted, twin-lug bolt ran smoothly, with a cocking force of about 9 pounds and a bolt lift of around 2 pounds. This is a straightforward push-feed system. The bolt head is pinned to the bolt body, the handle extension, handle and bolt body milled from one piece of steel. The extractor, centered in the bottom locking lug, and plunger-style ejector, performed flawlessly throughout all testing. Mossberg labeled the bolt handle "oversized," though I'd call it fairly standard, though the Winchester M70-style handle includes wraparound knurling to provide a good grip in any conditions or while wearing slick or insulated gloves. The safety is a two-position thumb lever, the bolt operating on safe for worry-free unloading, and a red dot indicating when the rifle is hot. A lightly knurled bolt release tab is located opposite the safety.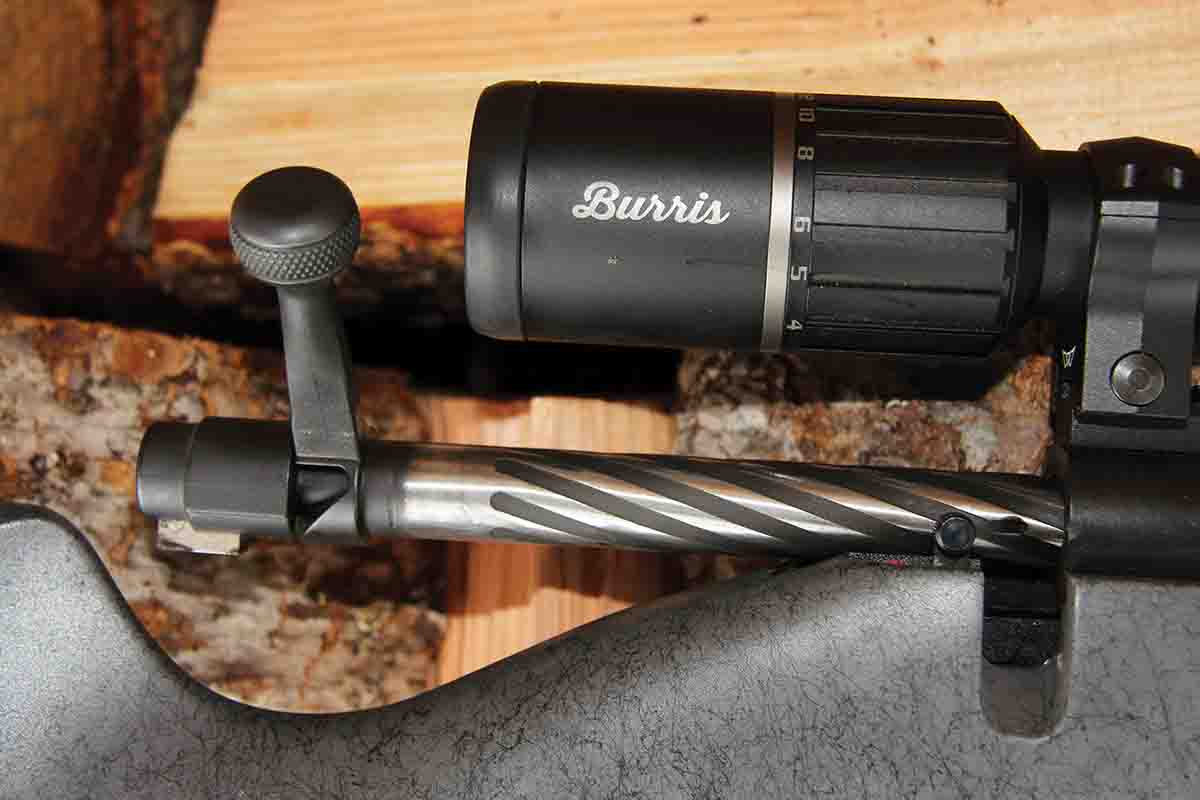 The venerable .300 Winchester Magnum makes a western ideal for applications such as windy-day pronghorn, long-range deer or elk to 400 to 500 yards while handling bullets weighing from 150 to 200 grains. With a heavy, well-constructed bullet, I wouldn't hesitate to tackle Alaskan moose and brown bear, or the largest African plains game with the cartridge. The Patriot LR Hunter provided accuracy more than adequate for such big-game work, even with the worst loads I assembled (the rifle just didn't fancy a couple of the bullets listed). Handloads were limited to bullets on hand, but would serve the western big-game hunter well. CCI No. 250 Magnum Large Rifle primers were used in all loads to assure the large doses of slow-burning powder were reliably ignited. Once-fired Hornady brass was utilized for all handloads.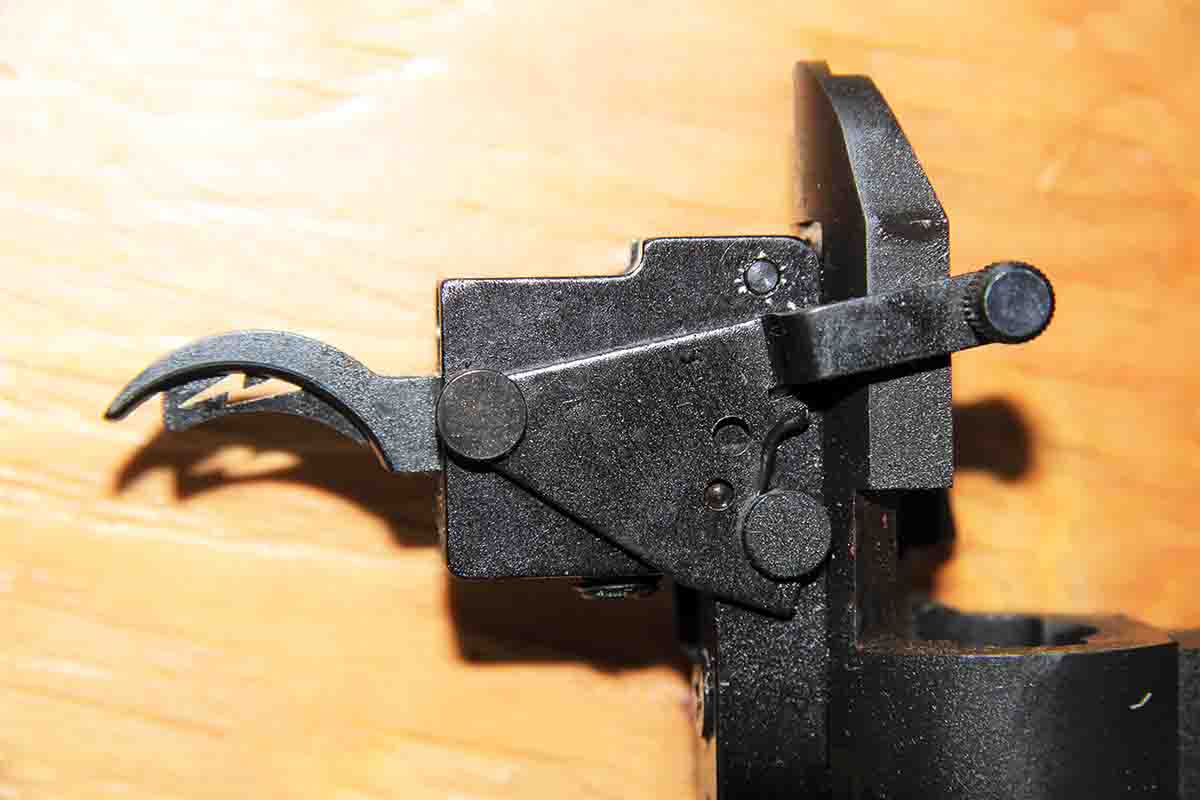 Speer's 150-grain version of its ultra-reliable Gold Dot, paired with 84 grains of Hodgdon H-1000, clocked a screaming 3,237 feet per second (fps) with an impressive 11 fps extreme velocity spread. That combination grouped well inside an inch, proving their worth. Hornady's 165-grain InterLock flatbase also grouped into less than an inch, 78 grains of Alliant Reloder 23 helping that bullet hit 3,165 fps. The most accurate handload tested included Nosler's 180-grain Ballistic Tip Hunting seated over 75 grains of Vihtavuori N560 – pushed to 2,963 fps and included a super-low 10 fps extreme velocity spread. That would be my long-range choice, and would prove terminally adequate for any western game.
Not owning a .300 Winchester Magnum, I had to do some horse trading to secure just two boxes of factory ammunition, getting the short end of the stick as friends took advantage of my desperate predicament. I also borrowed the Hornady full-length dies used to assemble handloads. The rifle performed well with one load and just okay with the other. Winchester's Deer Season loads with 150-grain monolithic Copper Impact bullets produced a 1.24-inch group average. The 24-inch barrel came up about 100 fps short on velocity from Winchester's advertised speed, clocking 3,168 fps. Hornady's American Whitetail load, shooting 150-grain InterLock bullets, posted a sub-1-MOA group average and low extreme velocity spreads. Velocity from the 24-inch barrel was pretty close to Hornady's advertised speeds.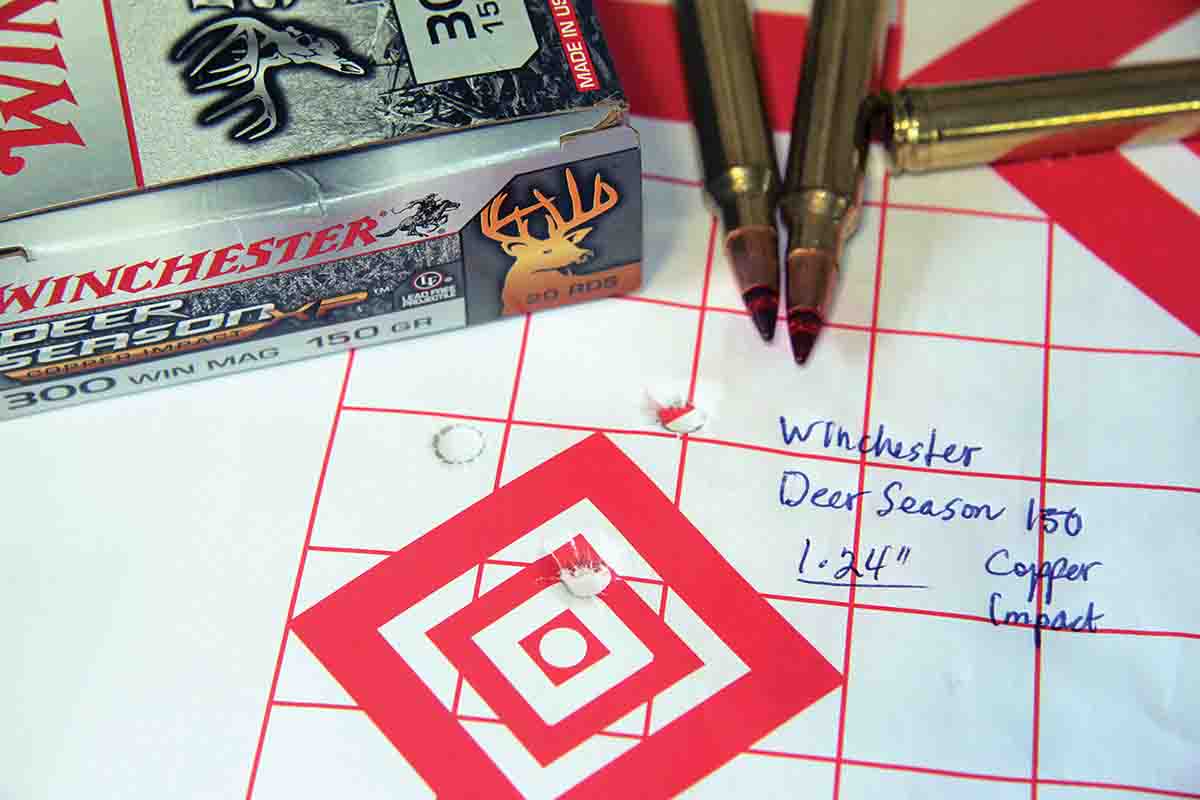 As I mentioned earlier, the LR Hunter is a hunting rifle. The barrel warmed quickly while firing the powder-hungry magnum round, turning conspicuously hot to the touch after every three-shot string. The fluted barrel did cool relatively quickly, especially when wrapped in wet towels. The handloads listed are the best of the latter loads tested with those bullets and powders, so this rifle received a good deal of shooting. Factory load results were also the average of five, three-shot groups, because to be honest, I needed the empty brass for handloads. There was some sight-in and getting-acquainted shooting involved as well. So, through maybe 100 rounds, the magazine fed reliably, cases extracted smoothly and were thrown well clear. The rifle is certainly reliable, and with a wide variety of loads and disparate bullet profiles, including the 200-grain flatnose.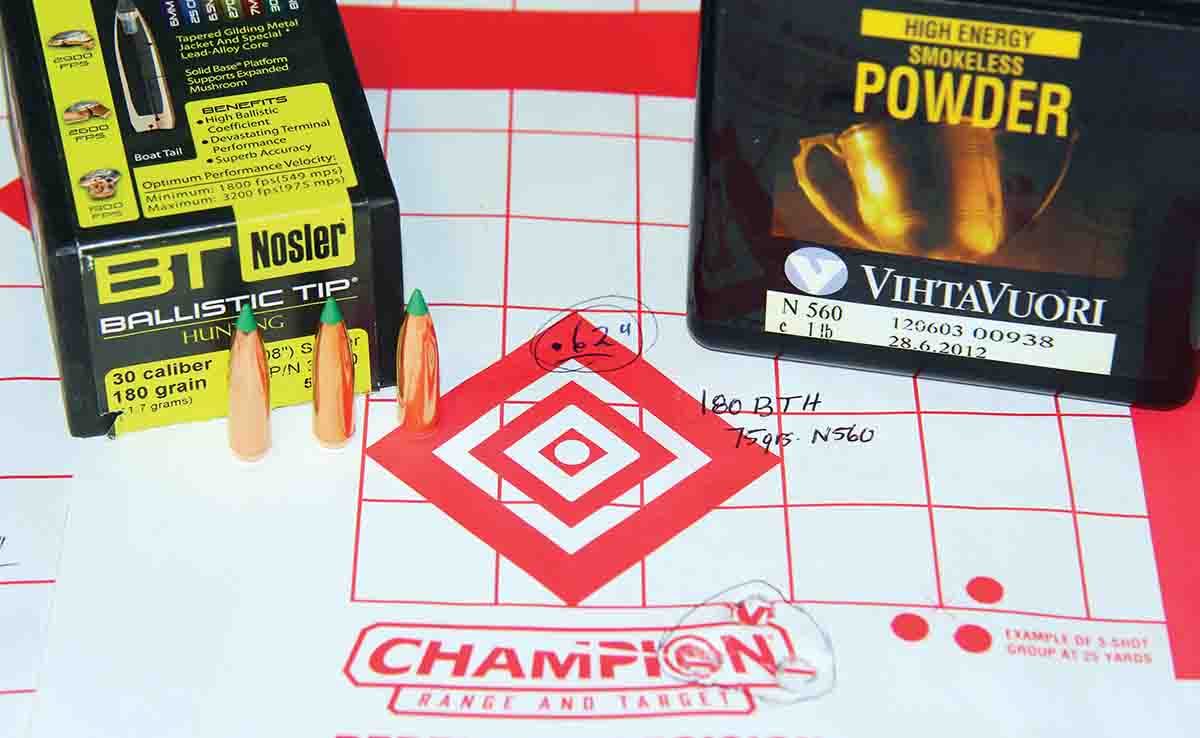 In terms of chamberings, Mossberg made some safe choices with the LR Hunter, covering the gamut from the gentle-recoiling, 6.5 Creedmoor, to the new industry darling 6.5 PRC, to the seemingly federally mandated .308 Winchester and the mainstay big-game thumper .300 Winchester Magnum tested. These are sound choice in my estimation, giving shooters ranging from youth and petite women to experienced he-man shooters the tool they need to accomplish their long-range goals.
There are certainly more expensive rifles out there, some promising a touch smaller groups, perhaps, but the Mossberg Patriot LR Hunter provided all of the usable accuracy the average big-game hunter will realistically need, at a price one-half to a third lower than high-priced brands offering similar features and performance. The U.S.-made Patriot LR Hunter provides eye-grabbing appeal, excellent handling characteristics and supreme reliability – all characteristics that make a great hunting rifle.