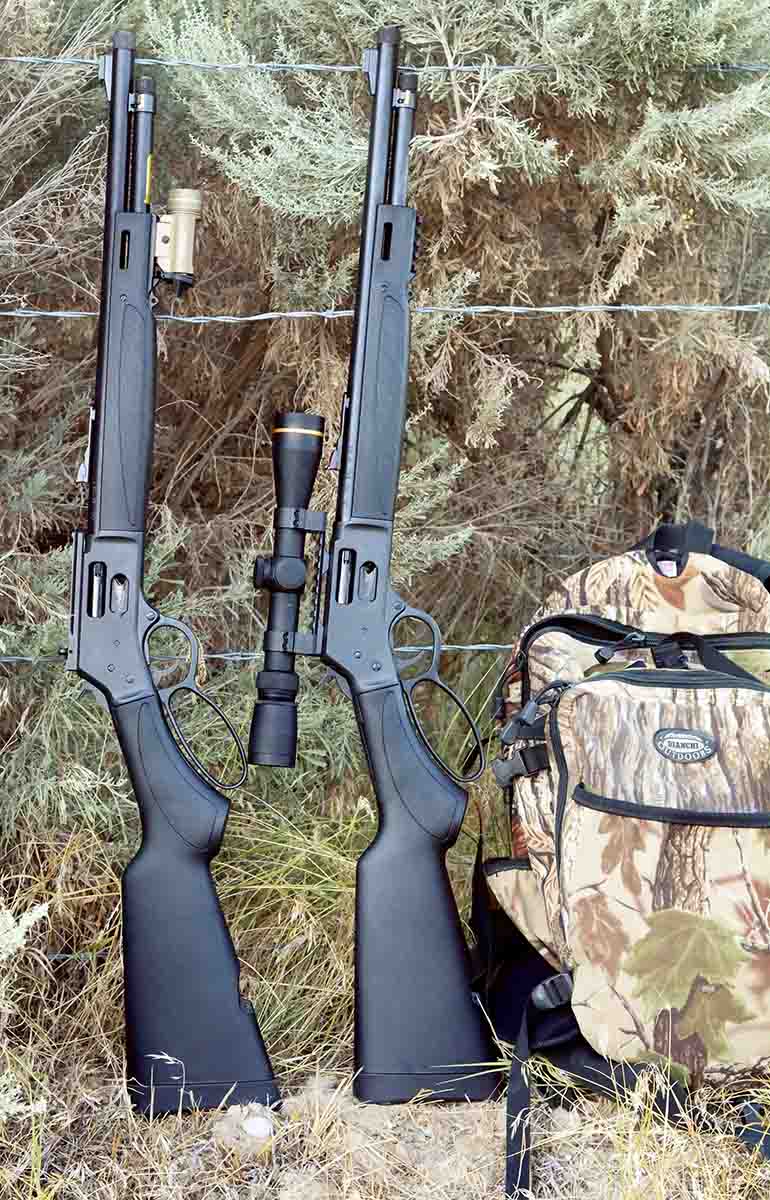 Henry Repeating Arms is a relatively young company that started producing rifles in 1997 and is currently celebrating its 25th anniversary. Its roots go back to the West German produced Erma Werke lever-action rifles that were imported by the Ithaca Gun Company as the Model 72 Saddlegun from 1973 through 1978 and by Erma from 1976 through the early 1990s. By 1997, the Imperato family had purchased the Erma tooling and was producing its Henry Lever Action rimfire rifle in Brooklyn, New York (with operations soon expanding to Bayonne, New Jersey, and most recently Rice Lake, Wisconsin). All Henry rifles boast of being 100 percent manufactured in the U.S. Following the huge success of the first rifle, the company has steadily introduced new rifles (and shotguns) of their own design. One of the more recent offerings includes the Big Boy X Model, a lever action that offers a blend of tradition with several modern trending features and is legal in all 50 states. It offers quality, reliability and features that have made it in very high demand (and difficult to acquire).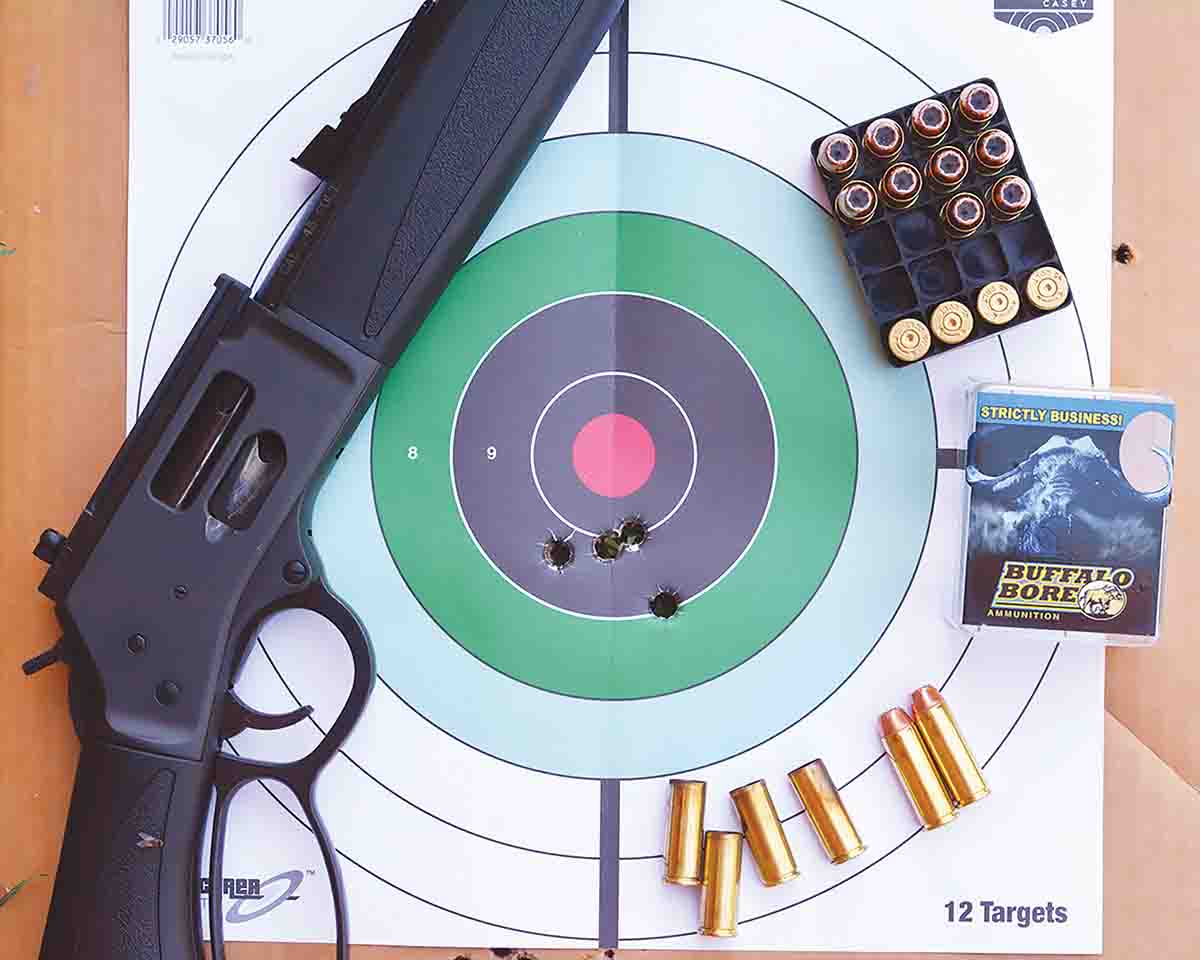 The Big Boy X Model is offered in three revolver cartridges, including the .357 Magnum, .44 Magnum and .45 Colt, but is also offered in .30-30 Winchester and .45-70. After much searching and trying to avoid paying scalpers' prices, I finally acquired a Big Boy X Model chambered in .45 Colt and in .357 Magnum.
Unlike some previous Henry Big Boy centerfire lever- action rifles with brass frame, the Big Boy X Model features both a removable or sliding tubular magazine (inner and outer tube) for loading and unloading and a much welcome traditional right-side loading gate. Offering both cartridge loading options is probably unnecessary, as the more traditional side-load method is preferred by most shooters. However, a couple of distinct advantages of featuring a sliding inner magazine tube with a loading port is that the rifle is easily unloaded without cycling each cartridge through the action and some older shooters, with limited strength, report that the ported tubular magazine is easy to load. Personally, I would like to see the sliding magazine tube secured with a positive locking system similar to the Browning BL-22 rifle.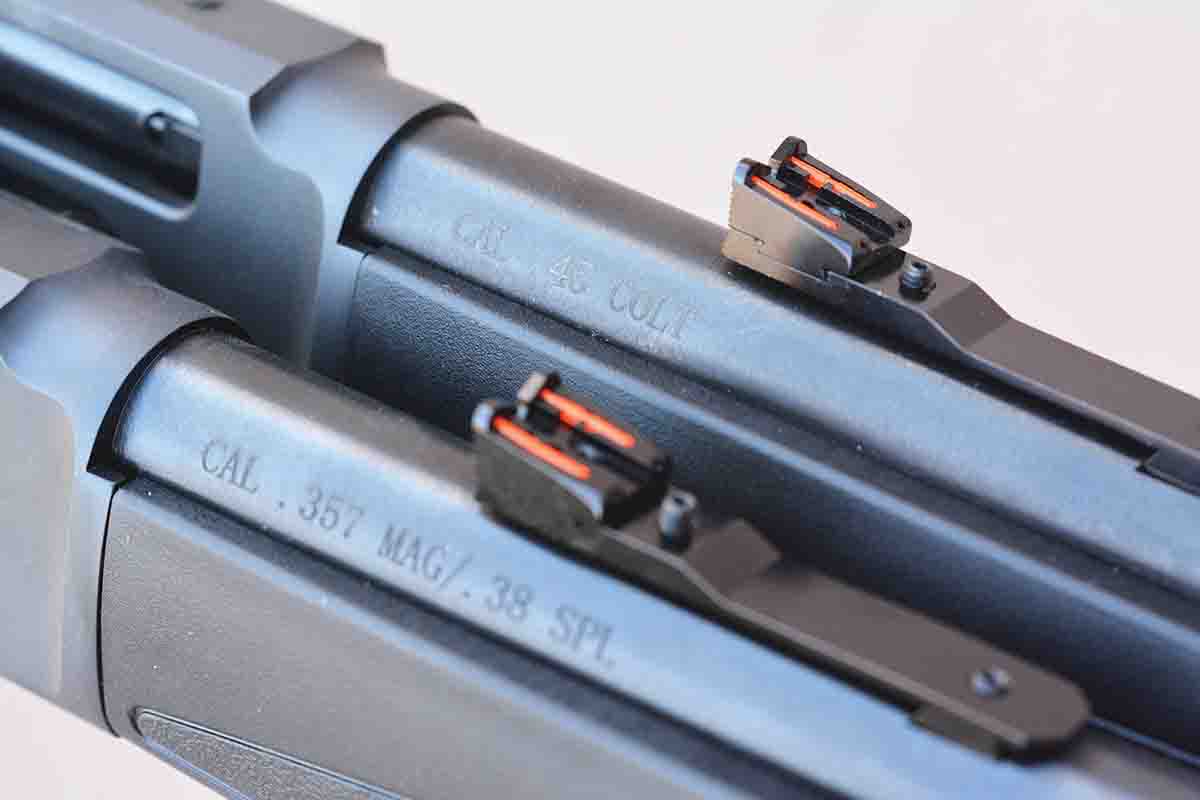 The basic Henry X Model action is loosely patterned after the proven Marlin lever rifles with side ejection, solid top receiver, etc., however, it is longer than the Model 1894 and features a round bolt and several other design departures. The lever pivots off of the finger lever screw that results in the familiar (and desirable) short throw lever-action system that aids with fast cycling and quick follow-up shots. Incidentally, by simply removing the finger lever screw (with the lever positioned about halfway in its cycle), the lever is easily removed downward and the bolt removed by pulling it from the rear of the receiver. In addition to easy cleaning of the action and bolt, this readily exposes the barrel breech to allow proper chamber and barrel cleaning from the rear of the barrel, which generally prevents damage to the crown. The finger lever is a bit oversized, but it is not the overly large loop-style that definitely slows the lever cycling speed. Rather, it's comparatively modest sized and serves to keep the lever throw reasonably short.
The X Model features a 17.4-inch barrel that is threaded with 5⁄8x24 TPI (with protector) to accept a variety of popular accessories. At the muzzle, just below the thread protector, the barrel measures .740-inch in diameter. Both the .357 Magnum and .45 Colt rifles feature a 1:16 twist, which will properly stabilize light to heavyweight bullets for each cartridge. In addition to offering across-the-board accuracy, this adds versatility in regard to the type of loads and bullets that can be used in each rifle.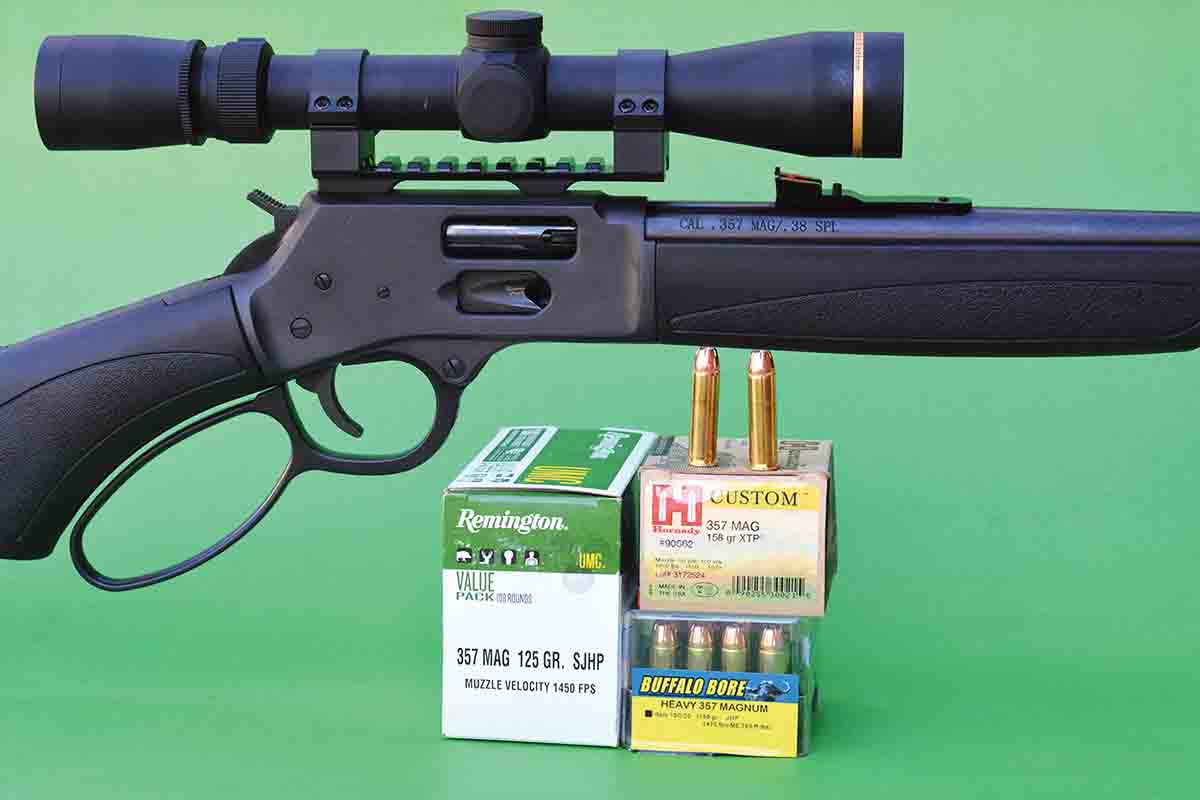 The magazine tube (with an inside magazine tube installed) is recessed approximately 1.475 inches from the barrel muzzle and holds eight rounds (not the seven rounds as reported on the Henry website), plus one round in the chamber. The front sight is a green fiber-optic, while the adjustable rear sight features two red fiber-optic inserts. The receiver is drilled and tapped to accept various scope mounts and aftermarket sights. The stock is black synthetic with both the buttstock and forearm being textured. The sling swivel holes are integrally moulded into the stock. The buttstock features a modestly curved pistol grip that is comfortable and should find favor with most shooters, while a soft rubber recoil pad serves to lighten felt recoil and help keep the stock on the shoulder while the action is being cycled. The length of pull is 14 inches. The forearm features a short Picatinny-style rail that readily accepts accessories, such as the Streamlight TLR-1 HL light that offers an impressive 1000 lumens and offers reliability that allows it to serve admirably on a home defense-style carbine.
The trigger pulls of each gun broke reasonably clean at 3.87 pounds for the .45 Colt and 4 pounds for the .357 Magnum. My only real suggestion for improvement is that the steel trigger has slightly squared edges, which could easily be rounded for an improved feel.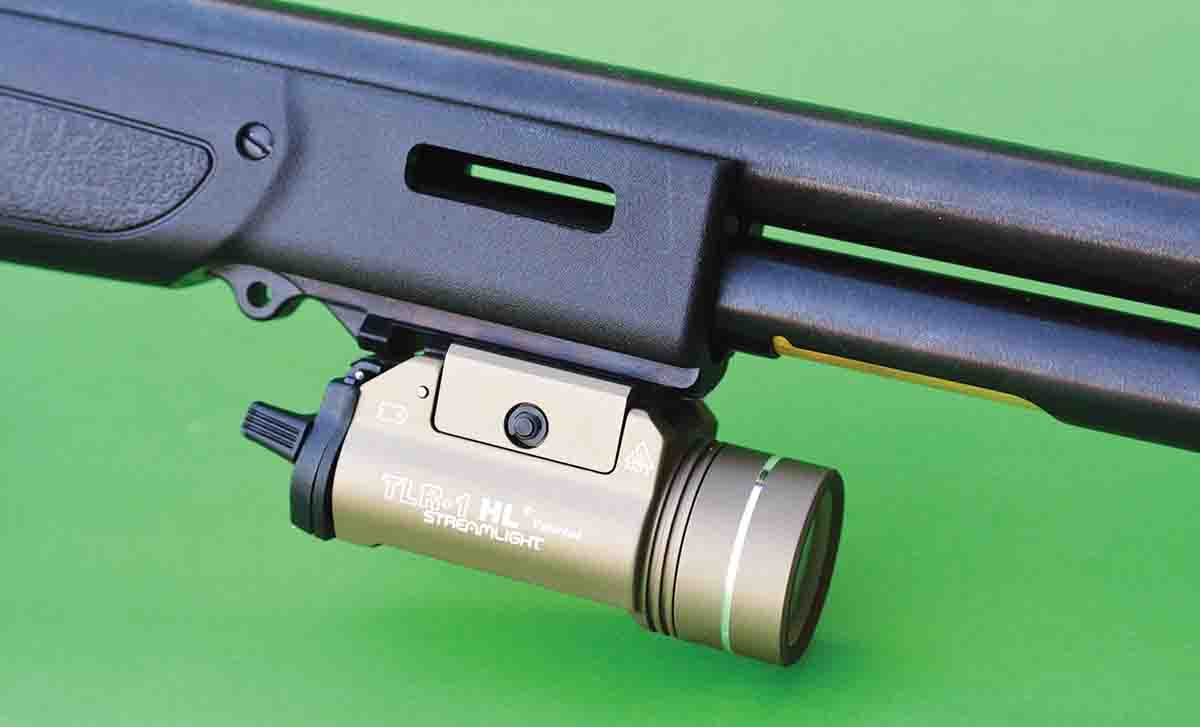 The X Model safety needs discussion to be certain that shooters understand how it works and that it is properly engaged when carrying the rifle with a cartridge in the chamber. It is referred to as a "hammer-mounted transfer bar" and the design works positively. However, I have never talked with a single Henry Big Boy rifle owner who understands how it works. To engage the safety of traditional lever-action rifles with the familiar three-position hammer (as found on Winchester, Marlin and many other rifles), most shooters will typically work the action and with the hammer in the full-cock position, the hammer spur is held with the thumb and then the trigger is pulled to allow the hammer to be fully lowered. Then to engage the safety, with the finger off the trigger, the hammer is then pulled back until it "clicks" or engages the safety notch or half-cock position. With the above methodology commonly used among lever-action shooters, most shooters using the Henry centerfire rifles will work the action and then place the thumb on the hammer and pull the trigger to lower the hammer. With the hammer-mounted transfer bar safety, it is generally thought to be in the "safe" position when in the down position; however, with the above operating method the gun is
not
in the "safe" position. For example, with a light tap to the hammer spur using a plastic mallet, the gun will fire!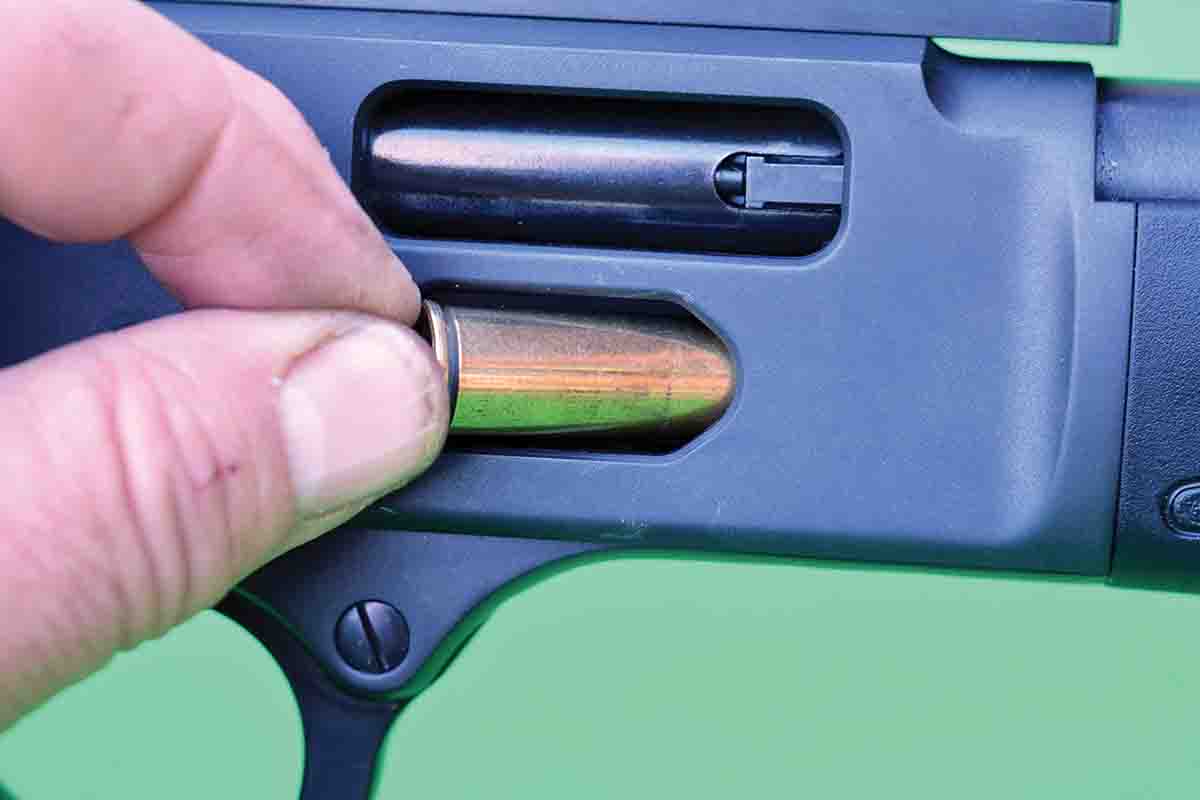 To properly engage the transfer bar safety, cycle the action, place the thumb on the hammer spur and pull the trigger to begin lowering the hammer. Immediately after the hammer clears the trigger sear engagement, release the trigger by removing the trigger finger from the trigger
and then lower the hammer
. This will activate the transfer bar safety and the gun cannot fire even if dropped.
The X Model measures 36.3 inches overall length, with the .357 Magnum tipping the scales (empty) at 7.35 pounds, while the .45 Colt weighs 6.875 pounds. This combination of weight and overall length results in these carbines offering a handy balance and compactness that will be appreciated when hunting, used in the home for protection or any other practical application that they may be used.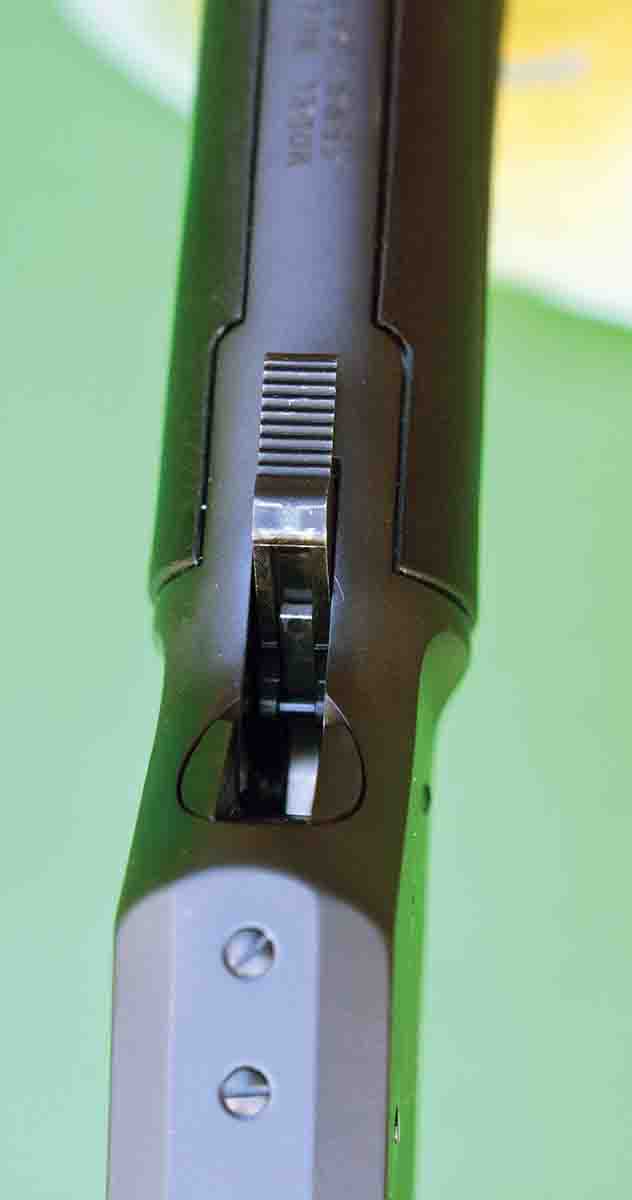 Both rifles functioned flawlessly when fed industry specification ammunition. Regarding the .45 Colt, previous Big Boy rifles tested, without the side load feature, would not feed any ammunition that exceeded the Sporting Arms and Ammunition Manufacturers' Association (SAAMI) specifications to any important degree. However, the sample X Model fed a variety of handloads and +P- style factory loads that had overall cartridge lengths that exceeded industry specifications. To provide better insight, maximum overall cartridge length for the .45 Colt is 1.600 inches and it is very common to use ammunition, both factory loads and handloads, that exceed that length to best accommodate heavyweight bullets while increasing powder capacity, which when loaded with +P pressures, significantly improves performance that can exceed .44 Magnum ballistics. Loads from Buffalo Bore, Garrett Cartridges of Texas and my handloads were used and featured SWC or Keith-style bullets, truncated cone bullets and LBT-LFN-style bullets and had cartridge lengths up to 1.685 inches. While the X Model fed each load, it was not as smooth as industry specification ammunition, but is nonetheless a significant improvement over previous Big Boy rifles. Incidentally, the X Model .45 Colt can readily handle ammunition with pressures up to 32,000 CUP, which produces case head thrust that is only modestly higher than the .44 Magnum.
The longest .357 Magnum cartridge tried measured was 1.600 inches (SAAMI is 1.590 inches), which fed without issue. It fed both roundnose flatpoint, hollowpoint and SWC-profile bullets with ease. It likewise fed .38 Special RNFP and SWC-profile cartridges.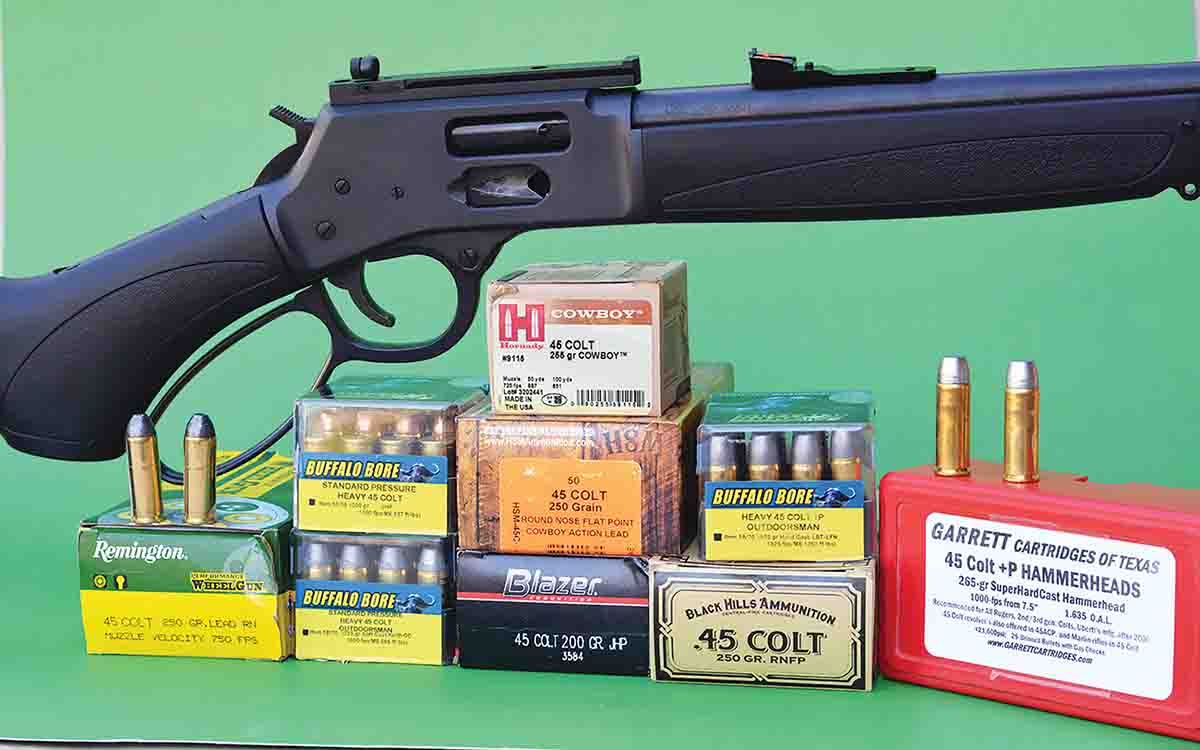 Even though they offer distinctly different types of performance, both the .357 Magnum and .45 Colt cartridges are excellent choices for compact leverguns (as well as the .44 Magnum that is not included here). Standard pressure .45 Colt loads rely on caliber and bullet weight for reliable terminal performance. They produce low recoil, mild muzzle report and are pleasant to shoot, but due to their modest velocities, their trajectory is high when compared with the .357. However, when the .45 Colt is used in conjunction with +P-style loads, it will reach similar velocities as the .357 (and .44) Magnum, but with heavier bullets. In this form, it is excellent for taking big game, but recoil becomes much snappier. The .357 Magnum is a sweetheart, as select loads can push 158-grain bullets to around 2,000 fps, which is similar ballistics to the .30-30 Winchester, but produces modest recoil, reliable expansion, accuracy and many other virtues. With proper bullets, it will take deer-sized game reliably and offers a level of terminal performance that is much greater than its so-called paper ballistics indicate. I started my children on .357 Magnum leverguns that were used to take many pests and small game, but it also accounted for many head of mule deer at moderate ranges. It really is a remarkable little cartridge that is finally receiving the recognition that it deserves. Incidentally, when it is used with light loads containing cast bullets at 800 to 900 fps, it can take small, edible game with minimal meat damage.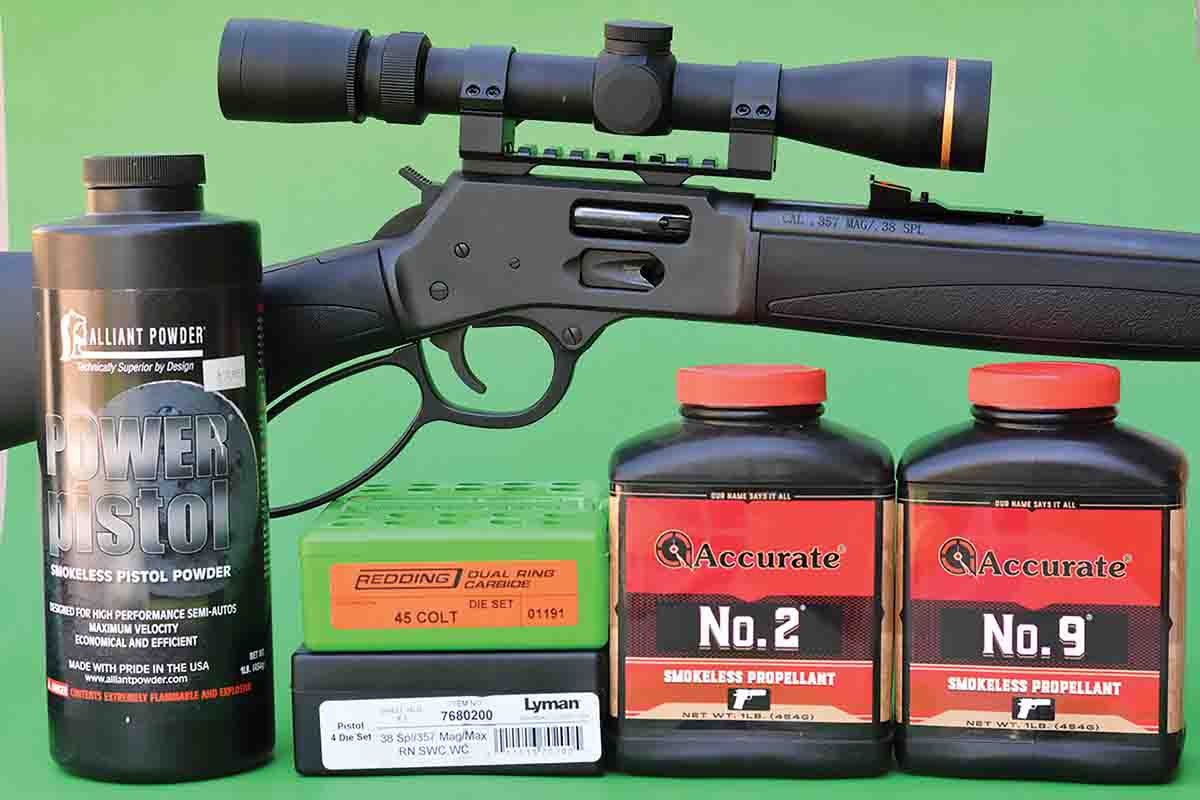 The factory installed fiber-optic open sights are fine for shooting in low-light conditions and allow fast target acquisition. However, depending on how the X Model will be used, many shooters will choose to add custom options such as aperture sights, reflex sights or scopes. The receiver is drilled and tapped and readily accepts a Picatinny rail (available from Henry) to accommodate many other sights. I elected to put a Skinner Sights Big Boy Express on the X Model .45 Colt. This sight assisted in obtaining accuracy under a variety of light conditions, while adding minimal weight and is compact. The Skinner Sight also accepts Warne Steel rings to accommodate scope mounting. The X Model .357 Magnum was fitted with a Henry receiver mount Picatinny scope base and a Leupold VX-3i 2.5-8x 36mm variable scope was installed using QR rings that allows quick removal and reattaching without losing zero.
As can be seen in the accompanying table, both rifles were accurate. Testing was conducted at 75 yards from a bench with sandbag rests (although forearms were never rested directly on the bags). Most standard pressure .45 Colt loads pushed 200- to 255-grain bullets from 900 to 1,350 fps that gave mild recoil. Most groups hovered between 2 to 3 inches. However, those figures were improved through handloading. For example, using the Hornady 250-grain XTP bullet pushed to 1,105 fps using 9.4 grains of Alliant Power Pistol powder (CCI 300 primer in Starline cases) averaged 1.35-inch groups. Switching to 265-grain bullets from RCBS mould No. 45-250-FN, 7.1 grains of Accurate No. 2 reached 1,058 fps and groups averaged 1.20 inches. Moving on to +P-style loads that are only suitable for strong revolvers and rifles, the Speer 250-grain Deep Curl HP bullet reached 1,717 fps using 23.5 grains of Alliant 2400 powder and groups averaged 1.60 inches, while 24.5 grains of Accurate No. 9 reached over 1,800 fps and nearly duplicated the above accuracy.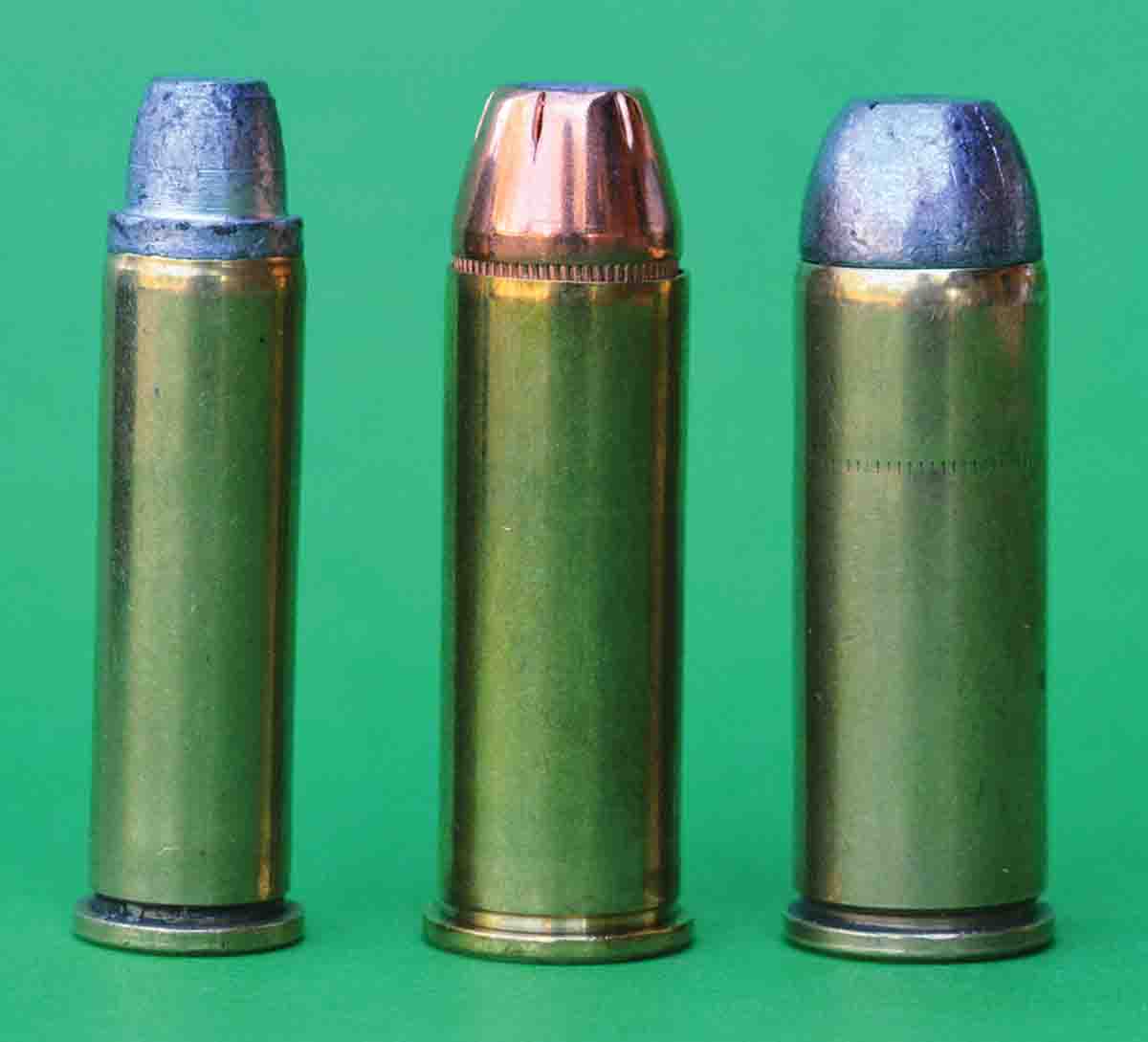 Switching to the .357 Magnum, loads from Black Hills Ammunition, Buffalo Bore, Hornady and Remington typically grouped from 1 to 2 inches. One notable handload consisted of Starline cases loaded with 14.5 grains of Alliant 2400 powder, Speer 158-grain Deep Curl HP and capped with CCI No. 500 primer for 1,724 fps. This load proved capable of four-shot groups that averaged 1.45 inches (again at 75 yards). For those seeking a great high-velocity field load, try the Hornady 158-grain XTP bullet pushed with 19 to 19.5 grains of Hodgdon Lil'Gun powder (capped with CCI No. 550 primer) for nearly 2,000 fps and respectable accuracy.
The Henry Big Boy X Model is produced in Rice Lake, Wisconsin, and is 100 percent made in the U.S. It can serve in many roles that include sporting applications, recreation shooting, defense or hunting. In addition to being accurate, reliable and legal to own in all 50 states, it is fun to shoot.