A few years back, I heard of a Montana gun store selling an estate that included many vintage military bolt-action rifles. One Saturday afternoon I took a drive to see what might be available. I was a bit late in learning of this sale, so the assortment had been picked over by previous bargain hunters.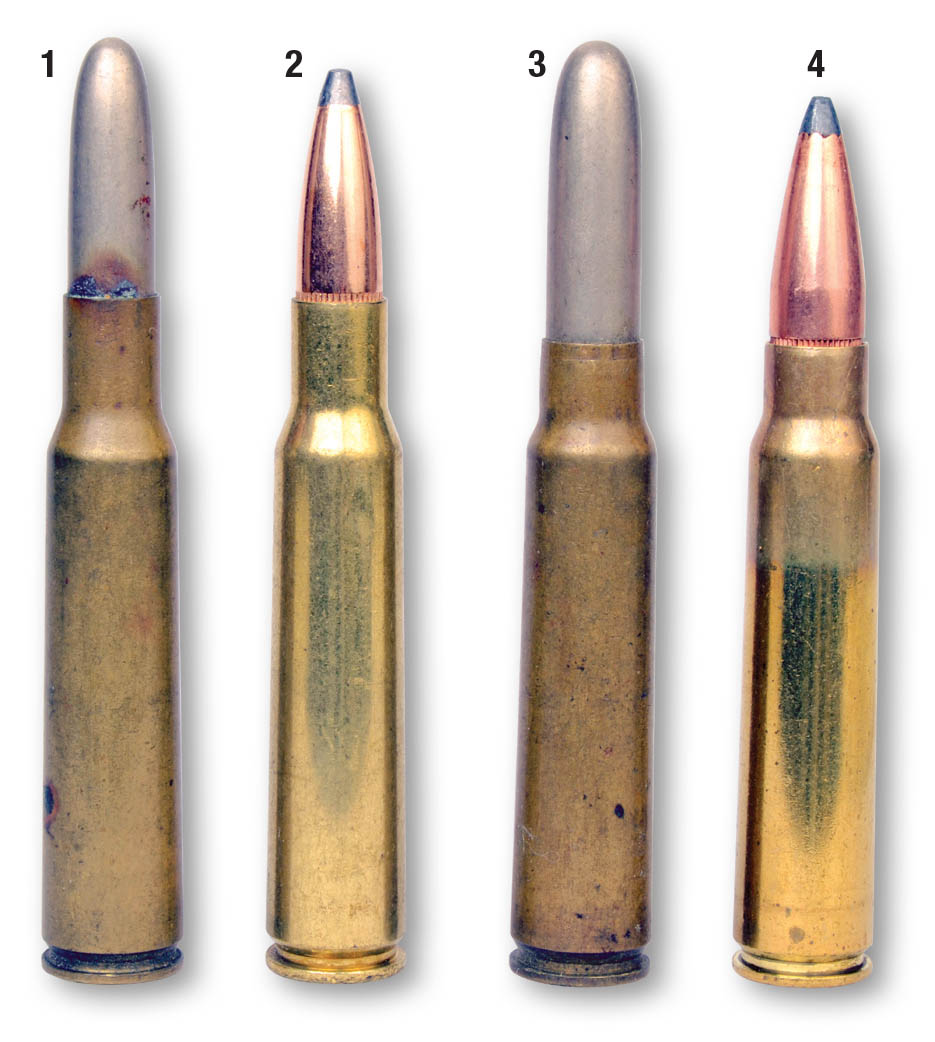 It should be stated here that at the time I knew virtually nothing about Chilean Mauser rifles, but I do recognize quality of manufacture and modest prices. Two rifles remaining in the estate certainly met those criteria. Both were quickly determined to be based on Mauser's Model 1898, because their firing pins were cocked upon the bolt's opening. One was marked "Modelo 1912" with an intricate crest atop the front receiver ring. The other was stamped "Chile" on the front ring, and "Orden Y Patria" with a crossed-rifles insignia along with "Modelo 1935." Both had excellent bores and overall were in nice condition. I took them home.
Then the research began primarily in Mauser Military Rifles of the World, Third Edition by Robert W.D. Ball. The Crest on the Modelo 1912 was from Chile, so along with definite proof that the Model 1935 was also Chilean, that pinned down the fact that both were 7x57mm Mausers. Soon thereafter, a Chilean Model 1895, also a 7mm Mauser, was added.
Primarily because of German influence in the nineteenth century, Chile adopted a Mauser-designed turn-bolt with an internal box magazine. These were Model 1895s. Essentially, these rifles' actions were close to Spain's Model 1893, except a shoulder was added to the right rear of the receiver to act as a stop for the bolt handle in case the locking lugs failed. According to Ball's book, some of Chile's Model 1895s were actually true Model 1893s originally intended for South Africa's Boers. Restamped, they were then shipped to South America instead.
Chile's Model 1895s were fitted with straight-grip stocks, and barrels were 29.60 inches long. Sights were an open ladder-type rear with graduations to 2,000 meters, and an inverted V front. They were produced by Ludwig Lowe & Company's factory in Berlin. Model 1895s were also produced in short rifle and carbine configurations. The former were fitted with 21.25-inch barrels, and the latter with 18.25-inch barrels. Both had turned down bolt handles and sling swivels on the stock's left side, indicating they were meant to be carried across a horse soldier's back. Sights remained the same as with Model 1895 infantry rifles, except sight graduations only went to 1,400 meters. According to Ball's book, by 1898 Chile had 80,000 Model 1895 rifles on hand, along with 30,000 carbines.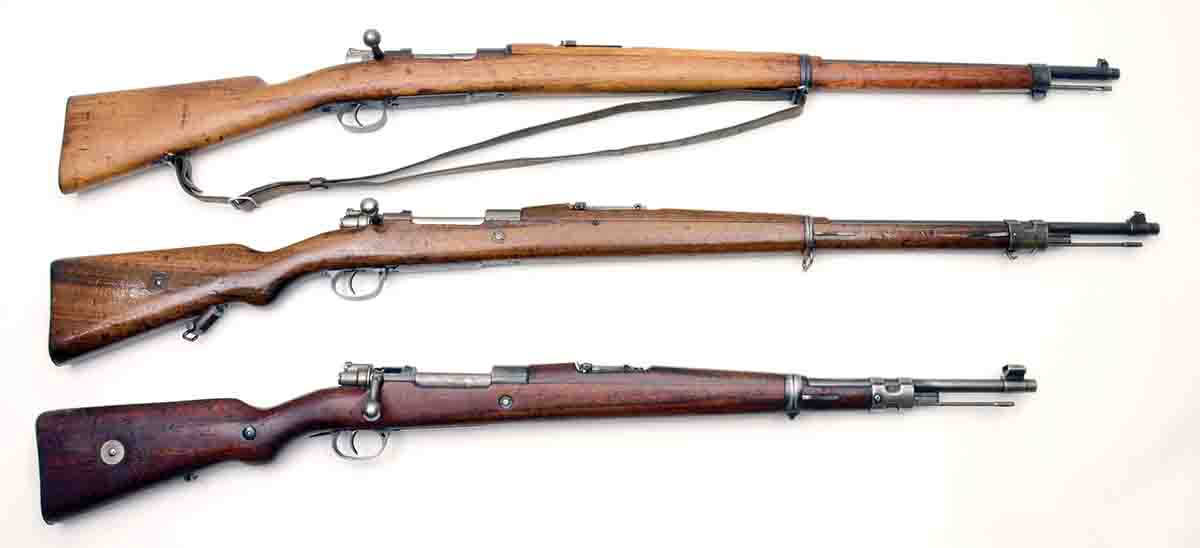 After Peter Paul Mauser refined his turn-bolt design, turning it into the stronger Model 1898, several South American countries decided to upgrade their earlier Mauser models. Argentina adopted the Model 1909 to supplant its Model 1891s, Brazil moved from a Model 1894 to the Model 1907, and Chile turned to the Österreichische Waffenfabriks-Gesellschaft factory located in Steyr, Austria. Barrel length was a half-inch shorter than the full-length Model 1895, but sights remained the same. It was likely no accident that except for the rear sights, all of these early-twentieth-century, South American Mausers closely resemble Germany's Gewehr 1898.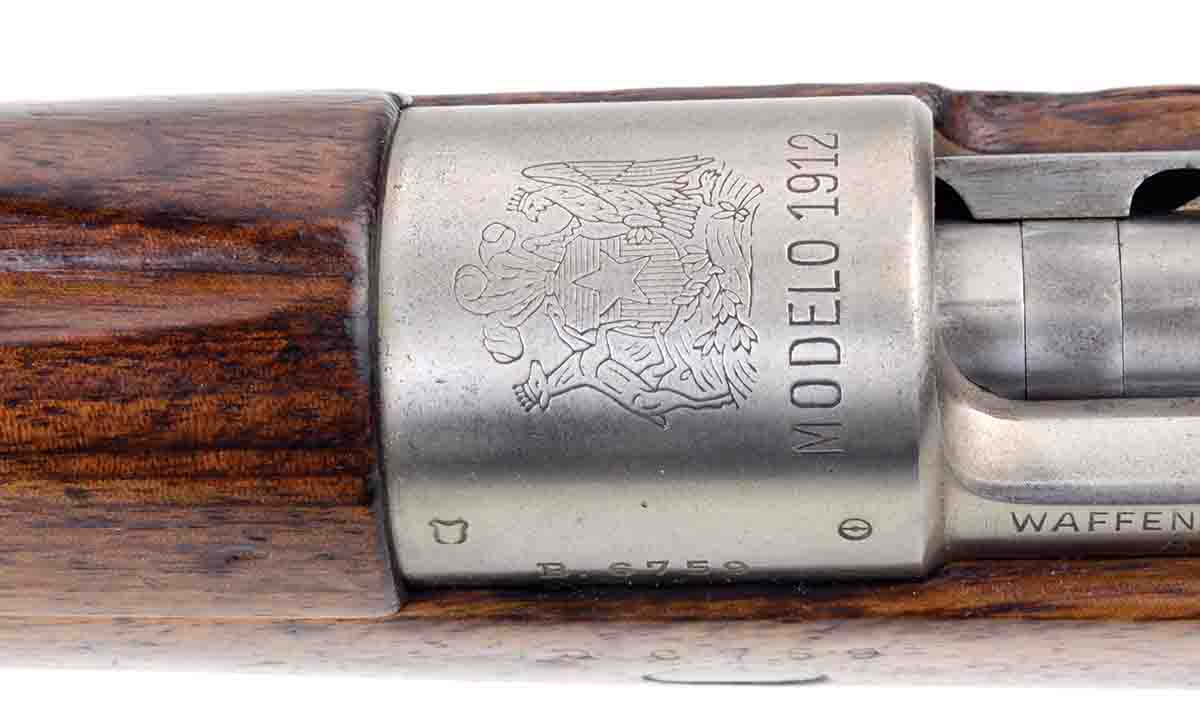 An interesting difference between Chile's Models 1895 and 1912 is that the Austrian-made rifle actions were left in the white. Another significant point in the Model 1912's history is that Chile's order was not completely filled when World War I broke out in August 1914. Austria ceased shipping rifles to Chile and kept them for its own armed forces. It seems that no records exist as to how many Model 1912s went to South America and how many stayed in Europe.
I hit a minor jackpot with the Modelo 1935. Only about 10,000 were purchased for an elite paramilitary force called Carabineros. They were roughly equivalent to our U.S. Border Patrol in that they guarded Chile's famously long, eastern border. These interwar Model 1935s were produced in Germany by Mauser-Werke of Oberndorf and have the Mauser banner on the rear receiver bridge.
Barrel length for Model 1935s is 21.50 inches, and their rear open sights are graduated to 1,400 meters, but the front sight is different from other Mausers I've viewed. Instead of being dovetailed on a barrel stud so it can be drifted laterally, it sits inside a housing protected by "ears." It can be drifted for windage zeroing but rides in a track running diagonally from front to rear. Model 1935s also have bayonet lugs, which seems odd for a rifle used for patrolling borders.

While shooting these 7x57mm Chilean Mausers, rather sedate handloads and some factory loads were tried. Handloads were mild in deference to the weaker Model 1895 design. With all three rifles, groups at 100 yards have usually ranged from about 2.5 to 3.5 inches. That's not bad considering my late-60s eyesight.
Chilean Mausers are not expensive by twenty-first-century standards and would make fine shooters for vintage military rifle competitions.