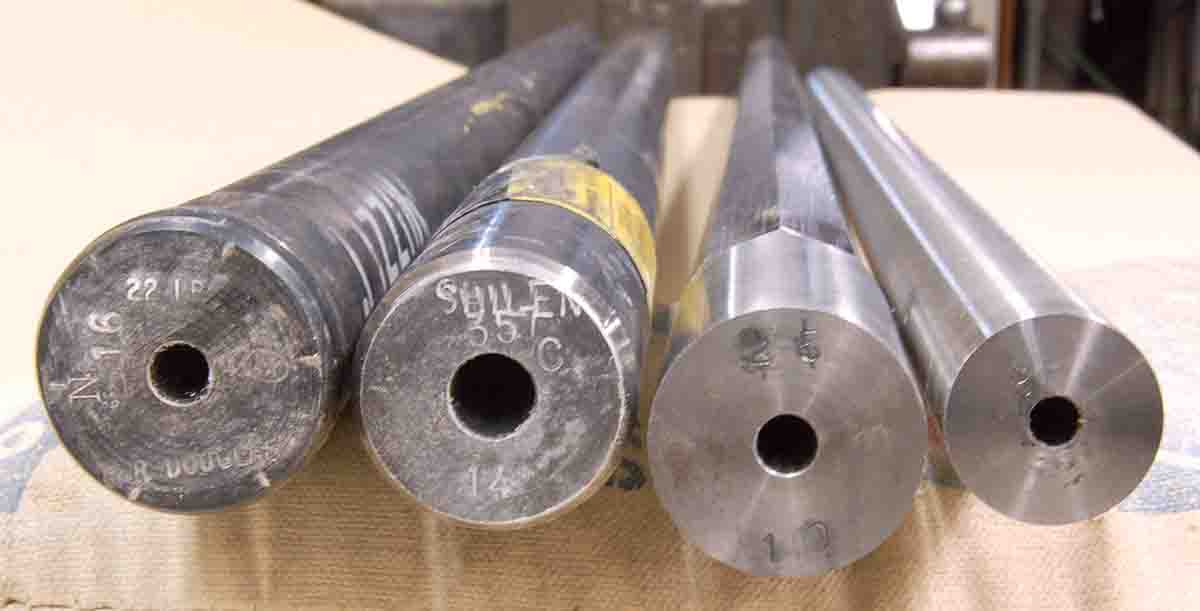 As one becomes more immersed in the fascinating hobby of rifle shooting, the subject of rebarreling will come up. Initally it sounds like a really neat idea, but whether it actually is a viable option depends upon several factors.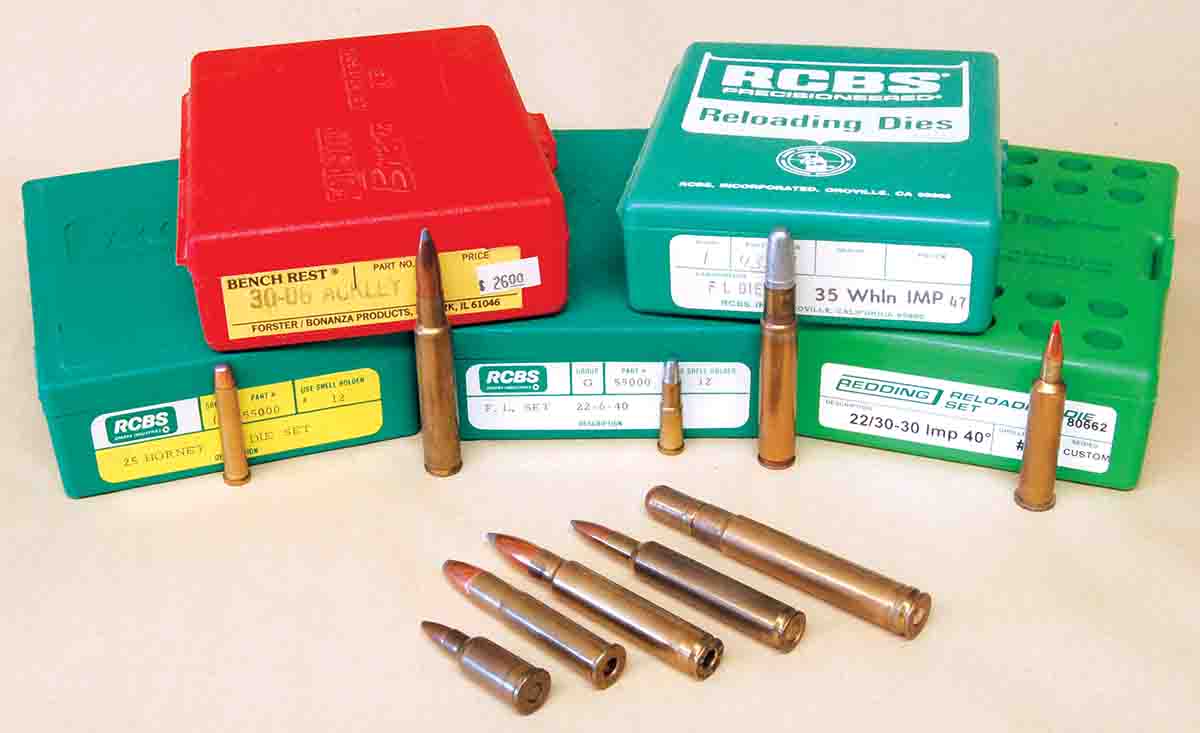 The first is the reason for replacing the barrel. For example, the bore may be severely pitted from neglect or firing corrosive-primed ammunition. Perhaps it is just a bit rusty, or marred due to driving out some type of obstruction. Then there is difficult extraction traced to a scratched chamber caused by someone who didn't know how to properly remove a head-separated case. Of course, there is also just unacceptably poor accuracy.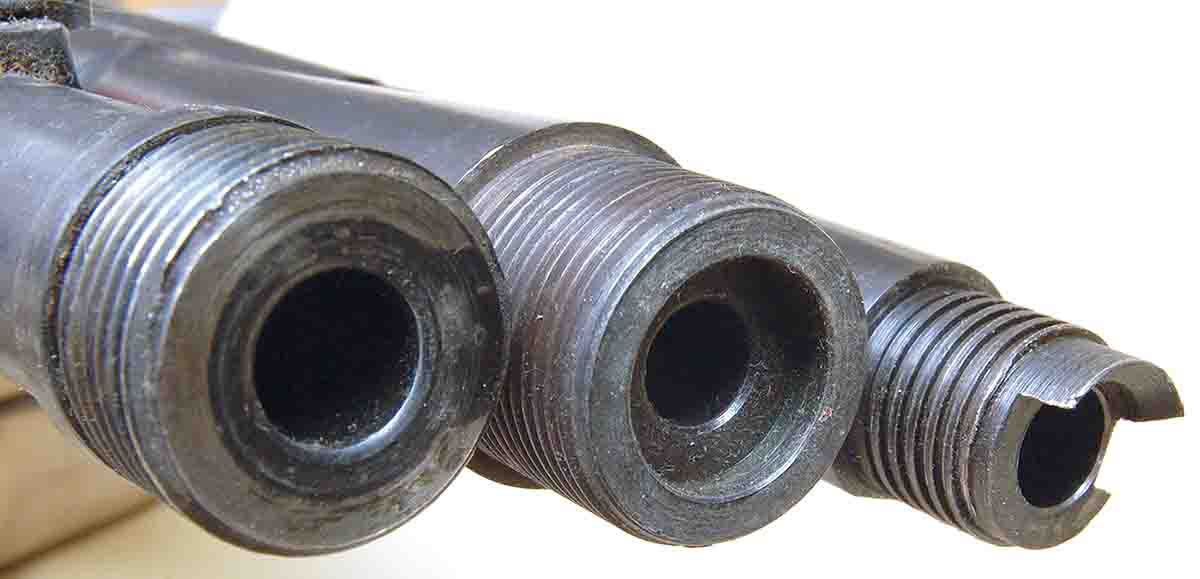 All of the above are pretty much dependent on the degree of damage – except pitting. Pitting is forever. Any black areas in the bore are pits and can be felt using a tight patch on a cleaning rod. Shooting cast bullets is a waste of time. Reasonable handloads
may
be found using jacketed bullets with which accuracy is acceptable for plinking or short-range hunting, but don't count on it. Such barrels require replacement.
On the other hand, light bore rusting is not necessarily fatal to a hunting rifle's performance. Try soaking the barrel in some type of penetrating oil for a few days to soften the rust. A couple passes with a bronze brush will then yield a very dirty, brown sludge. Repeat the procedure until a patch comes out clean, or nearly so. Now fire a few jacketed bullet rounds. If the chamber is not rusted (for some reason it often isn't) and allows easy extraction, repeat the soaking and brushing. After a couple cycles, the bore should look a lot better than it did originally. I have done this to dozens of leverguns and only had a couple of the worst rifles produce less-than-normal accuracy for such rifles. It must be added, however, that this only applies to low-pressure cartridges. High-pressure cartridges like .270 Winchester or 7mm Remington Magnum should be rebarreled, as roughness caused by rusting will raise pressure significantly.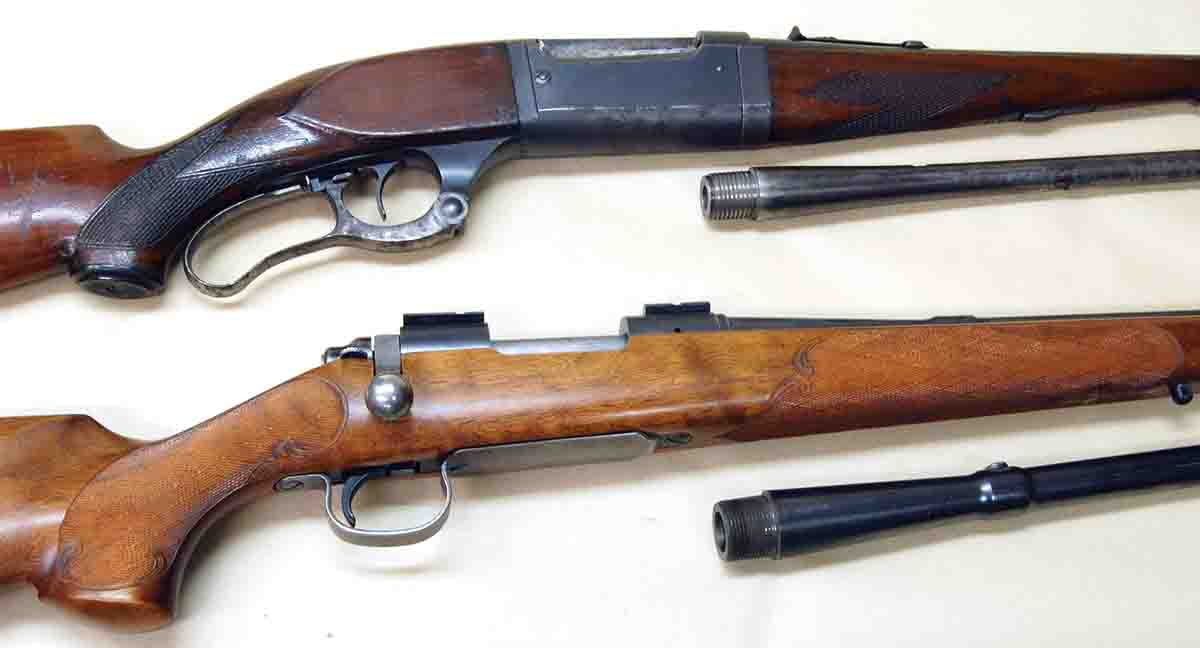 The damage caused by driving out a bore obstruction and prying out head-separated cases may also differ greatly. In the former, handloading different bullets or varying velocity may make a difference. In the latter, if cases extract okay it's best to just ignore the damage. If the prying raised a burr, running a chamber reamer in the rifle will remove it. This has been done to several Savage M99s, solving the extraction problem even though the scratches remained. It did not work for a .243 Winchester and .25-06 Remington I remember. Even after a lot of polishing, the .243 required a new barrel. The .25-06 barrel was set back and rechambered to get rid of the damage.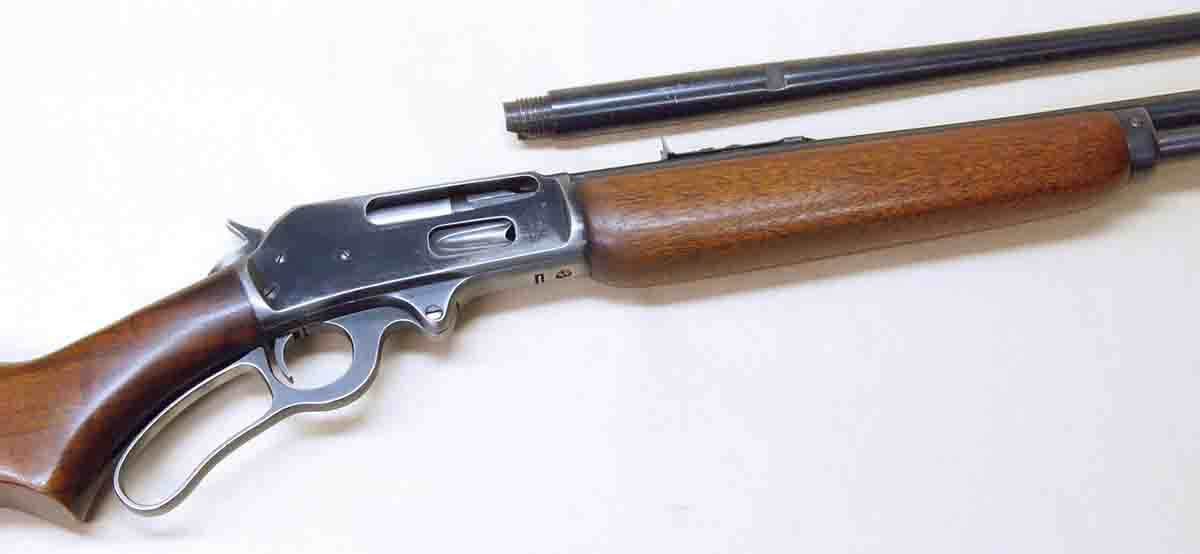 Another reason to rebarrel is simply to change chamberings. We become convinced a .280 Remington is better than our .270 Winchester, or some such. A lot of this is done, even though today it often isn't necessary. To gain experience with either a popular old round or new cartridge, it's only necessary to buy one of the "economy" bolt rifles produced by all the large gunmakers. These are often extremely accurate, and if after using it awhile the round doesn't meet expectations, the rifle can be sold with less invested in the experience than the cost of a rebarrel job.
Then there are wildcats, either rebarreling to such a cartridge or replacing a barrel so chambered. Shooters with little experience here need to know that, with few exceptions, a rifle chambered for a wildcat cartridge is worth 25 to 50 percent less, even with the loading dies. No dies, and its worth little more than the action alone. New wildcat loading/forming dies can cost more than the rifle! If rebarreling to a wildcat, keep the take-off barrel!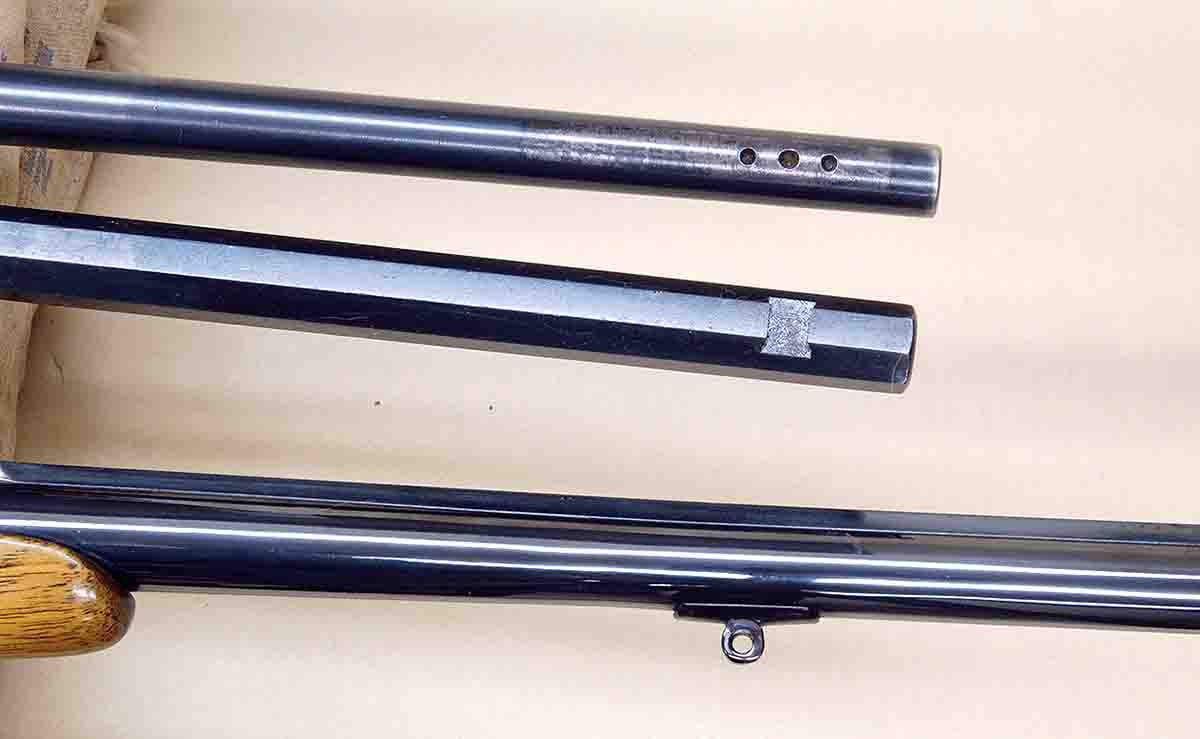 All the foregoing is then complicated by the collector market. Obviously, a decision to rebarrel a prewar Winchester M70 Super Grade 7.65 Argentine that was inherited from grandpa to .243 Winchester, so the kids will have a deer rifle, would not be a smart move. The same is true for most any collectible rifle today that is in factory-original condition. Rebarreling or reblueing will often reduce the value of the rifle to less than the cost of the work.
Nevertheless, lots of rebarreling goes on. Some is done by large outfits that make thousands of barrels annually. More is done by specialty shops that install several makers' barrels and do reblueing but no stock work. Still others are shops catering to the target/benchrest trade, or high-dollar, custom-rifle builders. All are easily found by an Internet search.
Before looking for someone to do rebarreling, however, it's necessary to decide exactly what is wanted. First is rifling type, of which there are three: cut, button and hammer forged. There are superb barrels and poor barrels of each type. Cut rifling is the most expensive, will require the longest wait, but is necessary if nonstandard bore sizes, groove depths or twist rates are wanted. Hammer-forged blanks are seldom considered because there are few available. That leaves button rifling, and even though there has been some standardization over the years, it's almost certain a suitable blank is available. Prices vary, but you get what you pay for.
Next is chamber and throat dimensions. Target and benchrest shooters know what to ask for here, but for the rest of us a slightly tighter neck will add to accuracy of a varmint rifle. Given all the lead-free bullets available today, the throat can be cut to fit if we keep in mind that the round still has to work through the magazine. On single shots, the throat can be lengthened so such bullets can be seated only to the base of the neck, allowing more powder room in the case.

Barrel contour will generally duplicate the existing tube so it will fit back into the stock, but length can be increased 2 or 3 inches. This will add 100 to 200 fps of velocity, depending on cartridge and bullet weight. Noise and blast will also decrease when compared to today's short barrels.
A few items seldom considered include that if barrel-mounted iron sights or a sling swivel base are to be transferred to the new barrel of a bolt gun, there will be an extra charge. On leverguns, sight transfer is figured in the rebarrel price. When a rifle is sent for a new barrel, remove the stock, scope, rings, bases and any receiver sights or they may be lost. Finish on the barrel must also be specified. Simple hot blueing is standard. Anything else, especially the exotic finishes, will usually require shipping the barreled action to another shop. This can add a lot of extra time and significant cost.
Finally, there are the AR-type rifles. Rebarreling is not difficult and often necessary due to bore damage from rapid firing. If, however, one feels the need for the latest weird little cartridge adapted to these rifles, it's better to just buy a complete upper. That way, if the cartridge doesn't work out as planned or becomes too darned expensive to shoot much, it is easy to sell the upper to another shooter who thinks he just can't live without it!