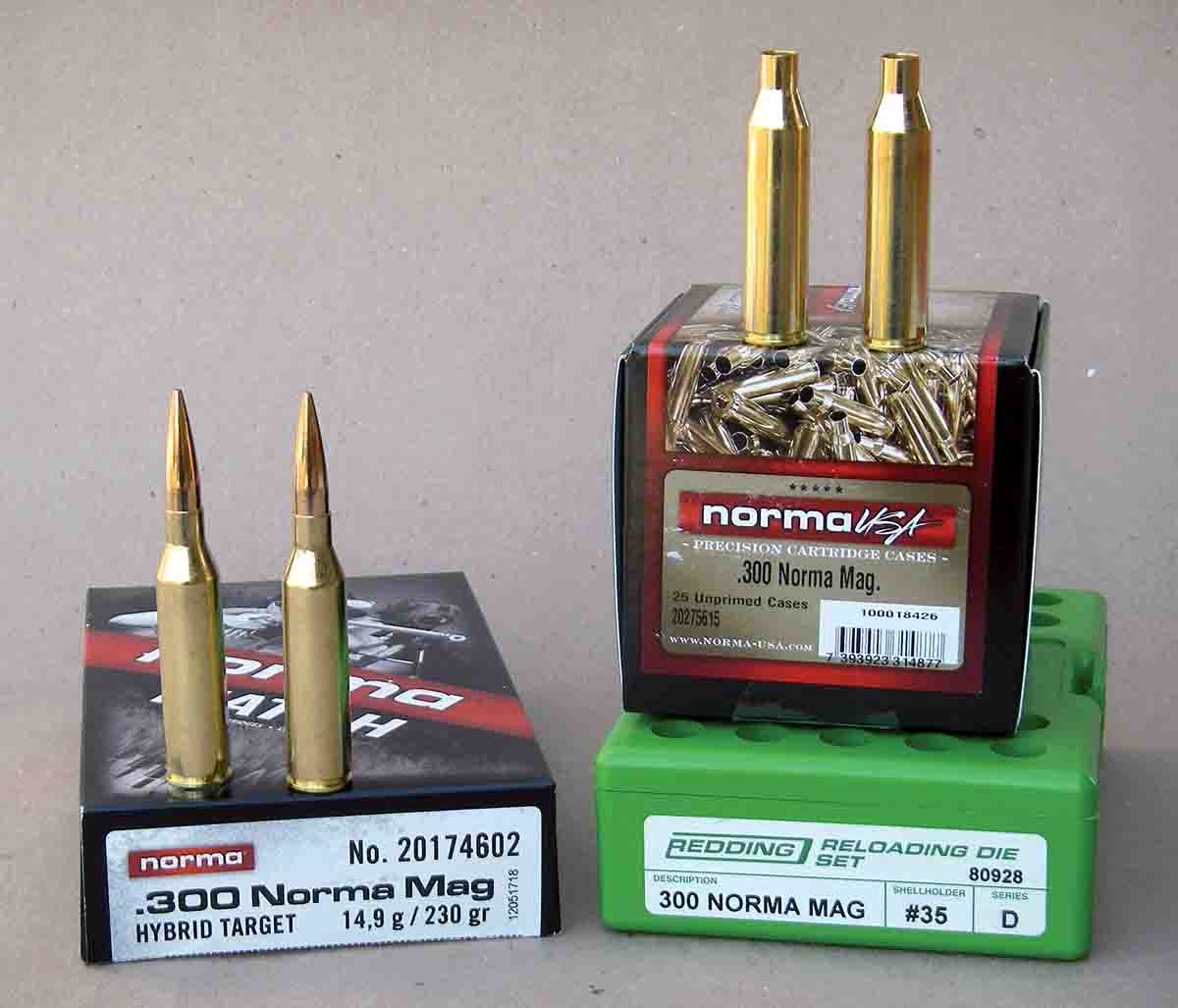 In my early days of shooting and hunting with .30-caliber magnum cartridges, the choices were rather limited. For example, there was the fine old .300 H&H Magnum that was introduced in the 1920s, but sales were slow as it required an action 3.600 inches in length, and most manufacturers had stop building rifles so chambered.
The .300 Weatherby Magnum, introduced in 1944, was popular and potent, but it too required a .375 H&H Magnum-length action. And Weatherby Mark V rifles were almost of "exotic" status and mostly associated with the rich and famous rather than average citizens in the ranching communities I grew up in.
The .308 Norma Magnum, introduced in 1960, was somewhat common but was most often seen in converted military rifles and Browning FN High Power bolt guns, which were not common. However, in spite of being an excellent cartridge based on the .375 H&H Magnum belted case and shortened to function in .30-06-length actions, its future was already doomed primarily because of the huge success of the .300 Winchester Magnum.
The .300 Winchester was introduced in 1963 and quickly received widespread acceptance by major rifle manufacturers and shooters, making it the up-and-coming new kid on the block. It offered a slight ballistic advantage over the .300 H&H, but with a maximum overall cartridge length of 3.340 inches, it could be chambered in any standard .30-06-length action. Ammunition was also offered at reasonable prices by all major companies.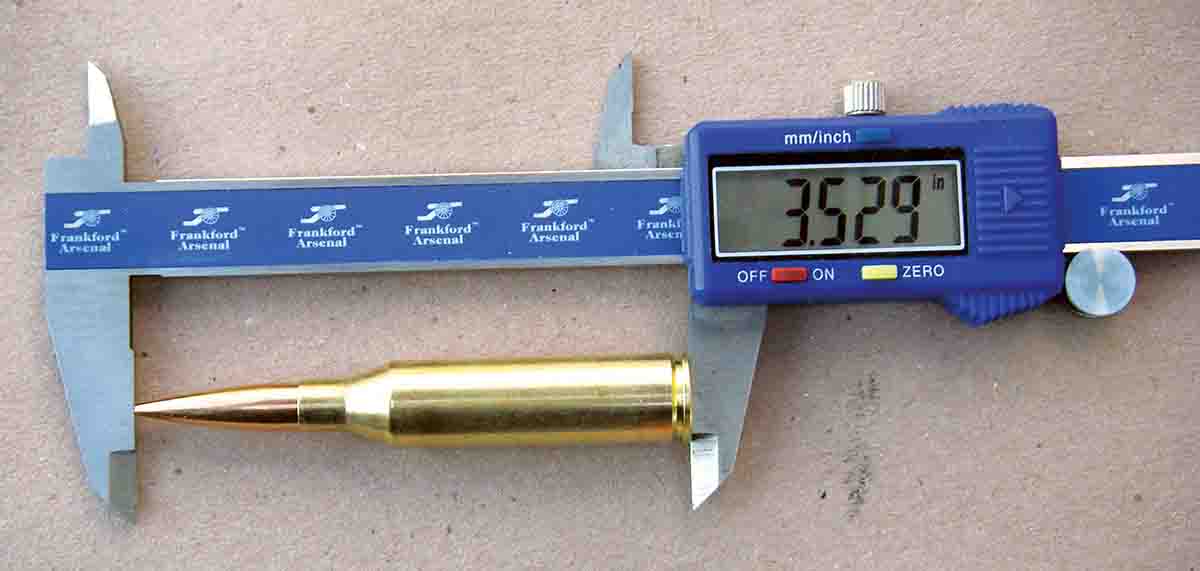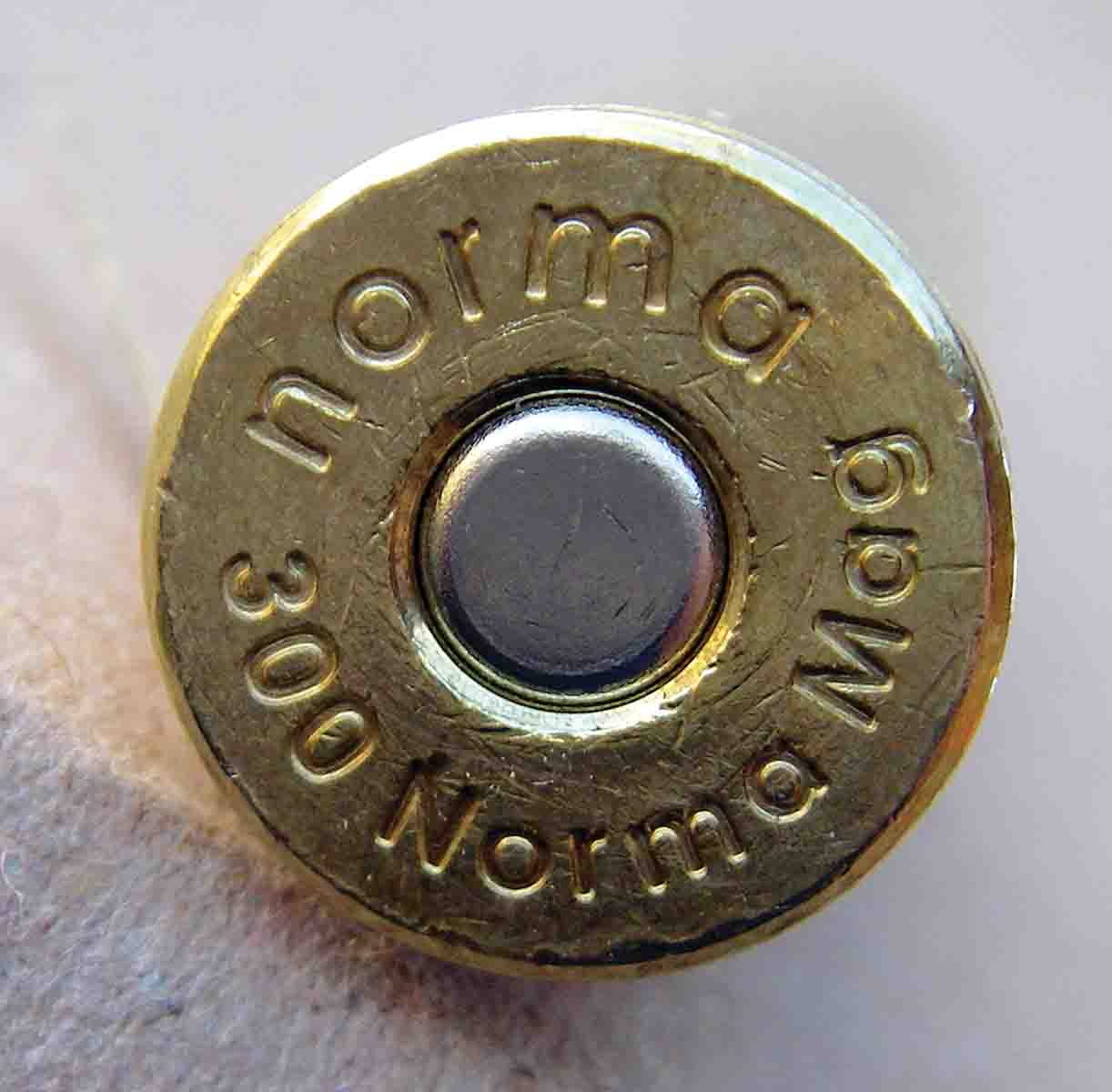 The demand for .30-caliber magnum cartridges has increased in recent years, as there are nearly a dozen new commercial versions introduced in the past couple of decades or so. These include several short-action cartridges that are suitable for .308 Winchester-length actions and are primarily intended for hunters seeking lighter, shorter rifles. There are also several large-capacity magnums created primarily for long-range hunting and target work.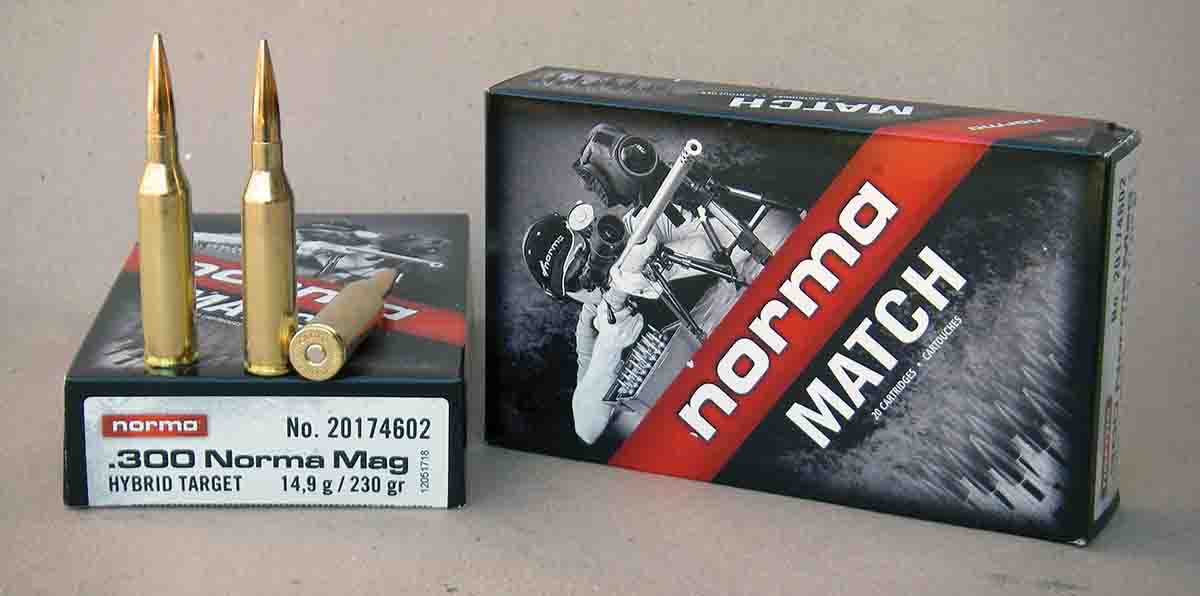 In spite of the these competing cartridges, the .300 Winchester Magnum remains easily the most popular of all. In addition to being suitable for .30-06-length actions, it is chambered by all major rifle manufacturers in a variety of configurations, and the list of specialized hunting loads from ammunition companies is rather long. It generally pushes a 150- grain bullet at 3,290 fps, a 180 at 2,960 fps or a 200 at 2,700 fps, and specialized loads are offered in several additional bullet weights. Recoil is not difficult for most shooters to master, and the cartridge is most commonly chambered in bolt-action rifles that weigh between 7 and 8 pounds without a scope, which are easily carried in mountains or open country.
This rifle and cartridge combination is capable of taking big game under the vast majority of all hunting circumstances. It is at home when used for hunting elk, mule deer and antelope in the Rocky Mountains, where shots may be at a few yards, or several hundred yards. It is at home taking sheep in Alaska, or the great bears. A rifle in this form also handles fast enough to accommodate hunting in the brush or timber. Due to its many virtues, including readily available ammunition in remote and lightly populated areas, it is often considered a top contender as the best all-around hunting cartridge in North America.
The military adopted the .300 Winchester Magnum in the M24 Sniper Weapon Systems (using Mk 248 MOD 1 Match Grade ammunition) as well as the U.S. Navy in its Mk 13 Mod 5 Sniper Rifle. Using the Sierra 220-grain HPBT MatchKing bullet at 2,850 fps, it will stay supersonic out to 1,500 yards. (Note that the above military load specifications exceed SAAMI .300 Winchester Magnum sporting ammunition in pressure and overall cartridge length.) This has served to further popularize the .300 Winchester Magnum with sportsman and hunters.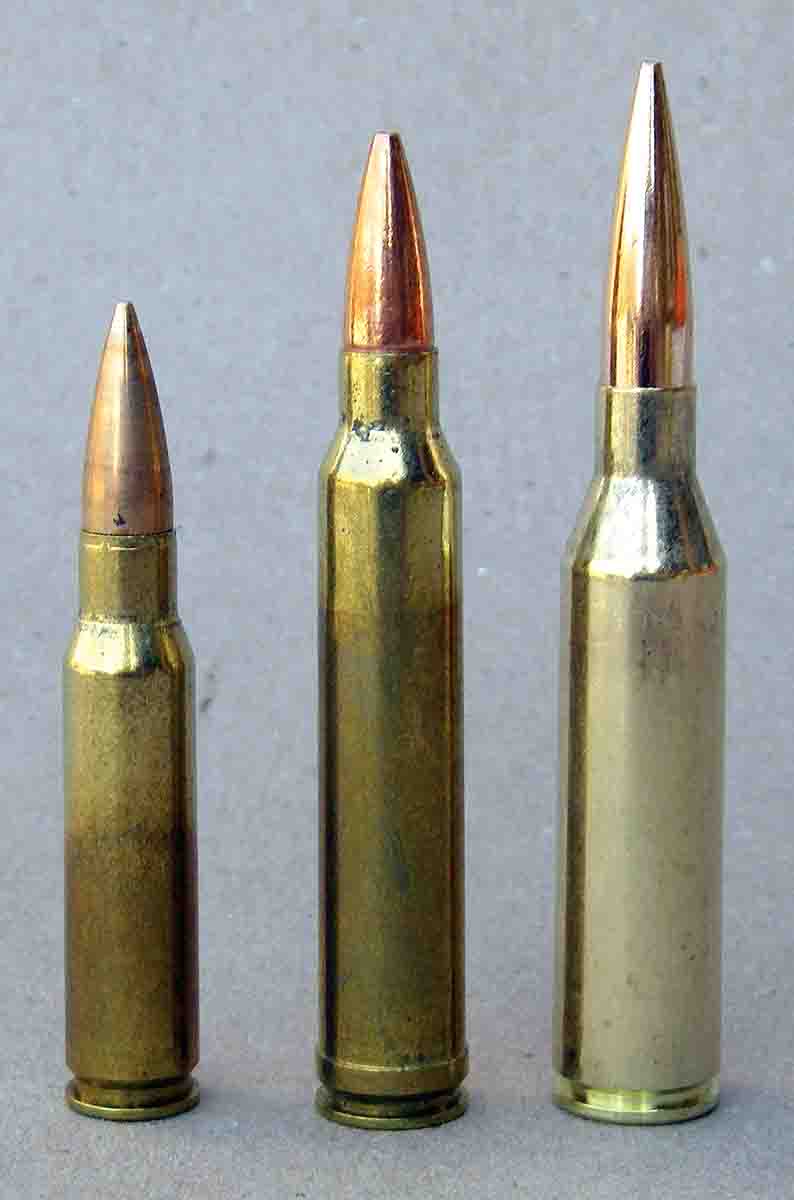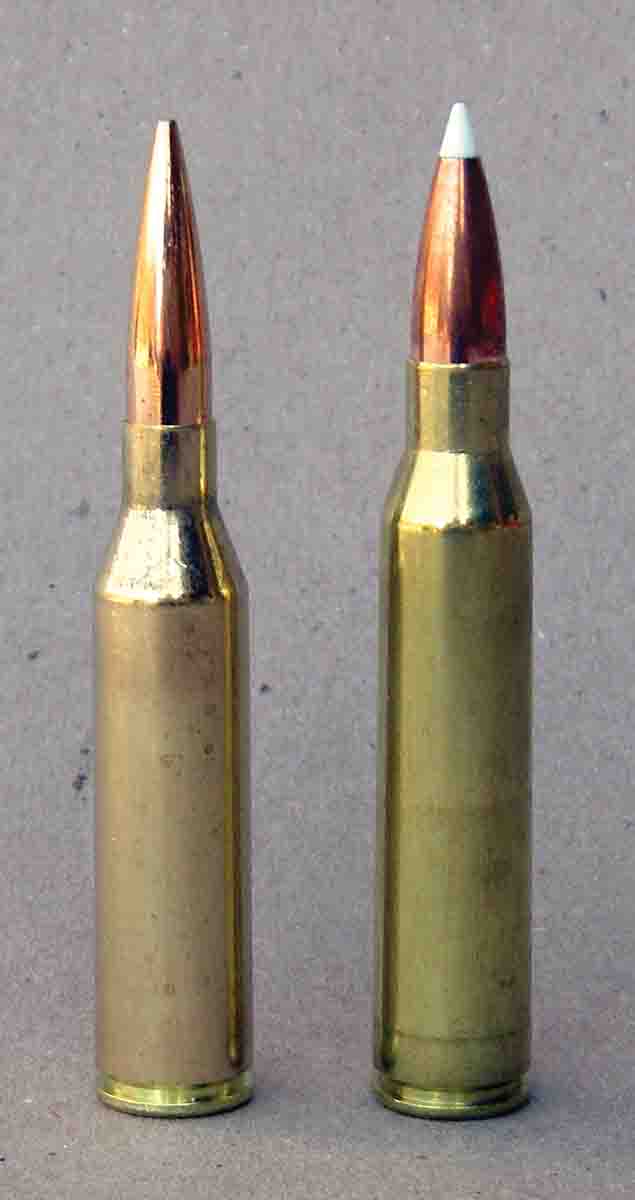 Critics often discuss the comparatively short neck and belted case design of the .300 Winchester Magnum, which are technically of legitimate concern. Nonetheless, it has a well-established record of delivering excellent performance and long-range accuracy. However, it has been the variances associated with minimum and maximum case specifications and powder capacity that have resulted in ammunition companies necessarily putting in greater effort to minimize inconsistencies and precisely duplicate velocities and pressures with each ammunition lot. These variances are not critical for hunters who zero their rifles with each new batch of ammunition purchased, and savvy handloaders will easily compensate accordingly. These variances, however, have been something of an annoyance in military ammunition, which has been discussed within those circles.
The rest of this story really begins in 2008-2009, when Norma of Sweden first offered the .338 Norma Magnum, a cartridge based on the .416 Rigby case. For the record, this cartridge was originally developed by Jimmie Sloan with Dave Kiff of Pacific Tool and Gauge providing reamers, etc. It is based on a strengthened .416 Rigby case (the same as the .338 Lapua) and originally developed to serve as a long-range target cartridge loaded in conjunction with the Sierra 300-grain HPBT MatchKing bullet. In effect, the .338 Norma is completely modern and more or less duplicates .338 Lapua ballistics while using less powder to increase efficiency, but it also offers unusually low extreme velocity spreads and outstanding accuracy. The design was eventually purchased by Norma.
In 2012 Norma necked the .338 Norma Magnum case to .30 caliber, which became the .300 Norma Magnum. Not to be confused with the .308 Norma Magnum based on the .375 H&H Magnum belted case, it shares the same virtues as its parent cartridge but also provides unusually long barrel life for such a high-performing cartridge. It is currently offered by Norma with its 180-grain Oryx big-game bullet pushed to 2,950 fps. Long-range target shooters will gravitate to Norma's factory load containing a 230-grain Hybrid bullet with a ballistic coefficient (BC) of .743 at 2,985 fps, which stays supersonic beyond 2,000 yards. Hornady is also offering .300 Norma Magnum loads containing its 225-grain ELD Match bullet with a G1 BC of .777 or a G7 of .391 at 2,850 fps, which likewise stays supersonic beyond 2,000 yards.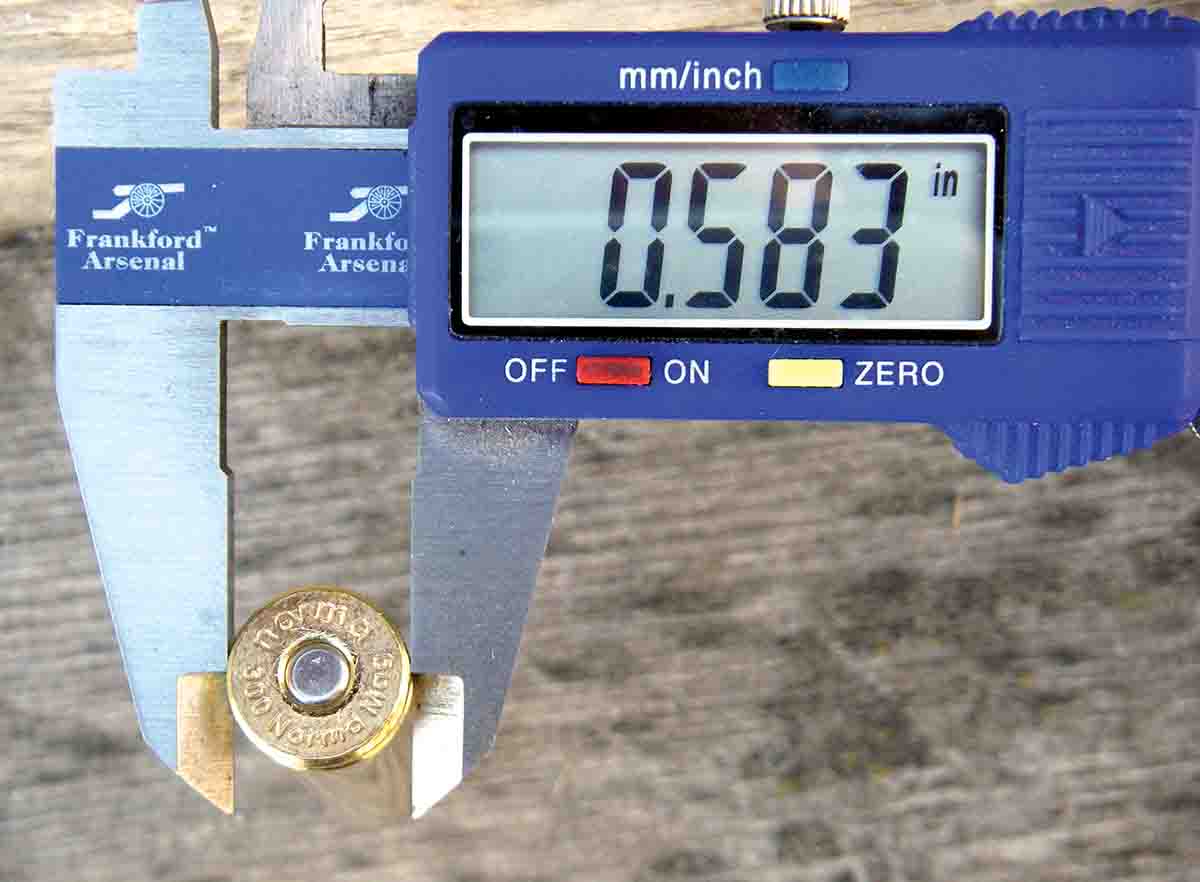 This performance, along with Norma's high-quality cases and ammunition, and lot-to-lot consistency, caught the eye of the U.S. Special Operations Command (SOCOM), which resulted in its adoption of the .300 Norma Magnum as the new Advanced Sniper Rifle Cartridge beginning in 2016. While there is no official "word" that other branches of the U.S. military will be selecting the .300 Norma, inside sources indicate that it is probable.
Historically, when a cartridge is adopted for military service, it seems to always gain widespread acceptance among civilians, which will probably prove somewhat true with the .300 Norma. However, it is doubtful that it will be as widely accepted as the .300 Winchester Magnum. For example, it requires an action with a bolt face large enough to accommodate a .588-inch rim diameter and accept a cartridge with a maximum overall length of 3.681 inches, which is the same as the .338 Lapua Magnum. This eliminates it from being chambered in our most popular standard-weight sporting rifles such as the Remington 700, Winchester Model 70 and Ruger M77 Hawkeye (with the exception of the M77 RSM action that is now discontinued). Both Savage Arms and Weatherby have bolt-action rifles that will readily accommodate the .300 Norma Magnum, and although neither company has plans to introduce rifles at this time, it would not be difficult once demand warrants, which probably won't be long.
There are several gunsmiths building rifles on various actions that are primarily for tactical and long-range competition, and they also carry significant price tags. Due to their large actions and typically long, comparatively heavy barrels, weight makes them anything but light and handy for carrying on mountain or open country hunts where excess weight is undesirable. Furthermore, they lack the proper stock, weight, etc., for shooting offhand in brush or timber country.
Regardless, the .300 Norma Magnum has already proven itself as a top-flight, benchrest-style cartridge that is capable of extreme long-range accuracy. With huge interest in long-range shooting, it is a modern cartridge design that is superior to the .300 Winchester Magnum in that specialized application.
I don't claim to see the future, but the .300 Norma Magnum may never achieve the universal acceptance among hunters as has the .300 Winchester Magnum, which is currently enjoying greater popularity than at any time in its 55-year history.