My acreage is small by Montana standards, but it's large enough, and I'm old enough, that I use an ATV or pickup truck to check it out periodically, and I am always armed. The wildlife using this area range from coyotes (common) to black bear (rare). Mostly we leave them in peace, but any predator I see near the house looking for an easy cat or dog meal is in mortal danger.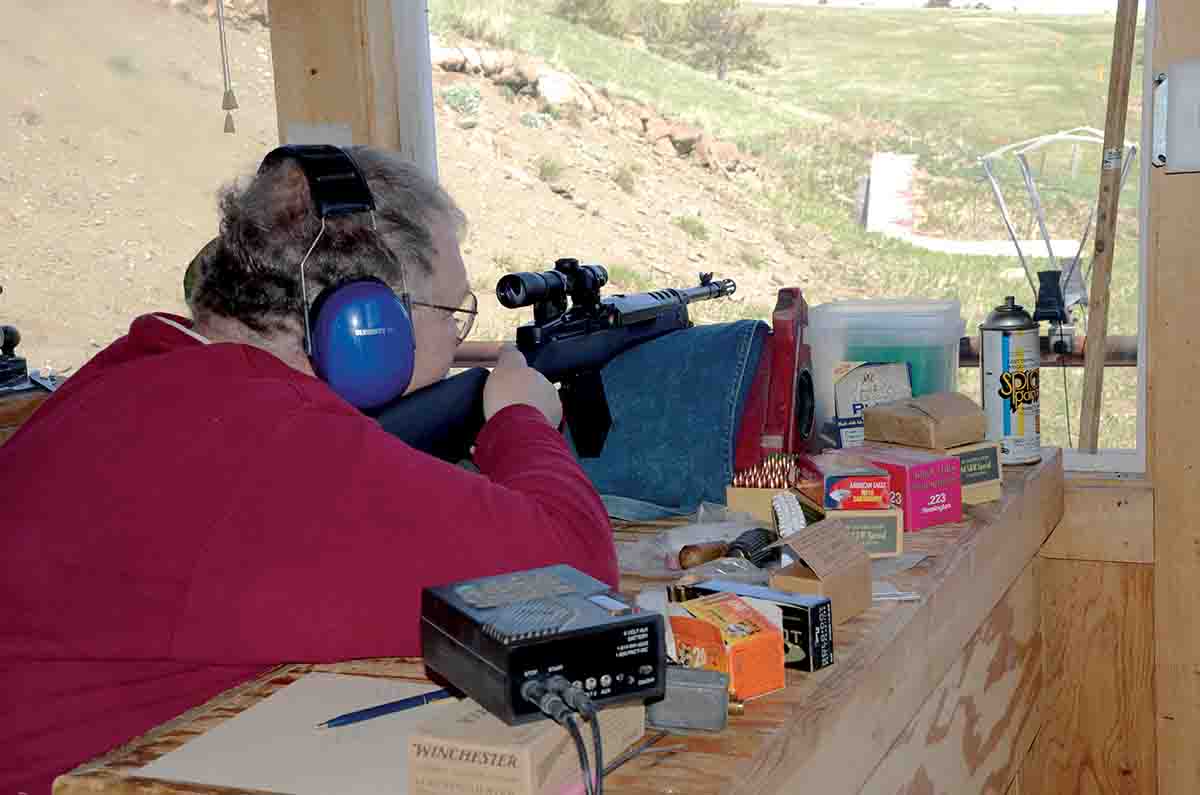 Over the decades my "pack-around" guns have ranged from a Colt SAA .45 Buntline with a 12-inch barrel to a Winchester Model 1892 saddle ring carbine .25-20, a couple of variations of M1 .30 Carbines and other guns. I gave up the Buntline after missing a standing coyote at about 30 yards, and the .25-20 didn't have enough power. I scoped one Inland M1 .30 Carbine and it's still in contention for my packing-around gun.
It was eyesight that eventually convinced me to give up vintage-type carbines and consider something easily scope sighted. Along with its basic mode of function that is similar to M1 Carbines, and with my mind always tuned away from run-of-the-mill cartridges, I felt drawn to Ruger's Mini Thirty. It's chambered in 7.62x39mm, the cartridge made famous in the Soviet Union's and Soviet Bloc's millions upon millions of SKSs and AK47s. Despite the fact that no other cartridge has likely been fired more often at American servicemen starting in Vietnam, and of course still is, as a handloader I find it interesting.
This is due to the twists and turns this cartridge makes in regard to the exact rifle or carbine it's used in, and even to the components a handloader choses to use. For instance, some factory loads and brass sold for reloading use large rifle primers while other brands use small rifle primers. Much, if not all, foreign-made military surplus ammunition imported over the last 30 years is steel cased and Berdan primed. Several current reloading manuals warn handloaders to sort out all range pick-up brass, otherwise damage to reloading dies is a sure thing.

Then there is the matter of bullet size. As a military cartridge for foreign armies, bullet diameter is .310 to .311 inch, but Ruger's Mini Thirty and the company's bolt-action Model 77 use American .30- caliber specifications, which call for .308-inch bullets.
Like anything connected to the Soviet Union, historical information is unreliable. To put it bluntly, the Soviets told so many lies that actual truths became muddied or lost entirely. Most sources say that the 7.62x39mm evolved after the Soviets captured some German 7.92x33mm Kurz ammunition along with samples of their Sturmgewehr (storm rifle). Other sources say the Red Army's ordnance officers came up with the 7.62x39mm first, and the Germans copied it. I favor the first theory, because the 7.62x39mm uses the same case head design developed by the Germans starting in the late nineteenth century, and the Soviets had not used it previously. (That case head design is the same as most American rimless sporting cartridges from .22-250 Remington up to .35 Whelen and, of course, including the .30-06 and .45 Auto.)
According to Military Small Arms of the 20th Century, 7th Edition by Ian Hogg and John Weeks, the Soviet Union's M43 (Ball) loading was comprised of a 123-grain FMJ bullet at 2,330 fps. For comparison, the same source rates Germany's 7.92x33mm as having a 123-grain FMJ bullet at 2,300 fps.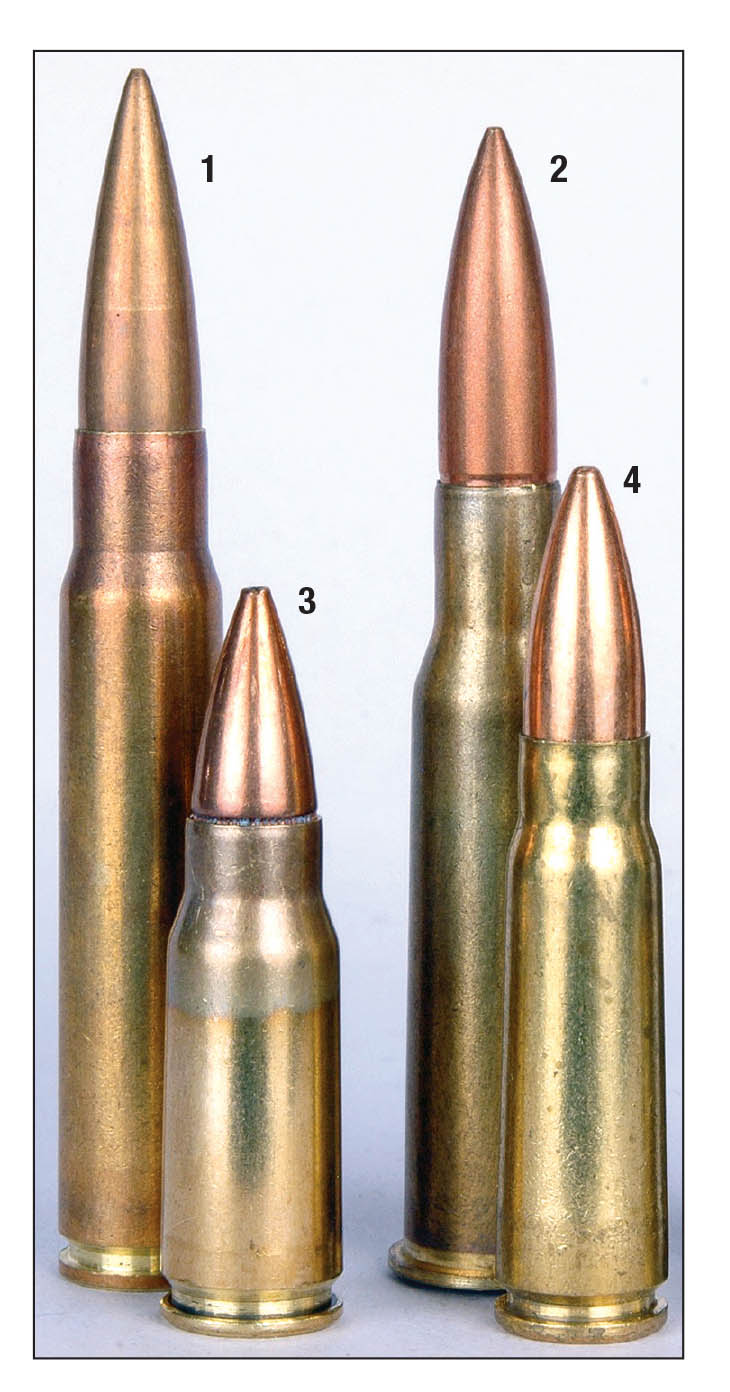 For those not up on metric-to-inches conversions, the Soviet 39mm case is 1.53 inches long and the German 33mm case is 1.29 inches. Interestingly, that latter length is same as American .357, .41 and .44 Magnums (1.285).
Perusing Ruger's website, I decided to buy a Mini Thirty Tactical with a 16.12-inch barrel and an integral flash hider. It has a synthetic stock with a 13.5-inch length of pull. A fully adjustable rear peep sight and blade front are standard. From the beginning my intention was to mount a 3x Leupold scope on it, but I first fired the little carbine with somewhere between 150 and 200 rounds of assorted factory loads. There was no sense in pursuing this project if it was not reliable, but it was.
Ruger's "Mini-series" rifles are nothing if not easily scoped. Those Mini-14s I purchased around 1980 required expensive scope mounts compared to the rifle's prices. Rings to fit machined receiver tops are furnished with each rifle these days. Thusly equipped, the Mini Thirty Tactical suited my criteria for a compact but relatively powerful carbine.
When perusing almost all currently available reloading manuals for powder suggestions, the same scarcity of options were encountered as when beginning handloading for my Sturmgewehr 7.92x33mm. Speaking collectively of all manuals consulted, the recommendations ranged from IMR-4227 to Reloder 7 – fast to slow in burning rate. Likewise, the manuals surveyed did not list an overly abundant selection of bullets. They ranged from Sierra 110-grain HPs to Hornady 130-grain Spire Points in .308-inch diameter.
Speer's Reloading Manual #14 lists industry-set copper units of pressure (CUP) at 50,000. Lyman's Reloading Handbook, 50th Edition lists pressures for its maximum loads, with none going over 45,000 CUP. Hornady's Handbook of Cartridge Reloading, 8th Edition states: "In the U.S. Reloaders can equal but seldom surpass 123-grain FMJ military or factory ballistics due to limited powder capacity." Why anyone would want to try "souping up" a midlevel cartridge such as the 7.62x39mm escapes me. For sporting purposes it can never be more than a 200-yard cartridge – maximum.
As always, the logical place to start when learning about a new rifle and cartridge is with factory ammunition. To that end, both domestic and foreign ammunition was gathered up – Federal American Eagle and Prvi Partisan of Serbia. A sample bullet was pulled from each box, which proved interesting. Bullets from both cartridges measured .309 inch and had concave bases. Federal and Prvi Partisan have evidently decided on compromising about the varying .308- to .311-inch barrel groove diameters. At .309 inch, pressures would not rise significantly in .308-inch barrels, and the cupped base should help the bullet to swell slightly for .311-inch barrels.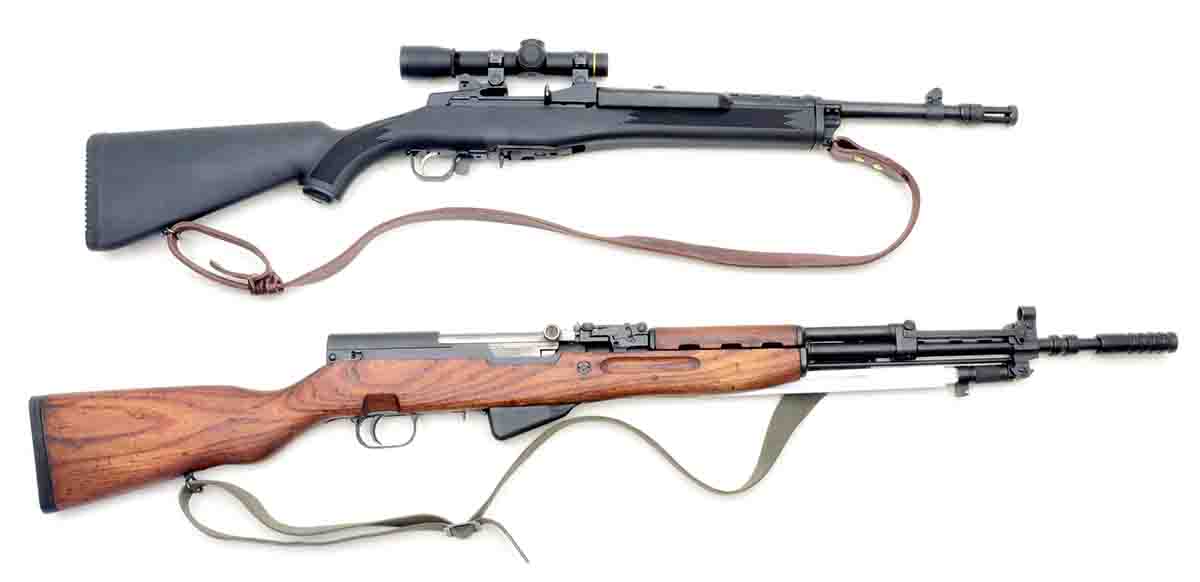 These factory loads were then fired in my new Mini Thirty. Federal's load was almost exactly at military specifications with a velocity of 2,322 fps. Prvi Partisan's load went a full 130 fps over published specifications. At 100 yards, no difference in accuracy could be ascertained on paper targets. Groups ran in the 2.5- to 3.5-inch range.
Trying to understand rifling twist rates for this cartridge in the different sorts of firearms in which it has been chambered can be confusing. I've read in different sources that the Soviets, and I presume their federation states, used 1:9.5 twist rates and even 1:7.5 twists. The latter seems unlikely because that tight of a twist would be used for very long bullets. Finally, I tracked down Ruger's twist for its Mini Thirty barrels – at what I expected. That was 1:10 twists as used for its other .30 caliber chamberings. That still seems excessively tight for bullets no longer than .93 inch (Prvi Partisan 123-grain FMJ.)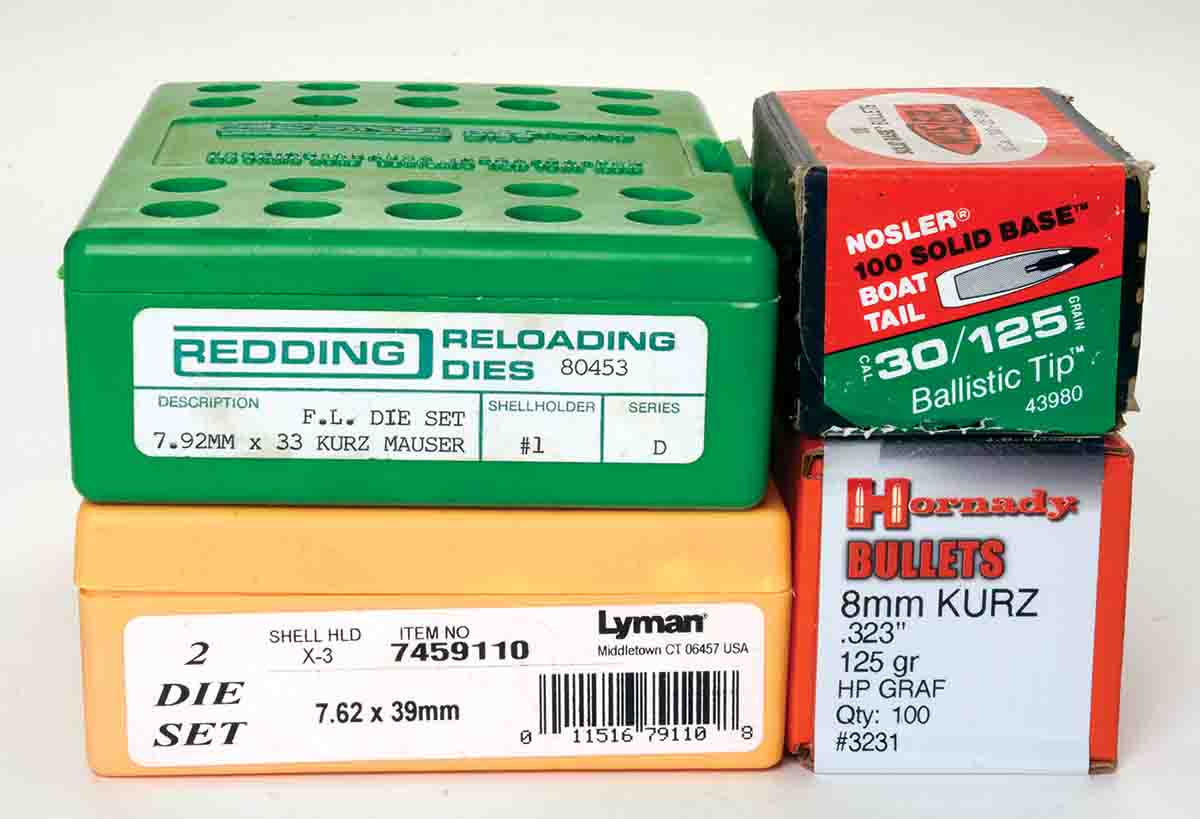 The U.S. military went to a 1:12 twist for M14s, as did Winchester in 1952, when it introduced its civilian version – the .308 Winchester. Thus it seems to me that a 1:12 twist, or even a 1:14 twist would have suited the 7.62x39mm better. But in reality what was used instead of what should have been is the true consideration. My new Ruger Mini Thirty has a one-turn-in-10-inch (1:10) rifling twist.
With that in mind, four bullets were picked for developing loads for the carbine. At .308 inch, bullets included a Sierra 125-grain spitzer, Nosler 125-grain Ballistic Tip and Hornady-130 grain Spire Point. Taking the fact that Ruger used .308-inch barrels as a dare, I carefully loaded .311-inch Sierra 125-grain spitzers. Actually, I could tell no difference, pro or con.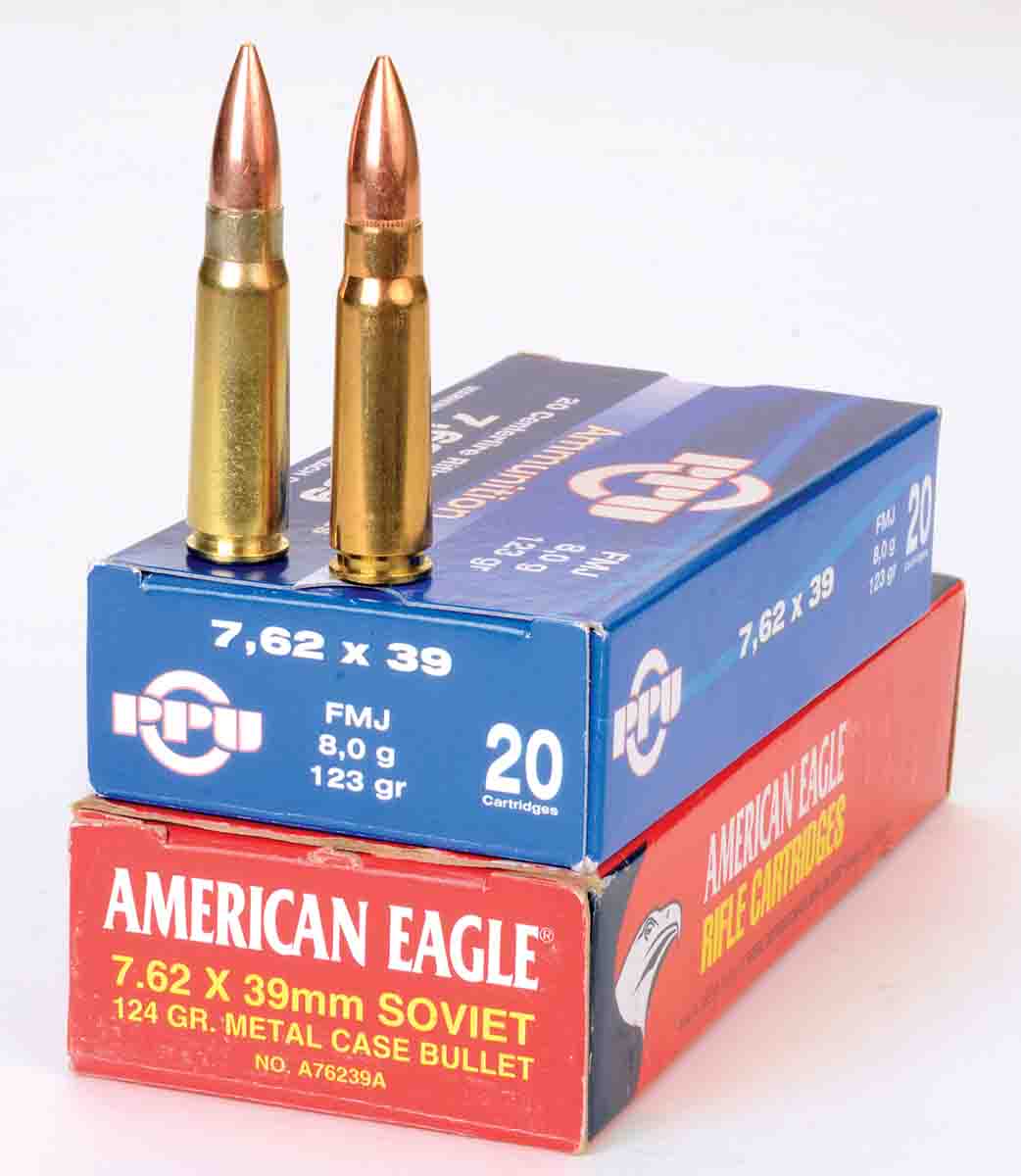 All bullets were loaded to be at, or slightly under, the recommended overall cartridge length of 2.20 inches. Here's another small factor: Most reloading die sets for this cartridge come with two case neck expander balls – one each for the two bullet sizes. Only the one for .308-inch bullets was used; I used Lyman Dies.
As noted, most manuals start with IMR-4227 on the fast-burning end and go up to Reloder 7. There are few listings for even slower H-322 and IMR-3031. My first three choices were IMR-4227, Vihtavuori N120 and Reloder 7. Then I got imaginative.
Many times in these pages I've stressed my affection for one or another permutation of A-5744, currently manufactured in Canada and sold by Western Powders. In most burn rate tables it is listed as slightly slower than IMR-4227, so it seemed to me it would be a perfect choice for this load. Searching for loading data for it and the 7.62x39mm in current manuals only netted some cast bullet loads in Lyman's Reloading Handbook, 50th Edition. Where I did find such data for A-5744 was in the old Accurate Arms Company's Loading Guide No.2 published in 2000.
A comparison of .308- and .311-inch bullets shows the most comparable ones were Sierra's 125-grain spitzers. Over identical powder charges from the same rifle on the same day, the accompanying table shows the .311-inch Sierras were 5 fps faster with one propellant, and 12 fps faster with another. The bullets that consistently grouped best were Nosler's 125-grain Ballistic Tips.
As for my brainstorm about A-5744, it fizzled. It did give decent groups but velocity was substantially under levels set by factory loads. A starting charge of 20.0 grains with 125-grain bullets would not cycle the Ruger's action. Working up to 22.0 grains, functioning was perfect but velocity was less than 2,100 fps.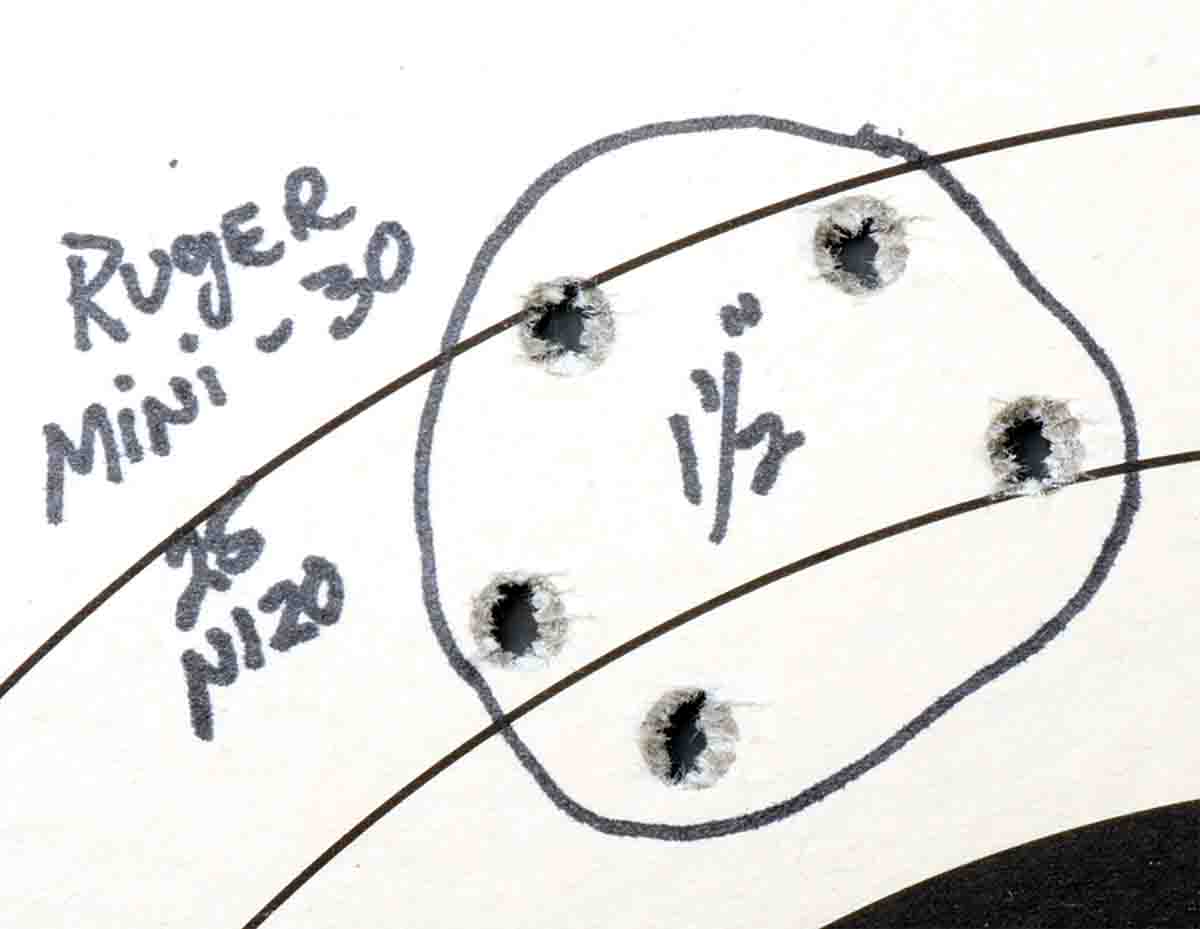 As a matter of fact, velocities provided by IMR-4227 and Reloder 7 were also substandard; roughly equal to or slightly better than A-5744's velocities. Though the intention was not to "hot-rod" this 7.62x39mm semiautomatic, it seemed like getting a bit closer to factory velocities should be possible, and it was.
Vihtavuori N120 did that easily. A charge of 25.0 grains was just above Vihtavuori's recommended starting loads with 123- and 125-grain bullets, and my carbine gave velocities right with factory loads. In fact, I would recommend that shooters trying N120 for the first time should be careful and start with the listed starting charges.
Groups with N120 overall were perfectly acceptable, as were most loads fired. The worst were about 4 inches, with the best getting down to around 2 inch-clusters for five shots at 100 yards. The very best was one nice, tidy 1.5-inch group.
Back in the 1980s and early 1990s, I tried two Ruger Mini-14 .223s and one Mini Thirty. All three were standard, wood-stocked versions. With their issue peep sights, groups were almost always around 4 inches at 100 yards. They were then scoped and still shot around 4 inches at 100 yards. Therefore, I was pleased to see that with a wide variety of handloads and three factory loads this newer synthetic-stocked tactical version delivered more precision than those older Minis.